Are you trying to grow your list through email popup best practices, but struggling to get the results you want?
Email popups are an incredibly useful asset for building your email list.
If you're not using them, you're missing out on an easy and effective way to generate email leads and add subscribers.
Whether you're just starting with popups or are looking for new ideas, you've come to the right place.
In this article, we're going to cover email popup best practices that will help you build your email list. You'll also get some design inspiration along the way.
What is an Email Popup?
Traditionally, when we talk about email popups, we're talking about lightbox popups. Those are the email popups that show up on top of a webpage that you're viewing, usually darkening the page behind them.
Over time, people have come to refer to many different email optin campaigns as "email popups." So, in this post, our email popup best practices will cover best practices for any optin that helps you capture emails.
Of course, many of the best practices will apply to any email optin you create, like creating a clear call to action and an eye-catching design. But we've also included email popup best practices used by industry leaders that you can use to make your site stand out and your email list grow.
Building an Email Popup the Way You Want
Some email marketing services, such as Mailchimp comes with a built-in popup feature, enabling you to build a generic, untargeted popup.
But the problem is that when popups are not targeted at what users are looking for on your site, they're more likely to annoy your visitors rather than converting them into subscribers or customers.
And this is why you need an email popup form generator like OptinMonster.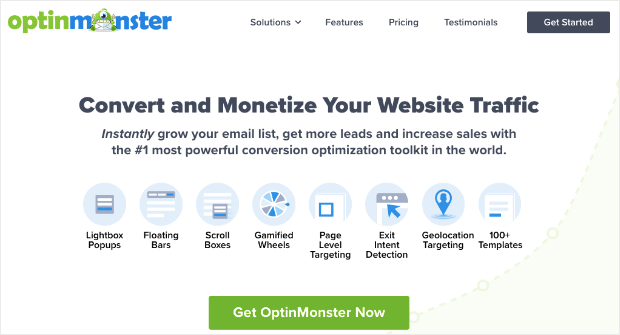 OptinMonster is the best lead generation software on the market, and the tool you need for faster growth.
It allows you to build "optin campaigns" which are things like popups, floating bars, fullscreen welcome mats, and more.
OptinMonster makes everything about creating email campaigns EASY. That's because it comes with 50+ pre-made templates that you can use to create your campaigns: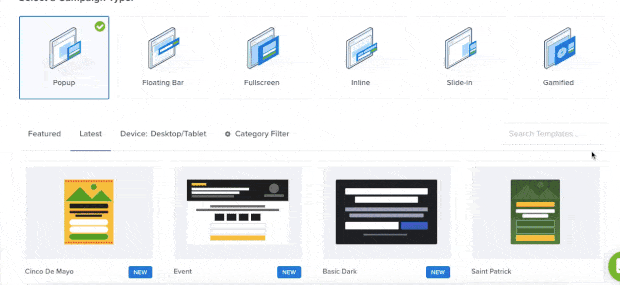 From there, you can quickly make changes to your template with OptinMonster's inline text editor or drag and drop builder.
If you want to change any aspect of your text, for example, you can do so directly in the campaign editor: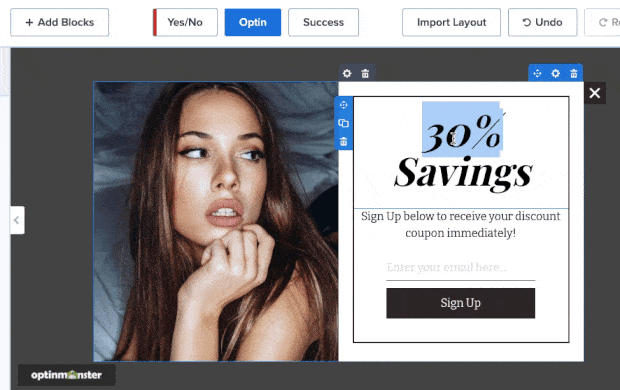 With this feature, you have 100% control over your brand's messaging and can change the:
Font family
Font size
Color
Alignment
Line height
And much more…
Want to add a new feature to your campaign, but you're not a coder? No problem at all.
You can select one of the many features offered by OptinMonster and drop them into place: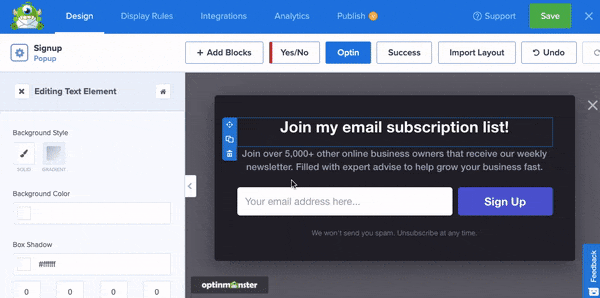 This requires ZERO coding skills. And since all our campaigns are built with "blocks," everything falls into place as it should.
That means you don't have to be a professional designer to make stunning and high-converting campaigns in minutes.
Finally, OptinMonster gives you plenty of targeting rules. This helps you show these campaigns to the right people, in the right places, and at just the right time in their customer journey.
Some popular targeting rules include:
Exit-Intent® Technology: Display campaigns to users as they're actively leaving your website.
OnSite Follow Ups®: Show fresh campaigns to returning visitors based on how they interacted with your campaigns in the past.
Geolocation: Personalize your offers by targeting users based on their physical location.
These are just a few of OptinMonster's targeting rules and triggers, though there are many others.
If you want to build newsletter popups that grow your list, you should definitely sign up for OptinMonster.
It's risk-free with our 14-day money-back guarantee. Ready to get started? Just click below:
Get Started With a Popup Today!
BONUS: Done-For-You Campaign Setup ($297 value)
Our conversion experts will design 1 free campaign for you to get maximum results – absolutely FREE!
Click here to get started →
Before we get started with email popup best practices, it would first help to see some popup examples from real OptinMonster clients.
That way, you can get more inspiration for your own business.
Let's check out 5 popup examples.
5 Email Popup Examples
1. Crossrope
Crossrope is a fitness company that used this simple (but effective) popup: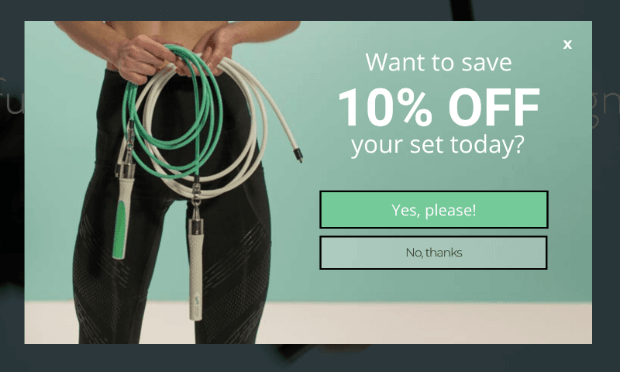 Doing so helped Crossrope EXPLODE their list by over 900%.
2. Adam Enfroy
Adam Enfroy is an entrepreneur and professional blogger. In 2019, he used OptinMonster to add over 11,000 subscribers to his list–in just 1 year!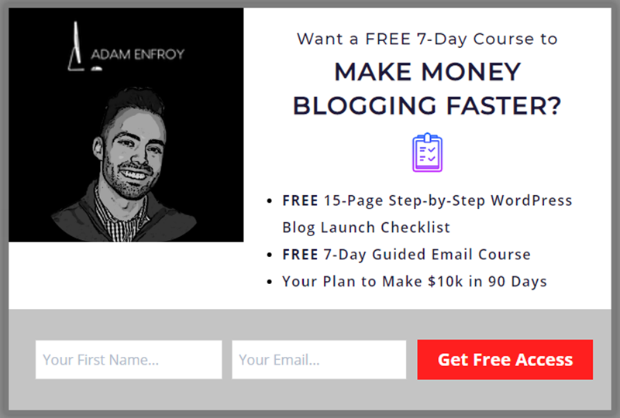 With the popup above and others like it, he's now grown his list to over 500,000 newsletter readers.
And in 2020, he made $812, 718 from his online blog and mailing list.
3. Fastrack
Fastrack is a digital marketing agency that wanted to generate more leads. They did so with this popup: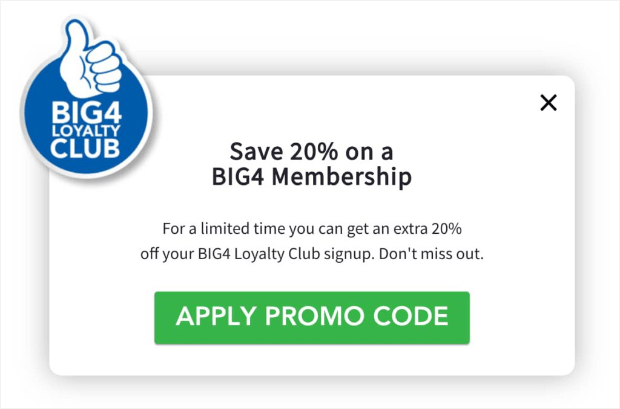 This popup not only grew their list, but it recovers 53% of their abandoning visitors.
4. Snack Nation
Snack Nation is a subscription service that delivers healthy snacks to your home or office. Here's the popup they used to add 1,200 subscribers to their list every week: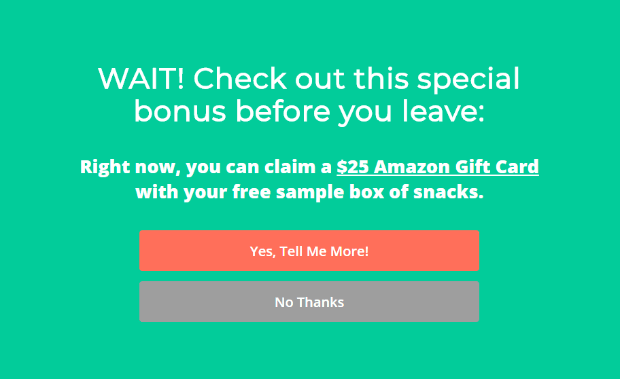 It uses a 2-step optin which poses a simple Yes/No question to the audience.
When readers click Yes, they're more likely to finish the signup process.
Not only did this popup grow their list, but it recovers over 30% of their abandoning visitors and converts 15-20 leads into paying customers every day.
5. Shotkit
Shotkit is a website for professional and amateur photographers wanting to get the highest-quality gear. Here's one of their popup examples that they used to get more leads: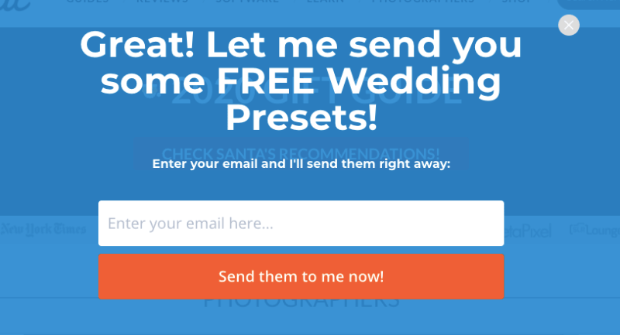 The result? Shotkit now adds over 40 NEW leads to their list every single day.
It's hard to argue with that kind of success!
Now that you've seen a few popup examples, let's dive into our list of 15 actionable tips so that you can achieve the same results as these other OptinMonster clients.
Email Popup Best Practices
We've identified 15 email popup best practices that will get you on your way to a thriving list filled with high-quality leads:
Let's take a closer look at each of these best practices.
1. Create a Clear Call to Action for Your Email Popup
Don't muddy the waters. A popup should contain a single, clear call to action.
Keep in mind that the visitor on your site is reading or browsing and the popup is going to interrupt that activity. You want to get in, get the email address, and get out as quickly as possible.
Which popup do you think is going to get the response you're looking for?
This…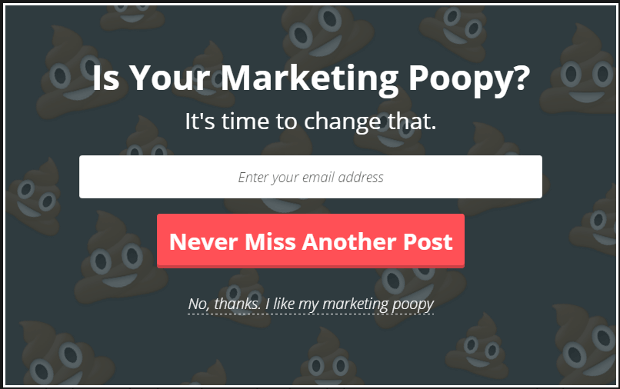 Or this?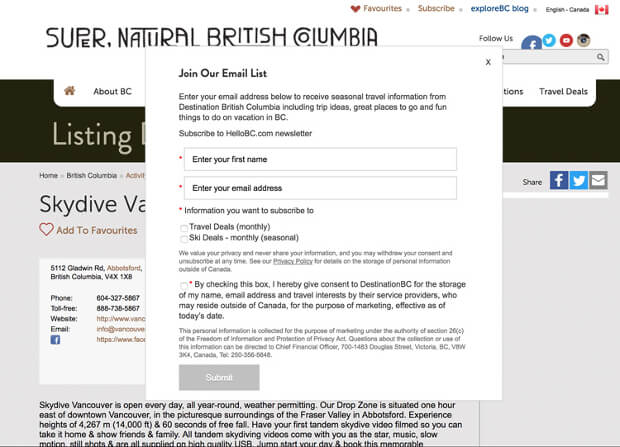 Definitely not trying to popup shame here, but the popup from exploreBC is entirely too much. It seems like they want us to sign up for their email marketing, but there may technically be 2 or 3 newsletters? And, what's with the fine print?
In the first popup, there's no question about what they want you to do: sign up to get notification of new posts.
2. Personalize Your Email Popups
Personalization makes a popup feel more friendly and less of an intrusion. Since we're trying to build our email list we won't have personal information for our target website visitors. How do we personalize then?
One really cool way is to personalize the popup based on referral source. By using referrer detection technology you can detect when a visitor is coming from a specific domain and use that information to customize your popups.
There are several ways to use this type of personalization. If you've written a guest post or been featured somewhere recently, for instance, you can create a popup specifically for that audience.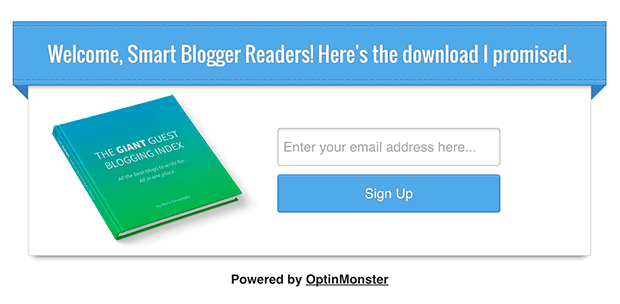 Get a lot of Pinterest traffic? Create a popup targeting just those visitors!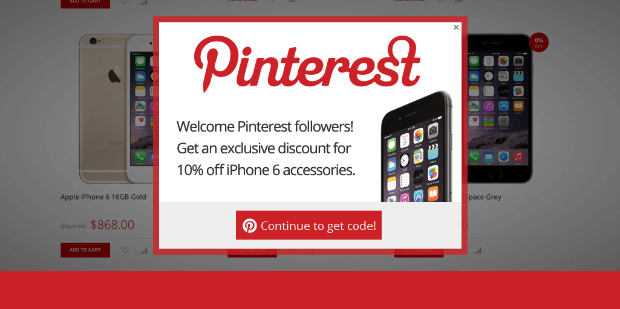 Personalization makes visitors feel like the popups are offering something exclusive, just for them.
3. Offer an Irresistible Incentive
People love incentives. This makes incentives and special offers like coupons and free shipping really good at helping you build your email list.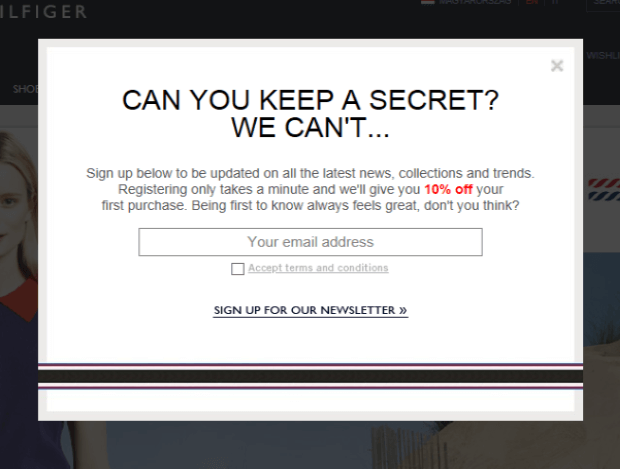 This doesn't mean that you just offer a discount to every visitor, all day long. Incentives can be anything of value; they don't have to mean dollars.
If you have a killer lead magnet, offer it up!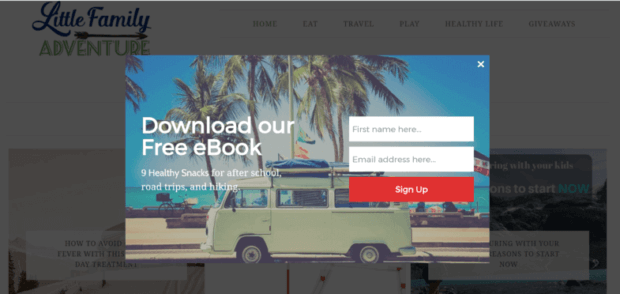 Not sure what to offer? Here are 9 ideas you can use to increase subscribers on your own site.
4. Use an Eye-Catching Design for Your Email Popup
Your popup has the tough job of meeting two seemingly conflicting ideas at once: it should both blend into your site's existing design and stand out enough to draw user's attention.
Lightbox popups work really well because you can create a design that stays on brand. When the popup appears, the rest of the site fades into the background, leaving the popup as the point of focus.
The "Annoying Pop-Up Bear" below aligns perfectly with the whimsy and fun of the host website. It's eye-catching and fun but stays on brand.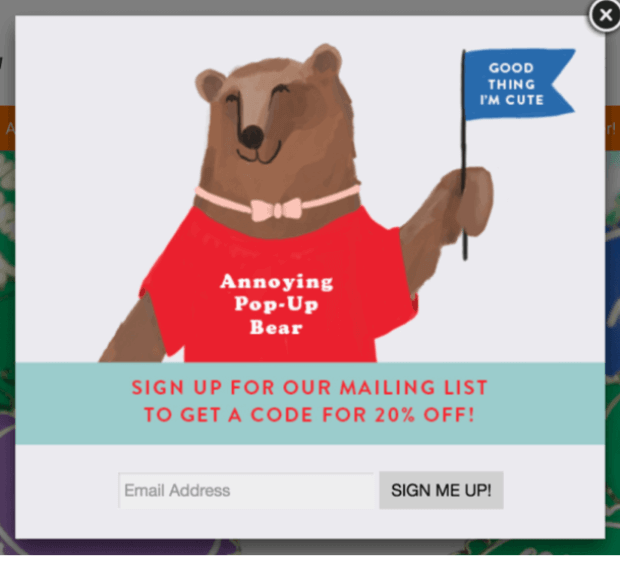 Here's another example. The popup isn't as adorable as the bear, but it does a wonderful job of staying on brand and creating interest.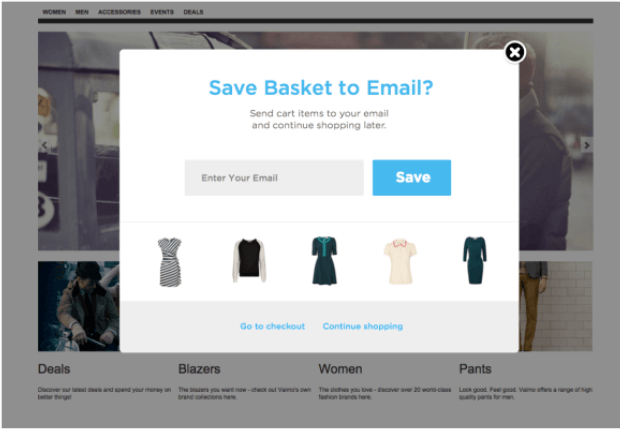 5. Create Targeted Email Popup Campaigns for Desktop and Mobile
There are a few key differences between desktop and mobile user experiences that can make popups behave very differently. Mobile users are limited to touch controls, bandwidth, and certain SEO rules.
We recommend creating platform-specific campaigns to ensure that your visitors are able to fully engage with your site and popups.
Salt Strong was able to get a 185% increase in conversions by creating a popup designed for mobile platforms.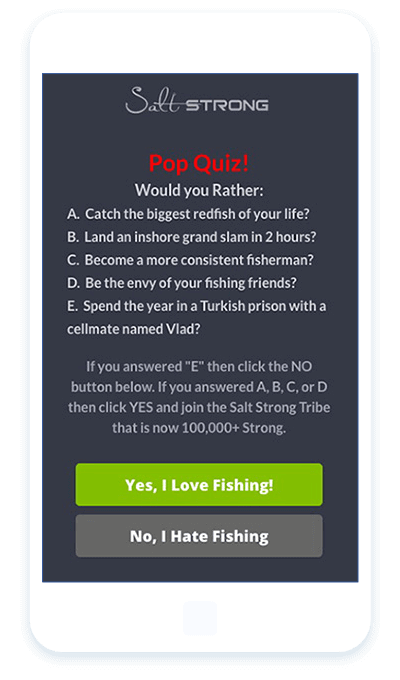 Check out our mobile popup gallery for some design inspiration.
6. Use Exit-Intent® to Capture Abandoning Visitors Before They Leave
Did you know that 70% of visitors who abandon your site will never come back again?
You can convert an additional 2-4% of visitors into email subscribers, and then customers, by using a popup triggered on exit-intent.
OptinMonster's Exit-Intent® technology allows you to track the mouse movement of your visitor. When they gesture quickly to the top of the page your popup appears, giving visitors one more chance to opt in.
Here's what it looks like in action.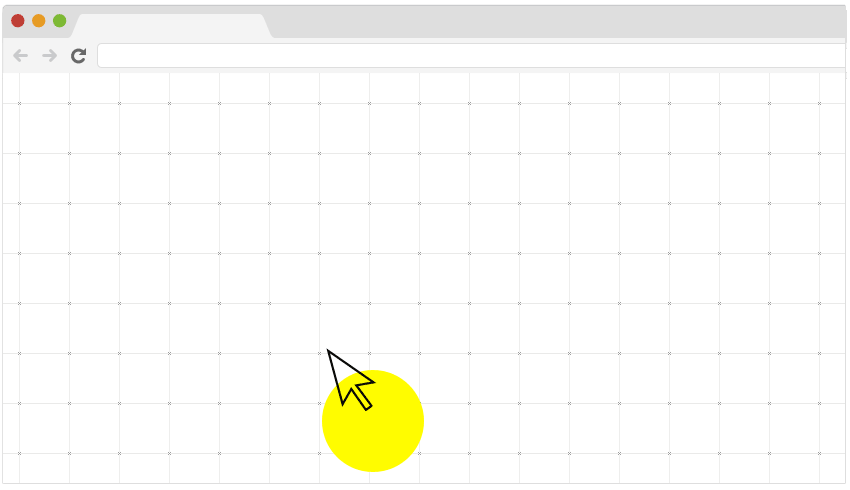 Exit-intent doesn't take your visitor prisoner; they can still close the popup and leave without sharing any information. It just lets you have one more interaction with the visitor before they go.
For more about exit-intent lightbox popups, check out these exit popup hacks.
7. Show a Popup or Inline Campaign at the End of Your Post
Visitors who get all the way to the end of your post are interested. That makes the end of your article the perfect time to ask them to join your mailing list.
Add a popup that triggers once they reach the end of your content (or about 80% of the way down the page) and ask for a commitment right away.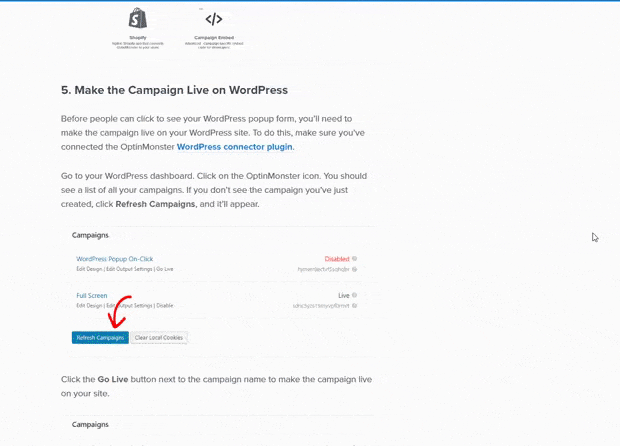 Learn more about OptinMonster's killer display rules engine!
8. Keep Your Request Noticeable With a Floating Bar
Floating bars are a great way to make sure your call to action stays in clear view at all times without getting in the way of your visitor's enjoyment.
You can place the floating bar at either the top or bottom of the page and it stays there as your visitor scrolls.

Here are some great ways to use floating bars on your site to increase your conversion rate without annoying visitors.
9. Build a Dedicated Landing Page
Fullscreen email popups give you a ton of flexibility and space to show off a brilliant design to really wow your visitors. A truly amazing way you can do that is by turning a fullscreen email popup into a landing page.
A landing page focuses on a single, very specific call to action. It's an excellent lead generation tool because visitors aren't distracted by everything that's on a typical home page; they're just encouraged to provide their info in exchange for your offer.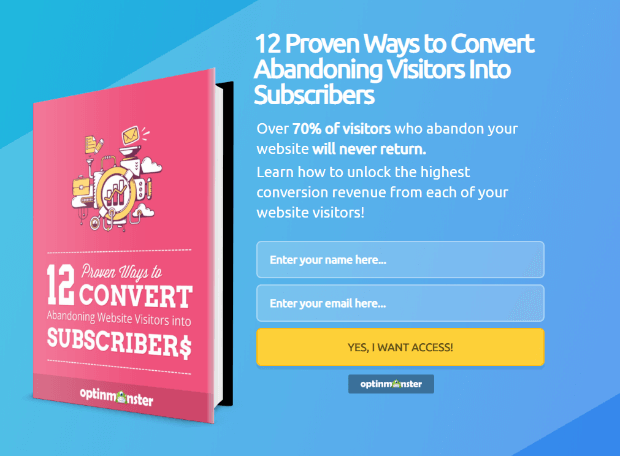 You can create a landing page in less than 5 minutes with OptinMonster.
10. Create a Friendly Slide-in Request
Slide-in campaigns are a gentle way to collect visitor information without interrupting the user experience.
These email popups don't appear until your visitor has already viewed some of your content and even then they simply slide in from the side of the page.
This makes them eye-catching, but unobtrusive.
OptinMonster has several professionally-designed themes you can use for your slide-in campaigns. Simply create a new optin and select the Slide-in type.
To set your slide-in to show up only after your visitor has scrolled a certain distance down the page, go to Display Rules » If… distance scrolled and enter a percentage or the number of pixels.
Easy, isn't it? Here are 10 ways to use scroll-based triggers with your slide-in campaigns to boost your conversions. And, you'll definitely want to check out these high-converting ways to use slide-in optins.
11. Use a Welcome Gate on Your Home Page
Create a welcome gate on your home page with a feature box.
A feature box is an optin form that is placed at the top of your website, usually just below the header navigation and above your blog posts. This is a highly effective optin form that you can use to collect email subscriptions above the fold on your site.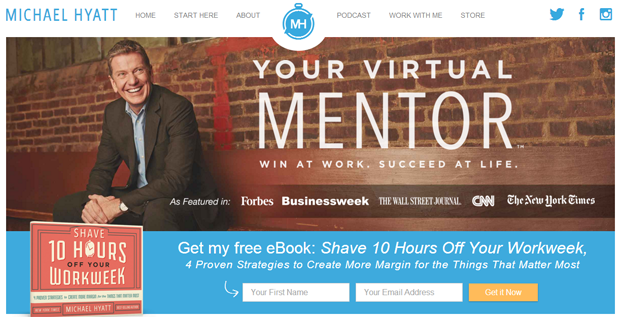 Add a feature box to your own site with our step-by-step tutorial.
12. Ask for Visitor Feedback
A popup survey can help your business in so many ways:
Discover how your visitors are interacting with your site
Figure out potential problems that are getting in the way of conversions, leads, and sales
Get real-time feedback from visitors and customers
Reduce abandonment and increase conversions by interacting with visitors before they leave your site
Segment your visitors for future digital marketing
Grow your email list
With OptinMonster and WPForms, you can create a popup survey like this: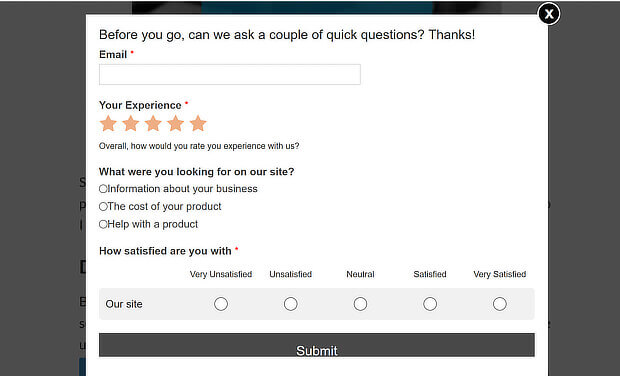 13. Add a Sidebar
Always include an email signup form at the very top of your website or blog's sidebar. This is the most popular place for an email signup form so visitors will be looking for one there.
This is easy to do with an inline campaign from OptinMonster:
14. Use Progressive Profiling to Make Forms Easier for Users
Progressive profiling is a method of collecting information on your leads in smaller pieces, using fewer input fields, instead of asking for everything all at once.
When using progressive profiling, you might ask for just a name and email address on the first signup, then request more information about the lead throughout their customer journey.
Here's an example of the progressive profiling framework: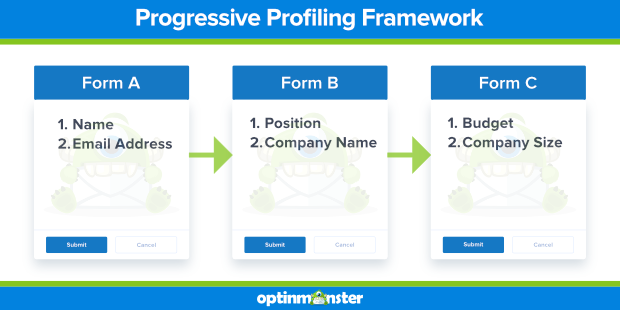 15. Create a Plan for New Subscribers
It's important to have a plan for your new subscribers. This involves:
Sending a Welcome Email Series. Welcome emails get 86% higher open rates than other emails. We recommend sending a welcome email series of 5-7 emails to introduce new subscribers to your brand. Check out OptinMonster University's execution plan How to Create a Welcome Email Series That Sells to build the perfect welcome email series for your brand (free to OptinMonster customers).
Onboarding new users (and customers). Onboarding actively guides users and customers to find new and ongoing value in your product and service. Learn onboarding best practices to boost customer success.
Segmenting your email list. Personalized emails deliver 6X higher transaction rates. You can get that type of personalization only through segmenting your email list. Here are 50 smart ways to segment your list.
Once your plan is in place, you'll be able to grow your list faster and more effectively.
Get Started With a Popup Today!
BONUS: Done-For-You Campaign Setup ($297 value)
Our conversion experts will design 1 free campaign for you to get maximum results – absolutely FREE!
Click here to get started →
And that's all for today! We certainly hope you enjoyed this post.
If you did, you might want to check out the following resources:
These articles will have everything you need to improve your email popup strategy and see better results in less time.