Email popups are an incredibly useful asset for building your email list. If you're not using them, you're missing out on an easy and effective way to generate email leads and add subscribers.
If you are using them, but aren't seeing the results that you want, maybe it's time to make some changes to your design, copy, or timing.
Whether you're just starting with popups or are looking for new ideas, you've come to the right place.
A big part of what makes popups such an effective tool is their versatility. You can use them for any call to action, such as generating email leads, getting more newsletter subscribers, or conducting a visitor poll.
In this article, we're going to cover popup best practices that will help you build your email list. You'll also get some design inspiration along the way.
Email Popup Best Practices
We've identified 7 best practices that can help take your popups from good to great:
Create a clear call to action
Personalize your popups
Offer an irresistible incentive
Use an eye-catching design
Trigger your popup at the perfect time
Capture abandoning website visitors before they go
Create targeted campaigns for desktop and mobile
Let's take a closer look at each of these practices.
1. Create a Clear Call to Action
Don't muddy the waters. A popup should contain a single, clear call to action.
Keep in mind that the visitor on your site is reading or browsing and the popup is going to interrupt that activity. You want to get in, get the email address, and get out as quickly as possible.
Which popup do you think is going to get the response you're looking for?
This…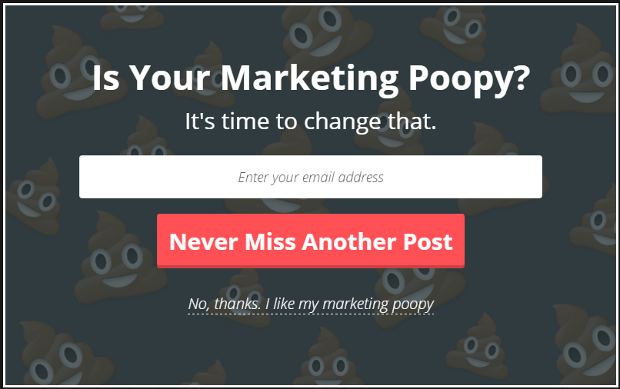 Or this?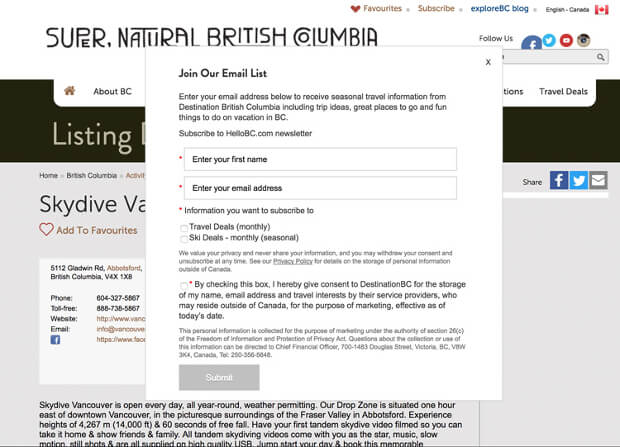 Definitely not trying to popup shame here, but the popup from exploreBC is entirely too much. It seems like they want us to sign up for their newsletter, but there may technically be 2 or 3 newsletters? And, what's with the fine print?
In the first popup, there's no question about what they want you to do: sign up to get notification of new posts.
2. Personalize Your Popups
Personalization moves a popup feel more friendly and less of an intrusion. Since we're trying to build our email list we won't have personal information for our target website visitors. How do we personalize then?
One really cool way is to personalize the popup based on referral source. By using referrer detection technology you can detect when a visitor is coming from a specific domain and use that information to customize your popups.
There are several ways to use this type of personalization. If you've written a guest post or been featured somewhere recently, for instance, you can create a popup specifically for that audience.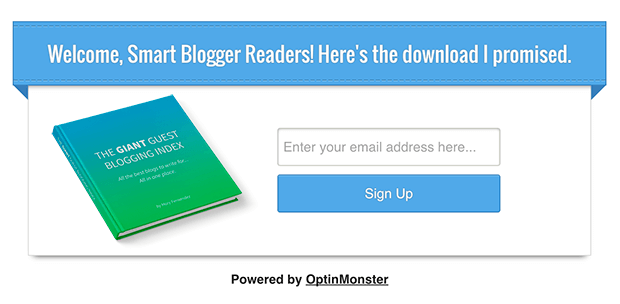 Get a lot of Pinterest traffic? Create a popup targeting just those visitors!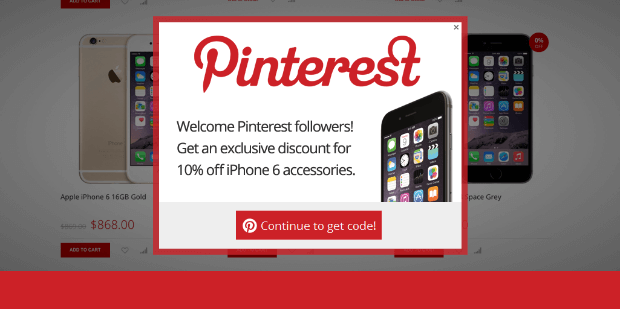 Personalization makes visitors feel like the popups are offering something exclusive, just for them.
3. Offer an Irresistible Incentive
People love incentives. This makes incentives and special offers like coupons and free shipping really good at helping you build your email list.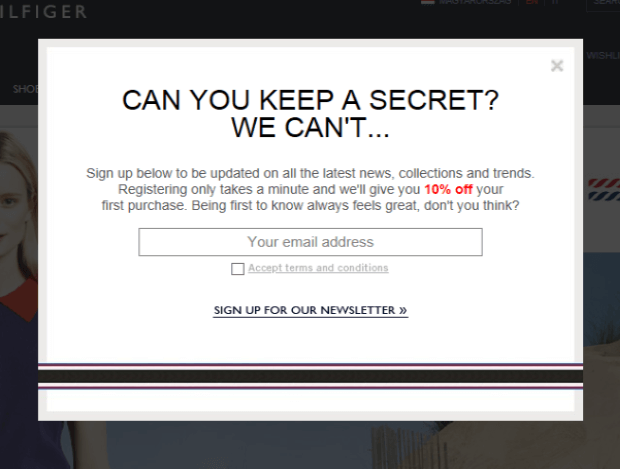 This doesn't mean that you just offer a discount to every visitor, all day long. Incentives can be anything of value; they don't have to mean dollars.
If you have some killer content, offer it up!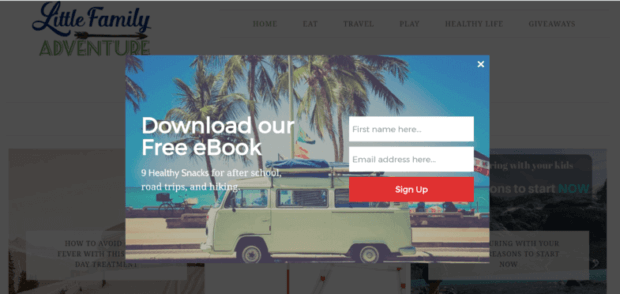 Not sure what to offer? Here are 9 ideas you can use to increase subscribers on your own site.
4. Use and Eye-Catching Design
Your popup has the tough job of meeting two seemingly conflicting ideas at once: it should both blend into your site's existing design and stand out enough to draw attention.
Lightbox popups work really well because you can create a design that stays on brand. When the popup appears, the rest of the site fades into the background, leaving the popup as the point of focus.
The "Annoying Pop-Up Bear" below aligns perfectly with the whimsy and fun of the host website. It's eye-catching and fun but stays on brand.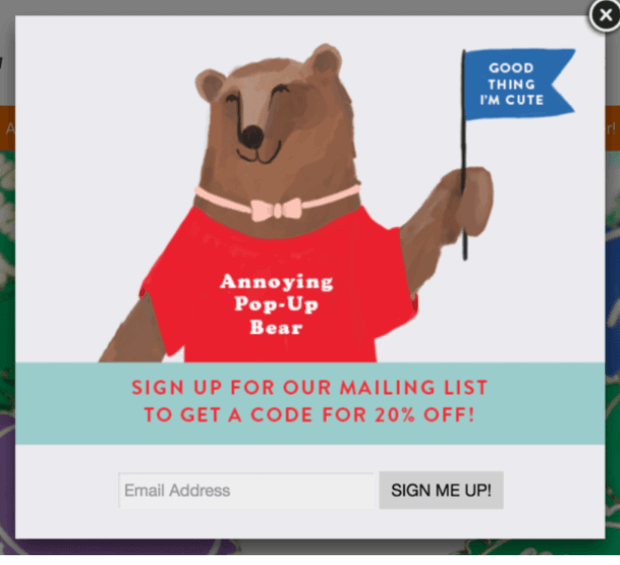 Here's another example. The popup isn't as adorable as the bear, but it does a wonderful job of staying on brand and creating interest.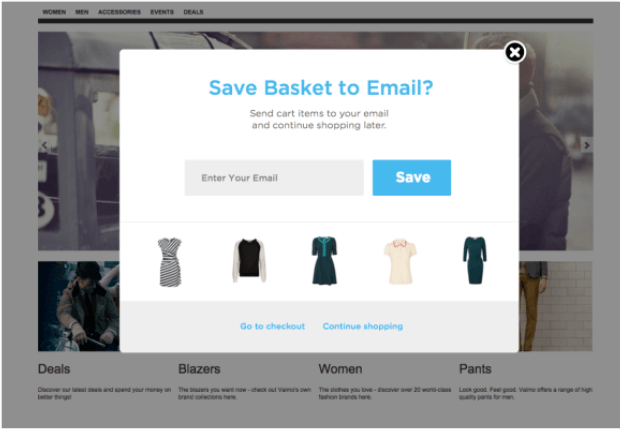 5. Trigger Your Popup at the Perfect Time
Timing is so important for popups. Too early can annoy visitors, too late is, well, too late. A/B testing is helpful in figuring out the timing that works for your audience.
A/B testing allows you to make informed decisions about popup timing. You can then work toward your goal. If you want to build an email list quickly with all types of visitors, for example, maybe showing your popup sooner is your best plan of attack. If you want to only get the visitors who are more engaged with your site, maybe wait a little while before the popup appears.
You can also use scroll based popups that appear after a visitor has scrolled a certain percentage of a page. Or, create an exit intent popup using OptinMonster's Exit-Intent® technology to capture visitors leaving your site.
6. Capture Abandoning Website Visitors
Did you know that 70% of visitors who abandon your site will never come back again?
You can convert an additional 2-4% of visitors into email subscribers, and then customers, by using a popup triggered on exit-intent.
OptinMonster's Exit-Intent® technology allows you to track the mouse movement of your visitor. When they gesture quickly to the top of the page your popup appears, giving visitors one more chance to opt in.
Here's what it looks like in action.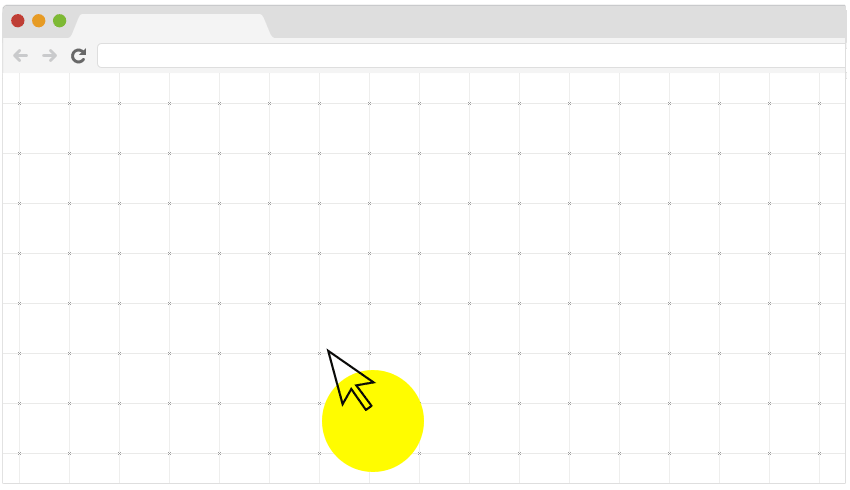 Exit-intent doesn't take your visitor prisoner; they can still close the popup and leave without sharing any information. It just lets you have one more interaction with the visitor before they go.
For more about exit-intent lightbox popups, check out these exit popup hacks.
7. Create Targeted Campaigns for Desktop and Mobile
There are a few key differences between desktop and mobile user experiences that can make popups behave very differently. Mobile users are limited to touch controls, bandwidth, and certain SEO rules.
We recommend creating platform-specific campaigns to ensure that your visitors are able to fully engage with your site and popups.
Salt Strong was able to get a 185% increase in conversions by combining OptinMonster's slide-in campaigns with Yes/No forms as in this popup designed for mobile platforms.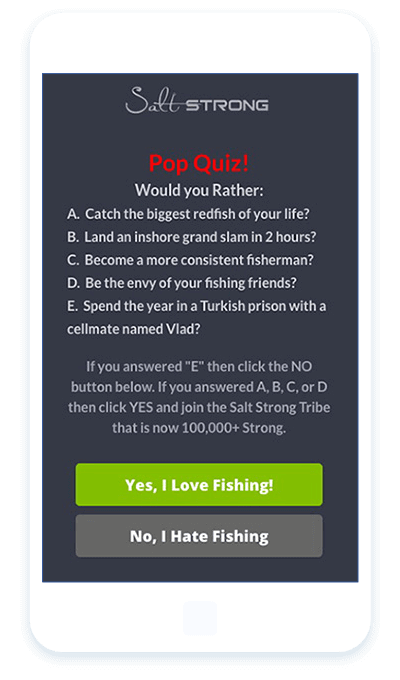 Ready to try it? Follow our instructions for creating a slide-in campaign and enable Yes/No in the OptinMonster campaign builder.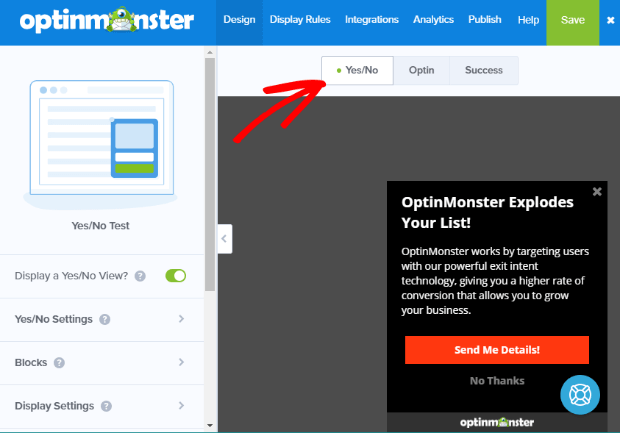 Then, choose a Yes Action, and you're set!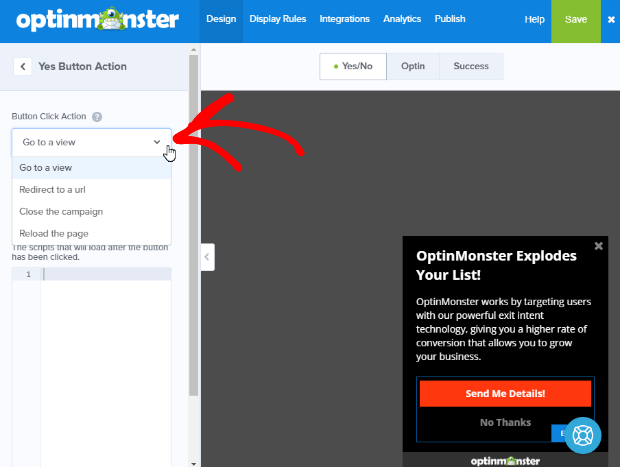 Check out some other cool ways to use Yes/No optins.
Now that you have a good grasp on email popup best practices, head over to our gallery of popup examples for even more design inspiration. Or, take a minute to learn from the mistakes that even pros make when designing optins.
Follow us on Facebook and Twitter for more ways to build your email list and boost engagement with OptinMonster.