Did you know that nearly 80% of smartphone users never finish their online purchases? That means most of the investment you make in marketing to mobile users is totally wasted.
It doesn't have to be. OptinMonster's InactivitySensor™ allows you to activate Exit Intent for mobile devices to help you convert those abandoning visitors into subscribers and customers.
Just like our signature Exit Intent Technology, InactivitySensor detects users' behavior so you can deliver a targeted campaign to mobile users the moment they're about to leave your website. It works on every device, so you can recover some of that lost revenue, no matter how your users are browsing.
Mobile users often abandon non-responsive sites so, for best results, combine InactivitySensor with OptinMonster's wide range of mobile responsive templates.
OptinMonster's InactivitySensor works on all types of websites, and integrates with WordPress, Shopify, Magento, BigCommerce, WooCommerce and many more popular eCommerce platforms.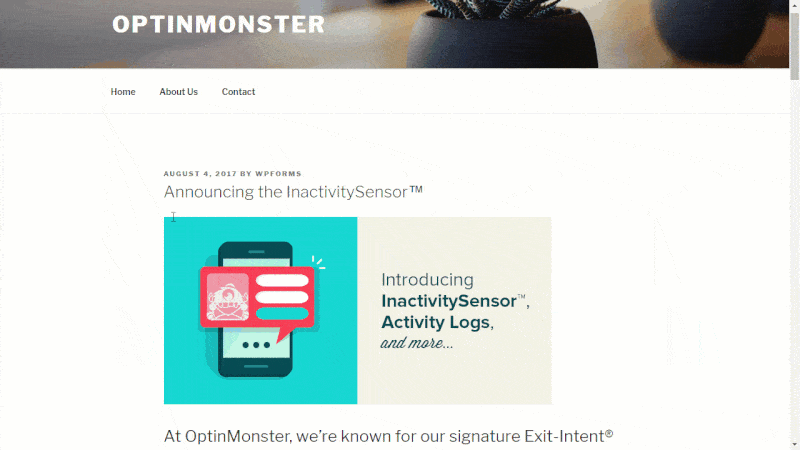 InactivitySensor for Ecommerce Retailers
One common way to use InactivitySensor is to create Exit Intent for mobile devices. Like OptinMonster's signature technology, InactivitySensor lets you target an important customer segment: people who reach your checkout, who are the hottest leads you'll ever get.
InactivitySensor monitors user behavior to detect when they have stopped all activity on your site, which usually means they're about to abandon their carts. This lack of action triggers a campaign to reactivate that user, such as:
a special, time-limited discount
an invitation to sign up for special offers
an offer of help with completing the purchase
A mobile exit offer at just the right time can win your customers back and encourage them to complete purchases.
InactivitySensor for Publishers
Does your lead capture strategy properly target mobile users?
Many people use InactivitySensor to convert bouncing traffic from mobile devices and skyrocket subscriber numbers.
Most visitors leave your site after reading your content. By detecting when people are about to leave your site, InactivitySensor lets you get their attention with a targeted offer.
This technology activates Exit Intent for mobile so you can create mobile-specific campaigns to:
increase email list signups
encourage visitors to try your product or service
get more participants for your webinar
You can create beautiful exit popups for mobile using OptinMonster's mobile responsive templates or build a custom exit popup with our Canvas technology.
Our signature Exit Intent technology is proven to increase email signups by up to 600%. Now, you can get those same benefits with InactivitySensor – Exit Intent for mobile.
Ready to reduce your mobile abandonment rates? Get started with OptinMonster today.