Do you want to target visitors coming from a specific traffic source? OptinMonster's referral detection rule makes it easy! This guide will show you how you can use OptinMonster's referral detection technology for advanced lead targeting.
---
What is the Referral Detection Rule?
The Referral Detection Rule allows you to show or hide a specific campaign when the visitor comes from a specific URL.
This rule allows you to show highly customized messages based on the referral source. Whether they found you on Google, Facebook, or another website, you can greet each visitor with a special targeted message based on their interest.
---
How to Use the Referral Detection Rule
Go to the Display Rules tab in the campaign Builder.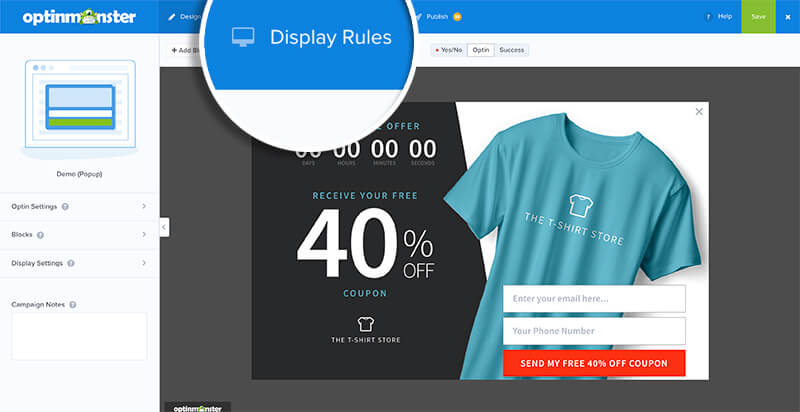 Select the referrer URL condition.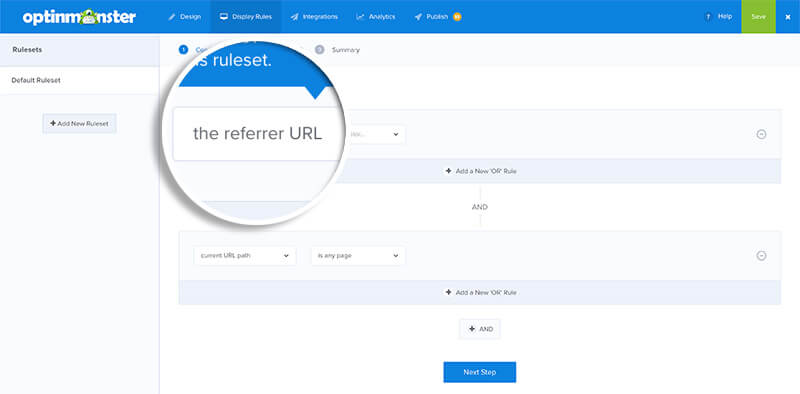 Choose the operator you want to use (e.g. "exactly matches", "does not contain", "matches the pattern").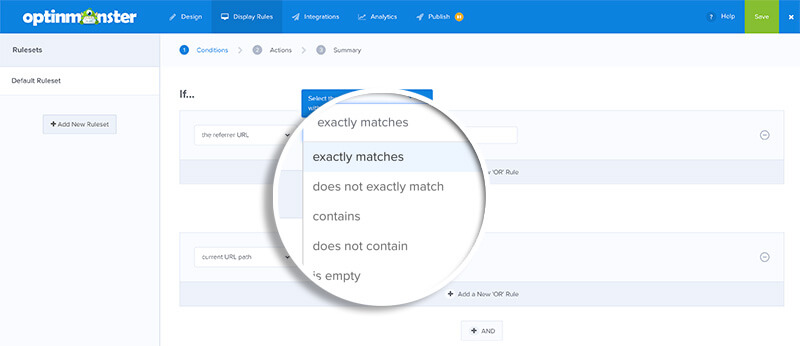 Add the URL you want to target.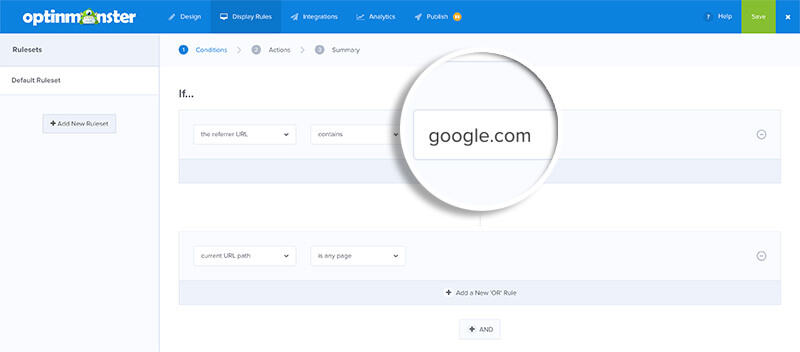 That's it, you've successfully page targeted your campaign using OptinMonster's Referral Detection technology!
Looking for more ways to create targeted campaigns? See our doc on how to target new or returning visitors.
---
Frequently Asked Questions
Q: Why would I use OptinMonster's Referral Detection?
A: This is especially helpful if you've recently been reviewed or mentioned recently by someone or some company. For instance, if Huffington post recently mentioned you, then perhaps you want a very targeted campaign just for the people coming from Huffington Post.
OptinMonster provides you with the ability to detect these leads and hopefully increase your conversions. You should check out some of our guides for more tips on increasing lead generation.
---
Q: Can I use Referral Detection to hide/show campaigns to visitors arriving from my email newsletter?
A: No, unfortunately there is no Referrer set in the browser when a visitor reaches your site by clicking on an email link. However, you might want to check out our guide on how to hide OptinMonster from existing newsletter subscribers.
---
Q: Referrer Detection isn't working for my campaign, why?
A: Referrer Detection checks if a specific value has been passed as the HTTP_REFERRER. If the HTTP_REFERRER passed is empty then Referrer Detection will fail for your campaign and your campaign might not load as you expect.
There are several reasons the HTTP_REFERRER could be empty, including if the website visitor:
entered the site URL in browser address bar itself
visited the site by a browser-maintained bookmark
visited the site as first page in the window/tab
switched from a https URL to a http URL
switched from a https URL to a different https URL
has security software installed (antivirus/firewall/etc) which strips the referrer from all requests
is behind a proxy which strips the referrer from all requests
visited the site programmatically without setting the referrer header
In all instances we strongly recommend that you thoroughly test your campaign's functionality when configuring referrer detection in the Display Rules to ensure your settings are working as expected.
Switching from a https URL to a http URL? For advanced users, if you have access to the site your visitors are coming from, you can resolve this issue by adding the following meta tag to the head of the https site:
<meta content="origin" id="mref" name="referrer">
This is how Google, etc. gets around sending referrer information from their https to regular sites.