Are you looking for the best WooCommerce plugins to increase your sales?
WooCommerce makes it easy to sell from your WordPress site. But it doesn't come with many of the features you need to run a successful online store. That's where WooCommerce plugins come in.
We've rounded up a selection of the 26 best free and premium WooCommerce plugins to keep your site humming and your sales soaring in 2021.
The best WooCommerce plugins you find here will help you to make more money on your WooCommerce site from the traffic you already have.
Ready to dive in? Let's do it…
Best WooCommerce Plugins and WooCommerce Extensions
Finding the best WooCommerce plugins, extensions, and add-ons can be overwhelming. There are thousands of plugins in the WooCommerce marketplace, so how do you know which ones are worth it?
These WooCommerce plugins and extensions will keep shoppers engaged and returning to your site while also making it super easy to keep your site up to date.
Here's a table of contents if you want to jump to a specific section.
Table of Contents
WooCommerce Plugins for Conversion Optimization
Whether you want to grow your email list, sales, and revenue on your WooCommerce store, you'll need a conversion optimization toolkit. Let's start with the best WooCommerce Plugins to promote your store.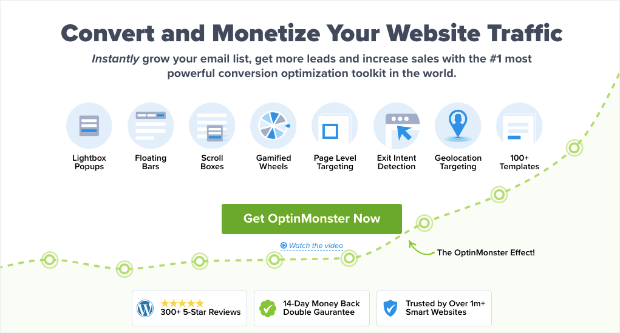 OptinMonster is the best lead generation tool for WooCommerce because it's both powerful and easy to use.
This allows you to create stunning optin campaigns like popups, floating bars, fullscreen welcome mats and more.
With these tools, you can make highly targeted offers, distribute coupons, share shipping options, and much more.
Its drag and drag builder lets you easily create eye-catching WooCommerce popups that grow your email list and boost sales.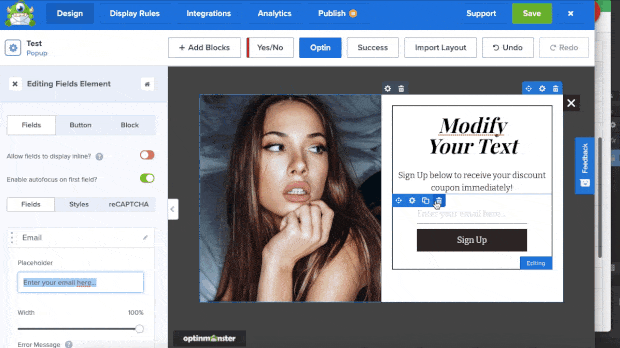 On top of that, it connects seamlessly with WooCommerce. And, with OptinMonster's stunning eCommerce store templates, you can design beautiful campaigns, including popups, floating bar, fullscreen mat, and more.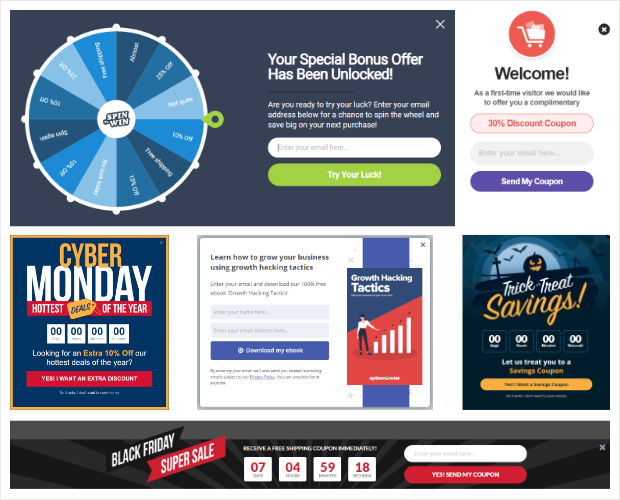 OptinMonster comes with built-in features specifically to increase WooCommerce sales, like showing your popup based on the items in your customer's cart.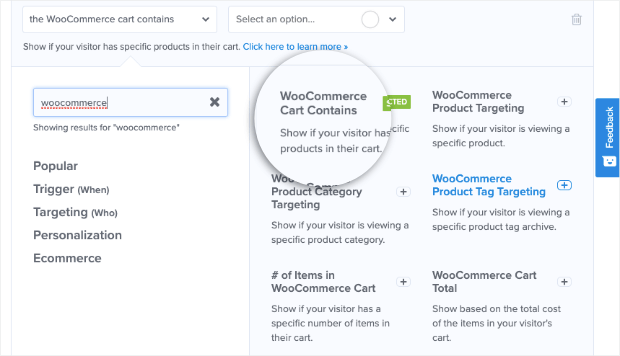 OptinMonster also works with every major email marketing service out there like Constant Contact, Sendinblue, Mailchimp, and more.
Also, with the built-in A/B testing you can split-test campaigns to make sure that you're using the best campaign to reach your goal, whether that be growing your subscriber list or recovering abandoning shoppers.
You can also dramatically boost sales by personalizing your product pages with high-converting campaigns.
Key Features:
50+ beautiful templates and 9 campaign types to choose from
Coupon Wheel optins you can use to instantly increase sales and conversions by 40% or more
Gamified wheels and countdown timers to make your site interactive
Campaign triggers like Exit-Intent® and scroll trigger to get the attention of your visitors at the right time
Geolocation targeting
Custom HTML or CSS
Sidebar widgets for all your posts and pages
Onsite retargeting features to target segmented audiences
Unlimited campaign customizations with personalization options
Check out how Kennedy Blue increased sales by 50% using OptinMonster's eCommerce targeting features. Now, want the same results?
Get Started With a WooCommerce Popup Today!
BONUS: Done-For-You Campaign Setup ($297 value)
Our conversion experts will design 1 free campaign for you to get maximum results – absolutely FREE!
Click here to get started →
Best WooCommerce Plugins for Marketing and Promotions
Like Shakira's hips, the cart abandonment stats don't lie: most visitors to eCommerce sites are going to leave without buying anything. And, they may never come back. To keep that sad scenario from playing out, you should give visitors every opportunity to stay in touch with you.
Yes, you need to be doing email marketing and boosting engagement on your site. Don't worry, with these WooCommerce plugins and extensions lead generation and email marketing can be fun.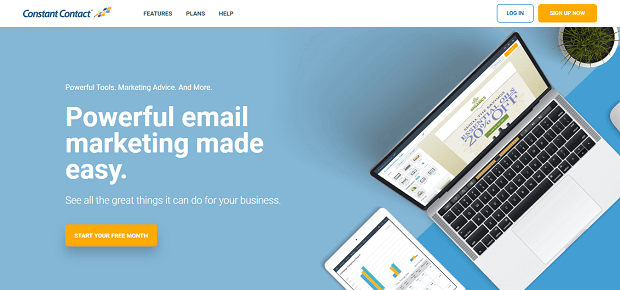 Do you want to create perfect email marketing campaigns to stay on shoppers' minds?
Constant Contact is the email marketing service that we always recommend because it's an all-around solid product with outstanding customer support. Adding its WooCommerce extension makes it easy to send targeted campaigns, follow up with customers post-purchase, recommend products, and recover abandoned carts.
Additionally, you can track and segment customers based on purchase history and frequency.
Key Features:
Segmentation and groups
Marketing automation
Abandoned cart recovery

WP Mail SMTP lets you use an SMTP service provider to send the various emails that WooCommerce sends (things like order confirmations and invoices).
Your store sends email notifications for various actions, both to the WooCommerce store owner and to customers, using the PHP mail() function. However, most WordPress hosting providers don't have this function setup the right way… and some providers even block it.
When that happens, your store's email features won't work.
WP Mail SMTP solves this problem by letting you send your store emails using an SMTP service provider, ensuring that your WooCommerce emails are delivered to inboxes instead of spam.
Key Features:
White-Glove setup
Easily control which email notifications your WordPress site sends
Uses OAuth to authenticate your account, keeping your login info secure
Automatically keep track of every email sent from your WordPress site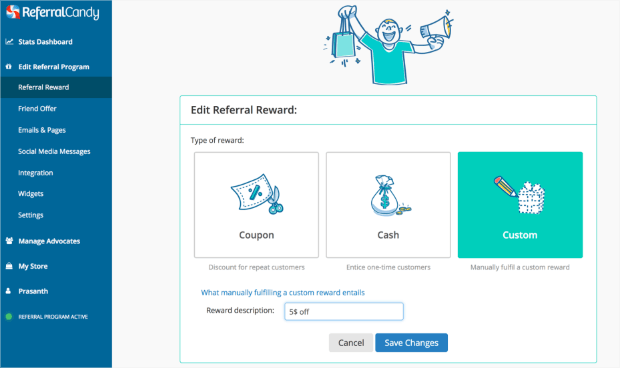 ReferralCandy makes it easy to set up and manage and referral program to keep existing customers coming back and get new ones.
You can create an awesome referral program to reward loyal customers with cash, store credit, discounts, or free products for referring their friends.
Referrals are a huge influence when it comes to new customers making purchases. When potential shoppers are referred by people they already have a relationship with, they are more like to buy. With this in mind, referral programs are a great way to reward loyal customers so they know that their business and referrals mean a lot to you.
Additionally, you'll be able to bring back existing customers to take advantage of their referral benefits.
Key Features:
Track referral engagement, customers' shares, and new sales
Cross-channel promotion to make it easy for customers to join
Distribute rewards like coupons, cash, or gifts automatically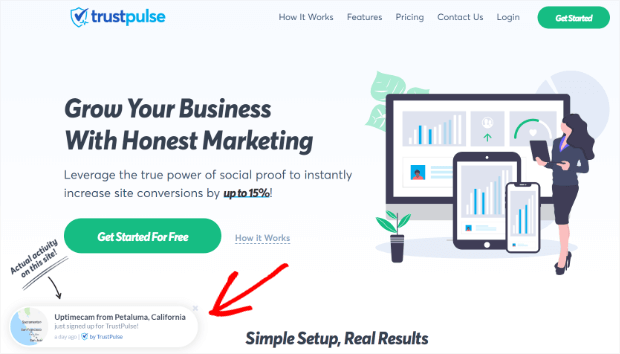 TrustPulse is a social proof plugin for WordPress to build trust with your site visitors. It works by showing small notification of real-time activity other users have taken on your site.
Shoppers are 92% more likely to trust recommendations from other shoppers over advertising when it comes to purchasing decisions.
TrustPulse uses real activity from real people to increase your site conversions by up to 15%.
Key Features:
Real-time event tracking for purchases, demo registrations, email signups, and more
Smart targeting to boost conversions using advanced targeting rules and timing controls
Modifications made easy with drop-down menus, text input, and color wheels
"On fire" notifications to show how many people are taking action in a given period
Flexible design options to match your site's branding
Actionable analytics to get the stats you need to boost conversions
Easy setup on any website with no coding needed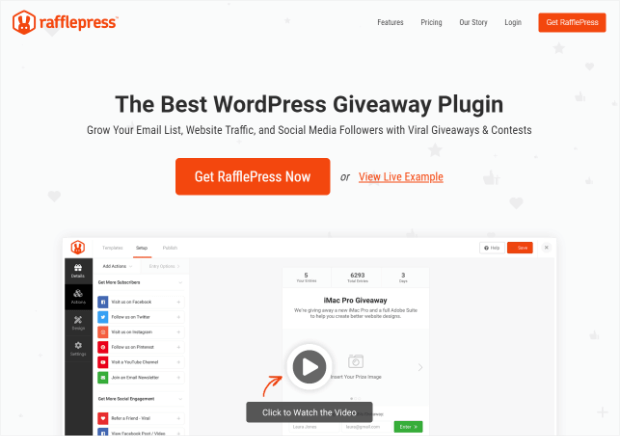 RafflePress is the best giveaway plugin for WordPress. Running contests and giveaways is one of the best ways to increase engagement with your brand, not to mention grow your email list.
RafflePress makes it super easy to create contests and giveaways for your eCommerce website, blog, and social media platforms. You can build engagement with social media followers and website visitors by allowing them to get multiple contest entries for completing different promotional tasks like signing up for your email newsletter, sharing your content, or submitting user-generated content.
RafflePress has a simple, modern interface with a drag and drop builder so you can create an attention-grabbing giveaway in minutes. Plus, it includes impressive success tracking and retargeting features so you can monitor your giveaways and drive entries.
In addition, RafflePress comes with fraud protection, distraction-free landing pages, and integrates with social media platforms as well as email marketing services and CRMs.
Key Features:
Create different entry options for all major social networks
Drag and drop giveaway builder
Marketing and CRM integrations
Success tracking and retargeting
Fraud protection
For more information, check out this helpful review of RafflePress.
Or dive right in and get started with RafflePress today!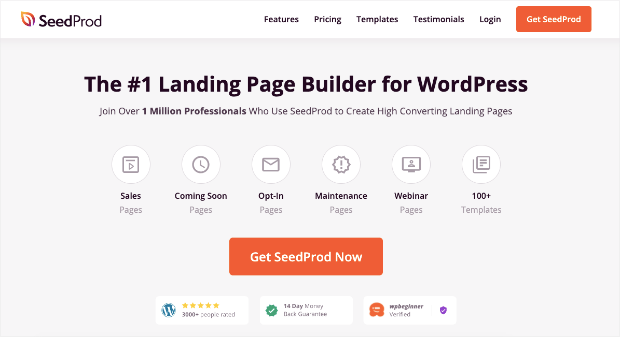 SeedProd is the world's best landing page builder for WordPress. With this plugin, you can build product pages for your WooCommerce store, and other pages including:
Coming soon
Optin
Maintenance
Webinar
And much more…
Plus, SeedProd comes with 100+ templates to help get you started FAST.
They also have a drag and drop editor that makes page design easy, along with several WooCommerce-specific features that let you optimize your products' landing pages.
With SeedProd, you can build stunning and high-converting pages for all of your products and load them with social proof, video demonstrations, various calls-to-action (CTAs), and much more.
These help boost sales and get showcase your products in a better way than WooCommerce's native product pages.
Key Features:
Drag and drop page builder
WooCommerce blocks to create better product pages
Inline text editor
Stock photos available for use
Responsive and mobile-friendly

This free WooCommerce plugin gives you an attractive way to display product images and product information while also keeping shoppers engaged.
Adding a product carousel is an easy way to keep shoppers engaged on your site.
WooCommerce Products Slider is customizable to make sure that every bit of your site is on-brand. Shoppers can view images and product information and can add products to their shopping cart right from the carousel.
Key Features:
Fully responsive and mobile ready
Add new product carousels on poses or pages
Unlimited slider
Hide products that are out of stock
Extensive customization options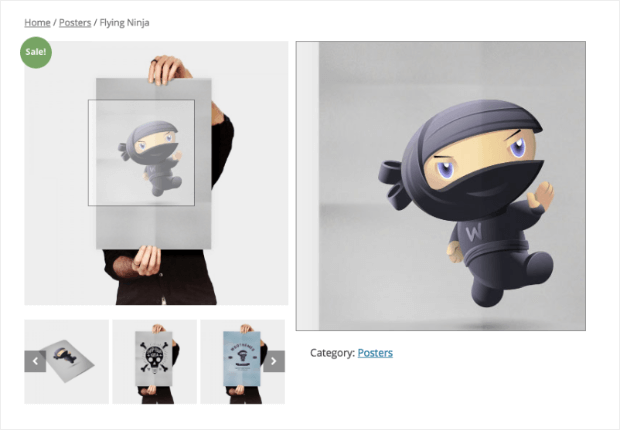 Since shoppers can't physically pick up your products to get a close look, they're going to want to be able to see larger images. With WooCommerce Image Zoom you can give them the larger images they want without slowing down your WordPress website with giant images.
Shoppers can take a closer look at each product image to learn more about your products with this free WooCommerce plugin.
Shoppers are happy and your site still loads quickly.
Key Features:
4 types of zoom
Customizable zoom lens and zoom window size
Remove zoom for a specific product or category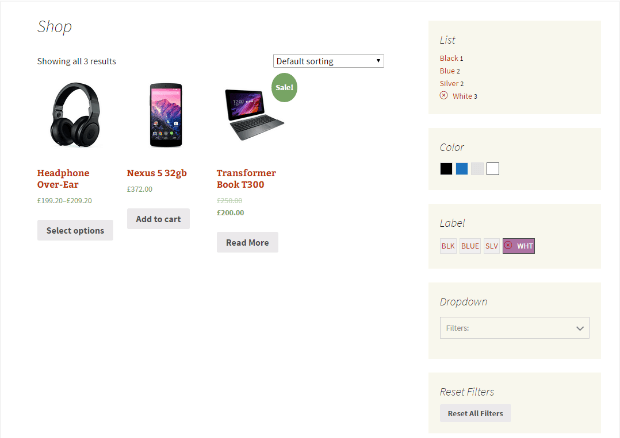 Search functionality is important on any website, but it's a must-have on your eCommerce platform.
YITH WooCommerce Ajax Product Filter lets your shoppers find what they're looking for easily, so they're more likely to buy instead of getting frustrated.
Key Features:
Filter products using 1 of 4 available layouts (6 layouts with premium)
Filter for products based on availability or sale status
Sort products by rate, price, popularity, and most recent
Increase Your Store's Shopper-Friendliness
Your WooCommerce store front has to be easy to use, or shoppers are going to find a store that is. The default WooCommerce setup just isn't enough. Offering a wishlist, letting shoppers change currencies, and adding user accounts can go a long way to keep shoppers coming back to your site instead of heading to your competitor's.
Let's take a look at the best WooCommerce plugins that make your site a shopper-friendly place.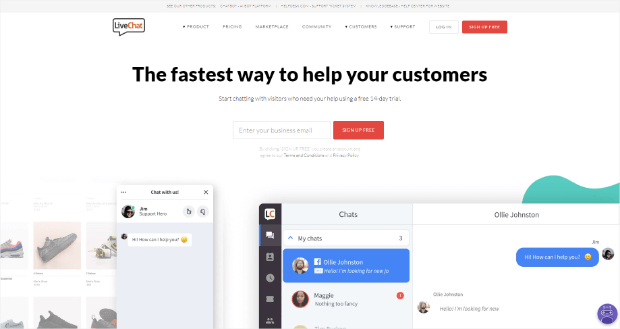 On average, about 70% of shoppers abandon their carts before completing a purchase. Why? Customers want instant answers to their questions.
LiveChat is the best live chat support software on the market. It lets you add live chat to your WooCommerce store easily so you can answer questions instantly.
It makes it easy to convert users into customers before they abandon their carts. Plus, LiveChat works with WooCommerce Google Analytics, all the best email marketing services, CRM software, and more.
Key Features:
Beautifully designed live chat widgets to add a chatbox to your site
Mobile-responsive so you can chat with customers from anywhere
Evaluation surveys can be added for collecting feedback before or after the chat session
Tons of integrations with other tools like email marketing services and marketing automation software
Lightning-fast loading time for an awesome user experience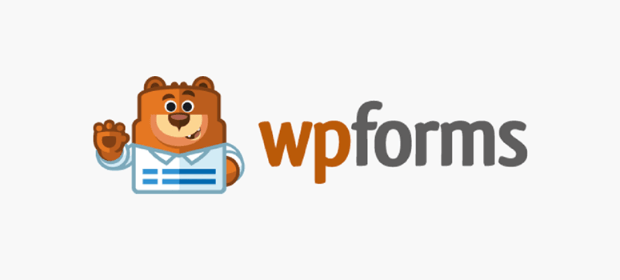 WPForms lets you create simple to advanced WordPress forms like an expert. No coding required. A contact form plugin is essential for any site, including your WooCommer store. You'll want a contact page for staying in touch with your shoppers, answering questions, and resolving issues, and WPForms makes that ridiculously easy.
Key Features:
Drag and drop form builder with pre-built form templates
Smart survey fields to create user feedback with Likert scales, ratings, multiple-choice, etc.
Easily create polls and display real-time results on your site
Real-time insights offer beautiful reports with the best visualization
Custom fields to gather user data
Free version lets you start at zero risk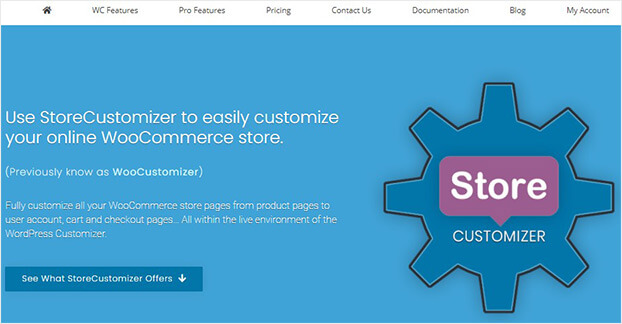 StoreCustomizer makes it easy to edit your WooCommerce store without writing any code. With StoreCustomizer, you can easily edit text and page elements on your WooCommerce pages. You can use the WordPress customizer to anything about your WooCommerce site.
Key Features:
Enable product quick view for easier browsing
Add multiple search bars across your store
Set custom thank you pages per product or payment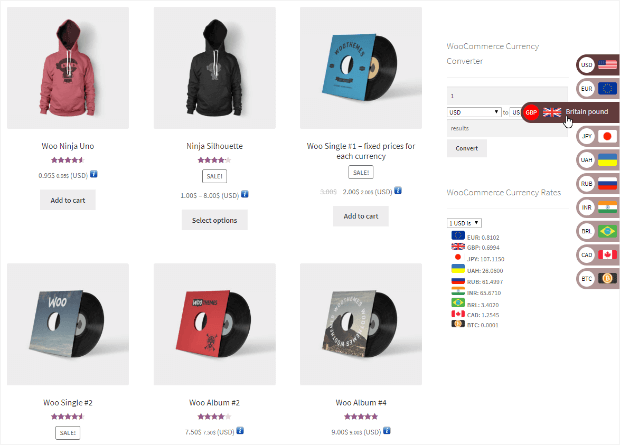 WooCommerce Currency Switcher allows your shoppers to switch currencies and get rates converted in real-time.
Using a currency converter like WooCommerce Currency Switcher makes it easy for your shoppers to see what they're paying in their own country's currency. It's a small thing that can make a big difference in a shopper's decision to buy.
With this free WooCommerce plugin, you can even set fixed minimum amounts for free shipping offers. This means that you won't be using all of your profits to cover international shipping costs.
Key Features:
Shortcode to easily add the widget to your site
Currency can be changed automatically based on shopper's location
3 available widgets: currency switcher, currency converter, and currency rates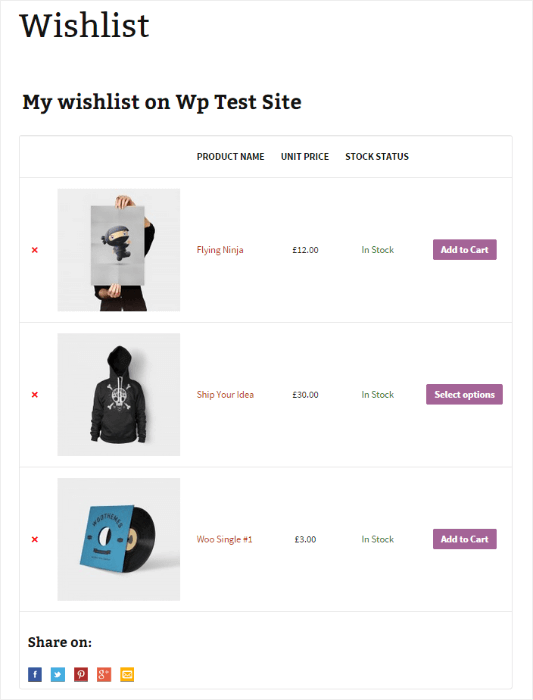 Gone are the days of handwriting lists to let family and friends know what to get people for birthdays and holidays. With YITH WooCommerce Wishlist your shoppers can create and share wishlists quickly so their loved ones are never left guessing. And, if they're wanting to treat themselves they aren't left trying to remember what it was they wanted.
As a store owner, you can use wishlist information to reach out to shoppers about sales on their wishlist items or related products they may be interested in.
Key Features:
Add to Cart button on the wishlist page
Wishlists are shareable via email and social media
Create multiple wishlists (premium)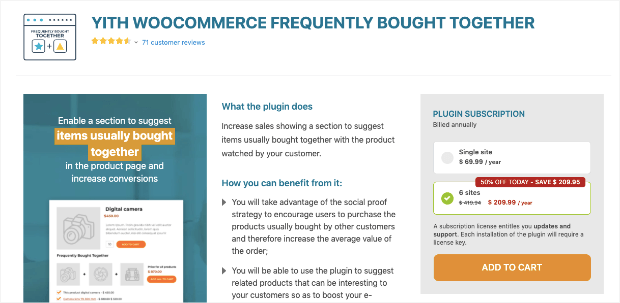 YITH Frequently Bought Together for WooCommerce is a great plugin for increasing your customers' average order value.
With this plugin, you can quickly and easily make more targeted upsells for all of your WooCommerce products.
Plus, with shortcodes, you can embed these product bundles in OptinMonster campaigns to boost engagement with your audience.
Imagine your customers start to abandon their cart, only to get this fullscreen message: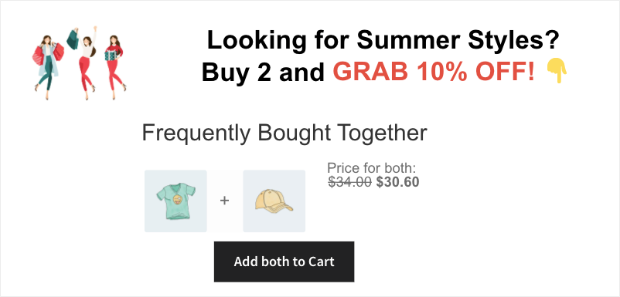 When users see the deal, they decide not only to head back to their cart but to purchase both items to get the discount.
To learn how to create a popup like that, check out this helpful resource: How to Create a 'Frequently Bought Together' Offer for WooCommerce.
Key Features:
Easy setup and installation
Bundle products together in seconds
Configure the size of the recommended product images
Improve overall sales and average order value per customer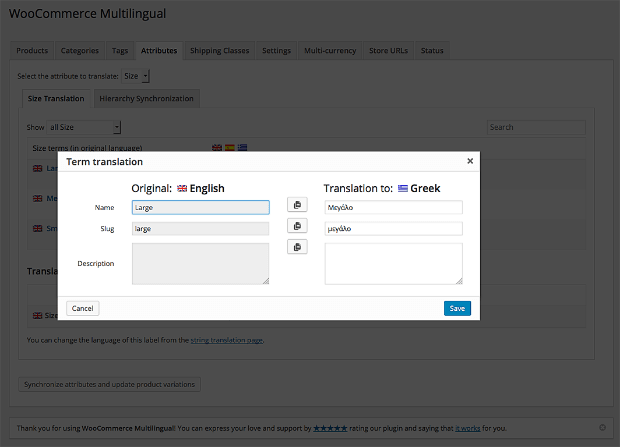 Translate your product and other WooCommerce pages into other languages with this free WooCommerce plugin.
WooCommerce Multilingual helps your shoppers feel comfortable navigating your site and lets them view product information in the language that works for them.
Showing product info in the language your visitors are most comfortable in makes a big difference to your bottom line. Libratone used this tactic to grow their email list 400%!
Key Features:
Translation management for products, categories, and attributes
Keep the same language throughout the checkout process
Send emails to clients and admins in their language
Best WooCommerce Plugins for Site Maintenance
Ideally, your pricing structure and product offering won't be a "set it and forget it" thing. You'll want to run specials and deals occasionally to keep shoppers engaged and make sure you're not being undersold by your competitors. Also, you should be regularly changing around the products that you're offering to generate interest and create urgency.
Here are some of the best WooCommerce plugins to help you manage products and pricing.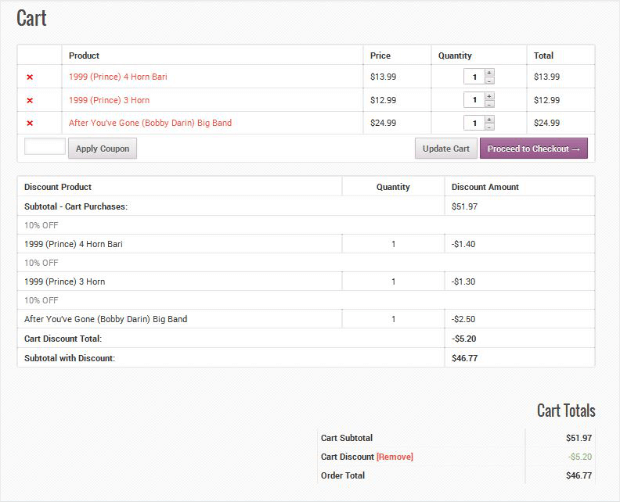 Create discount pricing and marketing deals with this WooCommerce plugin.
Shoppers love sales. In addition to that obvious detail, updating pricing on your site lets visitors know that your site is open for business.
Pricing Deals for WooCommerce lets you set sales for your whole store, or you can select specific categories, products, or even brands to include. You can also include a free item automatically which is great for sites offering a free gift with purchase.
Key Features:
Buy One Get One (BOGO) deals
Schedule pricing changes
Discount based on cheapest, most expensive, or "equal or lesser value" item
Dynamic pricing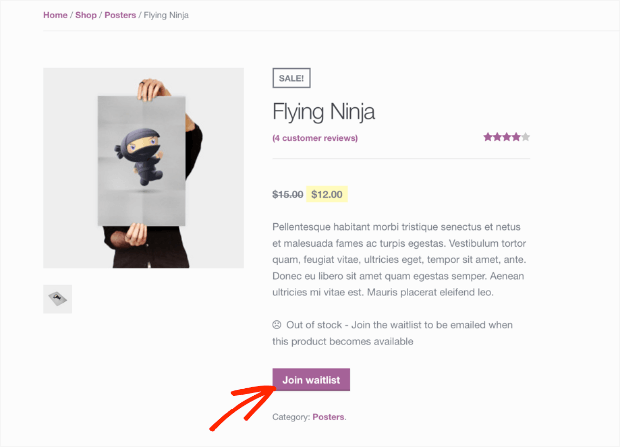 WooCommerce Waitlist lets you track demand for out of stock items and send emails once the item is back in stock.
Using WooCommerce Waitlist keeps shoppers informed about products they're interested in. Also, it gets you the email address of an engaged shopper.
You can use a waitlist to build hype about a new product by having shoppers join the waitlist to be notified when the product finally launches. To take that a step further, you can use the waitlist to create exclusivity around a product launch. For instance, you could give shoppers the opportunity to sign up for the waitlist for a certain amount of time. In exchange, they would be able to purchase the product BEFORE the actual launch date.
There are many ways to use waitlists to boost interest in your products and keep shoppers engaged.
Key Features:
Notify customers via email when their waitlisted product is available for purchase
Enable or disable guest users
Track customer list, products needed, and quantity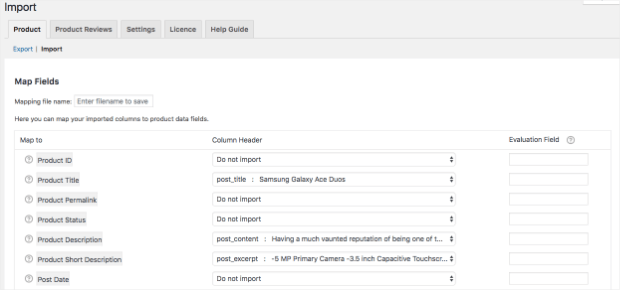 The Product Import Export lets you easily import and export products in your WooCommerce store.
You don't have time to manually enter data about every single one of your products. With this in mind, the Product Import Export plugin makes mass edits and updates easy.
This plugin lets you keep your margins where they should be, even when your suppliers change their prices.
Key Features:
Import products from CSV files
Include reviews, SEO data, etc.
Update/sync product details
Export complete product details, including images
Best WooCommerce Plugins for Checkout and Shipping
There's a reason Amazon offers the option to buy with 1 click: shoppers like easy. Fortunately, there are lots of WooCommerce extensions out there to help streamline checkout and payment by connecting to powerful gateways like Stripe, PayPal, and more.
Plus, customers like to start tracking their shipments as soon as they've submitted and paid for their WooCommerce orders. These plugins can help you accept payments and get orders out quickly and give customers the tracking info they want.

WooCommerce Checkout Manager lets reorder, rename, hide, and extend checkout fields in Billing, Shipping, and Additional sections on your cart page and checkout page. Creating a customized checkout experience can provide additional useful information about your customers and make it seem like the site was built when them in mind (as it should be).
WooCommerce Checkout Manager is a great WooCommerce checkout plugin that lets you create conditional or optional fields so customers are less likely to see fields that aren't relevant to them.
Key Features:
Add, remove, and make fields required
Create conditional fields
Keep field information for customers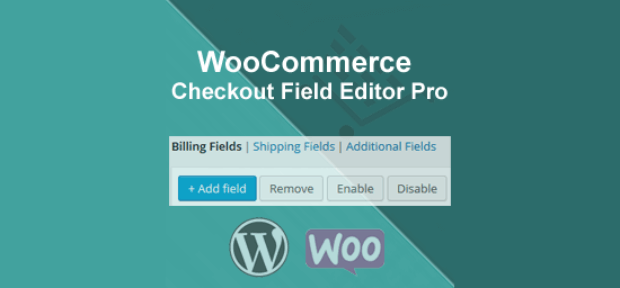 WooCommerce Checkout Field Editor lets customize the fields on your WooCommerce checkout page.
Similar to Checkout Manager, WooCommerce Checkout Field Editor is a free plugin that lets you customize the checkout experience for your shoppers.
A really cool thing about Checkout Field Editor is the "reset" button. For those times when you've gone a little overboard with your customizing.
Key Features:
Display fields on the Order Details page and email
Change fields order
Enable or disable fields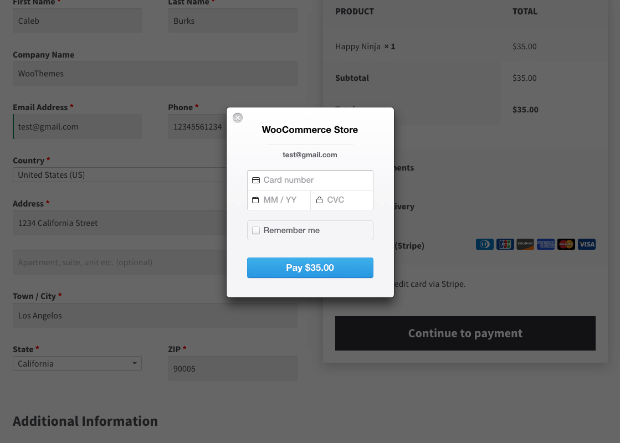 With the WooCommerce Stripe plugin, your store can accept all major debit and credit cards, in addition to local payment methods.
Customers have different wants and needs when it comes to checkout and supporting multiple payment gateways can increase conversions.
The WooCommerce Stripe plugin comes with built-in support for Apple Pay, Google Pay, and the Payment Request API to make checkouts fast on both desktop and mobile.
Key Features:
Optimized for mobile and fast checkout
Support for recurring payments
Safe and secure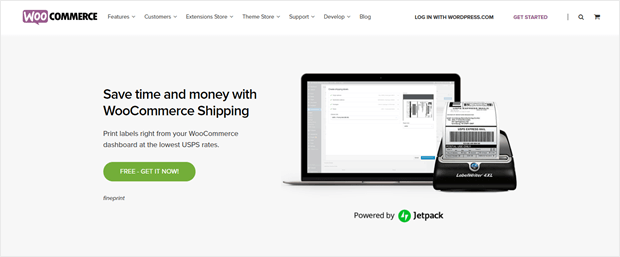 The WooCommerce Shipping service is maintained by the WooCommerce team and can help you save time and money with built-in WooCommerce shipping.
Key Features:
Built-in to WooCommerce (no copying and pasting order details)
Save up to 90% on USPS shipping rates

Order Delivery Date for WooCommerce lets businesses create complex delivery schedules. And, it gives give customers the freedom to choose their desired delivery date. Pretty much the moment shoppers hit the button to complete their order they are wondering when they're going to get their goods. With Order Delivery Date for WooCommerce, they'll never be confused about where their order is or when they will receive it. This eases the burden of your customer service people who won't be fielding so many calls about shipments.
Key Features:
Set business days and delivery days separately
Create delivery schedules from USPS Shipping Method and Table Rate Shipping Plugins
Create pickup locations for local pickup shipping
Best WooCommerce Plugins to Cross-Sell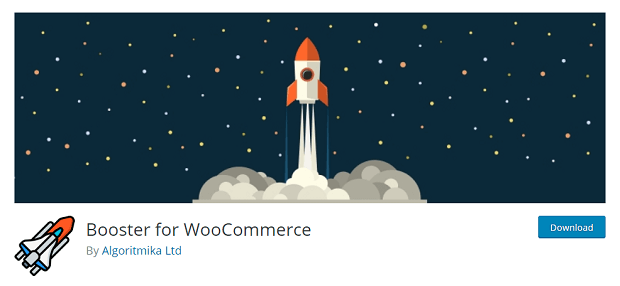 If you're looking to keep plugins to a minimum, adding Booster will help you do that. Booster for WooCommerce contains more than 100 modules that will help you do everything from invoice to cross-sell to ship and track orders.
Key Features:
PDF invoicing
Customize WooCommerce breadcrumbs
Cross-sell products display customization
A ton more…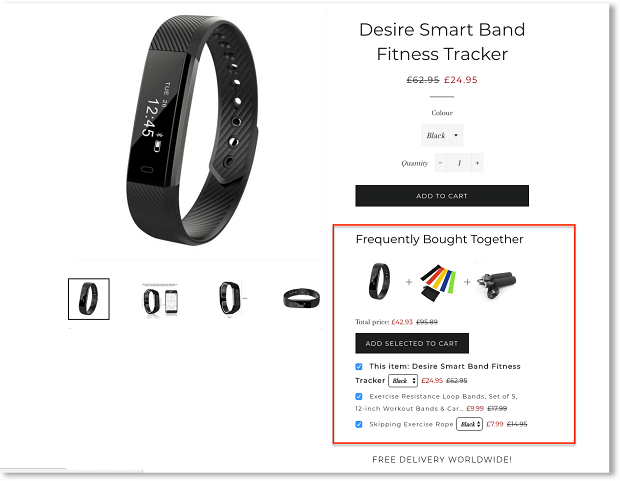 Beeketing is a marketing automation platform that lets optimize conversion rates, increase average order value, prevent cart abandonment, and boost online sales.
Beeketing has a lot of features that make it great for marketing automation. It's particularly great with upselling and cross-selling.
If you're looking for the best WooCommerce upsell plugin, Beeketing is worth a look.
Key Features:
Upsell and cross-sell
Create product bundles
Chat with WooCommerce customers via Facebook Messenger without leaving the store
Best WooCommerce Analytics Plugin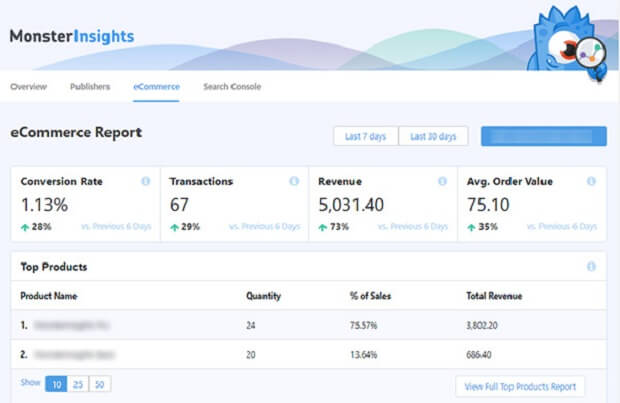 This WordPress plugin will keep track of all the critical eCommerce data you need at a glance: conversion rate, transactions, revenue, average order value, and more.
Data not only tells you where you've been, but it also helps you plan out where you want to go and how to get there. With the MonsterInsights plugin, you will have all of the information you need to make sure that your eCommerce site is performing as it should.
Key Features:
Real-time analytics
Related products tracking
Individual customer tracking
For more on this, check out our MonsterInsights Review to find out if it's the best analytics plugin for you.
There you have it! Running an eCommerce site is hard work, but now you have a great list of the best WooCommerce plugins to make it easier on you. Did we miss any of your favorites? Let us know in the comments.
Get Started With a WooCommerce Popup Today!
BONUS: Done-For-You Campaign Setup ($297 value)
Our conversion experts will design 1 free campaign for you to get maximum results – absolutely FREE!
Click here to get started →
Looking for more eCommerce plugins? Check out our roundup of the best WordPress plugins and tools to grow your business. Or maybe you want to make your checkout experience even easier for your WooCommerce customers.
In that case, head over to the following posts:
Not using OptinMonster? Where have we been all your lives? Join us today! Signup takes just 60 seconds and gives you immediate access to professionally designed campaigns you can use to start collecting leads right away. ⚡