Do you want to easily create a WordPress form to collect your site visitor's information?
In this article, we're going to share our picks for the best WordPress contact forms plugins on the market so you can create awesome WordPress forms that improve engagement, lower bounce rate, and increase conversions on your site.
What is the Best WordPress Contact Form Plugin?
WordPress contact forms give visitors a user-friendly way to contact you without leaving your site. There's no email address to copy and paste if they don't happen to use the default email application on their computer. And, they don't have to search the contact page to find the email address in the first place.
Plus, no published email address means you can prevent spam.
There are more than a thousand WordPress contact form plugins making it very easy to create a custom form that matches your brand. But, having that many WordPress form plugins available means it can be really hard to find the good ones.
So we did the work for you!
Best WordPress Contact Forms Plugins
Many of the top sites use a WordPress form plugin to stay connected with their site visitors. Let's take a look at the 12 best WordPress contact forms plugins available.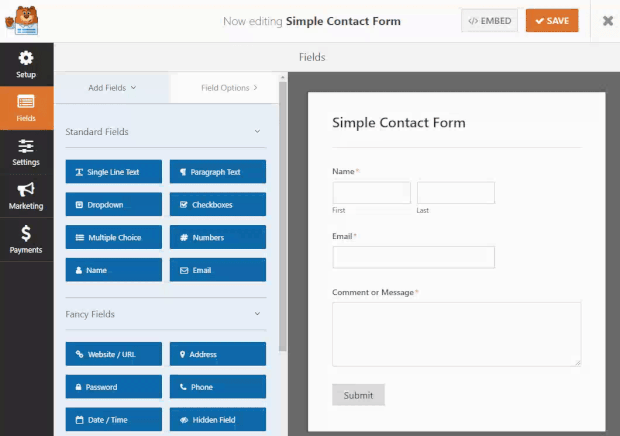 WPForms is a drag and drop form builder designed to be both user-friendly and powerful. This is one of the best WordPress contact form plugins, and we use it on OptinMonster.com and all of our other websites.
Key Features and Benefits:
Pre-built form templates to make it even easier to create contact forms
Easy drag and drop interface to customize your forms
Multi-page forms to improve user experience
Smart conditional logic lets you show or hide form fields or sections based on user behavior
Geolocation to display location information about users
Form abandonment so you can capture email address even if visitors don't finish
Surveys and polls functionality makes it easy to create and analyze user response right from your WordPress dashboard
Create WordPress forms with AJAX so pages don't reload on form submission
If you're looking for a free WordPress contact form plugin, WPForms Lite comes with all the basic contact form tools that you need to get started, like the simple contact form, basic form fields, email notifications, a thank you page for form confirmation, and even a captcha for spam protection.
With the premium version of this WordPress contact form plugin, you can unlock access to all types of forms including surveys, user registration, post submissions, order forms with payment, file upload forms, and much more.
The #1 goal of WPForms is to be user-friendly, so it's possible that it may not have some of the complex features that another form plugin for WordPress might have. But, it does have quite a few addons to extend its functionality. And, WPForms has more than 2 million active installations and a fiercely loyal following.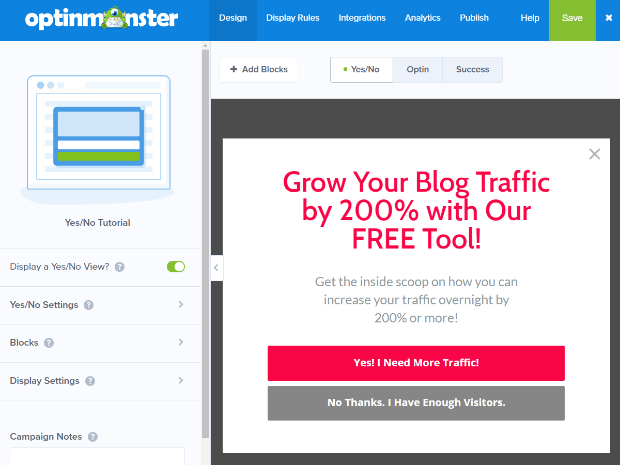 Want to create an optin form to grow your email list?
OptinMonster is the best drag and drop optin form builder for WordPress. With its drag and drop builder, it allows you to easily create eye-catching popups and other contact forms. You can use these popups to collect visitor information like name, email address, and phone number. And, it connects seamlessly with WordPress.

Fitness site Crossrope was able to grow its email list 900% by using OptinMonster.
Key Features and Benefits:
Yes/No campaigns allow you to create high-converting multi-step optins
Campaign triggers, like exit-intent®, help you figure out the right time to show a campaign to get your visitor's attention
Geo-Location targeting lets you personalize campaigns based on visitor location
Seamlessly connect your campaigns to your email marketing service to create effective and targeted campaigns that convert
Easily A/B test your ideas to figure out which campaigns are best at converting your site's visitors
Get started with OptinMonster today and grow your business like you never dreamed possible.
Get Started With a WordPress Form Today!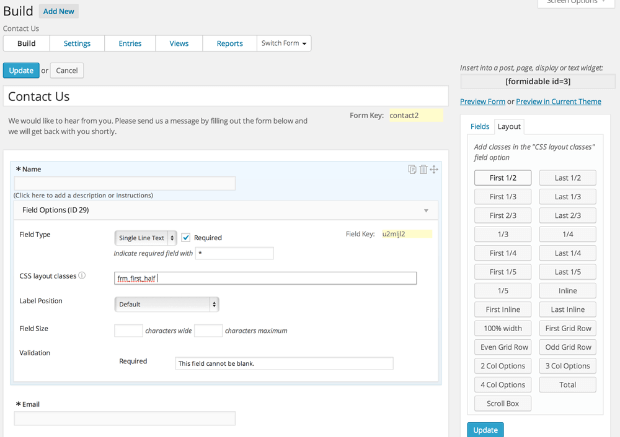 Formidable Forms is a versatile drag and drop form builder with great performance options.
You can use this WordPress contact form plugin to create complex forms like quizzes, surveys, payment forms, registration forms, profile forms, and more.
Key Features and Benefits:
Cascading lookup fields to display available options based on the selection from the previous form field
Calculated form fields make it easy to provide online estimates, calculate product options, or show interest/repayment calculators
Fill out forms automatically to save time and increase conversions
Use conditional logic to show or hide questions based on user behavior
Conditional redirection helps you route submission response notifications to the right people
Formidable Forms form builder focuses on advanced users and developers, so it isn't as intuitive as WPForms. However, it's the most extendable WordPress form solution in the market. You can use it to create form-focused solutions like directories, job board listings, event calendars, management systems, star ratings and other rating systems, and more.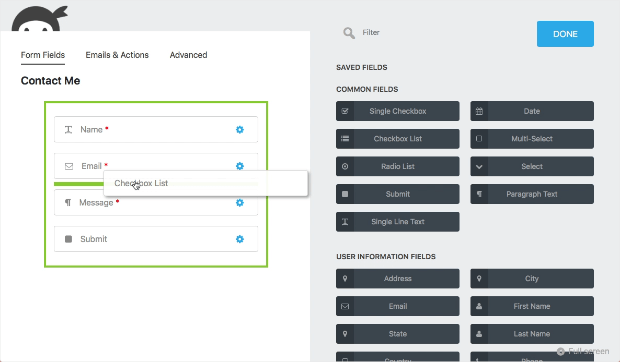 Ninja Forms offers a super basic form builder that can be customized with exactly the features you want with the use of addons. The core plugin is available for free in the WordPress plugin repository.
Key Features and Benefits:
Easy-to-use WordPress form builder with basic features
Tons of addons to customize how the plugin works, which lets you get only the features you need
Easily connects with services like MailChimp, Campaign Monitor, and AWeber to keep you on top of your marketing efforts
While the core plugin is free, the cost of just two extensions makes Ninja Forms comparable to WPForms or Formidable Forms.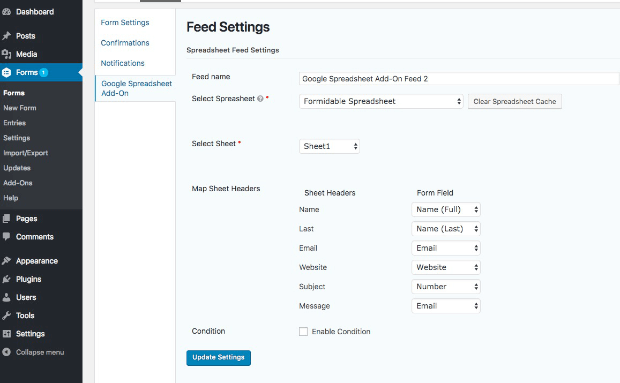 Gravity Forms is a visual form editor that is packed with features like multi-page forms, save and continue, and limited form entries. Its advanced features make it one of the best WordPress form builder plugins for developers.
Key Features and Benefits:
Visual form editor lets you build and design your WordPress forms in real-time
Use conditional logic to show or hide form fields, sections, pages, or the submit button based on user selections
Add file uploads fields to let users submit files or photos, avoiding back-and-forth to get needed files later
Allow users to save forms to continue at a later time
Create user-generated content with front-end forms that create WordPress posts
Gravity Forms doesn't have a free WordPress contact form plugin, but if you're going to be using it on multiple sites, cost shouldn't be a factor.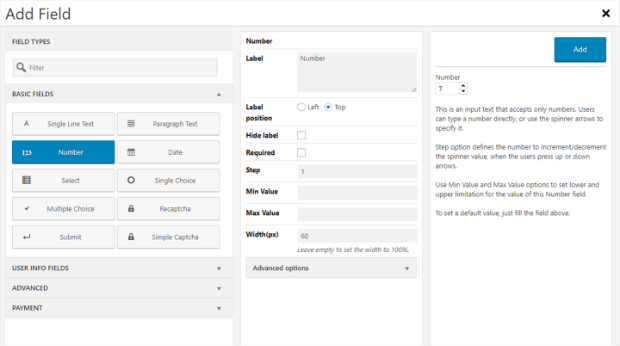 Form Maker by 10Web is a drag and drop form builder plugin with a user-friendly interface. The core plugin is free but limits you to just 7 different form fields.
Key Features and Benefits:
Unlimited field types make it easy to get exactly the data you need
4 display options (embedded, pop-up, scrollbox, and top bar) to place the form where it works best for your site
Use the custom CSS editor to give additional styling features to forms and match them exactly to your brand
Register users on your WordPress site easily using the User Registration addon
Form Maker can be a bit much for beginners and those who don't have HTML and CSS skills. So, this WordPress contact form plugin might be a better fit if you have some technical knowledge.

Caldera Forms is a drag and drop form builder that comes in a free plugin with many free user-friendly addons.
Key Features and Benefits:
Incredibly feature-rich free plugin
Various field types including calculation, dropdown, radio buttons, and file upload to help you get the info you need
Create a custom WordPress search form to search posts, users, categories, tags, custom post types, and custom fields
Despite being a pretty widely used WordPress contact forms plugin, the free version doesn't get great support. Plus, addons for Caldera Forms plugin are quite expensive.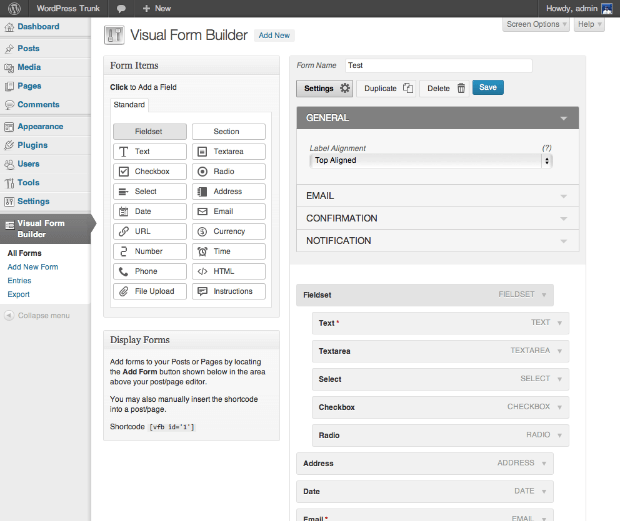 Visual Form Builder lets you add form fields with a single click then drag and drop the fields to reorder them how you want.
Key Features and Benefits:
Automatic updates keep your forms running through each WordPress upgrade
Form submissions are saved in your WordPress database which makes it easy to view, edit, export, search, or anything else you need to do
Redirect to a WordPress page or URL after form submission to keep visitors engaged and on your site
Duplicate forms with one click to save time
The free version of the WordPress form plugin comes with limited fields and you'll need to upgrade for access to things like payment gateways and email capture.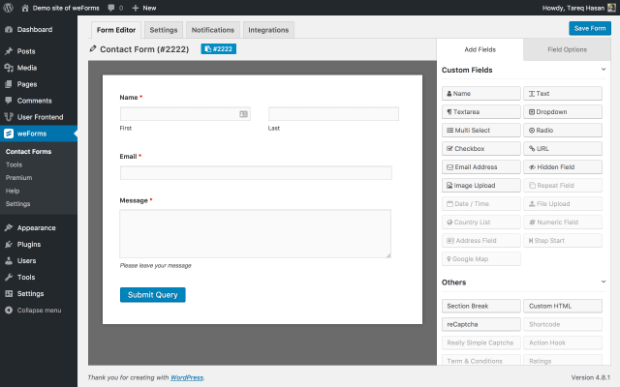 weForms is an all-in-one form builder with a minimalistic design that makes it super user-friendly.
Key Features and Benefits:
Single page operation means that everything happens quickly, without reloading the page
Build mobile-responsive forms that work on any portable device
Create exclusive campaigns by controlling user access, adding start and end dates, or limiting the number of entries
The plugin does have a minimalistic design that's supposed to make it fast, but it was actually pretty slow loading on the backend.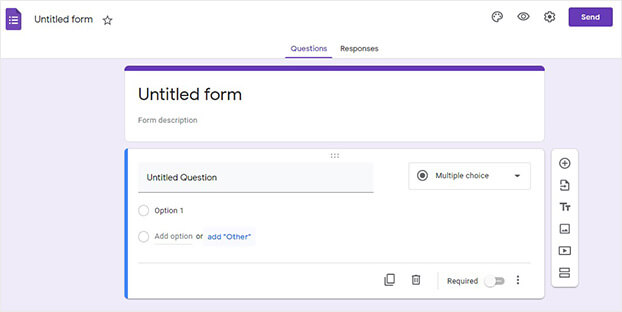 Google Forms is an easy to use, free form builder you can use to create online forms.
Key Features and Benefits:
Responsive forms that work across all devices
View responses in easy to understand format
Collaborate easily with team members using Google Suite
Easily embed your WordPress form in your site
You can add your colors and images, but customization is fairly limited.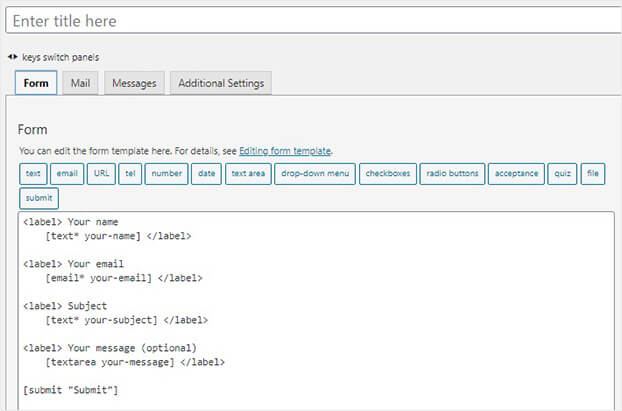 Contact Form 7 is a free WordPress form builder plugin.
Key Features and Benefits:
Create simple WordPress forms with checkboxes and dropdown menus
Completely free WordPress contact form
Integrates with anti-spam tools
Unlike other WordPress form plugins, Contact Form 7 lacks a visual form builder.
There you have it! Our top picks for the best WordPress contact forms plugin.
As we mentioned, adding a WordPress contact form to your site is a great way to increase engagement. Interested in more lead generation ideas and tools?
Then, you will find these resources useful:
Give OptinMonster a try for lead generation. Join us today!