Are you looking for the best WordPress LMS plugin for your website?
A Learning Management System (LMS) lets you easily create and run an online course right from your WordPress site.
In this article, you will learn the best WordPress LMS plugins that are feature-rich and can handle subscriptions, tests, and student reports.
Before we jump into the list, let's look at the benefits of offering an online course.
Benefits of Using a WordPress LMS
There are several ways your business will benefit from offering online courses:
Recurring income: Creating an online course lets you create recurring income without recurring work. You can create your learning online course and sell it without the need to put time aside to run it.
Scalability: Online courses are easily scalable to reach many people without repeating the effort.
Greater reach: You'll be able to share your knowledge with more people (at less cost to you AND them) than individual contact allows.
Cost-Efficient: With a WordPress LMS plugin, you can say goodbye to costs like printed materials, travel, training venue, and more.
Easily personalized: When your course materials are created with a WordPress LMS plugin, you have an easy way to offer users only what they're interested in.
Better communication: Online courses create an open channel of communication between WordPress users and your company.
If you want to check out examples, Coursera, edX, and Udemy are some of the leading online course sites in the world.
You can also create online tutorials for your product or service to improve customer service and experience.
That's where your WordPress LMS plugin will come in handy. These tools allow you to quickly and easily create online courses for YOUR target audience.
Now, let's check out the best WordPress LMS plugins on the market today.
Best WordPress LMS Plugins
Now that you know how you can benefit from creating online courses, let's get into the best WordPress LMS plugins we've found to make your online course dreams a reality.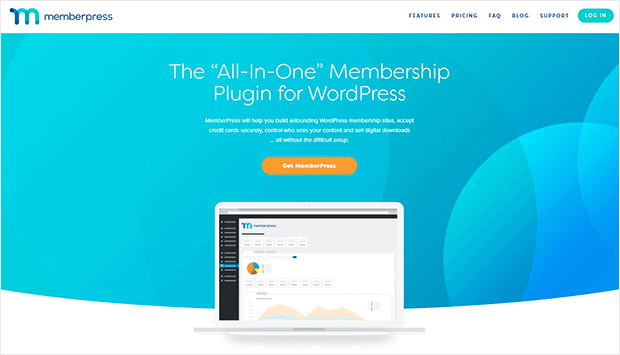 MemberPress is a wonderful online membership software that you can use to create an online course. You can use MemberPress to protect course materials as well as give users a place to interact with each other, download information, and receive updates.
With MemberPress, you get a WordPress LMS plugin that's super easy to set up and works with any theme. But that's not all. Here are some more awesome features:
Unlimited members, memberships, and restricted content
Create unlimited courses with every plan
Automatic upgrade/downgrade prorations
Full subscription and transaction management (including recurring subscriptions)
Unlimited access rules
Easy locking of specific pages, posts, hierarchal post types, standalone files, and more
Content access drip and access expiration
Multiple membership options like one-time payments, subscriptions, and tier levels
MemberPress also includes comprehensive reporting, custom registration and account fields, and built-in integrations. And even that's not all!
With the LearnDash addon for MemberPress, you'll have a comprehensive membership and online learning solution. MemberPress restricts and manages access to your content, while LearnDash handles learning content delivery and course progression.
MemberPress is an all-in-one membership plugin that also lets you create any other kind of membership site. So if you ever want to expand your offerings to products and services, MemberPress makes it easy.
Price: Pricing starts at $149/year.
Ideal for: People that want the absolute best way to restrict access to learning materials and courses.
Resource: MemberPress Review (2023): Details, Pricing, Features, Pros and Cons
Get started with MemberPress today!

Thrive Apprentice is a LMS plugin for WordPress that helps you create and manage online courses, training programs, and membership sites.
Some of the key features of Thrive Apprentice include:
Intuitive drag-and-drop editor for creating professional-looking content
Detailed progress tracking
Interactive quizzes to test student knowledge
Customizable certificates for rewarding students upon completion of their course
Highly customizable content dripping
Course and digital content bundle options
Price: Thrive Apprentice is available for $149/year or as part of the Thrive Suite of 9 plugins for $299/year for use on up to 5 sites.
Ideal for: Business owners who want precise control over their course content access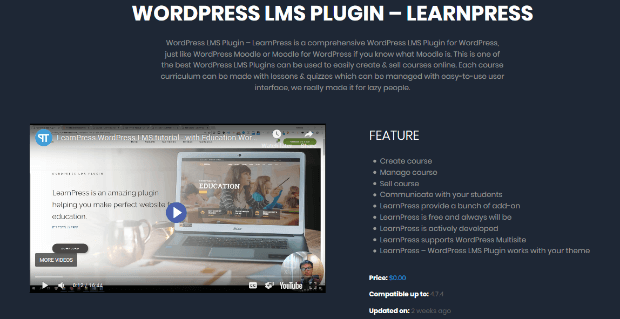 Want the best free LMS WordPress plugin? LearnPress is the perfect platform for you.
LearnPress puts you in the driver's seat, enabling you to build and manage coursework any way you see fit. It comes with a wide range of free tools to help you get your courses off the ground. Best of all, LearnPress's professional course bundle makes it easy to expand your services as your content grows, so that you can meet the needs of new and existing subscribers. These premium features include:
Course certificates
A content drip addon
Management tools for tracking students, grades, and course content
LearnPress also has an extensive library of free and premium add-ons which you can integrate into your eCommerce site, so you can make individual adjustments to your platform while paying for only the add-ons you need.
Keep in mind that LearnPress doesn't come with a setup wizard like most other WordPress course plugins. While you're able to exercise more control over your content, creating lessons takes a little more time and work.
Price: Free plan available. The paid membership Pro bundle is $249.99 (one-time).
Ideal for: People looking to minimize start-up fees associated with their online courses.
Drawback: Lack of setup wizard can create a learning curve for beginners.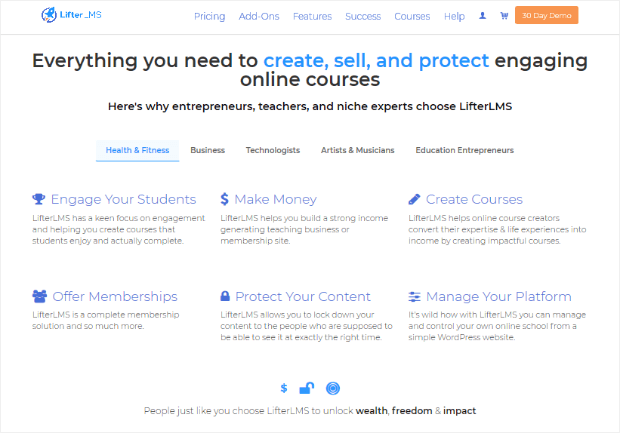 Whether you're offering a couple of individual programs or a collection of Massive Open Online Courses (MOOCs), LifterLMS has everything you need, from content management tools to add-ons that target specific segments of your market.
Perfect for building comprehensive courses or training programs, LifterLMS makes it easy to expand on your content by adding course prerequisites, training modules, group memberships, and other tools you can use to customize coursework for specific individuals or entire classes.
But that's not all. LifterLMS comes with a number of other awesome features that maximize engagement and customer satisfaction, including:
End-of-course certificates and achievement badges.
Automated emailing and email notifications
Support for Stripe, PayPal, and Authorize.net.
You can even integrate LifterLMS with other marketing tools, like MailChimp, WooCommerce, and WPForms to boost conversion rates even more.
Price: Pricing starts at $99/year.
Ideal for: People who want to build scalable Learning Management Systems that cater to the unique needs of individuals and small groups.
Drawback: Can quickly become expensive if you need to purchase a lot of add-ons.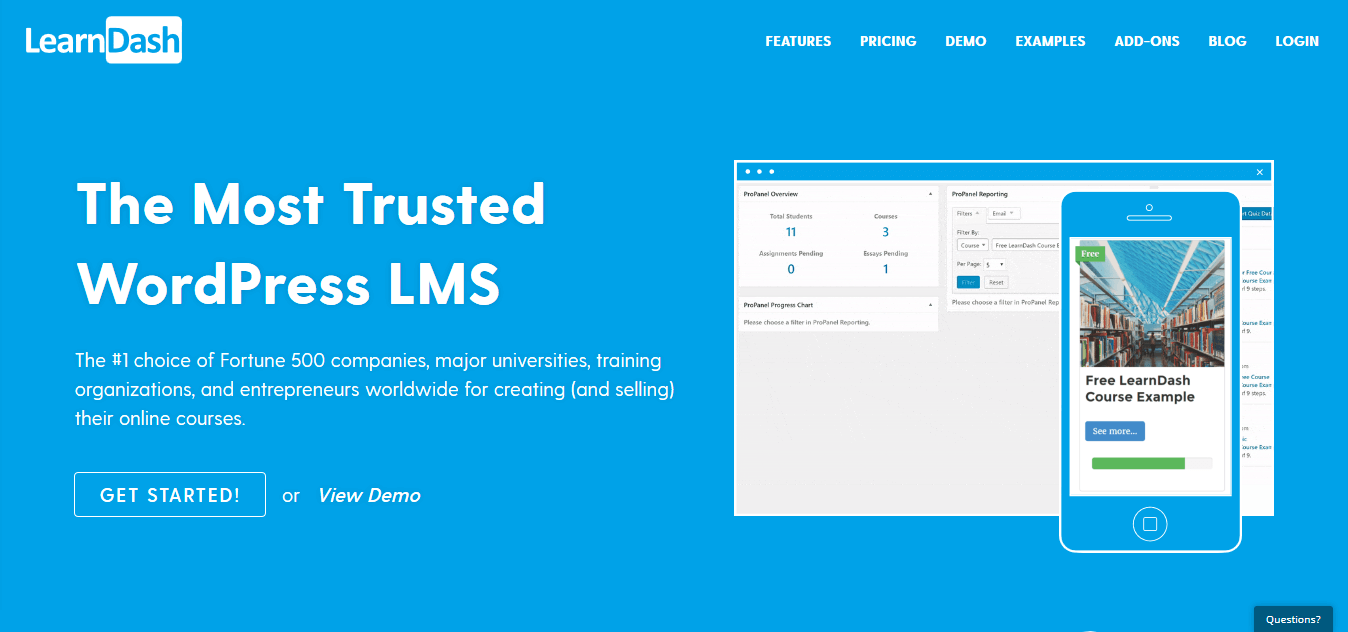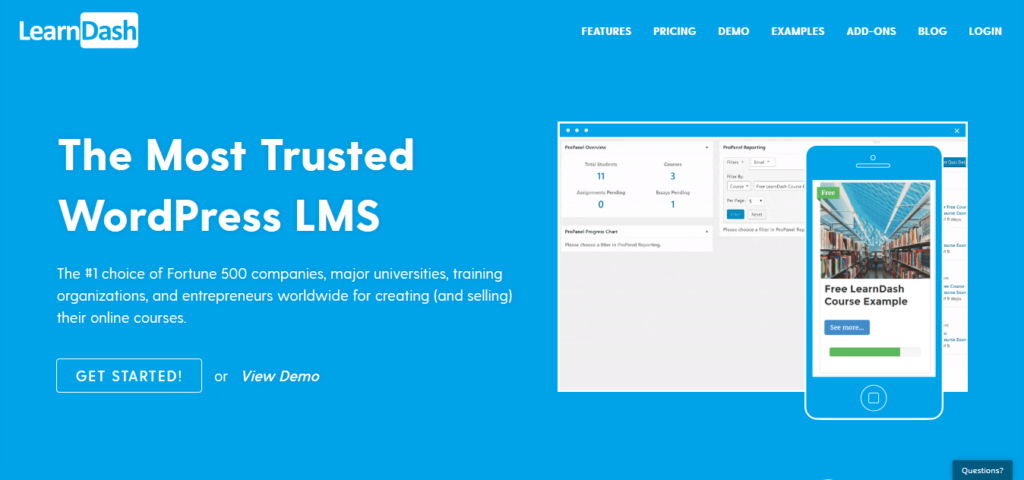 When it comes to accessibility, the LearnDash WordPress plugin is arguably one of the easiest and most convenient onling course plugins on the market. Its intuitive drag-and-drop course builder makes it simple for anyone to create quizzes, training programs, and exams with a click of a button.
LearnDash lets you create customized courses that meet the needs of your subscribers.
Whether you're setting prerequisites for students or you want to schedule content using its built-in drip feed feature, LearnDash makes it easier to add functionality and optimize engagement every step of the way.
Also, it's one of the few WordPress LMS plugins to support SCORM.
Popular LearnDash features include:
The ability to choose between membership, subscription, and one-time pricing options.
Test and course management tools, like grade books, student metrics, question bank, and profiles.
Compatibility with most popular payment gateways.
Content dripping and course progress tracking
Another awesome LearnDash feature is the optional Course Points setting. Here, students can earn points from completing tasks and lessons, and they can then spend those points unlocking new courses. Not only is it great for increasing engagement, but it's also a great motivational tool that keeps students wanting more.
Price: Pricing starts at $159. If you want a free alternative WordPress course plugin that offers many of the same features as LearnDash, take a look at MasterStudy LMS.
Ideal for: Anyone looking for a powerful WordPress education plugin that's easy to set up and offers an ever-growing range of add-ons and third-party integrations.
Drawback: It has to be integrated with a third-party plugin like WooCommerce or Easy Digital Downloads in order to implement comprehensive payment options.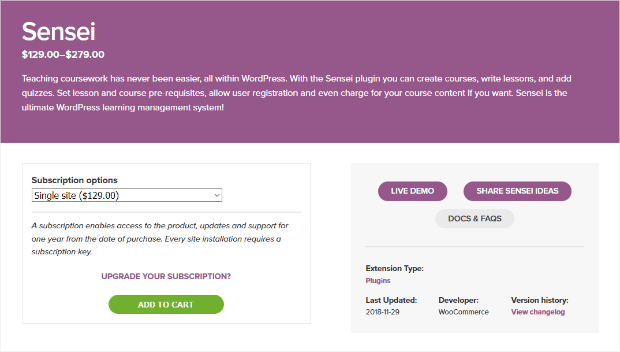 Sensei is an LMS/WordPress course plugin created by Automattic, the same company behind WooCommerce and WordPress. As such, Sensei interacts smoothly with both platforms, making it easier for users to implement the plugin into their WordPress sites.
One of the biggest advantages you get with Sensei is its simplicity. It's arguably one of the easiest WordPress course plugins to navigate, making it an excellent choice for entrepreneurs searching for an online coaching plugin for their WordPress site.
However, Sensei doesn't offer much beyond your basic WordPress LMS tools.
You have to integrate it into WooCommerce in order to monetize your courses, and you'll need to purchase additional add-ons if you want advanced features like certificates, content drip, and student management tools; all of which are features that come standard with many other WordPress Learning Management System plugins.
Price: Free plan available, but to monetize your courses, you'll need the WooCommerce Paid Courses addon ($129).
Ideal for: Merchants already running a WooCommerce store and interested in basic LMS services.
Drawback: Not a lot of additional features or add-on support. Best suited for people running simple courses and short training programs.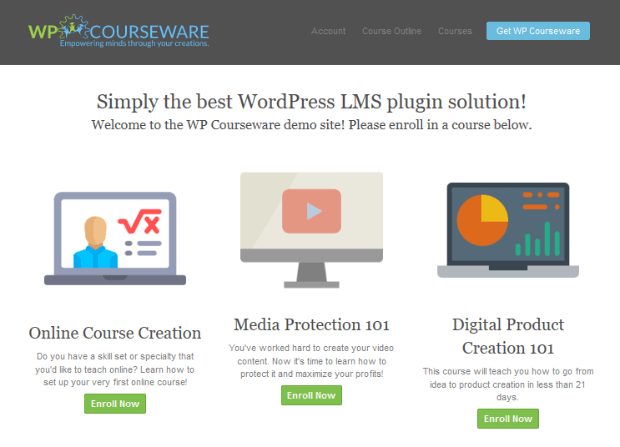 Powerful and easy to use, WP Courseware lets users create online courses with its intuitive drag-and-drop platform. Designed to be hassle-free and easy to learn, WP Courseware makes it possible to create custom-tailored courses in a matter of minutes.
Once you've got the structure of your course in place, you can use WP Courseware's advanced tools to further customize your services. These features include:
Personalized emails sent automatically to students based on their activity.
Advanced testing tools like timers and retake limits.
Instructor and student grade books.
WP Courseware also seamlessly integrates with Wishlist member sites.
One thing to keep in mind if you go with WP Courseware is that this WordPress course plugin doesn't come with its own payment processing gateway. If you want to sell courses and monetize your content, you'll need to integrate it with an eCommerce plugin that accepts payments.
Price: Pricing starts at $129 a year for two sites.
Ideal for: Anyone looking for a flexible WordPress LMS plugin that's convenient and quick to learn.
Drawback: No built-in payment support. If you're looking for a plugin that's just as user-friendly and has extensive payment support, try Good LMS.
Honorable WordPress LMS Mentions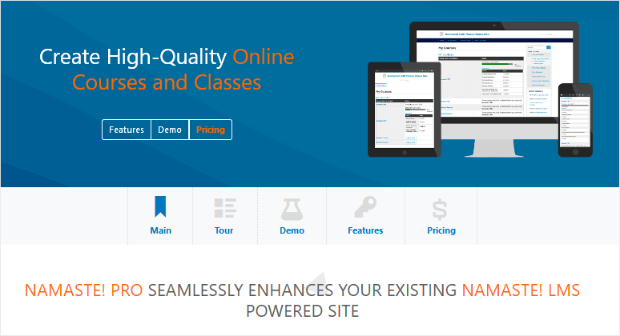 Namaste! is a free WordPress LMS plugin that offers premium WordPress themes starting at $47. Basic features include:
Course completion certificates.
Grading metrics and student progress bar (premium).
Award badges for completing specific tasks.
Price: Free (though the LMS theme is $47).
Ideal for: Course creators on a budget.
Drawback: Like most free tools, support can be limited unless you upgrade for paid plans or add-ons.
If you're looking for more options, you may also want to check out Teachable, Tutor LMS, and Wishlist as alternative WordPress course plugins.
And once your course is set up, you want to start getting new students right away.
Promote Your WordPress LMS
For that, there's no better tool than OptinMonster:

OptinMonster is best the tool for promoting and selling your courses from your website. It allows you to build eye-catching lead capture forms to market your course to your website visitors.
You can use any of OptinMonster's pre-made templates to create stunning optin campaigns like popups, floating bars, and more: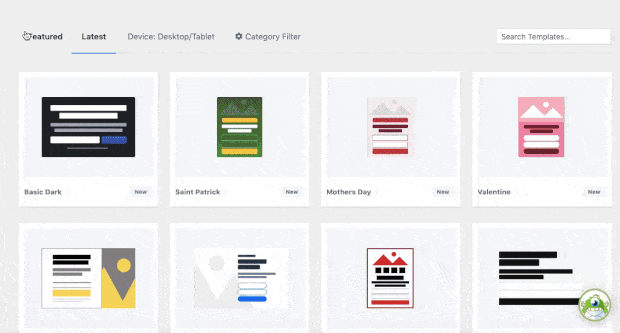 From there, you can easily modify your campaigns to create the perfect offer to boost registrations. To change the text, for example, you'd simply use OptinMonster's inline editor: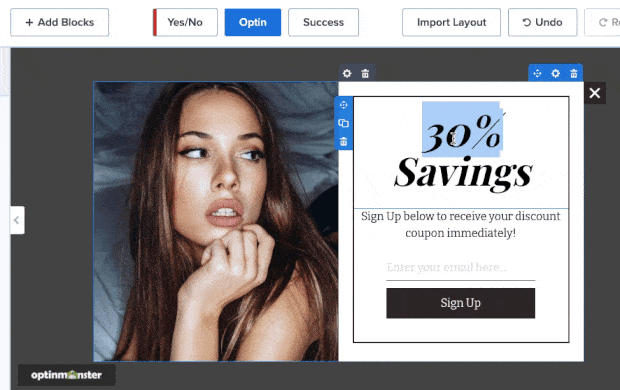 And to add new features, everything can be done on the front-end with the drag and drop builder: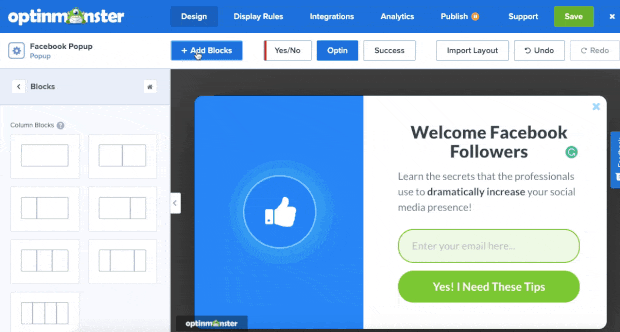 This allows anyone to create professional-looking and high-converting campaigns in minutes with zero coding skills or design experience required.
Then you can use OptinMonster's targeting rules to show these campaigns to the right people, in the right places, and at just the right time in their customer journey.
This level of personalization will help you increase signups to your online course. A few examples of targeting rules offered by OptinMonster include:
Exit-Intent® Technology: Display campaigns as potential students are actively leaving your website.
Geo-Location: Target your audience based on where they're physically located.
OnSite Retargeting®: Show fresh campaigns to returning users to prevent "popup fatigue."
MonsterLinks™: Turn any campaign into a clickable link or button to increase conversions.
These are just a few examples, though there are many others. And the best part is that these targeting rules are highly effective.
Just check out how ChinaImportal increased webinar signups by 18% with a few Yes/No optin campaigns.
You can use the same strategy to increase enrollments for your online course.
Sign Up For OptinMonster Today!
BONUS: Done-For-You Campaign Setup ($297 value)
Our conversion experts will design 1 free campaign for you to get maximum results – absolutely FREE!
Click here to get started →
Which Is the BEST WordPress LMS Plugin on the Market?
For the best possible online course system, we highly recommend MemberPress and LearnDash.
These LMS membership plugins make it easy to start your online course without needing professional experience or the budget to hire a developer. With built-in customization options and user-friendly page builders, you can easily improve the learning experience you offer.
With either of those options, you can have a full course or learning platform up and running in no time!
Combine that with the engagement and the lead-generating power of OptinMonster and you've got yourself a recipe for long-term success:
Sign Up For OptinMonster Today!
BONUS: Done-For-You Campaign Setup ($297 value)
Our conversion experts will design 1 free campaign for you to get maximum results – absolutely FREE!
Click here to get started →
And that's it! These have been 7 of the best WordPress LMS plugins.
We hope you were able to find the right WordPress LMS plugin for your online course site. If you enjoyed this article, you might find these resources helpful as well:
Now, you know the best WordPress LMS plugins you can use to create, market, and run your courses right from your website.