In this tutorial, we'll show you how to create a lead generating, excitement building coming soon page quickly and easily.
Just one page.
An eye-catching pre-launch coming soon page helps you generate leads, create hype, and drive excitement before the launch of your full site. Plus, it keeps potential customers engaged. And let's be real. This: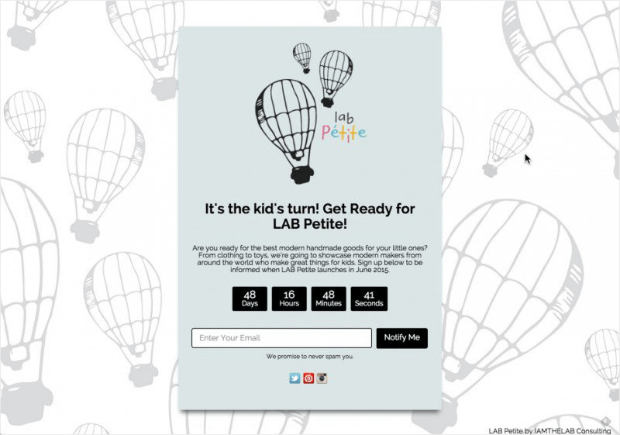 Is going to generate much more buzz and 100% more leads than this: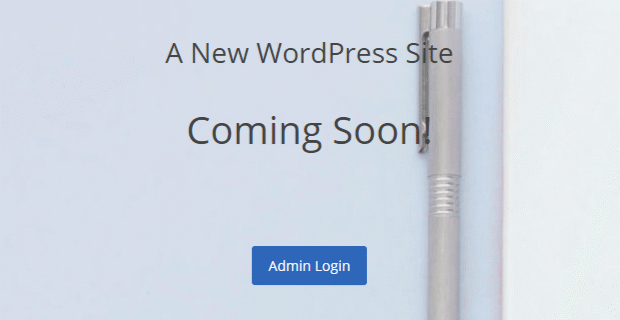 We'll be using WordPress as our platform and the SeedProd plugin to create an awesome coming soon page without needing any code snippets.
Don't use WordPress? Don't worry, you can still create a coming soon page for a non-WordPress site. If you're starting from the VERY beginning, though, you're going to want to visit our friends over at WPBeginner and go through their step-by-step guide to set up your website.
Everyone got their tools? Let's get going.
Why You Need a Coming Soon Page
Don't write off coming soon pages as placeholders or filler pages. They're not.
A coming soon page is an effective lead generation tool that you can use in a few key ways to kick off your marketing before you officially open for business.
Here are a few great ways we've seen our customers effectively use their own coming soon pages:
Lead Generation
We're OptinMonster. We'll never stop being excited about lead generation strategies. And we LOVE that you can use your coming soon page to get contact information and start building your email list and ask people who visit your site to follow your social media accounts.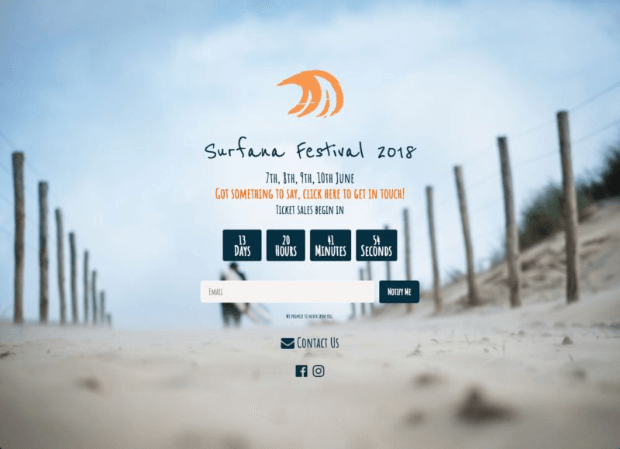 Gauge User Interest
Coming soon pages aren't just for launching an entire site. You can use them for product launches or float an idea, too. This means you can keep your finger on the pulse of customer interest; if there isn't much in the way of customer response to the pre-launch marketing page, maybe it's not the right time for this particular idea.
Instead of pushing forward with it, you just saved a bundle of money that can go toward something else.
Generate Buzz
Coming soon pages are great for getting people pumped. You can use them to give sneak peeks and "leak" product info. Or, provide samples of upcoming products, invite beta testers, and give discounts. Combining coming soon pages with incentives is a recipe for going viral.

How to Create a Coming Soon Page
Before we begin, you'll need to install and activate the SeedProd plugin. For step-by-step instructions, check out this post from WPBeginner about how to install a WordPress plugin.
Once you activate the plugin, go to Settings » Coming Soon Pro to set up your coming soon page.
Then, you'll click on Enable Coming Soon Mode and click the Save all changes button: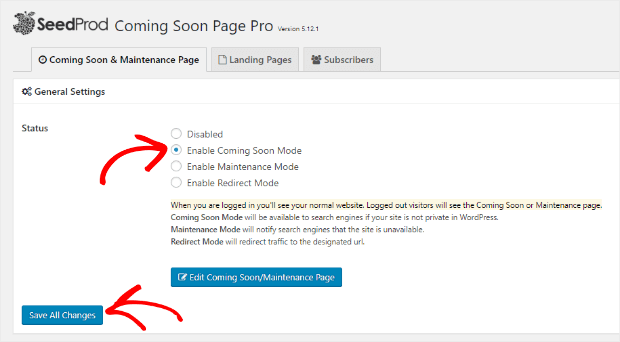 At this point, you'll still be able to see your site when you log in but visitors will be redirected to your coming soon page.
Now you need to customize your coming soon page. To do this, click on the Edit Coming Soon/Maintenance Page button: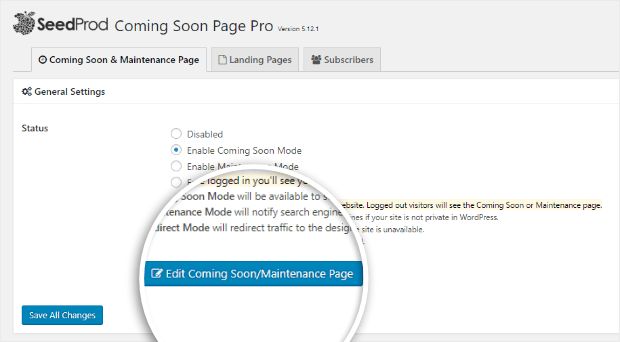 This will open the SeedProd theme customizer with several beautiful, fully customizable themes to choose from, most with a countdown timer to increase excitement.
Once you select a theme it will open in the customizer view. You'll see settings in the left panel. Any changes will immediately appear in the live view on the right. Plus, you can switch between desktop and mobile view!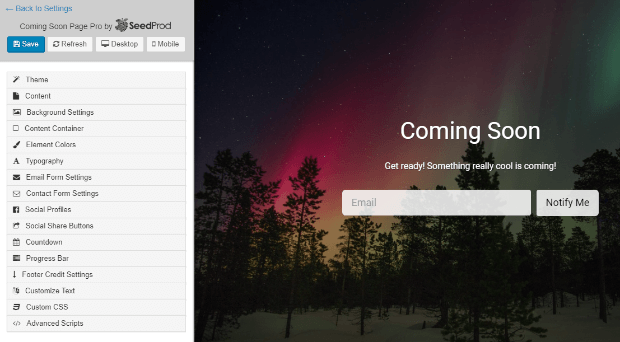 Be sure to click on the Save button in the upper left corner to store your settings.
Let's connect our coming soon page to our email marketing service so we can start building an email list right away.
Start by selecting Email Form Settings from the left panel. Then, select your provider from the Save Subscribers To dropdown.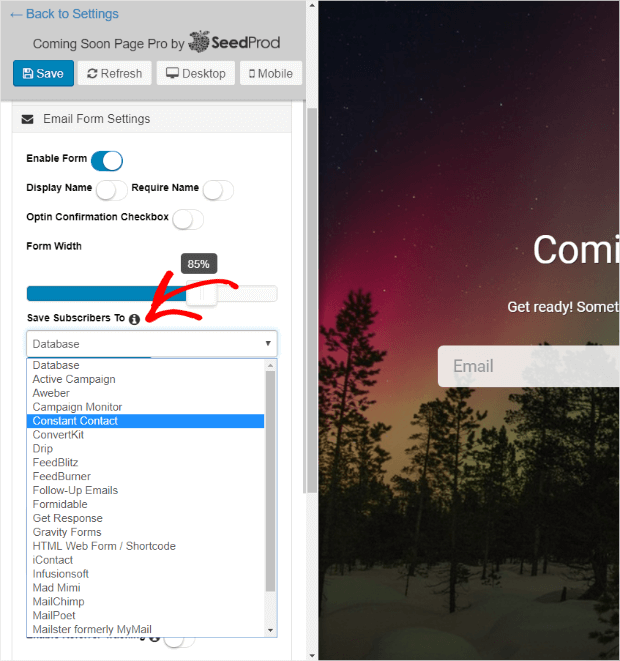 We're going to use Constant Contact for this tutorial, but feel free to use whichever you're comfortable with. If you don't have one yet, we recommend Constant Contact because it's got high-powered features while still being beginner-friendly.
Click the Configure button to go to the settings for your email marketing service. Here's what that looks like for Constant Contact: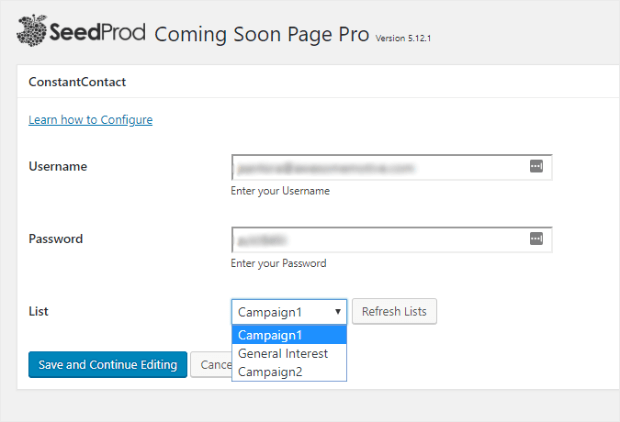 Notice that you can select the list where you want to add new signups, so you can track the success of your coming soon page.
When you're ready, click Save and Continue Editing to save your email marketing settings and go back to the theme customizer where you can keep making changes or click Save to store your changes and start collecting email addresses.
Adding a Maintenance Mode Page
If you want to show a maintenance mode page instead of a coming soon page, it's just as easy.
From Settings » Coming Soon Pro, you'll simply select Enable Maintenance Mode instead.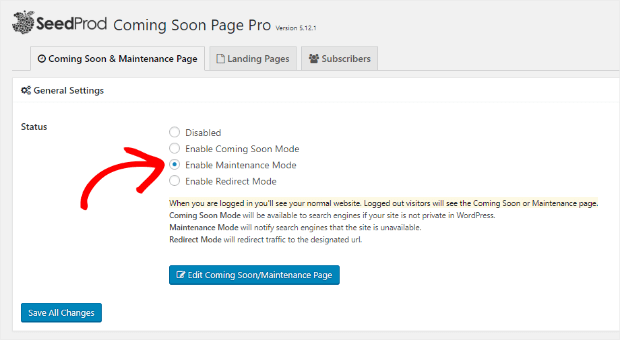 From there, you can follow the same steps as above to make changes to your page.
Advanced Settings for Coming Soon Pages
We love SeedProd because it's such a powerful plugin that's easy enough for beginners, but has advanced features that really make it stand out from the other coming soon mode plugins out there.
SEO Tools
SeedProd makes it easy to add custom site titles and a meta description for your coming soon page. This means that your site can be indexed using the same title and description that you'll use once it's live. No confusing the Google machine.
Learn how to write a high-converting meta description to really kick your rankings into high gear and get you started on the right foot.
Manually Include or Exclude URLs
What if you've had a blog for years, but you're finally ready to take the plunge and monetize? You may decide that you want to leave your blog open and only hide the parts of your site that will be part of the new eCommerce site. With SeedProd, you can easily do that: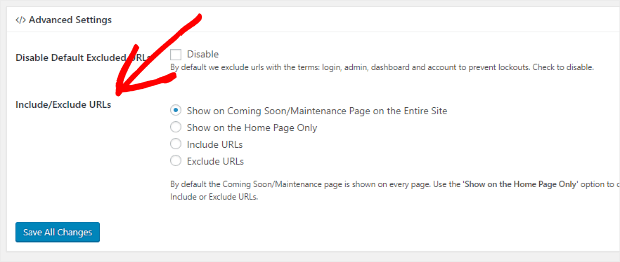 Access Controls
If you work on client sites you can give them a secret URL where they can see a live version of their site.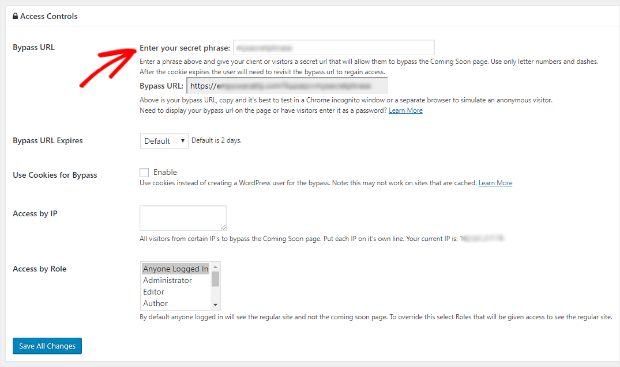 What If You Don't Use WordPress?
There are tons of website builders out there and many of them will let you add a coming soon page to your site.
If you've checked the support for your web builder and they don't make it easy to create a coming soon page, give StyleShout a try. You'll find tons of free and paid page templates that you can download and use on your site.
That's it! Now you know how to create a lead generating coming soon page for your WordPress site. And you know where to turn if you're not a WordPress user. Now,  go check out these web design tips that will boost your conversion rate.
Want more marketing tips, tools, and advice? Follow OptinMonster on YouTube, Facebook, and Twitter!