Are you missing out on leads and sales because you don't have reliable data on your marketing campaigns?
OptinMonster's Conversion Analytics makes it easy to get the stats that matter so you can improve lead generation. With Conversion Analytics, you can analyze clicks, views and overall conversion rate for each of your optin campaigns.
In-Built Conversion Optimization Analytics
OptinMonster's Conversion Analytics is available right within the app without having you to integrate it with any third-party analytics tool.
However, if you'd like, you can integrate it with Google Analytics so you can track and measure conversion goals and the success of your optin campaigns from your OptinMonster app as well as your Google Analytics account.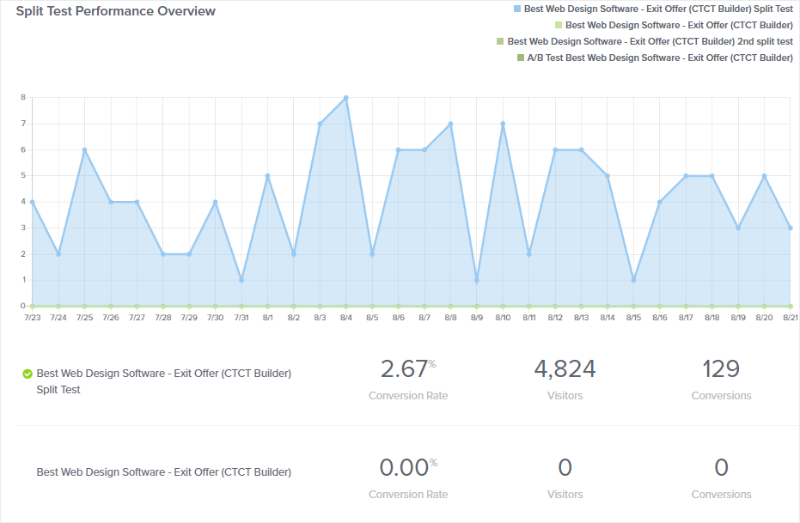 If you're using OptinMonster's A/B Testing feature, you can also get your conversion rate optimization data for all of your split tests.
Conversion Analytics tracks the referral pages for each optin, allowing you to see which pages on your site are driving the most conversions. And you can also see user-agent data, so you'll be able to increase conversions of your lead generation campaigns for specific devices or web browsers.
Conversion Analytics for Ecommerce
Are your conversion rates in line with industry benchmarks? More importantly, are you getting the right Average Order Value (AOV) to balance your books at the end of the year? If you're not tracking conversions, you could be leaving money on the table.
With OptinMonster, you get detailed conversion reports on which campaigns are most successful, and which pages deliver the highest conversions. With that information, you can tweak your call to actions and campaigns so they deliver even more revenue.
Combine Conversion Analytics with A/B Testing to assess conversions from making changes to your campaigns.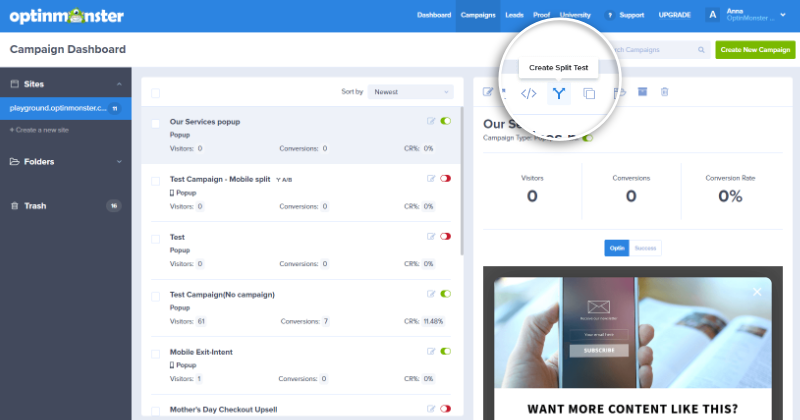 And use the user agent data built into this feature to figure out if you are adequately serving ALL your customers, including those on mobile devices.
With Conversion Analytics, it's easy to streamline your eCommerce funnel and improve your goal conversion rate. Use other OptinMonster features like Page-Level Targeting, Geo-Location Targeting, and OnSite Retargeting to make your customer acquisition strategy even more successful.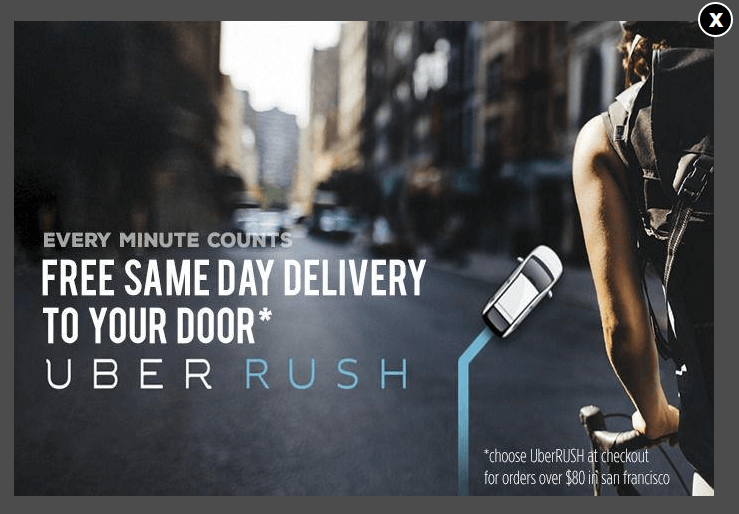 Conversion Analytics for Publishers
If content is your business, you need to know which pieces of content really help to grow your email list and improve lead generation.
OptinMonster's Conversion Analytics removes the guesswork by providing content analytics for publishers. You can even integrate it with Google Analytics to measure the success of your content marketing campaigns either from your OptinMonster dashboard or within your Google Analytics account.

You can use Conversion Analytics to get micro-conversion and conversion reports and measure your email capture rate and monitor goal completions. This helps with conversion funnel optimization, so you can get more subscribers and generate more leads.
Conversion Analytics helps you identify your highest-converting pages, so you can replicate your best campaigns across your site. Use Conversion Analytics with A/B Testing to assess the impact of small changes on your campaigns.
You can measure conversions for all campaigns, and see how other OptinMonster features like Dynamic Text Replacement, Exit Intent Technology and Page-Level Targeting affect the results from your campaigns.
Ready to get the stats that matter to put your lead generation strategy on steroids? Get started with OptinMonster today.