Are you looking for the best website builders for small businesses?
Having a website for a small business is more important than ever. While social media is excellent, it's also limiting. Plus, creating a website makes your business more professional.
But, as a small business owner, creating a website may seem intimidating or time-consuming, and hiring someone to build a website can be expensive.
Gladly, a website builder for small businesses takes the burden off your shoulders. It helps you create and run a website without requiring professional help or knowing how to code.
In this blog, I'll walk you through the best website builders for small businesses, helping you make an informed decision.
Key Features To Consider
Several key features should be on your radar when selecting a website builder for your small business, but the following four should be the most important:
User-friendly interface ensures fast and smooth navigation
Customization options let you tailor your site to your brand
Ecommerce capabilities are essential for online sales
Mobile responsiveness ensures your site looks great on all devices
Don't forget the search engine optimization tools that boost your visibility on search engines.
Best Website Builders for Small Business
In this roundup, I have reviewed the best options for creating a website for a small business. If you're interested in a specific builder, click the links below to go straight to it:
1. Self-Hosted WordPress: Best Website Builder for Small Business Overall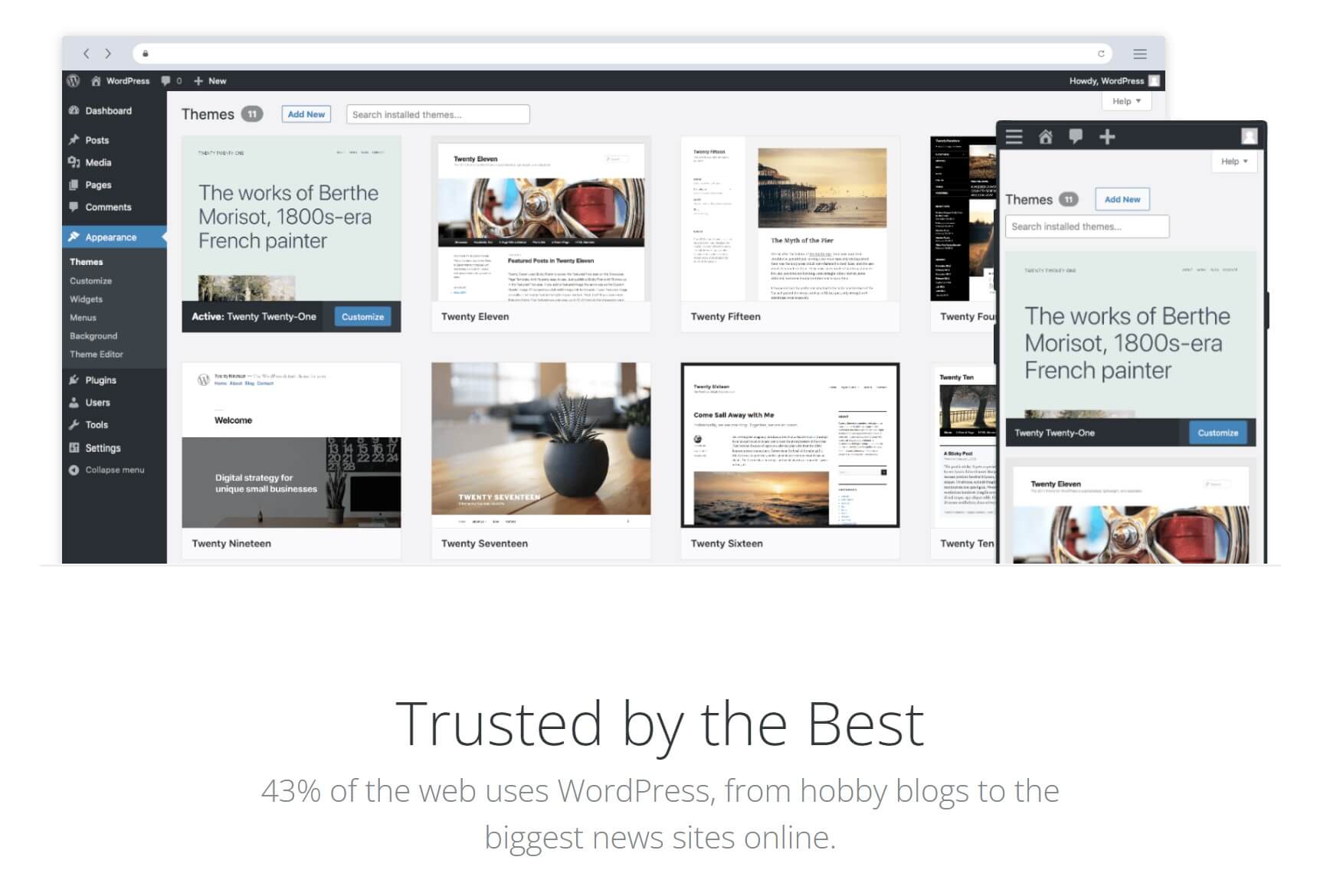 About 40% of the internet runs on WordPress. It's the world's most popular content management system (CMS) because it's flexible, scalable, and easy to use, making it a fitting option for small businesses.
There are two versions of WordPress: WordPress.org and WordPress.com. WordPress.org is self-hosted and free, while WordPress.com has a variety of pricing levels.
Tons of brands use WordPress. Some big names include TechCrunch, The New York Times Company, and Microsoft News.
While WordPress is popular with bloggers, it isn't only for blogging. Creating a website for your business is more than possible!
I recommend creating a website for your business using self-hosted WordPress.org. This could be the best website builder for your small business because it's flexible and free.
Pros:
Cons:
Requires manual site back up, updating WordPress and plugins. One way to solve this is with managed WordPress hosting. This option lets someone else look after the technical aspects of running your site.
Pricing:
Self-hosted WordPress is free.
That said, registering your own domain name and using shared hosting come with fees, and this is the way most truly professional websites go.
I recommend Bluehost, where you can get started for $2.75 per month with a free domain. (Bluehost can also function as a WordPress builder at $2.95 per month.)
Get started with WordPress today!
2. Web.com: Best DIY Business Website Builder for Beginners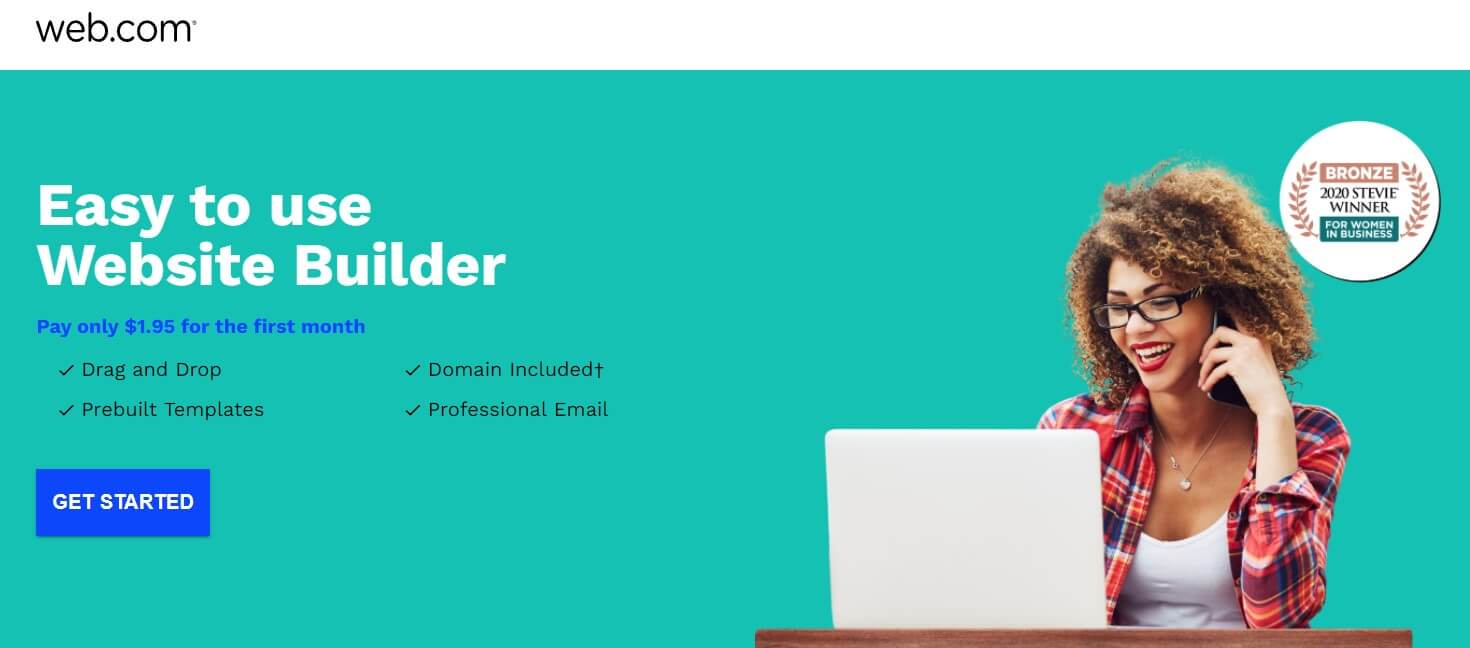 Web.com is an easy-to-use, do-it-yourself website builder. It allows anyone to create a professional small business website.
It makes creating a website for your business simpler via a drag-and-drop builder. Plus, there are tons of website templates to get you started.
Web.com should be expensive. But, it has one of the lowest starting prices, securing its place on our list of best website builders.
Pros:
User-friendly and affordable.
You can choose a template and use the drag-and-drop builder to customize your site.
Loaded with tools to help market your small business website. These include resources for SEO and integrations with third-party tools.
Cons:
The domain name you get is only valid for a year, and you must renew it for a fee each year after this. To cancel it, you need to call them.
The Starter package has significant limitations, particularly if you need ecommerce tools. But, the upgraded levels are still less expensive than the average site.
Pricing:
Website: $4.95 per month
Website + Marketing: $7.95 per month
Online Store: $13.95 per month
Online Marketplaces: $19.95 per month
Get started with Web.com today!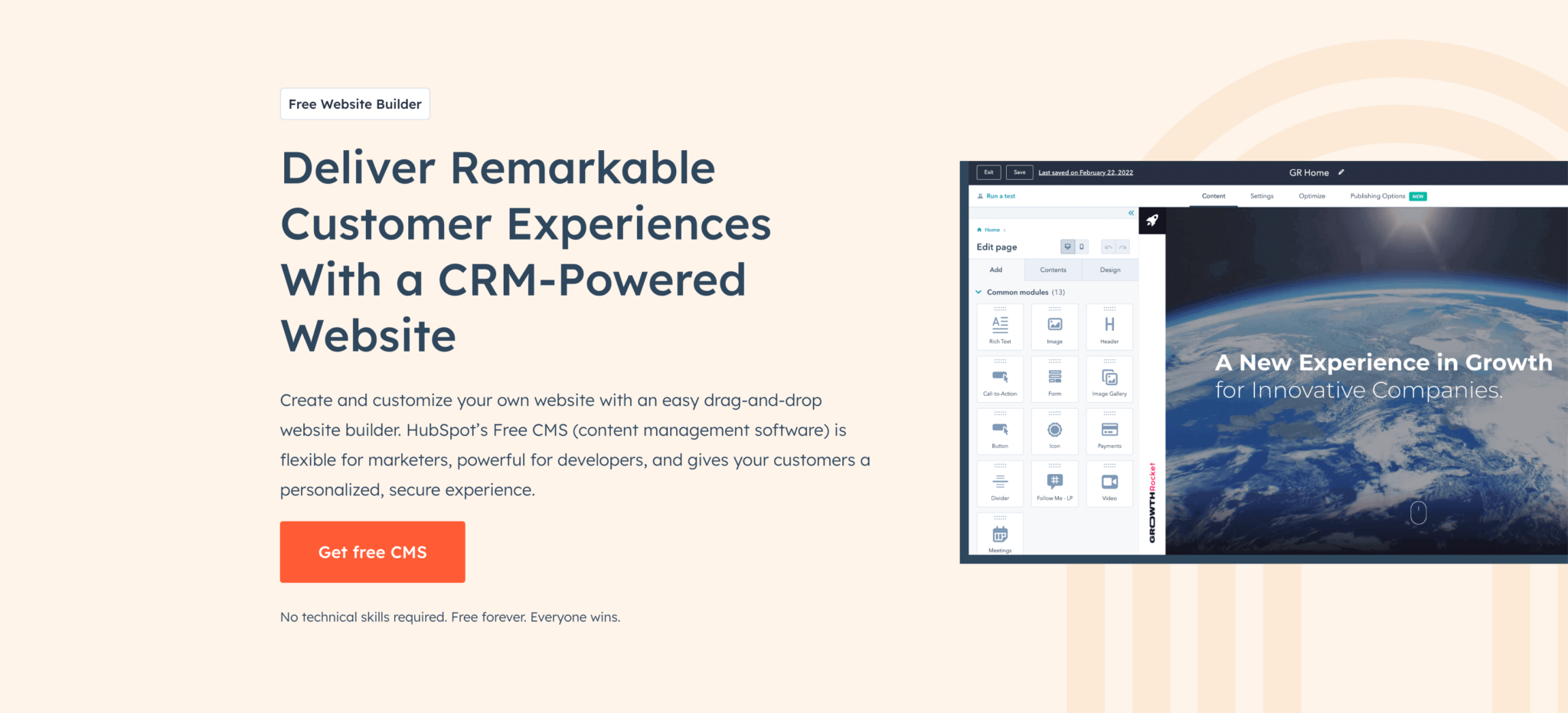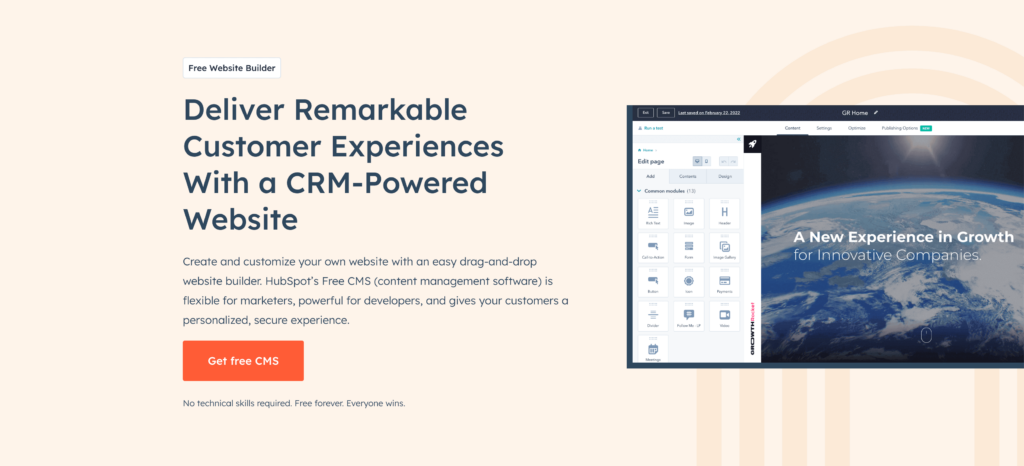 HubSpot Website Builder is a drag-and-drop builder with marketing automation tools and CRM. You can optimize your website for every device and personalize it for every visitor.
All this makes its spot on the best website builders for small businesses list a no-brainer!
You can use pre-built templates to create posts, landing pages, site pages, and emails.
A unique feature of the HubSpot website builder is its adaptive testing. This lets you choose up to 5 different versions of a web page. HubSpot monitors and determines the best website for your small business.
Pros:
Integration with its CRM. This lets you use customer data to create a personalized experience for each visitor.
All content is on one platform. So, you don't need to jump around to different places to make everything work.
Though HubSpot is simple, it's also comprehensive. It has features like email marketing, live chat, and adaptive testing, which many don't.
Cons:
If you want an online store or a complex business website, a platform like WordPress.org could be better. HubSpot is a bit simpler.
Beginners might find the extra features a bit intimidating. Decide if you need marketing automation features before buying.
Pricing:
Begin your journey with the free website builder from HubSpot! They provide a range of packages, including free options with limited features and premium plans offering advanced capabilities and dedicated support.
For pricing details, feel free to contact their sales experts.
Get started with HubSpot Website Builder today!
4. Wix: Best Quick Business Website Creator With Simple Templates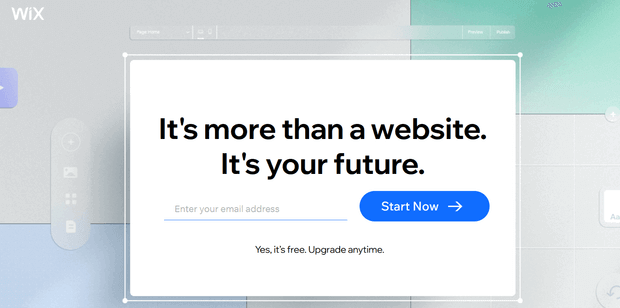 Wix shines with its intuitive drag-and-drop builder, allowing you to create a stunning website without coding knowledge. With many templates and web design options, Wix caters to various industries.
Whether you're selling products or services, Wix's e-commerce features and SEO tools have you covered.
Wix made our list of best website builders because of its Artificial Design Intelligence (ADI). ADI digs through the web for information on your business.
Pros:
Offers over 800 templates, clip art, icons, and an app market starting at the free level. You can add access to more apps, videos, and more at higher levels.
This platform also has SEO, email capture and marketing, social posting, and Facebook ad tools.
Hundreds of customizable templates available. These templates let you create a website for your business in minutes.
Some versions of Wix also allow you to translate your site into different languages.
Cons:
Wix uses absolute positioning (as opposed to responsive design). This means elements don't always adjust to different screens. So, it isn't the best for different sizes of screens or SEO.
If you move your site away from Wix, it can be pretty complicated to make it happen.
Pricing:
Wix offers a free plan and 8 premium plans divided into 3 categories:
Website Plans: $4 to $24 per month
Ecommerce and Business Plans: $17 to $35 per month
Enterprise Plans: Customized to your needs

GoDaddy is one of the most popular domain name registrars and hosting service providers. With GoDaddy Website Builder, you can create a business website, including GoDaddy hosting.
Pros:
No technical knowledge needed, pick one of their ready-to-use templates, fonts, and graphics and use the drag-and-drop editor to customize it.
You can add contact forms, videos, and social media links.
Also includes built-in marketing tools, including SEO and email marketing functions.
This business website creator works on any screen, including your phone or tablet.
The GoDaddy InSight tool gets insights and recommendations based on data from millions of users. You get an Insight Score to help you make your small business website even better.

Cons:
Compared to some business website builders, GoDaddy Website Builder offers fewer features.
It's also not the best for content-rich websites. It's better for building a simple site with a few pages.
If you want to move your site from GoDaddy to a different platform in the future, it's not easy to do.
Pricing:
Basic: $6.99 per month ($11.99 per month upon renewal)
Standard: $10.49 per month ($15.99 per month upon renewal)
Premium: $13.99 per month ($21.99 per month upon renewal)
Get started with GoDaddy Website Builder today!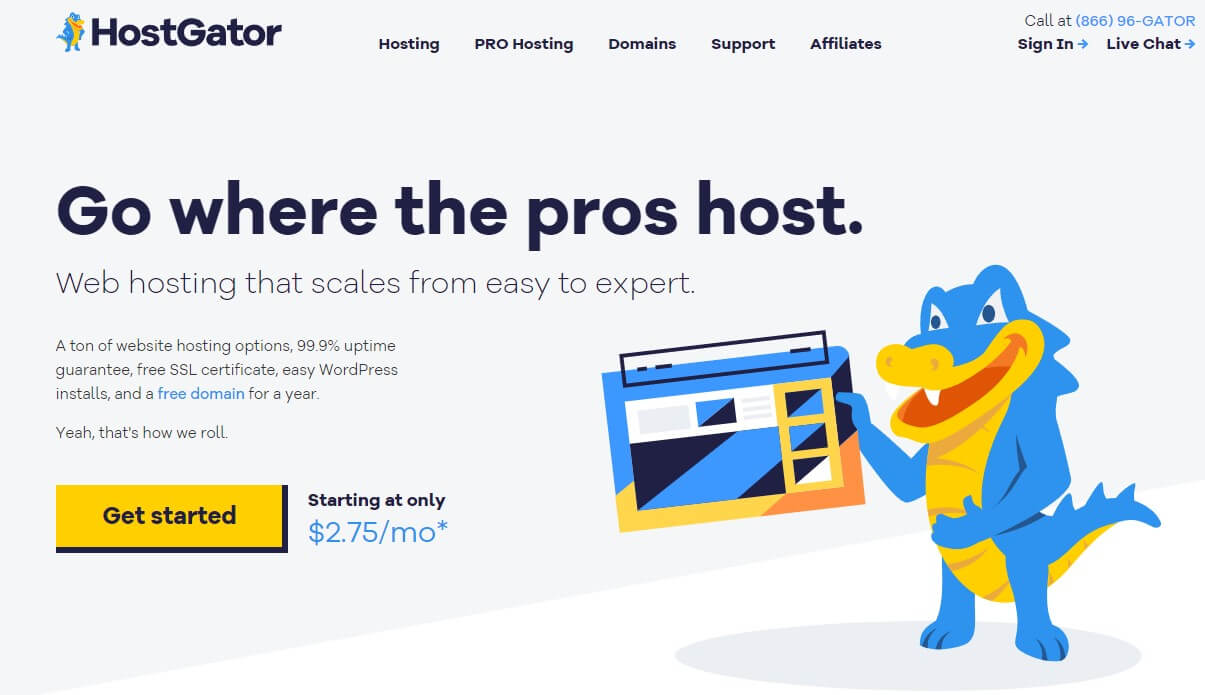 Gator Website Builder makes it easy to create a simple website with a few clicks. Plus, it's among the cheapest high-quality business website builders available today.
Pros:
Gator Website Builder boasts no learning curve, with a library of themes and layouts to choose from. The drag-and-drop software makes it easy to add images, videos, Google Maps, and more.
This platform includes free hosting, a domain name, analytics, and an SSL certificate. Those certificates keep your site secure and more SEO-friendly.
If you already have a website, Gator Website Builder doesn't make you start from scratch. They make transferring your site as easy as possible.
Cons:
Gator Website Builder doesn't have a ton of advanced features. If you want to open an ecommerce site or have lots of bells and whistles, this wouldn't be the best choice for you.
Additionally, you sign a 3-year contract up front. You can cancel before renewal, but there may be a fee. (That said, it's still cheaper than many hosts when you add up the yearly prices.)
Pricing:
Starter Plan: Starts at $3.46 per month
Premium Plan: Starts at $3.39 per month
Ecommerce Plan: Starts at $8.30 per month
Get started with the Gator Website Builder today!
7. MemberPress: Best Membership Site Builder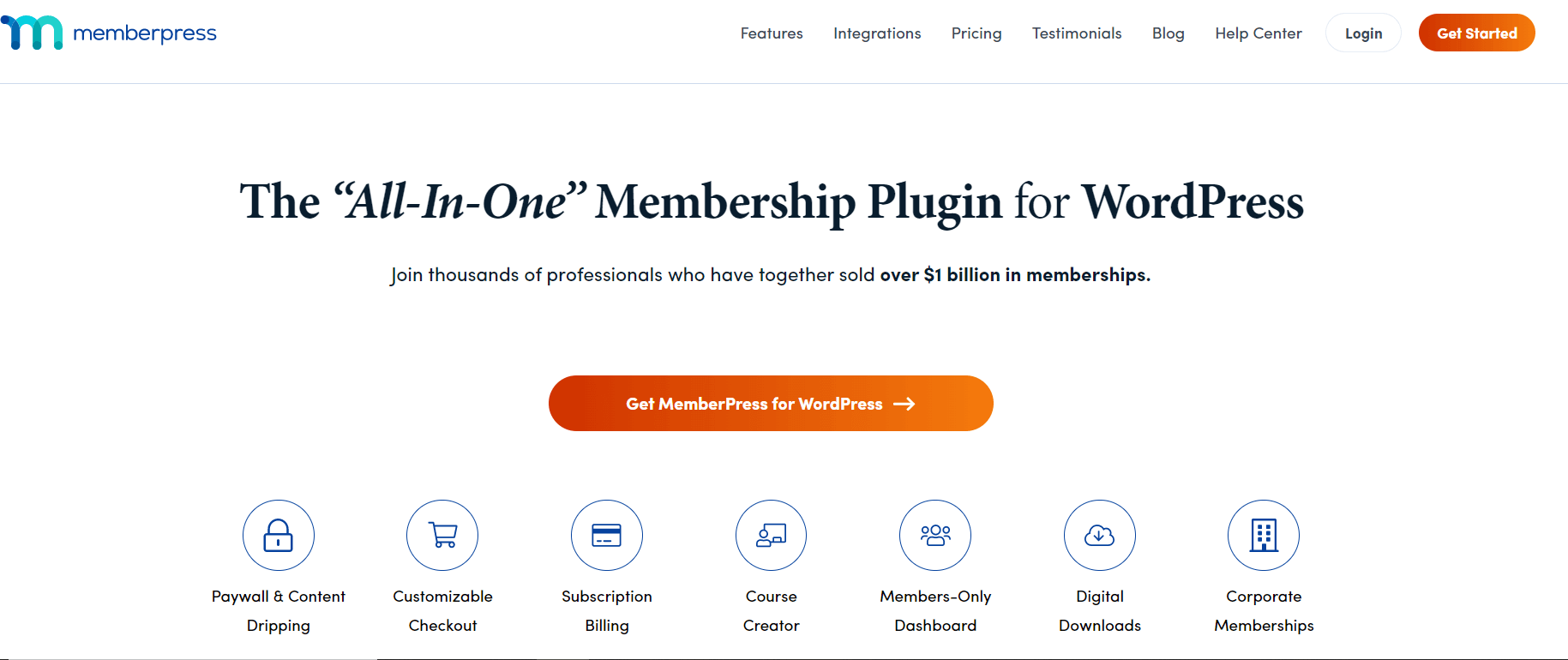 Do you want a business website where visitors register for exclusive content? Then you need MemberPress.
MemberPress is a WordPress plugin for building stunning membership sites. You can accept payments, sell digital downloads, and control who sees your content.
Pros:
Since MemberPress runs on WordPress (which you'll need to add to your site in order to use MemberPress), it has a lot of flexibility
Set up your membership site in minutes.
Generate recurring subscription revenue.
Manage your site members and give them access to content based on membership level.
Integrate with other plugins.
Use any WordPress theme.
It can even create online classes, including quizzes.
MemberPress offers high-quality customer support to help you build and maintain your site.
Cons:
MemberPress is a bit pricier than some business website builder options on this list.
Because it runs on WordPress, you're responsible for software updates and backups.
Pricing:
Basic: $14.9 per month
Plus: $24.9 per month
Pro: $33.29 per month
Resource: MemberPress Review (2023): Details, Pricing, Features, Pros and Cons
Get started with MemberPress site builder today!
8. Weebly: Best Freemium Website Platform for Small Business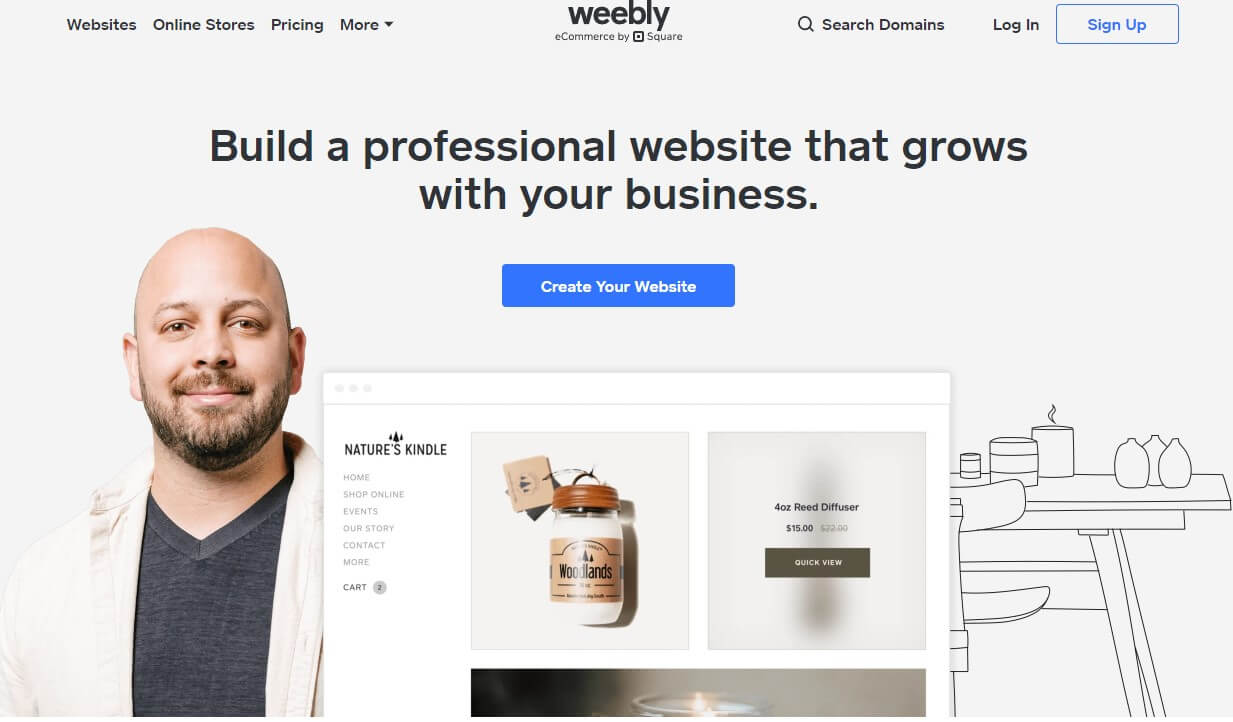 Weebly is often listed among the best free website builder software because it's hard to argue with that price tag!
Pros:
Allows you to use SEO and lead generation features. But, you may have to upgrade to a paid version to gain full access.
This platform allows your small business website to be mobile-friendly with responsive templates.
Upgrading lets you use Weebly with your domain. Otherwise, you'll have a domain including Weebly in the URL.
You get site search, HD audio and video, and membership options with different plans.
Cons:
The basic, free level has some rudimentary ecommerce functions. Still, the paid versions are likely to make customers far happier.
Not everyone finds Weebly's drag-and-drop builder easy to use.
If you want to change website platforms later, you may have to re-create your site from scratch.
It has an excellent app store.
Pricing:
Personal: $10 per month
Professional: $12 per month
Performance: $26 per month billed
Get started with the Weebly Website Builder today!
9. BigCommerce: Best Business Website Builder for eCommerce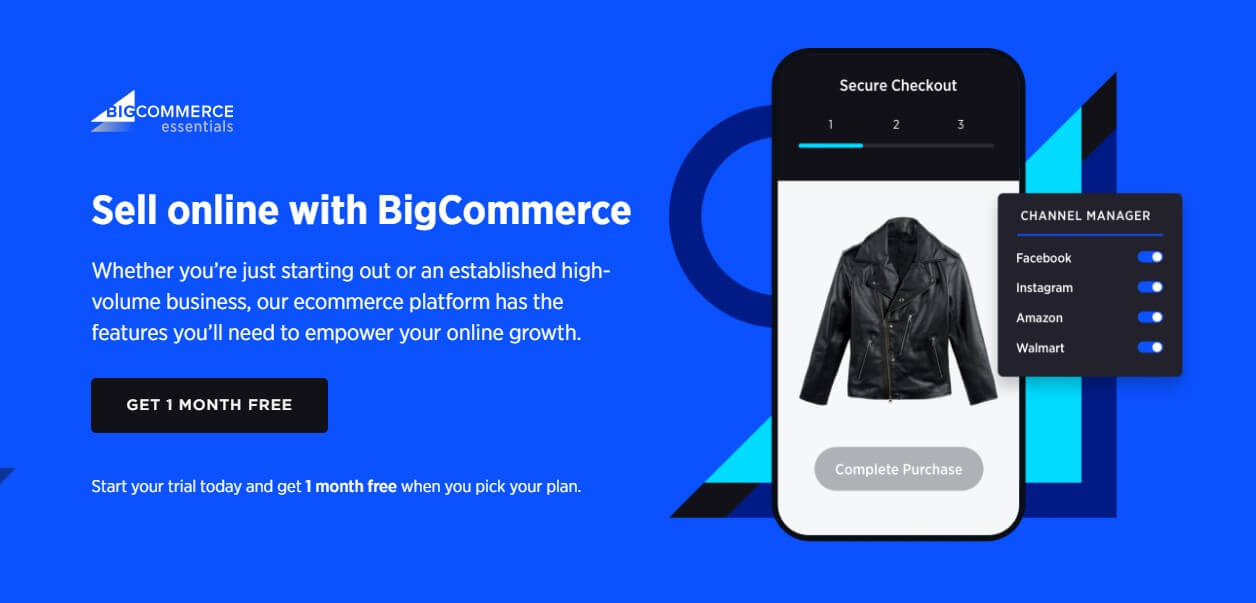 BigCommerce is one of the best websites for small businesses needing ecommerce functions. It's designed for online sales. The BigCommerce platform powers Burrow, Skullcandy, and large brands.
Pros:
BigCommerce could help launch an ecommerce store without worrying about technical aspects.
Beginner friendly, easy to create stores with stunning templates.
You can find dozens of responsive designs for different industries.
You can customize your small business website with integrated apps.
They offer features like shipping and inventory solutions, reviews, and email marketing automation.
BigCommerce has 99.99% uptime and protection from hackers and DDoS attacks. This can help customers feel safe and stay engaged.
Cons:
You need to upgrade to get some ecommerce features, including:
Pricing:
Standard: $39 per month
Plus: $70 per month
Pro: $299 per month
Enterprise: custom pricing
Want to know how BigCommerce stacks up to other ecommerce platforms? Check out our comparison of Magneto, Shopify, and BigCommerce.
10. Squarespace: Best Business Website Creator for Modern Designs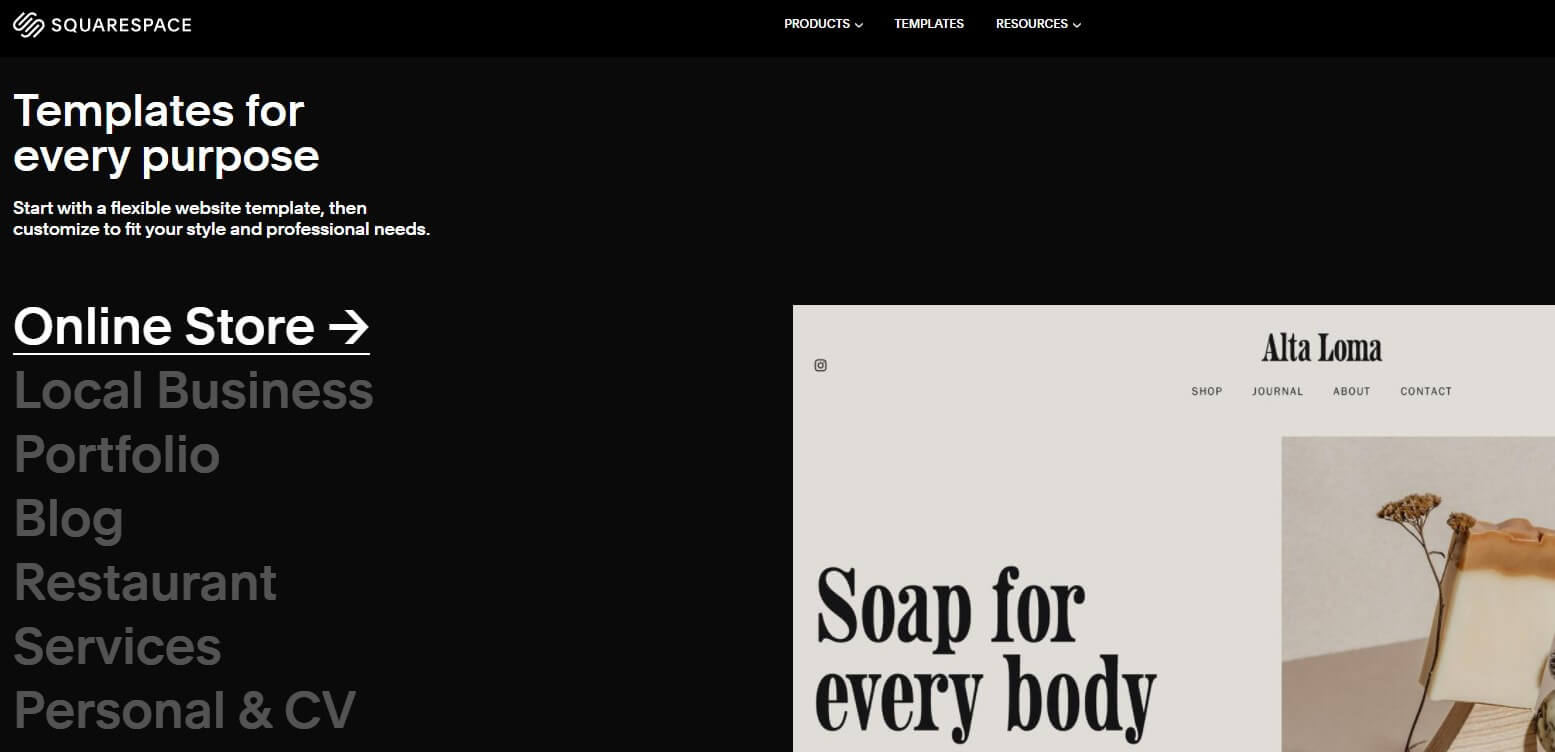 Squarespace made our list because users love its beautiful designs and ease of use.
Pros:
Squarespace aims to be manageable if you're creating a website for your business for the first time.
Its basic plan lets you set up a 20-page website.
You can use Squarespace with a custom domain for free for the first year. Plus, it's hosted, so Squarespace keeps your site updated.
You also get an SSL certificate, analytics, and ecommerce features with that package.
It also lets you sell unlimited products and accept donations.
Other plans offer inventory management, accounting, checkout functions, cart recovery, and ecommerce reporting.
Cons:
Some people find a learning curve, though Squarespace's support can help solve issues.
If ecommerce is essential to your business, you need one of the more expensive plans.
Pricing:
Personal: $16 per month
Business: $23 per month
Basic Commerce: $27 per month
Advanced Commerce: $49 per month
Get started with Squarespace today!
What Comes After Picking a Business Website Creator?
Even if you're still working on your business website, I recommend building your email marketing list and audience before launching your site.
The sooner you start building your list, the more leads and conversions you can see.
OptinMonster, a premium WordPress plugin, has advanced targeting features for effective marketing. Regardless of which website builder you choose, I want to help your business grow.
OptinMonster's targeting features include:
OptinMonster also integrates with major ecommerce platforms and industry-leading email marketing services.
With its range of templates and themes, you can create a unique website for your business. OptinMonster lets you build high-converting marketing campaigns matching your company's design.
Start Your OptinMonster Account Today!
BONUS: Done-For-You Campaign Setup ($297 value)
Our conversion experts will design 1 free campaign for you to get maximum results – absolutely FREE!
Click here to get started →
FAQ
Q1. What Are the Best Website Builders for Your Small Business?
I've narrowed down our choices for the best website platforms for small businesses. So, which should you use to create a website for your business?
It depends on your goal. But, let's look at our choices for the best overall and best ecommerce website builders.
Best Overall Business Website Builder
WordPress is our pick for the best website builder for small businesses. It's flexible, scalable, and easy to use.
With four out of ten websites running on WordPress, there's a community to provide help.
Best Ecommerce Business Website Builder
BigCommerce wins for the best ecommerce website builder. I love its user-friendliness, professional designs, and expert functionality.
Q2. Can I create a business website for free?
Free business website creators often have limitations and don't look professional.
Plus, many "free" website creators aren't free when you look deeper. Using a free website platform for small businesses usually means:
You can't use your domain
Your website has ads you can't control
You may have to pay for templates and add-ons
You don't have complete control over your site
Having to pay for things you weren't expecting
That said, I do include a few free options in our list of business website builders because "free" doesn't always mean "bad." Pay attention to what's on offer and make sure your chosen business website creator fits your needs.
Q3: How much does it cost to build a website for a small business? 
The cost of building a website for a small business can vary widely depending on factors like complexity, features, website design, bandwidth and the platform you choose. Using a DIY website building tool can start as low as $5 to $20 per month, while hiring a professional web developer might range from $1,000 to $10,000 or more. Remember, investing in a quality website is an investment in your business's online presence.
Resources for Your Small Business Website