In this article, you'll learn how to use progressive profiling (aka, "dynamic web forms") to get the detailed info you need about your leads.
Forms can be offputting to leads. It's enough to ask for an email address these days, never mind all the other information you need to personalize your interactions.
It's like walking a tightrope, isn't it? Your leads expect personalized, targeted messaging, but they don't want to fill out a 25-minute census when they come to your site.
That's what makes progressive profiling so incredibly useful.
What Is Progressive Profiling?
Progressive profiling is a method of collecting relevant information on your leads in small bits rather than asking for too much data all at once.
Using this method, you might ask for just an email and the first name on the initial signup, then strategically request more data at intervals throughout a buyer's journey.
This is great for lead generation because asking for smaller pieces of information at a time boosts conversions!
Here's what a form might look like without progressive profiling: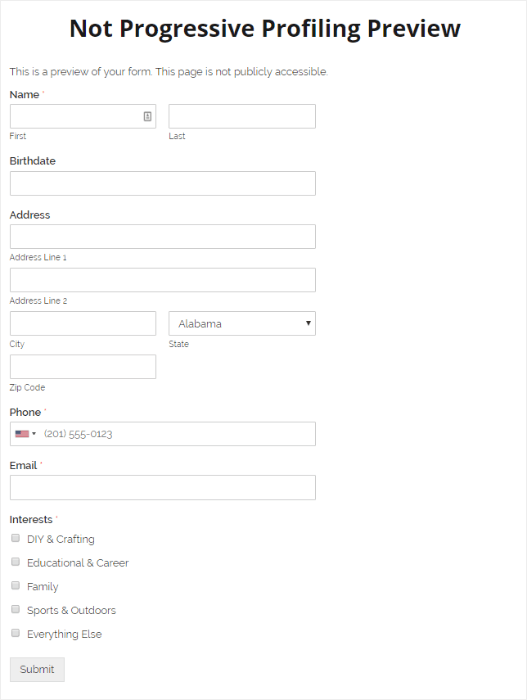 Overwhelming, isn't it?
Now here's an example of the progressive profiling framework: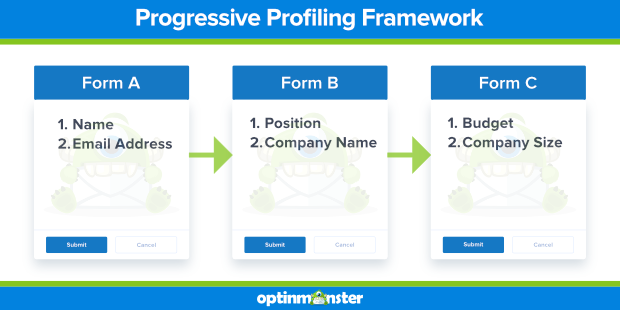 You can see how progressive profiling makes it easier to effectively collect more information while keeping forms short.
Top 7 Benefits Of Progressive Profiling
Higher conversion rates are just one of the many benefits of progressive profiling, so let's look at more reasons why every serious eCommerce business should start using progressive lead profiling.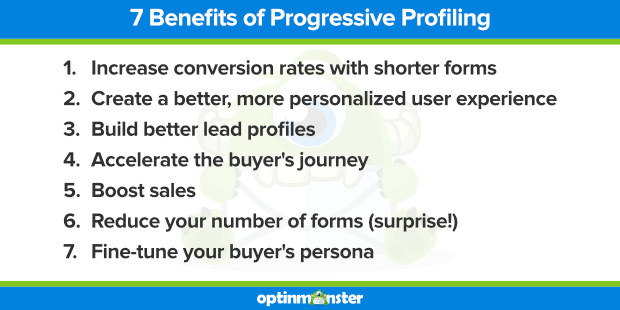 1. Increase Conversion Rates With Shorter Forms
Detailed lead profiles are great for helping you snag that sale but an overly thorough signup form will scare away potential leads.
This infographic by Quicksprout shows that the fewer the fields your signup forms have, the higher the conversion rates you'll see.

With progressive profiling, you can afford to ask for only the most critical data and save everything else for later. You may even choose to give your landing page the best chance at converting leads and only ask for an email address at first.
2. Create Better Personalized User Experience
Why waste a lead's time with repetitive questions when you can personalize your interactions with the information you already have?
With progressive profiling, you can hide fields your leads have already filled out and use that space to get other information instead.
Your leads will appreciate the personalization (and the shorter forms).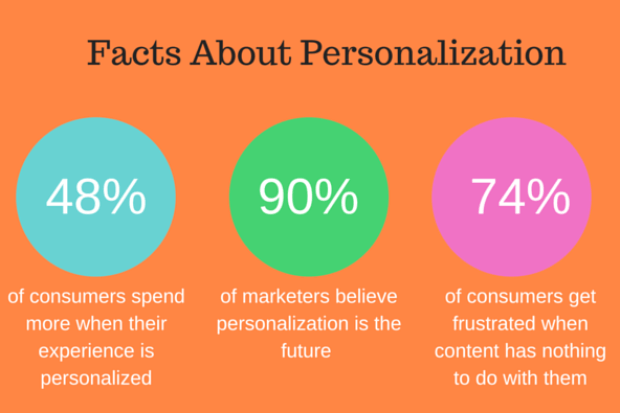 3. Build Better Lead Profiles
Progressive profiling allows you to build more detailed customer profiles and improve leads. There's never been a better way to collect vital information that helps you qualify leads.
4. Accelerate The Buyer's Journey
Since lead profiling helps you get more detailed data, you can personalize your marketing efforts and gain trust. You'll be able to create messaging that meets your leads at the right time in their buyer's journey and effectively move them further into your buying process.
It's also easier to communicate more frequently with this level of personalization because you won't just be marketing to your leads, you'll be giving out value.
5. Boost Sales
Progressive profiling also helps increase your company's bottom line because, with all the extra information you collect, you'll know your lead better and can send them more targeted offers—at the right time too!
6. Reduce Your Number Of Forms
Another great thing about progressive profiling is that you don't need to create one form for every different lead generation effort. For instance, many of your lead magnets can probably use the same progressive profiling form since you're only going to need to collect the name and email address for this type of lead. This way, you segment your leads based on personal data rather than lead magnet signups.
7. Fine-tune Your Buyer Personas
Another surprising benefit of progressive profiling is that it helps you refine your buyer personas based on actual customer data instead of educated guesses. Think of all that data and how you can use it to create better-targeted marketing strategies with higher conversion rates for your ideal audience.
How To Create A Progressive Profiling Strategy That Works
To create an effective progressive profiling strategy, there are just two simple steps:
Step 1: Map Out The Buyer's Journey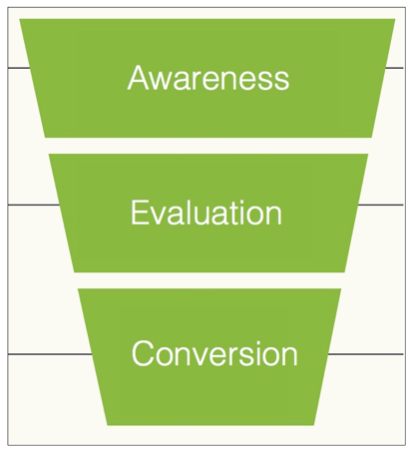 The first step of your progressive profiling strategy is creating an irresistible offer. Understanding your buyer's journey and what they want to know before they convert is key here. After all, it's no use creating a lead magnet no one is interested in.
And even after you've created a great lead magnet, you still need to offer them to the right people at the right time.
What happens before a customer buys, how long does it take?
What makes them buy?
What are their preferences at every stage?
Coming up with answers to these questions will help you create an effective progressive profiling strategy.
Step 2: Decide What To Ask And When
This is where you map out all those essential information that you need to make your sales funnel effective, and decide when to ask them in the 3 stages of the buyer's journey.
For the first stage, most campaigns will start strong by asking for just a name and email address. And that's probably all you need for now right?
In the consideration stage, you'll want to think about the information you need from leads in order to help them build trust in your brand as their solution.
At this point, your leads are doing a lot of comparison between your brand and your competitors. They're considering their options and trying to figure out which product or service is going to do the best job at solving their pain point.
Your job is to show them that the obvious solution is you.
OptinMonster's behavior tracking feature can help you get your message in front of leads based on the articles they're reading and the pages they're visiting on your site, ensuring that the offers you present are relevant and highly-targeted.
Your lead generation forms should also get a bit more targeted, too. Now is the time to ask questions like "Job role," "Industry," "Company size," and "Budget" to help educate them on their choices and fine-tune your messaging.
Finally, we have the decision stage. This is the point where you want to convince them to buy and, if you do consults or make sales calls, asking for a phone number isn't out of place!
Pro Tip: Keep progressive profiling and GDPR rules in mind as you collect data as you'll want to let people clearly know how you use the information you collect.
How To Implement Progressive User Profiling for Your Site
There are a number of ways to implement progressive customer profiling on your site. You can use progressive profiling in forms and email marketing too.
Some of the tools available to you include WPForms' Smart Conditional Logic feature which allows you to create smart dynamic forms.
Here's a short video showing how it works.
WPForms is our #1 pick for a form builder (we use it at OptinMonster.com), but feel free to check out our list of best form plugins for WordPress to see more options!
Use these in combination with OptinMonster's smart features like OnSite Follow Up Campaigns, Smart Tags, and Smart Success for even better effect.
3 Progressive Profiling Best Practices to Keep in Mind
If you would like your progressive profiling efforts to yield the best results, here are some best practices to apply.
1. Ask Only What Is Important, In Order Of Importance
While it's tempting to ask every single question to fatten up your data bank, it's best to stick to only what you need. And even then, it's still best to ask for what you need most first!
Of course, you'll want a lead to give you their email address or other contact info on the very first form, so you'll have a way of reaching them again.
2. Time Your Requests Strategically
Even though you want to ask what's important to you, each time your lead gives you information about themselves, they're making a small commitment to your relationship. So if you try to ask for too much commitment too soon, you risk ruining that relationship.
A best practice is to set up your campaign to follow the buyer's journey rather than ask questions on your own timeline.
3. Use The Patterns You Find To Optimize Your Campaigns
As you get more leads, you'll likely begin to notice places where leads drop off or where you're getting higher engagement. Use that data to optimize your buyer personas, your buyer's journey, and your progressive profiling campaigns.
That's all you need to start generating better leads with progressive profiling!
To recap:
Progressive profiling helps you collect useful data on your leads without overwhelming them.
While this data is useful for closing more sales, it's not just about closing sales. Remember to use progressive profiling to build better user experience for your leads.
Only ask what's truly important, personalize your marketing using OptinMonster's smart personalization features, and always meet them with the right question at the right time in their buyer's journey!
Here's more information on lead capturing and the buyer's journey to help you optimize your strategy even more.
Did you know that OptinMonster is the #1 conversion optimization software in the world? That means that we help you turn your website traffic into real people who sign up for your email list and buy the things you sell. Get started with OptinMonster today!