Are you wondering how to create the perfect popup campaign to grab the attention of your website visitors and encourage them to take action? See how AutoAnything grew its email list by split testing its desktop and mobile popups to discover the most effective way to turn website visitors into subscribers and customers.
Meet AutoAnything
AutoAnything is a leading online retailer of aftermarket automotive products, from air filters to wheel seals. They run various sales throughout the year, offer ongoing discounts, and showcase "Lightning Deals" every Tuesday.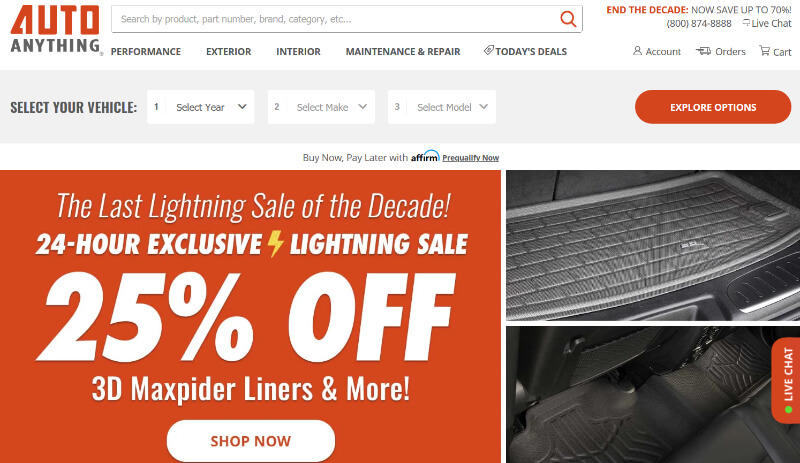 AutoAnything originally turned to OptinMonster to grow their email list. However, they found that they could use our powerful targeting and display rules to connect with customers in a variety of places for different purposes!
AutoAnything's Chief Marketing Officer, Michael Epstein, told us more about how they use OptinMonster.
How AutoAnything Uses OptinMonster
First things first: AutoAnything needed to gather leads for their email list. So, they created a popup campaign offering users a discount in exchange for their email address.
By using both a desktop popup and a mobile popup, AutoAnything was able to display great looking campaigns to their website visitors no matter what device they used.
Here's how AutoAnything's popup looks on desktop: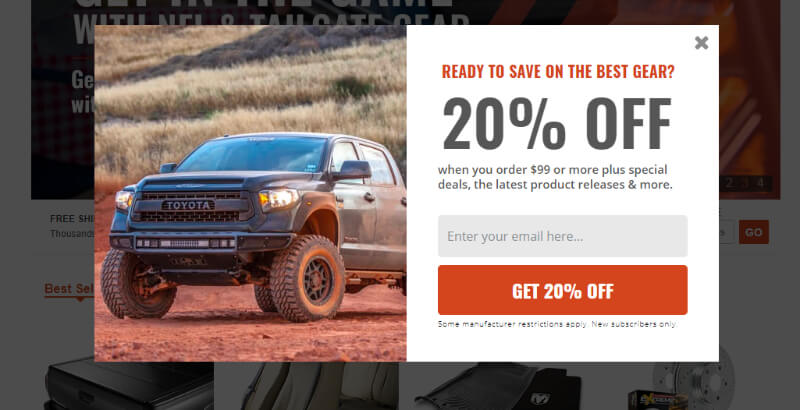 And here's how their campaign looks on mobile: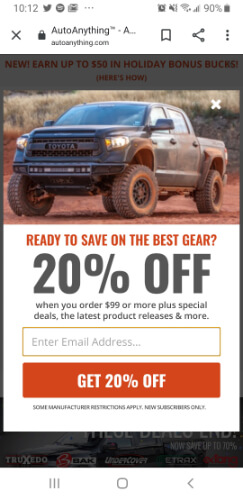 Epstein used A/B split testing to optimize the content of his campaigns. With an "A" campaign offering a 20% discount and a "B" campaign for a 10% discount, Epstein could see if merely offering any deal worked, or if the amount offered is what made it effective.
Unsurprisingly, the 20% off version of the campaign performed better, and remained the primary offer… but you don't know until you test!
Epstein told us, "We were able to create attractive designs, split test to drive incremental improvement, and set precise targeting rules to present the right offer at the right time."
The next way that Epstein used OptinMonster was a little more subtle.
Sprinkled throughout the website, visitors see a number of helpful banners and prompts. What they don't know is that those are actually OptinMonster campaigns too!
For example, there's a floating bar shown at the top of every page reminding visitors: NEW! EARN UP TO $50 IN HOLIDAY BONUS BUCKS TO USE ON YOUR NEXT PURCHASE. (HERE'S HOW).

When users click on this banner, it takes them to a landing page that explains how they can earn AutoAnything Holiday Bucks and encourages them to make a purchase.
Floating bar optins are great because you can promote your marketing campaigns front and center without interrupting your website visitors. Check out these floating bar hacks to boost conversions without annoying visitors.
Case Study: AutoAnything isn't the only OptinMonster customer to see success with floating bars. Take a look at how Cosmetic Capital increased leads by 300% using a floating bar!
Instead of making this banner a static part of each page on the site, OptinMonster's display rules allowed Epstein to choose exactly where and when his banners show. He can also change his mind (and the campaign's rules) easily, without having to touch any code.
These campaign targeting rules allowed Epstein to create sophisticated, personalized campaigns based on user behavior. And when campaigns are highly-personalized to the user, they're more likely to take action, whether it's to sign up for an email list or buy.
As a result of using OptinMonster, AutoAnything generated a nearly 2.5X increase in daily optins and boosted email revenue overall! ?
Results
With desktop and mobile popup campaigns, along with a floating bar, AutoAnything was able to grow its email list and generate more revenue.
AutoAnything increased daily optins by nearly 2.5X
AutoAnything increased email revenue by 20%+
AutoAnything's desktop campaign has been viewed nearly 4 million times and their mobile campaign has logged over 4.6 million views
Summary
Thanks to OptinMonster's easy, built-in A/B testing feature, AutoAnything was able to take the guesswork out of creating effective optin campaigns. Instead, they were able to easily discover which popups got them the best results.
Using 1 email optin campaign in both a desktop and mobile version and a subtle floating bar optin, AutoAnything was able to generate more leads and boost their revenue.
With OptinMonster A/B testing, your business can easily find out what type of campaign is the most tempting to your website visitors, just like AutoAnything did.
"OptinMonster's robust capabilities have allowed us to circumvent challenges with our custom tech stack, and deploy personalized messaging and optin campaigns at scale. We've been very pleased with the results."
Michael Epstein, Chief Marketing Officer, AutoAnything