Are your website visitors inspired to take action? If not, the problem could lie with your call to action. Your call to action is the most important part of your marketing campaign and is the difference between losing a potential customer and making the sale.
In this article, we'll show you the building blocks of successful calls to action, with examples. You'll learn how to write and optimize calls to action to achieve better results. By the end, you'll be able to create the perfect call to action to achieve measurable success from your own marketing campaigns.
What is a Call to Action?
A call to action is a word, phrase, or sentence that encourages the reader to take a specific action.
In other words, it calls on them to take action. "Call to action" is often abbreviated as "CTA."
With the right call to action, you can persuade people who visit your site or read your emails to do something specific like buying a product, grabbing a download, reading the rest of an article, or sharing a piece of content on social media. In digital marketing, the CTA often consists of text placed on a button, though it may also be a simple link with appropriate anchor text.
Kathryn Aragon also has a great explanation. She says: "The CTA is your final instruction to your reader". Use the call to action anywhere you want your reader, viewer or web visitor to complete a task. When people take action based on your CTA, that's called conversion, and every marketer wants better conversions.
Most people will take action if it seems logical and is likely to benefit them. That's why it's surprising that so many companies miss out on the opportunity to form a deeper connection with their customers. SmallBizTrends says 70% of small businesses don't have CTAs on their sites. Since you're reading this, you don't plan to be one of them.
What Makes a Good CTA?
For a start, effective CTAs relate strongly to the content on the page, and to people's motivation for taking action on that content.
In other words, a good call to action has to send a clear message about the benefits people will get when they act.
A good example of this that you see all over the internet is a CTA asking people to sign up so they don't miss out on blog updates.

Your CTA must also deliver what you promise immediately. That's why so many thank you messages and subscription confirmation messages include a link to a promised download or a valuable resource.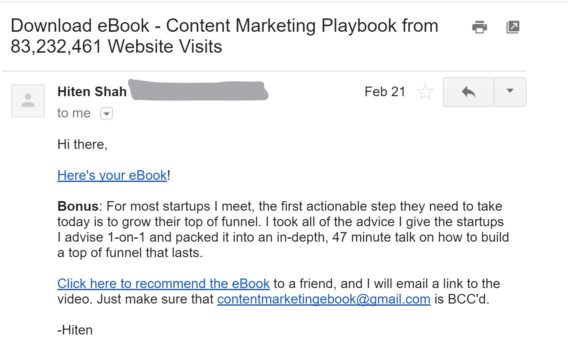 How to Use the Right Call to Action Words
One thing's for sure: When you're writing a CTA, the words really matter, because those are what make people act.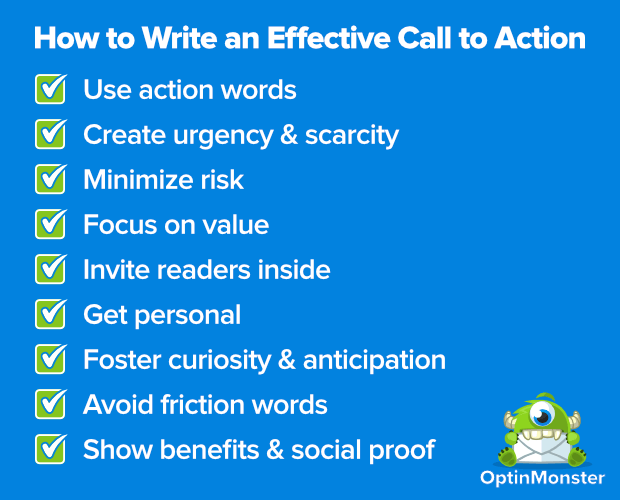 Here's what you need to do to make that happen:
Use action words
Create urgency and scarcity
Minimize risk
Focus on value
Invite readers inside
Get personal
Foster curiosity and anticipation
Avoid friction words
Show benefits and social proof
Now let's look at those points in more detail and show some examples.
The best calls to action use action words that let viewers know the specific action they should take next.
For example, you'll often see emails with an article excerpt and a link or button at the bottom asking the recipient to "read more". And on a webinar signup page, you might ask people to "reserve your spot".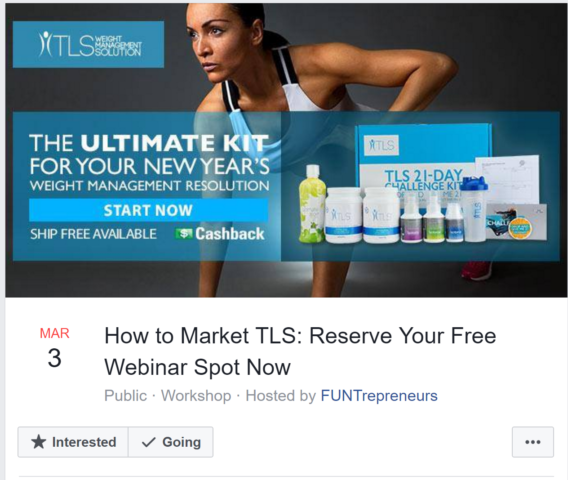 Calls to action also use urgency and scarcity to trigger FOMO (fear of missing out), making it more likely that the reader will take action. When you see a CTA urging you to "get access now" or one with a countdown showing that the offer will soon expire, that's what's going on.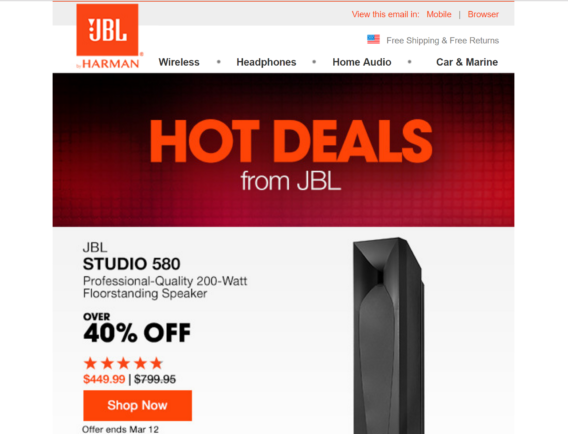 Some CTAs can address more than one issue. For example, Constant Contact's home page copy appeals to people who want to think of themselves as marketers, while offering a no-risk free trial. Minimizing risk is another aspect of a successful call to action.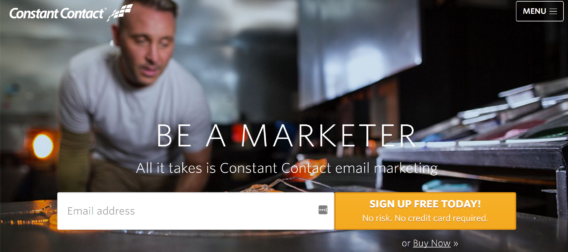 Some CTAs focus on the value they offer people, like the one in the sidebar of Copyblogger's blog: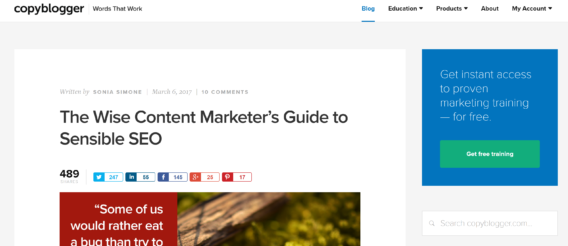 Or they offer the chance to get more good stuff by becoming an insider, as on Booking.com's site: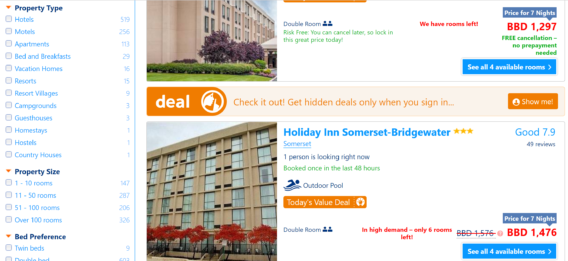 Good CTAs get personal. While some address the readers directly, sometimes you can get better results by having the CTA reflect their control of the process. Unbounce found that changing the text on a button from "you" to "me" led to a 90% life in conversions.
Here's an example from the International Freelancer's Academy, where the button text says "give me the free PDF".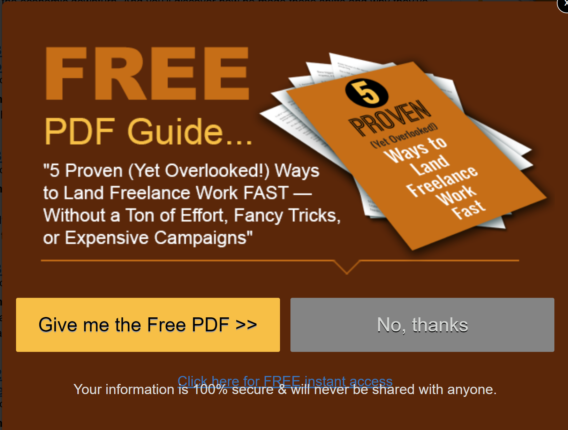 A good call to action relies on psychology, combining curiosity with anticipation.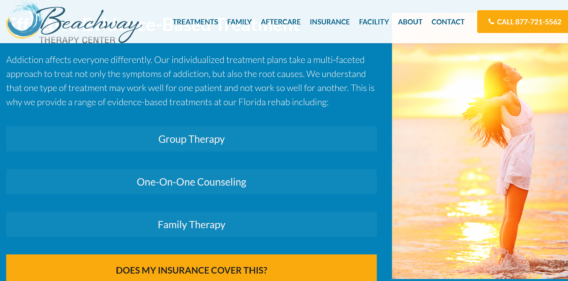 A good CTA avoids friction words that might make people hesitate (like buy, order, submit and so on) in favor of frictionless words as we've seen in the examples above. This removes some of the obstacles that get in the way of readers taking action. You want to make the process painless, so it's a no-brainer to take action.
Creating a CTA that works isn't just about the button itself, but about the copy on the rest of the page that supports it. This is where you will include benefits and social proof that make the case for the click.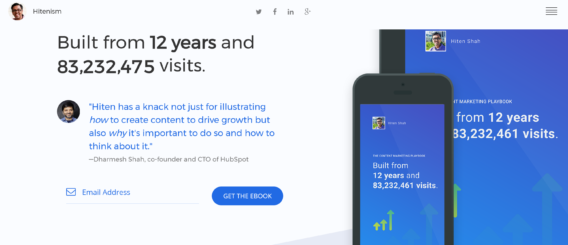 Use the call to action examples above for inspiration and get your CTAs on the right track by including some of these power words that boost conversions.
Where to Use Calls to Action
If you think about it, every piece of content you create has a purpose. That means every piece of content needs a CTA to tell readers what action you want them to take.
Let's look at a few places where you can put CTAs:
At the Start of a Web Page
A CTA at the top of your web page can attract visitors' attention even before they read any of your content.
For example, Social Media Examiner includes a sale offer at the top of the page, plus an optin for a free book above the content.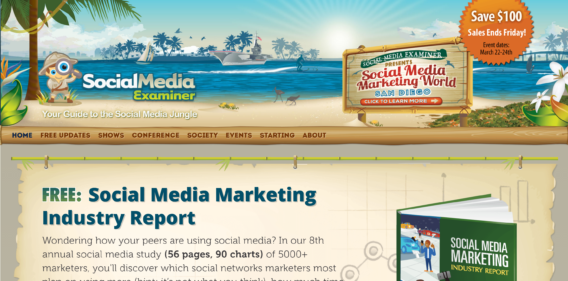 After a Blog Post
At the end of each blog post, there's another banner promoting the conference discount, plus an optin to subscribe to blog articles.
If people read all the way to the end, it's logical to think they are interested in similar content. Note the social proof included on the optin form.
If you scroll far enough, there's also a popup for another free report, using a yes/no template.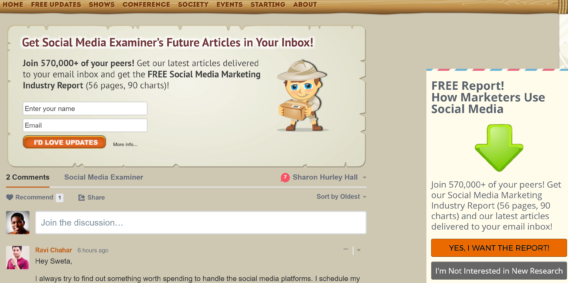 Econsultancy takes a different approach, using a text-based CTA to invite readers to see further research related to the article topic.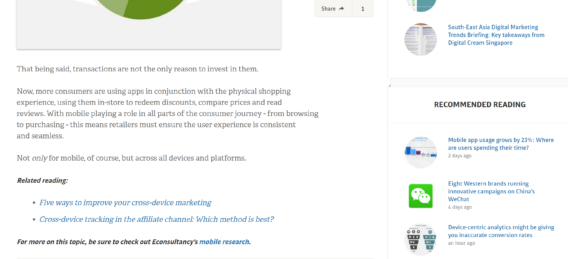 On a Welcome Gate
Quicksprout's site has a double welcome gate. The first screen invites people to subscribe to learn about traffic building. The second is an invitation to like the site's Facebook page.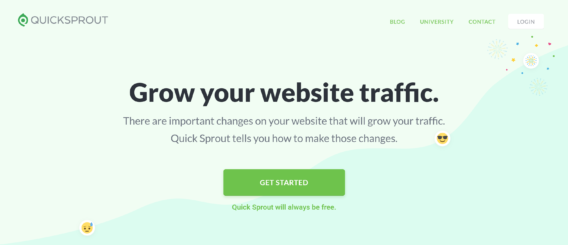 In the Sidebar
There's also a sidebar optin form for a free email course. The sidebar is a popular place to include a CTA.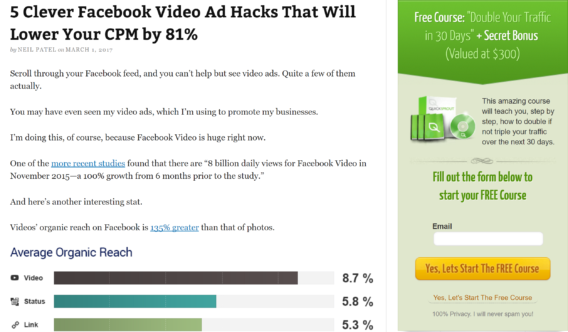 Related Content: How to Create a Sidebar Widget in WordPress to Get More Subscribers
Where You Need a Social Share
Asking for social media shares is another popular use of the CTA. Forbes includes tweetable quotes at the start of its articles, with an instruction to "tweet this".
Asking for likes, share, and retweets for the content you publish on your blog or post on social media sites are also calls to action.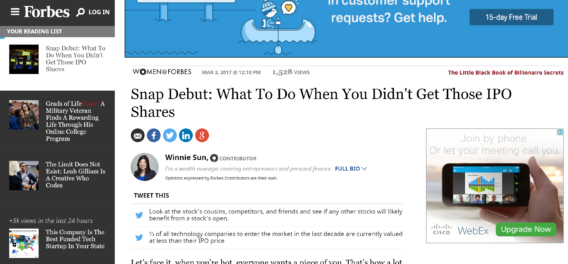 In the Middle of Your Content
A mid-post content upgrade is another good use of the CTA. If people are halfway through the content, then giving them the chance to download something related and helpful makes sense.
We use that right here on the OptinMonster blog, with a text link to a downloadable resource.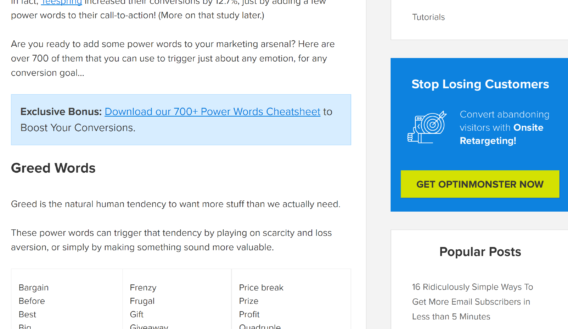 When People Are About to Leave
Exit-intent popups put a CTA in front of visitors at the moment they're about to leave your site. Exit-intent optins are proven to boost conversions, so it's worth crafting a CTA for this use.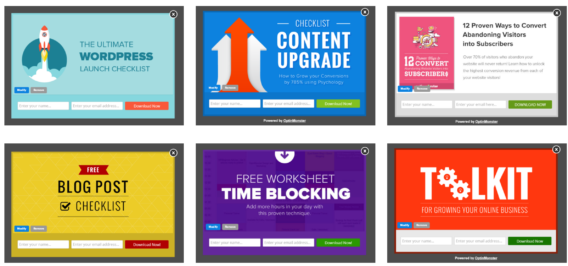 In Your Emails
You can also use CTAs in email marketing. We see these every day, when the emails we open ask us to:
Read the full article
Download a resource
Take advantage of a discount or freebie
Get more information about the subject of the email
At the End of Your Lead Magnet
And you can also use CTAs on your lead magnet. Most self-publishers include CTAs at the end of their ebooks, asking for Amazon reviews and highlighting another book in the series. Hubspot's ebooks have CTAs for training that builds on the content you are reading.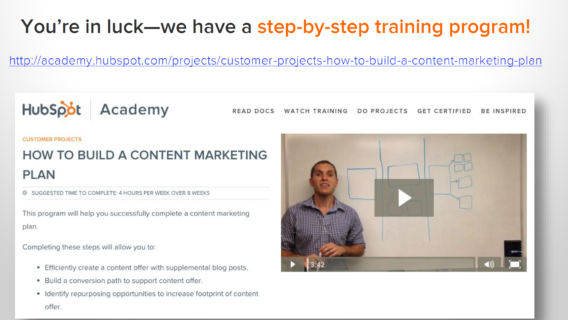 To sum this up, wherever you need to encourage your audience to take action is where you put your CTA.
How to Design a Call to Action
Design is also an important part of getting the CTA right.
One thing a lot of people wonder is whether your CTA should be a button or a link. There's no right answer to this. Campaign Monitor found that using buttons increased their click through rate by 28%.
While buttons are popular, don't assume that what works for someone else will work the same way for you. As we'll discuss later, testing will help you figure out what's right for your audience.
Another important point is that people expect you to have a CTA, so you don't have to hide it.
So, how do you make your call to action stand out? Let's take a look at a few key CTA design elements.
Most people agree that you should:
Use white space effectively so your button stands out.
Ensure that your CTA button contrasts with the colors on the rest of the page.
If necessary, frame the button to create contrast
Pay attention to the size of the button – it has to be legible but not overwhelming.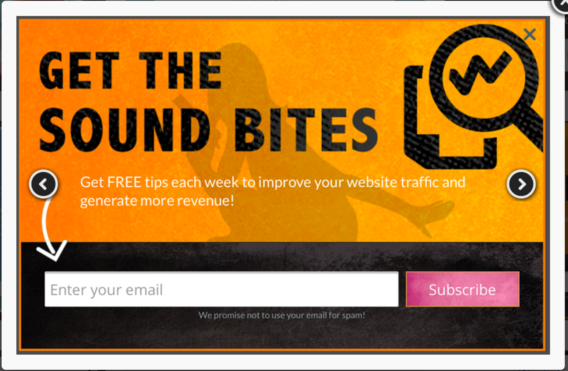 People process images faster than words, so using high quality images can be a good way to support your call to action.
You can also include visual cues to point them towards your offer. For example, people will naturally look where people in the image are looking. Arrows pointing to your CTA also help direct the gaze.
Despite what you've seen in some of our earlier examples, it's good practice to have only one CTA on a page. If you have multiple ones, people may get confused about what action you want them to take and simply do nothing.
You can use page level targeting rules to affect when particular optins appear so you target your marketing and avoid overwhelming readers.
Why You Should Test Your Calls to Action
Finally, it's not enough to just create a call to action and go with your gut about what to write, how to design it and where to put it.
You need data to see how your CTA is working.
The best way to do this is by split testing. You can experiment with button color and size, button text, text links, form and page design and CTA placement, changing one element each time until you have solid information on the best CTA approach for your site.
Here are a few examples of the difference testing can make:
Performable got a 21% conversion lift by changing the color of its CTA button.
SiteBuilderReport improved conversions by 13.4% by removing a single word from the CTA.
SAP redesigned a download page and found that adding the word "free" and removing distractions made it work better. The page variation with a large, orange button boosted conversions by 32.5%.
Split testing works, and it's an essential part of creating the perfect CTA. To get started, see our list of A/B tests to run on your popups to get more subscribers.
Recap: How to Write a Call to Action
Need a quick list so you remember how to create a CTA? We've got you covered.
Here's a quick recap outlining the key steps in writing a call to action:
Know what single action you want people to take. That's your conversion goal.
Identify the key benefit they will get.
Use action words to specify the action they need to perform.
Be human. Address visitors directly as "you" or use the first person so they feel included.
Keep it short, but long enough so people know what to do and what they will get as a result.
Remove the risk, so there's no barrier to taking action.
Provide an incentive, like a freebie.
Encourage instant response by using scarcity words.
Ensure the other on-page copy supports your CTA.
Put your CTA in the right place, and test to make sure it works.
Now you know how to create the perfect call to action, with plenty of CTA examples for you to use as inspiration. Try using your CTAs with exit popups using our guide to exit popup hacks.
Follow us on Twitter and Facebook for more free marketing guides.