Organizing a giveaway is a great way to skyrocket your online growth, and there are even free tools to help you. In this article, we share our picks for the best online giveaway tools and WordPress giveaway plugins that make it easy to grow traffic and social media followers… and your bottom line!
Want a quick solution running a giveaway or contest on your website? Then you need to use a powerful contest plugin on your site. By organizing contests and giveaways on your site, you can grow your website traffic, email subscribers, and social media followers.
Putting together an online contest is easy when you have the right tools. With any of the tools on this list, you can create an eye-catching viral giveaway that's sure to capture attention from your users and get them pumped to refer all of their friends.
Why Use Online Giveaway Tools on Your Site
There are tons of benefits to using online giveaway tools on your site. Here are just a few:
Increase Website Traffic. Online giveaways and contests are easy ways to increase traffic to your website through referrals and social shares.
Grow Your Email List. Require users to sign up for your email newsletter to get contest entries.
Boost Your Social Media Followers. Online giveaways and contests can quickly boost your social media followers when you offer additional entries to your giveaway in exchange for follows.
Generate Targeted Leads. Viral online giveaways will increase brand awareness and bring more people in contact with your business.
Case Study: See how KnivesShipFree.com increased revenue by more than $10,000 using giveaways.
Best Online Giveaway Tools and WordPress Giveaway Plugins
Here are the best online giveaway tools we've found to grow your traffic, followers, and sales!
1. RafflePress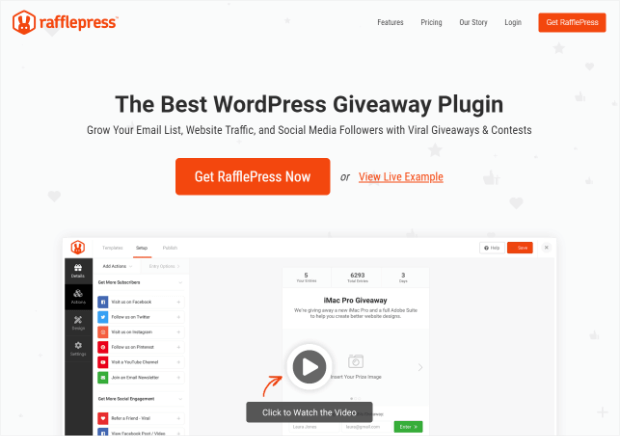 New to the WordPress market, RafflePress is already a BIG hit.
RafflePress is a WordPress contest and giveaway plugin designed to simplify the process of creating and managing online giveaways and contests on your website. To do that, it includes gorgeous pre-built templates and a drag and drop builder so you can have your online giveaway up and running in minutes.
Just wait, it gets even better…
RafflePress offers a FREE version of its plugin that you can use to create a killer online giveaway without paying a dime!
Free RafflePress Features:
Drag and drop builder with access to all the tools you need to create a successful online giveaway
100% responsive so your online giveaways and contests will look great everywhere
Fraud protection to eliminate the cheaters and keep your giveaway honest
Rule generator template to make it extremely easy to create contest entry rules
Lightning-fast operation from highly-optimized giveaway widgets to help with site speed, SEO, and conversion rates
Automated start and end times
A free template to create simple giveaways
Basic entry methods including Facebook page clicks, Twitter follows, visit a specific web page, and more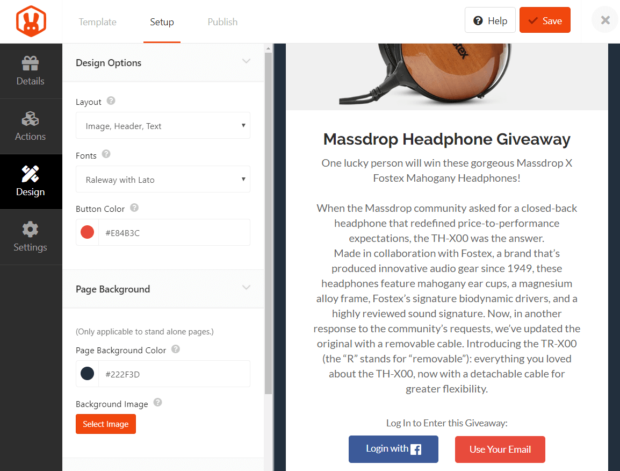 Pro RafflePress Key Features:
Email marketing and CRM integrations to easily connect your email list and get more email subscribers
Image submission entries (great for getting user-generated content)
Polls and surveys tool
Custom design options and backgrounds
Landing pages for your online giveaway competition
Goal-based giveaway templates
Viral sharing features (refer-a-friend) to generate even more traffic by rewarding users with bonus entries for referring friends to your giveaway or sharing it on their social media
Verified bonus actions let users earn more entries by following you on social media platforms like Facebook, Instagram, YouTube, Pinterest, Twitter, and more (plus, "verified" means that you can rest easy that these are real entries)
RafflePress is the best online giveaway plugin for WordPress, free or paid. By getting website visitors to bring in more website visitors, they get more chances to win and you get more leads. Everyone's a winner!
RafflePress Pricing:
RafflePress has an amazing FREE version. The Pro version starts at $49/year.
For more information, check out this helpful review of RafflePress.
2. ShortStack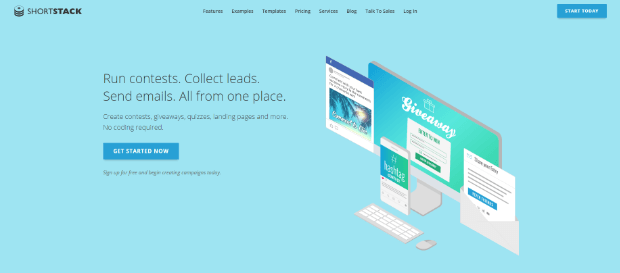 ShortStack is a popular online giveaway tool and WordPress giveaway plugin that makes it easy to create a giveaway campaign in minutes. Plus, no coding!
ShortStack Features:
Drag and drop builder including 20+ widgets like form, poll, newsletter, social media, gallery and voting
Customize colors, fonts, boxes, size, text and every other element in your campaign
Email notifications let you contact your campaign participants as soon as they enter a competition, after a number of days, or at a scheduled date and time
Leads are saved in a searchable, exportable database
Limit entries and verify entry authenticity to reduce cheating
Random Entry Selector lets you choose a contest winner on social networks
Get user-generated content from photo contests, including hashtag contests
Built-in analytics data lets you see how your campaigns are performing, in real-time
ShortStack Pricing:
Free plan available; premium plans start at $29/month.
3. Woorise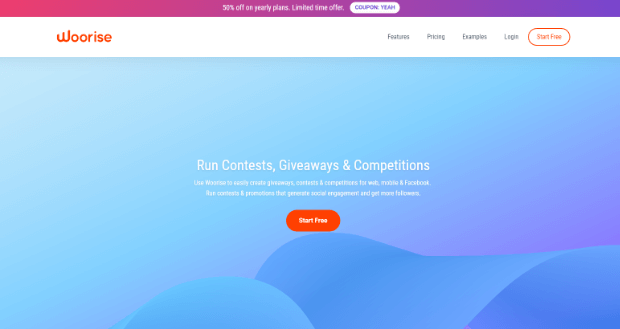 Woorise lets you create an online giveaway for free, and has a WordPress giveaway plugin. However, if you want all the best features of Woorise you'll need to signup for one of the paid plans.
Woorise Features:
Campaigns and Woorise App interface are fully mobile-friendly
Drag and drop builder includes social widgets for your Facebook page, Instagram, YouTube, Twitter, Pinterest, and more
Customize your online contest colors from a variety of options, show or hide elements, and use your own images
Multi-language support
Geotargeting lets you create campaigns targeted to users based on their location
Conditional logic so you can show or hide form fields, entire sections, social actions, or send email notifications
Tracking data is easy to understand
Choose random winners with a single click
Fraud detection tools keep your contest fair
Woorise Pricing:
Free plan available; paid Grow plan starts at $55/month.
4. Agorapulse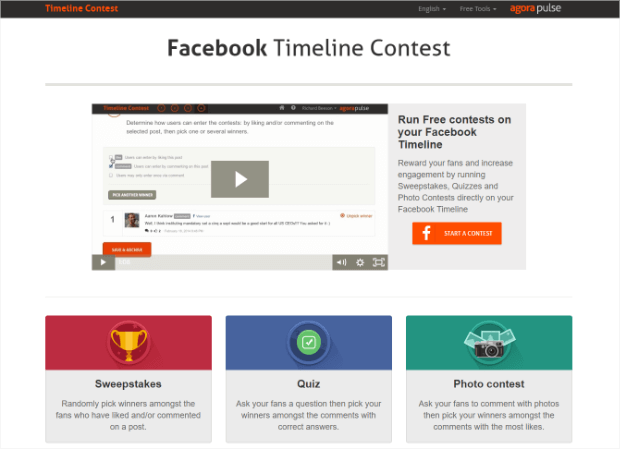 If you're in the market for a complete social media management tool, Agorapulse may be exactly what you need. We included it here for the free Facebook Timeline Contest app that they have available for the software.
Agorapulse Features:
Randomly pick sweepstakes winners from the people who've liked or commented on a post
Pick winners from people who commented with the correct answer for a quiz question
Get great user-generated content by asking people to comment with photo submissions, then pick winners from the submissions with the most likes
Agorapulse Pricing:
Pricing starts at $89/month when billed annually.
5. Wishpond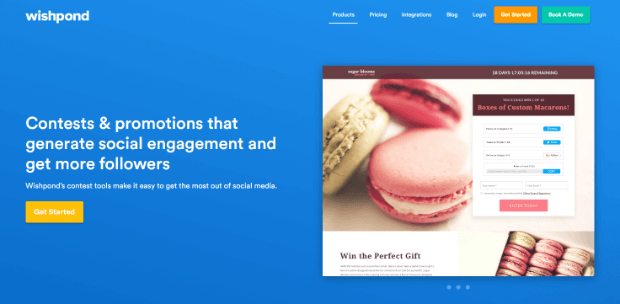 Wishpond is a marketing platform that includes options for social media contests and competitions. However, if you already have your marketing needs covered (by an awesome tool like OptinMonster, perhaps?) this option is going to have tools that you don't need.
Wishpond Features:
Simple interface
10 social media contests including Instagram hashtag contests, photo caption contests, video contests, and more
300+ integrations so you can connect email, analytics, sales, and payments
Wishpond Pricing:
Pricing starts at $49/month when billed annually.
6. Gleam

This plugin hasn't been tested with the latest 3 major releases of WordPress.
Gleam is the most expensive of the online giveaway tools we're covering, but its Competitions app makes it really easy to create and manage contests. However, it does not have a WordPress giveaway plugin.
Gleam Features:
Verified Actions reduce the number of steps it takes to enter contests and checks the entries to make sure they've gone through
Reach more potential entrants by letting users refer their friends
Responsive down to 320px to support a mobile-friendly experience
Google Analytics integration
Pick winners randomly or award manual entries
Multi-language support
Gleam Pricing:
Free plan available; paid plans start at $10/month (billed annually) for a pretty limited Hobby plan; business plans start at $149/month.
7. Woobox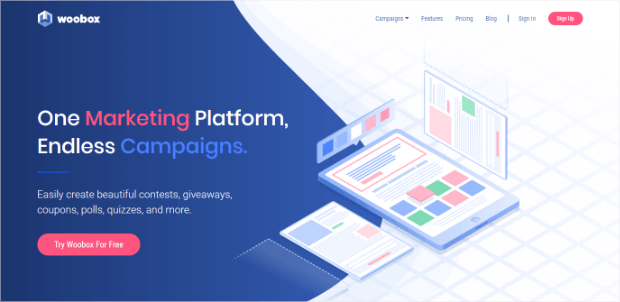 Woobox is a free online giveaway tool and WordPress giveaway plugin that you can use to set up a contest on your WordPress site quickly and easily. It uses shortcodes that make embedding on WordPress a breeze.
Woobox Features:
Customizable templates to get you started
Choose winners randomly, easily approve submissions for your photo contests, and push media submissions to your galleries
Integrate your campaigns with Zapier, Mailchimp, and more than 500 other tools
Collect entries from hashtags, likes, or comments on social media platforms
Use landing pages to drive traffic from emails, social media posts, and ads to a dedicated contest page
Woobox Pricing:
Free plan available; paid plans start at $32/month when billed annually.
8. KingSumo

KingSumo is a WordPress giveaway plugin created by AppSumo. You can use it to grow your email list through online contests.
KingSumo Features:
Set up your giveaway on your WordPress site in just a few clicks
Schedule start and end dates
Easy image uploads to show off pictures of the prize next to its description
KingSumo Pricing:
Free option available; paid plans start at $99 (one-time) for the web app and $198 (one-time) for the WordPress plugin.
9. Easypromos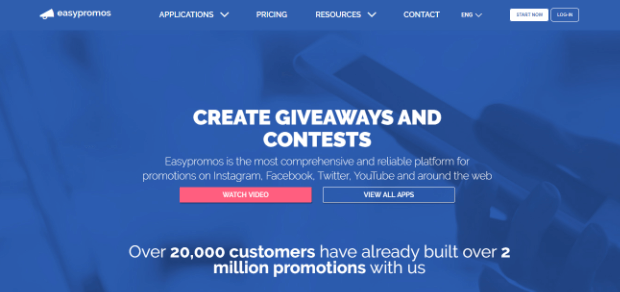 If you're looking for a way to easily create and manage online giveaways across all social networks, Easypromos might be for you.
Easypromos Features:
Create complex giveaways combining Facebook, Twitter, Instagram, and YouTube
Create giveaways with collaborators like influencers, sponsors, and brands
100% responsive and mobile-friendly
Can be added to WordPress with a widget
Easypromos Pricing:
Create 1 free online giveaway; paid plans start around $25/month.
What Is the Best Online Giveaway Tool and WordPress Giveaway Plugin?
Our pick for the best online giveaway tool and WordPress giveaway plugin is RafflePress. Not only is RafflePress super easy to use, but it's dedicated entirely to giveaways, so the pricing and features are exactly where you need it to be.
The free version has everything you need to create a successful giveaway, but the paid versions start at only $49 for an entire year.
Get started with the premium version of RafflePress now! Or, you can always grab the free version.
Once you have RafflePress, be sure to check out How to Run an Online Contest or Giveaway where we walk you, step-by-step, through setting up your own online contest with RafflePress.