Are you looking for the best VoIP for small business?
Voice Over Internet Protocol (VoIP) has revolutionized the way businesses communicate.
For small businesses, in particular, choosing the right VoIP phone service can be the difference between seamless communication and missed opportunities.
Rest assured, I've got you covered! I've thoroughly reviewed the top VoIP phone services to help you select the one that fits perfectly with your needs!
Let's dive into the world of VoIP and discover the best options for small businesses in 2023.
Quick links:
Before we dive in, let's explain what VoIP is and why you should invest in the best business VoIP phone service for your company.
What Is VoIP?
VoIP (Voice-over-Internet Protocol) lets you communicate via phone and messaging using the internet connection. These systems have unified communications, such as phone, chat, and file sharing.
Even with all these functions, VoIP can cost less than traditional landline phones.
Why Small Businesses Need

VoIP Provider

?
Switching to VoIP isn't just a tech trend; it's a smart business move. Here's why:
Cost Savings

: Traditional phone line systems come with hefty bills. VoIP services often offer competitive rates, saving businesses money in the long run.

Scalability

: As your business grows, so can your VoIP system. No need for extensive hardware upgrades.

Enhanced Features

: Think call forwarding, voicemail-to-email, and even video conferencing. These advanced features can streamline operations and improve customer interactions.
Here's what to look for in a VoIP service for small business.
How To Choose the Best
Business
VoIP Service?
Choosing the best VoIP service for your needs is important, and there's no one-size-fits-all version.
To help you make the right decision, here's what to look for in VoIP phone service for small business:
Reliability

: Dropped calls can mean lost business. Ensure the service boasts high uptime and clear call quality.

Features: Includes the features your business needs.
Local versus International Calls: Ability to choose plans for domestic or international calls.
Mobile App: Fully-functioning mobile app to make and receive calls on the go.
Third-Party Integrations: Connects with other tools like CRMs, email marketing services, and more.
Support: Access to 24/7 customer support. Can you rely on them when things go south?

Security

: With cyber threats on the rise, a secure VoIP service is non-negotiable.
Here's our list of the best business phone services.
Note: Features listed may not be available at all subscription levels. Providers may also have more options not included here. Check each site for all the details.
11 Best VoIP Phone System
Now let's dive into our list of the best VoIP services available.
Nextiva is the #1 rated business phone service. It offers an easy-to-use, powerful VoIP system. Moreover, you don't need an annual contract, and Nextiva is quick to set up.
It has a simple web-based admin panel to manage your business communications platform. Nextiva also has CRM tools, live chat, online surveys, and more.

Nextiva Features:
Auto-attendant
Call analytics, forwarding, recording, and routing
Caller queue
Easy transfers to unique extensions
Faxing
HD voice calls cut background noise if using headphones
Option to add a toll-free number or keep your number
Conference calls
Visible, thorough details about callers (screen pop)
Voicemail to text
Nextiva Pricing:
Starts at $18.95 per month per user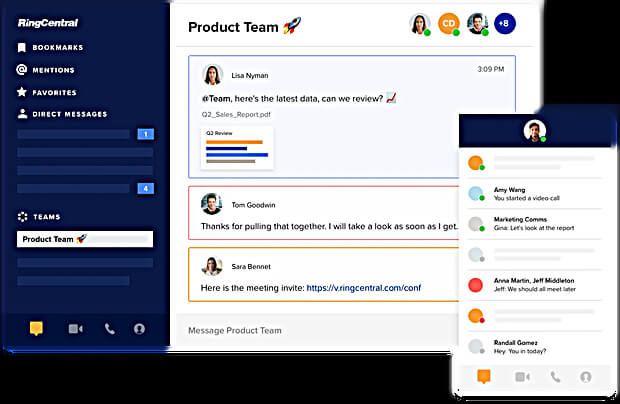 RingCentral is another contender for best VoIP service. They provide an onboarding specialist to help you set up your VoIP in minutes.
Whether you have 10 employees or over 1,000, RingCentral has plans for your needs. This gives small businesses bandwidth to create robust contact centers that improve UX.
This VoIP solution integrates with Salesforce, Microsoft Office 365, Canvas, and more. It also has a cloud-based portal for simple administration.
RingCentral Features:
Call management and phone system administration
Device status alerts and reports
Document sharing
HD video and voice
Mobile apps for iOS and Android
Multi-site admin and management
Real-time analytics
Team messaging
Unlimited storage
Voicemail to email or text
Backend api available for customization and scaling
RingCentral Pricing:
Starts at $30 per month per user. You can also pay annually and save up to 33%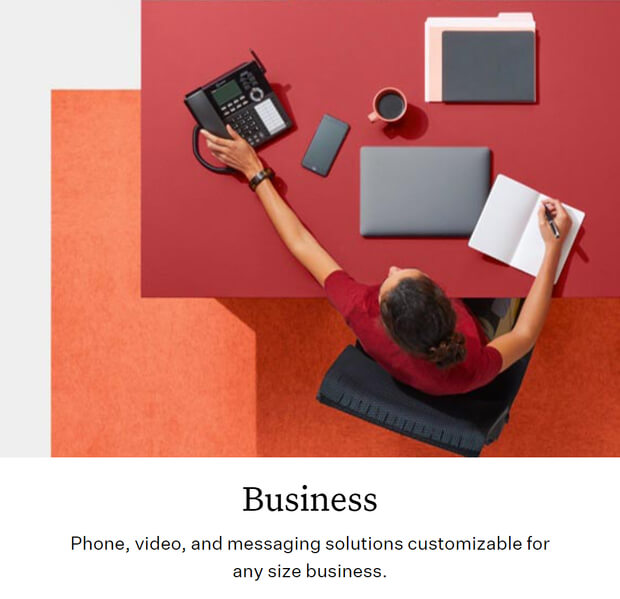 Ooma provides all the tools you need to run your business, including video conferencing, advanced call blocking, a virtual receptionist, and more.
The setup couldn't be easier and lets you connect with your team and clients from all devices.
Ooma Features:
Desktop App/Softphone
Extension-to-extension dialing
Forward calls during device outages
Intercom
Multi-device ring
Multi Extension Dialing
Smartphone app
Video Conferencing
Virtual extensions
Voicemail with audio email attachments
Ooma Pricing:
Starts at $19.95 per month per user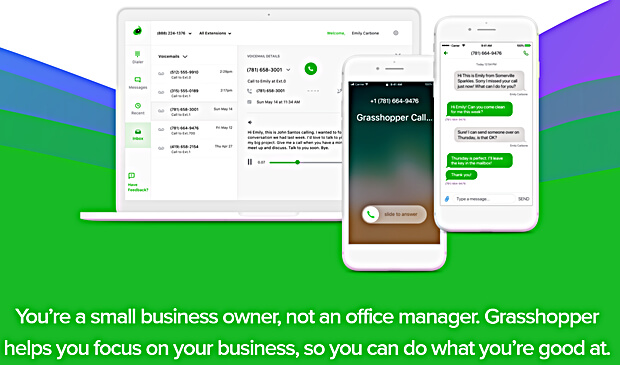 Grasshopper is a great VoIP for small businesses because it uses your existing handset or cell phone, giving it both a business and personal line.
This program comes with call transfers, incoming call control, custom greetings, and more.
You can use Grasshopper's mobile or desktop apps for outgoing calls. The web-based and app-based portals are easy to use to manage your telephone system.
Grasshopper Features:
24/7 support
Call and text
Desktop, Android, and iOS compatible
Vanity phone number available
Virtual phone system with greetings, extensions, etc.
Works with your current phone
Grasshopper Pricing:
Starts at $28 per month per number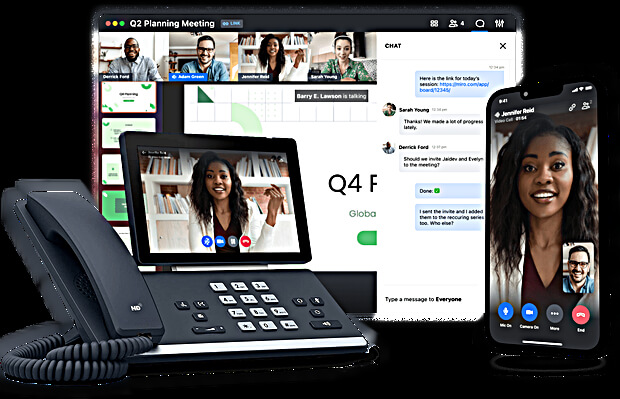 GoToConnect refers to itself as a "customizable cloud phone system." Few talk about customizability, which is why this is one of the best business VoIP platforms.
They offer a phone tree directory for your company and can send these calls to any device the user prefers.
GoToConnect provides real-time analytics and supervisor access. This gives your team the flexibility you need to serve customers better.
GoToConnect Features:
Agent Effectiveness Reporting
Hot Desking
Calling features such as international calling
Listen, Whisper, & Barge
Real-Time Analytics
Smart Call Routing
Supervisor Dashboard
Team Messaging
Unlimited Extensions
Voicemail to Email
GoToConnect Pricing:
Starts at $27 per month per user

Phone.com is on our best business phone service list for many reasons, the biggest being the flexibility to mix and match plans according to individual employee needs. Why pay for a full suite of features for every person when some may need only the basics?
At the basic level, Phone.com users get the essentials and then some. But, you still aren't breaking the bank to get all the great features this program offers.
Phone.com Features:
Business text messages
Call Analytics
Call Recording
CRM Integration
HiFi transcription
HIPAA Compliant
IP Desk Phone Compatible
Mobile and Web apps
Video Recording
Whiteboard
Phone.com Pricing:
Starts at $14.99 per month per user

Vonage is a robust business phone system. It allows unlimited calling and SMS text messages in the United States and Canada. Additionally, Vonage has over 50 possible features and a ton of integrations.
Users get unlimited calls, texts, team messaging, and Vonage apps at the basic level.
Vonage Features:
Block calls
Do not disturb mode
Manage system from one portal
Reroute calls in emergencies
See the status of every phone on the system
See statuses of all users in real-time
Spam blocking
Team messaging
Transfer calls between devices
Visual voicemails
Vonage Pricing:
Starts at $19.99 per month per line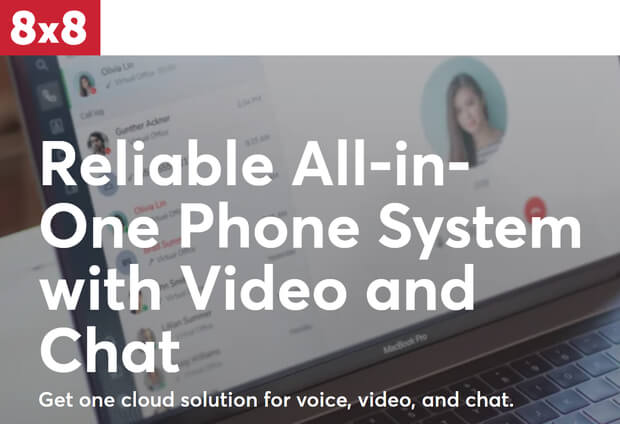 8×8 offers unlimited calling in the US and Canada, as well as globally with upgraded plans. It takes pride in its reasonable prices, so they make sure you don't miss out on lower subscription levels.
8×8 Features:
30-day trial
Call handling and attendant automation
Call forwarding and hold music
Choose between your current or a new number
Customer chat on various messaging platforms
HD audio and video conferencing
Instant messaging
Apps for mobile devise and desktop
No IT expertise needed
Works with all devices
8×8 Pricing:
Pricing starts at $15/month per user.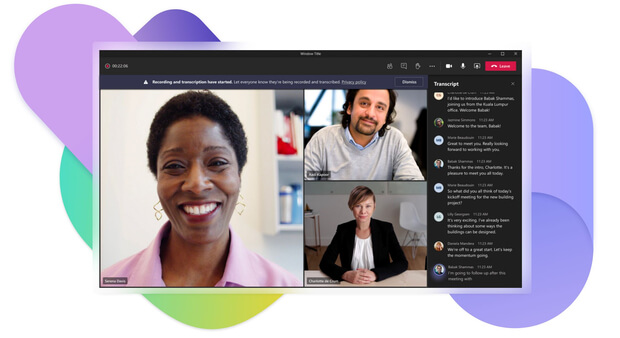 Microsoft Teams has replaced Skype as Microsoft's official VoIP for business system. This is one of the best business VoIPs because it looks like the popular internal Teams program so many users are already familiar with it.
It's also one of the best business phone services because it increases revenue. It offers streamlined, time-saving communications, low deployment and management costs, and flexibility in necessary devices, among other things.
Microsoft Teams VoIP Features:
Admin center adds, monitors, and manages calls
AI routes calls using availability, time, and location
All-in-one program for internal and external work
Call queues with greetings and hold messages
Cloud voicemail for use on all devices
Compatible with tons of devices, including headsets
Records voice or video calls
Screen sharing
Microsoft Teams Pricing:
Microsoft 365 Business Basic is $6 per month per user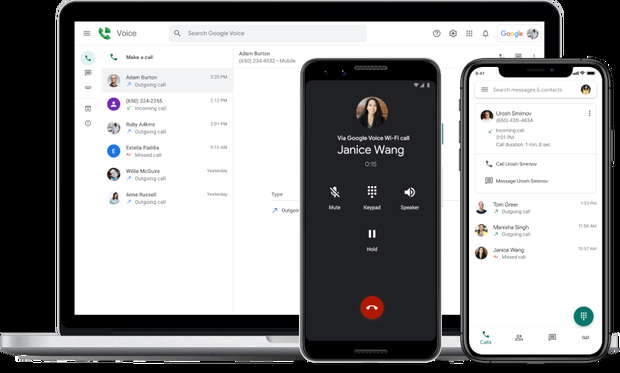 Google Voice is a scalable VoIP business phone system and part of Google Workspace. It's one of the best business phone services because it was built to work with Google Meet, Calendar, and more.
Unlike many other VoIPs, it functions with more than computers, tablets, and phones. It also integrates with some headsets.
Google Voice Features:
Global use
Instant deployment
Little tech knowledge needed
Made for businesses of all sizes
Part of Google Workspace
Spam blocker
Straightforward customization for your daily needs
Unlimited SMS within the US
Voicemail transcription
Works on most devices from any location
Google Voice Pricing:
Starts at $6 per month per user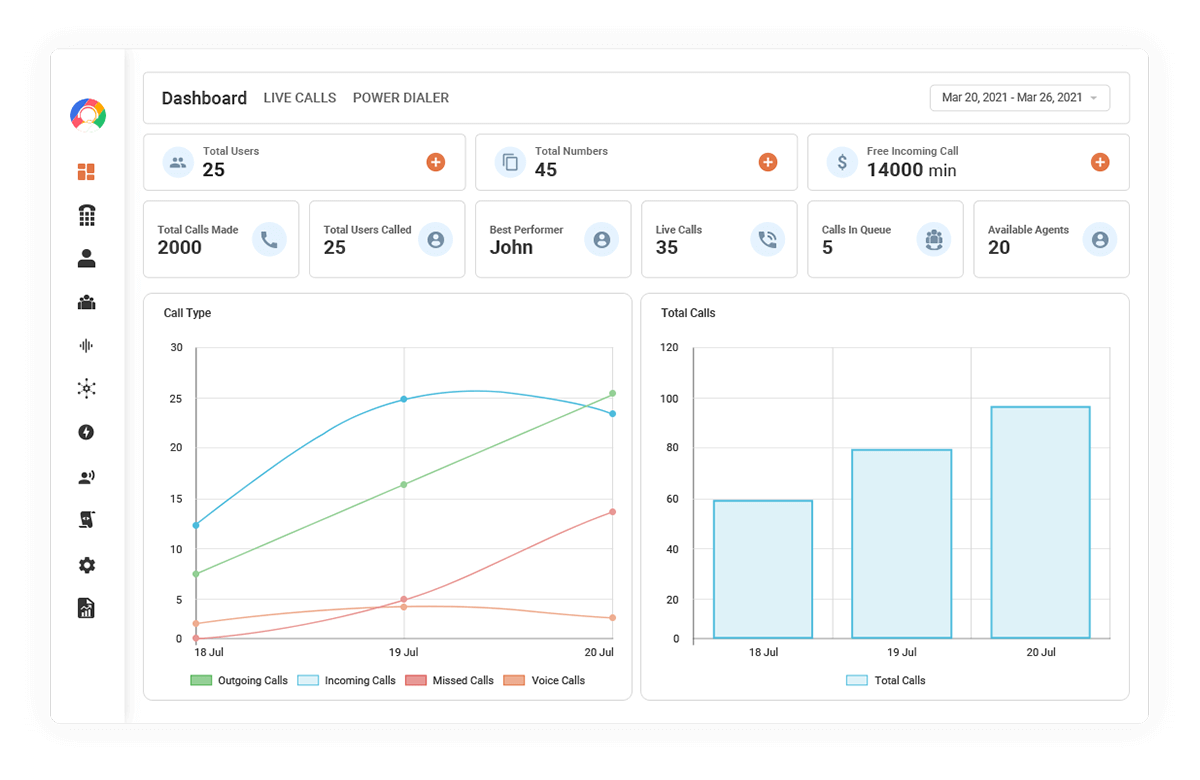 CallHippo is on our best business phone service list because of its admin functions. CallHippo integrates with over 85 popular programs, such as Hubspot, Slack, and WooCommerce.
CallHippo Features:
3-minute setup
Dashboard with all necessary administrative info
Get caller insights to identify prospects (caller ID)
HIPAA compliant
ISO certified
PCI-compliant
Phone numbers available in over 50 countries
Real-time monitoring
Send pre-recorded messages to many people
CallHippo Pricing:
Starts at $16 per month per user for call centers and $25 per month per user for offices
What VoIP Service Is Best?
After researching VoIP phone services, I am confident Nextiva is the best VoIP service. It offers awesome features and doesn't need annual contracts.
Plus, it's more affordable than most of its high-end competitors.
Boost Engagement With a VoIP Service Provider
The best business phone services help you bring in leads. At first glance, VoIPs may not seem like they can't do this. But, they're actually perfect for running "click-to-call" campaigns.
Click-to-call lets inbound and outbound calls occur with one click. This avoids dialing wrong numbers and allows leads to reach your business by clicking on a "call now" CTA.
OptinMonster Premium WordPress Plugin can help you build a click-to-call campaign quickly.
AIt lets you build stunning opt-in campaigns without needing to be tech-savvy.
You can use OptinMonster with your VoIP service by making a click-to-call CTA button, including on targeted ads.
Everything starts by selecting an OptinMonster template for your campaign: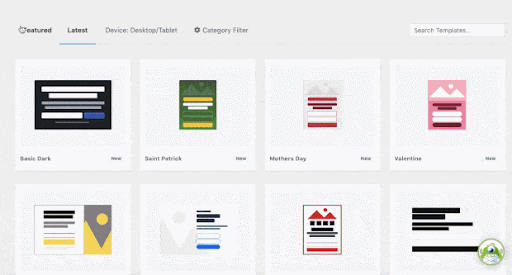 From there, you can change your campaign as needed.
Want to add a click-to-call button? You can do this with drag-and-drop: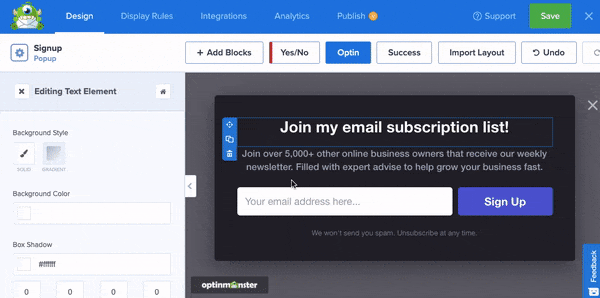 From there, you need to show your popup to the right people at the right times. For that, you need powerful targeting rules, like the following:
Exit Intent® Technology: Display messages as users leave your website.
Geolocation Targeting: Show your click-to-call popup based on your visitor's physical location.
OnSite Retargeting®: Make new offers to returning visitors to avoid "popup fatigue."
Click below to start your 100% risk-free OptinMonster account today:
Create a Click-to-Call Campaign Today!
BONUS: Done-For-You Campaign Setup ($297 value)
Our conversion experts will design 1 free campaign for you to get maximum results – absolutely FREE!
Click here to get started →
Beyond the Best Business VoIP Systems
We hope you found this post on the best VoIP phone services helpful.
If you did, check out the following resources to learn more about improving your phone setup:
If you join us here at OptinMonster, we're always happy to help as well!