Are you looking for the best VoIP business phone systems to more easily manage communication with your customers?
VoIP is a cost-effective call management solution that makes it perfect for most businesses. And unlike a traditional landline, VoIP is internet-based and comes with a full package of unified communications at no additional cost.
But with all the phone service providers out there to choose from, it can be tough to find the voip business phone system that fits your specific needs.
That's why we're about to share the best business phone systems to fit any budget.
Before we dive in, though, let's explain what VoIP is and why you should invest in a VoIP business phone system.
What Is a VoIP Business Phone System? (+ Why You Need One)
VoIP (Voice-over-Internet Protocol) is a technology that lets you make and receive phone calls using your internet connection. It converts the sound of your voice into a digital signal and sends it over the internet.
VoIP services are the first choice for many small businesses, startups, and entrepreneurs because they can cost less than traditional phone services.
Instead of investing in copper-wire landlines, if your office is already wired for Ethernet, you can connect to a telephone network quickly and more cost-effectively.
Additionally, they include features that go far beyond making and receiving calls.
These features include things like voicemail, call forwarding, call recording, video calls, conferencing, and more.
Here are some of the reasons you might want to go with a VoIP business phone system over a traditional one:
Share a single number with multiple users at the same time
Use a computer, landline, or mobile phone to make and receive calls
Track call duration, hold times, wait times, and other valuable metrics
Use call routing to direct inbound calls to the right person
Make outbound calls via cell phone, handset, cordless phone, or whatever device you prefer
When you're running a business, you need the tools that can support you. VoIP business phone systems have the tools you need to build better relationships with your customers and provide fast, reliable, professional service.
As long as you have reliable, high-speed internet, then a VoIP phone system is a great solution for all businesses.
Now that you know why a VoIP phone system is good for your business, let's look at what to look for in a business phone system.
How to Choose a VoIP Business Phone System
Choosing the best VoIP business phone solution for your business needs is important.
And with so many business VoIP phone systems on the market, it can be hard to figure out which one is right for you.
If you're a startup or small business, you might be tempted to go with the cheapest option available. But, you need to look carefully at small business VoIP solutions to make sure they have the features you need.
To help you make the right decision, here's what to look for in a business phone system:
Features: Includes the features your business needs such as texting, faxing, auto-attendant, etc.
Local vs. International Calls: Ability to choose plans for domestic or international calls based on the geographical location of your customers.
Mobile App: Fully-functioning mobile app to make and receive calls on-the-go.
Third-Party Integrations: Connect your VoIP service to other tools like CRMs, email marketing services, and more.
Support: Access to 24/7 customer support to ensure your phone system is running smoothly.
So now, let's turn our attention to our list of the best business phone systems.
Best VoIP Business Phone Systems
Now let's dive into our list of the best VoIP business phone systems available.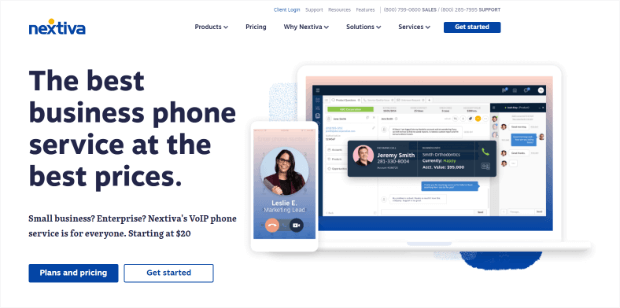 Nextiva is the best business phone service available in the market. It offers an easy-to-use, powerful VoIP business phone system. Moreover, you don't need an annual contract, and Nextiva is quick to setup.
This VoIP provider comes with a ton of super cool features like unlimited calling, auto attendant, advanced call management, voicemail to email and text, and more. Also, you'll get a toll-free number free with any of their plans.
It has a simple web-based admin panel that makes it easy to manage your business communications platform, no matter your business needs. Nextiva offers other calling features like CRM tools, live chat, online surveys, and more.
Nextiva's customer support also gets rave reviews.
Nextiva Features:
Quick setup
Uses industry-standard SIP protocol
Unlimited calling to the United States, Canada, and Puerto Rico
Bring your current phone numbers (number portability)
Route calls to the next available representative with call queuing
Instant conference calls and Meet-Me conferencing
Nextiva app lets you manage calls from your mobile device
Advanced IVR (Interactive Voice Response) with speech commands and biometrics
Reliable data centers with 99.999% uptime
Fast and knowledgeable support team
Cloud PBX for remote teams
Nextiva Is Best For:
Small to mid-level businesses, startups, and entrepreneurs who value customer service.
Nextiva Pricing:
Pricing starts at $20/month per user for the Basic plan.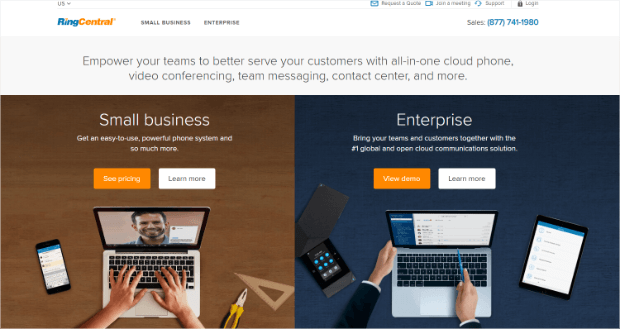 RingCentral is another top contender among the best VoIP services. It's a reliable, secure, and hassle-free IP phone service. It's easy to set up and comes with useful features like call forwarding, call monitoring, video and audio conferencing, automatic call recording, screen sharing, and faxing.
RingCentral also offers features to support call centers. You can set up multiple phone lines with their call center software. You can contact your customers via your office phone system, text messaging, email, or social.
This gives small businesses the bandwidth to create full-on contact centers to improve UX.
This VoIP solution integrates with 3rd-party services like Zapier, Salesforce, Office 365, Google Drive, Dropbox, and more. It also has a simple cloud-based portal that makes administration easy.
RingCentral offers customer support via their online knowledge center, plus they offer phone support. This is a feature-rich solution that won't break the bank.
RingCentral Features:
Simple and easy setup
Online faxing
Unlimited calls within the United States and Canada
Choose a toll-free or local business phone number
Unlimited audio and video conference capabilities
Voicemail-to-text service
Automatic call recording
RingCentral Is Best For:
Small to large-scale businesses.
RingCentral Pricing:
Pricing starts at $19.99/month per user (billed annually).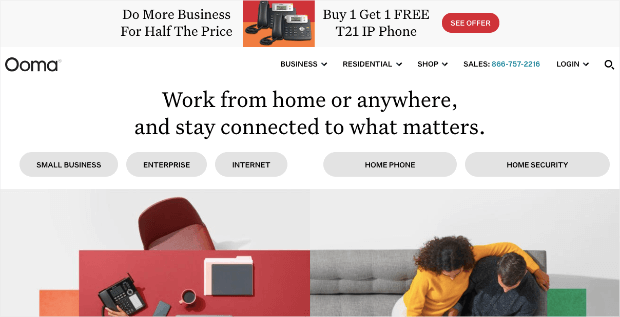 Ooma is another internet-based VoIP service that's a great solution for businesses of all sizes. Smaller companies will be attracted to its more affordable pricing (without sacrificing any of the major features).
In fact, according to their website, you can expect to save up to 50% on your monthly phone bill when you switch to Ooma.
Plus, there are no contracts, so you'll be available to cancel or change providers at any time.
This VoIP service provides you with all the tools you need to run your business, including video conferencing, advanced call blocking, a free phone number, a virtual receptionist, and much more.
Finally, the setup couldn't be easier, allowing you to quickly connect with your team and clients from all devices.
Ooma Features 
Mobile app
Free toll-free phone number
Virtual receptionist
Music on hold
Extension dialing
Call logs
Faxing
Video conferences
And much more…
Ooma Is Best For
Small to medium-sized businesses.
Ooma Pricing
Start using Ooma for as little as $19.95/month per user.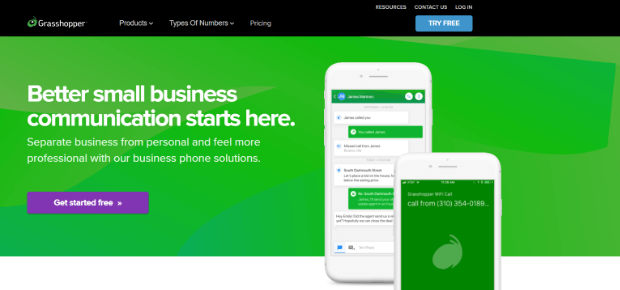 Grasshopper is a popular business phone system for small business owners. It comes with all the essential features you need like call transfers, incoming call control, simultaneous call handling, custom greetings, voicemail, and more.
You can use Grasshopper's mobile or desktop apps for outgoing calls, and there's no restriction on the number of minutes you can use. Both the web-based portal and app-based portal are easy to use to manage your telephone system.
Grasshopper Features:
Desktop and mobile apps (iOS and Android)
Voicemail transcription service
Auto-attendant with custom greetings
Business texting service
Call transfer service
Grasshopper Is Best For:
Startups and small businesses looking for a robust VoIP business phone system.
Grasshopper Pricing:
Pricing starts at $26/month per number (billed annually).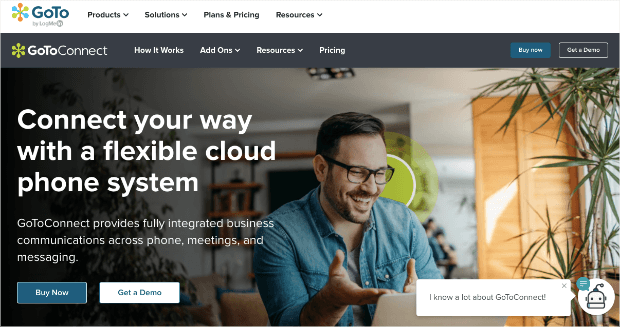 GoToConnect (formerly known as "Jive") is another excellent VoIP service for small businesses. It's a fully integrated phone system for communication across phone, meetings, and messaging.
With GoToConnect, you'll always be in close contact with your team and customers. The software is easy to set up and allows you to make calls from anywhere.
Plus, you can engage via face-to-face conferencing for more personalized communication.
GoToConnect is the ideal solution for managing a more efficient support center. That's because it provides you with real-time analytics dashboards, supervisor access for trainings, and the ability to simultaneously sign in/out of assigned queues.
This gives your team the flexibility you need to better serve customers.
Finally, GoToConnect integrates with your favorite 3rd-party marketing tools, such as Google, Slack, Salesforce, Microsoft, and more.
GoToConnect Features
International calling
Call routing
Caller ID
Unlimited call queries
Video conferencing
And much more…
GoToConnect Is Best For
Small to medium-sized businesses that prioritize customer support.
GoToConnect Pricing
Start GoToConnect for as little as $22/month per user.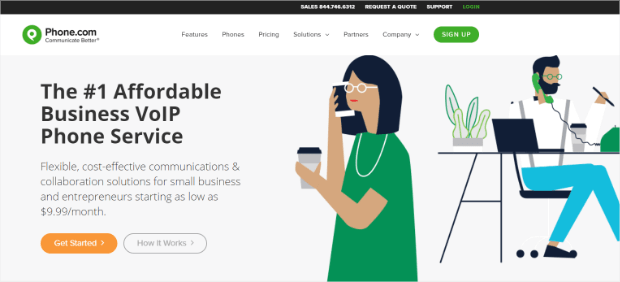 Phone.com is an affordable VoIP option that offers call waiting, call forwarding, voicemail, caller ID, call queuing, text messaging, and more. Plus, you can choose at least 1 local or toll-free number with all plans.
If you're interested in analytics, this is the best business phone service for you. You won't be disappointed with Phone.com because it includes caller analytics that shows your callers' demographics, social profiles, and more. Additionally, it offers simple and app-based administration to make management a breeze.
While Phone.com's base plan is one of the least expensive, you'll also be paying additional fees for the more advanced features.
Phone.com Features:
Choice of virtual or toll-free numbers
Number portability, including bulk number porting
HIPAA compliance
Voice tagging tells you which department the caller wants
Call recording
Video conferencing
Local call minutes include Canada and several European countries
Support for various devices including mobile phones
Softphone support (no need to buy new phones or dedicated hardware)
Phone.com Is Best For:
Small to large businesses that want a low-cost VoIP service.
Phone.com Pricing:
Pricing starts at $9.99/month (when billed annually).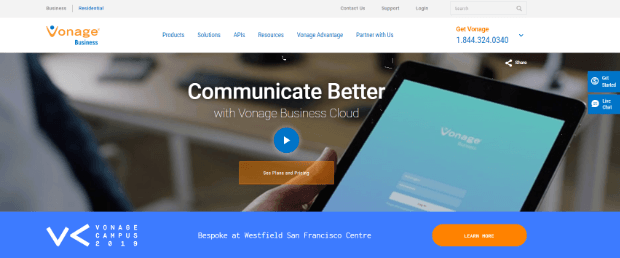 Vonage is a plug-and-play VoIP service that offers unlimited calling and SMS text messages in the United States and Canada. Moreover, in addition to the standard VoIP features like voicemail to email, call screening, call forwarding, etc., you also get access to Amazon Chime.
Unlike most providers on this list, Vonage offers toll-free numbers as an addon, meaning you have to pay more for it. However, Vonage does offer a ridiculously robust suite of features to choose from, so you can create the business phone system that's perfect for you.
Vonage Features:
99.999% uptime reliability
Includes Amazon Chime Pro tier for chat, screen share, video, and web conferencing
Mobile and desktop apps
SD-WAN technology available
Call and paging groups
Custom caller ID
Vonage Is Best For:
Because of its scalability, Vonage works for small to enterprise-level businesses.
Vonage Pricing:
Pricing starts at $19.99/month per line.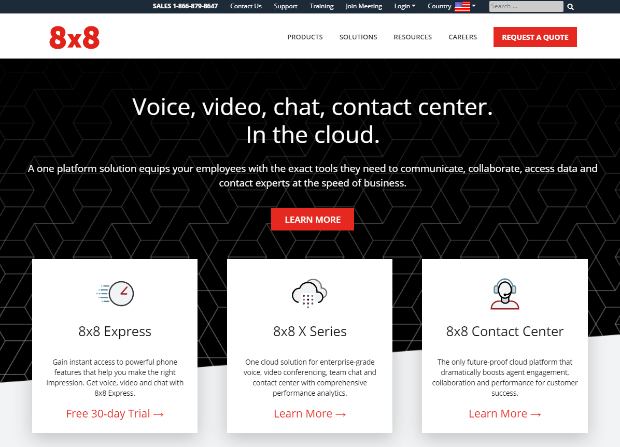 8×8 is a popular and inexpensive business phone service. It includes all the standard features like number sharing, automatic call attendance, call forwarding, chat, SMS, and more. However, 8×8 does lack some of the advanced features offered by other best VoIP services on our list.
8×8 Features:
Unlimited calling within the United States and Canada (up to 47 countries with certain plans)
Auto-attendant
Cross-platform team messaging
Native CRM and knowledgebase
Analytics and call quality reporting
8×8 Is Best For:
Budget-conscious small businesses that still want international calling. However, they do also have Enterprise plans.
8×8 Pricing:
Pricing starts at $12/month per user.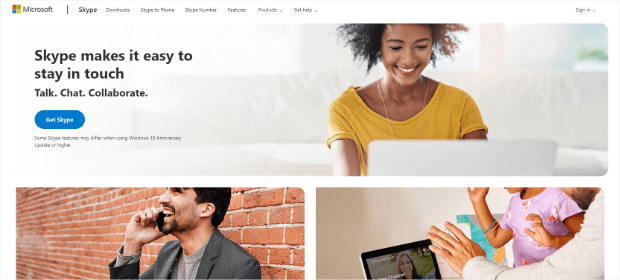 Skype has the highest name recognition of any other phone system on our list. It's powered by Microsoft, which means that it integrates with all of the other Microsoft apps. Additionally, Skype for Business also lets you hold online meetings with up to 250 people (that you can record), share your screen, send messages, and more.
Skype Features:
Audio and HD video calling
Call recording with live subtitles
Smart messaging
Real-time translation of voice calls, video calls, and messages
Search within a conversation
Skype Is Best For:
Small businesses who are seeking a familiar phone system and don't need advanced features.
Skype Pricing:
Skype comes with Office 365; pricing starts at $8.25/month per user (with an annual commitment).

Google Voice is an easy-to-setup and scalable VoIP business phone system. It also includes free calling within the United States and Canada and free calling to the United States from any country.
In addition, Google Voice offers voicemail transcription, Google Calendar integration, Hangouts Meet integration, call forwarding, and usage and activity reporting.
Google Voice Features:
Free calling to the United States from any country
Free calling within the United States and Canada
Unlimited SMS in the United States
Mobile apps (iOS and Android) and web app
Multi-level auto attendant
Google Voice Is Best For:
Freelancers and entrepreneurs and those wanting the best VoIP service with no-frills and that's free of cost.
Google Voice Pricing:
Prices start at $10/month per user.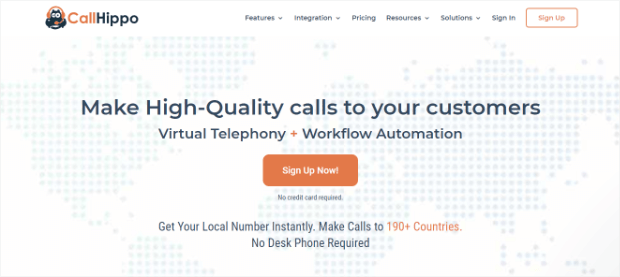 CallHippo is one of the most popular virtual phone systems around and helps you make high-quality calls. It includes standard features like call queuing, call transfer, conference calling, call forwarding, and more.
This business phone system has a simple web-based administration that makes it easy to manage calls, create new users, and a lot more. You can also integrate CallHippo with services you already use, such as Slack, Zoho CRM, Zapier, Zendesk, and more to extend functionality.
CallHippo Features:
Create different departments
Call barging lets supervisors to take over a call when needed
Local phone numbers available in 58+ countries
Hold music
CallHippo Is Best For:
Small businesses that are expanding.
CallHippo Pricing:
Pricing starts at $8/month per user (when billed annually). Additionally, there's also a free plan that could work for freelancers and entrepreneurs, but you'll still be paying $6/month for your virtual number.
Which Is the Best VoIP Business Phone System?
After researching the best business phone systems and VoIP providers, we're confident that Nextiva is the best overall pick. It offers awesome features and doesn't require annual contracts.
Plus, it's more affordable than most of its high-end competitors.
If you're looking for a budget-friendly solution that still has a decent set of features, look at CallHippo, 8×8, and Phone.com.
And that's it! These have been the best VoIP business phone systems that you can choose from.
Before wrapping up, we wanted to share a helpful tip for getting more engagement with your target audience through your new VoIP service.
Boosting Engagement With Your VoIP Service
One of the biggest problems with using a professional VoIP service isn't selecting the software, but bringing in new leads so you can actually use it.
That's where a "click-to-call" campaign comes in handy. These are popups that give your site's visitors easy access to contact you via telephone.
And if you want the easiest way to quickly build a "click-to-call" campaign, then you'll need a premium tool like OptinMonster: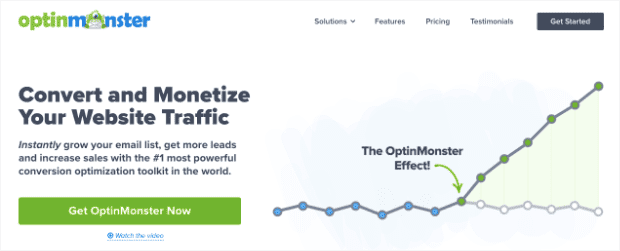 OptinMonster is the world's #1 lead generation tool that lets you build stunning optin campaigns like popups, floating bars, fullscreen campaigns, and more.
And with its drag and drop builder, you can create these campaigns in a matter of minutes, even if you have zero coding skills or technical knowledge.
But you may be wondering how you can use it with your VoIP phone service.
That's easy: by making a "Click to Call" button like this: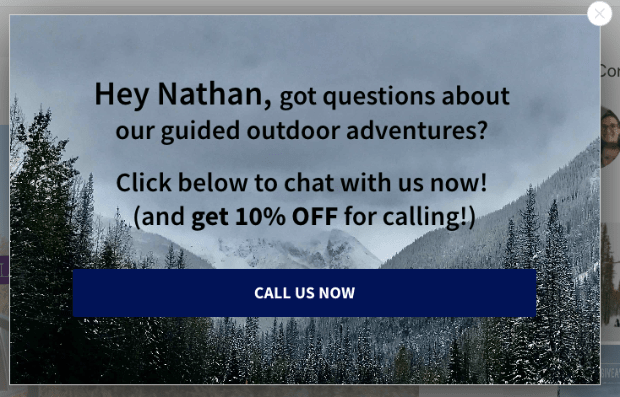 With OptinMonster, you can show targeted campaigns to engage your customers and get them to call your business.
Plus, doing so is easy! Everything starts by selecting an OptinMonster template for the campaign you want to build (such as a popup, floating bar, fullscreen welcome mat, and so on):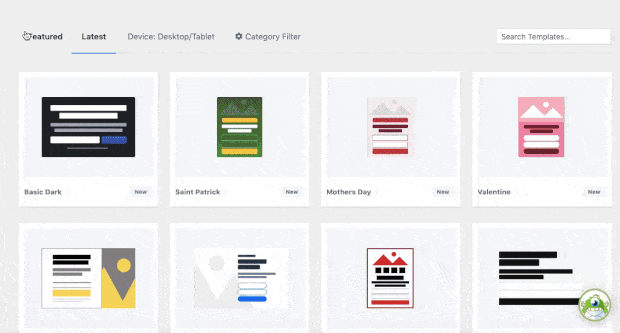 From there, you can modify your campaign to make it look professional, even if you don't have any coding or design experience.
To modify the text for your popup, for example, you would use OptinMonster's inline editor: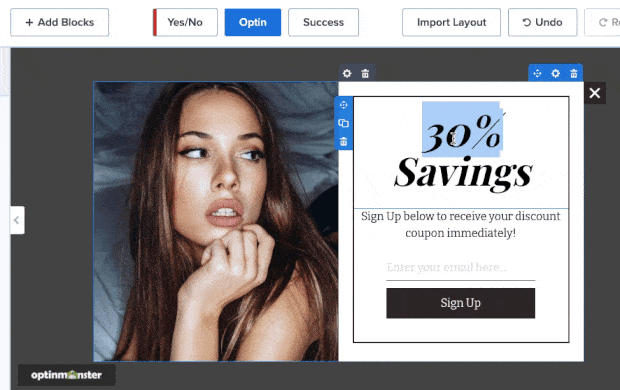 Want to add a new feature like an image, chabot, or click to call button? That's no problem. You can add new features with a drag and a drop: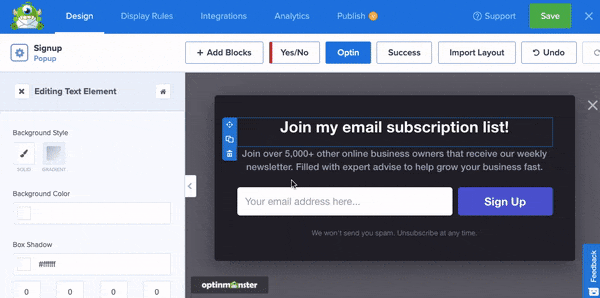 This allows anyone to quickly and easily create professional-looking and high-converting campaigns.
But from there, you'll need to show your popup to the right people, in the right places, and at just the right time in their customer journey.
For that, you need powerful targeting rules, like the following one's offered by OptinMonster:
Exit Intent® Technology: Display messages as users are actively leaving your website.
Geolocation Targeting: Show your "click to call" popup based on your visitor's physical location.
OnSite Retargeting®: Make fresh offers to returning visitors to avoid "popup fatigue."
These are just a few of OptinMonster's popular targeting rules, though there are many others.
In fact, an exit-intent popup is how Fastrack recovers 53% of its site's abanding visitors.
You can do the same and recover more direct calls for your business to generate leads. How? The place to start is by clicking below and starting your 100% risk-free OptinMonster account today:
Create a Click-to-Call Campaign Today!
BONUS: Done-For-You Campaign Setup ($297 value)
Our conversion experts will design 1 free campaign for you to get maximum results – absolutely FREE!
Click here to get started →
And that's all for today! We hope you found this post on the best business phone services helpful.
If you did, you might want to check out the following resources:
These articles will have even more information on how you can use your new VoIP business phone system to grow your business, increase conversions, and drive more sales.