Every business can use more leads and conversions, right? Optimized landing pages can help you grow your business through increased brand awareness, online traffic, and developing trust with your target audience. In this post, you'll learn how to create a landing page that converts traffic into leads and leads into customers. All in less than 5 minutes and without any coding. ?
Let's go…
What is a Landing Page?
Before we dive into how to create a landing page, let's clear up any confusion about what a landing page is (and isn't).
A landing page is a page of your website that focuses on a single, specific call to action. It's a lead generation tool that encourages visitors to provide their contact info in exchange for the offer you're promoting.
A strong call to action is vital to getting a conversion. For guidance, check out our post on how to write the perfect call to action.
Why Use a Landing Page?
Since they focus on a single call to action, they're great for lead generation. Visitors who get to a particular landing page are likely already interested in the offer on that page, they just need a little push to go the distance.
Optin landing pages also help you connect with customers and keep those customers interested in your brand through targeted marketing. Once you've converted a visitor to a subscriber, you have the chance to move them further along your sales funnel.
Here's an example of the simple (but very effective!) landing page we're going to be building today: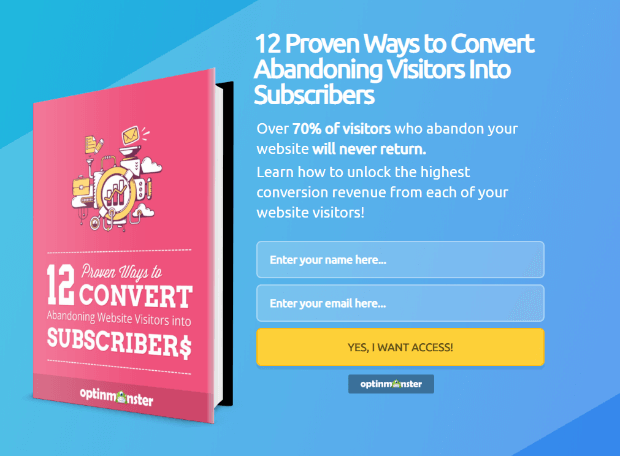 That's all there is to the page:
A headline that quickly tells the visitor what you're offering and how it benefits them.
A description that goes into a little more detail about your offer and excites your visitors.
Optin fields so visitors can sign up for your mailing list to get access.
An eye-catching image.
Go sign up for an OptinMonster account to get started creating your landing page. You'll need at least Pro level for the Fullscreen Overlay we're using for this tutorial. We'll see you back here in about 60 seconds. ?
Create a New Campaign
Welcome back! If you're not already logged in, go ahead and log in to your OptinMonster account. You'll start out on the Dashboard where you can see all of your campaigns and create a new one. Let's create a new campaign now by clicking Create Campaign.

Select your Campaign Type. We're using Fullscreen for this campaign.

Next, select the template you want to use. All of our campaign templates are professionally designed; just find one you like and customize the text and images. We're going to use the Tech template.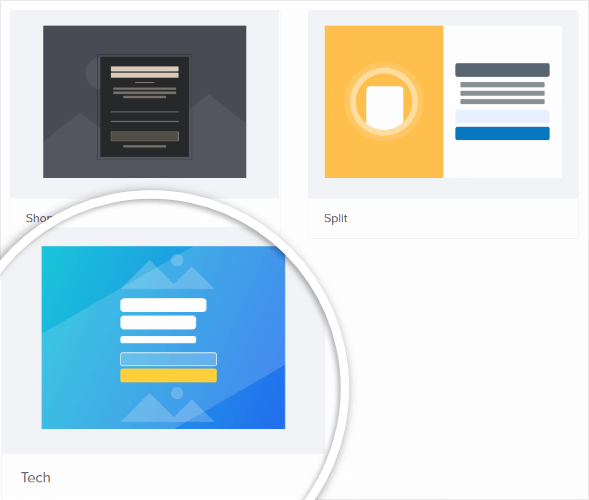 Now, name your campaign, choose or add the site you're using the campaign on, and click Start Building.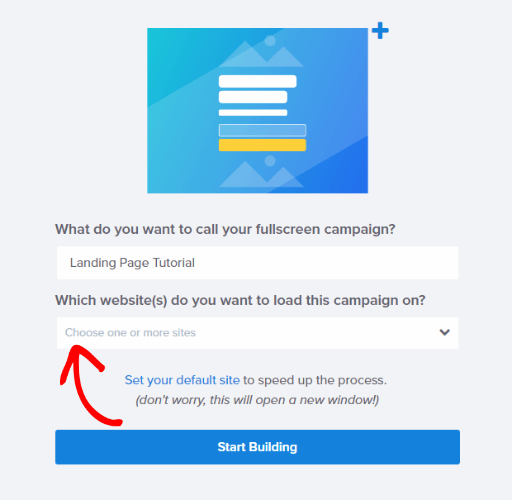 Design Your Campaign
Once you click Start Building, you'll go into the campaign builder where you'll see the default Tech campaign.
Heads Up! There's a Save Button in the top right corner. Be friends with it and use it often. ?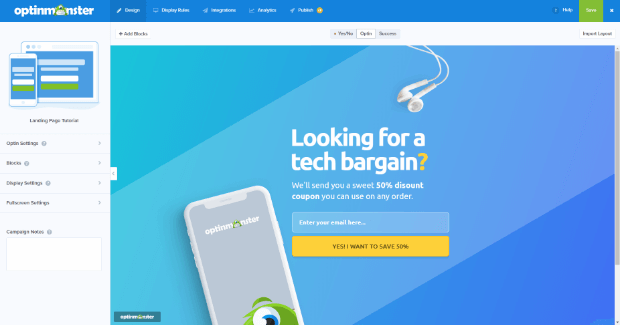 To make changes to any part of your campaign, you simply click directly on the element you want to change in the live preview to bring up the editing tools on the left. Try it now with the headline: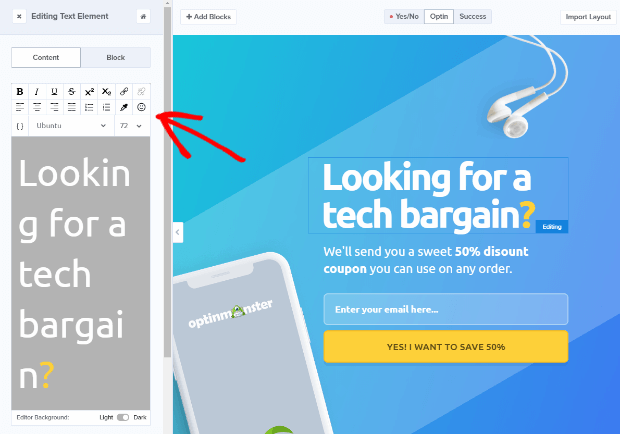 Now you can use the tools on the left to edit your headline's text, size, color, and more: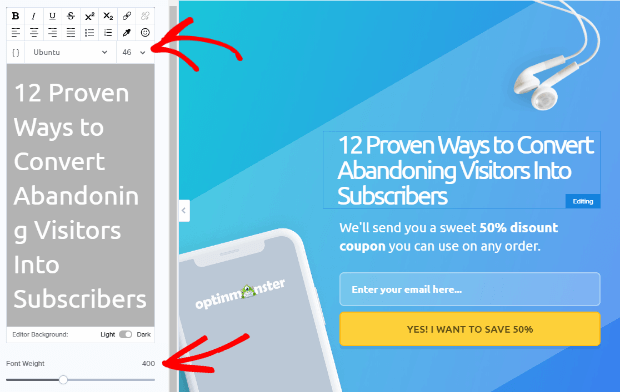 Use the same process to change your landing page body text.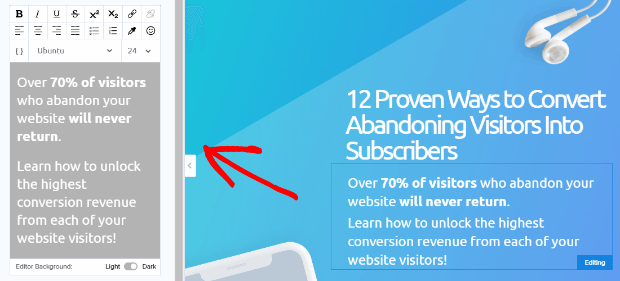 Next, we're going to edit the optin fields so you can also collect visitors' names. To do that, click on the optin fields in the live preview to bring up the editing tools.
All you need to do to add the name field is click on the Name field in the Available Fields section, then drag it so that it appears before the Email field in the Fields list.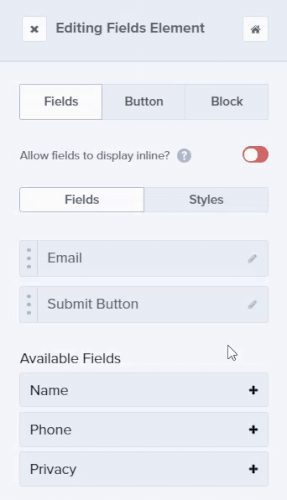 You can use the pencil icons to the far right of the field name to make edits to the placeholder text:

Now we just need to edit our button text. You can do that by clicking into the Button tab in the Editing Fields Element tools: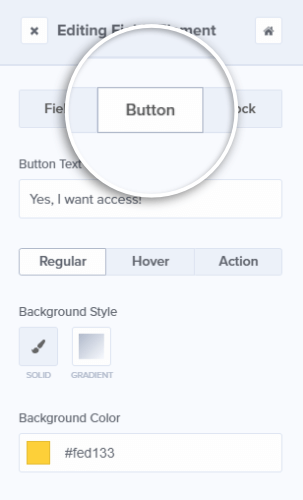 Before you put your design to rest, change up the images to something that makes sense for your offer.
First, we'll remove the headphones from the top part of the campaign. To do that, just click directly on the image. This will bring up the editing tools on the left where you can delete or replace the image.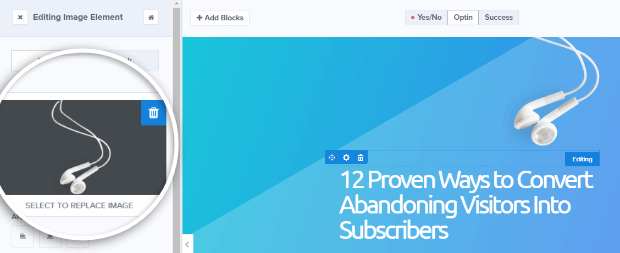 For the other picture, click Select to Replace Image and either use an image from your library or upload a new image from your computer.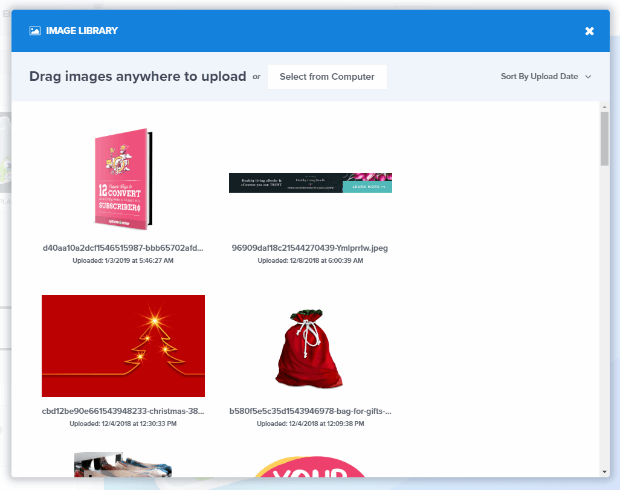 If you're not happy with the alignment, you can adjust it with the Block margin settings.
Be sure to save your campaign. ?
Decide When to Show Your Landing Page
We're going to use Display Rules to tell our landing page when to show up.
To do this, go to the Display Rules tab. The default rules are set to show optins on any page after 5 seconds, but deleting a condition is easy: just click on the – Minus button next to it.
For this tutorial, we're going to set our landing page to appear only on a specific page based on 2 different situations:
A visitor clicks a MonsterLink™
On exit, if the visitor has not already seen the landing page
Set Up a MonsterLink™ Ruleset
To set up this ruleset we're going to add a condition to show the landing page if the current URL path exactly matches the URL of the page where your landing page will be linked. We'll add an AND condition of visitor clicked MonsterLink™: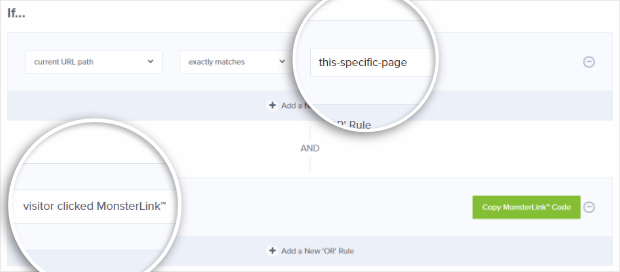 The green Copy MonsterLink™ Code button to the right is where you'll get the link to use in your content wherever you want your landing page to appear when a visitor clicks. You can find it there any time you need it.
Quick Tip: Use a URL shortener like Bitly to customize your links!
Now click Add New Ruleset on the left to create a new ruleset for your exit intent rule.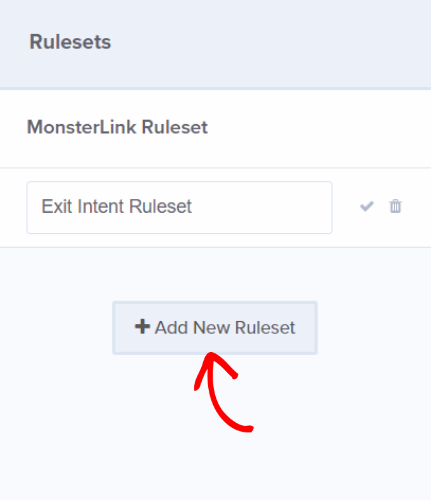 For this ruleset, you will use the same current URL path condition as before but you're also going to add an AND condition of visitor has not seen and select your landing page campaign (the one you're currently working on) from the dropdown.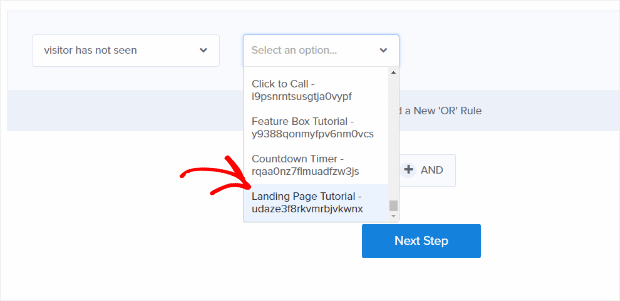 You don't have to use separate rulesets, but we strongly recommend it to keep things organized. ?
Once you have your rules done, click the Save button.
Add Your Email Service Provider
Collecting email addresses with your optin landing page is super easy; you just need to connect your Email Marketing Service Provider through the Integrations tab. OptinMonster integrates with all major email marketing platforms. Find your email marketing platform integration instructions here.
Here's an example of what Constant Contact integration looks like: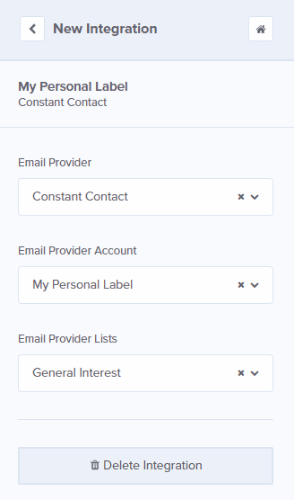 Track Your Results
Before you publish your landing page you should definitely set up analytics so you can track your page's performance and make changes if you need to. Sign up for Google Analytics to get the best and most accurate analytics for your OptinMonster campaigns.
Go to the Analytics tab and click the Connect button next to Google Analytics.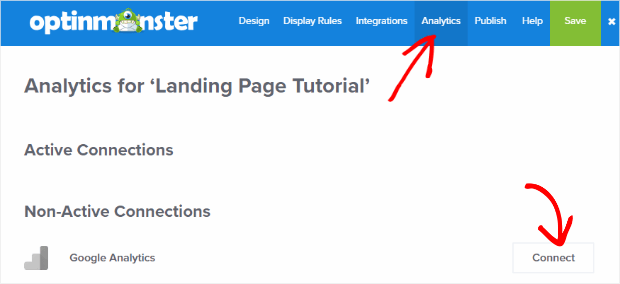 In the screen that comes up, click the green Generate Authentication Code button.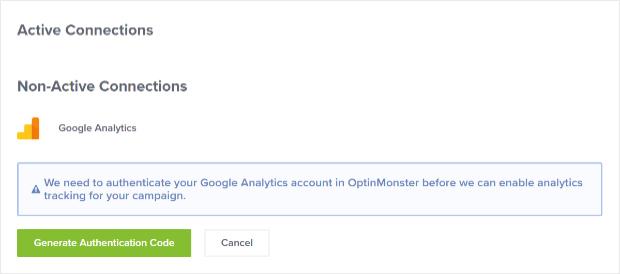 A new browser tab will open up to ask you if you will allow OptinMonster to view your Google Analytics data. Click the blue Allow button.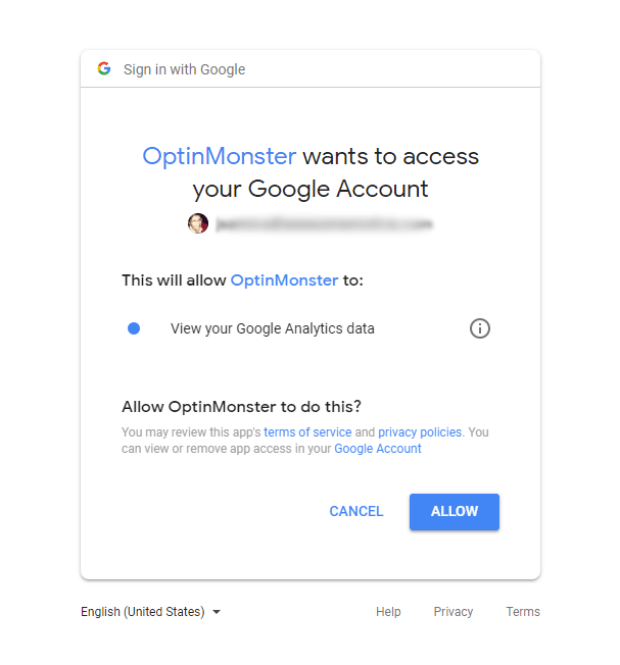 Next, it will give you a code. Copy this code, and then go back to the browser tab with your OptinMonster edit screen.

Paste the code into the Authentication Code field. Then, give your Google Analytics account a name in the Account Label (just pick a name that will help you remember which account you are connecting to). Hit the green Next button.

You should see this success message after clicking Next:

Now you'll be able to get data from Google Analytics and see your conversion rate right from your OptinMonster account by clicking on the analytics icon next to your optin form: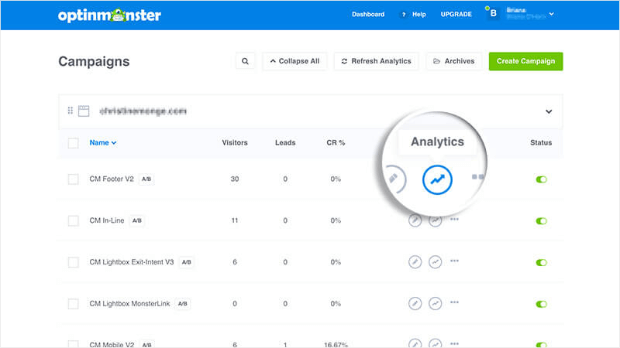 Publish Your Landing Page
Now we're ready to publish!
To do this, click Publish in the top menu and change the Status from Paused to Live.

Once your campaign is live, add your MonsterLink™ just as you would any other hyperlink in your content. When a visitor clicks on the link, your landing page will display! And, even if the visitor doesn't click the link, when they make a move to exit the site the landing page will display anyway. ?
That's it! Now you know how to create a landing page triggered by MonsterLink™.
To really get the most out of your awesome optin landing pages, check out these expert tips for writing landing page copy that actually converts. We've also put together a list of super useful landing page tools for you, so be sure to have a look at that. And, don't forget to use mobile landing page best practices or our landing page ideas to give your conversions an enormous boost.
Or, you may want to check out this article on landing page optimization (7 tips + 5 case studies).
⚡⚡⚡ Did you really make it all the way through a tutorial without signing up for OptinMonster? Join us today!