Looking for the best Mailchimp alternatives? You're not alone. Mailchimp is one of the most popular email marketing services, but its popularity doesn't make it the one-stop solution for all eCommerce companies.
Mailchimp's pricing plan can quickly go from affordable to expensive once you start building extensive marketing campaigns that use tools like advanced segmentation and send-time optimization.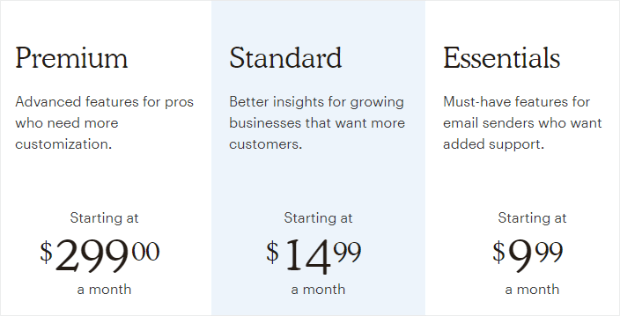 Plus, while Mailchimp offers a free plan, they don't offer support for the free plan, so it's not a good choice if you may need help getting started with email marketing.
Luckily, there are a lot of alternatives that offer even better tools (like more comprehensive A/B test reporting), unlimited emails, and are cheaper than Mailchimp.
So, how do you know which is the best alternative to Mailchimp?
Some key features to look for as you shop around for Mailchimp alternatives include:
Ease of Use: Choose an email marketing service that's easy to use and conveniently integrates into your lead generation tools.
In-depth Reporting: Go with a platform that lets you adopt a data-driven approach. Don't even consider any Mailchimp alternatives that don't offer detailed performance reports that let you access the strengths and weaknesses of your campaign.
Pricing: If you're a small business that's just getting started with email marketing, you might want to find a free email service provider and then scale as you grow.
Customer Support: Lack of support is one of Mailchimp's biggest drawbacks. Other alternative services offer excellent support by email, live chat, or phone.
Now that we've got that out of the way, thinking of making the switch to another email marketing platform?
Read on to see our list of the best Mailchimp competitors for 2020.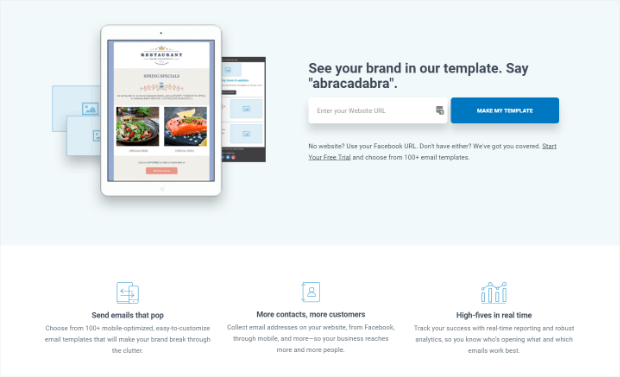 Constant Contact ranks number one on our list of the most popular Mailchimp alternatives. The platform offers a lightweight, user-friendly interface that meets the needs of both big business and "mom and pop" operations.
With plans starting at $20 a month, Constant Contact is also one of the most affordable email marketing solutions on the market. Some of its top features include:
Built-in heatmap tool that shows which parts of your email attract the most attention from readers.
In-depth campaign activity reports, including unsubscribes, bounce rates, and inactive readers.
Email editor with fully customizable templates, content, and promotional ideas designed to ensure your email marketing campaign launches smoothly.
Customizable email signup landing pages to grow your email list.
Constant Contact also offers highly-rated support with every plan, so you can easily get help in case you have any issues getting started.
You can also integrate OptinMonster into Constant Contact and create engaging opt-in forms to grow your mailing list using beautiful designs, behavior-tracking technology, and a number of other smart tools to help generate high-quality leads.
Best of all, Constant Contact offers a generous 60-day free trial, so you can get started for free today with no risk.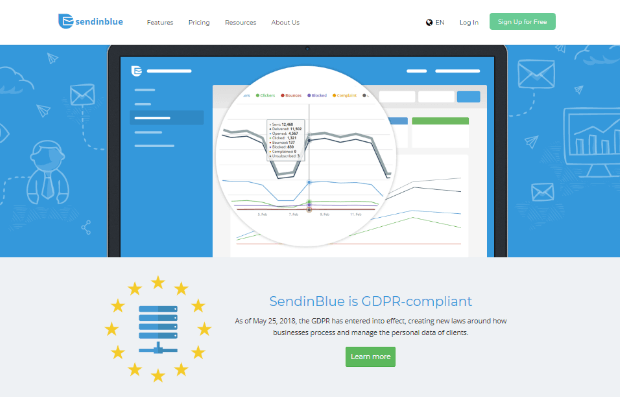 If you're looking for a powerful email marketing tool with minimal startup costs, check out Sendinblue. Unlike Mailchimp and most other Mailchimp alternatives, Sendinblue gives free users an unlimited number of contacts.
If you're growing your first email list or sending personalized emails to specific segments of your customer base, Sendinblue's free tier can help you roll out your initial email marketing campaign. On the free plan, you can send up to 300 emails per day. And you can scale it as your mailing list grows (Premium packages start at $25 a month), so you've always got room to expand.
Sendinblue features include:
Marketing automation workflows, autoresponder campaigns, and send time optimization.
Powerful segmentation tools for creating more personalized marketing campaigns.
In-depth campaign reports, including real-time stats, heat mapping, and A/B testing.
All in all, Sendinblue is perfect for anyone who wants the benefit of Mailchimp's reporting tools without having to pay Mailchimp's premium prices.
You can even integrate Sendinblue with OptinMonster for an even more data-driven approach that combines stellar lightboxes and popups with advanced tracking tools that give you more insight into the needs and expectations of your visitors.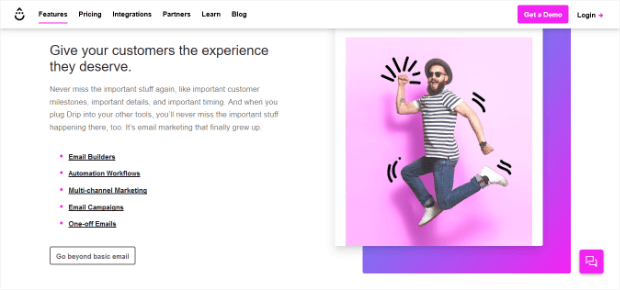 If you took Mailchimp's powerful email marketing tools and build them on a platform designed for eCommerce, you'd get Drip.
Ideal for online businesses, Drip offers the perfect mixture of email marketing and lead generation. It comes equipped with all the innovative mailing tools, like intelligent automation workflows, campaign reports, and drag and drop email templates.
But that's not all. Drip also comes with built-in eCommerce tools to help you maximize conversions and boost revenue. All starting at $49 a month.
With Drip, you can:
Monitor conversion rates more effectively, so you know what is and isn't working in your email campaign.
Build comprehensive, custom-tailored conversion reports.
Boost your open rates and click-through rates with easy split tests.
Use on-site visitor behavior to segment your mailing lists.
Integrate with marketing tools like OptinMonster to create an all-inclusive lead generation/email marketing campaign.
Oh, and did we mention that Drip is free as long as you keep your mailing list under 100 subscribers?
Drip even lets you create individualized touchpoints based on how visitors interact with your eCommerce store. That means you can send custom messages to first-time visitors, cart abandoners, and anyone else who's performed a specific action on your website.
Want to grow your email list with Drip? Check out this post on how to make a Drip popup for your website to increase subscribers.
Click here to get started with Drip today.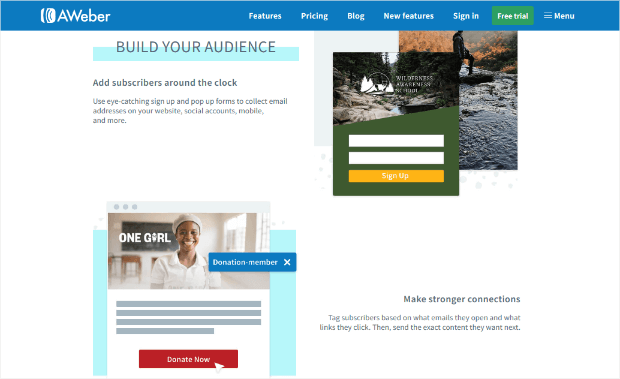 Are you running a small or medium-sized business and need a powerful marketing tool that can take care of your email and lead generating needs? If so, AWeber is the platform for you!
Starting at $19 a month, AWeber allows you to create custom-tailored email marketing campaigns for your brand awareness, customer engagement, and content marketing campaigns. It also comes with a number of other great features, including:
Dozens of mobile-responsive designs you can use for kickstarting your email campaign.
Extensive campaign reporting for adopting an effective data-driven approach.
Autoresponders and marketing automation tools that are more beginner-friendly than Mailchimp and other email marketing platforms.
Integration with popular marketing tools, including OptinMonster.
WordPress plugin for creating drag-and-drop customer forms.
Overall, AWeber is an excellent tool for eCommerce companies looking to take their business off the ground. When combined with OptinMonster, AWeber becomes a powerful lead generation tool fully capable of adding some bulk to your mailing list.
Click here to get started with AWeber.
Finding the Right Email Marketing Platform for You
Choosing the perfect email marketing software isn't rocket science. Above everything else, it means finding a platform you're comfortable working on.
Whether that platform is Mailchimp or one of the five alternatives mentioned in this article, be sure to choose a solution that's convenient and easy to use.
What if you still prefer Mailchimp over its competitors? No worries! OptinMonster integrates with Mailchimp as well, making it easy to collect high quality leads through on-site customer engagement.
Some users have asked about why they would need both Mailchimp and OptinMonster together. For more details on this, read this post on OptinMonster vs. Mailchimp and which is better for lead generation.
Pressed for time? No worries. Just check out this resource on the best white label email marketing tools to get your email marketing strategy set up for you!
In fact, no matter what platform you go with, OptinMonster can help you multiply your leads while doing half the work – go sign up today. ?