OptinMonster provides you with powerful tools to control where and how your campaign appears to visitors. Each of your pages can have different types of campaigns, with different content, and exclusive offers. Use this guide to use the display rules to target your campaigns.
NOTE:
Some rules listed in this walkthrough are limited to certain
subscription levels
and campaign types.
---
What are Rulesets?
Rulesets are how you manage who will see your campaign and how it will display to your website visitors. You can use rulesets to control when the campaign will appear, who the campaign will show to, as well as whether the campaign will display with a MonsterEffect or sound effect.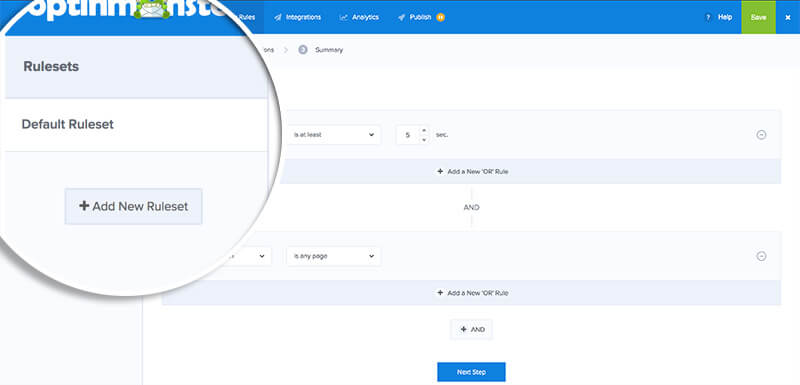 The campaign will show to every ruleset you configure for it.
Section: Conditions
In this section, you will set the rules that trigger when and to whom a campaign should appear. You can click the links below to go to the specific walkthrough for that rule.
Ruleset Logic
Within each Ruleset's conditions, you can combine both OR rules as well as AND rules to create complex logic for your situation.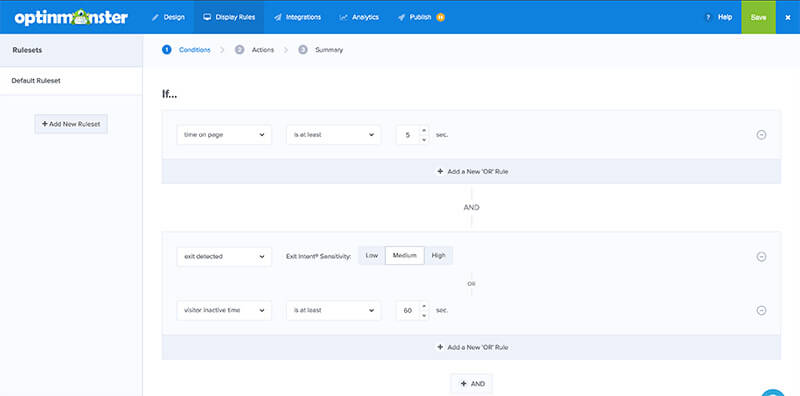 In general, sets of exclusionary rules, like 'does not contain', should be added as AND conditions while sets of inclusionary rules, like 'exactly matches', should be added as OR conditions.
When evaluating the ruleset, every AND condition will need to true while only one condition in each OR condition set will need to be true.
Section: Actions
In Actions you can set which campaign view to show to the visitor first. You can also add an action to show the campaign with an effect.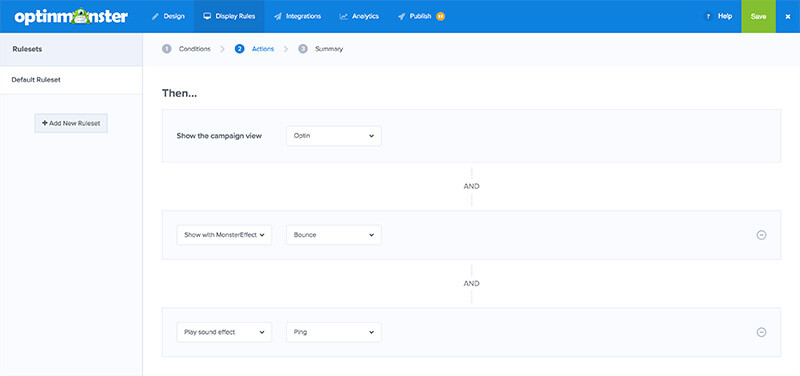 Section: Summary
The Summary page will show you the rules you have configured together in a logical format so that you can double check the ruleset is configured the way you want. This allows you to easily see when and how the campaign will show.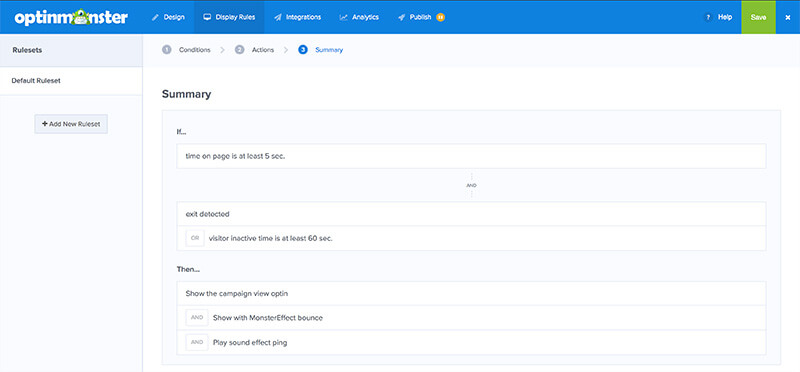 ---
How to Add, Rename, or Delete a Ruleset
You can configure multiple rulesets for your campaign, each with their own conditions and actions.
For example, let's say you want to show a campaign to both users who are getting ready to exit AND users who have been inactive. You also want to add a sound effect, but only for the inactive users.
To do this, you can have one ruleset that shows on 'exit detected' without a sound effect, and a second ruleset to show when the visitor has been inactive that does play a sound effect.
You can learn how to add, edit, and delete rulesets by following our editing ruleset documentation here.
---
WordPress Plugin (For WordPress Users Only)
First, login to the WordPress admin of your website.
Next, navigate to the OptinMonster » Campaigns tab view and select the Edit Output Settings link for the campaign you wish to configure.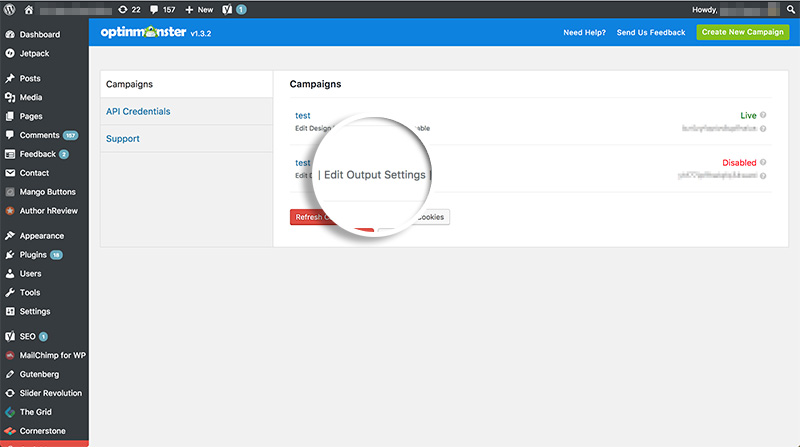 Within the Output Settings screen the following options are available for all campaign types.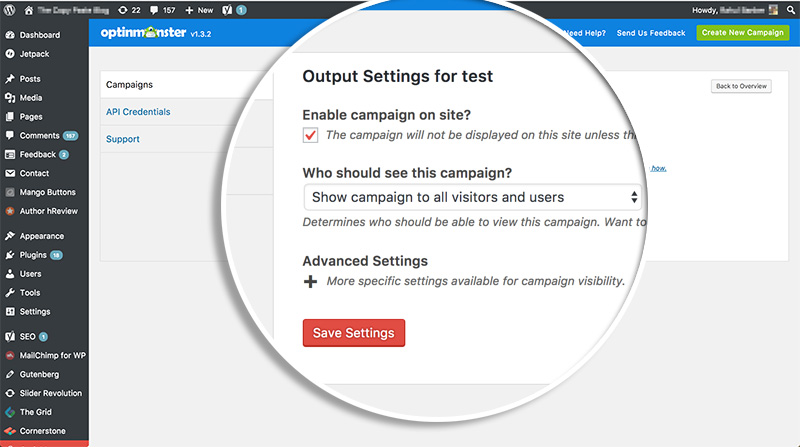 Enable campaign on site?

The campaign will not be displayed on this site unless this setting is checked.

Who should see this campaign?

Determines who should be able to view this campaign. Want to hide for newsletter subscribers? Click here to learn how.
Options: show campaign to all visitors and users, show campaign to only visitors (not logged-in), or show campaign to only users (logged-in).

Advanced Settings

More specific settings available for campaign visibility
Options:

Never load campaign on: Never loads the campaign on the selected posts and/or pages.
Load campaign exclusively on: Loads the campaign only on the selected posts and/or pages.
Load campaign on post categories
Load campaign on post types and archives
What is the Difference Between the WordPress Plugin and Rulesets?
With WordPress's usage of Categories and Tags (which often are not reflected in each page's URL), OptinMonster has created a WordPress Plugin that gives Advanced Page Targeting features, such as targeting categories, tags, logged-in users, and more.
Rulesets
Rulesets operate only where the OptinMonster Embed Code is already present. Rulesets act as a "Soft" version of targeting based on the conditions you have set in OptinMonster.
In summary, "Assuming OptinMonster's code is already present on a page, the campaign will show if the web visitor matches the conditions the User has set on app.optinmonster.com for that particular campaign."
WordPress Plugin's Advanced Page Targeting
The WordPress Plugin's Advanced Page Targeting determines where the OptinMonster embed code is actually supplied (or embedded / added to the page) on a WordPress site.
The Advanced Page Targeting options act as a "Hard" version of targeting, based on the selections you enable or disable. Since embed code is required for campaigns to load, this layer of targeting necessarily operates prior to the Rulesets. This means you can use the plugin to only supply a campaign's embed code on a certain category and/or tag(s), then later use the Rulesets.
In summary, "The Advanced Page Targeting plugin determines which page(s) each campaign's embed code is supplied on a WordPress site. Further targeting can be added via the Rulesets mentioned above."
What is the Suggested Setup for Most WordPress Users?
Unless you have a specific need to target a category, tag, etc., then most users benefit by using our default setup, which is to Enable your campaign in the plugin, which supplies that specific's campaign's embed code globally (i.e.: supplies the embed code to every page of your site.)
It is suggested you use the following WordPress settings (especially if you're running into any issues of getting your campaign to appear on your WordPress site):
Go to your WordPress Dashboard
Go to OptinMonster Menu
Confirm you are running the latest version of OptinMonster API Plugin (Version 1.3.4 at the time of this writing) If not, update your plugin.
Go to our OptinMonster menu Campaigns tab.
Click Refresh Campaigns. This refreshes your list. This needs to be done anytime you create or delete a campaign on app.optinmonster.com
Go to your Output Settings for each of your campaigns. Have your settings be Enabled and make sure all other options are unchecked, including if you had options checked in the Advanced Settings area. Click Save before leaving the page.
Clear out any site caching that you have.
Then, go back to OptinMonster Menu -> Campaigns. Click the button that says Clear Local Cookies. (Clear Local Cookies will clear all of OptinMonster's cookies only on your web browser.)
When to Use the Advanced Settings of the WordPress Plugin?
When you have a need to supply the embed code only on specific sections of your WordPress site, such as based on tags, categories, post type, etc., then you would want to use the Advanced Settings.
WooCommerce Pages
You can now also target Specific WooCommerce Pages, Categories and more via the OptinMonster plugin.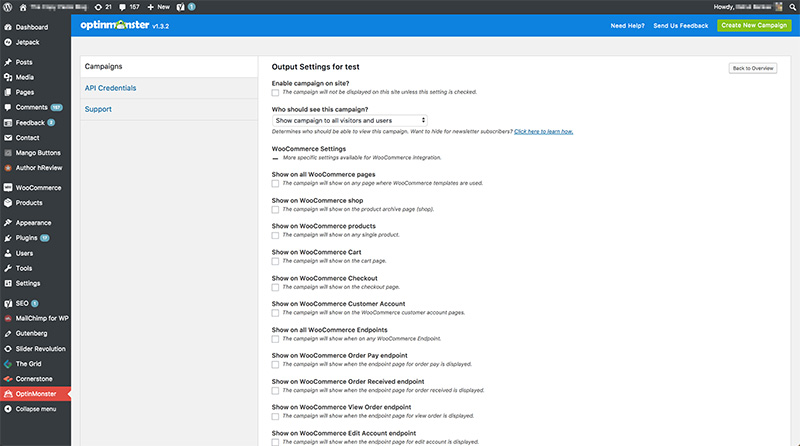 Depending on your setup with Woocommerce, your options shown may vary.
Want to increase your conversions? See our beginner's content marketing guide!
---
Frequently Asked Questions
Q: What are the best ways to test OptinMonster campaigns?
A: You can also use the plugin for effective testing of your campaigns on WordPress.
---
Q: What has changed with the launch of OptinMonster 5.0?
A: There are a number of changes that were made to make configuring your campaign's display rules easier, including:
1. Added OR conditions
You can now add both "AND" and "OR" conditions within a ruleset. You no longer need to create a separate ruleset for each inclusionary rule.
2. Moved MonsterEffects and sound effects
MonsterEffects and sound effects are now part of the display sequence so you can configure them separately for each ruleset.
3. Added a summary
There is now a summary page that shows an easy-to-read overview of when and where your campaign will display.
IMPORTANT: A campaign will still show if all rules in any ruleset are true.