Are you looking for the best WordPress affiliate plugin for your WordPress website?
Affiliate marketing programs can be an excellent way to create multiple income streams. And while many online "gurus" will tell you how easy it is, affiliate marketing can be tough–unless you have the right tools.
That's why, in today's post, I will share my expert list of the best WordPress affiliate plugins.
Bonus content: What Is Affiliate Marketing?
How To Choose the Best WordPress Affiliate Plugin
While choosing the best WordPress affiliate plugin, make sure it does the following:
Effortlessly incorporate affiliate links into your posts and pages.

Conveniently store and manage affiliate links directly from your WordPress dashboard.

Ensure a user-friendly experience for you and your affiliates to foster a dedicated community.

Monitor and analyze your top-performing affiliate campaigns for optimization.

Keep track of interactions with your call-to-action buttons to gauge engagement.

Create and distribute referral links beyond your website, including platforms like social media and podcasts.
The best WordPress affiliate plugin should align with your goals, budget, and technical expertise.
Take the time to research, test, and evaluate before making a final decision. Remember, the success of your affiliate program hinges on the tools you use, so choose wisely!
WordPress Affiliate Plugin – Best 10
These WordPress affiliate plugins will help you do everything from masking and promoting your affiliate links, collecting data, increasing traffic to your site, and more.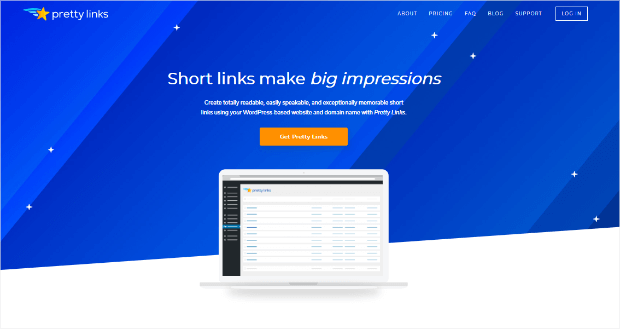 Pretty Links is an awesome affiliate marketing plugin that turns your long affiliate links into something readable and easy to remember.
And shorter links really do make bigger impressions on your audience.
In addition to giving you better affiliate links, Pretty Links also gives you an easier way to manage server-side redirects, brand and advertise your links, monitor your links' activity.
There's also a cloaking feature to keep your affiliate links more secure. Sometimes hackers will find your raw affiliate links and replace them. That means the profits from all your hard work will actually go into someone else's pocket.
Link cloaking makes sure this doesn't happen.
Pretty Links is a must-have affiliate marketing plugin WordPress.
Key Features:
QR code generator.
Sales tracking.
Link management.
Creates links for SEO.
Compatible with the top WordPress themes.
Pricing: Pricing plans for Pretty Links start at $99.50/year.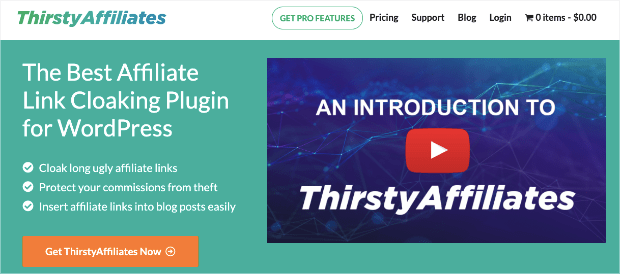 Thirsty Affiliates is another excellent resource for affiliate marketing on WordPress.
This plugin focuses on cloaking your affiliate links. This lets you turn your long, ugly affiliate links into shorter links that are more memorable.
That means it's easier for you to keep track of all the links on your WordPress site and easier for your audience to share them.
Plus, as we discussed earlier, cloaking your links is one of the best ways to prevent your links from getting hacked.
Key Features:
3rd part link importing.
Analytics and link tracking.
Automatic 404 checker.
Substitutes assigned keywords with links via automation.
Pricing: Thirsty Affiliates plans start at $79.50/year.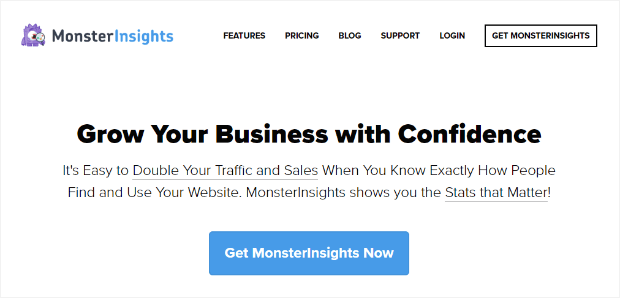 MonsterInsights is the best Google Analytics (GA) plugin on the market. It takes the power of GA and makes all the data more accessible, user-friendly, and intuitive to use.
Now, we know what you're thinking, "What does a Google Analytics software plugin have to do with affiliate marketing?"
In a word, everything.
That's because a large part of affiliate marketing is getting the highest conversions out of your traffic. But to do that, you need to know which pages and posts on your WordPress site are actually generating that traffic.
With MonsterInsights, you get your top posts right in your WordPress dashboard: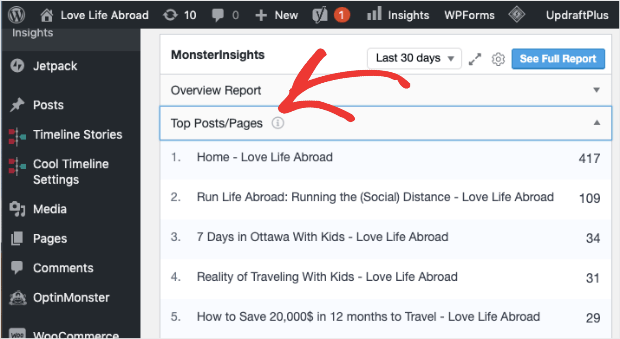 You can then go optimize those pages to get higher conversions for your affiliate links.
In other words, using an analytics plugin like MonsterInsights allows you to create a concrete strategy for generating the most revenue from your affiliate products.
Want to learn more about how MonsterInsights can help you grow your affiliate revenue? See this post: Monsterinsights Review: Is This Analytics Plugin Worth It?
Key Features:
View analytics right in your WordPress dashboard
Compliant with global privacy regulations
Individual customer tracking
Pricing: MonsterInsights starts at $99.50/year.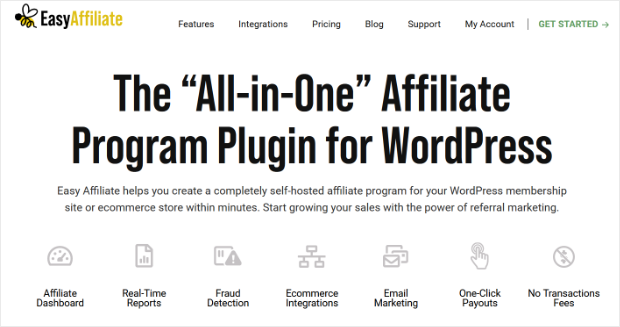 Easy Affiliate is a comprehensive affiliate management system designed for WordPress. It simplifies the process of starting and managing an affiliate program. Beyond just tracking, it aims to create a platform where affiliates are motivated, and businesses have complete control.
Key Features:
Real-time reporting.

Seamless integration with e-commerce platforms.

Fraud prevention mechanisms.

Integrates with WooCommerce, MemberPress, Mailchimp, and PayPal.
Pricing: Starts at $99.50/year.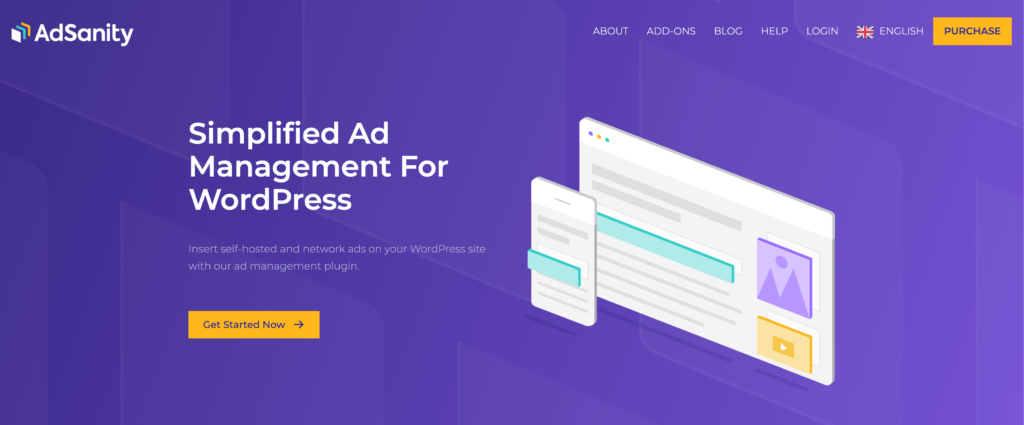 AdSanity is a powerful and flexible ad management tool. It's designed for people who want to easily add affiliate banners and links to their content without disturbing the user's experience.
Key Features:
Time-based banners.

Performance tracking.

User-friendly widgets.
Pricing: Basic plan starts at $59/year.

EasyAzon is a tool created by Amazon affiliates to simplify making Amazon affiliate links. It's more than just a WordPress affiliate plugin; it helps WordPress users connect to Amazon's world without the typical challenges.
Key Features:
Quick link creation.

Link localization.

Product pop-ups.
Pricing: Free
Note: This plugin hasn't been tested with the latest 3 major releases of WordPress. It may no longer be maintained or supported and may have compatibility issues when used with more recent versions of WordPress.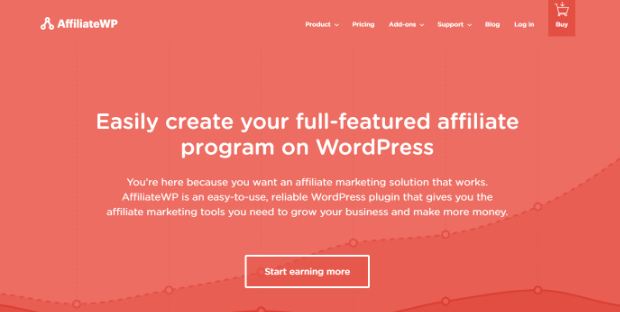 AffiliateWP is a complete affiliate plugin for WordPress.
Note: Unlike the other plugins in this post, AffiliateWP is meant for businesses running their own affiliate program. This is not a plugin for affiliate marketers.
To monitor and manage your affiliate program, AffiliateWP comes with advanced tracking that seamlessly integrates with your WordPress website functionality. You can reliably track real-time stats including affiliate-referred visits, earnings, affiliate registrations, affiliate coupons, and more.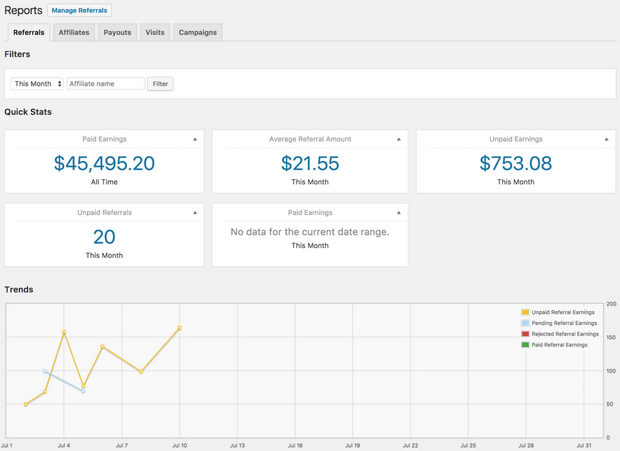 AffiliateWP also offers unlimited affiliates and creatives so you have no limits on how you can promote your website, products, or services.
Plus, it comes packed with powerful features such as a built-in affiliate dashboard, referral link generator, and integrated payout services, just to name a few.
Key Features:
Full dashboard to track your company's affiliate program.
Integrated payout service.
Unlimited affiliates.
Pricing: You can get started with AffiliateWP for $149.50/year.

Affiliates Manager is one of the best affiliate plugin for WordPress for managing affiliates.
It's designed to track every referral, ensure correct commissions, and make sure all affiliates are recognized and appreciated.
Key Features:
Real-time tracking.

Integration with e-commerce and membership plugins.

Multiple payout options.
Pricing: Free with premium add-ons available for purchase.

YITH WooCommerce Affiliates combines the strength of WooCommerce with the details of affiliate marketing.
Made for online shop owners, it makes sure every sale from an affiliate gets noticed and every affiliate gets the right reward.
Key Features:
Automatic commission assignment.

Dedicated affiliate dashboard.

Shortcodes for registration and login.

Email notifications for affiliate registrations, commission payouts, and withdrawal requests.
Pricing: Free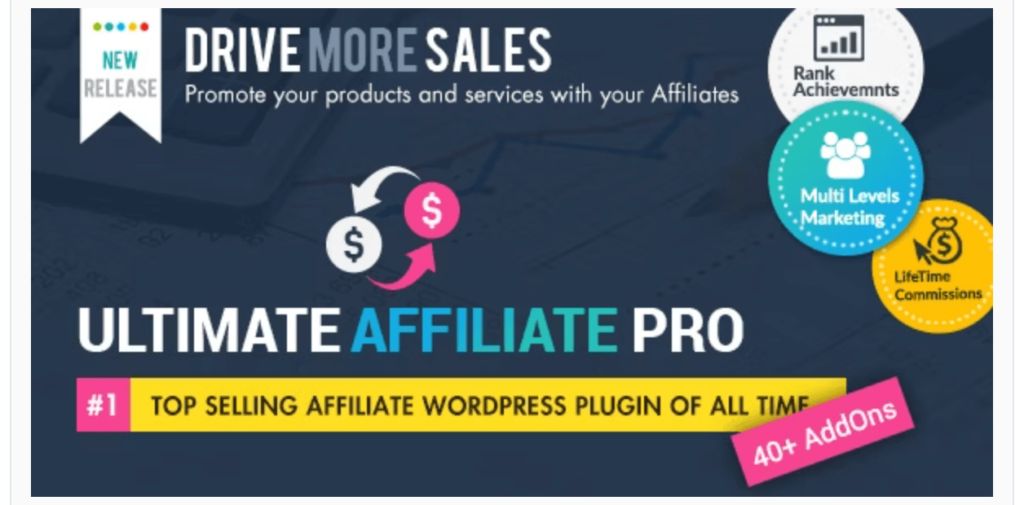 Ultimate Affiliate Pro isn't just a WordPress affiliate plugin; it's a full package made to boost affiliate marketing efforts.
Whether you're a business wanting to reward affiliate partners or an affiliate looking for growth, this WordPress affiliate marketing plugin has something for everyone.
Key Features:
Multi-level marketing.

Customizable commissions.

Performance bonuses.

Integrates with Stripe, PayPal, EasyDigitalDownloads, BuddyPress, and more.
Pricing: Regular license starts at $69.
And there you have it! These were the best WordPress plugins for affiliate marketers.
Elevate Your Affiliate Marketing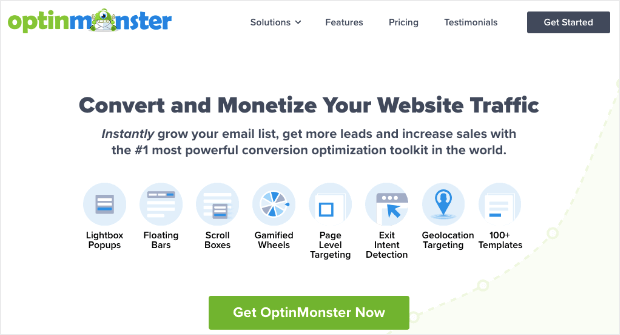 OptinMonster is a premium WordPress plugin that will help you promote your affiliate links. It's also the best conversion optimization software on the market. That means this plugin's the best at getting your site's traffic to take the actions you want them to.
With OptinMonster's drag and drop builder and stunning pre-built design templates, you can build eye-catching campaigns to promote your affiliate products.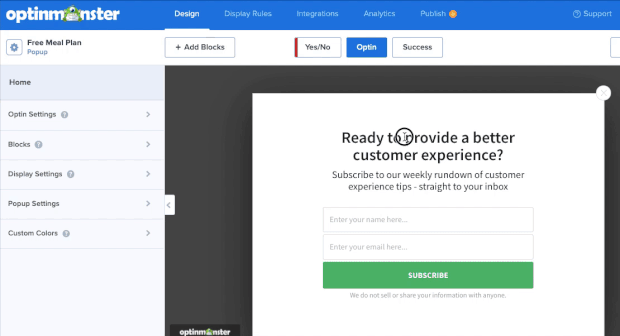 You also have the choice of 6 different campaign types: popup, floating bar, fullscreen welcome mat, and more.
OptinMonster also has the market's strongest targeting rules, so your campaigns are shown to the best audience at the best time.
Every time.
For example, you can tell OptinMonster to display your Amazon affiliate link for car seats to anyone that reads any post on your car seats blog.
Then, you can take it a step further by targeting people actively leaving your site with Exit-Intent® Technology. This lets you show a campaign at the exact moment users try to leave your website.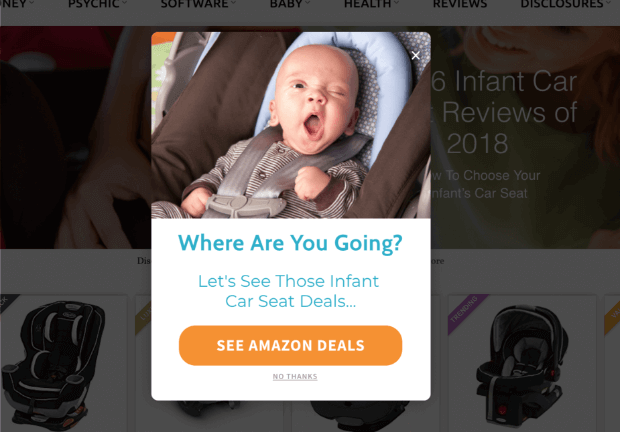 In fact, those are the exact display rules and triggers that power this adorable and eye-catching popup.
And that exact popup converts 17.31% of visitors for Top 6 Digital.
Get these results for your own affiliate links by signing up for OptinMonster today!
Key Features:
Drag and drop builder
A/B testing to find what campaigns work best for your audience
Advanced targeting rules
Pricing: OptinMonster packages start at just $9/month.
Get Started With OptinMonster Today!
BONUS: Done-For-You Campaign Setup ($297 value)
Our conversion experts will design 1 free campaign for you to get maximum results – absolutely FREE!
Click here to get started →
We hope you enjoyed this post. If you did, you might want to check out these other resources:
These resources will help you level up your affiliate marketing game no matter where you are in the process!