In this article, we'll go over a few eCommerce user experience best practices to turn more traffic into sales.
User experience (UX) is one of the most overlooked aspects of eCommerce stores. Companies pour thousands of dollars into Facebook ads, design, and product research.
But after all that work and money put into getting traffic, they often fail to realize why their conversion rates may not be as high as they expected.
This problem stems from a poor user experience. It affects your visitors, customers, profits, and business.
To create a better experience for your visitors, and increase your bottom line in the process, let's take a look at 15 eCommerce UX best practices.
1. Create an Uncluttered, Clean, and Clear Homepage
You only get about half a second to make a first impression.
Your homepage is the first thing your users will see when they come across your site, and it's usually the page that gets the most traffic. It's extremely important to make it look clean, uncluttered, with a clear purpose on what users should click next.
Here are some tips to make sure that your site makes an excellent first impression:
Use a simple, minimal design.
Emphasize elements that make an impact—like your recent blog posts.
Stick to one main color scheme; don't use too many colors.
Here is an example of a website that has a clean and simple design.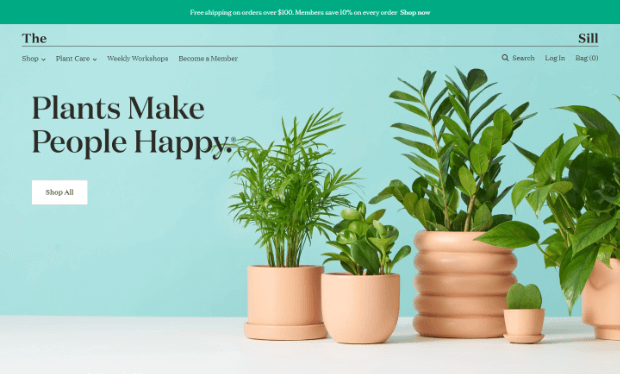 Think about how you would feel wandering through a store with no signage showing where anything is.
Or what if there were signs everywhere with arrows pointing in all directions. You'd likely end up leaving empty-handed and confused.
Here's how to keep navigation user-friendly:
Use visual cues like color contrast and arrows to draw attention to your call to action.
Divide your products into different categories with columns and sidebars.
Always include a search bar for those who know exactly what they want.
Use familiar words when labeling. Don't make people wonder.
Here's an example of a real website that still exists, and is essentially doing everything wrong. It's messy, there's too much color, no clear CTA, it's cluttered, and it's not obvious what their main product is. Just try navigating this and actually finding what you need.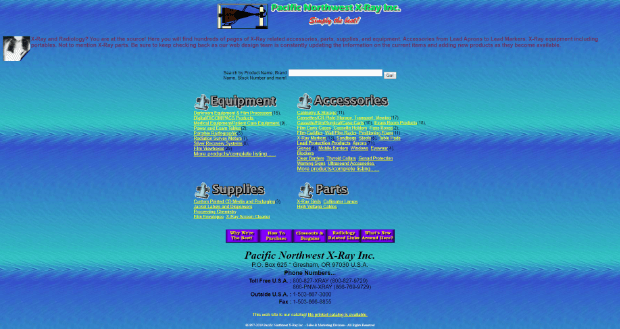 3. Use Exit Intent Popups To Offer Deals
You can use an exit-intent popup tool like OptinMonster to detect when visitors are about to leave your website.
Your popup can be anything from an invitation to chat with a support agent, a special discount offer, or an invitation to download a lead magnet by joining your email list.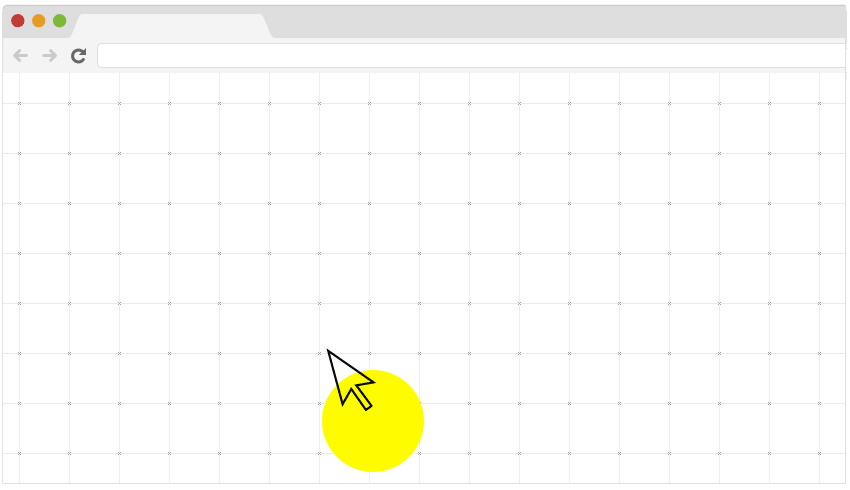 4. Use Fullscreen Welcome Mats to Showcase Your Best Product or Offer
Kind of like a popup, a fullscreen welcome mat is an optin that slides over the entire page. Its intent is to draw the visitors' attention to your best products or offers. Doing this has been proven to increase conversions by up to 80%.
You can use OptinMonster to create fully customizable fullscreen welcome mats. Here's an example: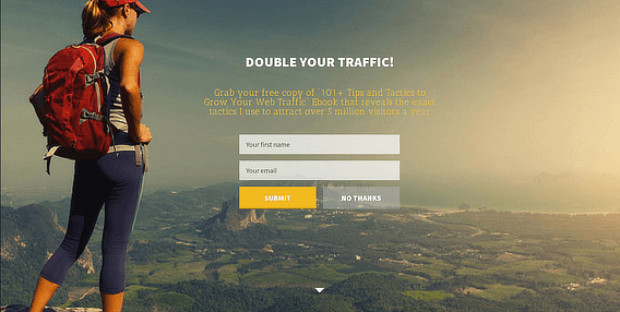 5. Improve Your Website Speed
Have you been neglecting your site speed? Just know that 40% of visitors will abandon a retail webpage if it takes more than 3 seconds to load.
Yikes.
Many times slow speed affects user experience because people treat looking at websites like talking to people. If you ask someone a simple yes or no question and they take longer than 3 seconds to answer, things can get awkward. ?
It's the same for your website. If it's slow, users will look somewhere else for a faster answer.
If you're not sure what your website speed is, check out this tool by Pingdom.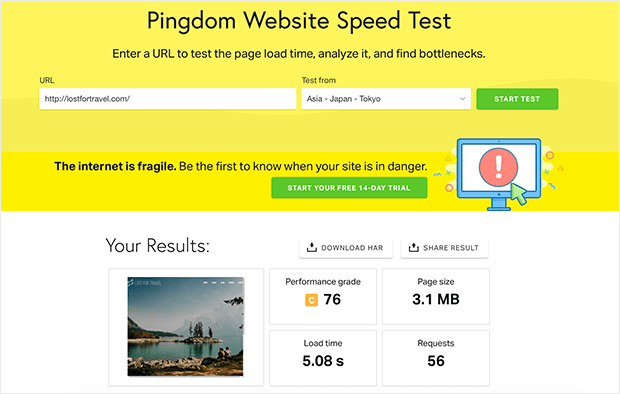 6. Avoid Automatic Sliders, Video Backgrounds, Transparent Buttons, and Parallax Scrolling
Your website design can be top-notch, but if it doesn't function well, you're going to have some issues.
Design trends like automatic image sliders, video backgrounds, transparent buttons, and parallax scrolling are popular because, well, they look nice. But in reality, they're prone to glitches.
These design elements can also slow down your website if carried out poorly and may distract the visitor from reaching the checkout page.
Functionality is what UX is all about, anyway. It's not about adding extra elements and creating "fluff." Every element on your page needs to support what you want the visitor to do.
If you look at a website like Amazon, it doesn't have the nicest design. But it has great functionality. Amazon exists to convert traffic into sales and their site design supports that.
7. Use Geo-Location Targeting
Advanced eCommerce owners use geo-location targeting to display location-specific offers.
If you're selling internationally, or even in a few select cities, you can use OptinMonster's geo-targeting feature to segment offers by climate and culture.
For example, you shouldn't be advertising animal print mittens in the Gulf of Mexico. In this case, your users might benefit more from animal print ankle socks. Geo-location targeting lets you swap images and offers, so you can make the right offer to the right customer at the right time.
You can take geo-location targeting one step further by combining it with OptinMonster's advanced page-level targeting options, which allow you to segment your audience based on their interactions with your website and interests.
8. Use a Clear and Attractive Call to Action
For eCommerce sites, your purchase call-to-action (CTA) will generally be an "add to cart" or a "buy now" button. Having a clear CTA is essential to converting traffic into sales.
The button should stand out from the rest of the page. A great way to do this is by adding color contrast and bold lettering.
The wording of the CTA should be kept short, but have a clear message: this is where to click to finalize the purchase. Phrases such as "buy now," "check out," and "add to cart" work really well.
For OptinMonster, we use "Get OptinMonster Now" as our main CTA on the homepage.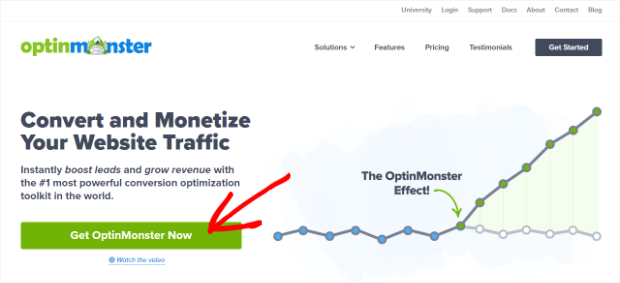 It's also common for a lot of eCommerce site owners to create a sense of urgency along with their call to action.
For example, putting in a notice that there are only 2 items left in stock can push people to purchase sooner rather than holding it off until later.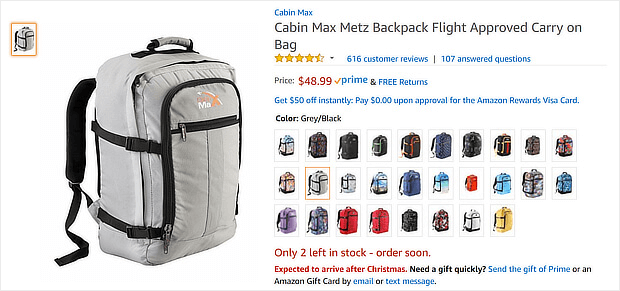 9. Create a One-Click Checkout
Adding calls-to-action is a good step towards getting visitors to add items to their cart. Unfortunately, the average cart abandonment percentage is 76%. In other words, nearly 8 out of 10 visitors that have added a product to their cart will leave before completing their purchase.
However, there are things you can do to optimize checkout and keep those shoppers moving forward with their purchase.
Consider skipping the cart and adding a one-click checkout button right on the product's page. Amazon does this, and since they lost their patent for it, you can now do it too.
10. Let Users Checkout As Guests
Another reason for consistent cart abandonment is requiring users to create an account to complete their purchase. That's 34% of your guests walking away because there simply isn't a guest checkout option.
The fewer steps the visitor has to go through, the more likely they are to finish their purchase from start to end.
11. Make Your Product's Listing Page Informative
If you have a product listing page loaded with information, it will do the selling for you, which is what you created it for, right?
Some essentials to include in your listing pages are images, price, availability, breadcrumbs (for easy navigation), and product options.
These best practices won't only help your UX, but will also help you with SEO.
You want people—and Google—to understand the contents of your page. And content-rich, user-friendly pages consistently rank higher.
Let's look at one of Get Bullish's product pages as an example.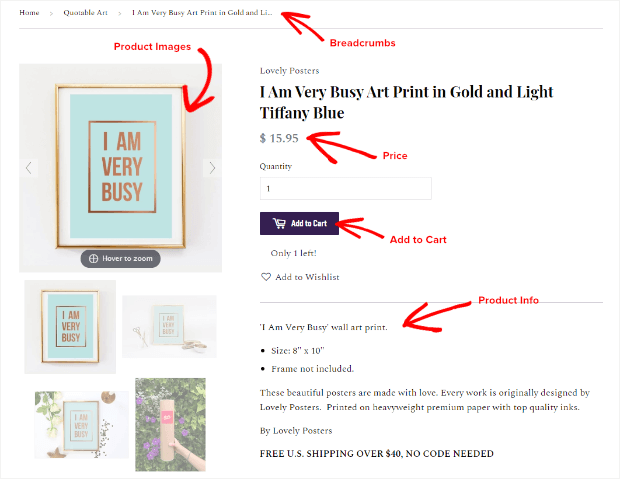 12. Include Reviews On The Product Pages
Including a "customer reviews" or "testimonials" section on your product pages can be a very powerful tool in converting visitors into buyers. Visitors are not only looking for reviews of the product itself but also want to learn about the service customers received when ordering products.
By displaying customer reviews on the product's listing page, you are clearly showing that you are a trustworthy seller and have nothing to hide. Doing this alone can increase your conversion rate by 20% to 50%.
If there are no reviews, there's a higher chance your visitors may be skeptical about purchasing from you. Based on your research, you should try to address any doubts and questions they may have.
Amazon's reviews sections are quite developed. They have ratings, show responses by feature, and almost all products have over 50 reviews.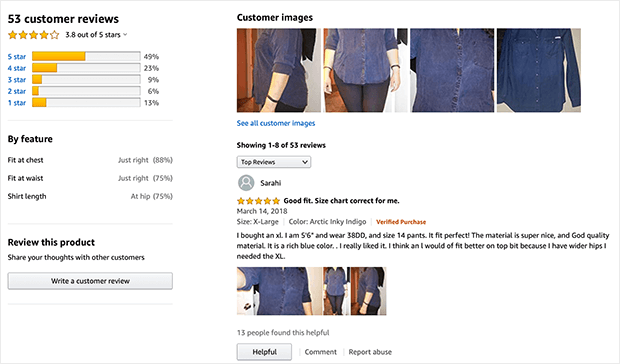 13. Use Social Proof
We just talked about customer reviews and testimonials which are great for social proof. But, there's a lot more you can do!
Here are some social proof ideas to start using now:
Media mentions
Social share and user/subscriber/customer counts
Real-time stats
One of the best and easiest ways to add social proof to your site is by using TrustPulse.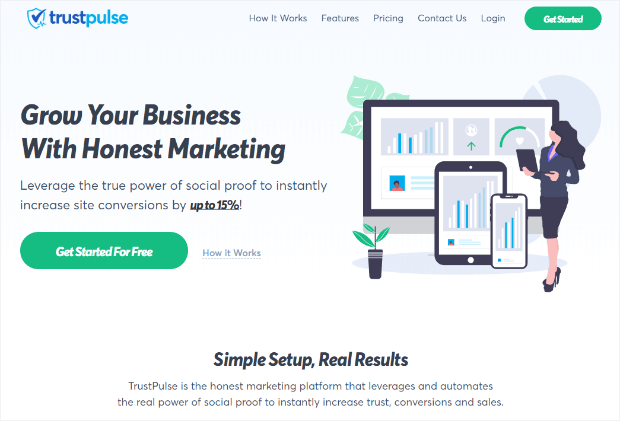 TrustPulse is the most powerful social proof tool for business websites. You can use it to automate social proof by showing real-time customer activity notifications on your website in the form of an eye-catching, unobtrusive popup.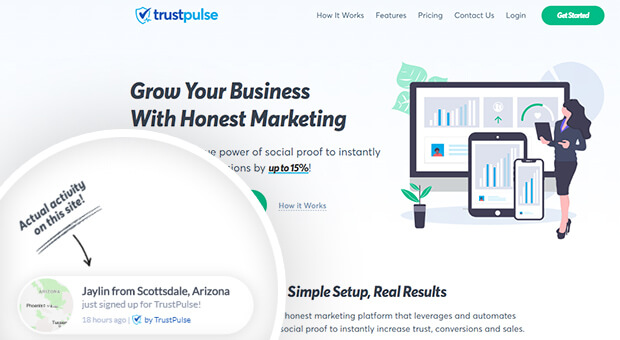 TrustPulse takes less than 5 minutes to set up—not bad for social proof that's proven to give you an instant increase to site conversions by up to 15%.
14. Offer Different Payment Methods
Offering different payment methods on your eCommerce store has its advantages, like customer convenience, payment customization, more security, more international sales, and it's a fail-safe in case of service outages for another provider.
Plus, visitors will be more likely to abandon their cart if they can't pay with their preferred method of payment.
Although there are over 200 different ways to take payments online, you don't need to include all of them. You can find the best ones through market research. Use the methods that are most popular with your target audience and their location.
Some popular payment methods are PayPal, Alipay, Stripe, and credit cards. You can even offer to finance if your product is expensive.
15. Mobile-Friendly UX
More than half of online shopping is now done on mobile devices. Making your website mobile responsive is not enough when it comes to optimizing your eCommerce website.
Mobile screens mean more scrolling, so it becomes much more important to consider what you have displayed on the page or create an entirely separate user experience for mobile visitors.
PayPal does a really good job of designing for their visitors. For instance, their desktop site, while minimalist, is visually engaging: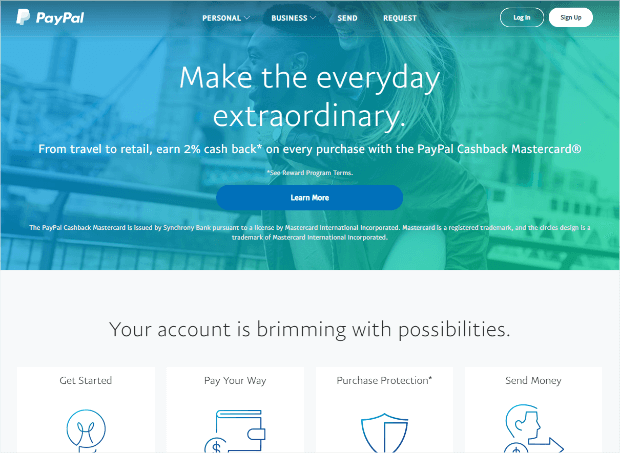 PayPal's mobile landing page eliminates scrolling by using 2 buttons. Visitors to the mobile landing page can select the option they want from those 2 buttons, log into their account, or use the menu to see more options.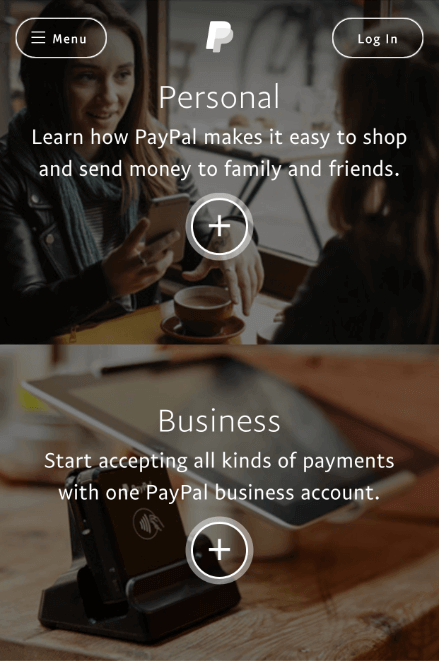 Go further in testing things like hiding certain elements that are unnecessary on specific screen sizes, making unessential text smaller, and playing around with different icons for better visibility on important links.
And as phone data isn't always the most reliable, it's imperative that you make your website page as small as possible, making load speed extra fast, and making up for any lagging data.
There you have it! 15 eCommerce user experience best practices to turn traffic into sales and improve your SEO.
User experience is just one of the ranking factors Google considers when ranking sites. To really optimize your site, check out 9 more essential SEO ranking factors.
If you already have your SEO dialed in, have a look at these web design principles you can use to boost your conversion rate.
Of course, the best way to boost your conversion rate, build your email list, and generate more revenue is by using OptinMonster. Get started with OptinMonster today!