Are you up to speed on the latest global eCommerce statistics?
If you're interested in starting an online store or want to boost your eCommerce sales, knowing the newest eCommerce statistics will help you make data-driven decisions that will bring you results.
In this article, we'll share 36 eCommerce statistics you need to know to run a successful online store.
Since this is an extensive list of statistics for eCommerce, here's a table of contents so you can jump straight to the section of eCommerce stats that interests you most.
Ready? Let's dive into the world of eCommerce.
eCommerce Statistics: The Popularity of Online Shopping
Let's start with some global eCommerce stats on the rise of online shopping and how popular it's become in recent years.
1. More and more people are now online shopping. According to Statista, in 2021, over 2.14 billion people worldwide are expected to buy goods and services online, up from 1.66 billion global digital buyers in 2016.
2. eCommerce sales rose from $390 billion in 2016 to $453 billion in 2017. That's a 16% increase!
3. It's estimated that consumers will make 95% of purchases online by 2040.
But, with all these people shopping online, how do eCommerce industry statistics stack up against retail brick-and-mortar stats?
Keep reading to find out.
eCommerce Statistics: eCommerce vs. Retail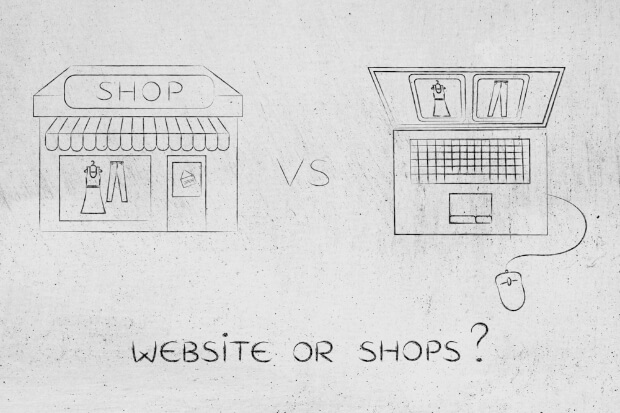 Just because online shopping is popular doesn't mean retail brick-and-mortar shopping is dying.
People love shopping at brick-and-mortar. They get to see and feel the products before buying, and they can take their product home immediately instead of waiting for it to be delivered. Retail shopping is something people can do with friends and family. It's an experience and an event.
4. Brick-and-mortar sales rose from $2985 billion in 2016 to $3043 billion in 2017, a two percent increase.
5. In 2019, e-retail sales accounted for only 14.1 % of all retail sales worldwide. But, this figure is expected to reach 22 percent in 2023.
Even though more people shop at brick-and-mortar, global eCommerce sales continue to grow yearly.
eCommerce Statistics: Consumers – Who Shops Online?
6. 76% of all United States adults shop online.
That's still a ton of people, but let's take a closer look at who is shopping online the most.
7. According to Statista, online shopping by age group breaks down like this:
67% of Millenials prefer to shop online
56% of Generation X prefer to shop online
41% of Baby Boomers prefer to shop online
28% of seniors prefer to shop online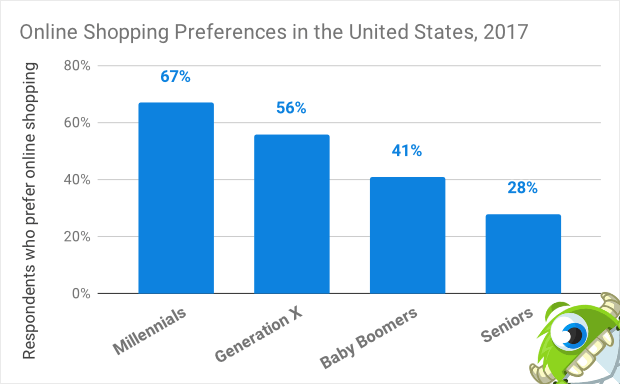 Age makes a difference in buying behavior as well. For example, younger shoppers make more unplanned purchases than older shoppers.
8. Nearly 80% of younger shoppers make impulse purchases online, and 21% of 28-to-37-year-olds say they made a spontaneous online buy in the previous week.
So, why do people prefer to shop online?
The number one reason people shop online is that they can shop all day hours. Other top reasons people shop online are the ability to compare prices, get online sales, and save time.
eCommerce Statistics: Online Shopping and Research
9. Before deciding to make a purchase online, consumers do their research. 85% of consumers conduct online research before purchasing.
How do they do online research?
10. The most used channels for research before making an online purchase across generations include websites (74%), email (43%), social media (38%), and retailers' mobile apps (36%). 40% of millennials (age 18-36) say they use voice-enabled digital assistants, such as Amazon Echo and Google Home, to research merchandise before buying online.
A lot of shoppers also start their online shopping research on Google. A quick Google search for their desired item will result in many results.
Shoppers can look at all their different options from multiple eCommerce websites, compare prices, and ultimately purchase.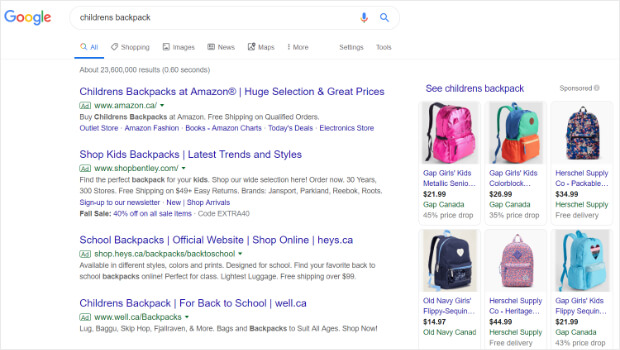 11. The average time between a Google product search and a purchase is 20 days, and 35% of Google product searches turn into transactions within five days.
eCommerce businesses must optimize for SEO to get their items on the first page of Google search results.
As previously mentioned, shoppers use social media to research products. But social media isn't just for shopping research. They're online shopping platforms too.
We'll look at some Facebook and Instagram eCommerce stats in the following few sections.
eCommerce Statistics: Social Media
Facebook is no longer used just for staying connected to family and friends. It's an excellent place for eCommerce businesses to promote their products and encourage online shoppers to buy.

12. 90 million small businesses use Facebook. Consumers can discover small eCommerce businesses on Facebook, click the "Shop Now" button, and start shopping.
13. 85% of orders from social media sites come from Facebook. Plus, the average order value for customers referred from Facebook is $55.
14. Instagram is another popular social media network for online shoppers. Instagram says that 200 million Instagram users visit at least one business profile daily.
And Instagram users aren't just visiting these business profiles by chance; they're visiting them because they're looking for products to buy.
15. 60% of people say they discover new products on Instagram, and 62% say they have become more interested in a brand or product after seeing it on Instagram Stories.
As you can see, promoting your products on Instagram is powerful. But are people buying directly on Instagram or window shopping?
The answer is buying.
16. 11% of US social media users shop on Instagram, and 130 million Instagram users tap on shopping posts every month.
eCommerce Statistics: Amazon
We couldn't create this list of eCommerce stats without mentioning the eCommerce giant, Amazon.
17. 44% of online shoppers start at Amazon to search for products online rather than doing a Google search. Amazon is like an eCommerce product search engine for many online shoppers.
18. Of course, it's not only used to find products, but tons of people also buy from Amazon. Almost 66% of Americans have shopped on Amazon.
Related Content: How to Make Money on Amazon: Your Guide for 2020
19. The most popular products on Amazon are electronics (44%), followed closely by clothing, shoes, and jewelry (43%) and home and kitchen products (39%).
20. While 67% of Amazon users prefer to shop using their desktop computer or laptop, many also shop on mobile.
21. Amazon is the most popular shopping app in the United States, with 145.2 million mobile users in March 2019.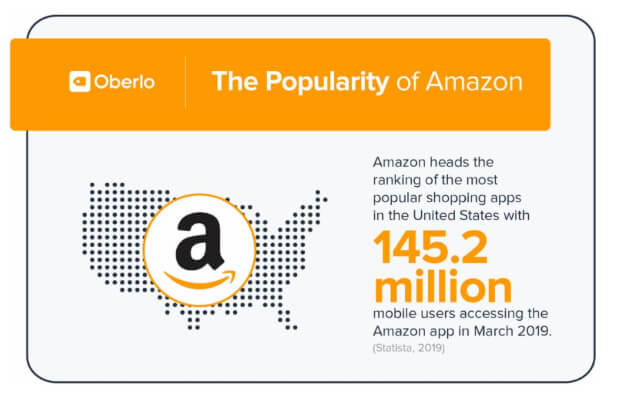 Speaking of mobile shopping, let's look at some mobile eCommerce statistics in the next section.
eCommerce Statistics: Mobile
Part of the reason why online shopping is so popular is that it's convenient. Consumers can pull out their smartphones, access an eCommerce website or app, and start shopping.
22. Mobile eCommerce done through smartphones accounted for $117 billion in the US last year.
23. Even if consumers buy products directly via mobile, they browse on mobile. 53% of shoppers browse on mobile but buy on desktop.
You might be surprised to learn that even while shopping in a brick and mortar, shoppers are still checking their phones.
24. 65% of shoppers look up price comparisons on their mobile devices while in a physical store.
eCommerce website owners work hard to make sure their sites are optimized for mobile since that's where much of their traffic comes from.
25. 77% of traffic came from mobile devices in 2017, up from 16% in 2012.
eCommerce Statistics: Website
A user-friendly, professional-looking website is important if you want consumers to buy from your online store.
Take a look at Lush's website, for example. It has an eye-catching design, and it's easy for users to find the products they're looking for.

But just because you have an excellent website doesn't necessarily mean shoppers will buy from you.
26. Invesp says that, on average, only 2.86% of eCommerce website visits convert into a purchase.
If you want to increase conversions on your eCommerce site, check out our guide on 15 eCommerce User Experience Best Practices to Explode Your Sales.
And remember, don't rely on your eCommerce website to make sales.
27. On average, 52% of online stores have omnichannel capabilities. This means they sell and communicate with customers through their website, Facebook Page, Instagram account, email list, and more.
eCommerce Statistics: Customer Service
To create a successful eCommerce business, you must provide excellent customer service.
28. 80% of people stop doing business with a company because of poor customer experience.
Features like free shipping and an excellent return policy will help keep customers.
29. 79% of US consumers said that free shipping would make them more likely to shop online.
30. 92% of consumers will buy something again if returns are easy.
It would be best if you also built customer trust to turn one-time customers into lifelong customers.
One way you can build customer trust is with contact forms and live chat. According to statistics, consumers are most likely to trust a business, which makes it easy to contact people at the company.
eCommerce Statistics: Shopping Cart Abandonment
Shopping cart abandonment is one of the biggest challenges for global eCommerce websites.
31. 69.57% of digital shopping carts and baskets were abandoned, and the purchase was not completed.
When consumers abandon their shopping carts, that's a missed opportunity to make a sale, and those missed opportunities add up.
Why do consumers abandon online stores?
An unexpected extra cost is the number one reason shoppers abandon carts. Other common causes of shopping cart abandonment include being required to create an account and a long and complicated checkout process.
To reduce shopping cart abandonment, you can create an exit-intent popup using OptinMonster to encourage users to return to their carts and buy.
For example, check out the cart abandonment exit-intent popup below from Gleam.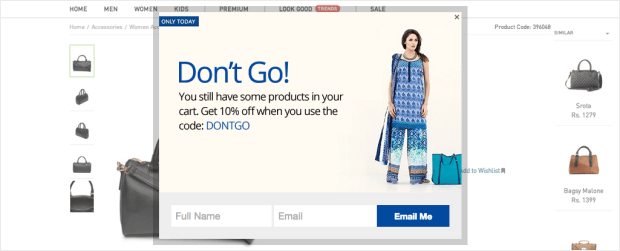 You can also use email marketing to combat shopping cart abandonment.
Using email marketing software, you can automatically send emails to your subscribers whenever they abandon their carts and convince them to return.
The best part? Abandoned cart emails work!
32. Abandoned cart emails have an average open rate of 45%
33. Emails sent within 20 minutes after the abandonment of the cart have an average conversion rate of 5.2%.
eCommerce Statistics: Personalization
Shoppers want personalized online shopping experiences.
34. 74% of consumers get frustrated when they're shown content that isn't relevant to them.
By now, most marketers know how important eCommerce personalization is.
35. 90% of marketers believe personalization is the future.
36. Marketers see an average increase of 20% in sales when using personalized experiences, and 48% of consumers spend more when their experience is personalized.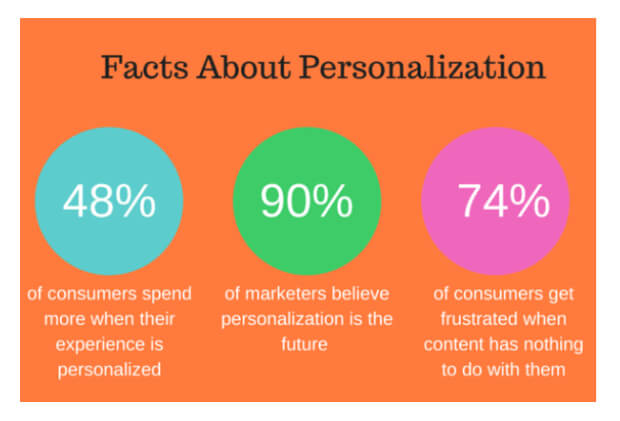 eCommerce personalization examples include:
Personalizing search results
Sending personalized emails based on user behavior
Recommending products based on browsing behavior
Using geo-location targeting
That's it! These were the statistics for eCommerce we had in store for you for 2023.
By understanding the eCommerce industry, you can make informed decisions that can ultimately skyrocket your eCommerce sales.
If you loved this roundup of eCommerce statistics, check out our other post on online shopping statistics you need to know.
How To Grow Your eCommerce Store?
Now that we have read about eCommerce success, it's time to take your store to the next level.
All eCommerce stores rely heavily on generating leads via popups. OptinMonster is the most powerful conversion optimization tool and email popups creator in the world because:
OptinMonster's powerful drag-and-drop builder allows you to create visually stunning optin forms optimized for the highest conversion rates.
You can choose from the perfect campaign type to display the most attention-grabbing offers to your visitors for maximum engagement.
You can detect your visitors' behavior and use smart triggers to display the right campaign to the right person at the right time.
It allows you to use precision targeting to create campaigns that generate more leads, attract more subscribers, and increase sales.
You can create campaigns that react and adapt in real time so you can easily personalize, segment, and target for incredible conversions.
You can get the stats that matter and the tools you need to take action and improve your lead-generation strategy.
Get Started With OptinMonster Today!
BONUS: Done-For-You Campaign Setup ($297 value)
Our conversion experts will design 1 free campaign for you to get maximum results – absolutely FREE!
Click here to get started →