On January 9, 2007, the entire world changed. That's the day Apple's first smartphone hit the market. And in just over a decade, mobile devices have become more efficient, more intuitive, and more common than anyone could have predicted.
As smartphone use has risen, marketers have had to adapt their strategy to keep up. Those who don't adapt will be left behind.
In this article, we're going to take a deep dive into your mobile marketing plan to make sure you're not leaving any opportunities on the table. Today we'll be looking at:
What is mobile marketing?
Mobile marketing statistics you need to know
20 actionable tips to improve your mobile marketing strategy
By the end of this article, you'll be ready to optimize your business for mobile use and send your sales soaring.
What Is Mobile Marketing?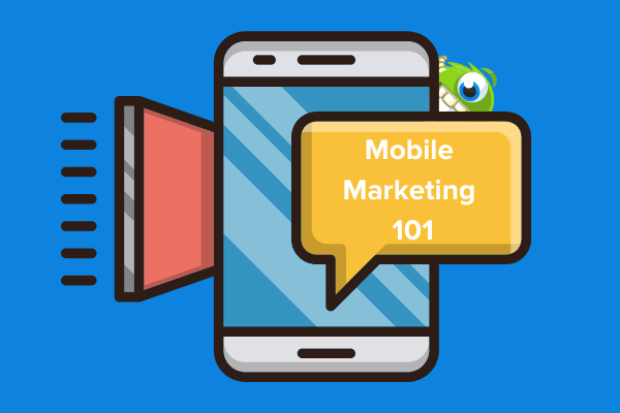 There are many mobile marketing definitions floating around but here's the simple version:
Mobile marketing is adapting your marketing efforts to reach users who are interacting with your brand or business from their mobile devices.
The definition may be straightforward, but coming up with a concrete mobile marketing plan is a bit more tricky. It isn't simply a matter of taking your marketing strategy for desktop and hitting "copy/paste" for mobile. It's a separate beast.
And it's not optional.
If you're still dragging your heels into the world of mobile marketing, let's take a look at a few statistics that will (or should) have you pumped to kick your mobile marketing into high gear.
Mobile Marketing Statistics You Need to Know
If you do a quick Google search for "mCommerce statistics," it won't take you long to see how quickly mobile shopping is taking over. There are hundreds of mind-blowing mobile marketing stats to sift through but here are the five we found most to be the most relevant to eCommerce merchants:
The bottom line is that there are enough mobile marketing benefits to make it more than worth your time and attention.
So in the words of the great philosopher Toby Keith:
Let's have a little less talk and a lot more action.
How to Improve Your Mobile Marketing Strategy
Here are 20 actionable tips you can use to start getting more bang for your mobile marketing buck today.
1. Make Mobile Your Priority
Ok, you should have done it in 2018, but you got busy with other stuff. Then 2019 came around and, despite your best intentions, your mobile marketing strategy sat on the backburner. Well, you really can't put it off any longer.
You need to spend as much effort on your mobile marketing plan as you do marketing through desktop.
But in all honesty, you should likely be spending even more time and effort on mobile. Why? Because all trends point to its continued growth in the world of eCommerce.
Business Insider suggests that eCommerce sales from smartphone devices will rise from $128.4 billion in 2019 to $418.9 billion in 2024.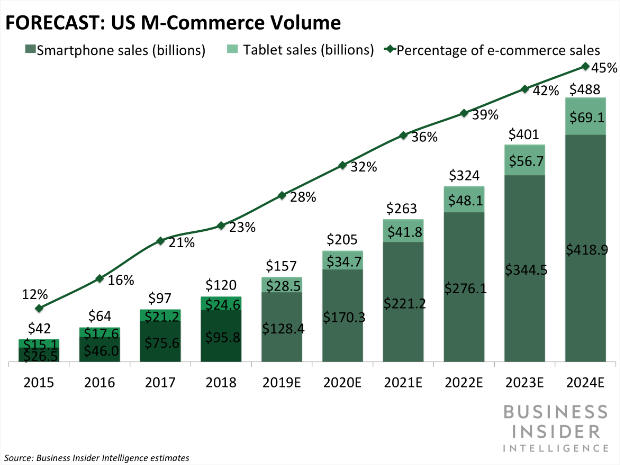 If they're even half right about that forecast, you'll be leaving money on the table by not optimizing your marketing strategy for mobile.
So before you take any of these other tips into consideration, you need to commit to making a concrete mobile marketing plan today.
2. Use Google Search Console's Mobile Features (Like, Actually Use Them)
One of the best tools to track your site's performance on either desktop or mobile is Google Search Console (GSC). When it comes to specifically using GSC for mobile, however, you'll be checking in with their Mobile Usability report.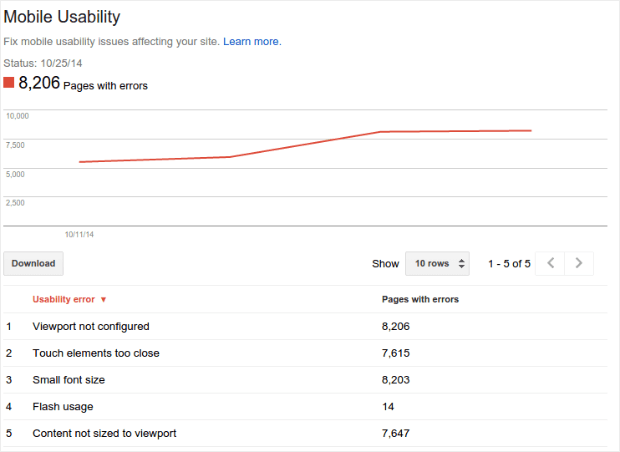 This free tool lets you see if there are any problems with specific pages of your site's mobile version and gives you advice on how to fix them. This ensures that all the pages you're using for your mobile marketing plan are functioning as they should be.
Psssst… If you have a WordPress site, you're going to want to take advantage of MonsterInsights.
With MonsterInsights, you'll be able to access your Google Analytics and Google Search Console reports right from your WordPress dashboard.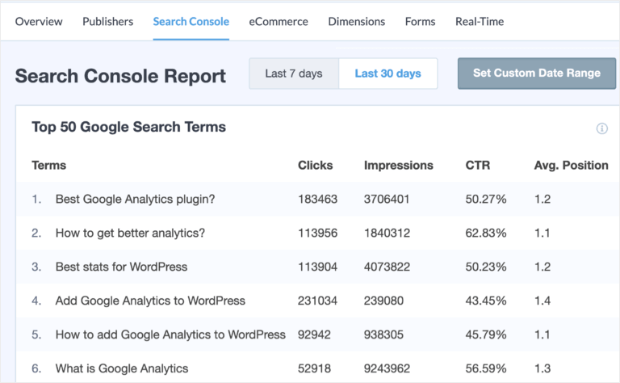 3. Test Speed for Mobile
As it turns out, smartphone shoppers are incredibly picky when it comes to their experience with your brand via mobile. In fact, 40% of online shoppers say that if they wait longer than 3 seconds for a page to load, you can count on them leaving your site and visiting a competitor.
Think the 3-second rule is too ambitious? Check out Google employee Maile Ohye's advice: "2 seconds is the threshold for eCommerce website acceptability. At Google, we aim for under a half-second."
How do you fix page speed issues? A good place to start is using Google's Page Speed Insights to see how your site's load times are performing on mobile. It will also provide you with a few diagnostic points on how to fix any slower pages!

4. Make Your Website Mobile-Friendly
If you want to work on your mobile marketing strategy, making sure your website is mobile-friendly is an absolute must. Otherwise, you'll get super effective at attracting new visitors via mobile, but lose them when they actually arrive on your site.
If you're not sure where to begin when it comes to making your site mobile-friendly, check out our mobile SEO guide. This article has all the tools and resources you need to get your mobile site performing at optimal levels.
5. Adapt User Interface (UI) for mobile
We already mentioned that mobile marketing is an entirely different beast from desktop marketing. One of the main (and obvious) differences is that the screens on smartphones are smaller. That means your buttons, text fields, and text sizes need to be much larger.
The content of your website should be visually appealing when viewed on a smartphone. That means large text sizes, appropriately placed and sized images, and large buttons that make your mobile-site easy to navigate.
One tool you can use for your own site is mobiReady. It shows you a preview of how your site will look on desktop, high-tier phones, medium-tier phones, and low-tier phones. Here's a look at OptinMonster on desktop and high-tier phones: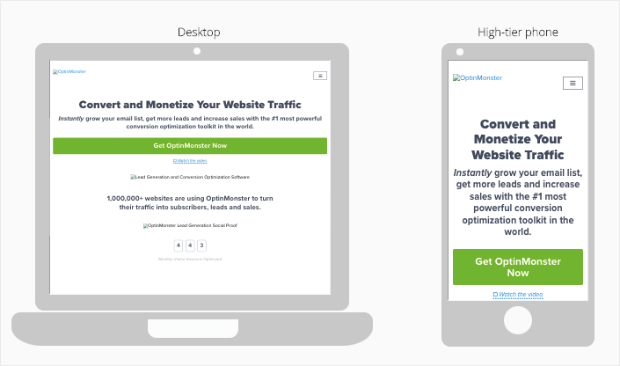 You can see on the mobile version that the text size is larger, easier to read, and the call-to-action button ("Get OptinMonster Now") is highly clickable.
6. Create Responsive Email Newsletters for Mobile
About 71% of people open their email from their mobile phones. So when it comes to launching an email or newsletter campaign to your audience, you want to make sure you're optimizing for mobile.
Most email marketing services like Constant Contact, Drip, and Mailchimp allow you to test your newsletter before sending by either viewing the email in "mobile view" or letting you send a test email to yourself and colleagues.
Here's an example of a travel newsletter in desktop preview mode in Mailchimp: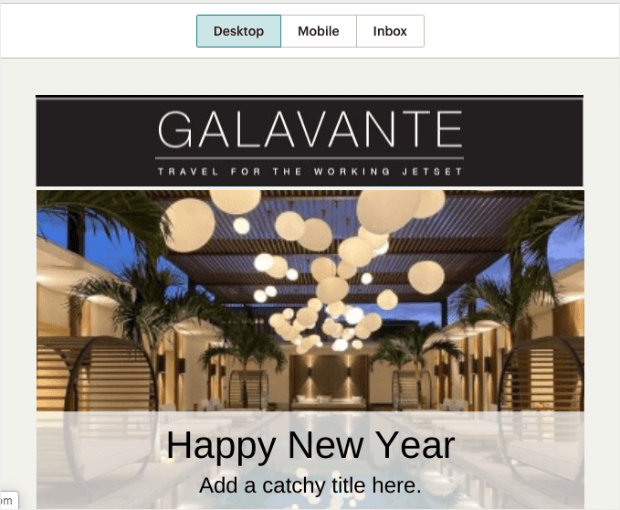 And the same newsletter in mobile preview: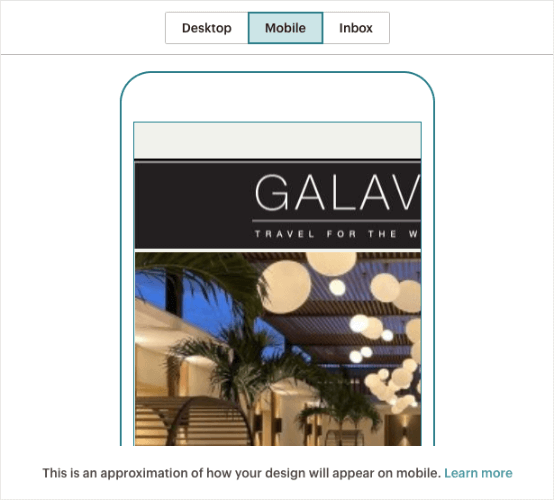 As you can see, the formatting doesn't come out correctly so it's back to the drawing board for this newsletter's mobile version.
Take advantage of these features and prioritize the mobile version of your email campaigns. If it doesn't look perfect on your phone, don't hit send.
Related Content: How To Create An Email Newsletter Your Subscribers Will Love
7. Test Campaigns on the Smartphones Your Audience Uses
So, you've made a great campaign and you're so happy with it. You've tested it in something like Drip's mobile screen test mode. Then, like a good marketer, you sent yourself a test version to browse through on your own mobile device. It looks good so you're ready to send, right?
Maybe. But probably not. Here's why:
A large portion of your audience is likely opening that email from a different mobile device than yours. You want to test your marketing materials across a wide variety of devices to make sure they look good for everyone.
Luckily, none of this has to be guesswork.
Just head over to your Google Analytics account to find who is visiting your site and from which device. On the left-hand side menu, click Audience » Mobile » Devices: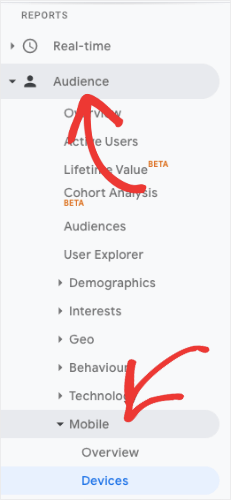 Then you'll see which smartphone is being used to access your content.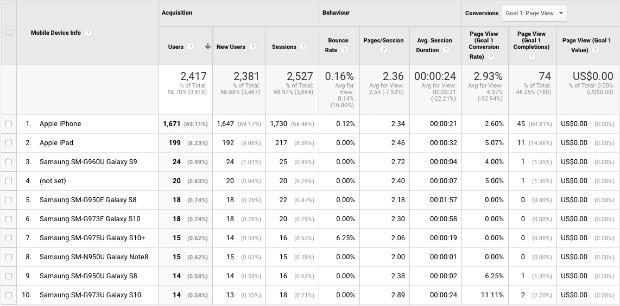 That should give you a good idea of what you need to test your email campaigns to make sure they're being seen the way you want them to.
8. Focus on Local Marketing with Google My Business
Think about the last time you were looking for a restaurant. You probably Googled something like "Restaurants in…" and saw a result that looked like this: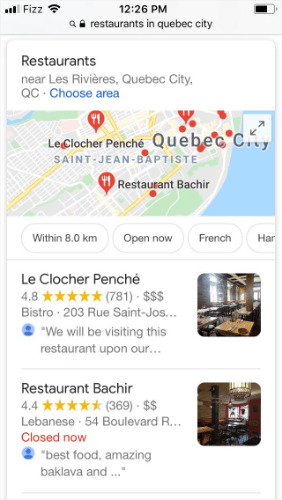 If you run a business with a physical location, you should be making an effort to ensure that your business appears for related Google searches like the one above.
How? With Google My Business (GMB). Using GMB you can create a business profile that sets your brand apart with custom web copy and photos.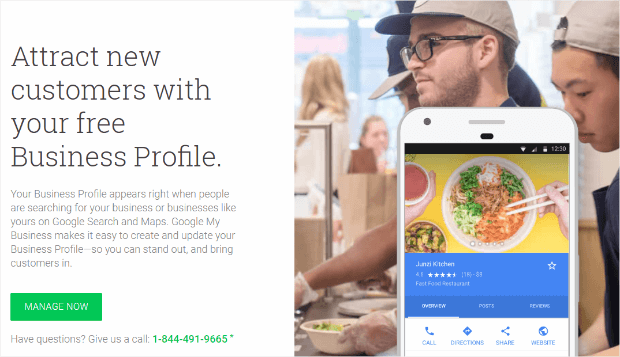 More importantly, however, is that GMB lets you stay connected and engaged with customers via Google Search and Google Maps on smartphones. This is especially important when you consider that a typical business gets 59 actions from their Google My Business listing every month.
So help your clients take the right action (coming to see you, of course!) by creating a Google My Business profile.
Related Content: 8 Simple Ways to Quickly Boost Sales With Hyperlocal Marketing
9. Encourage Users Check-in From Facebook
Once your customers do find you, let them talk about it! Offer a discount or entry to a contest for customers who take advantage of Facebook's check-in feature.
When a customer checks in at your location, it lets their Facebook circle see that they're visiting your business.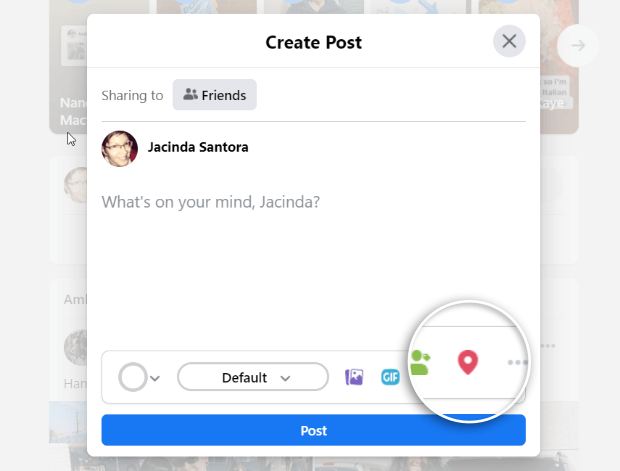 It might not lead to an instant mad rush of people to your business, but it's free exposure and gives your company some more social proof in the eyes of your customer's network.
Pro Tip: Use RafflePress to create a viral online giveaway. There's a free version available from the WordPress plugin repository!
10. Use Text Messages for Promotions
A few years ago, millennials got blasted for constantly texting. Then something funny happened: every generation started texting just as much. In fact, nearly 90% of people say texting is the number one thing they do on their phones.
But do they want to hear from business via text? Yes, they do.
Statistics show that 75% of consumers are fine with getting texts from their favorite brands and these messages have a 98% open rate. Compare that with the 17.2% average open rate for email campaigns, and it doesn't take a marketing genius to see the advantage.
Sendinblue makes it easy to promote personalized, time-sensitive sales and special events notifications via SMS. And, to get the most out of your SMS plan, check out our SMS marketing best practices.
11. Use More Video
According to 80% of marketers, using video has directly helped to increase sales. And, videos have an even bigger advantage for smartphones: they're way more accessible to viewers than text.
Rather than straining their eyes trying to read on a small screen, people clearly prefer to throw on their headphones and watch a video on their smartphone.
Since life often has loads of deadtime like waiting in line at the DMV or sitting on the bus for a daily commute, it's no wonder that more than 70% of YouTube video consumption happens on mobile devices.
As both video and mobile marketing become increasingly prevalent, it may be time you consider creating content in the form of shareable videos.

12. Start a Podcast
Creating a podcast may not fall exclusively under the category of mobile marketing, but it's definitely connected.
You can use your phone for podcasts during morning commutes, at the gym, on long runs, or while pretending to work at your desk. In fact, 77% of podcast listeners listen via mobile and only 49% listen in their car.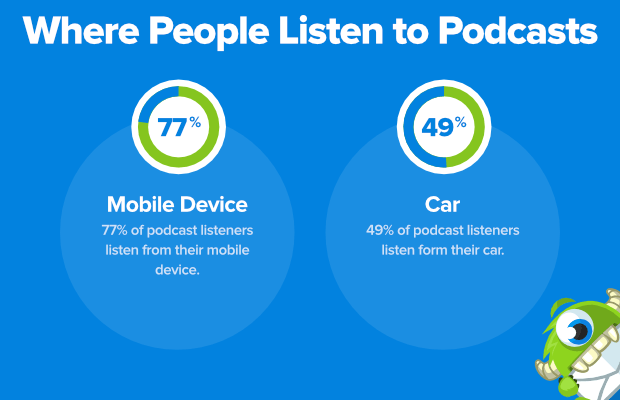 Starting a podcast is probably a good idea for any marketing plan, but it's an excellent way to engage with your audience coming specifically from mobile. Check out this list of the best podcast plugins for WordPress to get your podcast up and running in no time.
13. Adapt Your Content for Voice Search
We all know that SEO is important if you want to drive organic traffic. Part of your overall SEO strategy is using keywords to embed in your content to help you get ranked on Google.
These keywords aren't random though; they're data-driven expressions that are used by real people when typing a search query into Google. But… people are typing these searches less and less.
As voice search has been on the rise over the past few years (and not showing any signs of stopping), that means that keywords are getting longer. When people aren't restricted by keystrokes, they're more free in their word choices.
This means that long-tail keywords will likely rank better on voice searches.
One tool that you can use for this is called Answer the Public. You can type any targeted keyword into Answer the Public and it will give you tons of options for voice search-friendly keywords. So, for example, if we type in the keyword "mobile marketing," Answer the Public would provide the following diagram: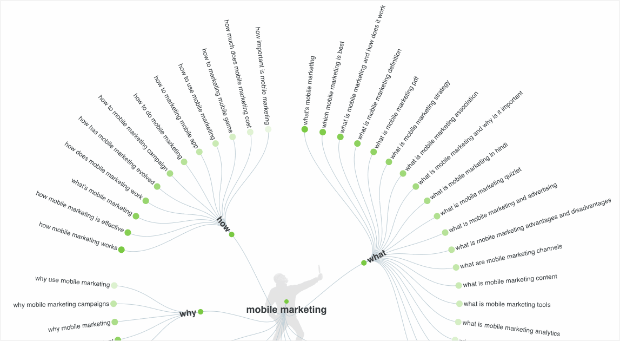 Like we said before, Answer the Public gives you tons of options for long-tail keywords that you can use in your content.
14. Use Mobile Ads
In the world of marketing, not all ads are going to hit the same. An ad's effectiveness is connected to the device it's viewed on. As smartphones became more popular, marketers began creating ads specifically for mobile devices.
These ads can be in the form of text, image, video, or banners, but they're specifically targeted for mobile use. To create ads for smartphones, you have many companies to choose from.
Google provides a guide to creating mobile ads that's free to use. If you're already familiar with Google Ads, you should find creating mobile-friendly versions straightforward.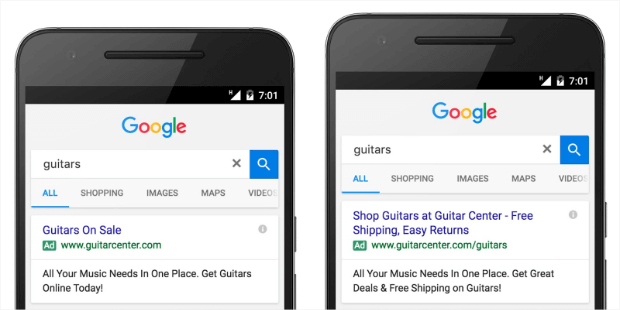 Image Source
You can also use OptinMonster to quickly and easily create on-site ads. This is great if you do any affiliate marketing. You can use OptinMonster's mobile-specific campaigns to create beautiful on-site ads that are designed for mobile.
Here's an example of the kind of on-site ad you can create with OptinMonster: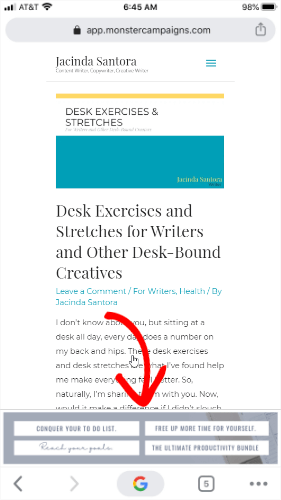 15. Get Into QR Codes
QR codes are barcodes that are scannable from your smartphone. They're usually used to encourage people to take a specific action like in this example used to promote the movie Avenger's Endgame: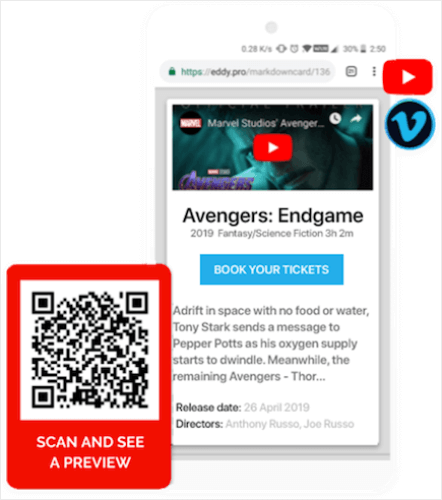 QR codes began gaining popularity back in 2011 when Macy's and Best Buy started using them, but they never really took off as a mainstream marketing tool.
That said, they can still be a great resource for mobile marketers and are used often enough to make them worth your while. It's predicted that 11 million people in the U.S. will scan a QR code in 2020, which is up from 10.44 million in 2019.
With a QR code, you can let customers easily go to a landing page of your choosing, dial your business number, see your business location, get a message sent to their phone, and much more.
Plus, building your own couldn't be easier.
Just check out WordPress's QR Code Generator to connect with your mobile audience in minutes!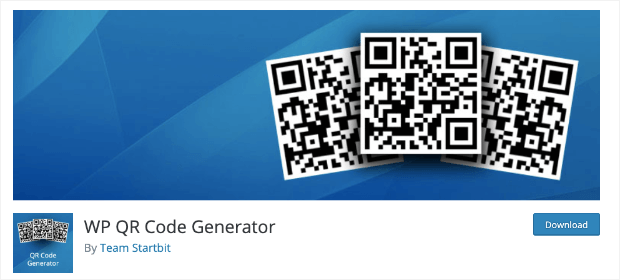 Here's what it looks like in an OptinMonster campaign.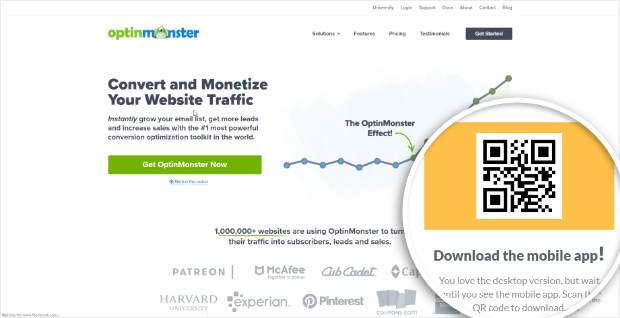 Then, visitors can just scan the QR code and go.
16. Create an App
In the mid-2010s, there was a phrase that was so common it became a punchline: there's an app for that.
That's because apps skyrocketed in popularity as mobile devices grew in sophistication and use. There were 120 billion apps downloaded from Apple's App Store and Google Play by the end of 2019, a 15% increase from 2018.
And this is a trend that's likely to continue.
Mobile apps can be personalized to the user, are typically faster than in-browser pages, and allow for interactive engagement with the user. Plus you can send custom notifications to your audience to make your app a part of their daily routine.
All this means that mobile apps are one of the leading players in your mobile marketing strategy. But, consider making your app fun and interactive by gamifying it.
Starbucks, for example, turned their app into a fun reward system that gives gold stars for certain purchases. With enough gold stars, customers can earn real-life rewards like free drinks or pastries.
This gamification strategy is the reason why Starbucks has the leading mobile loyalty app in the restaurant business.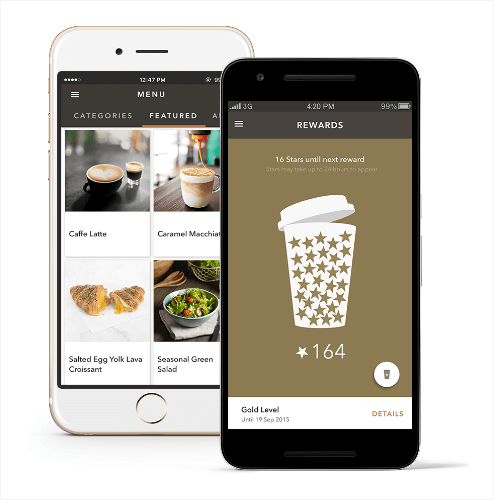 Interested but not sure how to build your company's app? Head over to WPBeginner's post on the best plugins to convert your WordPress site into a mobile app.
17. Level-up Your Social Media Game
55% of social media use comes from a mobile device. That means that over half of your audience is interacting with your brand's social pages from their phone. The question is, are you putting in over half your marketing efforts to make your brand's pages worth their time?
Reconsider your social marketing plan to ensure you're posting high-quality posts across a wide range of social media platforms. Use the power of video marketing on Facebook, Instagram, and Twitter.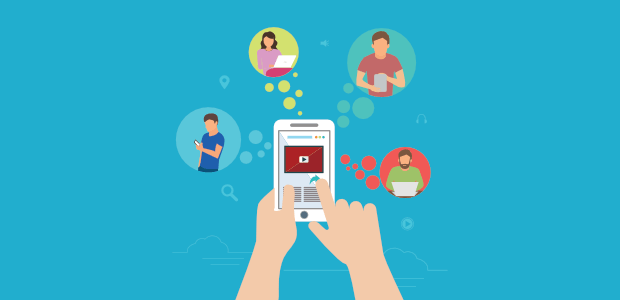 Finally, remember that social media isn't a one-way street. You should be interacting with your followers and responding to any comments they leave on your posts and videos. This will lead to stronger customer loyalty and, eventually, more leads and conversions.
18. Get on Instagram's Sales Channel
Another way you can use social media to up your mobile commerce game is by using Instagram Checkout. If you sell products, you can post them on your Instagram feed and allow users to purchase products without ever leaving the platform.
Not only can you attract more views with your post, but you can also directly increase sales.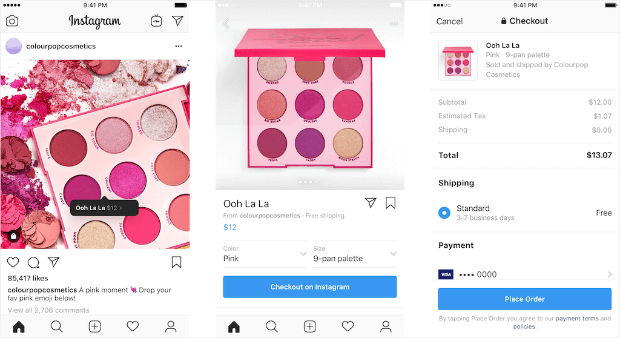 Remember, though, that although your customers are able to make purchases more easily, they never actually have to visit your website. That could make it harder for you to capture emails, upsell or cross-sell, or teach them more about your brand.
So, you may get more sales with Instagram Checkout, but you'll have a little less control over the customer's journey. That said, if someone is finding products via Instagram (and your content marketing is consistent and interesting), you can still turn a casual buyer into a loyal customer.
19. Explore Augmented Reality (AR)
Feeling up to a tech challenge?
Right now, augmented reality (AR) is really in the baby stages of practical adoption. Pokemon GO showed the world how popular AR could become, but it's a technology that still hasn't gone mainstream.
In other words, when we see AR, it's still novel enough to fascinate us.
That makes it a golden opportunity for clever marketers.
By adding an AR component to your mobile app or website, you can make a marketing campaign that is likely to go viral. Just think of how many people you shared Google's AR animals with after learning about it.
The fact is that if you're looking for a buzz around your brand, using AR is almost a guaranteed win.
The trouble? Where (and how) would a marketer even start incorporating AR into their mobile marketing strategy? Assuming you're not a hardcore developer in your free time, here are a few tools you can check out that claim they are friendly to the technically challenged.
20. Create Mobile-Specific Popups and Landing Pages
Popups are an excellent way to capture leads and boost conversions. But when you're viewing a site from a mobile device, popups have to be formatted properly and easy to use or your visitors will be less than pleased.
Fortunately, you can use OptinMonster to build mobile-specific campaigns.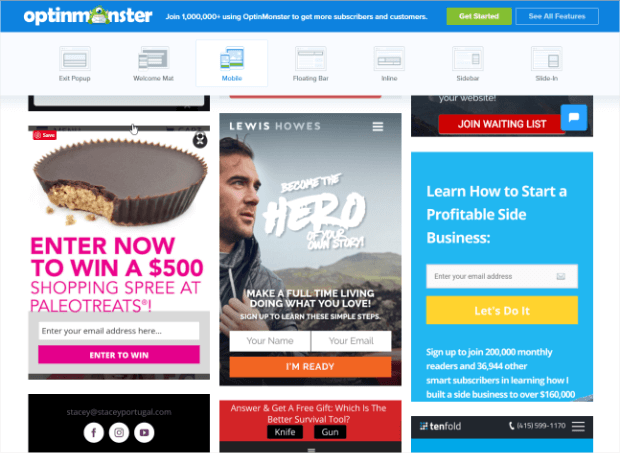 Our drag-and-drop builder makes creating stellar mobile campaigns ridiculously easy. Plus, you can customize your OptinMonster campaigns however you want.
As for landing pages, don't use the same design you've been using for desktop. Build a separate landing page for mobile use. Not sure where to start designing a mobile landing page? Take a look at our mobile landing page best practices.
This post was pretty extensive, but for good reason: mobile marketing matters. If you want your business to stay relevant and continue to grow, you need to prioritize your mobile marketing strategy to ensure that you can connect with your audience wherever they go.
Still not a part of the OptinMonster family? What are you waiting for? OptinMonster has been proven to get more leads, boost conversions, and increase sales. So join OptinMonster today!