Are you looking for the BEST eCommerce marketing strategies to generate new leads and drive more sales?
Digital marketing can be one of the toughest aspects of running an online business. But the good news is that once you master the marketing strategies in this post, everything gets infinitely easier.
That's because, today, we'll walk you through 9 eCommerce marketing strategies that actually work.
These battle-tested tips will help you get more conversions, grow your email list, and make MORE sales from your eCommerce site.
Ready to get started? Let's dive into the list.
9 Ecommerce Marketing Strategies
1. Grow Your Email List
Before you do ANYTHING else, you should focus on growing your email list.
That's because this is part of the process that can take the longest, but it's also one of your company's most valuable assets.
The more robust your list is, the more traffic and sales you can generate to your online shop.
But what's the best way to grow your list? The most proven method is using a variety of "optin campaigns."
By that, we mean things you're already familiar with, such as:
Popups
Floating bars
Fullscreen welcome mats
Gamified spin wheels
And much more…
When you present special offers, discounts, or any kind of lead magnet in these campaigns, you'll be able to grow your list FAST.
To help you out, we recommend using a tool like OptinMonster: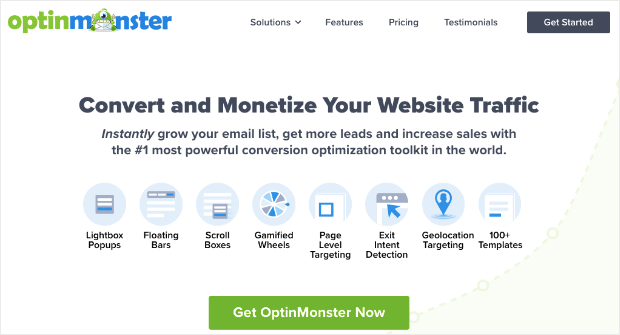 OptinMonster is the #1 lead generation software in the world. It allows anyone to create stunning, professional, and high-converting campaigns in a matter of minutes.
Plus, there's ZERO coding skills required. Here's how it works…
You start by selecting the campaign type and template you want.
OptinMonster offers you lots of various campaign types to help you reach your audience in new and engaging ways.
This protects your audience from "popup fatigue," which is something that happens when you reuse the same popup campaign over and over on your site.
When you've landed on a campaign type, you can choose from over 50+ pre-built templates that are ready-to-go out of the box: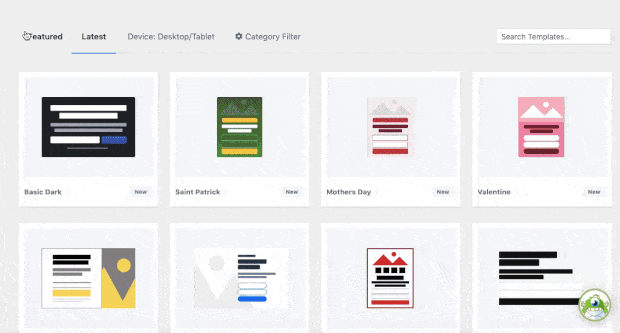 These templates are designed to save you time, energy, and money as you grow your email list.
From there, you'll be able to personalize your campaign to your target audience with OptinMonster's drag and drop editor.
If you want to change any text in your campaign, for example, you can do so directly in the builder: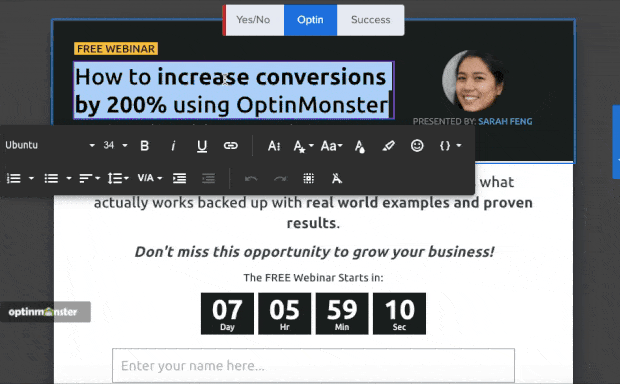 And to add new features to your campaign, you'd simply need to select and drop them into place: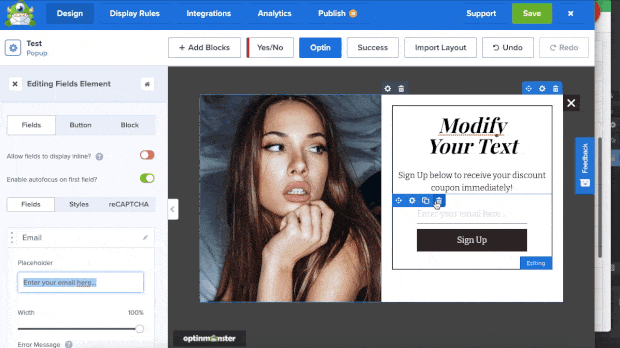 This lets you create high-converting campaigns with advanced functionality in minutes.
But creating the campaign is only half the battle. From there, you need to show it to the right people, in the right places, and at just the right times in their customer journey.
That's where OptinMonster's targeting rules come in. Here are a few of the most popular options:
Page-Level Targeting: Boost conversions by matching your offers with the on-page content your visitor is reading.
Exit-Intent® Technology: Recover and re-engage abandoning visitors as they're actively leaving your website.
Geolocation: Personalize your offers by targeting people's physical location.
OnSite Retargeting®: Show fresh campaigns to returning visitors to keep them coming back for more.
These are just a few of the most popular targeting rules, though there are many others.
And once you catch new leads with these rules, you'll be able to sync your email service provider (ESP) with your campaign.
That way, you can send the right people to the right lists in your ESP for more targeted email campaigns.
It's how companies like Human Food Bar get over 1800+ email subscribers per month.
They also saw over $17,000 in direct sales from that growth.
Ready to see for yourself? Click below to start your 100% risk-free OptinMonster account today:
Get Started With OptinMonster Today!
BONUS: Done-For-You Campaign Setup ($297 value)
Our conversion experts will design 1 free campaign for you to get maximum results – absolutely FREE!
Click here to get started →
2) Automate Your Email Marketing
Sending out a newsletter is great, and you should definitely do that. But sending out targeted, planned, and automated email sequences that build to a common call to action are email marketing gold.
One great example of an effective email marketing sequence that works to boost revenues is a sequence for abandoned cart emails.
Have a look at our post about creating an abandoned cart recovery email strategy to get yours planned out.
You'll need an email marketing service like Constant Contact, Sendinblue, or any of the other popular email providers on the market. Most ESPs allow you to set up an automated schedule and reclaim those abandoned sales.
But do a bit of research to make sure your ESP makes it EASY to recover abandoned carts.
Not sure which email provider to go with? No worries. Check out this post on the best ESPs for small businesses.
And like we just mentioned, OptinMonster automatically syncs with ANY email provider on the market.
This allows you to automate the entire process from start to finish.
You could even set up an automated series of educational emails built to warm leads up to a more salesy "best-selling" products email urging a conversion.
Automated email marketing is an excellent way to convert more leads into customers. Feel free to use this guide on how to create an effective automated email marketing series.
3) Load Your Store With Social Proof
It's no secret that social proof can INSTANTLY boost sales.
That's because most online consumers experience FOMO (fear of missing out) on a regular basis.
In the simplest terms, FOMO is what happens when we see other people having positive experiences that we want, too.
You can add social proof to your site to instill FOMO in your visitors. They'll see the people loved your products or services and took action.
As a result, each of your visitors will be more likely to take the same action as well.
That means MORE sales for your online store with LESS effort.
But how do you add social proof in a way that's easy, fast, and powerful? To check all those boxes, we highly recommend using a tool like TrustPulse: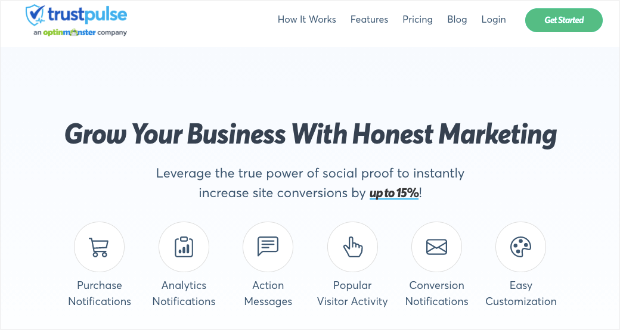 TrustPulse is the best social proof software on the market. It allows you to add various social proof notifications across your site.
You've likely seen these notifications before. They look something like this:

That's an example of Recent Sales Notification. When customers buy something from your online store, a small message will be generated to let your other site traffic know.
This encourages more people to click the notification, see the product someone purchased, and take the same action.
Plus, there are 4 types of campaigns you can use:
Recent Activity: Show a live stream of website activity like purchases, registrations, signups, and more.
On-Fire: Show the number of people taking action on your website in a given period.
Visitor Analytics: Highlight active interest in your site by showing real page visits over time.
Action Messages: Display a single static notification to help drive visitors to take action or highlight information.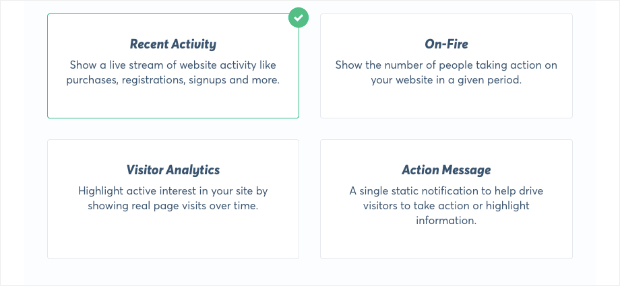 This variety is great because it allows you to rely on genuine social proof at every stage of your business.
Before generating any sales, for example, you can show how many people are visiting your landing pages with Visitor Analytics.
But once sales start pouring in, you can switch to Recent Activity or On-Fire campaigns for even better results.
Finally, everything about your notifications is 100% customizable.
You can change the images, product links, text font, messages, and more.
Want to see it in action for yourself? Get started with TrustPulse today!
4) Boost Sales With Push Notifications
Push notifications aren't new, but they're quickly becoming a popular eCommerce marketing strategy.
Why? Because they give you direct access to your audience regardless of who is currently on your website.
Plus, subscription rates are typically higher because you don't need to ask for any contact information. Instead, users simply need to click Allow to receive notifications on their browser.
Push notifications are an excellent and affordable solution for:
Promoting blog posts
Showcasing new promotions
Announcing special offers (like free shipping, buy one get one deals, etc.)
Redirecting people to product landing pages
And much more…
When you send these messages, a notification will rest on your subscriber's browser until they interact with it in some way (they'll either click to view or click to close).
But you're probably wondering whether or not it's a feasible option for you.
After all, you're strapped for time and working on a budget, right?
The good news is that you can start using push notifications in minutes with a tool like PushEngage: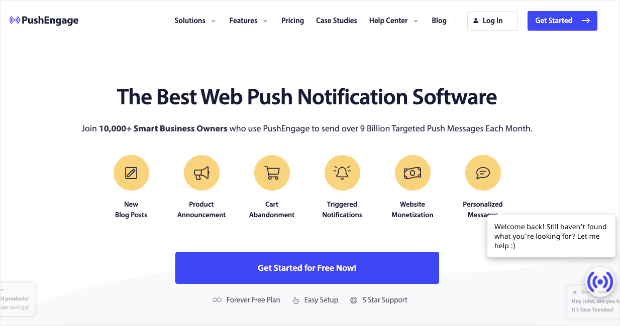 PushEngage is an easy way to test out push notifications for your site. And as you get more experienced, this software lets you scale your strategy to get the highest conversions possible.
You won't need a lot of technical skills to get started either.
You'd simply need to add a few lines of code like you did when you added Google Analytics to your site.
From there, you'll be able to quickly set up push notifications for your subscribers.
Over time, you can also build automated drip series.
This would include several welcoming push notifications with your highest converting content. You can spread these messages out over the first few weeks of your new subscriber's journey.
To take things further, you'll be able to set up sub-groups within your audience (known as "audience segments") based on browsing patterns, demographics, content viewed, and more.
Other features include A/B testing, campaign scheduling, cart recovery messages, and many others.
But the basic benefit of all these features remains the same: you'll be able to drive MORE revenue from your eCommerce store.
Ready to test it for yourself? Get started with PushEngage today!
5) Run an Online Contest
If you're trying to drive more traffic or boost engagement with your brand, there's no substitute for an online giveaway.
You can choose a prize that's perfect for your target audience. Otherwise, you'll get a lot of "dead-end leads" who liked your prize but don't want your products.
But when you do find that perfect incentive, you can see MAJOR results in email list growth and sales.
And if you're using WordPress, things are even easier with RafflePress: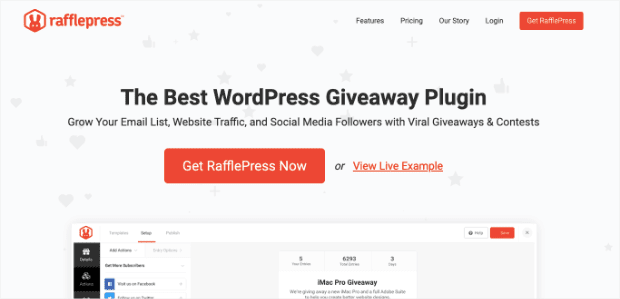 RafflePress is by far the best giveaway builder plugin on the market. It helps you create online contests that are designed to go viral from the start.
That's because you can allow people to enter your contest with "entry tickets."
But you can let people enter with multiple entry tickets to boost their odds of winning. All they have to do is complete your pre-configured calls to action (CTA).
Let's say you're trying to get more traffic to a product page.
You could design a contest with 3 entry options:
Visit the product page
Watch a video demo on YouTube
Share the contest on social media
Now users can decide how many entry tickets they want for their contest submission.
This is the PERFECT solution for getting more engagement with your brand.
Plus, you can add your contest to existing posts and pages. Or you can generate a new landing page for your contest automatically.
If you're looking for the best eCommerce marketing strategies around today, then running an online contest is always a good bet.
Get started with RafflePress today!
6) Add Social Media to Your Site
One thing you should start considering is linking your social strategy with your website's traffic.
Lots of marketers approach these two channels in a generic way: they add a few social links to their site.
But you can take things a step further to get even more engagement from your audience.
How? By adding a social media feed to your website.
This has a few major advantages, including:
Increase Social Followers: Drive more of your sites organic traffic to your social media accounts.
Boost Time on Page: Keep users engaged on your posts and pages longer by displaying your social feeds.
Improve UX: Give the user more ways to interact with your brand so you can help solve their problems faster.
Plus, if you're using WordPress, this doesn't have to be complicated. That's because you can use a tool like Smash Balloon: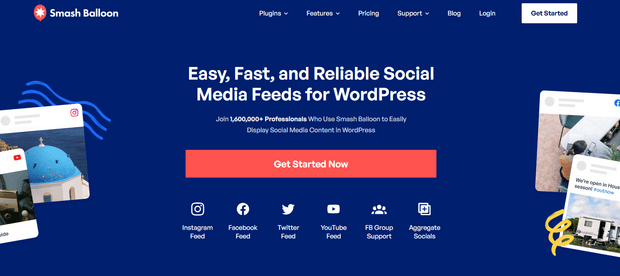 Smash Balloon is the world's leading social media feed plugin. It lets you add social feeds to your site in minutes with no technical skills required.
Smash Balloon will display feeds from your:
Instagram
Facebook (feeds and groups)
Twitter
YouTube
Then you can customize the look and style of your feeds to match your site. This adds a layer of continuity to your branding that builds confidence with your audience.
From there, you can add feeds to any of your posts or pages to get the most engagement from your site's traffic.
Finally, they have an excellent customer support team to help you in case you run into any problems.
Get started with Smash Balloon today!
7) Start a Blog
Blogging is a great way to build a loyal and long-term audience, but there's a method you're going to need to follow to get there.
Starting a blog is just like starting a business.
When you first start out, you're going to offer a narrow selection of products or topics. As your audience grows, your niche will also expand to include related items. This will naturally increase your audience, which is exactly what you want.
And over time, you can grow that blog to bring more organic traffic to your website.
It's a long-term strategy that safeguards you against getting locked into expensive pay-per-click campaigns month after month.
While paid ads ARE valuable to your sales funnel, starting a blog can add new leads for free.
To get started, check out our list of blog post ideas.
8) Leverage Referral Marketing
One of the most powerful (and underrated) eCommerce marketing strategies is referral marketing (also known as word-of-mouth marketing).
The reason is simple: we're all social creatures, and we love sharing our experiences with our family and friends. We help each other avoid bad experiences and encourage each other to support places that provide an excellent experience.
That also means, whether you like it or not, people are going to share about you with their friends. Wouldn't you prefer that sharing be something positive about your brand and product?
That's referral marketing.
Referral marketing is when you deliberately influence the process of word-of-mouth, whether it is encouraging more sharing or positioning the sharing to be positive.
9) Master Retargeting Strategies
Customers don't buy on their first visit to an eCommerce site.
Well, they do, but rarely, so it's best to focus retargeting ads on return visitors to your store by adding some code called a "pixel" to your site.
Pixels are a small snippet of code that helps you track user activity. And it's GREAT at retargeting your paid ads specifically to users who have already visited your website.
In other words, this adds a whole new layer of personalization to your eCommerce marketing strategy.
When people visit your store, you can send them follow-up messages and campaigns to encourage them to complete a purchase.
For more information on how to do this RIGHT, check out the following resource: Retargeting Made Simple: What It Is & Why You Need It.
And that's all for today! These have been 9 expert eCommerce marketing strategies that you can use to get more sales from your store today!
Get Started With OptinMonster Today!
BONUS: Done-For-You Campaign Setup ($297 value)
Our conversion experts will design 1 free campaign for you to get maximum results – absolutely FREE!
Click here to get started →
We hope you found this article helpful. If you did, then you definitely don't want to miss the following resources:
These posts will have even more information on how you can generate more leads and revenue from your online store.