Want to create an effective marketing strategy? Content marketing can greatly increase your leads and sales, but first you need to have a solid plan. In this guide, we'll show you how to create a successful content marketing strategy.
What is Content Marketing?
Simply put, content marketing uses the creation of content to attract your ideal customers. Usually, this content comes in the form of blog posts.
But creating content on a consistent basis is only half the battle. If your content marketing strategy is going to be effective, you can't just create any old content… low-quality content can actually harm your website, and your brand.
Instead, you want to offer valuable content that is highly relevant to the customers you want to attract.
That's why you need a plan. Without a clear strategy, you won't be able to create the right kind of valuable content, and you won't get more traffic, leads and sales.
Here are 8 steps to help you plan out a winning content marketing strategy.
1. Define Your Goals
Before you begin creating content, you should set some goals for your content.
This way, you'll know what your priorities should be in order to achieve those goals. Later, you'll be able to look back and analyze what worked and what didn't work.
You should define both short-term and long-term goals for your content.
For example, a short-term goal might be to drive search engine traffic to your website. If that's your goal, you'll want to create content that can rank in Google for specific keywords.
A long-term goal might be to establish your brand and your authority. To do that, you'll need your content to really "wow" your audience, get lots of social shares, and convert into email subscribers.
Be sure to write down these goals and commit to them, so you can go back and review your progress later.
2. Know Your Industry
This is such an important point: it is not enough to know your product or your service. You have to also understand your industry.
You have to know its history, and where it's headed.
Why? Because knowing your industry will help you to write content that is both relevant and actively searched, and it'll help you stay ahead of the competition.
MarketResearch.com has research reports from over 720 top publishers, updated daily.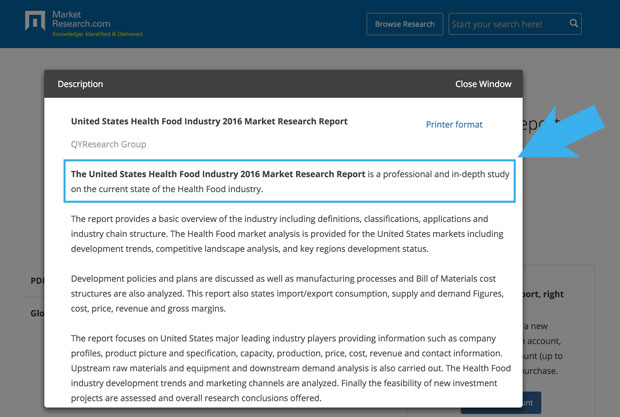 You can get instant access to their database with insights on industries, companies, products, and trends, and their "Profound" feature allows you to purchase only the parts of the report that you need.
3. Characterize Your Customers
In order for your content to attract the customers you want, you'll need to know as much as possible about them.
Characterizing your customers by creating specific customer "profiles" (a.k.a. "avatars") is a great way to ensure that your content is going to resonate with the right people.
For instance, if you sold baby diapers, then one of your customer profiles would be young mothers. Another would be single moms. You'd also have a father profile, and even a grandparent profile.
Now that you know who your target customers are, you'll need to learn how to think like they think.
The young mother? She probably needs tips for handling diaper rashes, cleaning stains out of clothing, or potty training.
The single mom? She probably needs the same tips, but in addition she'll want help with choosing the best breast milk pump, or tips for getting enough rest while juggling work and baby.
Write for your specific customers. They probably aren't exactly like you, so you have to get inside their heads and think like them.
4. Find Your Unique Focus
If your content doesn't have a clear, unique focus, you'll just be spinning your wheels getting nowhere.
In order to get results, your content needs to stand out.
What makes your blog different from all the other blogs in your industry? Do you have a unique style? Do you put a different spin on the usual topics? Does your specialty allow you to go in greater depth on a specific topic than everyone else does?
Think about the vision and mission statement for your company. Your vision statement directs the actions of your company, right? The same is true for your blog.
Figure out your niche–your unique expertise–and focus all of your content around that. Become known for your speciality first, and you can always expand your reach in the future.
5. Create a Content Calendar
Coming out with content on a regular basis is a major factor in the success of your content marketing strategy.
Being consistent builds reliability: if you prove yourself to be a dependable source of valuable information, your reputation will spread like wildfire.
Creating a content calendar–a schedule for your blog posts–will help you to do that by holding you accountable and keeping you on track.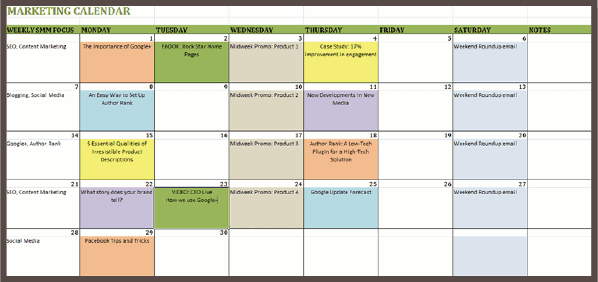 (Example content calendar from QuickSprout.)
But don't just plan out when you will publish your blog posts. Plan out your actual blog topics, and wherever possible, create outlines for your posts ahead of time. Staying ahead of the game will ensure that you don't have to skip a week when something goes wrong.
6. Act on Trending Topics
Keeping your content relevant means staying on top of the latest trends, and acting on them fast.
Do research to discover hot topics. Scour the Twittersphere, and search the latest Facebook groups for common questions. What is popular right now?
You can also use tools like SEMrush to get detailed insights into the search terms that are trending right now: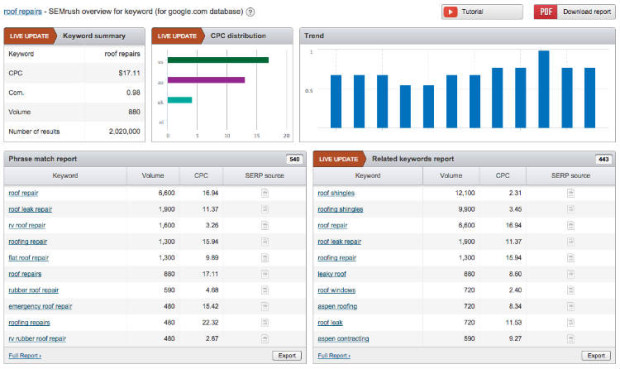 You can also use SEMrush to see what search terms your website is currently ranking for, and the terms your competitor's websites are ranking for: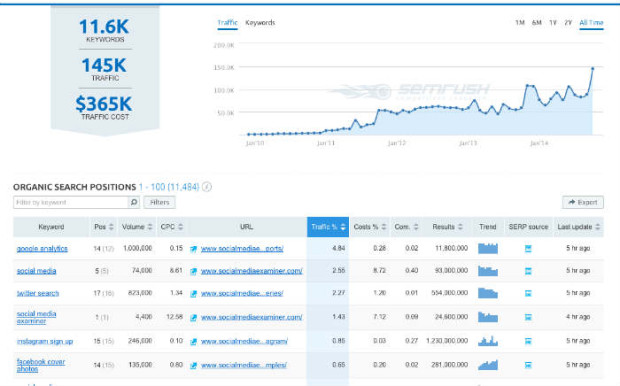 Once you've found the trends, either meet the needs of your audience by writing your own content on it, or curate other people's content into your posts.
For example, if you have a food blog and the current trend is paleo diets, you could collect quotes from other popular food bloggers and write a post like, "11 Culinary Experts Share Their Top Tips for Cooking Paleo".
For each of the quotes, include a link back to the source, and reach out to them to let them know about your article. You may be surprised at how willing these influencers will be to share your post with their followers!
7. Repurpose & Revitalize Your Content
Never leave your older content to wither and die in the blog archives… You can always find ways to repurpose it.
For instance, you could combine several old blog posts that relate to one another, and create an "ultimate guide" out of it. Or, you could create an eBook and use it as an opt-in bribe to get more people on your email list.
To breathe some new life into old content, look at which posts have been the most successful thus far. Are they all up-to-date with the latest information? If not, update these posts. Your SEO rank will likely increase because it already has historical credibility, and the updated content will increase its relevancy.
You can also change your post's title to make it more clickable and shareable. However, do not change your post's permalink: that would essentially reset the SEO you've already gained for that post.
8. Track Your Progress
Are you collecting data to keep track of your content marketing efforts? If not, you need to start now.
Evaluations and revisions are imperative for any marketer. We need to be continually improving our work, and the best way to do that is by knowing our performance.
There are a wide variety of metrics to analyze, and areas to track for improvement. That's particularly true if you tie in email marketing with your content marketing strategy.
OptinMonster monitors your lead-generation campaigns, and collects actionable insights so you know exactly what's working and what's not: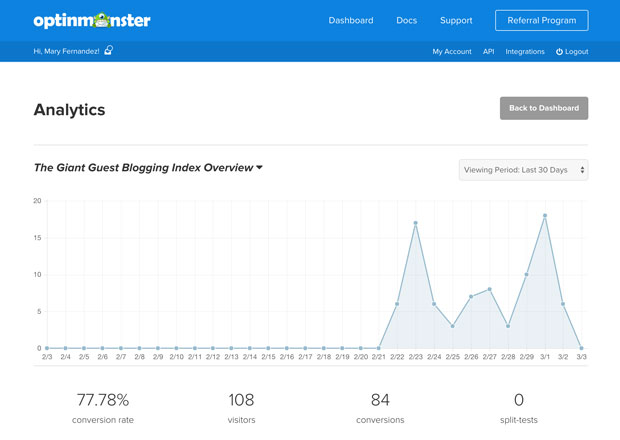 You should also split test your on-page content to see what you need to tweak in order to increase your conversions.
Conclusion
Let's review how to create a successful content marketing strategy. The most important points to remember are to know your industry and your customers, know what you do better than everyone else, be consistent, and always seek to improve. If you do that, you'll be well on your way to becoming a top authority in your niche.
If you enjoyed this post, you may want to check out the 7 best SEO tools for boosting your content marketing.