If you're not using eCommerce personalization, you're definitely losing revenue. In the last year, businesses have lost $756bn because of poor personalization.
But if you get it right, you can make huge gains. Gartner predicts a 15% profit boost by 2020 for those who successfully handle personalization in eCommerce.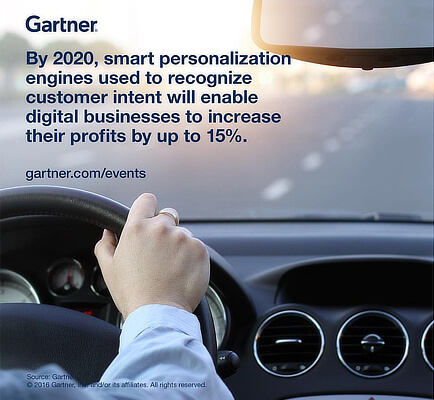 In this guide, we're going to show you some eCommerce personalization examples to inspire you so you can see your own lift in sales.
What is eCommerce Personalization?
Let's start with an eCommerce personalization definition:
eCommerce personalization means showing individualized offers, product recommendations, and other content to your visitors based on their previous actions, demographics, and other personal data.
Personalization ensures that your offers are relevant.
It's impossible to over-emphasize the importance of personalization in eCommerce. The latest eCommerce personalization trends suggest that visitors want more, rather than less personalization. According to Janrain, 74% of people hate being shown irrelevant content.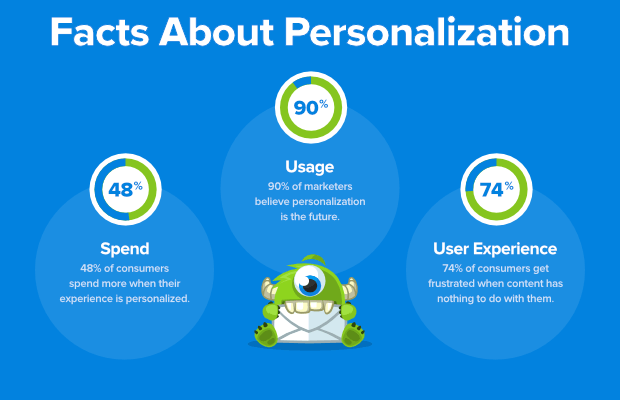 Meanwhile, Smart Insights reveals that one type of personalization ("visitors who viewed this also viewed") can generate 68% of eCommerce revenue.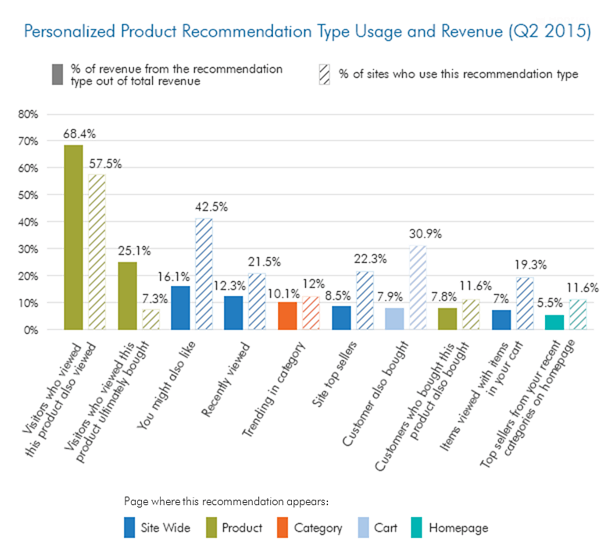 That's another reason why it's so crucial to personalize, because no business wants to miss out on that share of revenue.
Before we get to the eCommerce personalization examples, there are just a couple of tips to keep in mind.
First, segmentation is key to getting personalization right.
Whether visitors are new or returning, where they're coming from, the device they're using, and their behavior on your site all make a difference to the offers you show them.
As you'll see, this is where OptinMonster stands out among eCommerce personalization tools. It delivers fine-grained, smart targeting at a fraction of the cost of other eCommerce personalization software.
Second, and more importantly, always be aware of the customer experience. As Shopify points out, good eCommerce personalization should:
Meet users' needs
Avoid turning visitors off with poor recommendations
Be used only where the potential return justifies your investment
Now, here are some examples of personalized marketing in eCommerce:
1. Deliver Weather-Sensitive Personalization
The first of our eCommerce personalization examples is from Shop Direct on their Very.co.uk website, and we really like it. As well as showing items to logged in users based on their previous actions on the site, promotions are weather-sensitive. Here's one version of the homepage for a sunny day: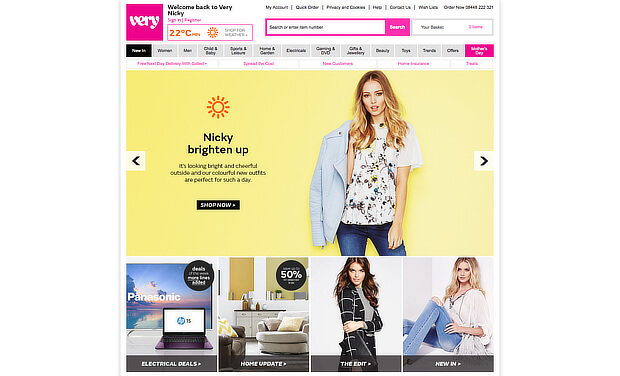 And another for a cold one: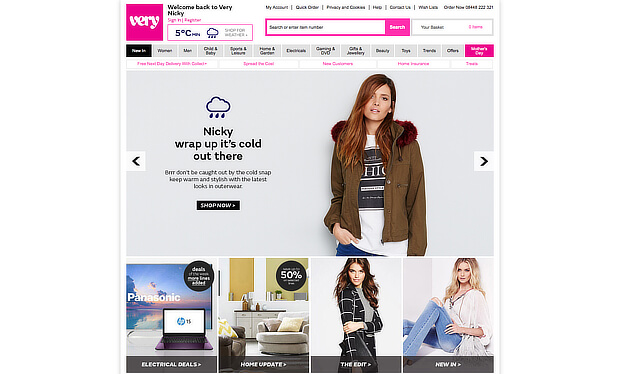 Source: Internet Retailing
This tactic reportedly increased revenue by £5m.
One personalization tool to use to deliver weather-based marketing is WeatherUnlocked.
2. Adjust Navigation to Visitors' Interests
Another good ecommerce personalization example is changing your homepage and navigation based on visitor interests. For example, when we typed in the URL of the ASOS home page, it automatically redirected to the women's section because that's what we'd looked at before.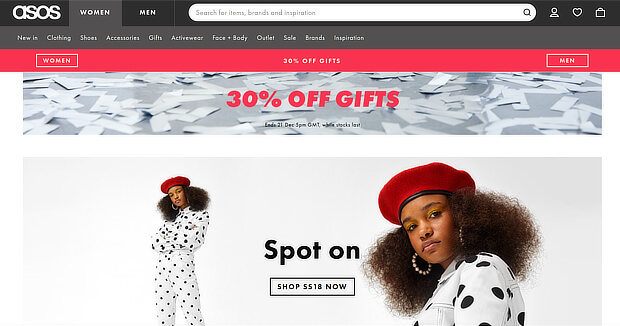 ASOS most likely is using cookie retargeting, which is also part of OptinMonster. Here's an example of how to use cookie retargeting.
3. Recommend Product Categories Based on Browsing Behavior
One of the most common eCommerce personalization examples is from Amazon. When you visit their site and navigate to your personal page, you'll see categories based on your previous onsite search and browsing behavior. Of course, it's not perfect, as gifts you shop for will also show up here, but it's still pretty accurate.

This kind of personalization can increase sales by up to 10%, according to Business Insider. To make this happen on your site, you'll need to use a product recommendation engine like Monetate or Barilliance.
4. Personalize Search Results
Evergage suggests that eCommerce retailers can use what they know about their customers' previous behavior to show the most relevant results when they search, as in this example from a shoe retailer:

Here are some tips from Evergage on personalizing eCommerce search results.
5. Send Personalized Email Based on User Behavior
One way to drive more sales with eCommerce personalization is to continue marketing to visitors even after they leave your site. Amazon does this extremely well, sending follow up emails and personalized newsletters to alert customers to deals on items they've seen.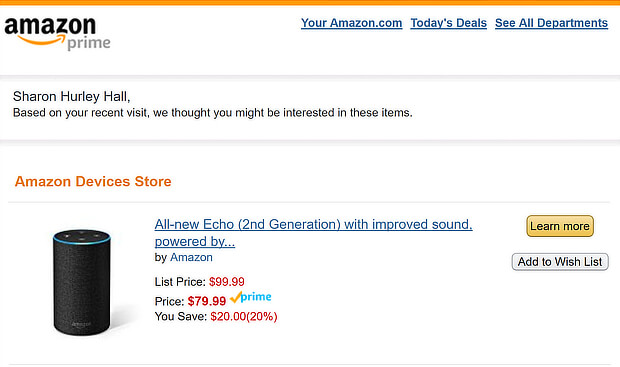 Email marketing remains one of the best ways to reach your customers. When visitors opt in to an OptinMonster campaign, you can use email retargeting to send them personalized offers that they can access when they visit your site.
For example, when they return to your site, you can display specific campaigns for specific product categories by using page-level targeting.
To enable this, follow our instructions for creating your first campaign. Then go to Display Rules » Who should see the campaign? Enable Visitors to a specific page, then enter the URL of the page where you want the campaign to appear.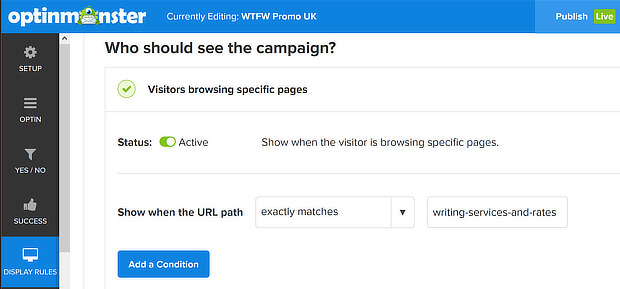 6. Use Geo-Location Targeting
You can also personalize eCommerce by redirecting visitors to the right store. For example, one Amazon.com user, who also buys regularly from Amazon's UK store, sees this banner when she visits the US store:

Here's another example from WatchShop: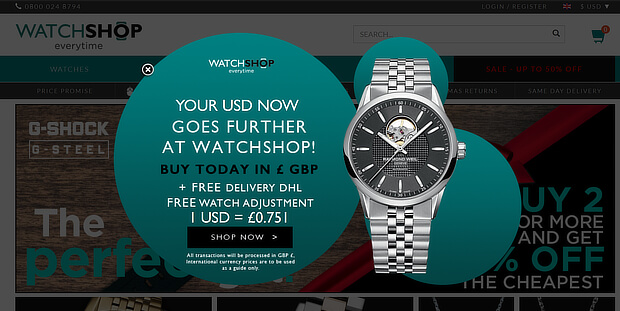 OptinMonster's Geo-Location targeting feature allows you to segment your visitors by location to show appropriate offers to each group. Here's how to create a popup based on location.
OptinMonster customer IMSource used geo-location to boost conversions by 6500%.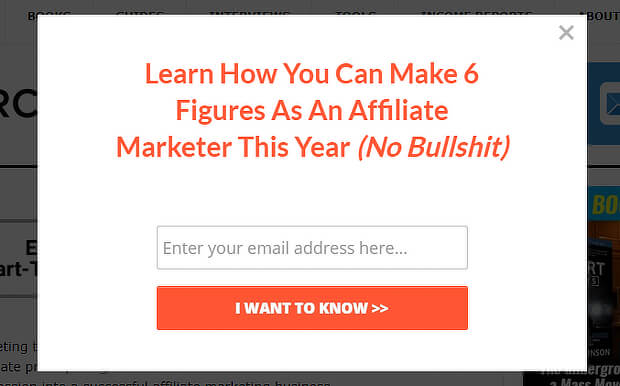 And to make it easier to segment your email list by location, you can use a form builder like WPForms.
With WPForms' Geolocation Addon, you can collect and store your website visitors' geolocation data along with their form submission.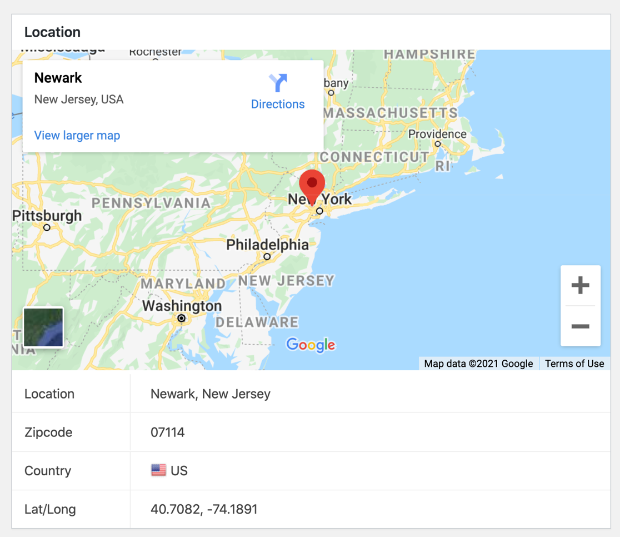 So, every time someone submits a form, you can see their location, zipcode, country, and a map next to their entry.
This makes it easier to send personalized emails to promote local stores and events.
7. Show Category-Specific Discount Coupons
When you create a discount coupon, you can make it even more relevant by ensuring that it relates to the category your visitors are browsing. Here's an example of that using OptinMonster's Smart Tags technology. As one of our eCommerce personalization examples, we've mocked up an offer that Macy's could show to their visitors browsing the dresses category.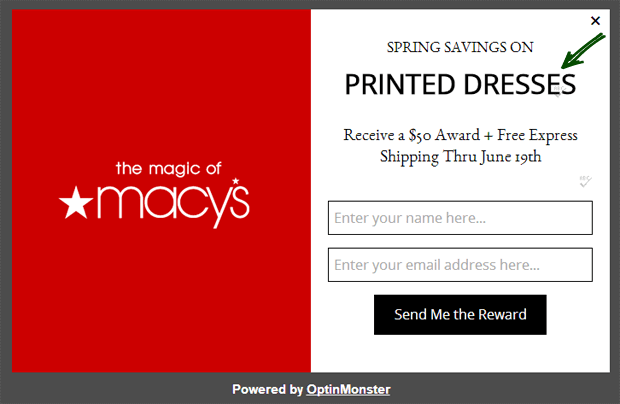 You can also show category specific offers, as in this example from Inc Stores. After testing, IncStores found that product-specific messaging appealed to some of its visitors. IncStores grew their list by 300%. Here's one version of the offer: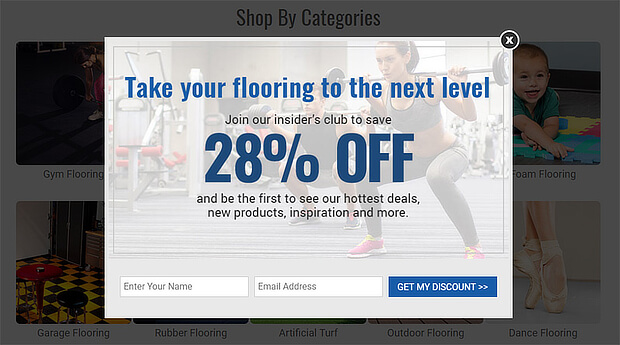 And here's the variation they tested: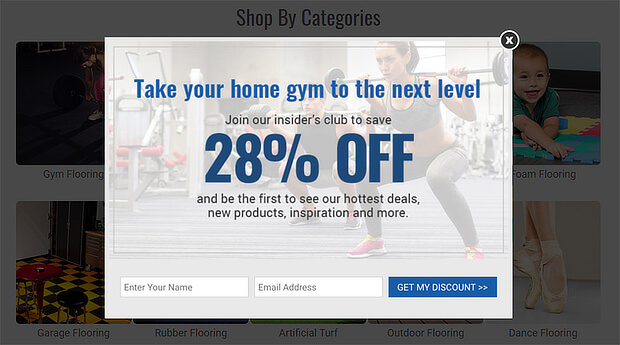 8. Sort Recent Products by Interest Level
This example, from Evergage, shows how Madison Island goes beyond sorting products by newness, rating or price, to gauge how interested shoppers are in certain products based on the time they've spent browsing product pages. That means each customer will see a different sort order.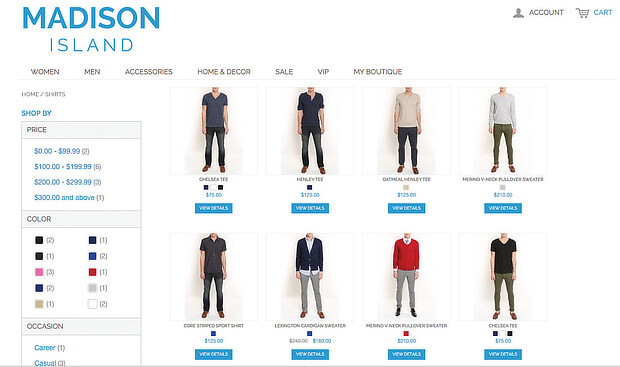 9. Suggest Complementary Products
As mentioned earlier, showing related products can be a huge sales booster, but there are alternatives to Amazon's approach.
For example, Forever 21 lets you shop for an entire outfit at once, with suggestions for the accessories that will complete it.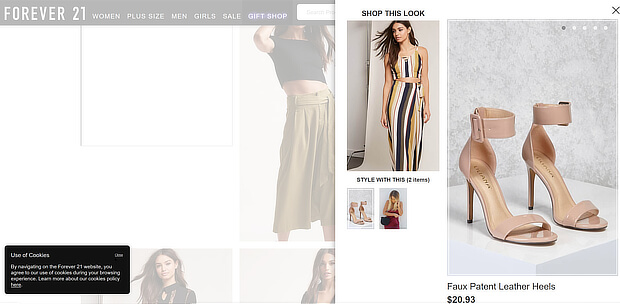 10. Pitch an Upsell at and after the Purchase
Did you know that 75% of customers are more likely to buy based on personalized recommendations? So you can get more sales by recommending products while people are at checkout. In this ecommerce personalization example, Amazon shows products related to what's in the cart: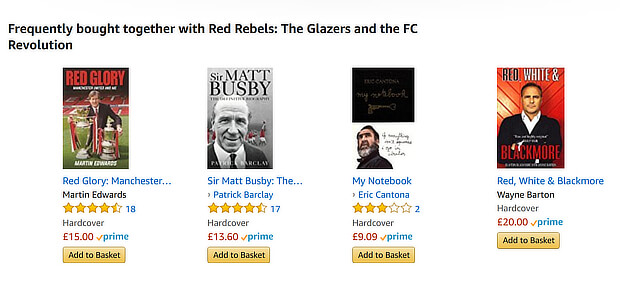 You can even do this after the purchase is complete, like this example from Mixbook: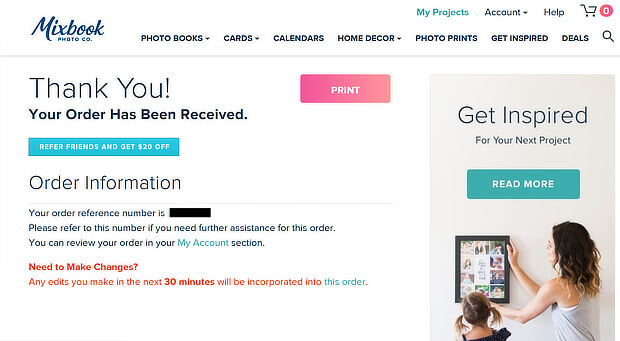 For more inspiration, check out our upselling examples.
11. Remind Shoppers of Previous Engagements
Here's another of our favorite eCommerce personalization examples from Evergage. To boost sales, remind shoppers of the products they've previously viewed and purchased. Obviously, this is different for each customer. Here's one example, from Shoeline: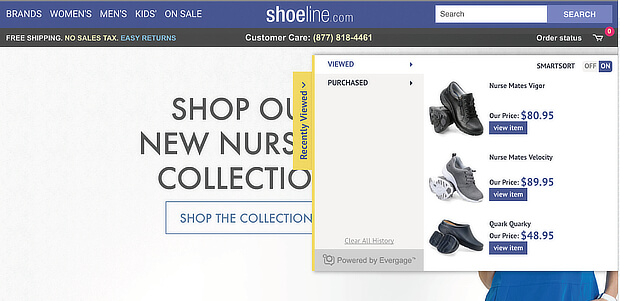 12. Use a Style Finder
Sometimes the best way to personalize is to ask customers what they want. We've got a couple of eCommerce personalization examples that show this in action. Swarovski Crystals gives you 4 options to choose from on their homepage: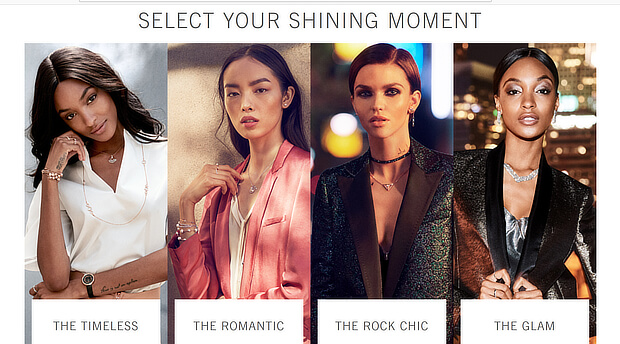 Pick one, then you can further customize your "shine factor" to see recommendations that meet your needs: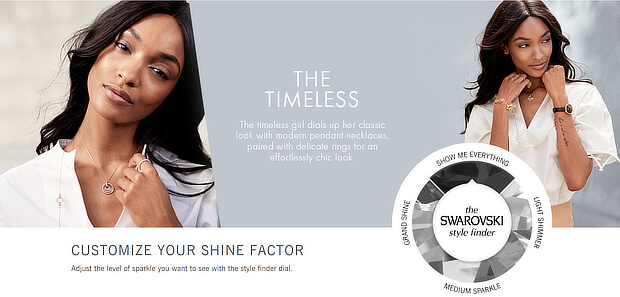 And Glasses Direct asks five questions:

Then shows you frames based on your answers:

13. Show Product Recommendations Below the Product
It's no accident that some of the best eCommerce personalization examples relate to product recommendations. That's because they're proven to boost sales. Bunting found that when At Home In the Country showcased recommended products that other customers had bought after viewing particular items, it increased revenue by 13%.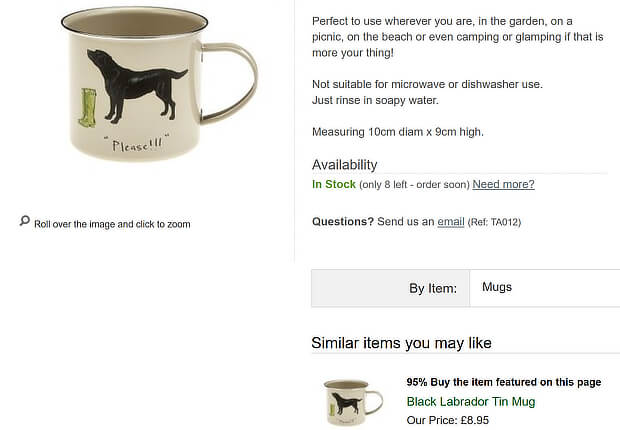 14. Personalize the Homepage Banner by Category
Evergage found that when Shoeline personalized their homepage banner to show different products based on visitors' previously demonstrated interests, they achieved a clickthrough rate of up to 26% and a conversion rate of 18%.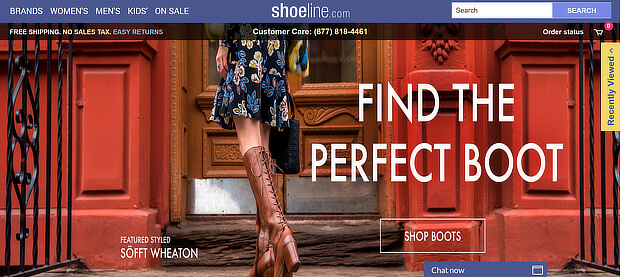 15. Show Personalized Offers to Returning Visitors
Finally, some of the best eCommerce personalization examples target shopping cart abandonment by enticing abandoning visitors back to your site.
Since eCommerce sites have an average 69% cart abandonment rate according to Baymard Institute, targeting abandoners is an excellent way to recover revenue.
One way to do that with OptinMonster is to recover the sale by sending an abandonment email, then using Smart Tags to show a personal offer to your returning visitor, as in this example from a travel site: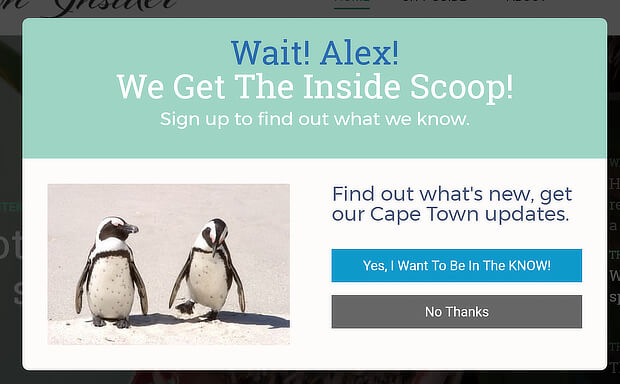 If you're using WPForms with OptinMonster, you can also use the form abandonment addon with Smart Tags to target people who abandon your site while creating an account.
And, of course, you can create an exit intent campaign as described earlier, to show an offer just before people leave your site. Podcast Insights recovered 4% of abandoning visitors with this strategy.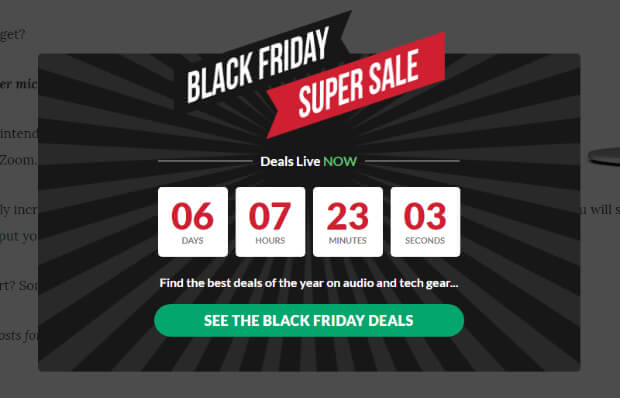 Check out our tutorial on how to personalize your popups with customer names to create an eye-catching popup yourself.
That's it! Use these eCommerce personalization examples as inspiration for your own eCommerce marketing strategy. Next, check out our eCommerce best practices, these tips on eCommerce business plans, eCommerce email marketing, and improving eCommerce conversion rates.
And follow us on Twitter and Facebook for more tips and guides.