Are you looking for the best combination of list building tools to grow your email list FAST?
Growing your email list is never easy. But, like everything in life, you can save yourself hours of time, energy, and headaches if you're using the right tool.
That's why, in this post, we're going to share 9 of the best list building tools that you can use to increase email signups.
But before we get started, let's get clear on why it's so crucial to grow your list in the first place.
Why Use List Building Tools
Some blog posts and marketers love to push the idea that "email marketing is dead."
But nothing could be further from the truth. In fact, email marketing is still your best bet for consistently guiding your audience down a sales funnel and driving more revenue.
That's because it's the only platform that gives you total ownership of the conversation.
Other marketing strategies, like social media or pay-per-click (PPC), are definitely valuable. The only problem is that they leave you vulnerable to algorithm changes that can affect the campaign's success.
With email marketing, you don't have to worry about any of this.
Once you have a robust list to work from, you can send email campaigns whenever you want for:
Company updates
Product launches
Product updates
Webinars
Promotions like coupons or free shipping
Or any other type of email that will help scale your business.
The only problem? Growing an email list can be tough.
Now more than ever, people are hesitant to hand over their personal contact information. That's why you need the right tools to help build trust with your customers and make them offers they can't refuse.
Let's turn our attention to 9 of these list building tools.
9 List Building Tools to Try
All the tools on this list are incredibly powerful and were built to help companies get more email subscribers. Some of them are specific to WordPress, while others can be used for any website.
We'll indicate which ones are strictly WordPress plugins and which ones can be applied to different platforms.
That way, you can find the right tool for your unique needs.
Let's get started.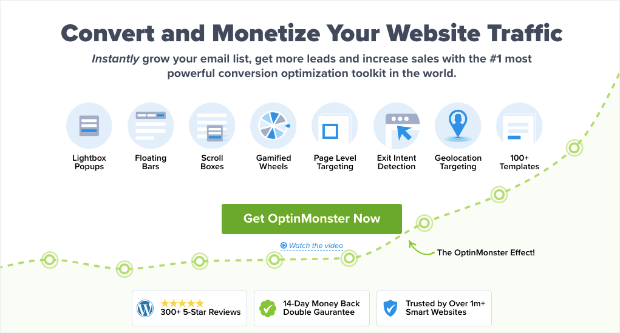 OptinMonster is hands down the world's best list building tool. It allows anyone to quickly and easily build optin campaigns to grow their email list.
By "optin campaigns," we're referring to things you're already familiar with, like popups, floating bars, fullscreen welcome mats, and more.
Plus, with its drag and drop editor, OptinMonster lets anyone create professional and high-converting campaigns in a matter of minutes.
It all starts with selecting one of 50+ pre-built templates for the campaign you want to build: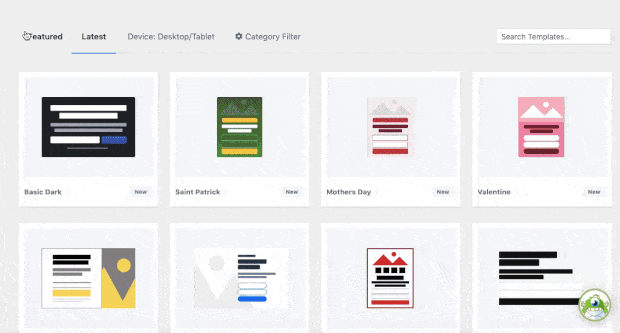 Once you've chosen the right campaign, you'll want to make a few minor modifications. That's because your lead magnet will change depending on your target audience.
Fortunately, making changes to your OptinMonster campaigns couldn't be easier.
To modify your campaign's text, for example, you would simply make changes with the inline editor: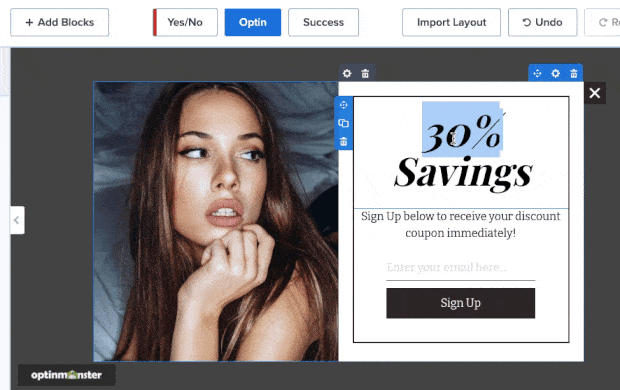 This gives you 100% control over things like:
Font family
Font size
Color
Alignment
Line height
And much more…
But what if you want to add a new feature to your campaign? That's not a problem – even if you don't have any design or coding experience.
New features can be added with a drag and a drop: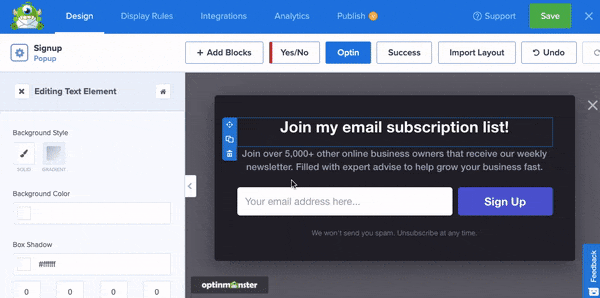 This lets you add different functionality to your campaign, such as adding:
Videos
Images
Custom text
Chatbots
Countdown Timers
Custom HTML
And more…
But once you have the campaign designed, you're only halfway done. That's because you're still missing one of the most important steps to capturing emails: displaying the campaign to the right people.
For that, you'll need OptinMonster's powerful targeting rules that let you determine when, where, and to whom your campaign displays.
A few of OptinMonster's most popular targeting rules include:
Exit Intent® Technology: Display campaigns as users are actively leaving your website.
OnSite Follow-Up Campaigns®: Show fresh campaigns to returning visitors to avoid "popup fatigue."
Geolocation: Present offers to your site's traffic depending on where they're physically located.
These are just some examples, though there are many others.
But now you may be wondering, "This all sounds good… but do these targeting rules actually work?
OptinMonster is the list building tool that allowed Crossrope to explode its list by over 900%.
It's also how ShotKit was able to start adding 40+ NEW leads every single day.
You can achieve the same success by clicking below and starting your 100% risk-free trial today:
Start Growing Your List Today!
BONUS: Done-For-You Campaign Setup ($297 value)
Our conversion experts will design 1 free campaign for you to get maximum results – absolutely FREE!
Click here to get started →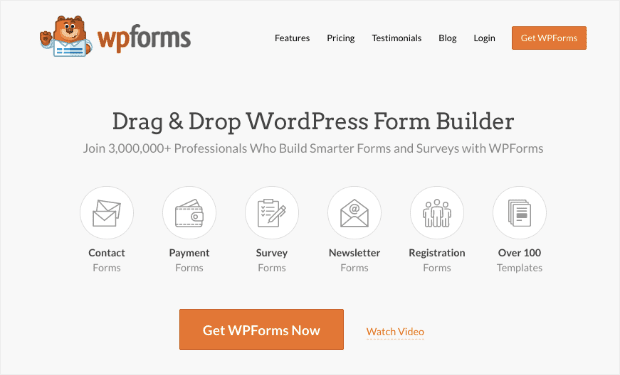 WPForms is the best form builder plugin for WordPress. And if you have a WordPress site, then this plugin is an absolute must.
That's because WPForms will allow you to create and embed professional forms across your site. These are things like:
Contact forms
Payment forms
Survey forms
Registration forms
Newsletter forms
And more…
On each form, you can capture your new lead's email address and have it sent directly to your email service provider (ESP).
That's because WPForms integrates with tons of 3rd-party tools, such as popular ESPs, payment gateways, and other marketing tools.
Plus, they have a free version of the plugin that you can use at zero-risk. This gives you an incredibly powerful and versatile way to grow your list.
Features
Drag and drop form builder
Form templates
Mobile-friendly
Smart conditional logic
Instant notifications
And much more…
Pricing: There's a free version of this plugin available. Otherwise, paid plans begin at just $49.50/year.
Get started with WPForms today!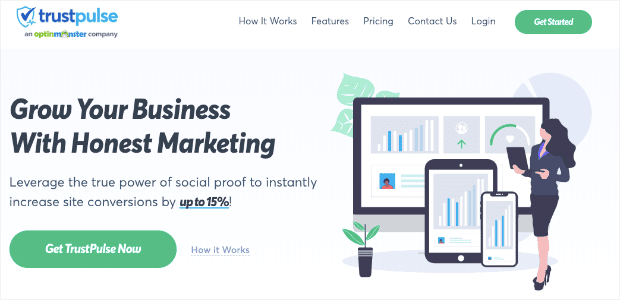 TrustPulse is the best social proof software on the market and happens to be one of the most affordable.
This tool allows you to create social proof notifications to accomplish all of your marketing goals, such as:
Getting more email subscribers
Improving registration to your webinar
Increasing sales across your site
Redirecting visitors to popular posts or landing pages
And more…
Each of these actions helps you capture your visitor's email address in the process.
Ok, so how does it work?
TrustPulse lets anyone make highly engaging social proof notifications. You've likely seen these before. They look something like this:

These small messages leverage the power of FOMO ("fear of missing out") to motivate your site's visitors to take the actions you want them to take.
And whether that action includes joining your email list, filling out a survey form, or making a purchase, you'll be able to capture new emails FAST by adding social proof.
The best part is that you don't need to have any coding or design experience to create stunning notifications, either.
Everything can be fully customized in minutes with simple drop-down menu selections, text-input fields, or choosing colors from a color wheel.
Finally, TrustPulse is much more affordable than other social proof software on the market without sacrificing any functionality.
In fact, you can get started with TrustPulse for about the same price as your morning cup of coffee!
Features
Real-time tracking
Easy to use
Various notification types
Smart targeting
Custom design made easy
And much more…
Price: TrustPulse starts at just $5/month.
Get started with TrustPulse today!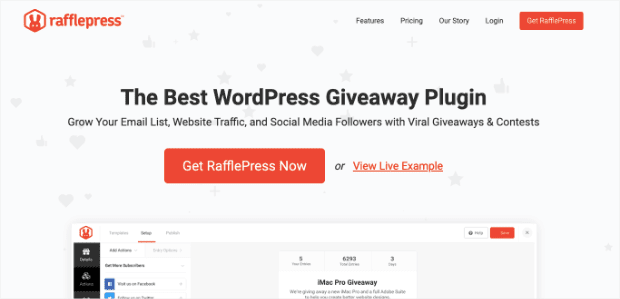 If you're using WordPress, RafflePress is your best bet for growing your list quickly. It's the most powerful online giveaway plugin for WordPress and turns list building into a game.
With RafflePress, you can create online contests designed to go viral.
To join these contests, users can take various actions to earn more "entry points." You can make these actions optional or required.
As people join your contest, they'll enter their email addresses to learn about the prize and whether they won.
And with RafflePress's "refer-a-friend" feature, you'll get higher engagement and more participants with your online giveaway.
Assuming you select a prize that your target audience finds appealing, RafflePress is one of the best list building tools available to you.
Features
Drag and drop giveaway builder
Viral giveaway templates
Mobile-friendly
Fraud protection
Easy to set up
Social media integrations
Price: RafflePress starts at only $39.20/year.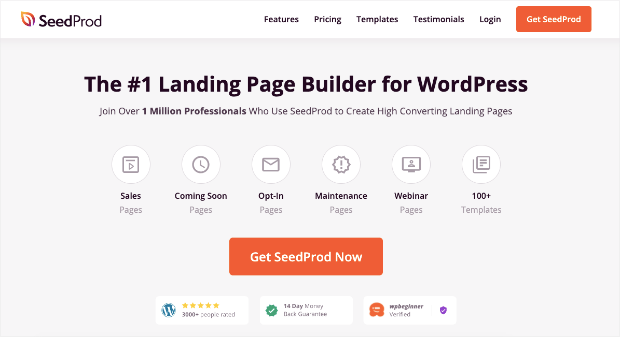 SeedProd is another list building tool for WordPress. It's the #1 landing page builder on the market that gives you loads of ways to grow your list FAST.
With SeedProd, page design is made totally easy. It has a drag and drop editor that allows anyone to create high-converting and professional landing pages in a matter of minutes.
Plus, SeedProd comes loaded with "blocks" that you can use to add new features to your site, like:
Headings
Titles
Images
Video
Optin forms
And more…
It even syncs with other tools to let you add features from OptinMonster, RafflePress, WPForms, and more.
With SeedProd, anyone can create stunning landing pages in minutes that look great across all devices.
These pages will guide your audience toward your call to action (CTA), so you can capture their email addresses.
Then, over time, you can use email marketing best practices to nurture those leads into lifelong customers.
Features
Easy setup and installation
Drag and drop builder
Landing page specific blocks
Live previews
Multiple templates to save you time
And much more…
Price: This plugin starts at only $39.50/year.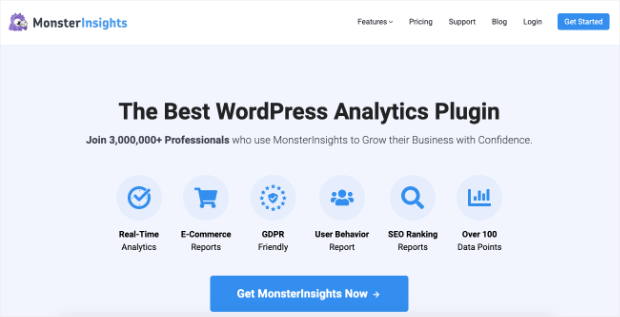 MonsterInsights is the last WordPress-specific list building tool in this post, but definitely not the least valuable.
That's because MonsterInsights is the best analytics plugin for WordPress. It lets you capture valuable data about your site's performance and your audience's demographics.
This is important as you grow your email list because it will help you understand what your audience does (and, more importantly, doesn't) respond well to.
With MosnterInsights, you'll get all the power of Google Analytics straight from your WordPress dashboard.
You can use this to find:
Popular posts and pages
Where the most revenue is coming from
New users
Bounce times
Time on page
User demographic infomation
And more…
Then you can let this data guide your marketing strategy to improve your offers and connect with your target audience.
In the end, this allows you to grow your list more efficiently because you're more likely to create content and promotional campaigns that resonate with your target audience.
Features
Universal tracking
EU compliant
Affiliate link tracking
Scroll tracking
SEO-score tracking
And more…
Pricing: This plugin starts at only $99/year.
Get started with MonsterInsights today!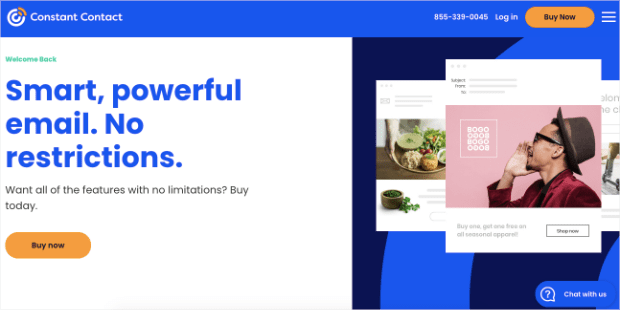 You likely know Constant Contact as one of the best email service providers (ESPs) on the market.
So what's it doing on this list for collecting emails (rather than sending them)?
Constant Contact gives users loads of tools to help their marketing strategy. That's because Constant Contact also serves as a website builder for informational or eCommerce sites.
Then you can create custom forms with Constant Contact and embed them across your website to help grow your list.
And if you're a Constant Contact customer, things are even easier.
When a new lead signs up to your list, you can seamlessly transfer them into your automated email series to nurture the new relationship.
That means from growing your list to sending out the emails, everything can be done in one centralized place.
This makes Constant Contact one of our favorite ESPS around and an excellent option for helping you get more email subscribers.
Features
Easily embeddable signup forms
Flexible software that syncs with other marketing tools
Automated email series for new leads
Logo maker for new businesses
Social media posting and monitoring
And more…
Pricing: There's a free version that gives you limited contacts (perfect for businesses just starting out). Paid plans start at just $20/month.
Get started with Constant Contact today!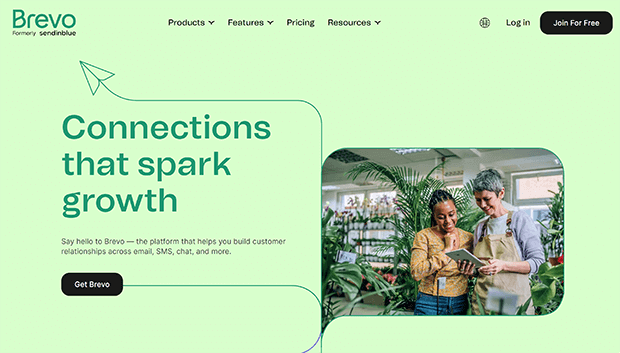 Brevo (formerly Sendinblue) is another popular ESP on the market that also provides lots of list building tools. It's particularly helpful if you also use SMS as part of your outreach strategy.
Brevo can be your all-in-one stop for marketing. It lets you grow your email list, send emails, add live chat to your site, and can be a powerful customer relationship management (CRM) tool.
With Brevo, anyone can build strategies for growing their list by creating custom:
Landing pages
Optin forms
Facebook ads
Retargeting campaigns
And much more…
And if you're using Brevo as your ESP, you can segment your audience for more personalized messaging.
When people sign up for one of your offers, their email addresses can go to the appropriate list. From there, you'll let promotional email campaigns run on auto-pilot.
That means Brevo can help you grow your list AND convert them into paying customers.
Though Brevo's targeting rules are more limited than other lead generation software like OptinMonster, it can be a good place for total beginners to start.
Features
Embeddable optin forms
Landing page builder
Integrates with 3rd-party tools
SMS marketing
Live chat
And more…
Pricing: You can start Brevo for free. Paid plans start at $25/month.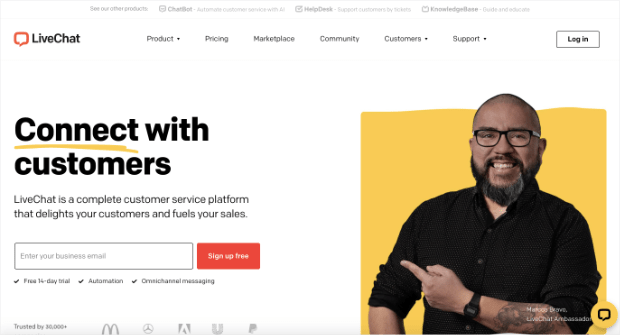 LiveChat is the best live chat service available. It allows you to streamline communication with your site's traffic and convert more casual visitors into loyal customers.
But how does this tool grow your list? With live chat, you have an infinite number of ways to "break the ice" with visitors on your website.
As you engage in these conversations, you can capture their email for follow-up email campaigns. In fact, every live chat requires users to enter an email address to get started: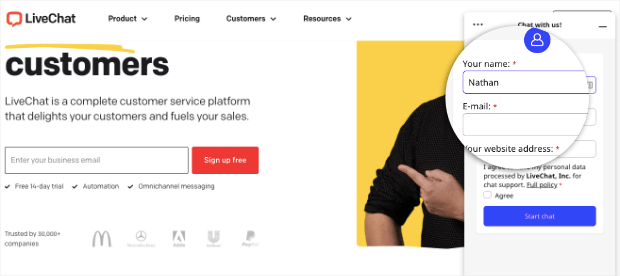 This improves user experience (UX) because it allows you to send chat transcripts to the potential customer once the chat has ended.
Or, if you get disconnected, you can send a follow-up email to ensure your new lead has everything they need to get started with your product or services.
From there, you can make special offers to switch users to your promotional email campaigns.
That makes LiveChat one of the best list building tools for businesses that value customer support and fast communication.
Features
Canned responses
Chat tags
Rich messages
File sharing
Chat transfer
Chat ratings
And more…
Pricing: Paid plans start at $16/month (though there is a free 14-day trial).
Get started with LiveChat today!
Which Is the BEST List Building Tool?
After looking at the top 9 list building tools, we're confident that OptinMonster is the best option available.
That's because OptinMonster is flexible and works with literally any website or email service provider.
But it also comes with the most advanced targeting features to make sure you're presenting the right offers to the right people at just the right time in their customer journey.
Start Growing Your List Today!
BONUS: Done-For-You Campaign Setup ($297 value)
Our conversion experts will design 1 free campaign for you to get maximum results – absolutely FREE!
Click here to get started →
And that's all for today! These have been 9 of the best list building tools you can start trying today.
We hope you found this post helpful. If you did, you might want to check out these other resources:
These articles will have everything you need to build a better email marketing strategy once you've used the tools listed above to get more subscribers.