Want to grow your email list on YouTube? As the world's second-largest search engine, YouTube offers a huge opportunity for business owners to generate more leads. In this guide, we'll share how to build an email list for your YouTube channel.
Did you know that YouTube is the third most visited site after Google and Facebook? There are 3.25 billion hours of video watched each month. If you aren't getting a piece of that pie, you are missing out on a lot of email subscribers.
Unfortunately, most YouTube channels aren't optimized properly for email subscribers.
Why is this important?
Because email is the #1 channel that consumers use daily and prefer for both personal and marketing communications. That means if you want to use your YouTube channel to sell your products or services and grow your business, then you'll need to focus on getting viewers off of YouTube and onto your email list.
If you still aren't convinced, check out these Email Marketing vs Social Media Performance Statistics. I think it will be a real eye-opener for you.
OK, now that you understand why growing your email list is important, let's take a look at 6 ways that you can build an email list on YouTube…
1. Create a Lead Magnet
The very first thing you need to do is to create a lead magnet.
A lead magnet is a valuable incentive that you offer to your YouTube viewers for free in exchange for their email address. Lead magnets usually offer a small but action-packed piece of downloadable content, such as a free PDF checklist, a report, eBook, whitepaper, a premium video, etc.
Here's an example from James Wedmore: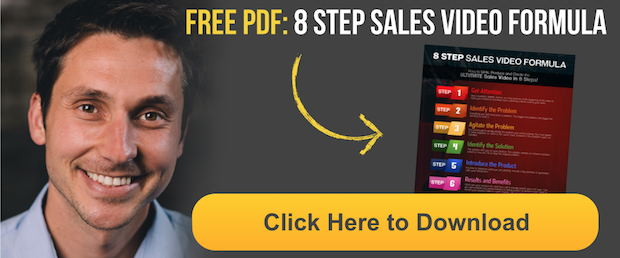 The reason this is important is that people don't simply give away their email address for no good reason. You need to motivate them by offering them something that they will absolutely love.
One of the most effective types of lead magnets is the content upgrade. A content upgrade is a lead magnet that you create specifically for a particular YouTube video.
Let's take James's lead magnet for example. He used this particular lead magnet as a content upgrade to his video entitled, "How to Create a Sales Video (The 8-Step Formula)". It makes perfect sense for someone watching that video to also want to download the PDF version: "8 Step Sales Video Formula".
As you can see, creating a lead magnet can be as simple as condensing the message of your video into the main points, and turning those points into a PDF.
2. Add a Call to Action (CTA)
Now that you have your lead magnet, you'll need to promote it by adding a call to action to your videos.
A call to action (CTA) is when you ask your viewers to do something, such as "Please like this video!" or "Subscribe to our channel!". In this case, however, you'll be asking your viewers to download your lead magnet.
Here's an example call to action from James's "How to Create a Sales Video" video:
"Looking to create the perfect sales video that actually sells your stuff for you? Well, I put these eight sales video steps together into one simple cheat sheet that you can use when writing and crafting your next perfect sales video. So to get your hands on this beautiful PDF right now, simply click the link in the description box below."
This CTA is a great example because it first asks a qualifying question ("Looking to create the perfect sales video?"), then introduces the valuable resource you've created for them ("I put these eight sales video steps together…"). Finally, it is ultra-specific by telling the viewer exactly how to get your lead magnet ("Simply click the link in the description box below").
3. Link to Your Lead Magnet Everywhere
Now that you've added your call to action, you'll need to add a link to your website with an optin form where viewers can go to download your lead magnet.
This can be a simple page with an optin form. (For the best results, use a 2-step optin and an exit-intent lightbox.)
To learn more about creating an optin form for your lead magnet, check out this 63-Point Checklist for Creating the Ultimate Optin Form.
Here are all the places where you should include links to your optin form…
Video Description
This is the most obvious place where your viewers will look for the link to your lead magnet, so make sure you include it here!
Here's an example:

Channel Header
Also include a link to your lead magnet in the header of your channel page, like so:

This could be a link to a "universal" lead magnet that you know will be attractive to the vast majority of your YouTube viewers.
About Tab
This is often the most overlooked section of your YouTube channel, but your biggest fans will go here to look for more information from you. Make sure your About tab includes a link to your website with your lead magnet(s)!

Replies to Comments
You may not get the opportunity every day, but sometimes someone will leave you a comment asking you for more information than what you covered in your video. Use this as an opportunity to reply with a link to a relevant lead magnet.
You may even find that your comments section is a great place to look for lead magnet ideas!
4. Add Annotations
YouTube Annotations allow you to layer text, links, and hotspots over your video. These can be used to add a link to your lead magnet with a compelling call to action (and you can customize the way they look too).
Here's an example of an annotation that tells the viewer to subscribe and learn how to create a sales video.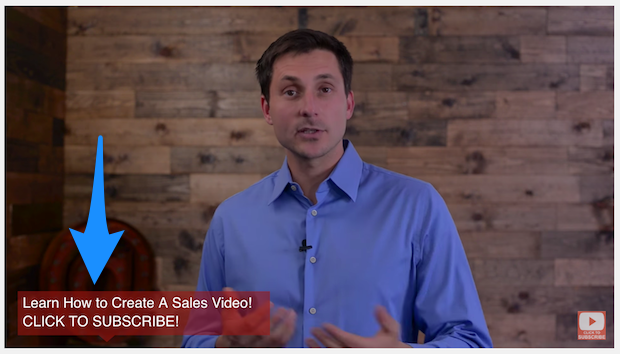 To create an annotation, follow these steps:
Go to your channel Video Manager.
Next to the video you wish to edit, click the down arrow to the right of the Edit button and select "Annotations".
Click the "Add annotation" button on the right.
Click "Apply changes" when you've finished creating your annotations.
For more information on adding annotations, see YouTube's article here.
5. Add Cards
Annotations are a great way to add call-to-action links to your videos for desktop viewers, but unfortunately, they don't work on mobile devices.
More than half of YouTube views come from mobile devices. On average, there are 1,000,000,000 mobile video views per day!
To make sure your mobile viewers can see your call to action overlays, use YouTube Cards.
Cards add a white box to the upper right-hand corner of your video with a brief description.
Once the viewer clicks on the card, they'll see even more information about your links.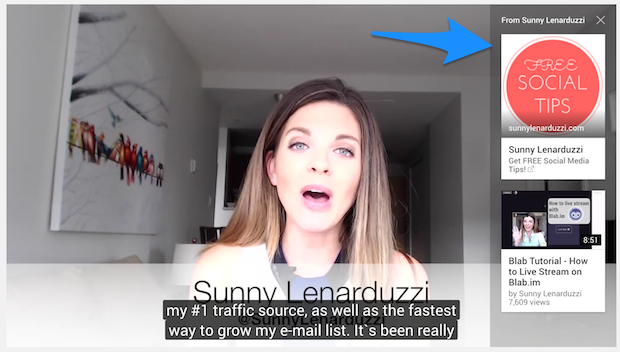 To add cards to your videos, follow these steps:
Go to your Video Manager.
Find the video you want to add cards to and select "Edit".
In the tab bar at the top, select "Cards".
Select "Add card" and choose "Link cards".
Then select "Create".
If you haven't done so previously, for some link types select "Enable" first to accept the Terms & Conditions.
Enter the URL where you have your optin form.
Upload an image or select one of the suggestions.
Edit the title, call to action, and any other text. Then adjust the start time for the card teaser to appear in the timeline below your video.
Select "Create Card".
You can learn more about Cards here.
6. Run YouTube Ads
Now that you've optimized your videos and your YouTube channel for email optins, you can take your list building even further with YouTube ads.
YouTube ads can appear in a variety of places. Here are some of the main ones…
Directly below the search field
As a pre-roll video when people are watching other videos
In the sidebar
You can target your ads based on age, gender, location, interests and more. (Learn more about YouTube ad targeting here.)
The best part of YouTube ads is that you can use them to remarket your lead magnet to people who have visited your website but didn't opt-in. (Learn more about remarketing to YouTube viewers here.)
That's it! We just showed you how to build an email list for your YouTube channel. If you want to get the most out of your YouTube channel, be sure to check out our guide to YouTube SEO. Be sure to also check out our article showing you how to start and optimize your YouTube channel for business.
Now it's your turn. Go ahead and start by creating a lead magnet. Then get to work optimizing your channel for lead generation, and you'll be growing your email list in no time!
Enjoyed this article? You may also want to check out The Beginner's Guide to Email Marketing.