Are you looking for the best email service providers for small businesses?
Email marketing remains one of the best ways to drive passive income for your business. Unlike organic methods (like SEO) or paid advertising, email marketing lets you build an audience that you own.
In other words, once you have a robust email list, you won't have to worry about algorithm changes affecting your success.
But for the best results, you'll need the right tools. That means selecting the right email service provider (ESP) for you.
So, today, we're going to share the 7+ best email service providers for small business.
First, though, let's get clear on what you should be looking for in an ESP.
What to Look for in an Email Service Provider
As we already mentioned, the benefits of email marketing are undeniable.
The biggest advantage of email marketing is that you remain in total control so long as you keep your contact list clean and up-to-date.
Why? Because other marketing methods rely on 3rd-party platforms to bring in new leads. Content marketing, for example, relies on Google or similar search engines to rank your content.
But this leaves you vulnerable to algorithm changes which can drop your content's ranking.
And paid advertising is the same. When pay-per-click platforms like Facebook, Instagram, or, again, Google change how they display ads to their users, you're completely at their mercy.
When you have an email list, though, you are always in the driver's seat.
You can let your audience know about product launches, new promotional offers, or even content releases to drive more traffic and sales to your site.
That just leaves one question: what's the best email service provider for small business?
To answer that, you'll need to look at a few factors:
Affordability: Is the ESP something that is within your current budget?
Ease of Use: Are you able to set up and run automated email campaigns easily, or is there a high learning curve?
Scalability: Will this ESP allow you to scale your business, or will prices hike up after you grow your list?
By looking at these 3 questions, you'll be able to determine the best email service provider for your online store.
With that in mind, let's turn to our choices for the 7+ best email service providers for small business.
7+ Email Service Providers for Small Business
Before diving into the list, there's one important thing to keep in mind: no ESP in the world will help your business grow until you have a robust mailing list.
For that, there's simply no better tool than OptinMonster: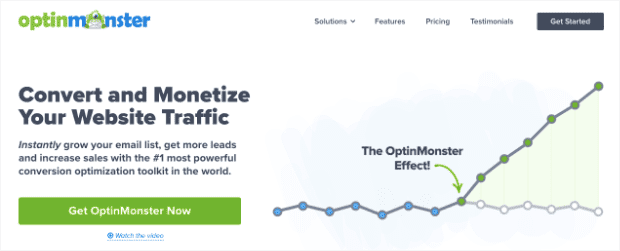 OptinMonster is hands down the best way to grow your email list FAST. That's because OptinMonster makes it easy to create professional and high-converting "optin campaigns" in a matter of minutes.
Optin campaigns refer to things you're already familiar with, like popups, floating bars, fullscreen welcome mats, and more.
These are targeted messages with a special offer or piece of content (called a "lead magnet") that you can use to grow your list.
So how does it work?
First, you choose from one of OptinMonster's pre-made templates for any campaign type: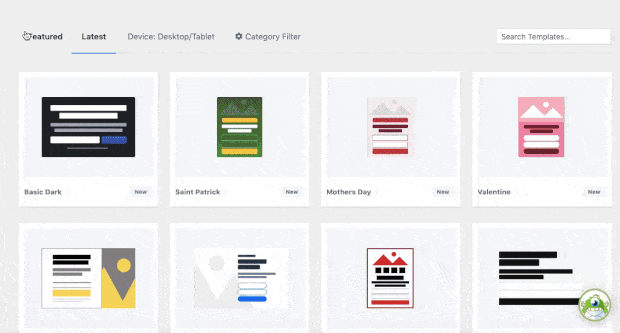 This will save you time, money, and headaches in the campaign creation process.
Plus, modifying your template is just as easy as selecting it. To change the text, you can use OptinMonster's inline editor: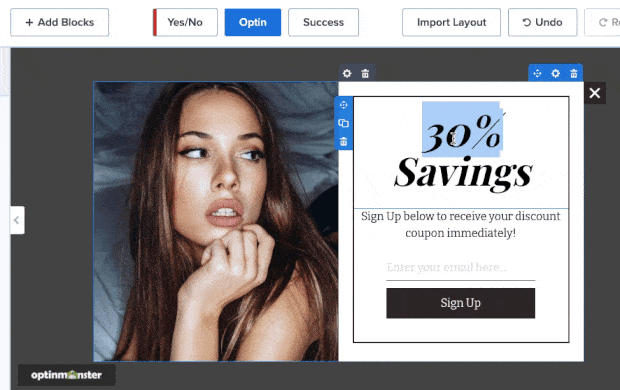 And if you ever want to add features like images, videos, chatbots, and more, you can do so with a drag and a drop: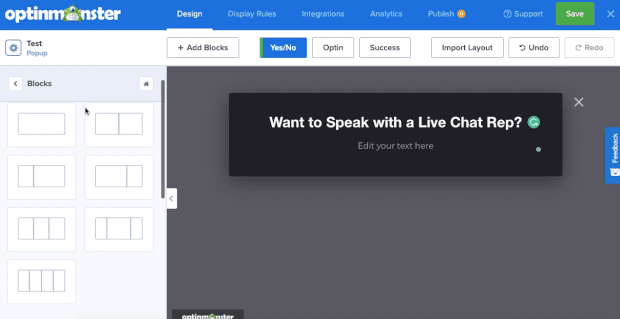 This allows anyone to create stunning campaigns in a matter of minutes, even if they don't have any coding skills or design experience.
But what really makes OptinMonster so powerful? That's definitely the targeting rules.
OptinMosnter gives you more ways to target your ideal audience than any other tool around. Some of the most effective targeting rules include:
Exit-Intent® Technology: Display campaigns as users are actively leaving your website.
OnSite Retargeting®: Show new campaigns for returning users to boost UX and conversions.
Geo-location Targeting: Display your campaigns based on where the user is physically located.
Device-based Targeting: Make your campaigns appear based on which device your visitor uses (mobile, desktop, or tablet).
Page-level Targeting: Show your campaigns on specific pages, posts, or sections of your website.
These are just a few examples of OptinMonster's powerful targeting rules, though there are many others.
Now you're probably wondering, "Those options are great… but do they work?"
Absolutely.
Just check out some of these clients who shared their success after using OptinMonster:
You can see similar results for your small business by clicking below and starting your 100% risk-free OptinMonster account today:
Grow Your Email List Today!
BONUS: Done-For-You Campaign Setup ($297 value)
Our conversion experts will design 1 free campaign for you to get maximum results – absolutely FREE!
Click here to get started →
Now that you know how to grow your email list, let's dive into the 7+ best email service providers for small business.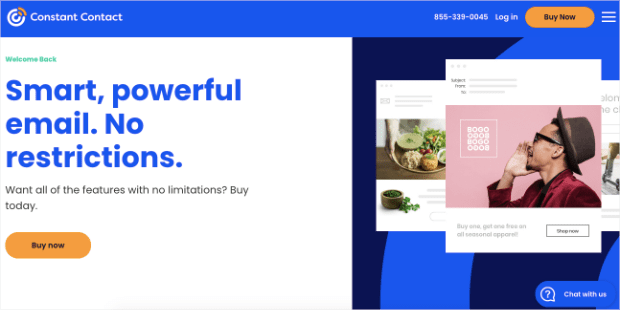 Constant Contact is without a doubt one of the best email service providers for small businesses. They offer a reliable service that has all the bells and whistles you'd expect from an ESP.
Plus, they're one of the most affordable options when you're getting started AND as you scale.
With Constant Contact, you can use pre-made templates to build profitable email campaigns. Then you can use their analytics reports to help improve open and click-through-rates (CTRs).
And with powerful A/B testing options, you'll be able to make sure you aren't leaving any sales on the table as you find which campaigns are converting best.
For these reasons (and many others), Constant Contact is our top pick as the best ESP for small businesses.
Features:
Easy to get started
Create automated campaigns from pre-built templates
Improve your conversions with detailed analytics reports
Segment your audience for more targeted messaging
Comes with loads of other marketing tools for faster growth
Price: Paid plans begin at only $20/month. This gives you unlimited emails for up to 10,000 people.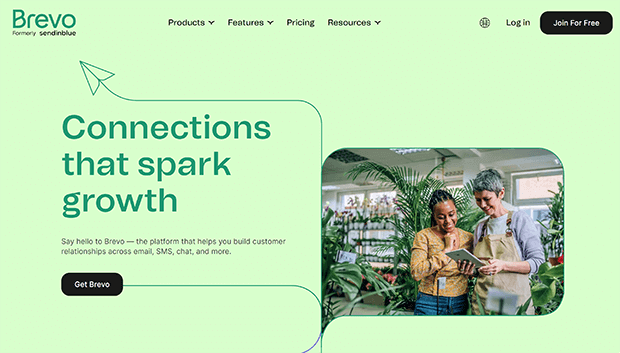 Brevo (formerly Sendinblue) is another popular ESP and one that we highly recommend for small businesses.
This email provider also helps other parts of your marketing strategy (including SMS marketing).
But for email marketing, you can quickly and easily create professional campaigns to drive more revenue. Then you can create audience "segments" to organize where your new leads go.
This helps you personalize your campaign's messaging to drive more sales.
Brevo has a drag and drop editor so you can create your email campaigns in a matter of minutes–even if you have no design skills at all. This makes it a great choice for business owners who don't have lots of time to set up their email campaigns.
Features
Pre-made templates for faster campaign creation
A/B testing to find the best performing campaign
SMS marketing to help expand your reach
Optional tools available like customer relationship management (CRM) software, live chat, landing page builder, and more
Paid plans are based on the number of emails sent rather than the number of contacts
Price: Brevo has a very tempting free version. That gives you unlimited contacts and up to 300 emails per day. Paid plans start at $25/month, which gives you up to 10,000 email sends with no daily limit.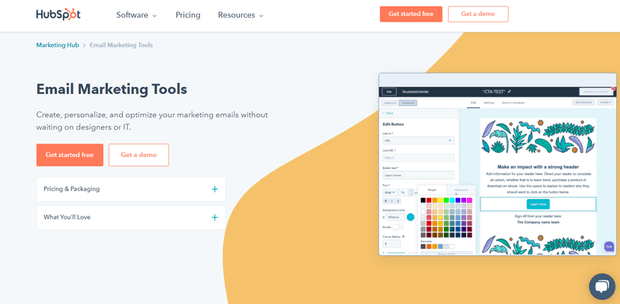 HubSpot provides a reliable, CRM-powered email service for small businesses. HubSpot's Marketing Hub is an extensive suite containing all the features you need to create emails that drive conversions.
Because of the integrated CRM, email campaigns are always powered by your customer data. That helps you create more personalized emails that get opened, read, and clicked.
In addition, you don't need to hire designers or IT experts to create visually captivating emails. You can choose from a library of pre-built email templates and use the drag and drop editor to customize layouts to fit your branding.
HubSpot also offers A/B testing and analytics to optimize your email campaigns.
Features:
20+ pre-built email templates
Simple drag and drop editor for easy customization
CRM integration for more personalized targeting
Email segmentation using smart rules
A/B testing to choose the best campaign
Built-in analytics
Support via live chat
Automatic notification when customers engage with campaigns
Email autoresponders
Price: HubSpot has a free plan that lets you send 2000 emails per month. Paid plans include additional features and start at $45/month.
Get started with HubSpot today!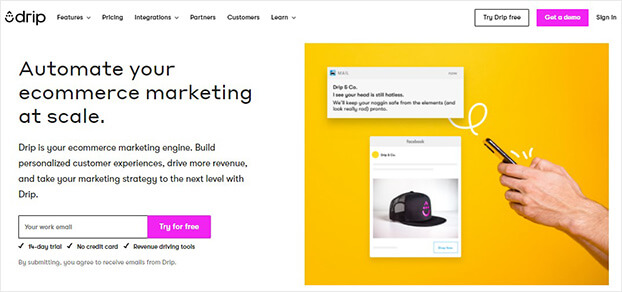 Drip is an excellent email service provider for small businesses. In fact, it's often referred to as the "Mailchimp of eCommerce."
That's because Drip has everything you need to make more revenue from your online store. It's really easy to set up and has an incredibly low learning curve.
This is great for business owners who want advanced tooling but don't feel like they have a lot of "tech skills" to work with.
But don't let Drip's ease of use fool you. They come with a ton of advanced marketing automation tools that will help you attract new leads and set up "drip" campaigns (where the company got its name) to generate revenue.
Features
Smart email segmenting
A/B testing
Visual workflow builder to help with automations
Support includes live chat, webinars, online courses, free guides, and more
Personalized messaging to include things like the user's name, location, and more
Price: Paid plans start at $19/month for 500 contacts which lets you send unlimited emails.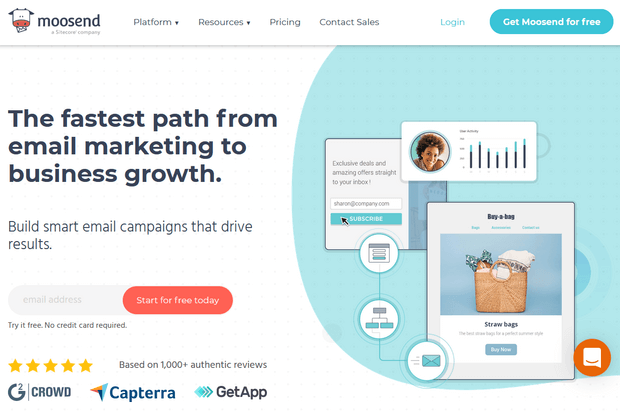 Moosend is a super affordable and easy-to-use email marketing service for small businesses.
If you want to quickly get started building beautiful email newsletters, Moosend is a great ESP for you.
It comes with over 70+ ready-made email templates that you can customize with the drag and drop editor. Or, you can build your own custom template from scratch, no coding required.
Aside from email marketing, Moosend also comes with powerful marketing automation features, list building tools, landing pages, and more.
One of its standout eCommerce features is the AI-powered product recommendations. This lets you send smart product recommendations based on your subscribers' previously viewed products and purchases.
Features
70+ professionally designed email templates
Drag and drop email editor with separate mobile editor
AI-powered product recommendations and personalization features
Pre-made workflow templates to automate your email marketing
A/B testing, heatmaps, and email analytics
Price: Moosend has a forever-free plan that lets you send unlimited emails to up to 1,000 subscribers. After that, premium plans start at $8/month.
Get started with Moosend today!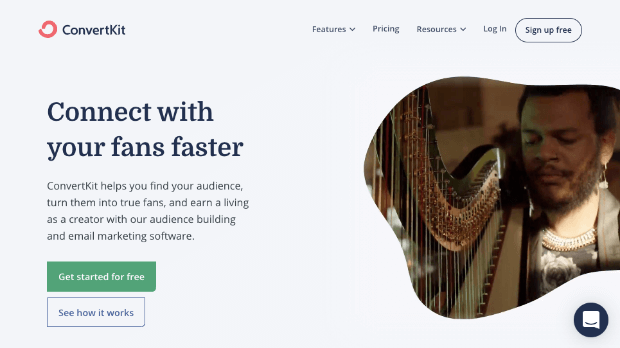 Converkit is an excellent option for bloggers and marketers who are looking for an easy email marketing solution.
Convertkit strives to be an all-in-one platform for your marketing needs. The goal is to help entrepreneurs and product creators share their work with more of their target audience.
They help you do this by giving you all the tools you'd expect from an ESP and more. They make audience segmentation totally simple, which will have a positive effect on your click-through rates.
Plus, they offer stunning templates to build your email campaigns. Then you can set everything on auto-pilot and focus your attention on what you love: creating new products for your loyal customers.
Features
A/B testing
Smart workflows
Landing page builder
Optional paid newsletter (to help product creators generate even more revenue)
Simple (but powerful) audience segmentation
Price: Converkit has a free plan for up to 1,000 subscribers. Paid plans begin at $29/month, which still limits you to 1,000 subscribers. But you get advanced features like free migration service and automated funnels & sequences.
Learn more about Converkit today!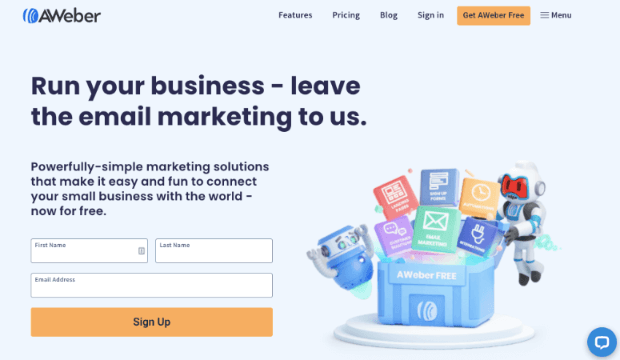 AWeber is one of the oldest ESPs on the market. And, sometimes, there's simply no substitute for experience.
AWeber is a flexible ESP that's easy to set up with most modern platforms, including WordPress. Once everything is synced up, you'll have access to everything you'd need or want from an email provider.
You have pre-made templates, autoresponders, email tracking for tons of useful insights, and much more.
One cool feature they offer is RSS-to-email for bloggers. This helps you share more of your content automatically with your contact list.
That way, you can spend more time focusing on growing your business.
Features
Autoresponders can be used to save time
Email templates make your campaigns look more professional
RSS-to-email helps bloggers share their content
Email tracking and analytics help you optimize your campaigns
A/B testing ensures you're getting the best results
Price: There's a free plan that gives you 500 contacts and up to 3,000 email sends per month. The paid plan starts at $16.15/month (when billed annually). At this price, you still only have 500 subscribers but can send unlimited emails. You also have other advanced features to work with.
Learn more about AWeber today!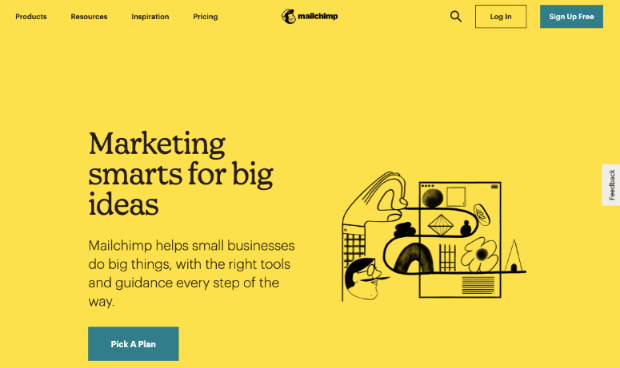 Mailchimp is the most popular email service provider for small business on the market. One of their biggest advantages is the "forever free" plan they offer.
In other words, you can get started with Mailchimp totally free for up to 2,000 contacts.
From there, you'll have a variety of tools you can use to grow and monetize your list. That's because Mailchimp has everything you'd want from an ESP, like A/B testing, audience segmentation, popup form builders, landing page builders, and more.
Mailchimp also uses a drag and drop editor, so you can build a stunning email series in minutes.
Plus, this email provider integrates with loads of other marketing tools and website building platforms like Shopify, WordPress, Magento, and more.
This gives you a low-cost tool (to start) that can be integrated with your current marketing plan.
Features
Drag and drop builder
Marketing tools like form and landing page builders help grow your list
A/B testing
Audience segmentation
Integrates with lots of different marketing tools
"Forever free" plan makes Mailchimp an affordable solution for small business
The only disadvantage that needs to be mentioned is that Mailchimp can become costly as you scale. Yes, you do have the free plan. But it's fairly limited and requires you to keep their branding.
As your contact list grows, you may find that Mailchimp isn't the best or most affordable ESP to grow with. But if you're just starting out, Mailchimp can be a great way of getting into the world of email marketing.
Learn more about Mailchimp today!
Which Is the Best ESP for Small Business?
We just covered the best email service providers for small business. But now, you may be wondering, "Out of those options… which is the BEST?"
For that, we'd actually have 3 suggestions depending on what type of small business you are:
These 3 are the most powerful, flexible, and affordable options for small businesses looking to grow.
They offer advanced features and integrate with other marketing tools so you can build a more comprehensive and profitable email marketing strategy.
And that's it! These have been the best email service providers for small business.
Grow Your Email List Today!
BONUS: Done-For-You Campaign Setup ($297 value)
Our conversion experts will design 1 free campaign for you to get maximum results – absolutely FREE!
Click here to get started →
We hope you enjoyed this post. If you did, you should also check out the following resources:
These articles will have everything you need to grow your list and make a more profitable email marketing strategy.