When's the last time you logged onto your MySpace account? It's probably been a while (and readers in their 20s are likely asking, "What's a MySpace?").
And yet, at its peak in 2007, MySpace was valued at roughly $12 billion before it was overtaken by Facebook which then reigned king for several years. But let's be honest: when it comes to which is the best social media platform for business, you've got options.
Actually, you've got lots of options.
Today we're going to focus on the top 8 best social media platforms for business, cover their advantages, disadvantages, and give our final verdict on whether or not they're good for your business. Specifically, the platforms we're looking at are:
Sorry MySpace, you didn't make the cut.
Best Social Media Platforms for Business
Though Mark Zuckerberg has gotten a lot of bad press over the last couple of years, there's no denying that he built the (overall) best social media platform for business currently available. In its third quarter of 2019 it was reported to have earned $17.652 billion and a total of $66.529 billion from 12 months prior.
How is it generating so much income? Facebook ads.
Facebook has over 1 billion active users every day. So it's no surprise that it has become one of the best ways to find your target audience, build an email list, and get new customers. But that's not all it's good for.
It's also a great place to interact with your clients once you've caught their attention. Many companies opt to create private groups on the platform where paying customers can join, interact, pose questions, and have a personalized experience with the brand.
And while Facebook's user base has drastically slowed down over the last few years, there's no question that it will remain one of the best social media platforms for your small business in 2020.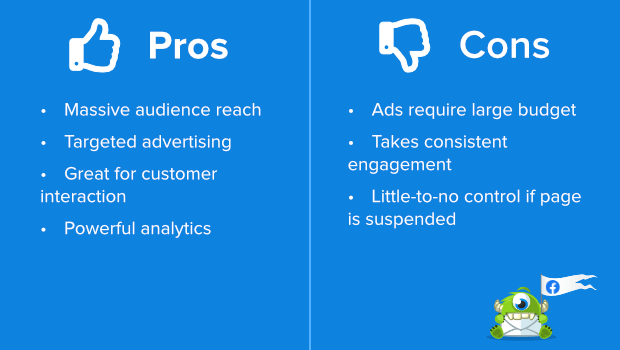 Bottom Line: Facebook is a tool that is right for just about any business in 2020. Though paid ads can become cumbersome and expensive, they're totally optional. Your best bet is to have an active account to keep in touch and connect with users. If you have the budget and time (not to mention the patience) you can look into exploring Facebook ads.
Using OptinMonster, you can also add a campaign directly to your Facebook page to generate more leads or create a unique "Like Us" popup page to get more fans!
Instagram is about as close to an "overnight success" story as it gets. Within two months of Instagram's launch in 2010, it had over a million users. Now, that number has grown to over 1 billion users each and every day, making it one of the top social media platforms for business.
Instagram initially started out as a platform for sharing photos and still keeps that as its core use. However, it has expanded to videos in a feature called "stories." Thus, Instagram has become an excellent way for brands to literally show (rather than tell) their products, values, and voice.
As you can imagine, that means Instagram is an excellent tool for lead generation.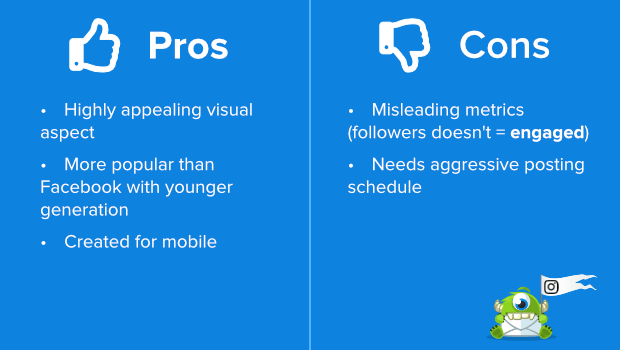 Bottom Line: Instagram is great if your audience is younger and typically shopping from mobile. Plus, Instagram created a "Checkout" feature which means it's fully set up for eCommerce. Now, your clients can look at product images and purchase what they like directly from their Instagram account.
If you decide to use this platform (which you probably should), do some market research to make sure your audience is on Instagram, create a consistent posting schedule, and make your photos engaging and relevant to your brand (no more snapshots of your Tuesday night dinner).
Twitter had a brilliant marketing strategy from the get-go with their character limit: give everyone a voice but limit the "noise." Businesses, journalists, celebrities and, for better or worse, even Presidents use Twitter to share stories, news articles, or humorous anecdotes every day.
When it comes to using Twitter for business, you can definitely find ways to monetize the platform. Part of doing that is standing out from your competition, consistently engaging with your audience, and adding valuable content with all of your posts.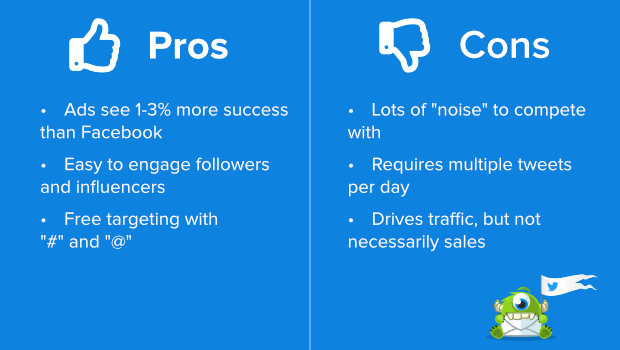 Bottom Line: Depending on your commitment to social media marketing, Twitter can be a powerful tool for building brand awareness and connecting directly with other customers (not to mention other influencers). Keep in mind that Twitter needs its own marketing strategy, and you'll need to plan for multiple tweets per day.
That said, don't overthink it. Use Twitter to talk directly with your audience and research ways to grow your following (which, by the way, has become its own kind of social proof).
LinkedIn was one of the first modern social media sites to really take hold (and stick around, unlike MySpace). It's become a networking tool exclusively for professionals and has revolutionized the way we seek, find, and get hired for jobs. It's also a pretty good resource for sharing content.
One thing to keep in mind about LinkedIn, however, is that you're more likely to find business partners than new customers (unless your market includes B2B).
While this certainly isn't a hard and fast rule, people don't typically go to LinkedIn for entertainment or online shopping. They go to learn more about their industry, see what their professional contacts are up to, and look for new career opportunities.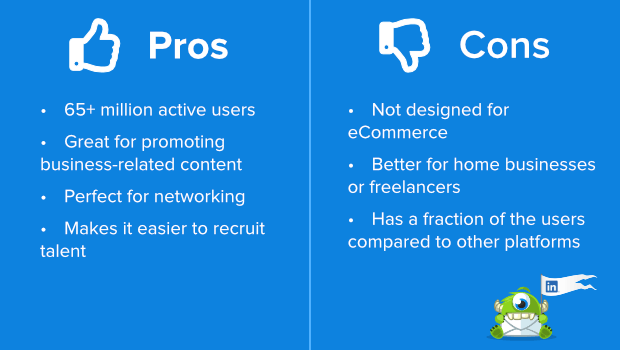 Bottom Line: LinkedIn is kind of like owning a pair of nice dress shoes: you'll likely use them less often but you should really have them in your closet. While you can (and should) show off your brand with a LinkedIn business page, it's core function is tailored to individual use and expanding your professional network.
Youtube is a remarkable video-based platform. More than any of its competition (Instagram, Snapchat, TikTok), YouTube has become the platform for sharing information via video. It now boasts 2 billion monthly users and has become a place where people go not only for entertainment but to learn new things.
And that's what makes it such a powerful tool for businesses.
With YouTube, you can create a video channel and connect with your users in a totally different way than other social media platforms. You can create video tutorials to back up your text-based content (like blogs), visually show product descriptions, or give personal press releases to your viewers. The key, however, is to make sure you are optimizing your videos for YouTube SEO so they actually get views. You may also want to consider finding ways to use YouTube to grow your email list.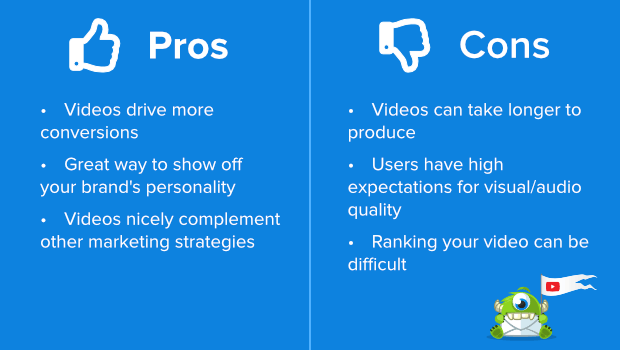 Bottom Line: YouTube is a great social media platform for business in 2020 and beyond. It will likely take a little time upfront to learn how to shoot and edit videos that meet users' expectations, but you don't need a Hollywood budget. Most up-to-date smartphones are more than capable of recording high-quality videos.
Just remember to optimize your titles and descriptions for YouTube SEO, and you'll be well on your way to getting more traffic and conversions to your site.
Related Content: YouTube for Business: How to Start and Optimize Your Channel
Reddit is an interesting breed when it comes to social media platforms. It's more about genuine sharing and learning than it is about connecting and engaging. The reason is fairly straightforward: most Reddit groups have strict rules as to what you may or may not post for commercial purposes. In fact, more often than not you'll be removed from a group if you're using a forum to blatantly self-advertise.
That said, a lot of companies have found massive success by engaging on Reddit. All it takes is a little creativity, lots of interaction, and a genuine desire to teach and/or learn.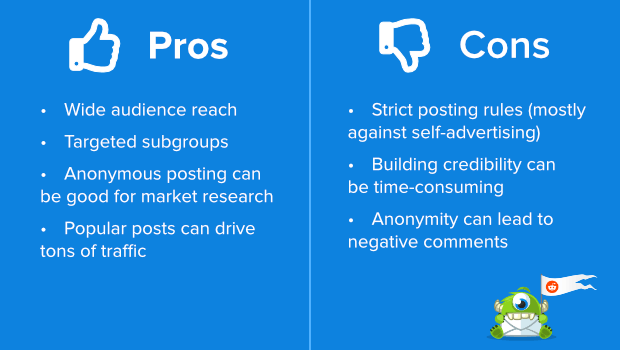 Bottom Line: Reddit is a great social media platform for your business if you primarily use it for personal purposes. Because users can go through your posting history, they'll likely investigate whether or not you are genuinely contributing to a community or if you are just there to attract visitors to your website.
That said, Reddit is highly effective at an often overlooked aspect of eCommerce: market research. In other words, use Reddit to ask questions and get feedback on different parts of your business (ad campaigns, web design, new products, etc.). Many companies pay loads of money to gather information from their audience without realizing that Reddit allows them to do that for free.
Depending on your company, Pinterest is one of the top social media platforms for small businesses. Founded in 2009 (and live in 2010), it's gone from a mere 10,000 users to 459 million active users today. While most of these users are millennials, over half are women between the ages of 25 and 54. Plus, nearly 40% of new users are men (and that trend is continuing to rise).
Plus, people on Pinterest are spending money.
On average, Pinterest gives a $4.3 return for every $1 spent on ads which makes it a less expensive and more profitable advertising platform than Facebook or Twitter. All it takes is a consistent schedule, creative pictures, and a strategy for growing followers on Pinterest. With the right momentum, you'll start to see more traffic and conversions in no time!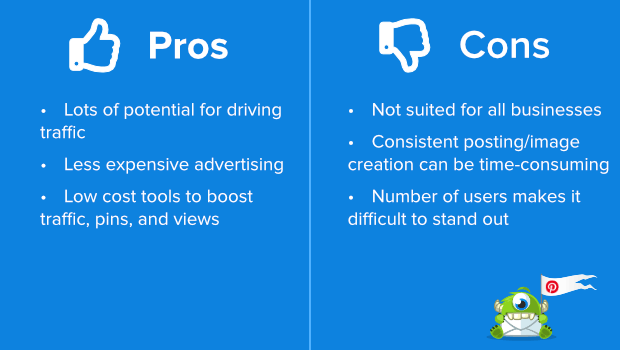 Bottom Line: Pinterest can be a great traffic driver to your site, but it's better suited for some businesses than others. Home decor, cooking recipes, photography sites, and travel are all examples of businesses that can thrive on Pinterest. Why? Because they have content that is typically visually appealing and easily shared.
That said, with enough creativity, nearly all businesses can use Pinterest to boost traffic; Plus, since over 40% of Pinterest users have a household income of over $100k, it's no wonder the platform is also great for driving conversions!
When most people think of the best social media platforms for business, Quora isn't one that comes directly to mind. But maybe it should. Quora was founded in 2009 and went live in 2010 (exactly like Pinterest) and allowed users to ask questions to the Quora community. Other users from various backgrounds and expertise can then respond making this a great platform for learning and sharing.
However, it's also good for driving traffic to your site.
Quora is a good way for you to look for questions in your professional field, establish yourself as an authority, and link to content you've written on the topics being discussed. But be warned: just like Reddit, moderators are good at discerning between genuine contribution to a question and blatant self-advertising. The most successful responses are those that focus on the question rather than on your own business.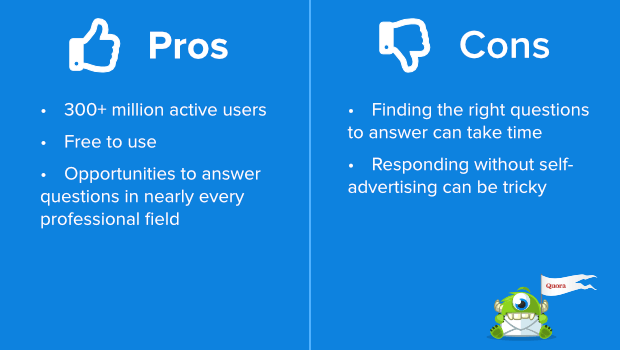 Bottom Line: There's almost no reason not to try out Quora for a couple of months. Once you make an account, start searching for questions in your field that don't have too many responses so they are more likely to be upvoted. Be comprehensive in your answer and only provide links to your own work that directly helps answer the question. The best format for a Quora response is typically something like:
"Hey, great question! Here's a ton of information to answer you [no links to your own work here]. Oh, and by the way, I wrote this article a while back which might be helpful [link to the article]. Have a great day and feel free to reach out if you have any questions."
So, which is the best social media platform for business in 2020 and beyond?
There's no single response to that question. It depends on your audience, your product, and how much time you have for your social media marketing strategy.
As a good rule of thumb, most businesses should have an active Facebook and Twitter account (though, if you can, you should also fit Instagram in there). Plus, each employee should have a personal LinkedIn account to represent the company as a whole.
But if you're interested in this topic, you'll like find these articles helpful:
Just don't forget that you don't actually own your follower list, your profile, or even your posts. We've heard many sad stories of influencers and businesses who have had their accounts shut down.
And what happens to all of those followers?
Well, unless you get your account back, they're just gone.
That's why we recommend growing your email list. Unlike your social media follower lists, you own every single lead on your email list! Plus, with a 4400% ROI, email marketing is sure to improve your bottom line.
Don't have an email marketing service yet? No problem. OptinMonster's Monster Leads integration lets you collect, save, and export all of your leads. You own them, we just keep them safe until you're ready to use them. Just one more reason to join OptinMonster today!
Did you enjoy this article? Why not let us know? You can always find us on YouTube, Facebook, and Twitter.