Do you want to increase conversions on your popup optin forms? The only way to truly maximize your conversions with popups is to split test them. In this guide, we'll share 14 A/B testing examples you can run on your popups to get more email subscribers.
While you can research your target customers all day long, the only way to truly know what's working and what's not working is by performing a split test.
What is an A/B split test?
A split test (or A/B test) is a test that marketers run to compare two different versions of a web page or popup to find out which one converts visitors the best.
You can run an A/B test on every aspect of your lightbox popups, such as the headline, images, the actual offer, call to action copy, etc. You may think that you've nailed all of these elements, but when you see the actual data you may be surprised.
If you're not sure exactly which elements of your popup are important to split test, then you're in the right place.
In this guide, we'll describe 14 simple yet powerful A/B test ideas that you can start using in your popup today.
Ready to start split testing? Let's go!
1. A/B Test Your Offer
Before you start testing smaller changes like your button color, start by doing a much more drastic test and completely switch out your optin offer.
For example, you could test offering a checklist versus an eBook. Or, you could try offering a free challenge versus a mini course.
Once you know which lead magnet converts the best, then you can move on to the following split tests…
2. Test Different Headlines
Your headline is a crucial aspect of your popup which you'll want to test.
For example, a vitamin and supplement company named Movexa tweaked their headline to add the word "supplement" and increased conversions by a whopping 89.97%.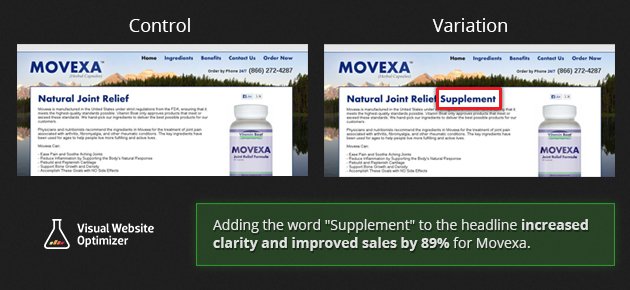 3. A/B Testing Images
The images you use or don't use also play a critical role in how well your popup converts.
Take this A/B test for example. By removing the image, HubSpot increased email signups by 24%. Surprising, isn't it?

It could be that the image used here was too "stock art" in flavor. Or, it could be that the placement of the image simply pushed the optin form down further, which decreased conversions. Either way, it's a good thing they tested this rather than making the assumption that adding an image would improve conversions!
4. Split Test Your Form Length
In most cases, you should only ask for a name and email at the most in your lightbox optins. This way, your form won't be too tedious for someone to fill out.
However, in some cases you may need to ask for more information. For example, if you are using your popup to offer a consultation and you need to ask for a phone number.
If some form fields can be left out, test it! Making your form shorter may in fact increase your conversions.
5. Test Different Popup Designs
Remember how we said that it's a good idea to make drastic changes at first, before making the smaller tweaks? Well, another great way to do that is by A/B testing an entirely different design.
OptinMonster has a wide variety of different lightbox templates to choose from, so you can simply swap out the template to see which one performs best for your optin.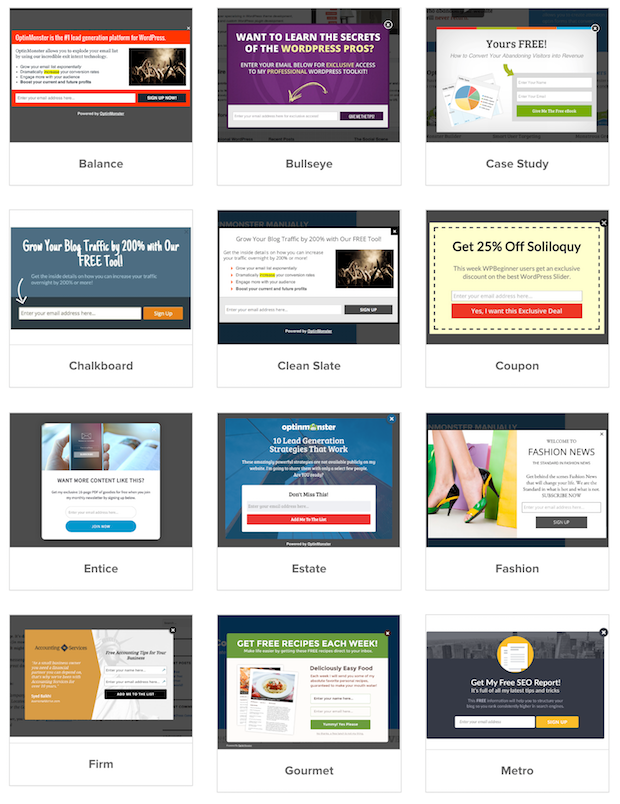 For inspiration, check out our list of the best popup designs that are proven to get conversions.
6. A/B Testing Button Copy
Your button copy may seem like a small detail to split test, but it actually plays a huge role in your conversions.
For example, Michael Aagaard tweaked the button copy for a client and saw a 38.26% increase in conversions. The control read "Order information", and the winning variation read "Get information".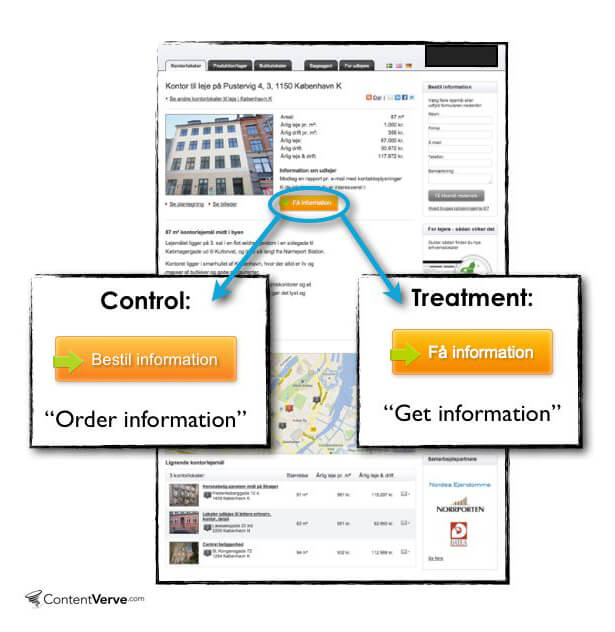 That's an incredible difference by simply tweaking one word!
7. A/B Test the Button Color
When it comes to which color button is best for conversions, I recommend that you follow Derek Halpern's advice:
"What stands out gets remembered, what blends in gets ignored."
In other words, the call-to-action that gets the most clicks is usually the one that stands out from the rest of the design on the popup.
Here's an example of how adding a bright, contrasting color to the signup button increased conversions by 28.7%.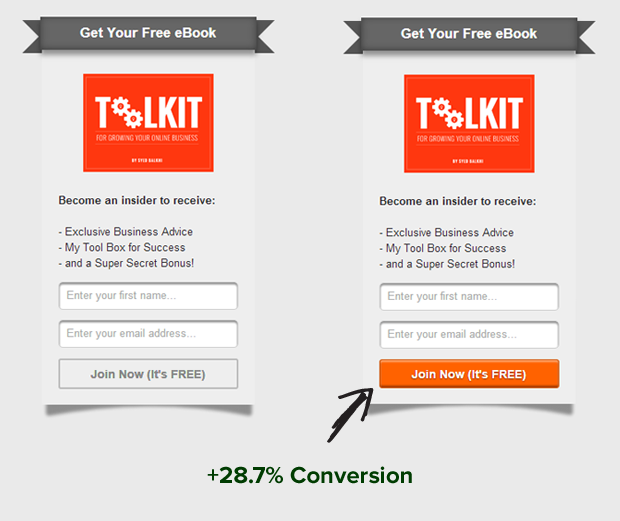 Some psychology tips for colors:
Red: is the color of youth and joy. It reflects boldness and confidence.
Green: Creates a soothing calming effect, it evokes a peaceful, progressive, and calm emotional response.
Blue: It reflects trust, strength, reliability.
Black: Black generates a sophisticated, solid, secure emotional response.
White: Clarity and simplicity are the two major effects of White.
Yellow: Yellow is the color of optimism, warmth, friendliness.
Orange: Orange creates a fun, friendly, confidence, and cheerful effect.
Pink: Sensuality, femininity, romance, and love are the emotions associated with Pink.
However, none of this matters if your call-to-action button does not stand out!
(For more tips, check out Which Color Button Converts Best? Here's What Research Shows.)
8. Split Test Button Placement
If you've always set your call-to-action button on the right side of your popup, then it could be time to see how different CTA placement could impact conversions.
For instance, try putting your signup button on the left hand side, like in this A/B testing example: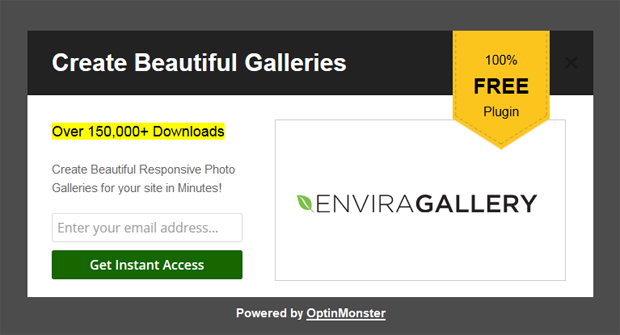 OptinMonster comes with several themes allowing you to choose from buttons on the left, right, or even center of your forms.
9. Test 2-Step vs. 1-Step Optin
Have you ever tried testing a 2-step optin versus a single step optin?
A 1-step optin is just a simple optin form where you enter your contact information and hit submit. A 2-step optin, on the other hand, is where you need to press a call to action button first before the actual form fields appear.
Case Study: How Cosmetic Packaging Now Grew Their Email List by 754% with 2-Step Optins
Adding a 2-step optin to your popups is easy with OptinMonster. Simply enable Yes/No buttons. Then test the two to see which performs best!

10. Experiment With Using Specific Numbers
Social proof is a powerful conversion motivator. Try leveraging it in your call-to-action by using a number to show just how many people have already opted-in.
When your new visitors sees your popup, they know that you're not just a random website that will exploit their contact information. Because 310,000+ people before them have already trusted you with their email addresses, they instantly see you as a more reputable brand (and therefore are more likely to opt in).
One important thing to remember here is to constantly update this call-to-action as you get more and more subscribers. In the world of social proof, bigger is almost always better.
(For more tips, see our guide on 29 Proven Ways to Use Social Proof to Increase Your Conversions.)
11. Test First Person vs. Second Person
If you ever A/B test copy that uses a point of view other than third person, like "Sign me up", then you should also test using the first person point of view vs. the second person.
For instance, Michael Aagard once split-tested CTA copy "Create My Account" vs. "Create Your Account".
The result?
The second person POV ("Create Your Account") performed nearly 25% worse than its first person POV counterpart.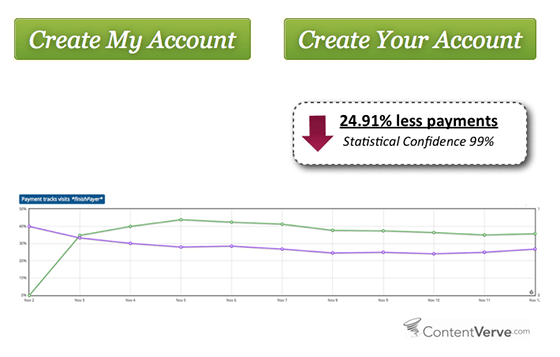 Try a similar test on your popup to see which call-to-action point of view works best with your audience.
12. A/B Test Using Urgency
Historically, urgency is one of the best ways to improve conversion rate. You can create urgency by implying scarcity or a time limit.
We have seen users tripling their conversions by adding urgency elements in their popups.
Here are a couple of ways to imply urgency in a call-to-action:
Get Instant Access (this spurs the reader to immediate action)
Reserve Your Spot (implies limited accessibility)
Showing the Expiration date of the offer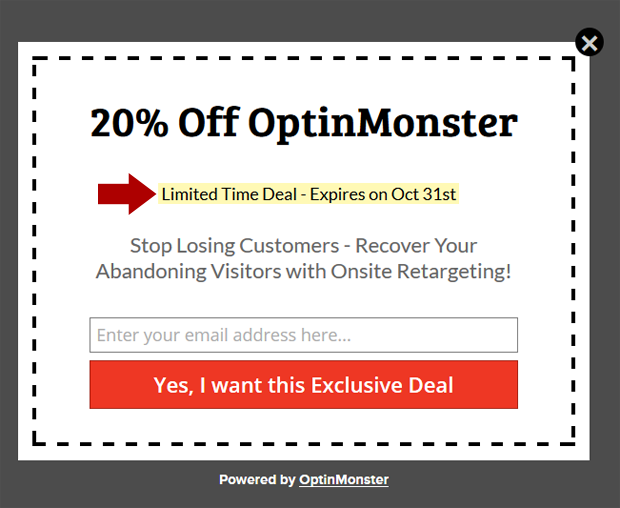 (For more tips, check out How to Use Urgency to Hack Your Conversion Rate.)
13. Split Test With Trust Builders
A trust builder is a short sentence or phrase that reassures your audience that they can trust you with their email address.
Normally this can be done with a simple privacy statement on your popup like this:
100% privacy guaranteed
We respect your privacy
Your information will be kept private
We will never send you spam emails or sell your information
Here's an example of a trust builder in action in a popup.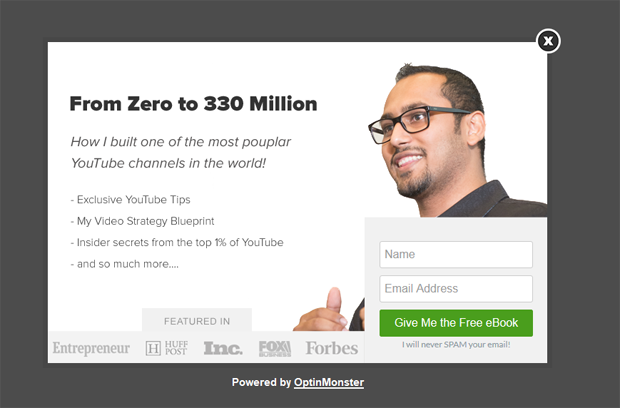 Notice in this popup, Syed Balkhi (co-founder of OptinMonster) uses the OptinMonster transparent theme to add logos of popular publications where he has been featured in.
This is called borrowing credibility which is also a great trust builder.
Since the audience is already trust those large reputable publications, it instantly boosts your credibility in their eyes.
14. A/B Testing Call to Action Length
Length can be another decisive factor in a call to action. In my experience, most popup and landing page CTA's favor a shorter length. Often used call-to-actions don't exceed more than 3-5 words (e.g. Get Instant Access, Create My Account, Download the Free eBook).
On the other hand, longer call-to-actions (e.g. Click to get your free download, Send me post updates, etc.) are more or less ignored.
However, the only way to know for sure what CTA length will work for your popup is to run an A/B split test!
Bonus: How to Create a Split Test in OptinMonster
If you haven't already started A/B testing these call-to-action details on your popup, then go ahead and do it now!
A/B testing with OptinMonster is incredibly simple. You can create a new popup variation in just a few clicks.
Here's how…
Step 1. Choose the Optin You Want to Split Test
The first step in creating a split test is to choose the optin you want to split test. From the OptinMonster Dashboard select the optin's respective Split Test Icon.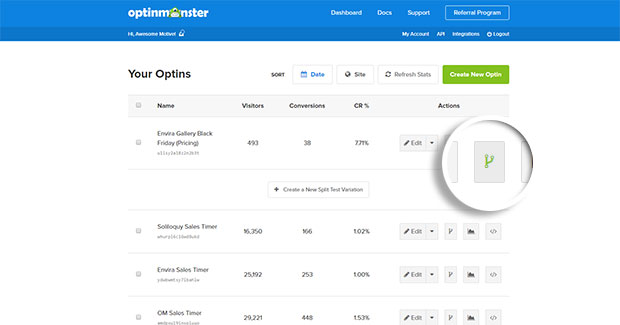 Next, select the Create a New Split Test Variation button link that appears below your chosen optin.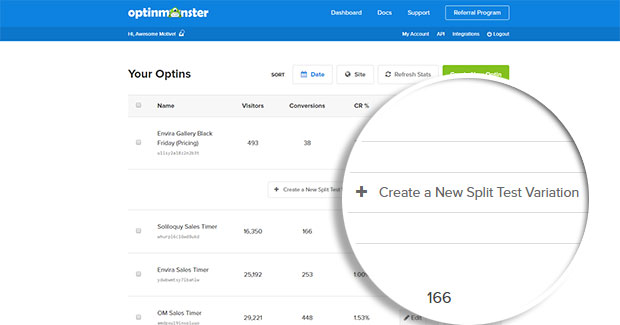 Step 2. Add New Split Test
On the next screen you'll be required to add a Split Test Title, and optionally add Split Test Notes. We recommend giving your split test a few notes for easier identification later on. Finally, select the Create Split Test button.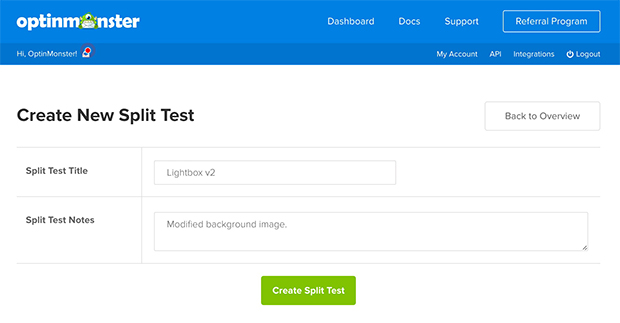 Step 3. Learn and Make Adjustments
Once you've created a new split test, you'll want to modify one specific element that you can compare against the original optin. For example, you may want to change the Title text used in your optin, or change the color of the submit button to see if that one specific change elicits better conversion results.
In general (unless you are making drastic changes, such as testing an entirely different design), we recommend making only a single change between each split test optin so you can accurately determine which modification returns better conversions. The more changes you make between optins the less reliable your split testing becomes.
That's it! We shared 14 A/B test that you can run on your popups to get more email subscribers.
Now it's your turn. Go ahead and try one of the above split tests on your own popups, and see what converts visitors the best.
Not using OptinMonster yet? Get started with OptinMonster today and start converting more visitors into subscribers and customers.