Wouldn't it be great to know that you were helping out your customers while making it easier for them to spend money on your products?
Imagine being able to increase user experience (UX) across your site AND make more sales in the process.
It's basically the "holy grail" of the eCommerce world.
And that's exactly what will happen when you start distributing coupons to your target audience with OptinMonster.
You'll be able to take your coupon marketing strategy to a whole new level and drive more profits. Let's look at how you can go about this.
'Click to Copy' Button
In the past, all OptinMonster users were able to distribute coupons to their site's traffic.
Like every other lead generation tool out there, this is a proven way to drive more sales to your online store. In other words, coupon marketing is a tried and tested technique.
These kinds of popups look something like this: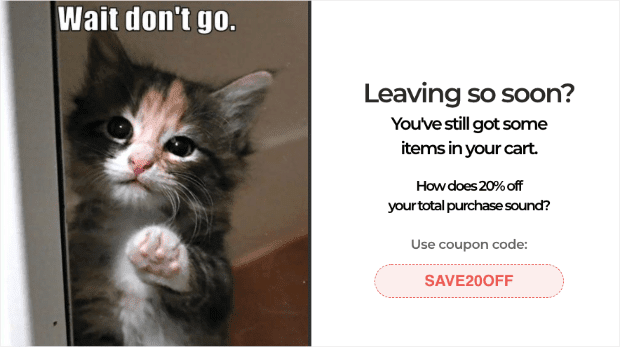 The customer would see this offer and could copy and paste the coupon code (SAVE20OFF from the image above).
Or they could wait for a follow up email to copy and paste the coupon from there.
These methods have been proven to help eCommerce store owners generate more revenue through coupon marketing.
But, there was one thing that the OptinMonster team thought could be improved: the act of copying and pasting added unnecessary friction to the process.
When you add any step to a customer's checkout journey, you also add the risk that they'll abandon their cart altogether.
That's why we set out to remove that friction from your customer journey with the 'Click to Copy' feature.
Now, when your users get a promotional offer or coupon, they can simply click the call to action (CTA) button and have the coupon code automatically copied for them.
Then, at checkout, all they need to do is paste that code in the coupon field: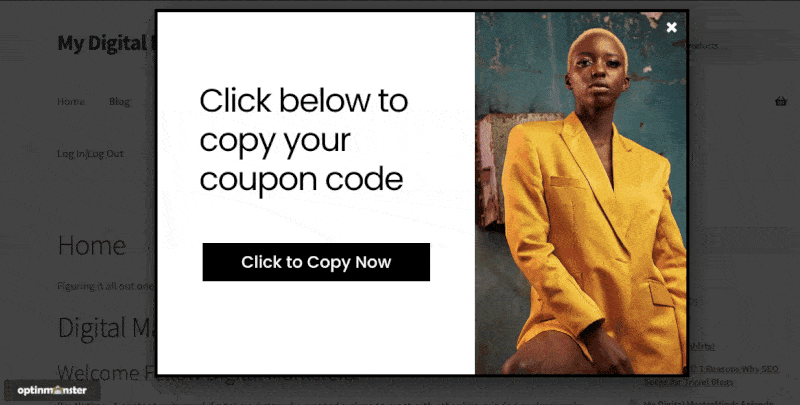 This removes a layer of friction from your coupon marketing efforts that could have prevented users from signing up in the first place.
What can you expect as a result? Like we said before, this accomplishes to things:
It improves UX across your site
It encourages more people to complete their purchase
But we didn't stop there. In fact, we added another feature to make it even easier to distribute coupons to your customers via email.
Automated Spin-to-Win Coupon Transfer
One of our most popular campaigns is a Spin-to-Win wheel. You've likely seen them before. They look something like this: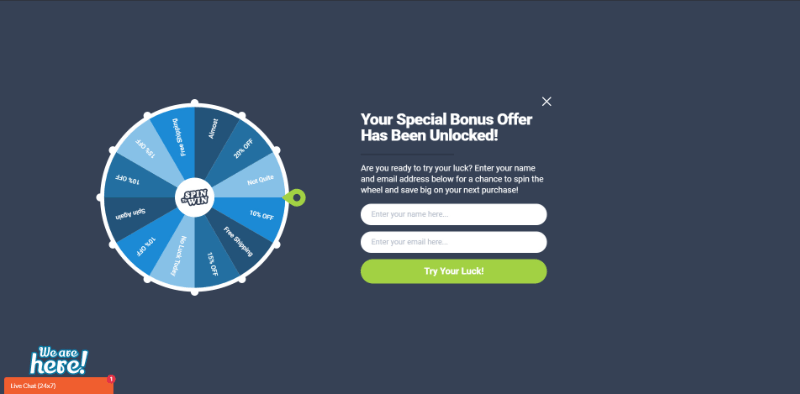 When users added their name and email address, the wheel would spin and send them a variety of coupons to be redeemed depending on where the wheel landed.
But, sometimes, these coupons would never get used.
The problem is that customers would have the best intentions of saving the coupons for later, but they'd simply forget about the offer.
In fact, this can be a problem with any coupon marketing strategy.
But now you can set up automated email campaigns with an email service provider (ESP) like Klaviyo.
They'll be responsible for sending out an email "reminder series" that the person has won a prize and can redeem the coupon.
Here's where OptinMonster comes in: when the user wins a prize, that coupon code will be automatically transferred to your ESP.
Then the coupon from the winning spin will also be automatically embedded in the email.
So no matter what prize the spinner lands on, the follow up campaign can run on auto-pilot.
This saves you tons of time, energy, and headaches as you streamline your discounted offers.
To be clear: OptinMonster isn't sending these follow up email campaigns (that's still your email provider's role).
But we now make it easier than ever to transfer the coupon code data to your ESP for faster coupon distribution.
Note: At this time, this feature is only available for Klaviyo users. That said, we're working hard on expanding to more ESPs on the market. If you'd like to see your email provider have this feature, please don't hesitate to reach out to our customer support team.
Ready to streamline your coupon distribution, improve UX, and boost sales for your online start? Get started with OptinMonster today!