Do you want to understand the difference between upsell vs cross sell?
These two strategies may sound similar but there are important differences. The most effective sales tactic will depend on each specific situation.
In this article, we'll define upselling and cross selling, share examples, and explain the difference. By the end, you'll know how upselling and cross selling are different, and when to use each strategy.
Let's get started!
What is Upselling?
Upselling is a sales technique where customers are encouraged to add an upgrade or enhancement to their original purchase.
With upselling, you aren't trying to add any additional products to the order. Instead, you're offering a premium version of the product they've already decided to buy.
Upselling can really pay off, as you can see from these upselling statistics: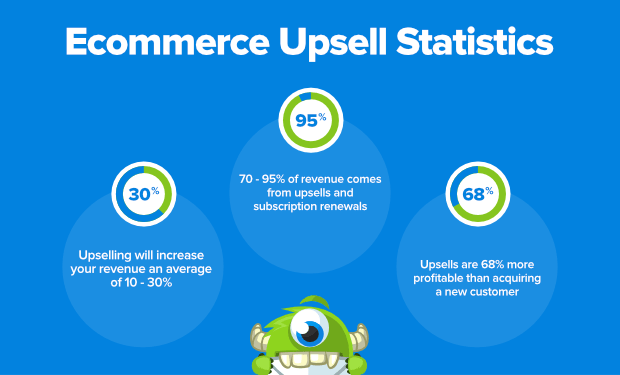 Here are some examples of upselling.
Upselling Examples
eCommerce Upsell: Imagine an online store selling pet food. An upsell could simply be a larger size bag. This would improve the customer experience because they wouldn't have to reorder as quickly.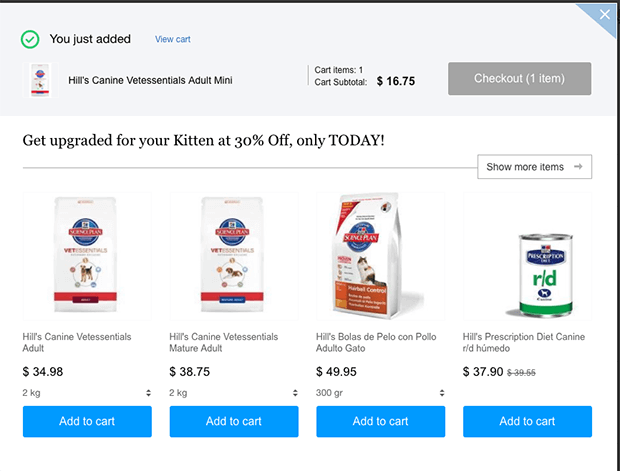 SaaS Upsell: A SaaS company selling software as a service might have multiple service tiers. An example of upselling would be recommending a plan with more features for a slightly higher price, like WPForms does here: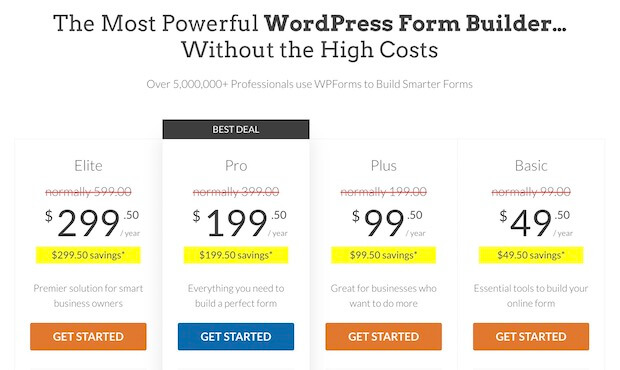 Service Upsell: For service providers, you could add on more time or deliverables to the package, or use more premium materials. Upselling examples for services might include:
A 10-hour wedding photography package instead of a 6-hour package
Creating 5 social media posts for your client per week instead of just 3
Using premium synthetic oil for an oil change instead of conventional oil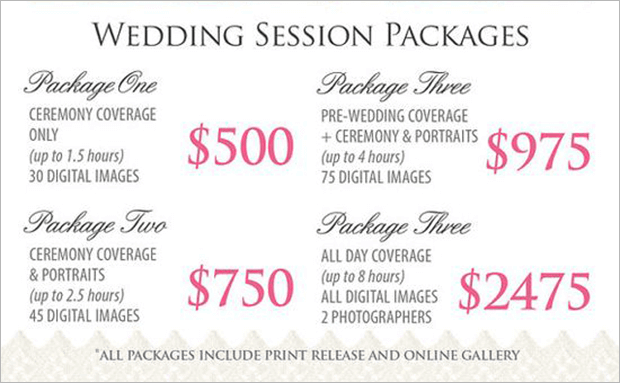 Check out some other upselling tips and examples to learn more.
Next, let's take a look at what cross selling is.
What is Cross Selling?
Cross selling is a marketing strategy that makes product recommendations related to the original product.
Rather than trying to sell a bigger version of the same product, you're offering complementary items that are likely to improve customer satisfaction with their intended purchase.
This can take the form of product bundling, where you offer a lower price on all items purchased together than the customer would otherwise pay if purchasing separately. Or you can simply recommend complementary products without a bundle discount.
Let's look at a few examples of cross-selling.
Cross Selling Examples
eCommerce Cross Sell: Amazon is famous for its Frequently Bought Together section on all product pages. Some cross-selling example for eCommerce businesses include:
Adding paper and toner to a printer purchase
Recommending accessories for a purchased outfit
Offering matching throw pillows for a sofa or chair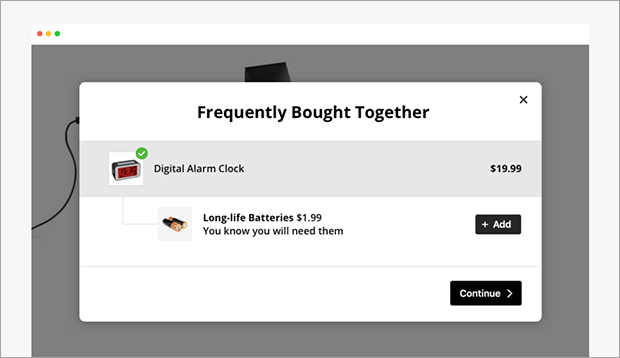 If you're curious, check out how to cross sell on Shopify to set up your own recommendations.
SaaS Cross Sell: A software company might have several software products that their customers can use. An example of cross-selling could be an in-app notification encouraging customers to sign up for a free trial of another software.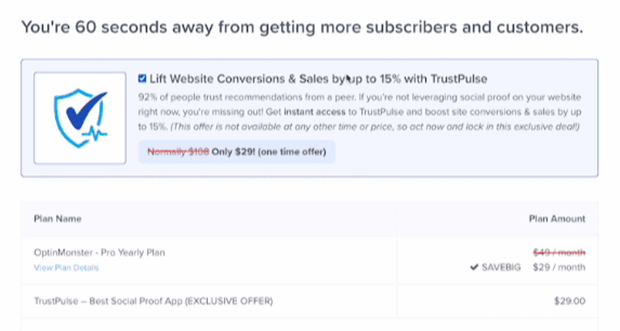 Service Cross Sell: Service providers could add on a related service package. For example, a birth doula could cross sell photography service to a client who books doula support.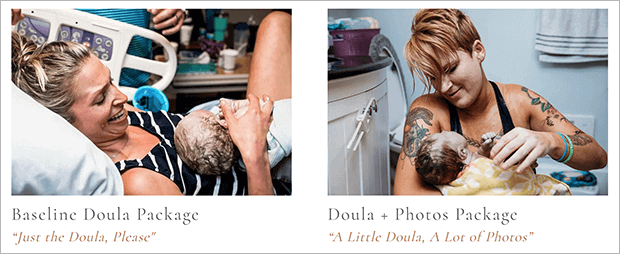 We know that upselling and cross-selling sound similar, so let's take a look at the 2 sales techniques side by side.
Difference Between Upselling and Cross Selling
Upselling and cross selling are both popular eCommerce optimization techniques. Let's use a simple example to see the difference between upsell vs cross sell.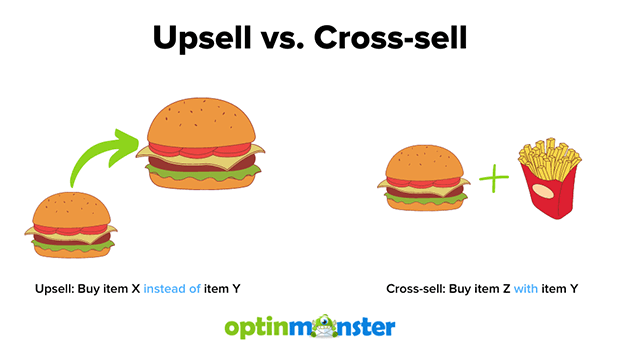 Imagine a restaurant selling food. Upselling would be encouraging a customer to order a larger, more expensive version of their meal. One example might be a double hamburger loaded with cheese and toppings instead of a single burger without cheese. The main entree is still the same. But the customer gets more of that entree.
Cross selling, on the other hand, might be asking the customer if they want to add a side, beverage, or dessert to their meal. The main entree stays the same, but the customer gets more items in their meal.
When to Use Upselling
In order to upsell, you must have multiple tiers of the same offer. For instance, a software company can have different subscription plans for their product. Service providers might have several service plans of different sizes.
The most effective upselling is when the higher-priced version of a product or service doesn't cost the business significantly more to deliver, but can greatly increase customer satisfaction.
SaaS companies have already put in the time and resources to develop the full-featured product. Reserving some of the best features allows some plans to be sold for a premium, without the company having to pay extra.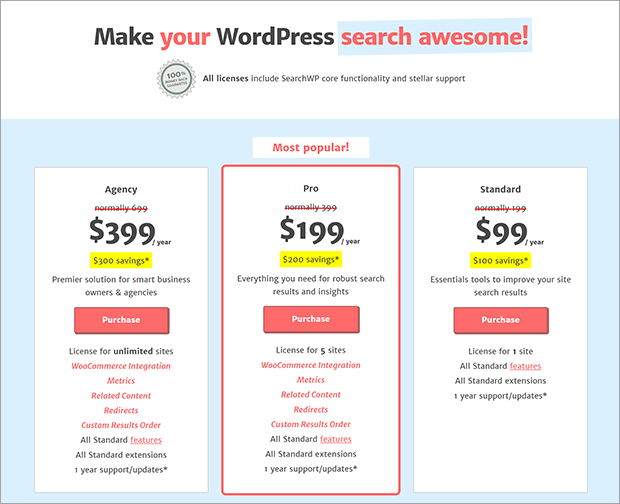 Similarly, if you have a time-based service like photography or babysitting, booking an extra hour or two may not cost you much since you're already there and unlikely to book a brand new customer at that time.
You can upsell during the purchase process or afterward. In some cases like software, customers may want to try out the basic plan first before upgrading. In other cases, you could offer additional hours or products at a significant discount before the sale. This encourages customers to act without overthinking. Once they've purchased the upsell, they're unlikely to question whether they really want it.
When to Use Cross Selling
Cross selling can happen both in-cart and post-purchase. Regardless of when you make the offer, remember that your cross sell products must be:
Clearly related to the initial purchase
Significantly less expensive than the original product
Personalized to the customer
It wouldn't make any sense to try and cross-sell a more expensive product. They've already got an idea of how much they want to spend based on the price of the original product.
Likewise, you can't recommend new products without any thought. At best, you will look like you don't care about your customers. At worst, you will look greedy and untrustworthy.
How to Upsell and Cross Sell
Whether you're selling to new customers or existing customers, upselling and cross selling can increase average order value (AOV) as well as customer lifetime value. No matter which sales strategy you're using, here's how to build your cross selling and upselling strategies.
1. Get to Know Your Customer Base
Your marketing should always be based on data, not guesswork. Look over your existing sales data to understand what customers are already buying in the same order. Maybe there's a particular customer persona or demographic that's more likely to go for upsells.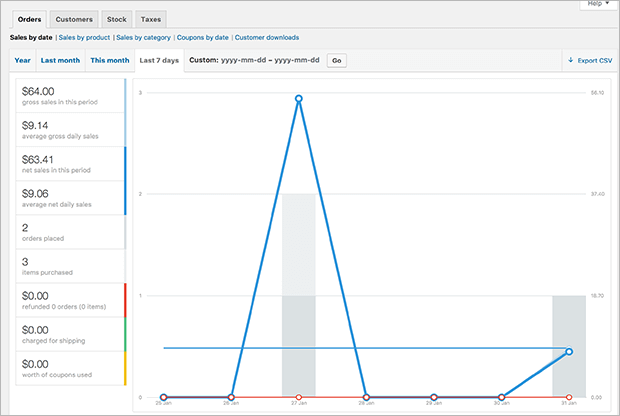 You can also interview customers directly about what went into their decision-making process. Ask current customers what would make their experience with a product better. Repeat customers can provide insight about what maintains customer loyalty. And customers who don't buy can still tell you useful information about why they didn't make a purchase.
2. Map The Customer Journey
With this data, create a customer journey map. Try to answer questions like:
What do customers already have when they come to us?
What results do they want?
What are all the steps and decisions along the way?
Where are the obstacles and how do those barriers affect customers' lives?
Where do they get information about the problem we solve?
Whose opinion do they trust when i comes to this problem and possible solutions?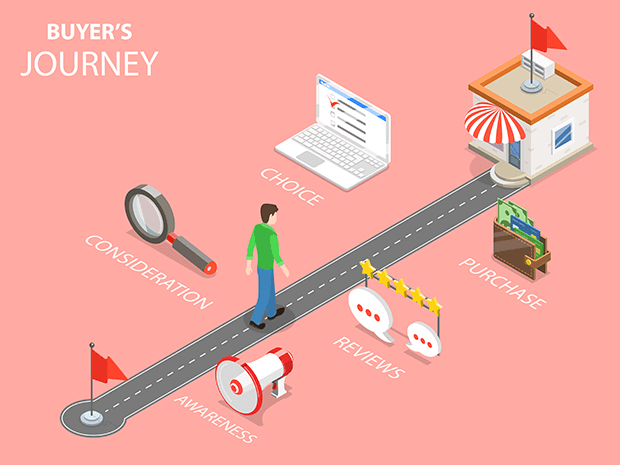 Understanding this journey can greatly improve your overall marketing and sales. More importantly, it can show you where your brand can be more helpful.
3. Identify Products that Solve Problems
Look in your customer journey for points where customers get some wins, both big and small. These can be good spots to try your upselling techniques or recommend other relevant products. That's because at that point in the customer journey, your customers are happy and have seen some value in your offers.
Once you identify those points, look for new obstacles and opportunities at each point. Do you have other products or offers that can solve those problems? Those would be valuable upsell or cross sells.
4. Set Up Your Upselling and Cross-Selling Techniques
Whether you're selling a product or service, there are different ways to upsell and cross sell.
B2B sales might rely on your salespeople selling upgrades or add-ons personally based on the customer relationships they've established. On the other hand, service providers might be able to upsell a warranty or other upgrade at the point of sale.
Ecommerce and SaaS businesses can more easily automate upsell or cross sell functionality. There are many ways to automatically display upsell or cross sell offers in your online store. These offers can be made in cart, through in-cart upsell popups, or on special post-purchase pages. Check out the most popular Shopify upsell apps to get started.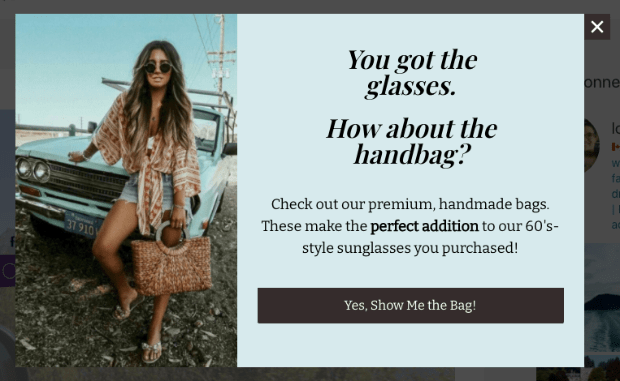 Whatever system you set up, make sure you gather data consistently to see how well your strategies are working. If your bottom line isn't improving, you may need to adjust your sales tactics.
Which is Better, Upsell vs Cross Sell?
As you can see from this article, there is no one-size-fits-all answer for which strategy will work better.
To recap, here's the difference between cross selling and upselling:
Upselling offers an upgraded or premium version of the product
Cross selling offers related products the customer might also need
Both upselling and cross selling can increase average order value and improve customer retention.
The nature of your offer, customer needs in different segments, and the details of your ideal customer journey can all impact your upselling and cross-selling strategy. We hope this article has helped clarify when and how to use each one.
Don't forget to check out other ways to increase conversion rates across your website.