Looking for an easy way to run giveaways in WordPress? Not sure if RafflePress is the right tool for your needs?
To answer these questions, we've written a detailed RafflePress review so you can see if it's the best solution for your business.
What Is RafflePress?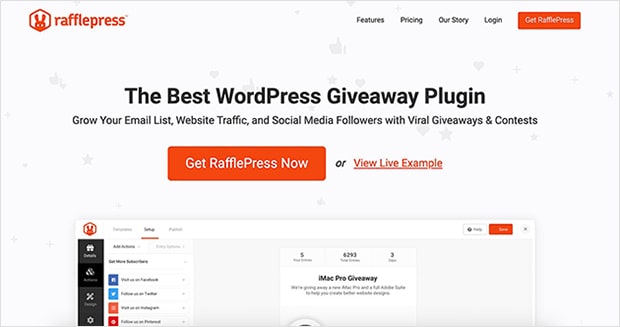 RafflePress is a powerful WordPress plugin that lets you run successful giveaways in WordPress. It was created by Syed Balkhi, founder of WPBeginner, and John Turner from SeedProd as a way to grow your business with viral contests.
They found that many WordPress giveaway plugins are bloated, buggy, slow, and hard to use. So they decided to create a solution that's both easy and powerful.
Besides being easy to use and feature-rich, RafflePress has various options to grow your email list, website traffic, social media followers, and much more. As a result, it's an effective lead generation tool for small businesses.
Since RafflePress works so well, we've explored some of the biggest reasons for using this plugin to create a giveaway in WordPress.
RafflePress Review: Why It's the Best WordPress Giveaway Plugin
Here are the most useful features we've discovered when reviewing the RafflePress plugin. Let's take a look:
1. It's Easy for Beginners to Use
Of all the available giveaway plugins, RafflePress is hands down the easiest to use. Whether you're an expert or beginner, you'll have no issues creating a giveaway with RafflePress.
It includes a drag and drop builder, so you can create great-looking contests in just a few minutes. You can add and remove entry methods easily and see a live preview of your giveaway widget and any changes in real-time.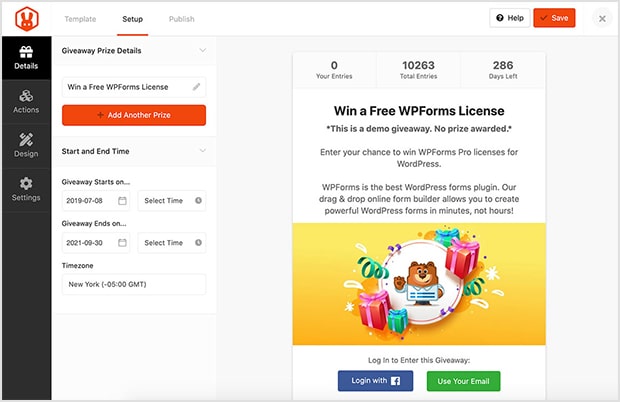 The interface is entirely clutter-free, and every option is labeled with clear tooltips and instructions. This makes it super-easy to find your way around.
2. Has Various Giveaway Templates
Another feature that makes RafflePress an excellent contest solution is its library of goal-based giveaway templates.
Rather than starting with a blank canvas, you can pick a template that matches your business goals and get started with a single click.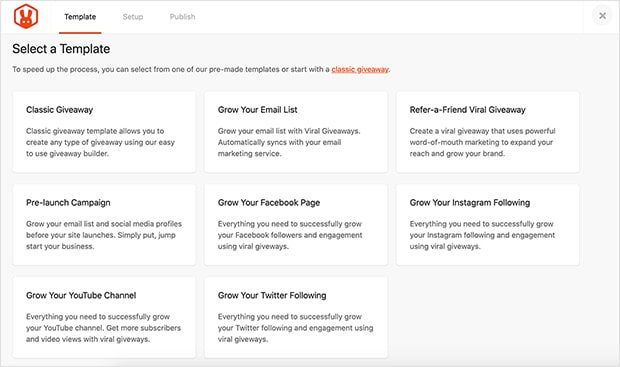 This includes templates to:
Refer friends with word-of-mouth marketing
Run a giveaway before your site launches
Grow your Facebook page
Grow your Twitter followers
Grow your YouTube channel
Grow your Instagram following
Each template comes pre-loaded with entry options designed to meet that particular goal. This saves you from adding each option manually and makes it easy to get started quickly.
Alternatively, you can use the Classic template to build your giveaway from scratch and choose any ready-made actions.
3. Helps Boost Your Social Media Followers
Growing your social media following is tricky for any business. It's a slow, time-consuming process, with results that don't always meet your expectations.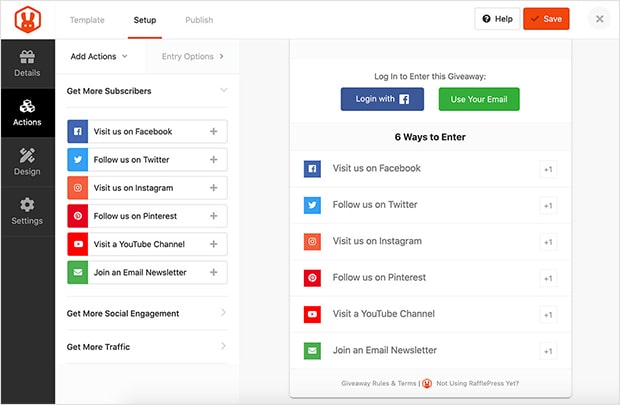 With RafflePress social entry actions, that process is near-effortless. It includes 1-click entries to follow your brand on:
Facebook
Twitter
LinkedIn
Pinterest
Instagram
YouTube
You can also improve your engagement on those channels by including actions to view and share your posts.
Want to ensure participants perform specific actions? Just set the action to mandatory.
It's also possible to make one action more important than another by choosing a higher value. As a result, that action is worth more entries, making it more attractive.
If you like, you can enable daily entries. This means users can come back and complete the action every day for even more chances to win.
4. Includes Viral Sharing Options
Word-of-mouth marketing is one of the most effective ways to promote your business. When someone recommends your product to a friend, that friend will suggest it to someone else, and so on, resulting in viral brand popularity.
RafflePress uses this tactic with the viral Refer-a-Friend giveaway action, and it works similarly.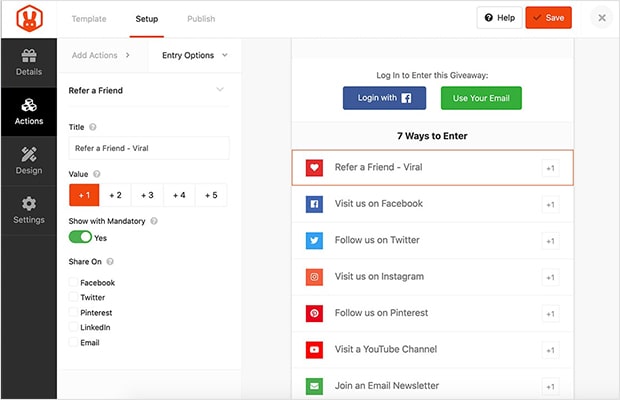 First, a user enters your giveaway by sharing it via Twitter, Facebook, Pinterest, LinkedIn, or email. This refers other users to your giveaway who perform the same action, sharing it with their audience, and so on.
The result is more people knowing about your brand, entering your giveaway, and transforming into leads.
5. Makes It Effortless to Enter Contests
RafflePress is easy-to-use for both you and your website visitors. Your visitors can perform almost every giveaway action with 1 click. This saves time filling in lengthy forms, which can make them hesitant to take part.
Instead, RafflePress removes that friction, which increases the odds of more people entering.
Here's an example of how easy it is to enter using the Join an Email Newsletter action.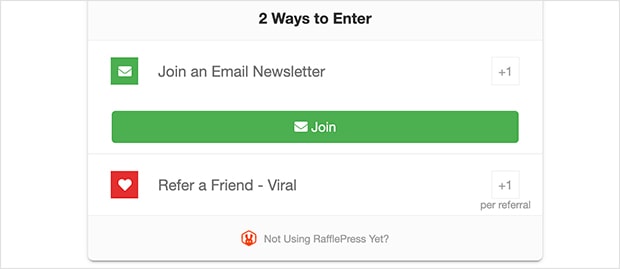 After registering your email address with the giveaway widget, it's simply a case of clicking the Join button.
6. Allows Users to Submit Their Content
User-generated content (UGC) is a growing trend many businesses use to increase trust in their brands.
By sharing content created by real users that paint your products positively, you can convince people interested in your goods to buy them. This is because people trust real testimonies from other people more than just taking a brand's word for it.
Where RafflePress excels is with collecting UGC. The Submit an Image action lets you easily run photo contests on your WordPress website. This allows you to build a library of content from your target audience for your marketing materials.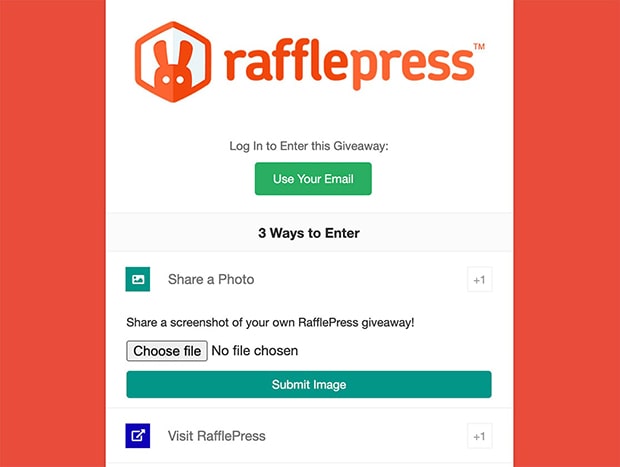 Even better, photo contests are some of the most popular ways to boost your presence on Instagram and engage with influencers.
7. Has Code-free Design Settings
Sometimes making your giveaway look attractive and stand out is more complicated than setting it up. If you're not a designer, the last thing you want is to mess around with code and complex design settings.
Unlike other contest apps, RafflePress includes point-and-click settings to change the design of your giveaway easily. You can add images of your giveaway prize, change the button colors, adjust your fonts, and choose from 2 different widget layouts.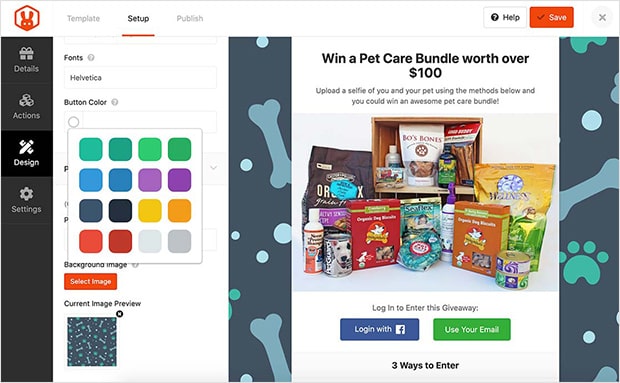 It's also possible to add custom backgrounds for your giveaway landing page, which we'll explore next.
8. Includes Distraction Free Giveaway Landing Pages
Another stand-out RafflePress feature is the ability to create standalone landing pages for your giveaway. These are single pages on your WordPress site, free from unnecessary distractions, containing only your giveaway widget.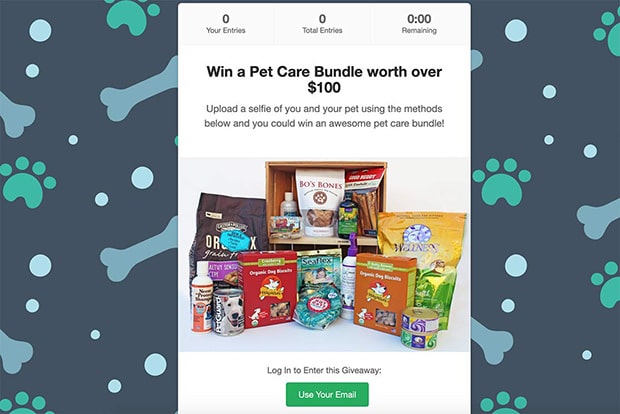 Using a giveaway landing page is the best way to focus your visitor's attention. There won't be any recommended content, banners, menu links, or anything else to distract people from the goal of entering your contest.
What's more, it's super easy to share your landing page across the internet by simply copying and pasting the page URL. As a result, you can boost traffic to your website.
9. Generates Giveaway Rules Automatically
To keep your giveaway fair for all participants, it's essential to create a clear set of rules. It's also the best way to explain who can and can't enter if your giveaway's limited to specific locations and ages.
With RafflePress's built-in giveaway rules generator, you can create clear rules almost instantly. Instead of manually writing your guidelines, you can enter a few pieces of key information and have the app generate rules automatically.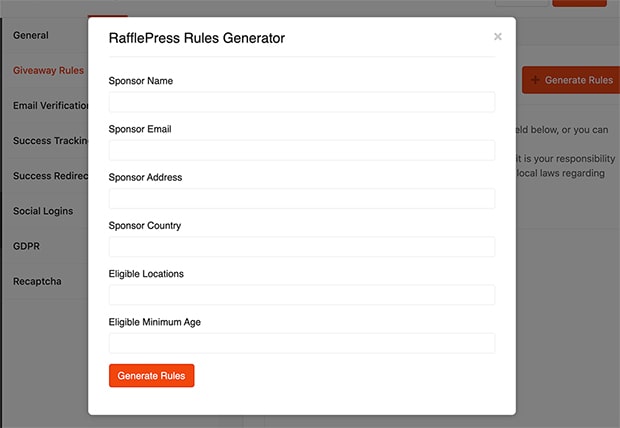 When your contest launches, users can click and see your rules inside the giveaway widget.
10. Integrates with Popular Email Marketing Services
Some giveaway tools only let you connect to a select few email marketing providers. This doesn't help if you manage your email list with a service that isn't supported.
In contrast, RafflePress integrates with all the popular email providers, including:
ActiveCampaign
AWeber
Constant Contact
ConvertKit
Drip
MailChimp
GetResponse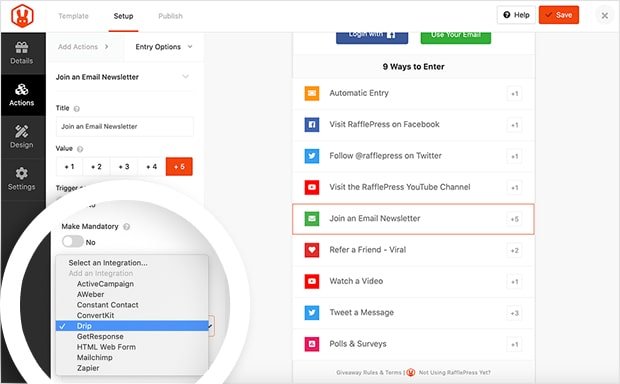 You can also paste an HTML web form or connect to thousands of other services via Zapier to automate your lead generation efforts and grow your email list.
11. Allows Easy Tracking and Retargeting
Need an easy way to measure the success of your giveaway? RafflePress has the ideal solution.
With built-in Success Tracking settings, you can enter your Google Analytics tracking code and see your results in your Google Analytics dashboard.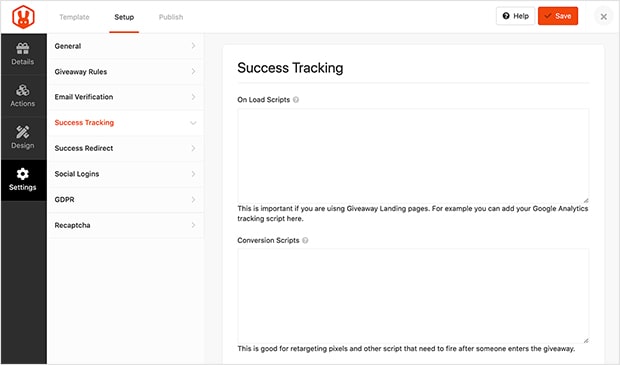 On the same page, you can paste Conversion Scripts that load whenever anyone enters your giveaway. This is an excellent place for Facebook retargeting pixels so you can reach contest participants via ads after they've left your website.
12. Stores Giveaway Entries Inside WordPress
Ever struggle to keep track of everyone entering your contest? This is a challenge if people are entering across multiple platforms and can result in unwanted mistakes and overlooked participants.
You won't have that issue with RafflePress.
When users enter your contest, their details are stored right inside WordPress. With a quick look, you can see who has entered, how they entered, and other details such as their names, email addresses, and date of entry.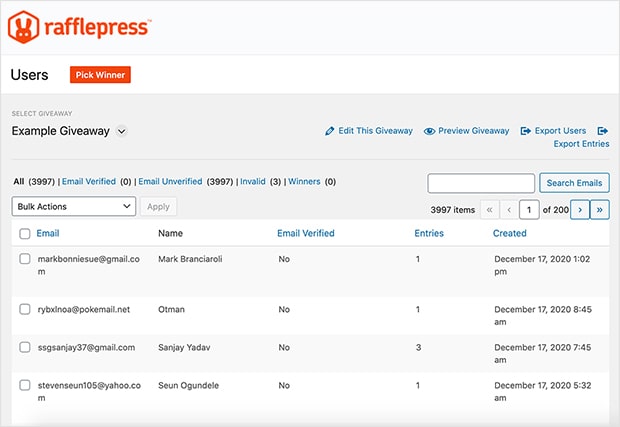 Instead of scrolling through endless comments, likes, and shares, everything is organized in a single place.
13. Helps Reduce Spam Entries
A significant worry for business owners is the influx of spam that often comes with viral giveaways. Not only can spam entries make your results more unreliable, but they also take legitimate chances to win away from real users.
RafflePress has several ways to combat giveaway spam. First, you can ask users to verify their email addresses when entering to ensure they're legit users. You can also check that they take the required entry actions in the entry dashboard mentioned above.
Besides those steps, you can enable Invisible Recaptcha for giveaways.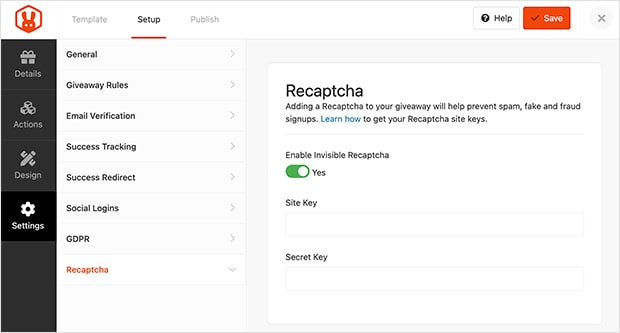 Unlike normal Captchas that are easy to bypass and difficult for genuine users to complete, Invisible Recaptcha works in the background, only showing when spam-like activity occurs.
This protects your giveaway from unqualified entries and avoids complex puzzles and codes that can frustrate your visitors.
14. Allows You to Randomly Draw Contest Winners
When your giveaway is over, choosing a winner should be easy and stress-free. The typical approach is to use a number generator or third-party tool to select winners. But this isn't always the most accurate solution.
In RafflePress, you can avoid that frustration by using the built-in random winner picker. With a few clicks, the plugin automatically selects a winner from the total qualifying entries.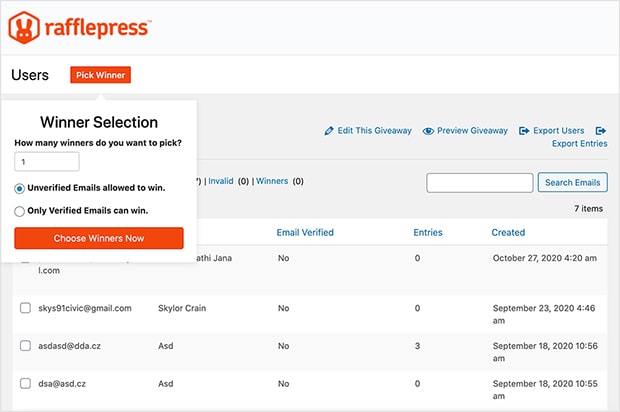 If you like, you can tweak the settings to draw a winner from verified entries only or pick multiple winners all at once. When the winners are drawn, RafflePress highlights their details, allowing you to click and email them the good news.
15. Is 100% Mobile Friendly
Since most people now browse the internet from mobile devices, it makes sense to serve that audience with your giveaways. This means your giveaway apps should adapt automatically to multiple screen sizes.
The good news is RafflePress is 100% mobile-responsive, so your contests will look fabulous no matter which device people use. No matter if it's a wide-screen laptop, desktop, tablet, or mobile phone, every giveaway campaign will look fantastic.
How Much Does RafflePress Cost?
Throughout this RafflePress review, you're probably thinking, "how much does this all cost?" Don't worry; you won't need to remortgage your house to use this plugin.
In fact, you can use RafflePress for free!
With RafflePress Lite, you get everything you need to create a successful giveaway in WordPress. So, if your budget is limited, you won't have to spend a penny.
However, to enjoy the full benefits of viral giveaways and use the plugin across multiple websites, it's a smart idea to upgrade to RafflePress paid plans.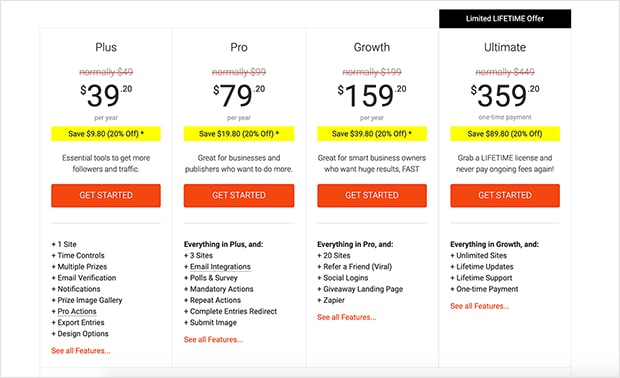 Here's a break-down of what each plan costs:
Plus Plan: $39.20 per year for 1 site
Pro Plan: $79.20 per year for 3 sites
Growth Plan: $159.20 for 20 sites
At the time of writing this review, there's also a limited lifetime plan called Ultimate for a one-time payment of $359.20. This offers all the benefits of the other plans, plus unlimited websites, updates, and support for life.
Is RafflePress the Best WordPress Giveaway Plugin?
After thoroughly testing this plugin, we've concluded that RafflePress is the best WordPress giveaway plugin on the market.
Given how easy it is to use and the wide variety of growth features, it's the best solution for growing your email list, website traffic, and social media followers with viral giveaways and contests.
Ready to skyrocket your business growth? Get Started with RafflePress Today!