Are you looking for a Google Analytics plugin for your WordPress site? Wondering if MonsterInsights is the best fit for your needs?
MonsterInsights boast about being the best Google Analytics plugin for WordPress. But is it worth the hype and money?
In this MonsterInsights review, we'll examine all its features and help you decide if it is the best fit for your site.
What Is MonsterInsights?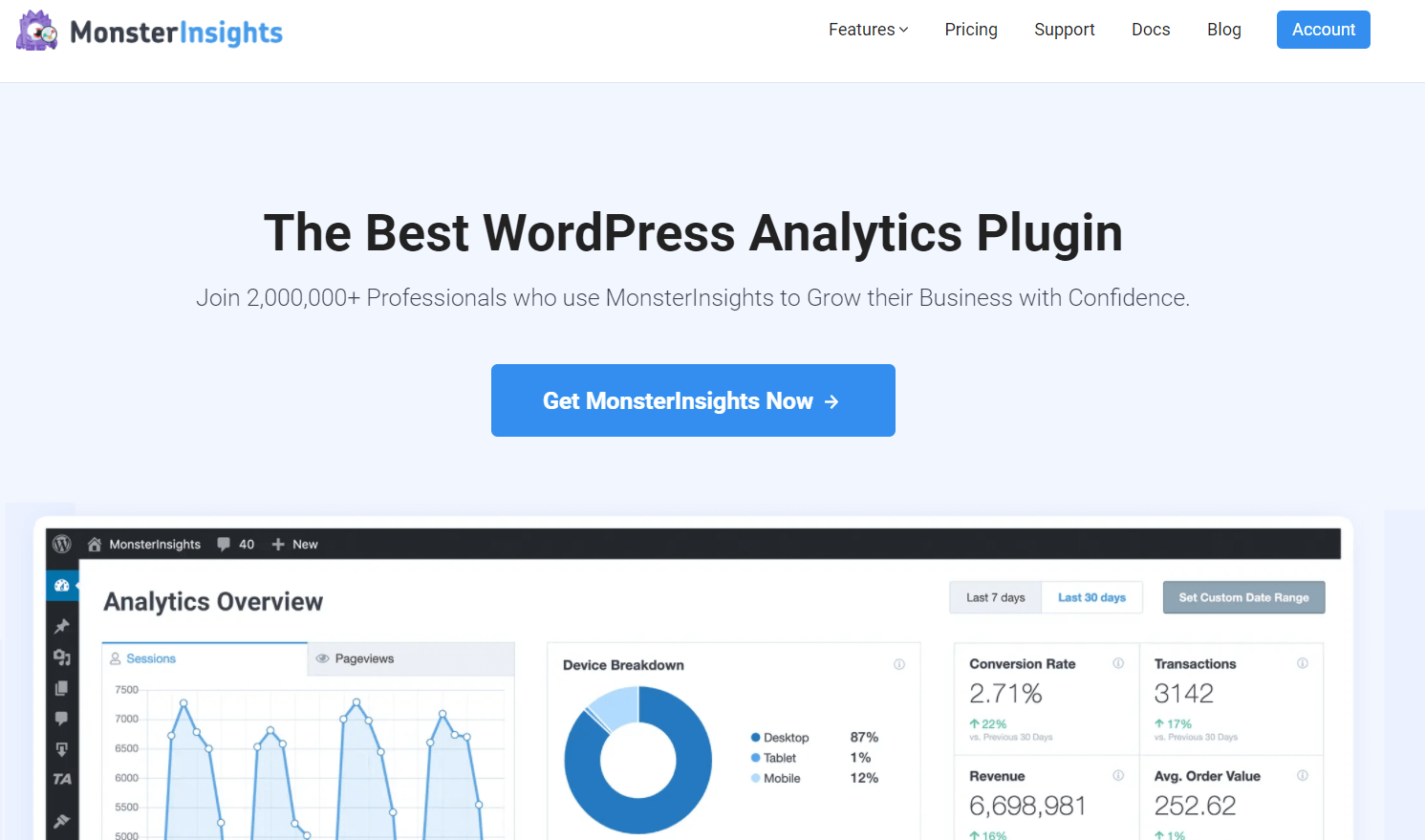 MonsterInsights is the best Google Analytics plugin for WordPress. Over 2 million professionals use the plugin, including renowned companies such as Microsoft, FedEx, PlayStation, and Bloomberg.
It lets you set up Google Analytics in WordPress without editing code or hiring a developer. Using MonsterInsights dashboard reports, you can view all the important data from Google Analytics right in your WordPress admin area.
Not only that, but it comes with advanced tracking features like event tracking right out of the box. You can also track top affiliate links, most click outbound links, or popular file downloads using MonsterInsights.
MonsterInsights also offers several powerful addons to enhance its tracking features. For instance, business owners can set up eCommerce tracking to measure their online store's performance, track form conversions in an instant, see which banner ads are most effective, and much more.
Plus, it connects with Google Analytics 4 (GA4), the newest version of Google Analytics.
That said, let's look at why you should be using MonsterInsights on your website.
1. Easily Set Up Google Analytics
With MonsterInsights, setting up Google Analytics is very easy. Its setup wizard will guide you every step of the way and connect analytics with a WordPress site in a matter of minutes.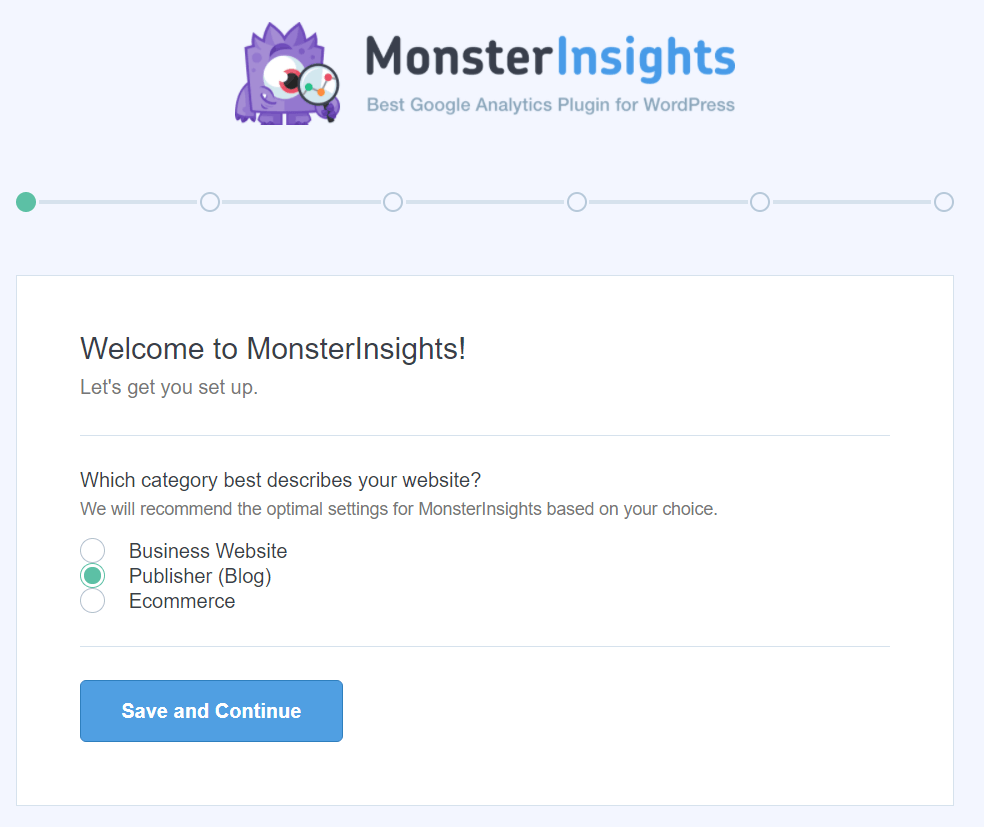 The best part of using MonsterInsights is that there's no need to hire a developer or edit code.
All you have to do is create a Google Analytics account and then follow the steps in MonsterInsights to get started.
2. View Google Analytics Reports in WordPress
Another benefit of using MonsterInsights is that it brings all your essential metrics from Google Analytics in one place.
To view how people interact with your site, you don't have to leave your website. MonsterInsights shows the data inside your WordPress admin area.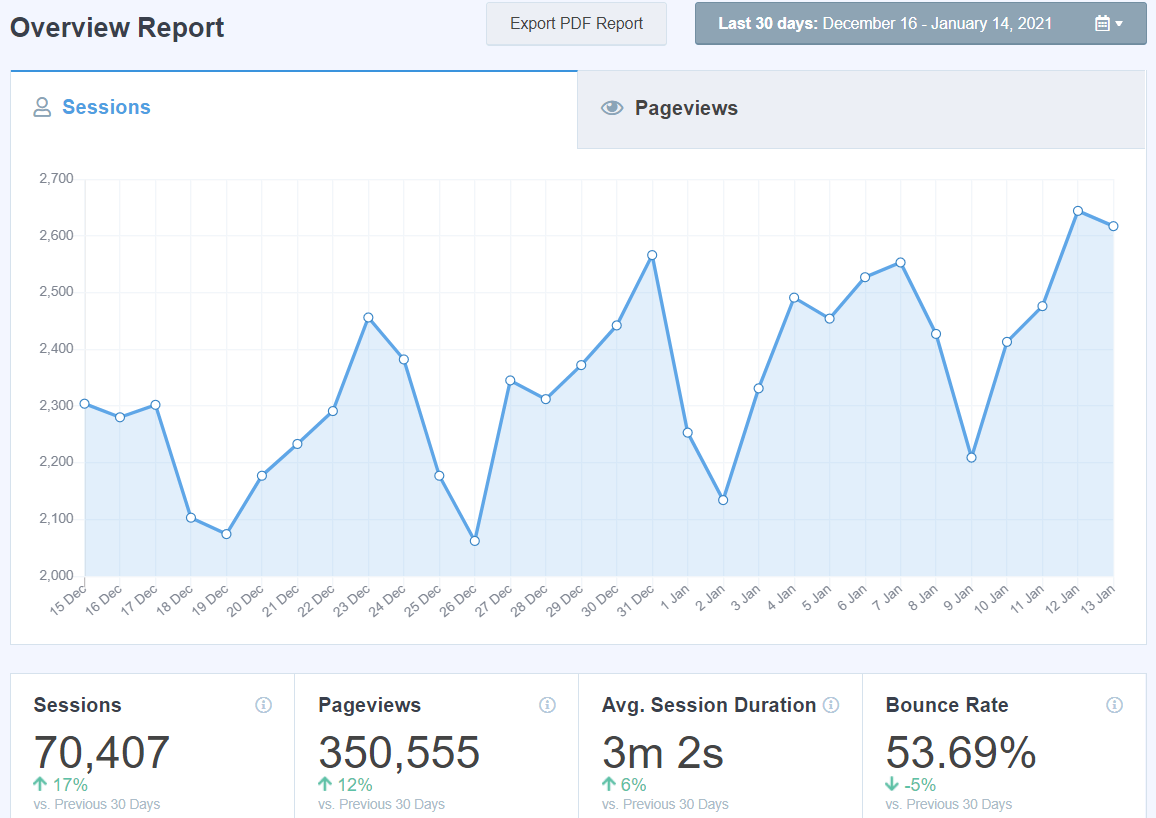 Plus, the complex Analytics reports are compiled in such a way to help you make data-driven decisions to grow your business.
3. Track eCommerce Performance
If you have an eCommerce store and are looking for a way to track its performance, then MonsterInsights can help you.
With the MonsterInsights eCommerce addon, you can track eCommerce metrics in just a few clicks, such as the total revenue, conversion rate, number of transactions, and average order value.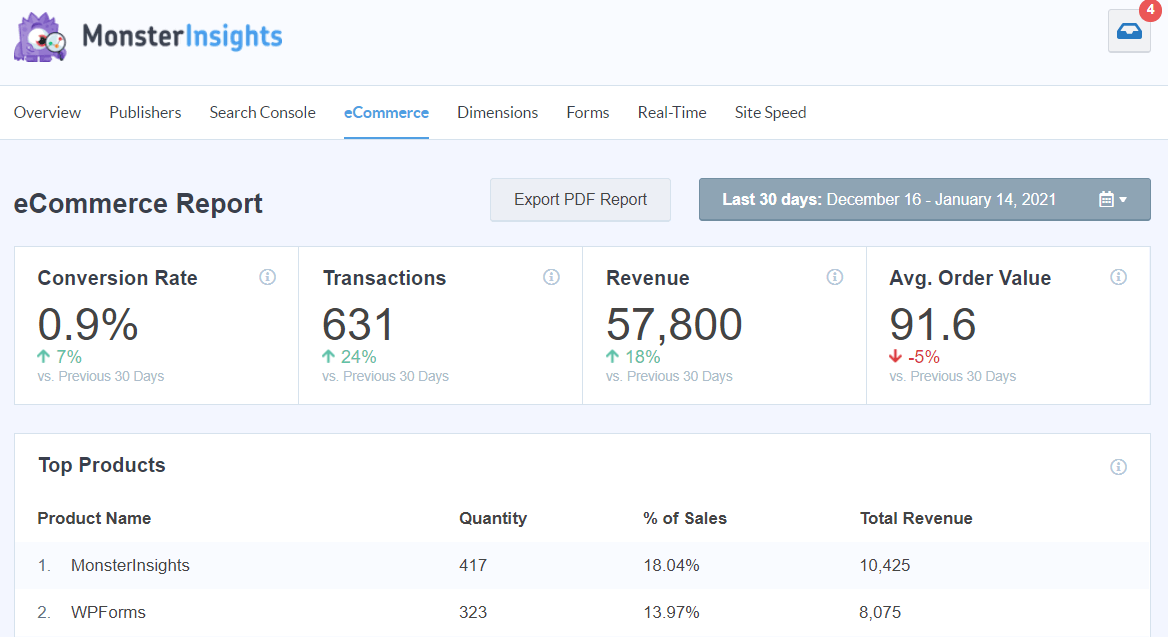 It also lets you see the most popular product in your store. That way, it's easy to figure out which products people like so you can come up with new product ideas to increase sales.
Besides that, you also get to track top conversion sources, time to purchase, sessions to purchase, total add to cart, and total removed from cart through eCommerce tracking.
4. Automatically Set Up Form Tracking
Do you want to know how different forms are performing on your WordPress site? Forms allow any business to collect leads and enable visitors to stay in touch with you.
But it's important to know which form is performing the best.
MonsterInsights Forms addon automatically tracks all WordPress forms on your site and shows a report inside the admin area. In the report, you can see the number of impressions, conversions, and total conversion rate for each form.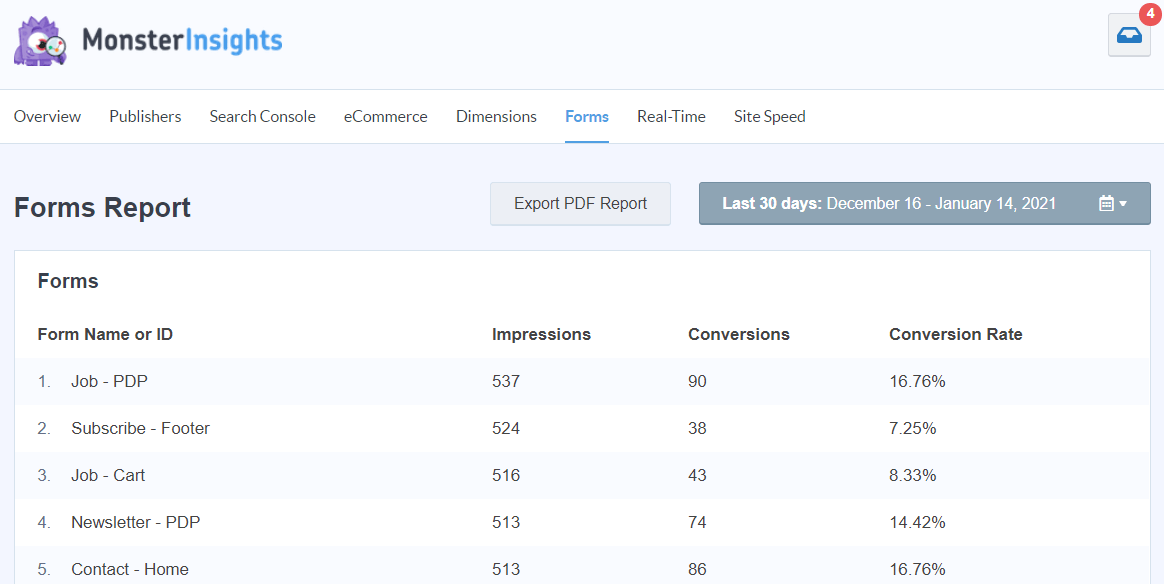 5. Identify Top Performing Affiliate Links
If you're a blogger or an affiliate marketer, then it's important to track each affiliate link to see how they're performing. But setting up affiliate link tracking in Google Analytics can be tricky for beginners.
To help out, MonsterInsights tracks affiliate links right out of the box. Just specify the path and label of your affiliate link in the settings, and the plugin will take care of the rest.
Then simply view which link gets the most clicks in the Publishers report in the admin area and increase your revenue.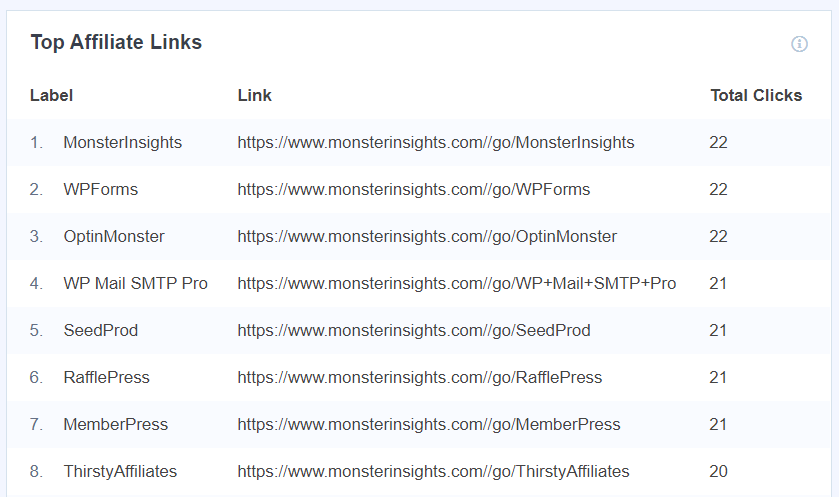 6. Track File Downloads
Another vital metric MonsterInsights automatically tracks is file downloads on a WordPress site.
If you're offering downloadable content like ebooks, reports, PDF files, videos, and others alike, then the plugin helps you find out which file people like to download a lot.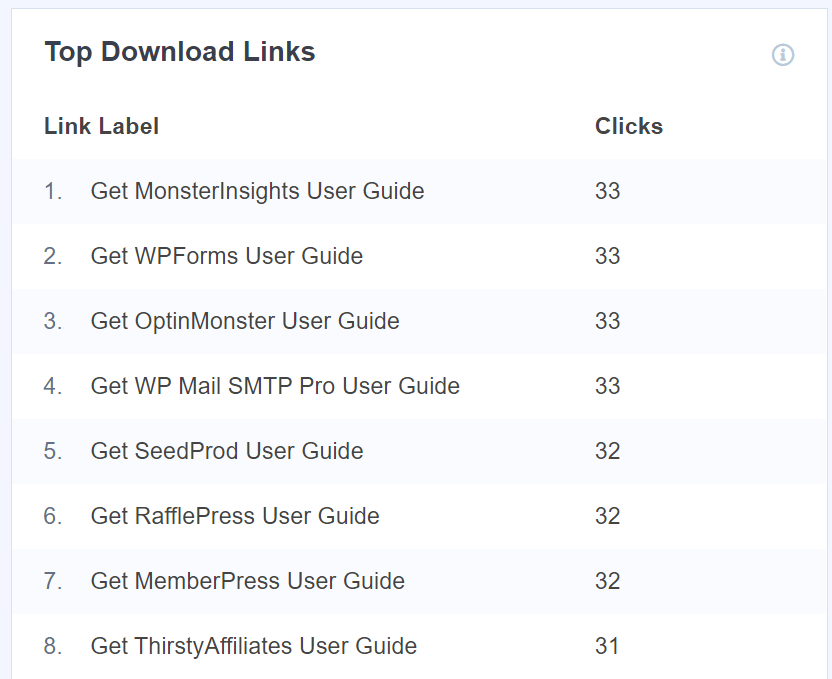 This way, you can create more content that visitors prefer to download, capture more leads, and build an email list.
7. Identify Traffic Sources & Invest in the Right Channel
For any business to be successful, it should know where its visitors are coming from. By tracking traffic sources, you can invest in the right channel to attract more people to your site and get more conversions.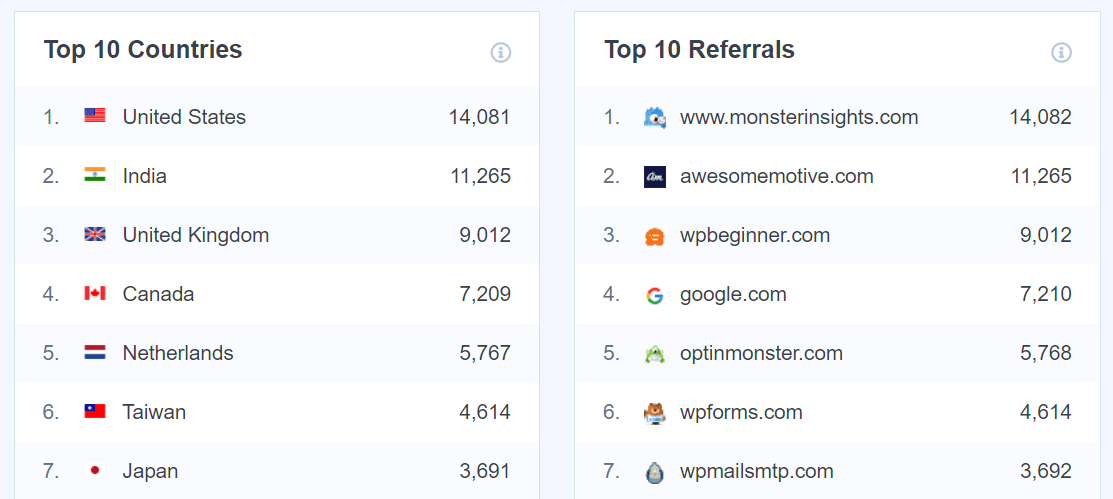 MonsterInsights helps to find the top traffic sources. For instance, you can discover top traffic sources based on countries and create targeted marketing messages for people from different regions. Or offer content in different languages to boost engagement.
You could also see which referral source is sending visitors to your site. This way, you can find similar websites to promote your products and content or create partnerships with top referral sites to get backlinks.
8. Dual Tracking with Universal Analytics and Google Analytics 4
MonsterInsights is the only plugin of its kind that can connect to both Universal Analytics and Google Analytics (GA4) at the same time with the Dual Tracking feature.
That means that if you want to set up and start using a Google Analytics 4 property, you won't have to start with a blank slate. You can keep using your Universal Analytics property with all of your site's historical data and collect additional data from GA4.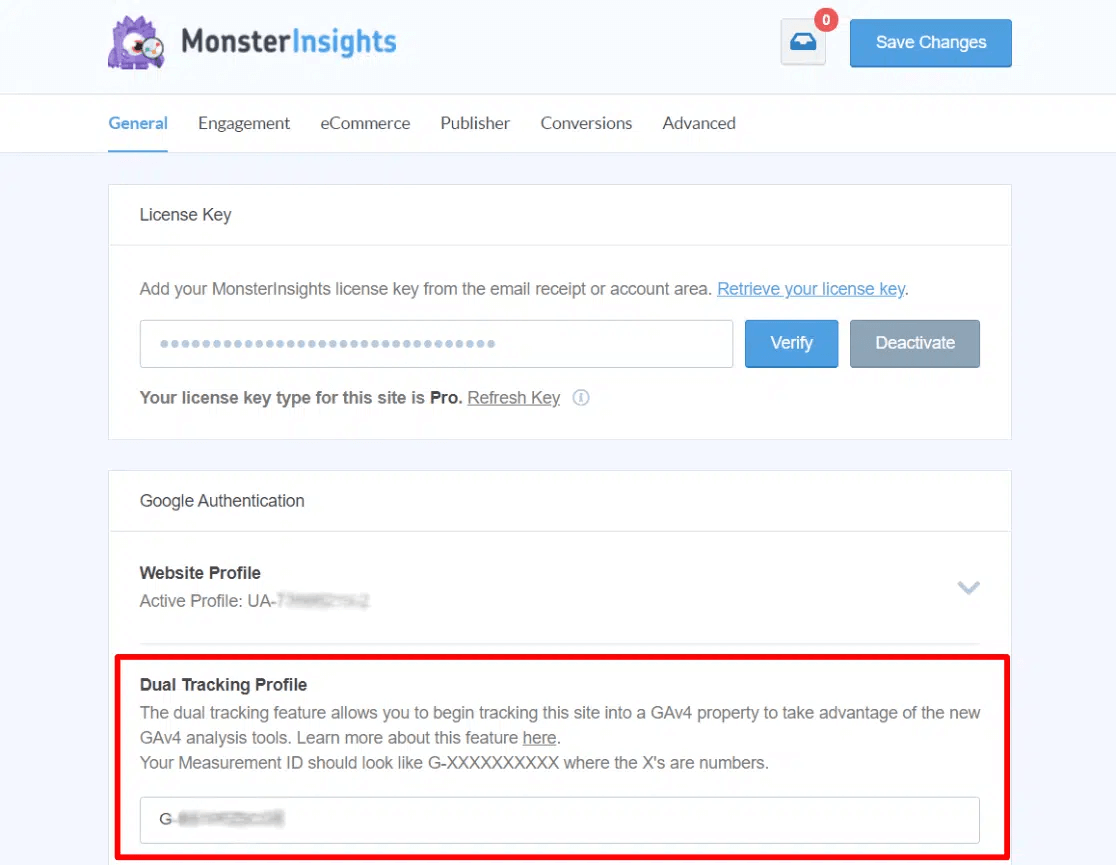 Google Analytics 4 is also currently missing some important reports like Google Search Console, bounce rate, and goals. But with dual tracking, you can still access all of the reports you know and love while being prepared for new features or reports that are released in GA4.
9. Make Google Analytics GDPR Compliant
Did you know that MonsterInsights is GDPR compliant?
GDPR or General Data Protection Regulation is a privacy regulation in Europe that requires consent from EU citizens before you can collect and process their data in Google Analytics.
If companies don't comply with the regulation, then they could be fined 4% of annual revenue or 20 million euros (whichever is higher).
But thanks to the MonsterInsights EU Compliance addon, you can automatically anonymize and disable personal data tracking on the website.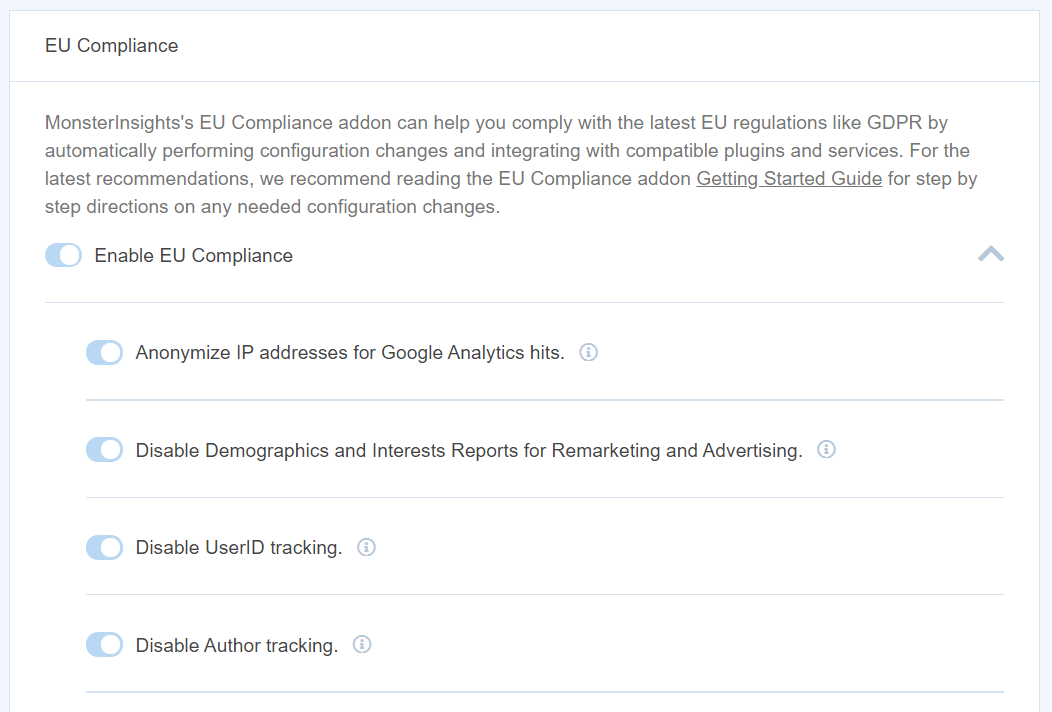 It's also compatible with plugins like CookieBot and Cookie Notice and will only load the analytics script once a user grants consent via those plugins.
10. Get Additional Insights with Custom Dimensions
MonsterInsights enables you to set up custom dimensions on your website quickly and easily.
Custom dimensions allow you to track additional data in Google Analytics, which isn't tracked by default. They provide more insights into how people behave and interact on your website.

For example, you can track the most popular authors, see which post type performs the best, identify the best WordPress category, and track focus keyphrases and SEO score.
11. Optimize Your Website for the Right Keywords
Ever wonder which keywords people use in Google search to find your website? Using the MonsterInsights Search Console report, you can find the top 50 Google search terms.
But do note that you'll have to connect Google Analytics and Google Search Console with each other.
Once that's done, simply view the report and see keyword rankings, clicks, impressions, and click-through rate (CTR).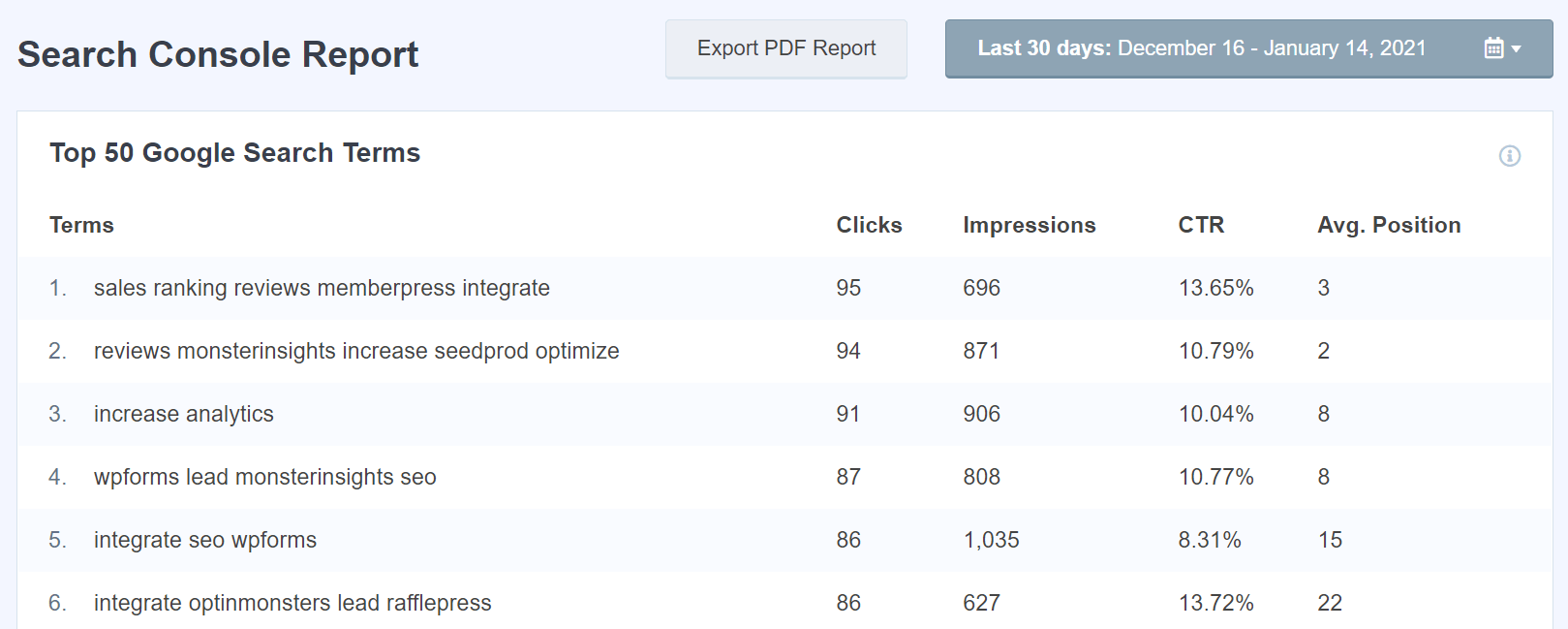 Then use this information to find new keyword opportunities, optimize your site for search terms to boost their rankings, and increase organic traffic.
12. Increase User Engagement with Popular Posts
With MonsterInsights, you can display your best content and top-selling products anywhere on the website using the Popular Post feature.
It keeps your visitors on your site by helping them discover new content, reduce bounce rate, and increase engagement.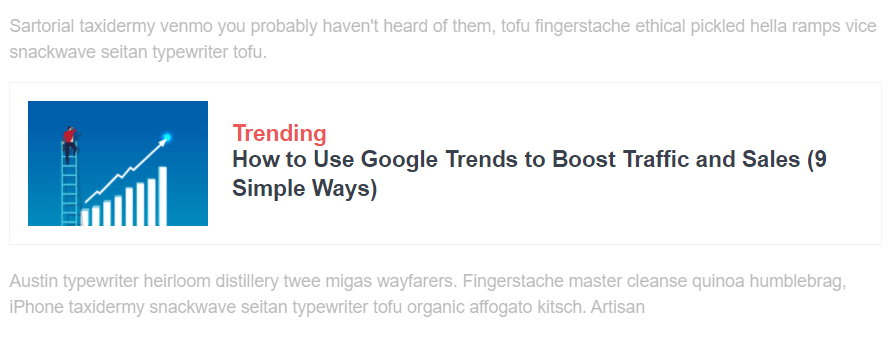 You can showcase popular posts in the sidebar, at the end of the article or in a beautiful snippet within the content area of your blog. Similarly, if you're running an online store, you can use the popular product option to promote your best items.
MonsterInsights even lets you customize the popular posts widgets. Select from different themes and design options, determine your best content based on comments, ShareCount, or specify a list of posts to rotate in the widget randomly.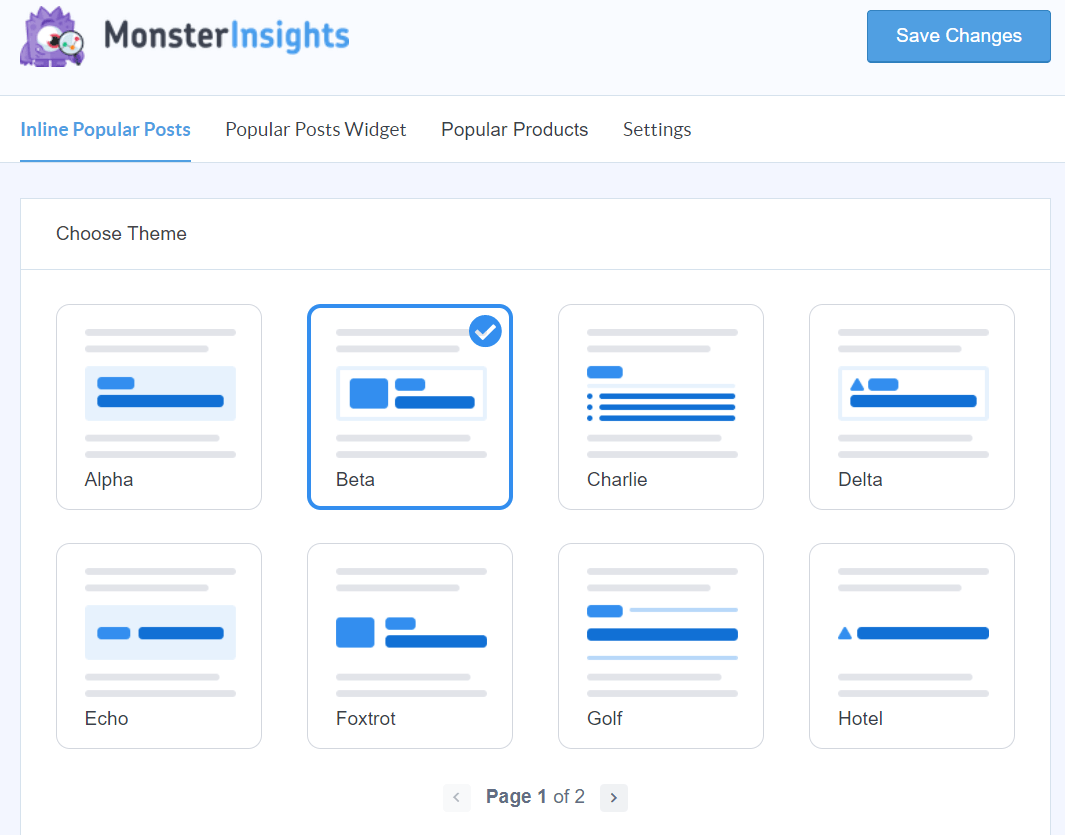 13. Get Contextual Insights to Grow Your Business
MonsterInsights also helps in making the best use of the data in its reports through Contextual Insights.
It shows tips and suggestions on how to use the data in a better way. It also recommends which additional tracking you need to set up to get more insights for growing your business.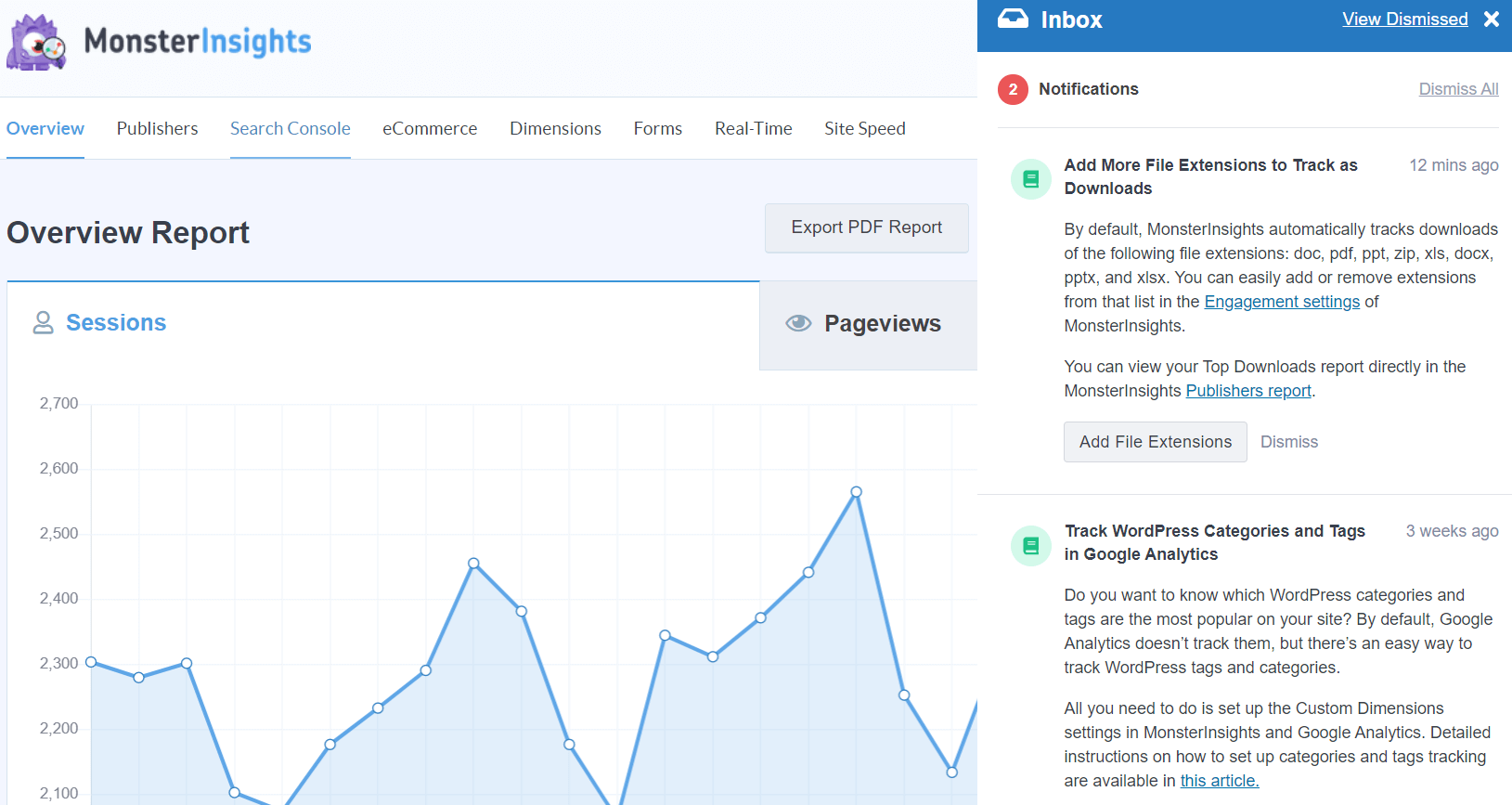 For example, suppose you have different WordPress categories but haven't set up category tracking in Google Analytics. In such a case, MonsterInsights will send a notification informing you of tracking categories and also provide a link to a tutorial to get started.
14. Get Weekly Performance Reports via Email
Wouldn't it be cool to get a weekly notification about how your site is performing?
With MonsterInsights Email Summaries, you can get weekly performance reports delivered straight to your email inbox. This way, you can stay on top of how your website is doing and take any action without having to view reports or visiting Google Analytics.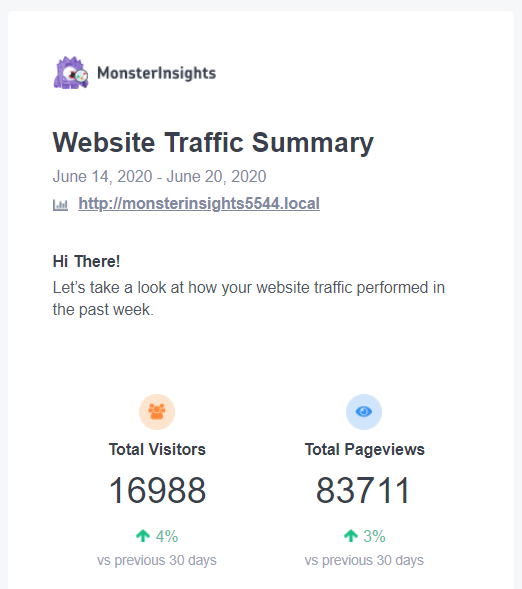 This feature also comes in handy if you're handling different clients. You can even automatically send weekly reports to your clients, so they get to know how the site is performing.
15. Exclude User Roles from Tracking
MonsterInsights also helps you exclude internal traffic from tracking in Google Analytics, so your data remains accurate.
By default, Google Analytics track logged-in users, which can skew the data since these users may not be your ideal audience.
With MonsterInsights, you can exclude different user roles from tracking. Simply specify which roles you don't want to track in Google Analytics, and they'll be excluded from tracking.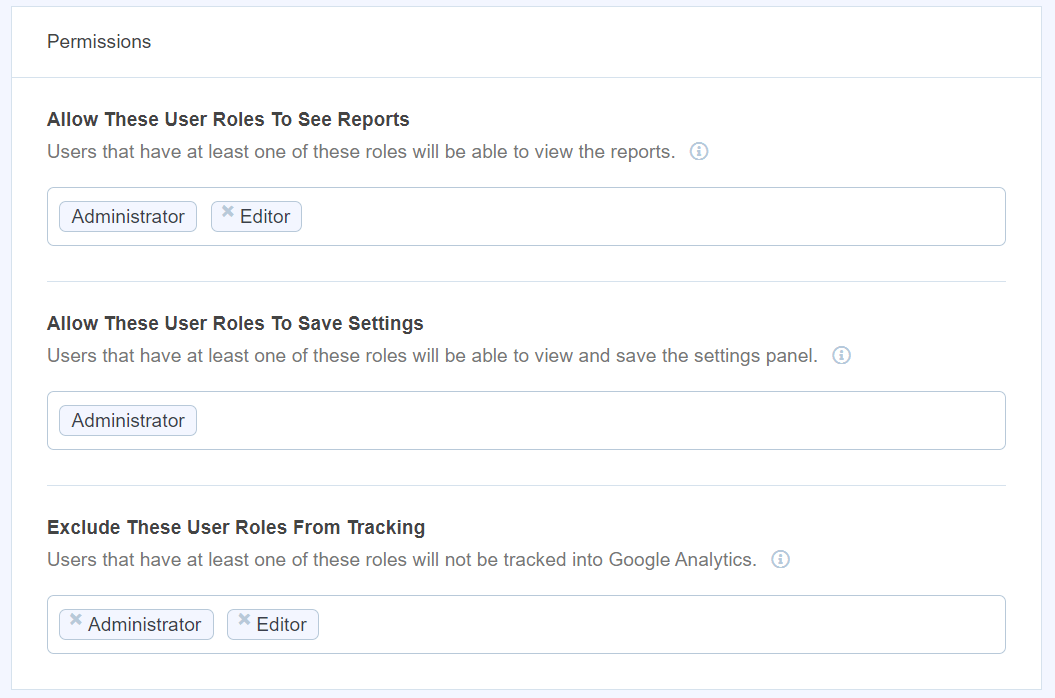 16. Seamless Integration with Popular Plugins
The last reason why you should be using MonsterInsights on your site is that it easily integrates with some of the best WordPress plugins on the market.

It fully integrates with WooCommerce, MemberPress, Easy Digital Downloads, and LifterLMS and tracks their performance in just a single click.
MonsterInsights also works with all WordPress form plugins like WPForms, Formidable Forms, and Gravity Forms. Besides that, it easily integrates with Google marketing services like Google AdSense and Google Optimize.
How Much Does MonsterInsights Cost?
MonsterInsights offers different pricing plans for all types of businesses. Each plan comes with a 14-day money-back guarantee.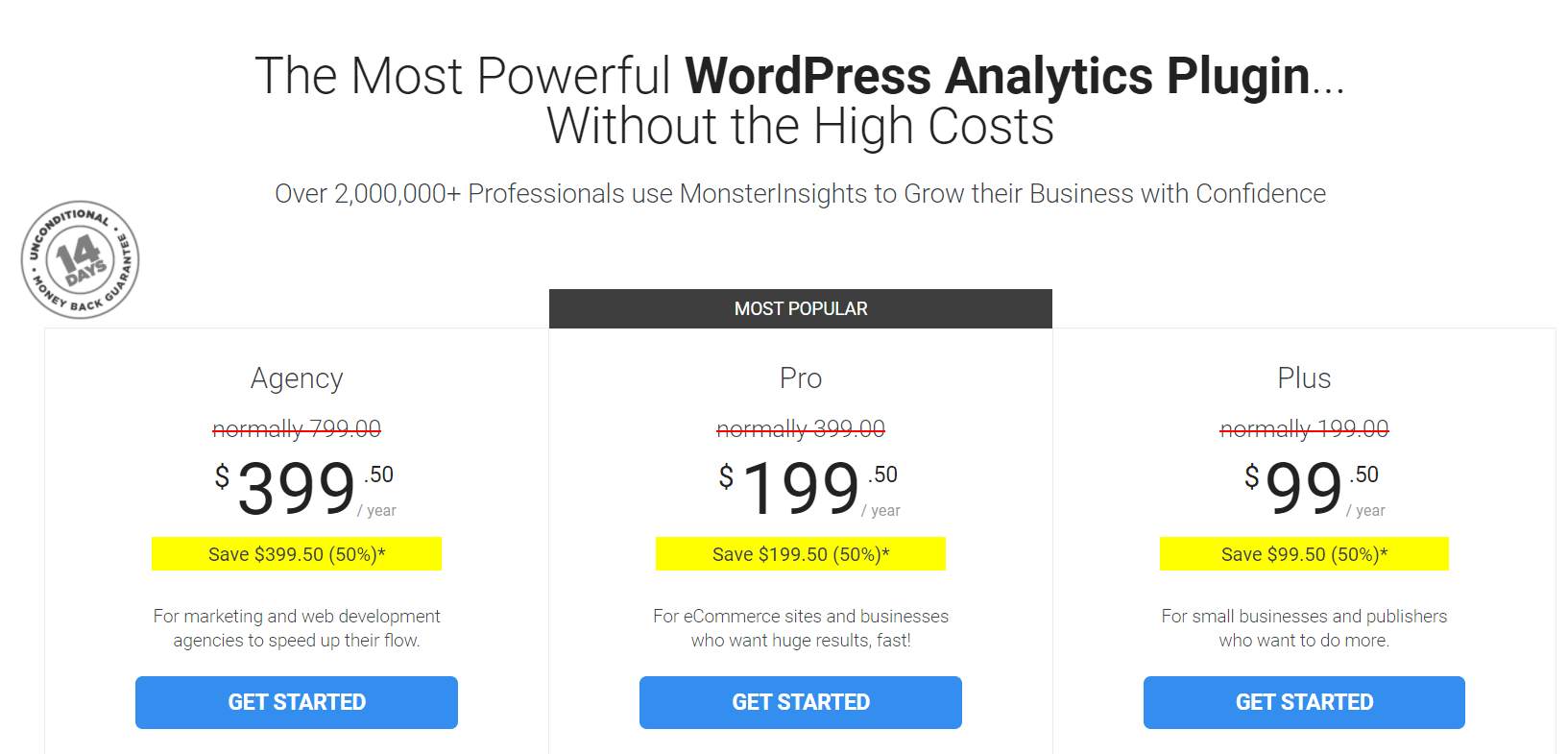 The best part is that it even offers a free / lite version, which is available to download from WordPress.org.
But if you're looking for dashboard reports, advanced tracking like eCommerce tracking, custom dimensions, and more features, then you might want to consider the Pro version.
That's it!
We hope you enjoyed our detailed MonsterInsights review. It's the best Google Analytics plugin for WordPress, as it's easy to use, offers lots of features, and helps you find the data you need to make decisions and grow your business.
Want to try MonsterInsights yourself? Click here to get started!