Are you looking for the best SMTP provider to ensure your emails are delivered?
Email is an essential part of running a WordPress website, but by default, WordPress uses PHP to send emails.
The problem is that a lot of shared hosting providers don't configure PHP properly, or they've disabled it entirely to avoid abuse.
This means that your WordPress emails aren't getting delivered.
SMTP services offer an easy and secure solution to this problem, but there are a ton of them on the market. That's why we've done the work to narrow it down to this list of popular SMTP services.
Before we get into the list, you may be wondering what the heck SMTP email is and why, or even if, you actually need it. Keep reading and we'll answer all those questions!
What Is SMTP and Why do You Need an SMTP Service?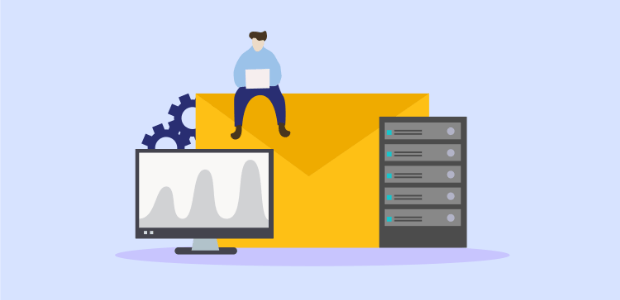 What is SMTP?
SMTP (Simple Mail Transfer Protocol) is the industry standard to send emails on the internet. It uses proper authentication that increases the likelihood that your emails will be successfully delivered to your user's inbox.
WordPress sites rely on email for various things like:
Registering a new account
Recovering lost passwords
Notifications for password changes, new posts, comments, and tons of other things
For eCommerce sites, it can be even more urgent that users get their emails. After all, you're dealing with people's money, right? You want to make sure that things like customer order confirmations and invoices, shipping notifications, delivery confirmations, and more order-related information is getting through.
There are quite a few problems with the default mailing method WordPress uses (PHP), and it actually fails quite often.
For successful and reliable email marketing, you need to choose a high-quality SMTP service.
Best SMTP Services for Email Marketing
So, let's take a closer look at some of the most popular SMTP services available. We've also included pros and cons for each of the SMTP services that we've seen most often reported in user reviews.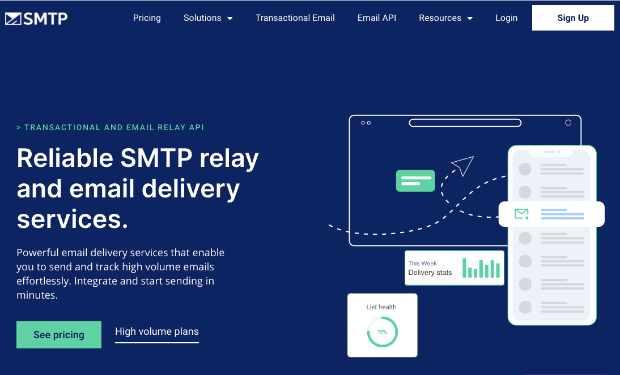 SMTP.com is hands down the most powerful email delivery service on the market. Not only can it handle large volumes, but it also ensures speedy delivery.
It's built on a highly responsive infrastructure that ensures there are no delays.
SMTP.com lets you set up, integrate, and start sending emails in minutes.
It also comes with a Reputation Defender addon to proactively monitor your email list health. It protects your domain and IP reputation and ensures high delivery rates.
SMTP.com also gives you comprehensive reports so you can check and improve your email delivery and engagement performance.
It meets the needs of businesses and developers alike and has affordable plans for all.
Pros
It supports shared IPs and dedicated IPs
Flexible and scalable plans
Proactively checks and blocks spam and maintains high delivery rates
Superfast delivery with over 99% system uptime
It has a highly responsive support team that's available 24/7
Effortless migration from other services
Cons
The interface misses one or two minor features. It doesn't stop it from being the best email service, but they could be helpful additions.

That said, the developers are constantly innovating and improving the service. So you can reach out to their friendly support team with suggestions and they will happily consider it.
Pricing
Pricing starts at $25/month.

WP Mail SMTP is the best WordPress SMTP plugin and it allows you to easily send WordPress emails using any SMTP email service provider. Plus, it's super easy to set up.
It's available as a free SMTP plugin, or you can upgrade to the pro plugin to get access to more features.
WP Mail SMTP offers easy setup for other mail clients like SendGrid, Mailgun, and Gmail with the free plugin; Amazon SES and Microsoft SMTP come with the Pro plugin.
And, if all of this SMTP stuff makes your head hurt, you can sign up for the Elite plan and get White Glove Setup to have an expert from their team set up your SMTP service for you.
Pros
Instead of having different SMTP plugins and workflows for different SMTP providers, WP Mail SMTP brings them together into one
Works with all the best email services
Native Microsoft and Amazon SES integrations (Pro)
Full control over which email notifications WordPress sends (Pro)
Backed by the WPForms team
Cons
WordPress multi-site isn't fully supported (though there are workarounds)
Pricing
Pricing starts at $49/year.
For more information, check out this post on how to set up SMTP for WordPress.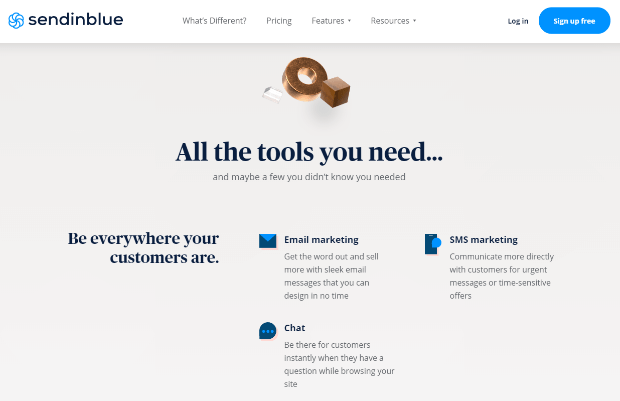 Sendinblue is a popular email marketing service that also offers SMS marketing. And, it's another of the top SMTP providers on the market.
This SMTP email provider works great with WordPress and other marketing tools like OptinMonster, Google Analytics, and more.
Sendinblue has an extendable API and SMTP relay service that improves email delivery rates for transactional emails.
Pros
Inexpensive and competitive pricing
Variety of automation features for email marketing
Intuitive, easy-to-use interface
Customizable email templates
Cons
Support is a bit on the slow side
Pricing
Based on number of emails. The free plan includes 300 emails/day. Paid plans start at $25/month (number of emails: 40,000/month).

Mailgun is a popular SMTP service for developers. It has powerful APIs that make it easy to send, receive, and track transactional emails.
Plus, Mailgun is an easy-to-scale SMTP service. Sending marketing and transactional emails shouldn't be a problem regardless of what type of site you're running: eCommerce store, small consulting business, membership website, or something else entirely.
Pros
Incredibly powerful
Supports testing mode
Great for developers: has a RESTful API with libraries and code examples in curl, Ruby, Python, PHP, Java, C#, Go
Cons
Support is not excellent
Lacks beginner-friendly features of other SMTP providers on our list
Pricing
The free plan includes up to 10,000 emails/month (and up to 100 validations). You can choose Pay-As-You-Go pricing or sign up for a traditional plan. Pricing starts at $79/month.

SendGrid is a cloud-based SMTP email service that lets you send and receive bulk emails without managing an SMTP server. And, you can create email marketing campaigns!
The SMTP service is easy to set up and works with any WordPress website, and offers excellent scalability.
SendGrid also provides complete analytics and real-time feedback on every email you send.
As far as email deliverability goes, SendGrid has tools that will improve it, like dedicated IP addresses and domain name authentication tools.
Pros
Seamless integration with WordPress via the plugin
Responsive and helpful customer support
Cons
Paid plans might be too pricey for new businesses
Pricing
The free plan includes 40,000 for the first 30 days, 100 emails/day thereafter. Paid plans start at $14.95/month (number of emails: up to 50,000/month).

Amazon SES is a flexible and scalable SMTP service for developers and marketers to send marketing, notification, and transactional emails.
This SMTP service offers high deliverability and powerful features but is mostly geared towards developers and advanced users.
Amazon SES is easy to integrate into your WordPress site with a little help from plugins (like WP Mail SMTP).
Amazon SES does one thing (deliver emails), but it does it well.
Pros
One of the most competitive prices on the market
If you're hosting your web application on Amazon EC2, the first 62,000 emails each month are free
Cons
Pricing
If you send emails using an application hosted in Amazon EC2 (U.S.): Free for the first 62,000 each month ($0.10 for every 1,000 over)
Sending email from an email client or other software (U.S.): $0.10 for every 1000 emails you send
Receiving emails (U.S.): Free for the first 1,000 emails you receive, $0.10 for every 1,000 emails you receive after that
Additional Charges: $0.12 for each GB of attachments
Postmark is one of the best SMTP services that specialize in sending transactional emails, so you just know they're focused on email deliverability and speed.
This mail client offers excellent analytics and security, as well as mobile-friendly responsive email templates, message events that can be triggered with simple webhooks, and more.
Pros
Detailed analytics with 45 days worth of email logs showing emails sent, received, who received them, who read them, and who marked them as spam
Multiple server locations (3 in the US, 1 in Amsterdam, and 1 in Singapore)
Cons
One of the most expensive (if not the most expensive) SMTP services in the market
Postmark actively discourages the use of its services for newsletters
Pricing
Plans start at $10/month (number of emails: up to 10,000 emails/month).

G Suite lets you get a professional business email address while still hanging onto the familiarity of the Google interface. Plus, you get access to the entire productivity suite: calendar, Google Drive, Docs… everything you need, with your own domain.
Pros
Super cheap
Great for small businesses
Reliable infrastructure
Cons
Limited to 2000 messages/day
Pricing
Plans start at $6/month per user.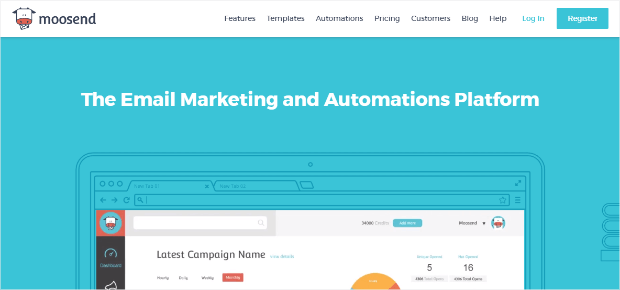 Moosend is an affordable SMTP email service that comes with a staggering 98% email deliverability rate.
This SMTP transactional email service includes a drag and drop email builder that makes it super easy to design transactional emails. You can also create and send an email blast and track the emails in real-time.
Pros
Affordable plans
Simple and easy to use A/B testing options
Great customer support
Advanced list of segmentation tools
Pricing
The free plan includes up to 1,000 subscribers. Paid plans start at $10/month. Pay-As-You-Go plans start at $3 for up to 1,000 credits.

Mandrill is the SMTP service created by Mailchimp. It's a secure and efficient way to send transactional emails if you're a Mailchimp user.
You can also use Mandrill to send your email marketing and eCommerce emails. Plus, Mandrill has advanced tracking so you can monitor the open rates, bounce rates, and click rates for your Mailchimp emails.
Pros
Easy integration with the Mailchimp platform
Very reliable for Mailchimp users
Cons
Only works with Mailchimp
Pricing
Pricing is based on blocks of 25,000 emails. For a single block of 25,000 emails, it's $20.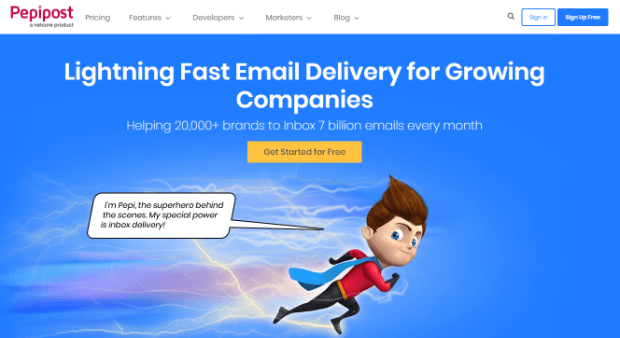 Pepipost is an email API and SMTP service that provides a secure platform to send emails.
It has simple settings that make it easy to connect and send bulk emails quickly.
Pepipost keeps track of your email delivery rates, open rates, and bounce rates, as well as notifying you of unsubscribers and other actions taken by your users.
Pros
Simple HTTP APIs that are easy to understand and integrate
24×7 support
Real-time reports
Cons
Pricing
The free plan includes up to 30,000 emails for the first 30 days, 100 emails/day thereafter. Paid plans start at $17.50/month (when billed annually).
Choosing the Best SMTP Services
Aside from the top SMTP providers that we mentioned above, there are literally dozens of others like SocketLabs, MailGet, Elastic Email, and even more!
There are so many SMTP service providers out there that let you send mass emails, WordPress emails, transactional emails, and any other kind of email you can think of.
But sending emails is the easy part, right?
What's really important when choosing an SMTP service is:
Email deliverability
Scalability
Budget
All of the SMTP services that we covered in this article are popular because they offer high deliverability and have great features and scalability.
So, which should your business choose? Here's what we think…
Best SMTP Email Service for Small to Midsize Websites:
Best SMTP Email Service for Larger Websites:
There you have it! We hope you found this article about SMTP services for reliable email marketing super informative. To push your strategy even further, check out these guides:
Want to start building your list right away? Get OptinMonster today.