Are you looking for the best push notification tools to connect with your visitors?
Push notifications are targeted messages sent to a visitor's browser or mobile phone to increase engagement and conversions.
For push notifications to work, you need to use a tool that helps you send well-crafted messages at the ideal time.
In this article, we've listed our pick of the best push notification tools for WordPress.
Why Use Web Push Notifications
Push notifications are popups that appear on a user's browser or mobile phone even when they are not actively browsing your site. This makes it hard to miss and can increase engagement, traffic, and sales.
Here's a push notification example:

Using push notifications, you can send important updates, sale announcements, product launches, and new content releases to your subscribers.
Now you may be wondering if you already have SMS and email marketing strategies, do you really need push notifications?
Push notifications are different in many ways.
First, the user doesn't need to enter any details like their email address or phone number. So right from the start, it's easier to get them to optin.
They are short messages that don't demand too much attention. They get the point across quickly and effectively.
You can grow your subscriber list much faster than your email list. This means you can get results faster, too.
The popups appear directly on the user's browser which means they don't need to open an email app or SMS folder to view the messages.
These messages are clickable and can take the user directly to where you want them to go. This gives you more control over the user's journey.
Like this, there are many advantages of push notifications. They make a great addition to your marketing strategy and can help maximize conversions.
The Best Push Notification Software for WordPress
There's a long list of push notification software available on the market. However, not all of them help you create successful push notifications.
We did the research and picked the ones we think are the best in terms of features and results.
But, if you're looking for a step-by-step tutorial that lets you set up a push notification, check out our guide on Creating Push Notifications in WordPress.
Now, let's take a look at the best push notification software that improve conversions and sales.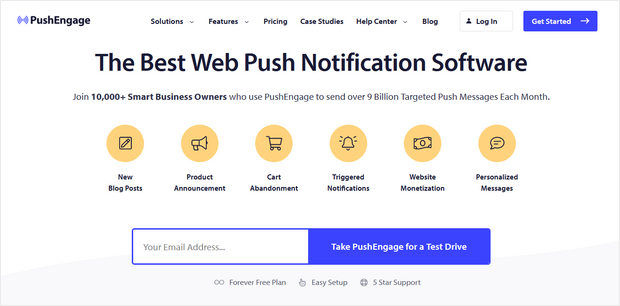 PushEngage is without a doubt the best push notification software for WordPress. It's packed with features to strategize, target, and automate your push notifications.
You can create multi-step campaigns where push notifications are delivered based on how a user interacts with your site.
For example, you can send discount coupons to users who abandoned their cart. And then welcome them back when they resume their purchase.
It also comes with powerful analytic tools that show you how your campaigns are performing. Plus, with A/B testing, you can find what works better and optimize your campaigns.
You can also target specific audiences and send personalized messages. So, you get full control over when, where, and to whom your campaign appears.
With PushEngage, you can improve UX, drive leads, and increase conversions on your site.
Features
Extemely easy set up
Trigger notifications based on user's activity
Recover users who abandoned their cart or browsing session
Create automated drip campaigns
Send smart optin reminders
Use A/B testing to optimize results
Supports all devices and browsers
Schedule or delay notifications according to timezone
Incredibly responsive support team that helps you with anything you need
Cost: PushEngage has a free plan that lets you send 120 messages to 2,500 subscribers. Their paid plans start at only $25/month.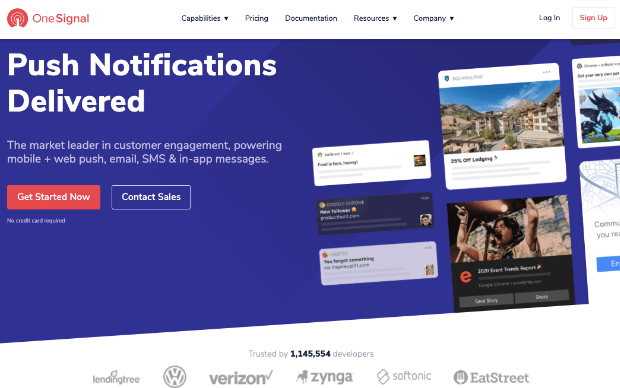 OneSignal powers notifications across email, SMS, web browsers, and in-app channels. You can create personalized notifications and send them to segmented audiences.
You can add a user's first name and products that they have in their shopping cart.
Apart from that, you can leverage A/B testing and data analytics to better your campaign results.
It's easy to scale your notification campaigns as the tool supports large volumes of notifications. But bear in mind, the cost of the tool goes up with the number of subscribers you have.
Another downside to this tool is that users have noted that it takes time to set up and get started.
Features
Send highly personalized messages
Track analytics and data of notifications
A/B testing to find what works the best
Works with all devices
Supports mobile, in-app, web browser, and email
Cost: The free plan lets you send 10,000 web notifications and is designed for companies with basic needs. Their paid plans start at $9 and increase with the number of subscribers you have.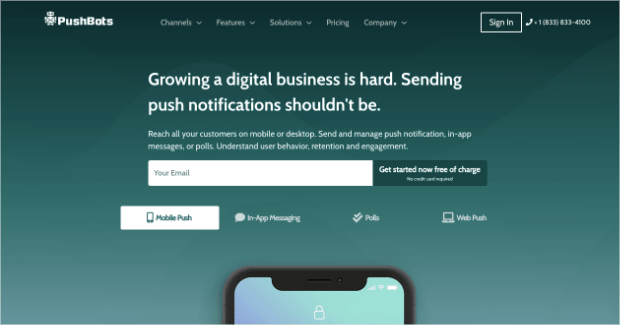 PushBots lets you send and manage push notifications for your site.
The team behind PushBots has analyzed millions of push messages to identify user patterns. As a result, they've built a model that can predict the ideal notification delivery time based on user timezone and behavior.
It gives you an overview of people using your site to help you understand their behavior. This can help improve customer engagement and retention.
Plus, it lets you send unlimited notifications to your subscribers so you can reach out to them as often as you want.
Features
Target users based on country, language, and segments
Create and automate multi-step campaigns
Multilingual support
Smart scheduling options built on AI and machine learning
Integrates with Twitter
Cost: The Lite plan starts at $29 and limits you to 5,000 subscribers.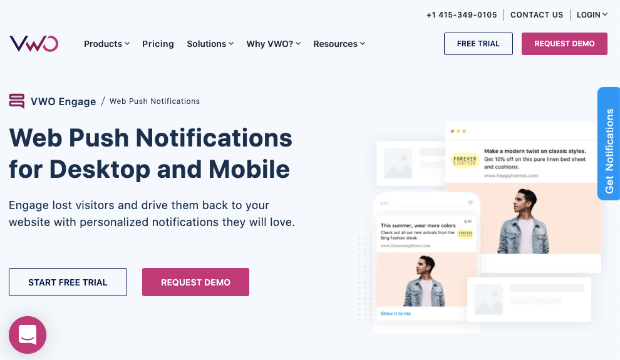 Previously called PushCrew, VWO Engage (PushCrew) is a push notification tool that lets you create automated marketing campaigns.
It lets you target visitors who drop off from your funnel and bring them back to your site. And you can create attractive messages without any coding or design skills.
You can use VWO Engage to send notifications for new arrivals, time-sensitive deals, upcoming launches, and more.
The downside is that there's no free plan so you will have to pay to use this tool. However, they do offer a 30-day trial period.
Features
Trigger-based notifications
Browse and cart abandonment triggers
Retargetting features to reach out to lost visitors
Data analytics to see campaign performance
A/B testing tools
Segmention of audience to target messages
Cost: Plans start at $99/month.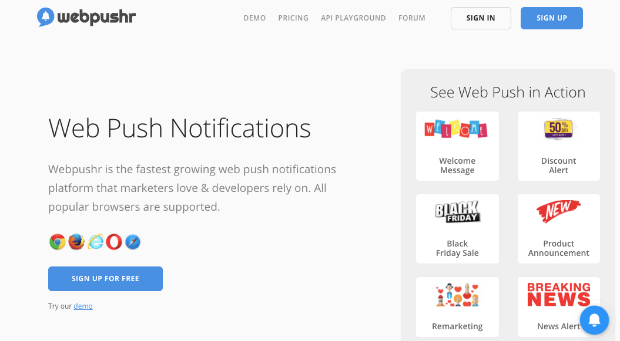 Webpushr is an affordable push notification tool. It lets you send notifications to up to 60,000 subscribers for free.
You can send welcome messages, discount and sale alerts, and product announcements.
It's easy to customize your prompts and analyze your campaign's performance.
It also comes with neat features to segment your audience and remarket your brand to abandoning visitors.
The tool, however, doesn't have phone or chat support so it might be hard to get in touch with the support team.
Features
Supports large images, action buttons, and emojis
Add custom branding
Scalable for enterprises
Monitors website uptime
Tracks conversions and other data
Supports mobile and desktop
Cost: There's a free plan that limits you to 60,000 users. After that, plans start at $19/month.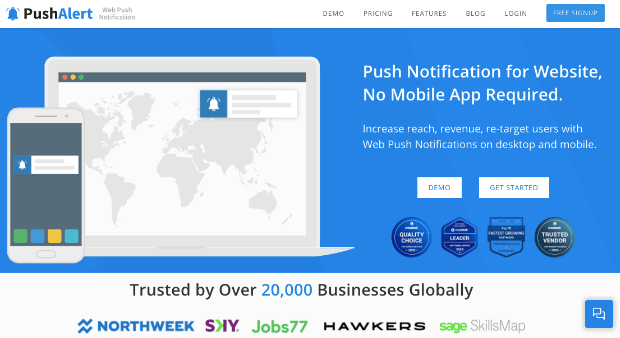 PushAlert lets you send push notifications in real-time to subscribers.
You can target individuals and send personal recommendations based on their interests. It gathers data using keywords, URLs opened, number of visits, user location, and the device's OS.
In doing so, it can help you create highly engaging campaigns to improve user experience. It supports A/B testing as well so you can optimize your results.
That said, one thing you should look out for in any plugin is a responsive support team to help you through issues you may face.
Push Alert's support system seems to be very slow. Users have complained of not getting any answers to their problems with the tool.
Features
Know when subscribers are most active and schedule notifications accordingly
Advanced analytics with relevant metrics to study campaign performance and audiences
Multilingual support
Works on all major browsers and devices
Supports eCommerce cart abandonment notifications
Auto segmentation based on location, device, and OS
Cost: The free plan limits you to 3,000 subscribers. Paid plans start at $12/month.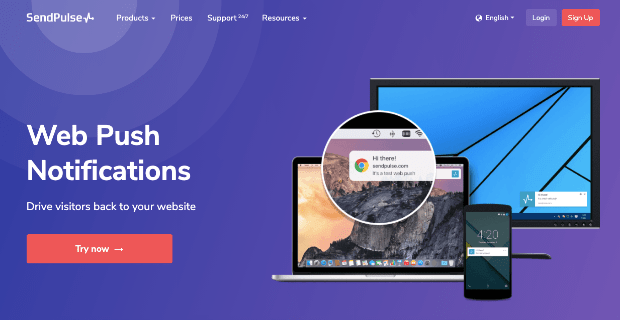 SendPulse is a popular email and messenger marketing platform. It offers web push notifications in its suite of features.
It lets you choose when the notification will appear or trigger them on click.
Other helpful features include personalization and segmentation to create targeted messages.
It also allows you to make money through advertisers. Advertisers can send targeted web push ads to your subscribers. In this way, you can generate revenue from your web push ads.
The downside to this tool is that the setup process is a bit complex. It requires you to enter a snippet of code to install the plugin on your site. So it may not be the best pick for WordPress beginners
Features
Segment audience based on location and other details
Add user details in notifications
A/B testing
Extensive documentation and knowledge base
Cost: The free plan limits you to 10,000 subscribers. The Pro plan costs $19/month.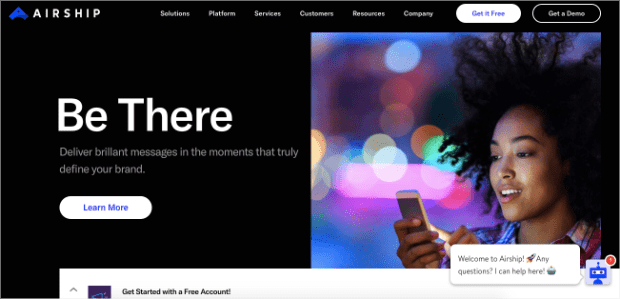 Airship is an engagement platform that lets you send push notifications to users.
They currently focus only on airline, media, sports, finance, telecom, and retail businesses. So this may be a great fit for you if you belong to these industries.
They offer a broad array of services to strategize your campaigns according to different stages of a customer's journey.
You can create different campaigns for new subscribers and loyal ones. It also has features to create upselling and cross-selling opportunities.
Features
Send personalized messages
Target specific users based on behavior and interest
View analytics to optimize campaigns
Supports retargeting and cart abandonment campaigns
Cost: The free plan limits you to 1,000 subscribers and there's no standard pricing. You need to contact the Airship team to get a pricing plan for your business.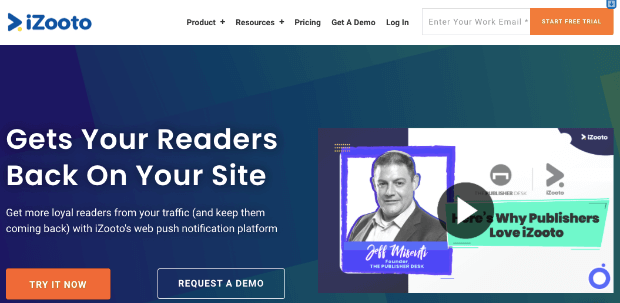 iZooto allows you to create and send personalized push notifications. The great thing about this tool is it lets you send real-time notifications and set up recurring campaigns.
It lets you schedule messages to go out according to timezones so subscribers get notifications at optimal times.
You can also push notifications at multiple stages. So, for instance, you can display a popup when the user first lands on your website.
If they ignore it, you can display it again after a button click. This can help you increase the chances of a user subscribing.
However, you have to be careful not to be too pushy as it can lead to visitors completely abandoning your site.
iZooto works with HTTPS so you will need to have an active SSL certificate on your site.
Compared to the other tools on this list, this one is expensive. If you want access to most of the cool features of this plugin, you need the Grow plan that starts at $250/month.
Features
Setup automated drip campaigns
Craft and send messages quickly with ready-to-use templates
Add customized logo, text, and color to match your brand
Target the right audience at the right time
Track and analyze campaigns and see what works
Cost: Plans start at $85/month.
And there you have it. That's our list of the best push notification apps to help you increase engagement, conversions, and sales.
Our Verdict on the Best Push Notification App
Based on the features, pricing, and limitations of each tool mentioned in this list, PushEngage comes on top.
It's hands down the best push notification app available. It has incredible features that help you strategize, target, and optimize every push notification you send.
Plus, it's beginner-friendly and their pricing model is suitable for businesses of all sizes.
If you're ready to start sending push notifications now, get started for free with PushEngage.
If you're looking for more ways to boost conversions and sales on your site, check out OptinMonster. It's the best lead generation tool to convert regular visitors into customers, subscribers, and genuine leads.
It's used and loved by marketers and business owners across the globe. Not only is it easy to set up and use but it gives you access to comprehensive features.
Are you ready to boost conversions on your website now?
Get Started With OptinMonster Today!
We hope you enjoyed this article. If so, you may also be interested in:
These posts can help you drive traffic, leads, and conversions on your site.
Want to generate leads instantly? Get OptinMonster now!