Do you know how to create an email newsletter that will keep your subscribers informed, engaged, and turn them into loyal customers?
In this massive guide, we're going to show you how to create an email newsletter in just 3 steps. Plus, you'll get tips on how to get even more subscribers, how to make money from your list, and how to keep your emails from ending up in spam.
More than 83% of business-to-business (B2B) marketers send email newsletters as part of their content marketing strategy. With a return on investment of around 4400%, email marketing is a very cost-effective way for brands to communicate with their customers and email newsletters are an essential piece of any email marketing strategy.
Let's get started!
Table of Contents

What Is an Email Newsletter?
An email newsletter is a type of email that contains valuable content (product news, announcements, blog posts, tips, and other resources) to a subscriber list. The list includes existing customers or leads that have signed up (opted-in) and have agreed to receive marketing communications from a company or individual.
Why do You Need an Email Newsletter?
Email newsletters make it easier for brands to nurture leads by marking themselves as thought leaders or key players in their industry. These brands share market knowledge and insights, as well as highlight new products that drive traffic to their website to promote their products and services, promote events, get feedback, and so much more.
Using email newsletters is also a powerful way to control your message.
You are informing users directly about your brand's news, so you have complete control over when and how it's presented.
Finally, you can use email newsletters to generate more conversions.
Skeptical? Check it out.
A newsletter raises awareness of your brand and the products and services you offer and can increase positive public perception of you. These things often lead to more conversions. And, more conversions lead to increased revenue.
You can see this directly reflected in the first two months of Woodside Community's time with OptinMonster when they jumped from 46 leads to 116 leads. That increase of 70 leads generated $294,435 in sales!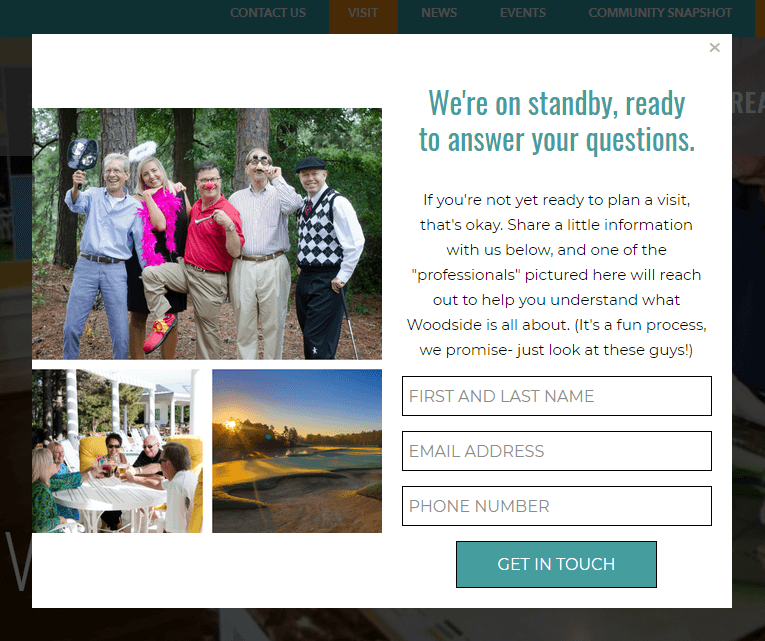 Get started with OptinMonster today and create your own success story!
Who Needs an Email Newsletter?
Staying in touch with subscribers is so important to keep you on their mind. And when your subscribers are thinking about you, you have a much better chance of converting them into customers.
But that doesn't mean that you should only send newsletters if you're in a certain industry. Email newsletters are a great tool for creating and nurturing a personal relationship with users no matter your industry, business, or website traffic. And, when your communications match your branding, it increases awareness of you and your products.
You can also segment your email list to create targeted newsletter campaigns with messaging that is specifically tailored to a smaller portion of your overall customer base.
Here are some ways specific industries can use email newsletters:
Email Newsletters for eCommerce Websites
Email newsletters are a great way to drive sales by showcasing featured products or using coupons to entice subscribers to make a purchase.
In your newsletter, why not include a coupon that subscribers can simply click to automatically apply the discount to their cart? Subscribers love it when things are easy.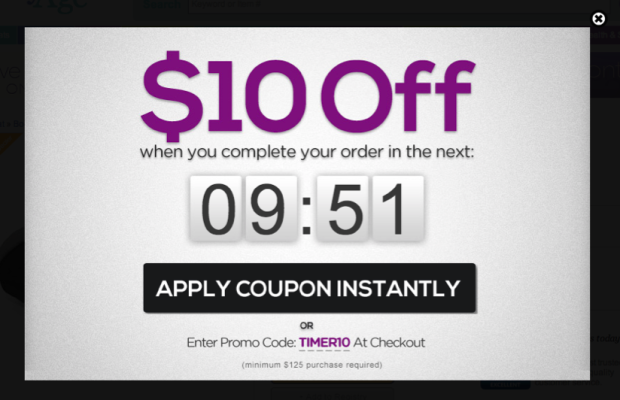 And, eCommerce emails convert. A recent study found that 59% of consumers say email marketing emails influence their purchasing decisions. Make sure those emails are yours. ?
Want to get even more out of your email marketing? If you run an online store, email marketing is hands down the most effective tool for recovering abandoned carts and converting so-called "lost" sales into revenue.
Email Newsletters for Publishers (Bloggers, News Sites)
Publishers can use email newsletters to connect with customers by providing helpful tips and information related to their niche.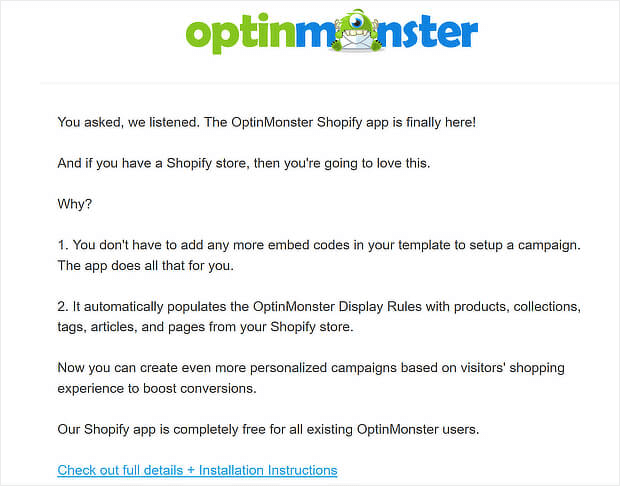 If you need to start a blog or other content-driven type of site (and, trust us, your business will thank you for it), email marketing is the best way to build your audience.
While having content on your site will do a lot to improve your site's search rankings, making it easier for new visitors to find your site, there are 3 awesome ways content and email marketing can work together to create a strong following:
Your content gives you a built-in reason to reach out to previous visitors and customers, encouraging them to come back to your site.
You build a loyal audience that looks to you as an authority in your industry.
Your content and its presentation are controlled and owned by you.
Email Newsletters for Small Businesses
Email newsletters are also a really good way to boost your social following or traffic to your site, so don't forget to add links and callouts!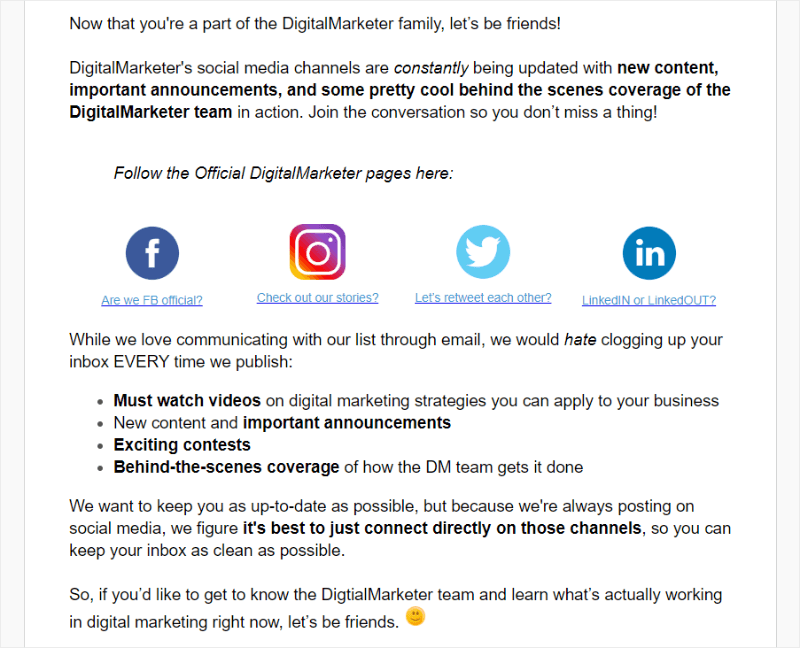 With a 4400% ROI, email marketing is also the most cost-effective marketing channel, making it the perfect way for small businesses to stretch their marketing dollars.
Email Newsletters for Nonprofits
Nonprofit newsletters help you to connect with their subscribers, really engaging with people and inspiring them to take action. Similar to small businesses, nonprofits need to take advantage of email marketing's high ROI to make their marketing dollars go a long way.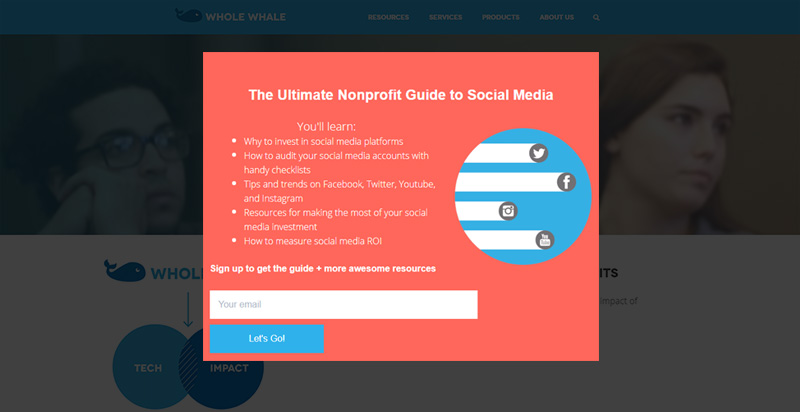 Email marketing makes a huge difference for donations. In fact, 28% of nonprofit donations in 2018 were attributed to email communications.
And, it makes a difference in the amount of the donation, too. While social media brings in more donations overall, they tend to be smaller dollar amounts. Email, on the other hand, brought in 33% of donations greater than $1001.
Looking for more ways to increase donations? Check out these 7 tips to boost your donations with OptinMonster.
Did you know: OptinMonster offers 20% off for our nonprofit friends—just use NP20OFF at checkout!
Email Newsletters for Education
Educational institutions need to reach out to many different audiences for many different reasons. Since email lists can be easily segmented, this makes email marketing a perfect fit!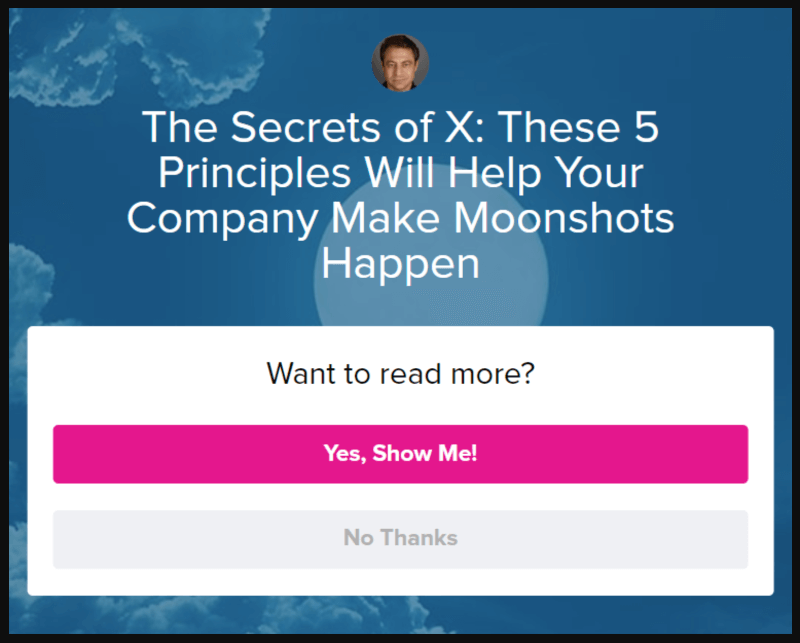 Depending on the audience, email newsletters can be customized to reach parents, students, faculty, or other audiences for fundraising, events, announcements, or other activities.
We just covered 5 examples of how email newsletters can benefit a variety of industries, but there are more examples out there. You can probably see why 40% of B2B marketers say email newsletters are most critical to their company's content marketing success.
Now that you know just how important email newsletters are, let's jump into creating one!
How to Create an Email Newsletter
In this section, we're going to take you through how to create an email newsletter, step by step. Don't worry, it's only 3 steps and they're pretty easy.
We'll start by building an email list, move into choosing an email service provider, then set up and send our newsletter.
Step 1. Building an Email List Using OptinMonster
Sad statistic time. Did you know that on average, 80% of your website visitors will leave your site for good, without signing up for your email newsletter?
Of course, the best way to build a targeted email list is to convert your website visitors into subscribers. It just makes sense that the most successful email marketing campaigns would start off with a list full of qualified leads interested in what you have to offer, right?
So, what's an online marketer just starting out to do?
Use exit-intent popups to convert those abandoning visitors into subscribers and customers.
OptinMonster is the
#1 conversion software
in the world. That means that we are the best at helping you turn your website visitors into loyal customers and brand advocates.
Get started with OptinMonster today.
Your future customers are waiting!
Exit-intent popups are basically magic. ✨ They detect user behavior to prompt visitors with a targeted campaign at the precise moment they're about to leave your site forever, skyrocketing your conversions.
Want proof? Just look at these case studies from OptinMonster customers:
Here's how to set up a simple campaign:
Start by going to your OptinMonster dashboard and clicking Create Campaign.

From there, we'll use the Popup campaign type and choose the Camber campaign template, name our campaign, and Start Building.
Editing your campaign in OptinMonster's drag and drop builder is really easy. Simply click on the element you want to edit to open the editing tools and make the changes you want. You'll be able to see the changes take place in real-time.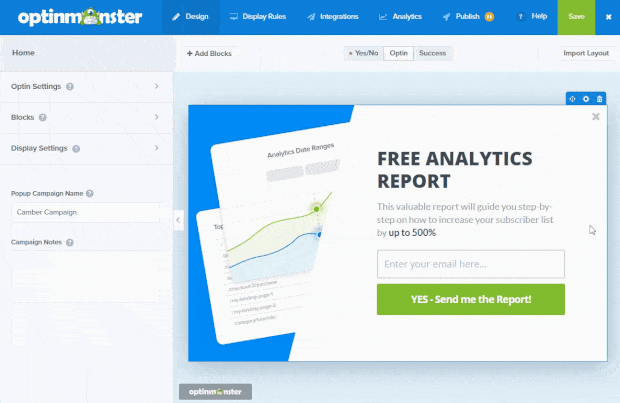 Once you have your campaign looking the way you want, it's time to set up the exit-intent display rule. To do that, click on Display Rules, then add a rule that the exit-intent popup will show if exit detected and choose the level of sensitivity you want.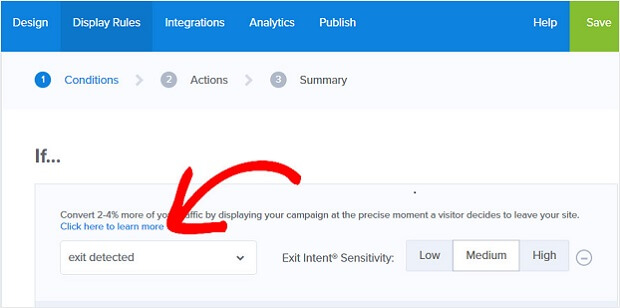 That's all it takes to create a basic optin! You can even start collecting leads without an email service provider by using Monster Leads (the default integration for new optins; check the Integrations tab to view the setup).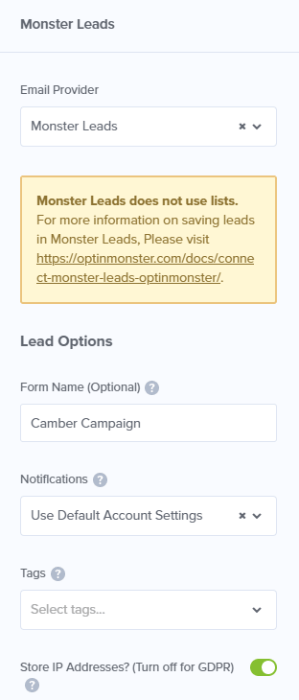 Once you've chosen an email service provider, you can go into the Integrations tab and add a new integration. We've got all the integration instructions you'll need to get them set up the right way. We'll also show you how to do an integration in Step 3, below.
To publish your optin just go to the Publish tab, change the campaign status to Live, and click Save.

Step 2. Choosing the Right Email Service Provider
Now that you know how to create a killer optin to collect email addresses and build your list, it's time to choose an email service provider. Here's what to look for:
List Management
Your email service provider needs to make it easy to manage your contact list, segment lists, rearrange groups, and send and track customized messages.
Easy-to-Use Editor
Any email marketing service provider you choose should be easy to use and integrate well with your lead generation tools. You don't want to spend hours and hours fussing with a builder.
In-depth Reporting
Choose an email marketing platform that lets you use a data-driven approach to email marketing so you can access the strengths and weaknesses of your campaigns and adjust accordingly.
Here are our favorites: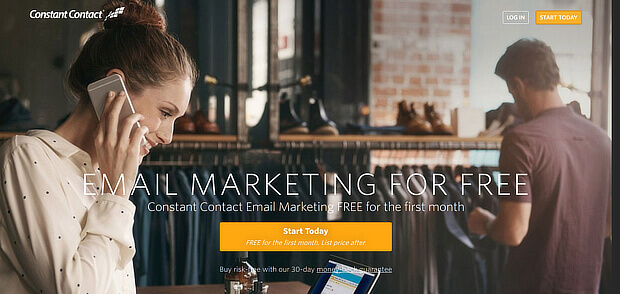 Constant Contact offers an easy-to-use, lightweight interface and is great for both big business and "mom and pop" companies. And, as one of the largest email marketing services in the world, Constant Contact is able to offer highly rated support with every plan.
You can use their drag and drop editing tools and email newsletter templates to manage your subscribers, create and send professional emails, and send automated emails to new subscribers.
Constant Contact is always our favorite because it's the most beginner-friendly and the easiest to use, but it doesn't skimp on the features. With Constant Contact, you get an email marketing platform that's easy to use and includes powerful marketing tools like a free image library, Facebook ads integration, eCommerce integration for Shopify stores, built-in social media sharing tools, and list segmentation.
Oh, and an enormous library full of training tools.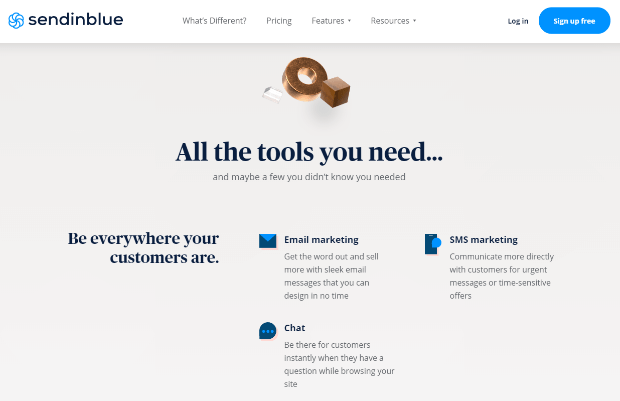 Sendinblue is a powerful email marketing tool with minimal startup costs that gives free users an unlimited number of contacts. It features awesome things like automation workflows and autoresponder campaigns, segmentation tools, and A/B testing tools.
Sendinblue also includes in-depth reporting and real-time stats so you know how your campaigns are doing.
Step 3. Sending Your First Email Newsletter
We're going to show you how to send your first email newsletter using Constant Contact. If you don't already have an account, you'll need to sign up.
Once on the landing page, enter your email address and click Start Your Free Trial.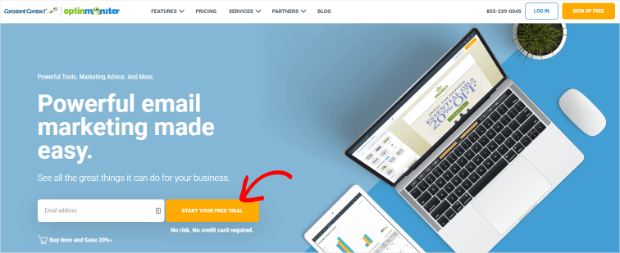 Fill out the information required to start your free trial (no credit card info needed) and click Get Started.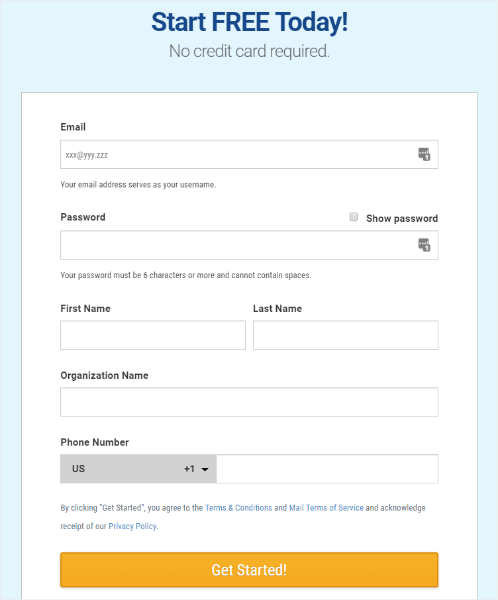 On the next page, you can just click Skip This Step because you don't need to go through the guided setup, you have us!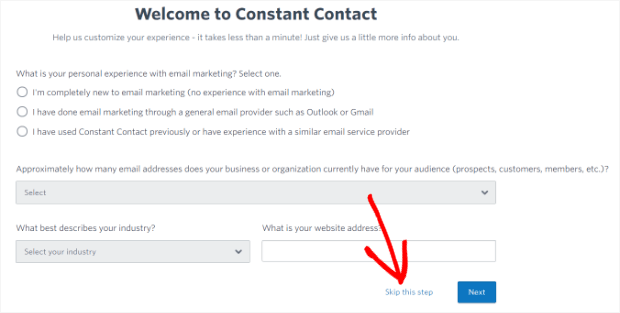 You'll end up at the Constant Contact dashboard, which is where you manage your email lists and subscribers and send your email newsletters.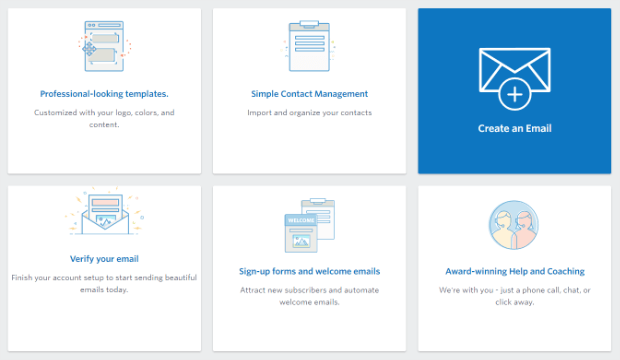 To keep your contacts organized, you'll want to add email lists to your Constant Contact account. To see the lists currently available in your account, click on Contacts in the top menu, then Email Lists on the side menu.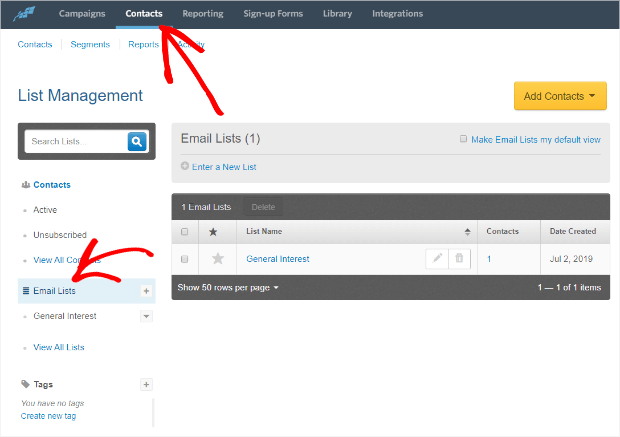 If you just created a new Constant Contact account, you'll only have the default General Interest list that Constant Contact starts you out with. To add a new list, click Enter a New List, give it a name, and click Add List.
The screen will refresh and you'll see your new list, highlighted in yellow:

Adding an Integration to OptinMonster
Now you can use this list in your OptinMonster integration to have new leads added automatically.
Adding Constant Contact to OptinMonster is super easy. From your OptinMonster dashboard, select the campaign that you created in Step 1, above.
Go to Integrations » Add New Integration then choose Constant Contact from the dropdown.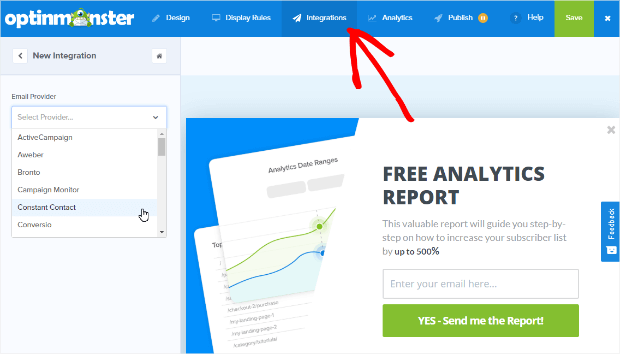 Choose Add New Account from the Email Provider Account dropdown, then click the Register with Constant Contact button: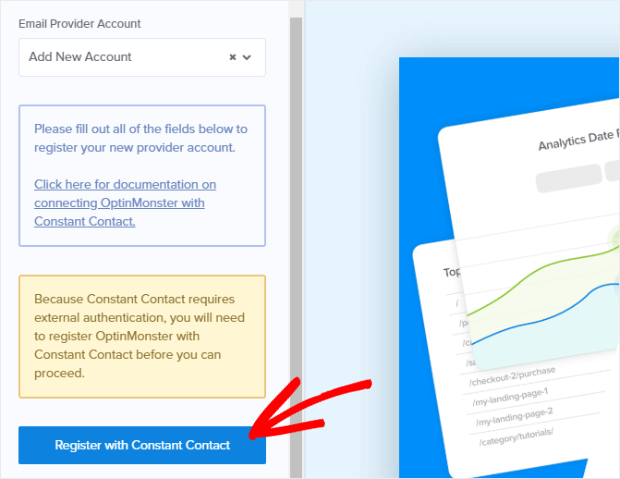 Log in to Constant Contact and click the Allow button. Then, add an account label and click Connect to Constant Contact.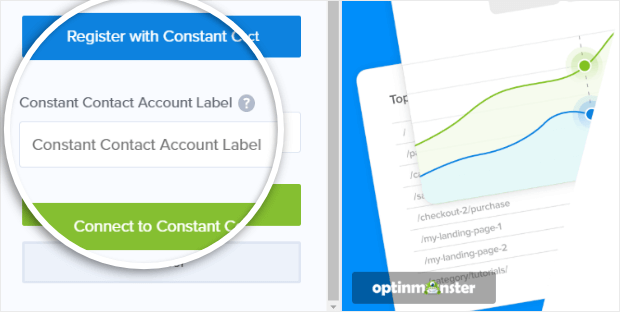 OptinMonster will pull the email lists you have available from your Constant Contact account. Choose the email list you want to use for this optin.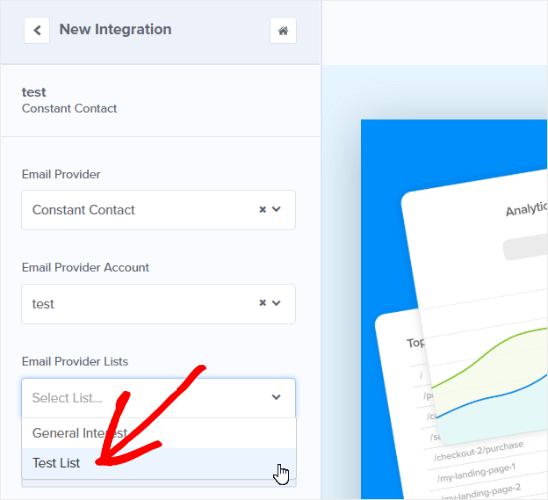 Save your optin and you're good to go. Now, any leads that sign up through this popup will be automatically added to the list that you selected.
To create our email newsletter in Constant Contact we'll click on Campaigns on the top menu bar. From there, you'll be able to see all of the email campaigns you've created.
To create a new one, just click Create. Straightforward enough, right?
We'll be creating an Email.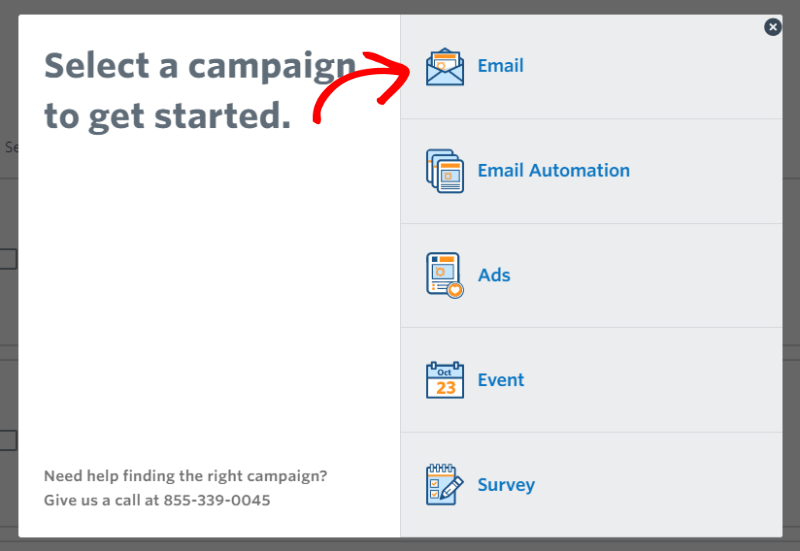 Next, choose a template. There are a ton of them, but don't get overwhelmed with all of the email newsletter designs. Start with something simple and customize it.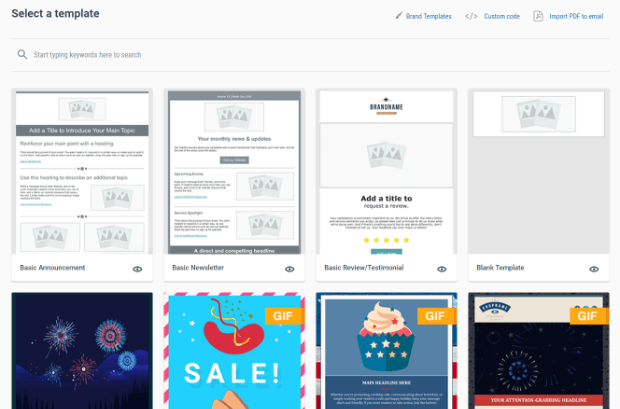 Click on a template to select it and begin creating your email newsletter. We're going with the Basic Newsletter template, but you could also just opt for a plain text email.
Using this template, you can just point and click to edit, replacing the default content with your own. Adding new content is as easy as dragging the elements you want from the left column over onto the email template. It's just like designing your OptinMonster popup!
Once you're happy with your email, click Continue to choose your recipients and when to send your email.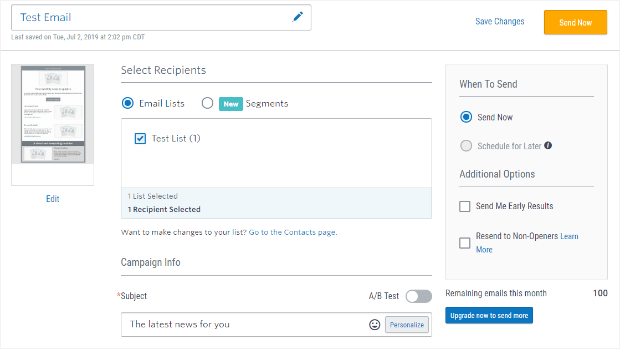 As you can see, creating a newsletter in Constant Contact is super easy.
We recommend that you send your newsletters on a consistent schedule. You want your subscribers to come to expect to hear from you and look forward to it. We have an excellent post that will help you choose the best time to send newsletter emails.
Ultimately, though, the best time to send your emails comes down to your audience, so pay attention to your open rates and do some split testing to see what works best.
Tips to Get More Email Subscribers
One thing you'll quickly discover is that you can never have enough leads. Part of that is due to the natural decline email lists suffer each year (a whopping 25%).
Here are some ways you can combat that by getting more people to subscribe to your newsletter.
Use Lead Magnets and Content Upgrades to Capture More Subscribers
Lead magnets are awesome incentives that marketers offer to potential buyers in exchange for their email address, or other contact information. They usually offer a piece of content that's digital, downloadable, like a free PDF checklist, report, eBook, whitepaper, video, etc.
Grow Your Email List With Social Media
Facebook has made this easy by introducing call-to-action buttons for business pages: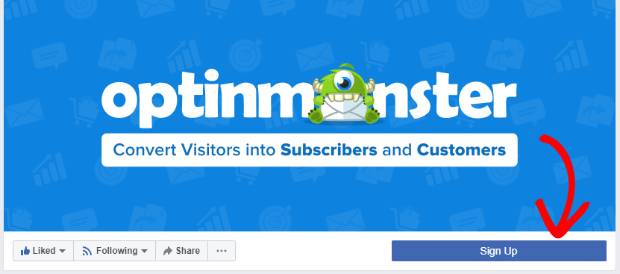 You can also use influencer marketing and user-generated content to grow your list. Check out our Twitter and Instagram articles for tips specific to those platforms.
Use Gated Content
Gated content is content on your website that can't be accessed until the visitor enters their email address. Use OptinMonster's Content Lock feature to gate your content and get more leads.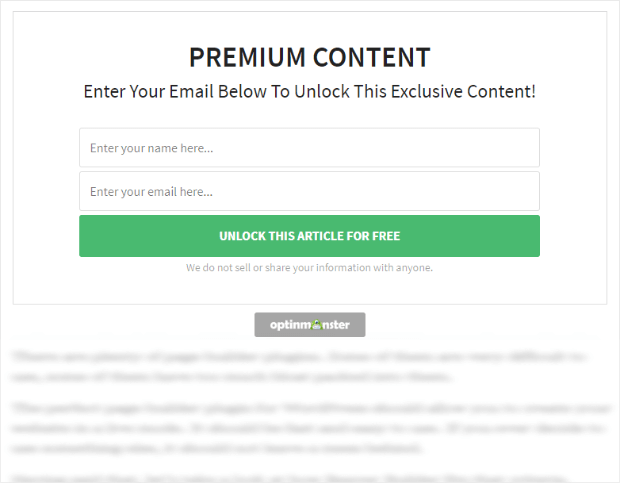 Add a Newsletter Optin Checkbox to Your Checkout Page
Add a newsletter optin checkbox to your eCommerce checkout page. If you use WooCommerce, you can use the Newsletter Subscription addon to accomplish this.
How to Make Money From Your Email Newsletter
In addition to delivering information to your subscribers and driving visitors to your site, you can use your email newsletter to make money in other ways. Here are a couple of our favorites.
Sell, Upsell, and Cross-Sell Your Products and Services
Even if shoppers don't take the upsell when they purchase, you can offer it again by email. And, now that you know it's going to take a little more to make the sale, you can sweeten the deal by offering a discount.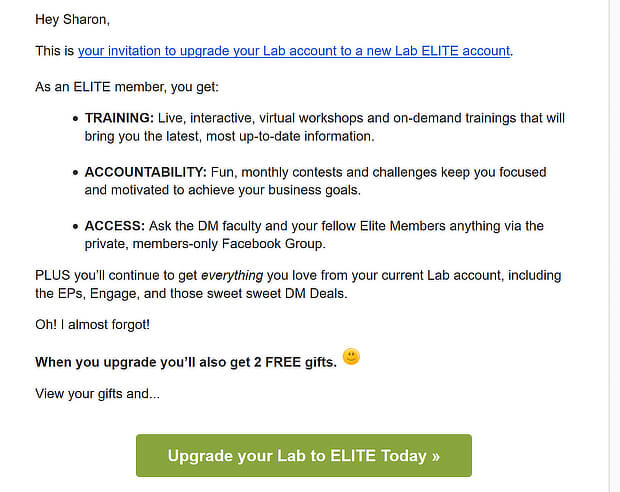 Use Affiliate Marketing and Referral Marketing
Affiliate marketing is a simple 3-step process:
You recommend a product or service to your followers.
Your followers purchase the product or service using your affiliate link.
You get paid a commission for the sales made using your affiliate link.
Why not include affiliate products and a link or two in your email newsletters?
Keep Your Email Newsletters From Going to Spam
There's nothing worse than spending ages getting your message just perfect only to find out that all of your emails are going to spam. Here's how to keep that from happening to you:
Get Permission to Send Emails
The #1 rule of email marketing is to get permission to email first. Never, ever, ever buy email addresses. Those people didn't ask you to email them and they probably don't want to hear from you. At best they're going to simply unsubscribe and go on living their lives. At worst, they're going to report you as spam.
Keep Your Emails Engaging
If you're noticing low open rates or read rates, your emails are at a higher risk of being flagged as spam. Fortunately, there are several ways you can combat something like that:
Send your emails at the right time
Write better subject lines
Make your email easy to read
Segment your list (or create better segments)
Keep your list fresh
Clean Your Email List Regularly
Mailbox providers will look at the ratio of active to inactive email accounts on your mailing list.
What does that mean?
If your mailing list includes a large number of email addresses that appear to be inactive, that's a red flag to spam filters.
Remember earlier when we talked about email lists and natural decline? Yeah, that's this. Every single year your email list is going to decline, so it's important to clean out your email list every once in a while to remove subscribers who haven't engaged with your campaigns in a while.
There you have it! You just learned how to create an email newsletter in 3 easy steps. Now it's time to learn how to write email marketing copy that converts or check out these eCommerce email marketing tips to skyrocket your sales. And, be sure to subscribe and follow on YouTube, Facebook, and Twitter for more expert marketing guidance.