Do you know how to create an email newsletter that will keep your subscribers informed, engaged, and turn them into loyal customers?
Email newsletters are a vital part of your business's growth. They give you direct access to your target audience and allow you to keep in touch with all of your leads.
Plus, most email service providers (ESP) allow you to automate these campaigns.
That means you can grow your contact list AND send personalized emails that generate you more revenue while you're sleeping.
That's why, in today's tutorial, we're going to show you how to create an email newsletter in just 5 EASY steps.
Why You Need an Email Newsletter?
An email newsletter is a type of email that contains valuable content (product news, announcements, blog posts, tips, and other resources) to a subscriber list.
The list includes existing customers or leads that have signed up (or "opted-in") and have agreed to receive marketing communications from a company or individual.
But more than anything else, you need to know why email newsletters are so important for growing your business.
Email newsletters have many advantages. They allow you to:
Nurture leads from subscribers to customers,
Improve UX by keeping your audience well-informed about new products and other offers,
Boost your authority by establishing yourself as a thought leader in your niche.
And so much more.
But, at the end of the day, email newsletters will help you get what you're really after: higher conversions.
You can see this directly reflected in the first two months of Woodside Community's time with OptinMonster when they jumped from 46 leads to 116 leads.
That increase of 70 leads generated $294,435 in sales.
And they did it ALL with this basic popup campaign: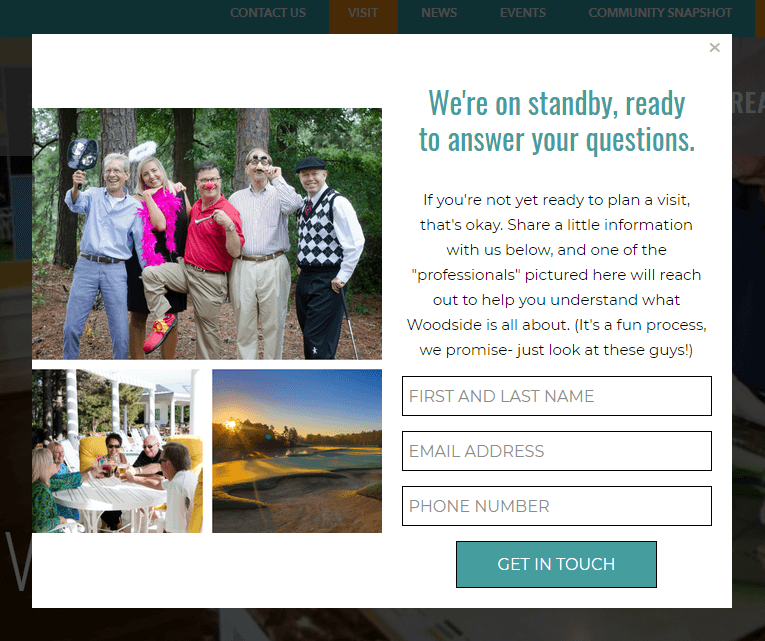 Now that we understand what an email newsletter is and why it's so important, let's learn how to make them.
How to Create an Email Newsletter
In this section, we're going to take you through how to create an email newsletter, step by step.
You can jump to whichever section interests you most:
We'll start by selecting the right email service provider (ESP). That way, you can get started on the right foot and build an automated process that lasts you for years to come.
Step 1. Choosing the Right Email Service Provider
The first thing you need to do is determine which ESP you'll work with.
Ideally, you should look for a tool that allows you to scale so you don't need to change platforms as your company grows.
Here are a few other things you should consider while looking for the right ESP:
List Management: Your email service provider needs to make it easy to manage your contact list, segment lists, rearrange groups, and send and track customized messages.
Easy-to-Use Editor: Any email marketing service provider you choose should be easy to use and integrate well with your lead generation tools. You don't want to spend hours and hours fussing with a builder.
Email Automations: In addition to regular company newsletters, you can also set up automated email sequences to welcome new subscribers, recover abandoned carts, or other routine business tasks.
In-depth Reporting: Choose an email marketing platform that lets you use a data-driven approach to email marketing so you can access the strengths and weaknesses of your campaigns and adjust accordingly.
Compliance: Most commercial email marketing softwares will already be compliant with email laws like CAN-SPAM and GDPR, but it's best to check the laws specific to your country.
Already have an ESP? No worries.
Click here to skip directly to Step 2.
Otherwise, here are some of our favorite email service providers that you can start using today: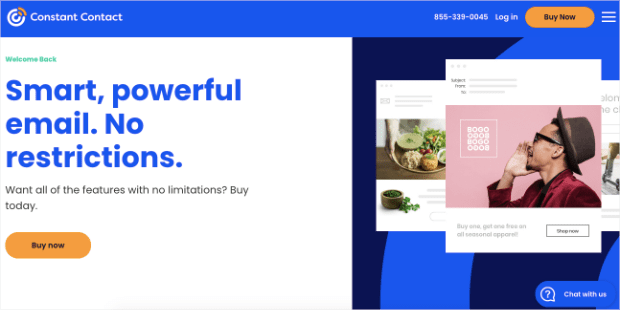 Constant Contact offers an easy-to-use, lightweight interface and is great for both big and small businesses. And, as one of the largest email marketing services in the world, Constant Contact is able to offer great deliverability rates and highly rated support with every plan.
You can use their drag and drop editor and email newsletter templates to create and send professional emails. These templates are designed to work with a wide variety of email clients and apps such as Outlook, Gmail, or Apple Mail. You can even send automated emails to new subscribers.
Plus, the emails are responsive, so they look great on mobile devices and desktops.
Constant Contact is always our favorite because it's the most beginner-friendly and the easiest to use, but it doesn't skimp on the features.
With Constant Contact, you get an email marketing platform that's easy to use and includes powerful marketing tools like a free image library, Facebook ads integration, eCommerce integration for Shopify stores, built-in social media sharing tools, and list segmentation.
Finally, Constant Contact is running a promotion where they'll build your first email newsletter FOR YOU.
Click here to have your 'done-for-you' campaign created today!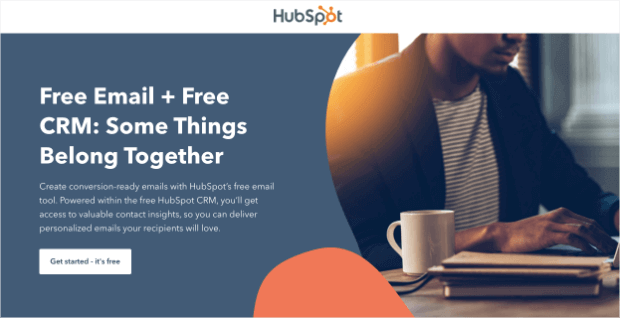 HubSpot Email Marketing has some of the most powerful analytics while remaining intuitive and easy to use for non-tech users.
Start by creating beautiful, on-brand emails with the drag and drop editor. You can customize your emails by adding CTAs, colors, images, social icons, and text while ensuring they are responsive on all devices.
You can also segment your email lists to target specific viewers, like returning customers or new customers, for example, and schedule emails to optimize your open and click-through rate.
Plus, you get access to detailed analytics on how your campaigns perform and the option to carry out A/B testing to optimize your newsletters further.
Get started with HubSpot today!
3. Brevo (formerly Sendinblue)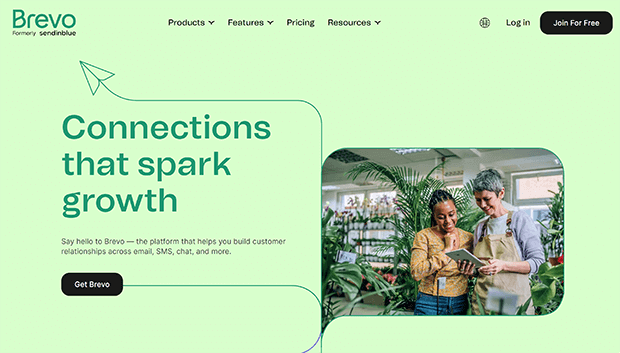 Brevo (formerly Sendinblue) is a powerful email marketing tool with minimal startup costs that gives free users an unlimited number of contacts.
It features awesome things like automation workflows and autoresponder campaigns, segmentation tools, and A/B testing tools.
Sendinblue also includes in-depth reporting and real-time stats, so you know how your campaigns are doing.
You can create email newsletters that are stunning and optimized to look great on every device.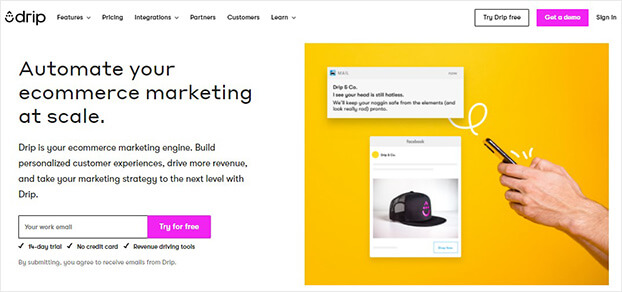 Drip is another excellent email service provider that you can choose from.
You can keep your contact list stored with Drip and create email campaigns. When new users sign up, they can be tagged, segmented, and added to an automated email series.
Over time, you can refine your email marketing strategy and put everything on autopilot. As new leads come in, they'll get new emails that nurture the relationship until they become customers.
Alternatives: Mailchimp, MailerLite, ConvertKit
Once you've selected your email service provider, you're ready to create your first newsletter. To do that, let's set up your email list. For this tutorial, we'll be using Constant Contact.
Step 2. Creating an Email List
We're going to show you how to send your first email newsletter using Constant Contact. If you don't already have an account, you'll need to sign up.
An email list is just what it sounds like: a directory of all the subscribers who sign up to receive your email newsletter. When people enter their email address into an email subscription form, their names are added to your email list. So let's make sure those names have somewhere to go!
First, make sure you're logged into Constant Contact. Click on the Contacts link in the top menu and make sure you're on the Lists tab. Click the Create List button.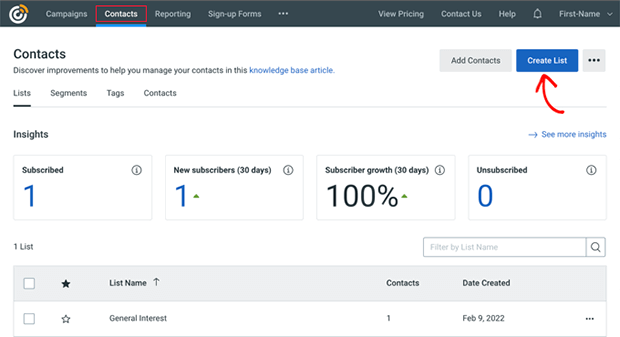 Constant Contact creates a default email list for you called "General Interest." But let's make a more targeted email list. Enter a name for your list. Subscribers won't see this name, but make sure it's something you can easily recognize, such as, "Holiday Promotions List" or "Lead Magnet Subscribers." Click Save.

You'll need to add at least one contact to start using this email list. You can add your own email address to test that your newsletters are sending properly. Go back to the Contacts page and click the Add Contacts button. Choose Create a new contact.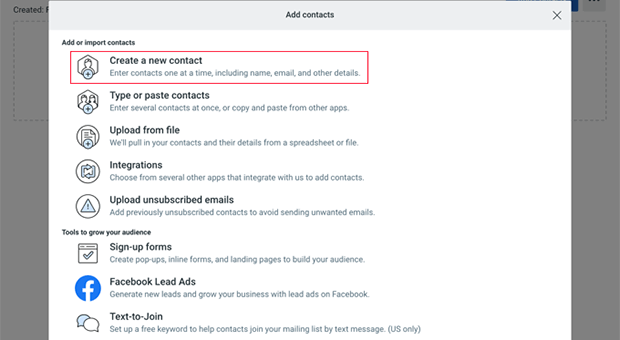 Enter your email address and click Continue.

On the next screen, add any other contact details you need. We recommend putting at least a first and last name. Make sure to check the email list you just created.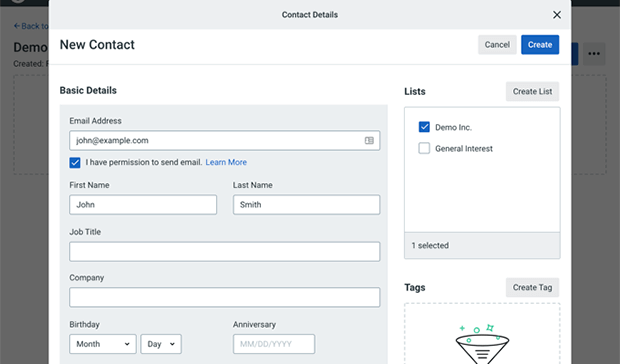 Step 3. Writing Your Email Content
The content is the most important part of a newsletter. Even if you have a beautiful newsletter design, your subscribers will leave your list if you're sending out irrelevant or overly promotional newsletter content.
We don't have time for an in-depth copywriting lesson in this article, but we do want to share a few pointers.
Identify the purpose of this specific newsletter as well as your overall email marketing strategy. Are you trying to get new clients? Share affiliate links? Sell products? What you write will depend on what your purpose is.
Get to the point clearly and quickly. From the email subject line to the headers in the email content, every sentence should have a purpose. That can be delivering value, telling them what to expect, or calling them to action.
Deliver value that helps the reader meet their purpose. Readers don't subscribe because they want to help you meet YOUR goals. They want your help meeting THEIR goals. In an ideal world, you can meet your own goals by helping them meet theirs. So your newsletter content should provide some sort of helpful or educational content, while encouraging them to take the action you want.
Pick 1 main call to action (CTA). What do you want readers to do after they read your newsletter? Maybe you want them to click a link to a sales page or your social media accounts. Or maybe you want them to write a response back to you. Don't be shy about asking them to take this step!
Make it easy to unsubscribe or change their email preferences. We know you don't want to lose any subscribers, but it's better to make that process easy than to have annoyed subscribers reporting you for spam when they can't figure out how to unsubscribe. Better yet, give them an option to change how often they get your emails or what topics they want to hear about.
Here are some of the best email newsletter examples you can look at for inspiration. Once you have your newsletter content written, we can send your newsletter.
Step 4. Sending Your First Email Newsletter
Click Create if this is your first newsletter campaign: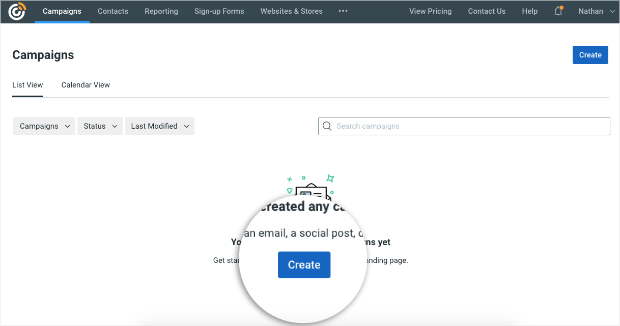 This will show you a new window where you can decide which kind of campaign you want to build. Today, we'll select Email: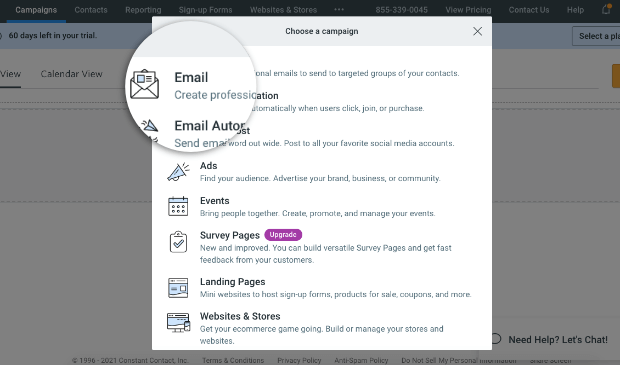 To keep your contacts organized, you'll want to add email lists to your Constant Contact account.
You'll be given LOTS of eye-catching templates you can choose from to get started FAST: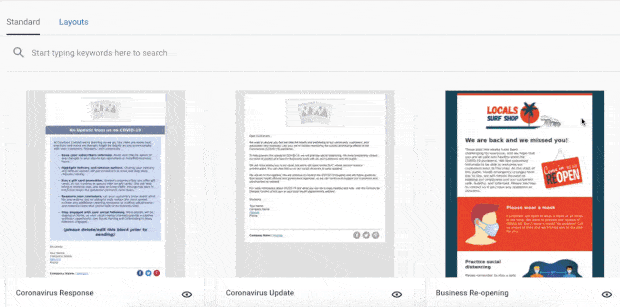 Once you're actually in the email builder, modifying your newsletter is simple.
You can change the text directly in the campaign. Or you can add new features to your email using the Block elements on the left-hand side menu: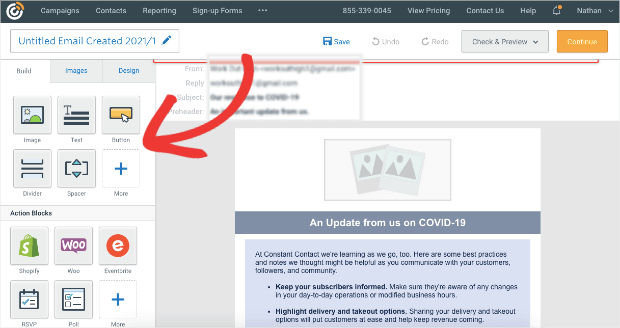 Then you can simply drag and drop them into place.
There's ZERO coding, ZERO tech-skills, and ZERO headaches involved.
From there, you'll just need to configure other details about your campaign, such as:
Subject line
Audience
Sender info
And more…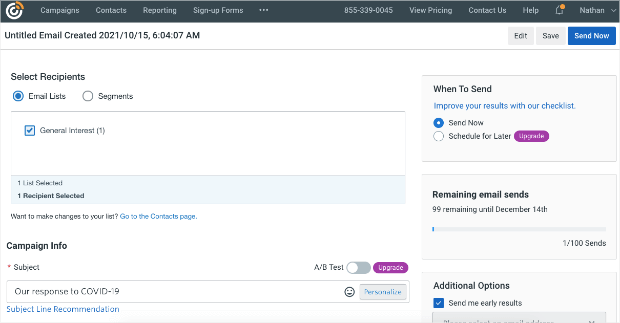 Check it over for typos and that your email newsletter design looks the way you want it. Now your email newsletter will be ready to send!
If you need help writing more persuasive email copy, don't worry.
We've got you covered.
Check out our 17 tips on how to write email copy that converts.
Once your newsletter is sent, you can see updated metrics such as open rates, click rates, and unsubscribes. Use this data to improve your newsletter strategy.
Did you get a great conversion rate on a specific piece of content? Send another newsletter next time with a similar topic or format.
You can also experiment with sending email subscribers to different landing pages and see how your conversion rates change as a result.
Finally, let's take a look at our last (but often overlooked step) of creating an email newsletter: getting more email subscribers.
Resource: 5 Best WordPress Newsletter Plugins in 2023 for More Engagement
Step 5. Building an Email List Using OptinMonster
It just makes sense that the most successful email marketing campaigns would start off with a list full of qualified leads interested in what you have to offer, right?
After all, even the BEST email copy on the planet won't convert if it doesn't get seen.
So, what's an online marketer just starting out to do? That's where OptinMonster comes in to save the day: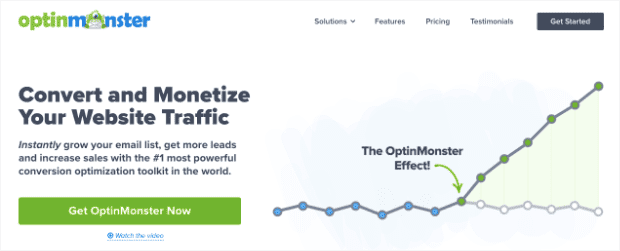 OptinMonster is the world's #1 lead generation software. That means we're the best at growing your email list through highly-targeted optin campaigns, like:
Popups
Floating bars
Fullscreen welcome mats
Slide-in scroll boxes
Content lockers
And many more.
These campaigns help you grow your email list FAST. Here's an example of what a simple lightbox popup might look like: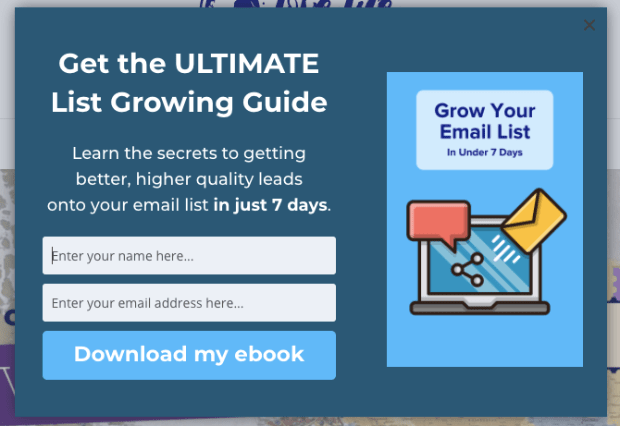 And just like Constant Contact, OptinMonster comes with over 50 pre-made templates that help save you time and energy in the campaign creation process: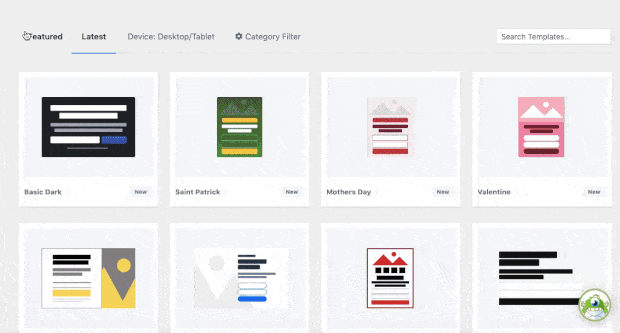 From there, you'll be able to modify your optin campaigns with a codeless drag and drop visual builder.
This allows you to modify any text in your optin campaign and add new features, like:
Videos
Images
Dividers
Icons
HTML
And much more…
And, again, everything can be done with just a few clicks: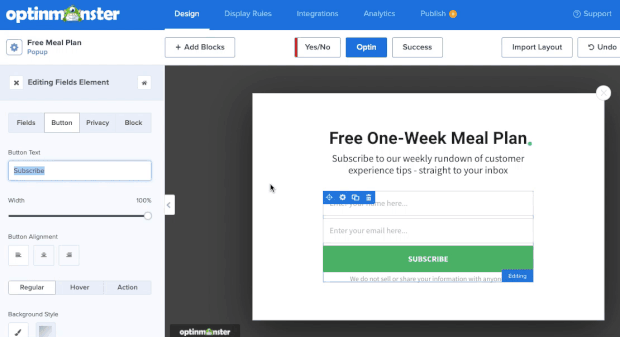 But creating the campaign is only half the battle.
From there, you'll need to target your special offers to the right people, in the right places, and at just the right times in their customer journey.
Some of OptinMonster's most powerful targeting rules include:
Exit-Intent® Technology: Recover abandoning visitors (and carts) as users are actively leaving your website.
OnSite Retargeting®: Keep users engaged by displaying fresh campaigns to returning visitors.
Geolocation: Personalize UX by targeting visitors by their physical locations.
MonsterLinks™: Boost conversions by turning any link into a clickable email newsletter signup form.
These rules have gotten MASSIVE results for our clients. Need a bit of proof?
Just look at these case studies from OptinMonster customers:
But here's the best part…
OptinMonster seamlessly integrates with ANY email service provider on the market: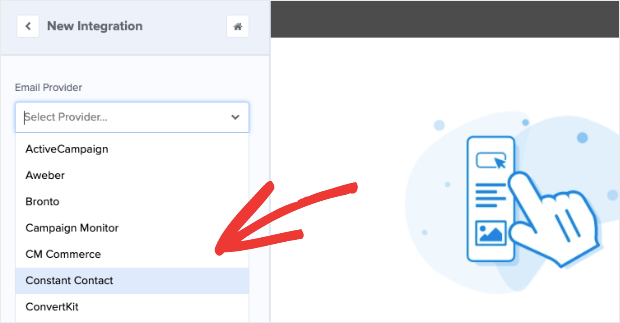 That means you can quickly sync your ESP and have new leads sent directly to the right contact list.
Then you can have your newsletters automatically sent to your new leads to convert them into happy (and paying) customers.
Ready to get started? Click below to sign up for your risk-free OptinMonster account today:
Grow Your Email List Today
BONUS: Done-For-You Campaign Setup ($297 value)
Our conversion experts will design 1 free campaign for you to get maximum results – absolutely FREE!
Click here to get started →
And that's all for today!
We hope you found this in-depth guide on how to create an email newsletter helpful. If so, you may be interested in the following posts:
These tips will have everything you need to take your email newsletters to the next level.