In this article, we've hand-picked the best Google Analytics plugins for WordPress users. We'll take you through the pros and cons of each and help you choose the best Google Analytics plugin for your needs.
What would happen if your car didn't come with a dashboard?
No way of knowing how fast you're going, no lights to tell you when something is happening that shouldn't be, and nothing to tell you where you should be focusing your attention.
Scary, right? No way you'd drive a car without analytics! Well, guess what? Analytics are important for your website, too.
Before we get into the options for the best Google Analytics plugin for WordPress, let's talk about what Google Analytics even is and why it's important for your website.
What Is Google Analytics?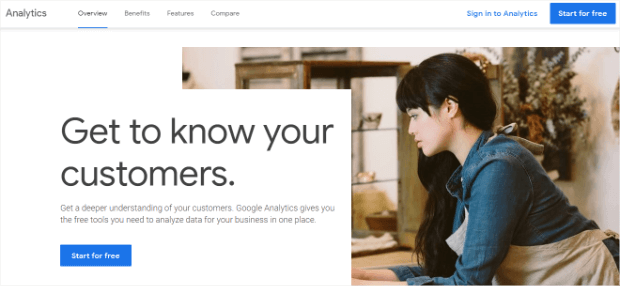 Google Analytics a free analytics solution that can be easily installed in WordPress using the plugins included in this article. You can also install it on any website by adding the code directly.
You can use Google Analytics on a single site or install it on multiple websites and view all your reports under one dashboard using a single code.
Google Analytics shows you the number of visitors to your site and has advanced reports you can use to track links, perform A/B testing, track user engagement, get real-time traffic insights, and even more.
So, now that you know all about Google Analytics, you're probably wondering, "Do I really need a Google Analytics plugin?" or "How can I find the best Google Analytics plugin for WordPress?"
Good thing you're here because we're covering both of those right here in this very article. Keep reading!
Why Do You Need a Google Analytics Plugin?
Web analytics help you get detailed insights on your site visitors which can help you make informed, data-driven decisions that will grow your business.
With a Google Analytics plugin, you'll be able to:
Know where your referral traffic comes from. When you know where your referral traffic is coming from, you know where to invest your marketing dollars.
Segment your audience. You can create specific campaigns to target specific segments of your audience when you know more about who your audience is.
Track the effectiveness of your campaigns. Keep track of how your campaigns are performing with advanced reporting.
Create and track conversion goals. Google Analytics allows you to create and track custom conversion goals so you can track each stage in the customer journey.
Analyze and improve your content marketing. With Google Analytics, you can find out what keywords you're ranking for and what content is working for you.
And that's just the beginning of what you can do with an analytics plugin on your WordPress website.
Can you use Google Analytics without a plugin? Yes. Does a plugin make it a billion times easier? YES.
You can probably see why we're so excited about sharing these plugins with you, so let's dive into our picks!
Best Google Analytics Plugins for WordPress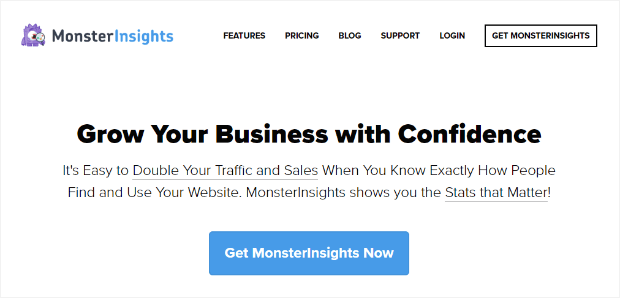 MonsterInsights is the most popular Google Analytics plugin for WordPress. It allows you to easily add Google Analytics to your site, and you can access your reports right from your WordPress dashboard.
The MonsterInsights plugin makes it just about effortless to set up even the most advanced Google Analytics features in WordPress with just a few clicks. No coding necessary and no developers needed.
With the built-in Google Analytics dashboard, you don't even have to leave WordPress to get useful visitor information, like your best traffic sources and top ranking articles.
The plugin also comes with several addons that extend the functionality of the plugin and make it even more useful. Google Analytics Enhanced eCommerce tracking for WooCommerce, Easy Digital Downloads, and MemberPress lets you track things like conversion rate, transactions, and average order value with a single click.
The EU Compliance addon makes it easy to comply with data protection laws. It also comes with a Forms addon that lets you easily track form views, submissions, and form conversion rates! MonsterInsights is the best Google Analytics plugin for WordPress because it's simple to use but comes packed with advanced features.
Get started with MonsterInsights today!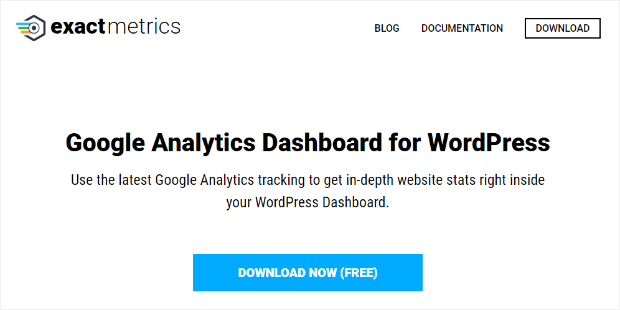 Next up in our list of the best WordPress plugins for Google Analytics is ExactMetrics.
This plugin allows users to easily install the latest Google Analytics tracking code to view beautiful Google Analytics reports directly in their WordPress admin area. These reports include important information like:
Sessions and pageviews
Organic searches
Referrers
Traffic channels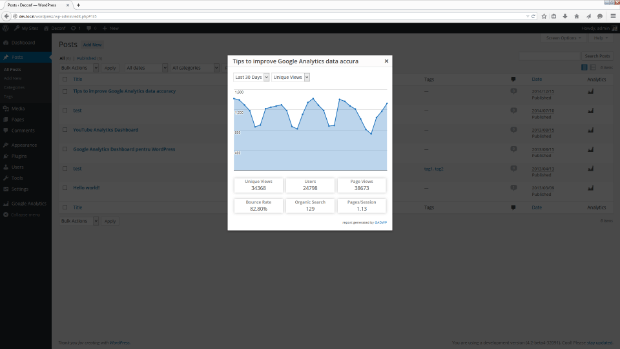 Additionally, the Google Analytics tracking code is fully customizable which allows for advanced data collection like events (downloads, page scrolling length, etc.) and custom dimensions (author, publication year, etc.).
ExactMetrics is free (not just "has a free version")! It's also well-supported.
Give ExactMetrics a try today!

Analytify rounds out the top 3 in our list of best Google Analytics plugins for WordPress. It offers super easy installation and just like MonsterInsights, lets you view your Google Analytics reports right inside your WordPress admin area.
You can also get page-level analytics for every page and post, as well as detailed stats for your custom post types, like portfolios, galleries, and testimonials.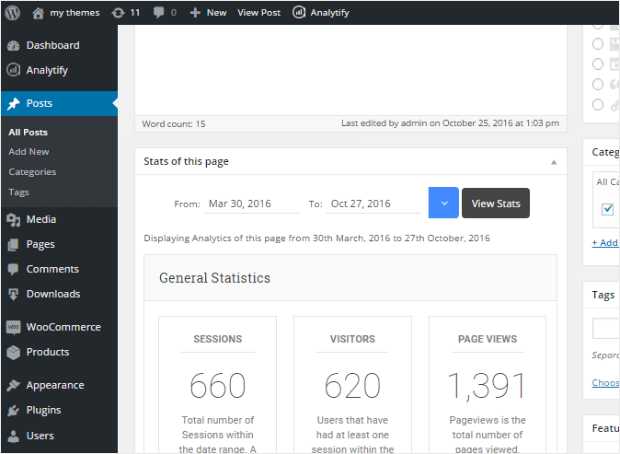 You will need addons for some features, though, like getting email notifications with your reports.
There's also a Campaigns addon to track individual campaigns using UTM (Urchin Tracking Module) parameters.
Get started with Analytify today!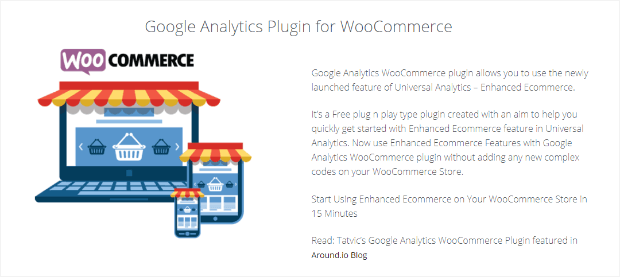 If you're looking for a Google Analytics plugin to track your WooCommerce store, this free WordPress plugin might just be the plugin for you.
Enhanced Ecommerce Google Analytics Plugin uses the eCommerce tracking feature of Google Analytics to help you optimize your online store based on the data collected from visitor behavior. The plugin supports all the in-depth reporting the Google Analytics offers, as well as 4 new reports included in Enhanced eCommerce:
Shopping Behavior
Checkout Behavior
Product Performance
Sales Performance
This plugin also helps you capture a ton of site behavior that will help you understand how visitors are browsing and shopping your site.
Enhanced Ecommerce Google Analytics Plugin does come with limitations, of course. For starters, it only supports simple products, highly customized stores, subscription products, shortcodes, or child themes.
Give Enhanced Ecommerce Google Analytics Plugin a try today!

Google Analytics by 10Web is another easy-to-install plugin that lets you set and manage goals, create and use custom dimensions, and view Google Analytics reports from the comfort of your WordPress admin area.
This plugin also integrates with Google Ads and Google AdSense to give you important data about your ad campaigns all in the same dashboard.
Here are some of the other features:
eCommerce reporting
Goal management
Custom reporting
Alerts when metrics reach specified high or low points
Share reports via automated email
Export reports to CSV files
Filter tracked data to exclude certain user types, locations, or IP addresses
Google Analytics by 10Web also features outstanding customer support and vows to resolve your issue, should you have one, within 24 hours. You'll need to upgrade to the paid plan to access the more advanced features.
Get started with Google Analytics by 10Web today!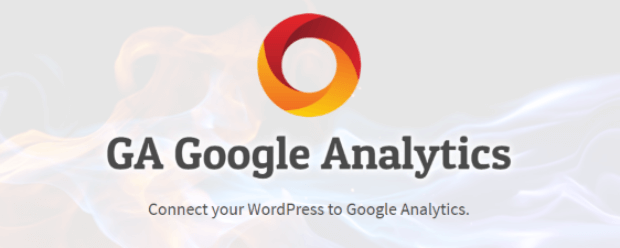 Are you looking for a lightweight Google Analytics plugin that simply does the work of connecting your WordPress site to Google Analytics?
GA Google Analytics is GDPR compliant and enables the Google Analytics tracking code on all the pages of your WordPress site. You can even disable the tracking of admin-level users so your data isn't skewed by the people who are on your site for work-related reasons.
As far as features go, however, that's about it for this plugin. To get additional features, you'll have to upgrade to the pro version of this plugin. This Google Analytics plugin is designed for simplicity and it delivers.
To access your Google Analytics data and reports you'll have to log in to your Google Analytics account.
Click here to get started with GA Google Analytics!

WP Statistics is a free/freemium, easy-to-install WordPress analytics plugin that shows stats and simple graphs inside your WordPress dashboard.
You can track visitor data like IP address, referring site, browser, operating system, country, and city, as well as track redirects from search engines like Google, Yahoo, Bing, DuckDuckGo, and more.
WP Statistics also supports WordPress roles and lets you set access levels to view and manage analytics. Additionally, you can export your analytics data to XML, CSV, or TSV files and WP Statistics also can send an email statistics summary with customizable text.
A downside of this plugin is that it stores the data on your WordPress site. Over time, this may increase your backup size.
Get started with WP Statistics today!

WP Google Analytics Events make it super easy to send events to Google Analytics when a visitor scrolls to a specific point of interest on your WordPress site or they click certain elements on your site, like buttons or Ajax submit forms, with no coding required.
Event tracking in Google Analytics is incredibly powerful and useful for understanding what your visitors do on your website. Here are just a few things you could do with the WP Google Analytics Events plugin:
Track in-page navigation
Understand what percentage of your visitors read to the end of a post
Track contact form conversions
If you're a fan of using videos in your posts, you should check out the premium version of the plugin that lets you create events to track video views, pauses, and completions. Pretty cool, right?
It's important to remember that this plugin is only for event tracking, so you'll still need another option to track your site stats and demographics.
Get started with WP Google Analytics Events today!
What Is the Best Google Analytics Plugin for WordPress?
That's it for our top picks for best Google Analytics WordPress plugins, so now it's time to pick a winner, right? Drumroll, please:
MonsterInsights is hands down the best Google Analytics premium plugin for WordPress. It offers an incredible selection of features, is backed back an awesome team that works hard to keep the plugin updated and the software behind it constantly improving, and lets you do everything you need to do from the comfort of your WordPress dashboard.
If you're looking for the best free Google Analytics plugin for WordPress, we highly recommend ExactMetrics.
We hope this article about the best Google Analytics plugins was exactly what you were looking for! If you enjoyed this article, you might find these resources helpful:
And, don't forget that OptinMonster is the #1 conversion software in the world. Whatever your goals are, we get you there. Get started with OptinMonster today!