Are you feeling bogged down by some of the more tedious tasks in your marketing strategy? Managing and nurturing leads from email, SMS, social media, and landing page campaigns can start to feel…
Overwhelming.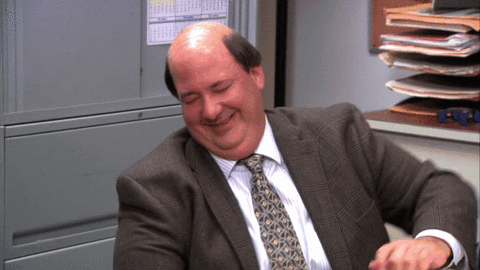 Fortunately, when it comes to marketing automation tools, you've got options. Actually, you've got lots of options.
In this article, we're going to break down many of those options for you. We're going to look at:
By the end of this article, you'll have everything you need to get rid of those pesky pencil-pushing tasks and get more time to do what you do best: create and distribute killer campaigns that grow your business.
Let's jump in!
What Is Marketing Automation?

You've likely heard the term "marketing automation" at conferences, meetups, or reading through blogs.
And if you're like a lot of marketers, you've probably smiled and nodded politely whenever the term came up. But, honestly, you weren't 100% confident that you knew what it was.
Don't worry. It's not your fault (and you aren't alone).
So let's just keep things simple:
Marketing automation software automates all the annoying, tedious, and repetitive tasks in your marketing flow for any channel you use.
If your marketing strategy involves posting on social media, then you can use various social media marketing tools to pre-plan and batch your posts all at once.
That's marketing automation in action.
Or if you want to send an email campaign to your cold leads to warm them up for a sale, a tool like Drip would let you plan them out and send them automatically.
Again, that's marketing automation in action.
The goal is to streamline your workflow so you can create effective campaigns to continuously reach the audience you want without getting bogged down with millions of pages of lead-tracking spreadsheets.
Top Tools Alert: Don't use spreadsheets to track your lead and customer data. Here's a list of the best Customer Relationship Management (CRM) software to keep things organized.
Sounds pretty good, right?
But now you may be wondering if marketing automation software is really worth the cost or if it's just another fancy luxury tool for bigger companies?
Why Use Marketing Automation Tools?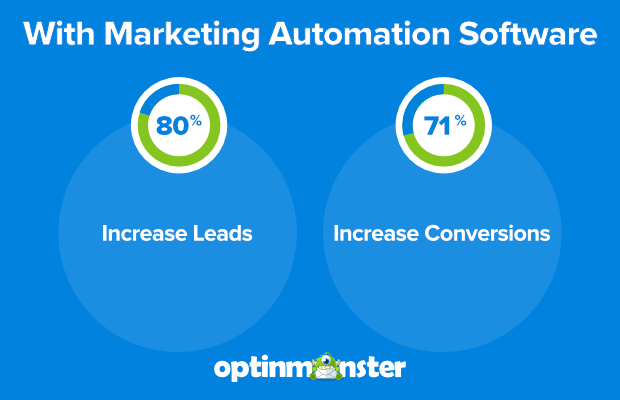 Some online merchants have looked at marketing automation tools, saw the potential in their features, but got scared away by the price tag.
Their logic is simple: "Why would I pay for something I can do manually?"
The problem, however, isn't what you can do with marketing automation software. It's how quickly you can get things done and at what scale.
In other words, marketing automation software allows you to work faster and think bigger.
And this is what automation technology has always been about.
Back in 1908, it took 12+ hours to build a Model T Ford. When good ol' Henry automated the process with an assembly line in 1913, it took only 2.5 hours to build that same car.
Jump forward 100 years, and marketers are seeing the same benefits from turning their marketing efforts into an automated assembly line:
With statistics like these, it's easy to see why marketing automation solutions are an absolute necessity to keep small to medium-sized businesses competitive.
With that in mind, let's turn to some marketing automation tools that you can use to increase traffic, leads, and paying customers.
15 of the Best Marketing Automation Tools
We separated our marketing automation software by channel to make sure you can find exactly what you need: social media, SMS, website tracking and lead generation, and omnichannel marketing.
Note: We didn't include email marketing on this list because we've already written a killer post on how to automate your email marketing strategy.
Marketing Automation for Social Media
Social media can be one of the best ways to engage with customers and grow your brand's following.
It can also be painfully time-consuming.
The following automation tools can help streamline your social media strategy and let you get back to what matters: connecting with your audience.
1. Hootsuite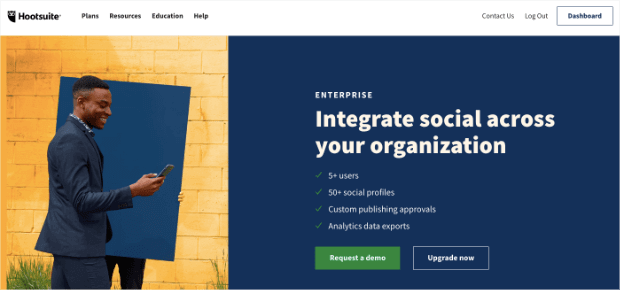 When it comes to marketing automation for social media, Hootsuite is definitely one of the more popular software on the market. With Hootsuite, you can automate your social strategy for over 35 social platforms.
Plus, this is more than an automatic post scheduler. You can also find and manage other resources to share on social, track your social metrics, monitor topics of interest to your brand, and much more.
Pricing
Pricing ranges from $30 per month to $600 per month depending on your needs and the size of your team.
2. Buffer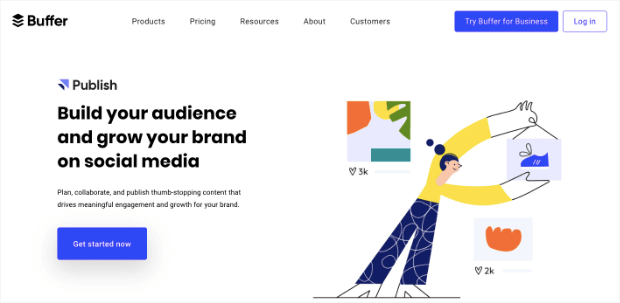 Buffer is an excellent resource for both small and medium-sized companies because their pricing is flexible. They have an excellent free version that allows you to automate your post's scheduling. On the freemium plan, you can work with up to three social media platforms to schedule up to 10 posts at a time for each platform.
Their paid versions are more extensive though.
You can have multiple admin users sign up for over 25 social accounts. They have another plan that bundles conversations so you can easily reply without switching through platforms.
This is particularly useful if you're working with a team of marketers who need to be able to respond to social comments.
Finally, they offer a paid Analytics package that gives you detailed information about your social media campaigns and how you can improve them. That means you can fine-tune your posting strategy to find the best time to post for your audience.
The free version is perfect for small businesses but as your social media strategy gets more involved, the features in the upgraded plan help you continue to scale.
Pricing
Publish software ranges from $15 – $100 per month
Reply software ranges from $50 – $225 per month
Analyze software ranges from $35 – $50 per month
3. Mention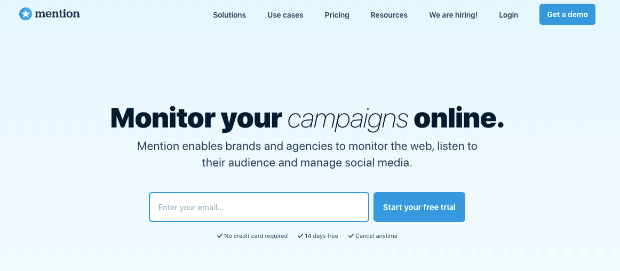 This is an interesting tool that allows you to monitor trends across various channels, particularly social media. With Mention's Listen feature, you can keep your finger on the pulse of conversations in your business field to make sure you're driving the conversation, rather than following it.
One of the great things about this marketing automation tool is that you can compile reports on current trends in your field. Then, you can use that data to create content to respond to what is currently engaging your audience.
We should mention that they also have a Publish service that allows you to plan, schedule, and post across all the major social media platforms.
Pricing
Mention's paid plans fall between $25 – $83 per month. They also have an Enterprise plan starting at $450 per month.
Marketing Automation Tools for SMS Marketing
SMS marketing is one of those tools that isn't used or discussed often enough among marketers.
But as we'll see from these automation tools, SMS campaigns can be incredibly successful when done right.
And if you're interested in getting started with SMS marketing, you may want to read this post on how to collect phone numbers using websites on your website.
Otherwise, check out the following software to help with your SMS marketing campaigns.
4. Twilio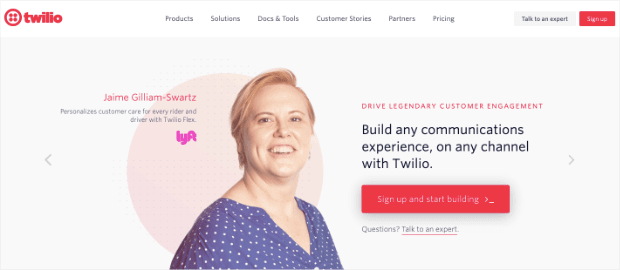 Though Twilio has loads of features, today we are going to focus on its SMS marketing automation. If you've ever used SMS marketing in the past, you're likely familiar with the brand.
Twilio allows businesses to use SMS to build better, longer-lasting relationships with clients. And considering SMS campaigns can have a 98% open rate, it's easy to see why it's appealing to marketers.
But, if you've ever gotten overwhelmed receiving texts from 20 people at the same time, then you can only imagine how hard it would be to handle 20,000 of those conversations.
Twilio helps manage all of that. And not just with one channel. Twilio's artificial intelligence can create chatbots to accurately handle customer interactions via mobile chat, SMS, or WhatsApp.
Their goal? To get the right message to the right people to improve sales.
If your business relies heavily on mobile campaigns, Twilio may be worth checking out.
Pricing
Twilio's SMS pricing plan is pay-as-you-go in the United States. This ranges from $0.0075 – $0.02 per SMS sent (depending on if the number is local, toll-free, or shortcode). They also have international plans and discounts for larger volumes.
5. Omnisend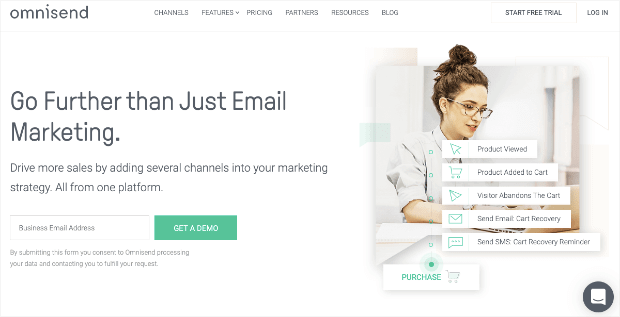 Like Twilio, Omnisend has more features than just SMS. They also create push notifications, interact on Facebook messenger, and chat via WhatsApp. Messages can be personalized and work with the majority of eCommerce platforms such as Shopify, WooCommerce, Magento, and more.
One of the coolest features with Omnisend is how marketers can segment their audience to tailor their messaging to specific customers.
This segmentation is automatic and done in a clean dashboard so everything is located in one convenient place.
They also boast a high open-rate for their campaigns and suggest that 95% of their SMS messages are read within 5 minutes of being received.
Pricing
Omnisend's pricing is flexible and scales with your business. Starting at $16 per month (for 500 subscribers), Omnisend can be a smart marketing automation tool for small businesses. Their Pro plan is $199 per month and larger businesses can get a custom price quote.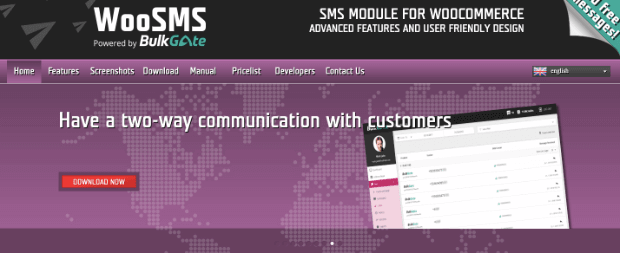 WooSMS is an excellent tool for small to medium-sized businesses because it's easy to use, simple to set up, and its features are straightforward.
In other words, if you don't need too many bells and whistles for your SMS campaign, WooSMS may be the right marketing automation plugin for you.
With WooSMS, you can send bulk messages to your clients to promote offers or customize notifications to target specific leads. You can also send information about order confirmation, shipment status, and more.
Finally, we also like that this plugin allows the merchant to receive SMS alerts for any changes to their store. These alerts can be distributed to one or several people on your team to make sure nothing gets lost.
Again, WooSMS for WordPress is simple and easy to use, which is half of its charm for business owners who don't have a marketing team and aren't "techie-marketers" themselves.
As you would likely guess, though, this product is for merchants working specifically with WooCommerce.
Pricing
WooSMS pricing is pay-as-you-go and varies by country. You only pay for the texts you send out and there is no monthly fee.
Marketing Automation Platforms for Lead Generation and Analytics
When it comes to automation tools for creating new leads and tracking your site's progress, that's kinda Awesome Motive's wheelhouse. We're proud of the tools we built because, frankly, they're the kind of tools that we'd like to use.
7. OptinMonster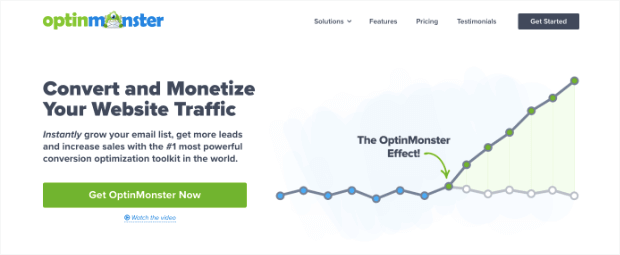 OptinMonster's goal is to help you get more conversions.
We believe that driving tons of traffic to your site is great, but the real secret to a successful business is growing your email list.
With OptinMonster, you can easily create different campaigns with a drag and drop builder. These campaigns can be in the form of Lightbox Popups, Fullscreen Welcome Gates, Floating Bars, Inline Forms, and more.
Plus, with our Exit-Intent technology®, you can capture your visitor's attention anytime they attempt to exit your page.
Finally, you can set display rules to make sure you are targeting your campaigns to specific segments of your audience.
Once your visitor has given you their email address, OptinMonster works with just about any email marketing service you can think of to seamlessly put them into your email campaigns.
Also, everything is trackable so you can rely on data to make adjustments and improve your workflow. And since we've launched OptinMonster's native analytics, tracking your data in near real-time has never been easier!
Pricing
OptinMonster's pricing plans start at just $19 per month up to $99 per month for the ultimate Growth plan.
8. WPForms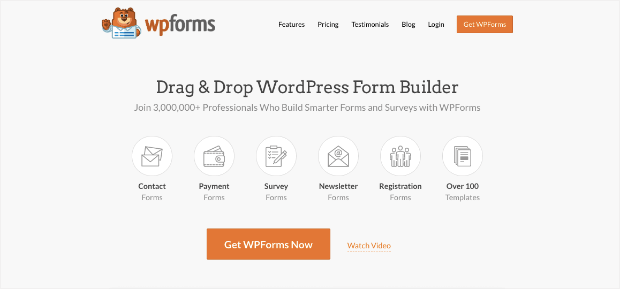 WPForms allows you to build smarter forms and surveys for your site. With WPForms you can build contact forms, payment forms, surveys, newsletter forms, and more.
Plus, you have over 100 templates to work from, saving you tons of time. All forms are 100% mobile-friendly and you can easily embed forms into your site (meaning you don't need to work with expensive developers).
These forms are excellent for getting feedback from your visitors. And to make sure that your form submissions aren't SPAM, WPForms allows you to activate reCAPTCHA. That way, you know that your form entries are from interested people and not form-filling bots.
Plus, WPForms offers other cool features like the Form Abandonment addon, which allows you to capture partial form entries and get more leads. There's also the User Journey addon, which lets you easily see the pages and posts a user visited before they submitted the form.
If you're looking to add beautiful, custom forms to your site, WPForms is definitely your best bet.
Pricing
WPForm's pricing begins at $49.50 per year for individual accounts and goes up to $299.50 per year for the Elite package.
9. RafflePress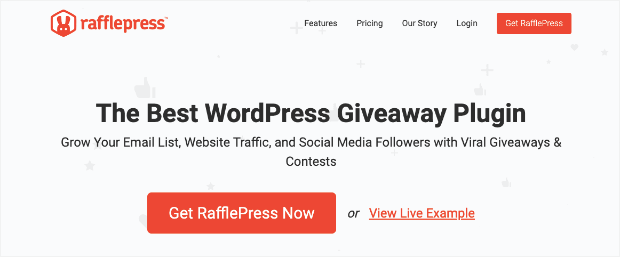 This tool is perfect for growing your email list, driving traffic to your website, and engaging followers on social media. RafflePress lets you easily create online contests that are bound to go viral.
With its drag and drop technology, you can create contests or surveys that are 100% tailored to your brand and ridiculously easy to share on social media platforms (especially with their "Refer-A-Friend" feature).
RafflePress has tons of integrations for all the major social media platforms. And since social is mostly viewed by mobile devices, you can be sure that all your contests and giveaways are totally mobile-friendly.
Plus, there's built-in protection to prevent one user from providing multiple entries (to keep your contests fair).
Finally, everything is trackable so you can watch your leads, traffic, and followers grow. When you get new emails or leads, you can seamlessly integrate them with your favorite email marketing service or CRM.
Pricing
RafflePress pricing plans start at $39 per year and go up to $159 per year for the Growth plan. Their Ultimate package is a one-time payment of $359 and gives lifetime access.
10. MonsterInsights

There's an old saying, "knowledge is power." Well, that's not quite right. It turns out knowledge isn't power.
Knowledge is profit. And MonsterInsights has all the knowledge you need to boost those profits.
When it comes to compiling key metrics to make data-driven decisions for your marketing strategy, MonsterInsights is your best bet. With MonsterInsights, you can get real-time data from multiple channels, so you always have the most current data at your fingertips.
You can also have reports sent directly to your MonsterInsights dashboard, which is conveniently located right in your WordPress dashboard. That means you no longer need to go to 20 different sources to compile 20 different reports.
Instead, you can have everything ready and waiting for you in WordPress.
Finally, MonsterInsights integrates with all of WordPress's most popular plugins. Far from just getting data from Google Analytics and Google Search Console (though they have those, too), you can compile reports for all your KPIs with WooCommerce, WPForms, All in One SEO, PrettyLinks, Google Optimize, AMP, and more.
If you want to know something about anything, MonsterInsights can tell you everything.
Pricing
MonsterInsight's pricing begins at $99 per year and peaks at $399 per year for the Agency package.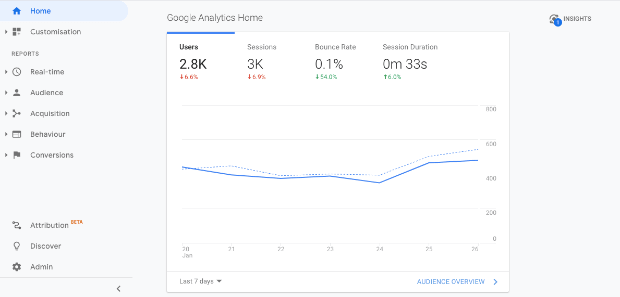 Stepping away from the Awesome Motive world, we decided to include Google Analytics reports. Why?
Because it's free, it's easy to set up, and it's crazy practical.
In other words, every company should, at the very least, track its site's data with Google Analytics.
The reports that you compile will definitely change depending on your KPIs, but when it comes to lead generation and website performance, we always recommend setting up Google Analytics to track your conversions.
Creating these monthly, weekly, or even daily reports will help you better understand which marketing strategies are driving your success and which ones aren't worth your time.
Once you have the reports automated, you can spend your time focusing on what matters: using the data to make smarter decisions.
Pricing
As mentioned, you can use Google Analytics for free!
Omnichannel Marketing Automation Platforms 
In this post, we've broken down some automated marketing software by channel, but let's be honest:
Sometimes you need a little of everything.
For that, here are some of the most popular omnichannel marketing automation tools available.
12. Sendinblue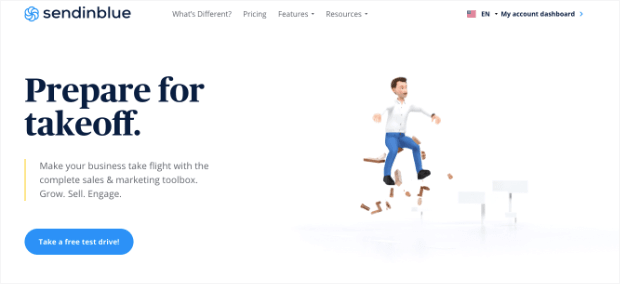 Ok, so this first one is nearly all-in-one. It doesn't have features to schedule and post your social media campaigns (like Buffer or Hootsuite), but it's got just about everything else.
With Sendinblue, you have all your most powerful tools in one place. It's a customer relationship management software (CRM), marketing automation tool, and a transactional email software wrapped up in one. You can track where your customers are in your sales funnel, easily collaborate on team projects, send email newsletters, or SMS campaigns, and a ton more.
They also have a lot of resources to help you convert traffic into warm leads. You can build landing pages, track your Facebook ads, and target your banner ads to the right people at the right time.
When it comes to finding a comprehensive marketing automation tool for small businesses, we highly recommend Sendinblue. It has a competitive entry price point with enough features to quickly get you the results you're after.
Pricing
Sendinblue's pricing is flexible. Their Lite plan starts at $27 per month up to their Premium plan at $71 per month. Larger businesses can get custom pricing.
13. Pardot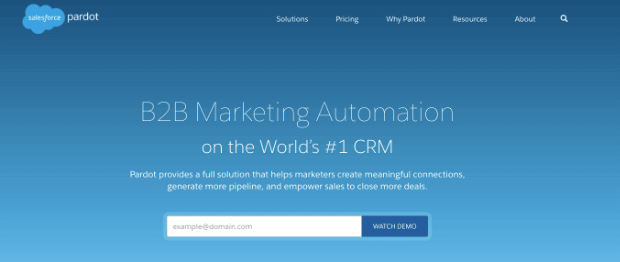 This is an all-in-one tool that's a little different from Sendinblue, mainly because it's business-to-business (B2B) rather than business-to-consumer (B2C).
With Pardot, you have highly targeted lead converting strategies and detailed analytics to make sure you're accurately monitoring your campaigns' success.
One of their best features is Salesforce Engage. Everything about this tool helps marketing and sales rep craft their message to a specific user and track their users' responses.
Like Sendinblue, Pardot doesn't have features for fully managing your social media marketing strategies.
Pricing
It should be noted that one of the largest differences with Pardot being a B2B is the price point. Their entry-level program starts at $1,250 per month when billed annually.
Due to the price tag, it may be the right choice for bigger companies with a large budget. Smaller to medium-sized companies may not see enough return on investment (ROI) to justify the cost.
Again, it's an excellent tool. But if cost is a factor (which it usually is), you should be sure you actually need all the tools you're paying for.
14. HubSpot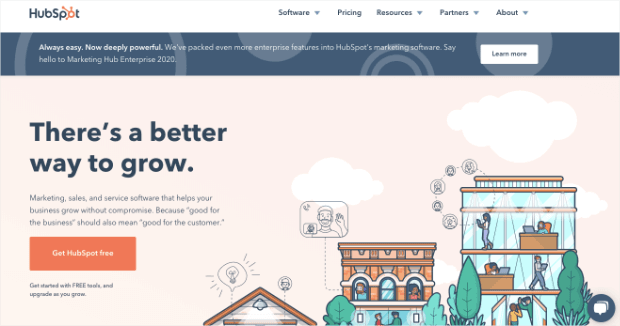 If you've been on the hunt for a marketing automation software, then you've probably run across HubSpot. They're one of the most popular choices for smaller to medium-sized businesses because of the number of marketing tools they offer (and their competitive price point).
In fact, they have too many tools to detail here, but here's a teaser:
HubSpot offers everything from contact management to sales, but it's their automation service that we're interested in. They have some cool technology that allows you to rotate leads through different sales reps and automate some of the more tedious tasks that come along with it.
For the marketers on your team, you can automate your email campaigns to warm up your cold leads into potential buyers. The goal is to use the marketing automation tools to push these leads a little further down the pipeline.
Finally, your support team has everything they need to simplify their lives (or at least their jobs). Customer questions or comments are turned into ticket requests and sent to the right person rather than floating from desk to desk.
The great thing about HubSpot is that it really does have a little bit of everything for your company. The only downside is, again, Hubspot marketing plans can be intimidating for small businesses.
Pricing
HubSpot's pricing is flexible. There is a free version which is great, but limited. The starter package begins at $50 per month, their Professional package jumps to $800 per month and their Enterprise package peaks at $3,200 per month.
Like Pardot, this is likely a marketing tool for companies with a large team and a large budget.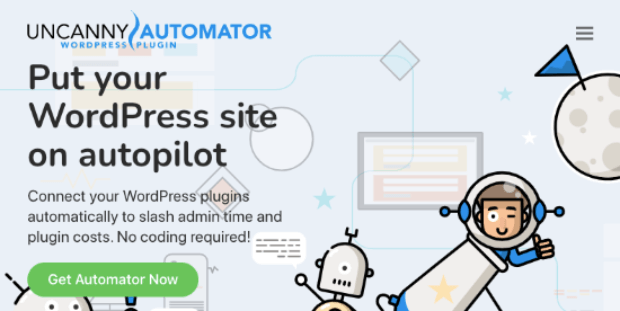 With Uncanny Automator, you can put your entire WordPress website on autopilot. It works by connecting your existing plugins together so they can perform mundane tasks automatically, which can drastically slash admin time.
You can create automation "recipes" easily, no coding required. Simply select your triggers, choose your actions, and let Uncanny Automator do the work.
For example, you can create a recipe so that when a user fills out a form, they're automatically registered for a training session. Or, when a new blog post is published, automatically send it to your email marketing list.
It integrates with over 50 popular plugins like WPForms, MemberPress, WooCommerce, Easy Digital Downloads, and more. And with Zapier support, you can connect to over 2,000 apps. Billions of automation recipes are possible.
Pricing
Uncanny Automator starts at $149 per year for 1 site and it includes all triggers and actions. To use Uncanny Automator on up to 10 sites costs $249 per year. And for unlimited sites, Uncanny Automator is $399 per year.
Final Thoughts
When it comes to finding the right automation tool for your marketing team, you've definitely got options.
But, why not give OptinMonster a try?
With a Pro Plan at just $30 per month, you can build incredible lead capturing campaigns that are proven to boost conversions, generate traffic, and increase sales. And your success is 100% tracked so you can make smarter, data-driven decisions.
Plus, OptinMonster gives you features to reduce shopping cart abandonment, share discounts, run contests, and so much more!
There's a reason why OptinMonster is the world's #1 conversion optimization kit.
We hope you liked this post, and if so, you may also want to check out our comparison of the Best Push Notification Tools for WordPress.
And if you're ready to grow your leads and skyrocket your profits, don't wait another minute… Join OptinMonster today!