Shoppers are demanding. Not making a judgment here, just stating a fact.
We all have expectations that need to be met, especially if we're going to be spending money or time on something.
Shoppers who don't get the level of customer service they need, site visitors who don't get the support they're looking for, they're not going to stick around for long.
Using live chat software can help you keep visitors happy and convert window shoppers into paying customers!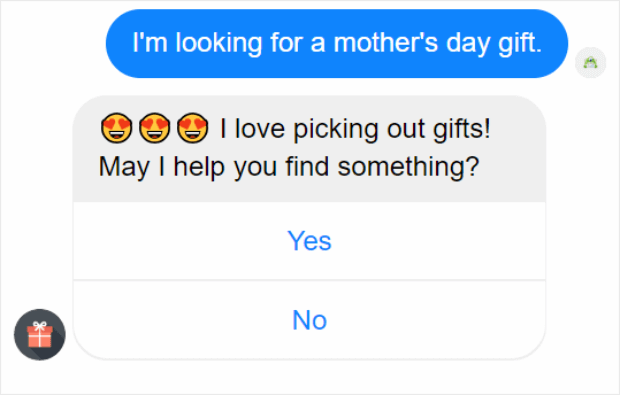 In this article, we're sharing the pros and cons of the best live chat software and best live chat plugins on the market for small business.
Why Add Live Chat Software to Your Website?
People love chat. They'd rather chat than talk to customer service over the phone or via email.
With live chat, you can get your questions answered immediately without having to disrupt your day by making a phone call. Many people love using live chat because they can do other things while they're getting their customer service issues handled. Hooray, multitasking!
Live chat and chatbots use conversational commerce which can also help reduce cart abandonment, increase sales, and definitely boost engagement… As long as you choose the right software for the job.
Related Content: Live Chat Best Practices: How to Streamline Customer Service
How to Choose the Best Live Chat Plugin for Your Site
It's important to choose the best WordPress live chat plugin for your site, so here are a few things you'll want to think about before making your final decision:
What Is Your Goal?
Some site owners want to use live chat for lead generation, while others want to increase sales or customer loyalty.
Your primary purpose for using live chat software may influence which software you go with.
What Features Do You Need?
Different products will come with different features.
If you're looking for a simple live chat plugin that only does live chat and you don't care about analytics and reporting, you probably don't need to pay for a plugin that has a rich reporting feature, right?
What Other Plugins, Apps, and Tools Do You Use?
The live chat plugin or software you choose needs to integrate seamlessly with everything else that you use on your site.
There's nothing worse than buying something that doesn't play nice with other tools that you rely on heavily.
Our Picks for the Best Live Chat Plugins for WordPress
So far, you know why you want to use live chat software on your website and you know the basics of what to look for when choosing which one you want, so let's talk about what's out there.
Here are pros and cons of 12 of the best live chat plugins and live chat software on the market.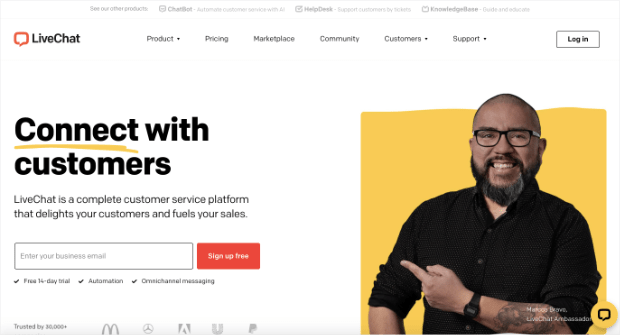 LiveChat is a beautifully-designed live chat software that's easy to set up and integrates with dozens of other services like Google Analytics, Zendesk, popular CRM tools, all the top email marketing services, and more.
This is a mobile-responsive solution that lets you and your support team chat with customers from anywhere: laptops, tablets, and mobile devices. Plus, LiveChat is lightning-fast for great user experience.
You can easily add surveys both before and after the live chat session so you'll always know how your users are feeling.
Pros:
Super easy setup
Beautifully-designed live chat apps
Extremely fast-loading
Cons:
Automatic greetings could be improved to add the ability to trigger a chat when visitors are leaving a page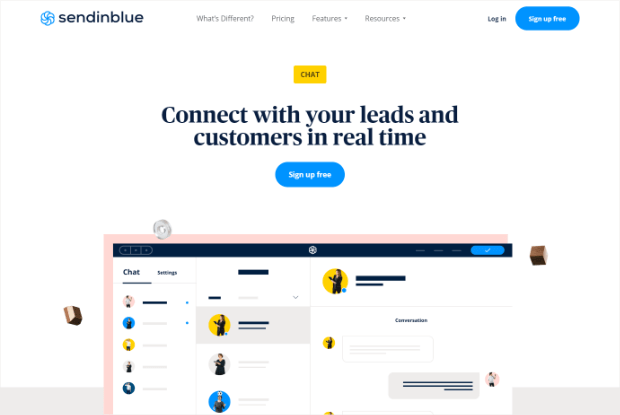 Sendinblue is a complete marketing solution that includes SMS marketing and email marketing, a CRM tool, landing pages, and more. You'll need their premium plan to access the Chat feature.
Since this is a complete marketing package, you'll be able to use Sendinblue for email list segmentation, retargeting for Facebook ads, and complete marketing automation.
Even with all of that, Sendinblue's Chat feature manages to be a beginner-friendly live chat software.
Pros:
Incredibly easy to use
Built-in email marketing integration
Workflow organization
Cons:
Only integrates with Sendinblue marketing automation
Chat feature only available at the highest pricing level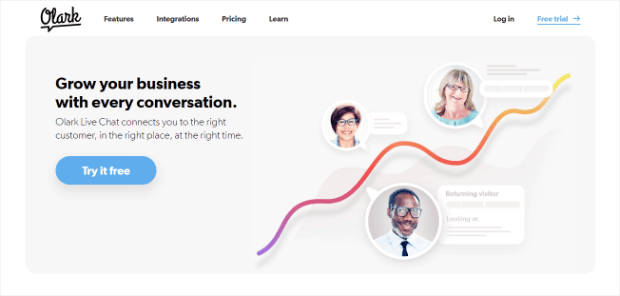 Olark gives you a choice between using a plugin or a simple code snippet to install. Regardless of which you choose, this live chat option is easy to use and integrates with other services like Salesforce, Zendesk, Highrise, Slack, Google Analytics, and more.
With the use of 3rd-party mobile apps, you can connect to Olark live chat from nearly any iOS or Android device letting you chat with customers from anywhere!
Olark lets you monitor live visitors on your site, too, so you can reach out to them proactively.
You can also get real-time reporting on chat volume, find out which agents are handling the most chats, and how your visitors are rating their experience.
Pros:
Easy to use
Proactive chat feature
Real-time reporting
Cons:
Some commands need to be manually typed in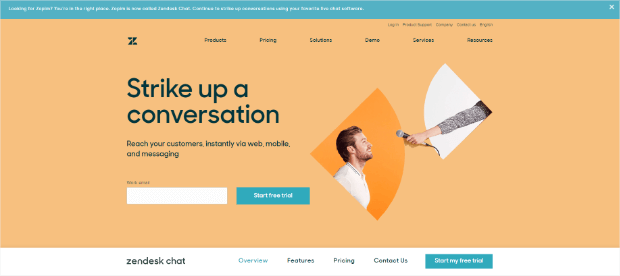 If you're already using Zendesk, Zendesk Chat (formerly Zopim) integrates perfectly with your support software. But, it also works with Salesforce, WordPress, and several other 3rd-party services.
Zendesk Chat also comes with beautiful templates and customization options and AI-powered chatbots so you can automate your chat support process when your live agents aren't available.
Finally, if you're looking for advanced analytics, Zendesk Chat has you covered.
Pros:
Integrated with industry-leading Zendesk support desk software
In-depth, advanced analytics
Works smoothly with other 3rd-party services
Both real-time chats and chatbots
Cons:
Goes idle when you're working outside of the main browser window
Reporting is only available starting at the Professional Plan level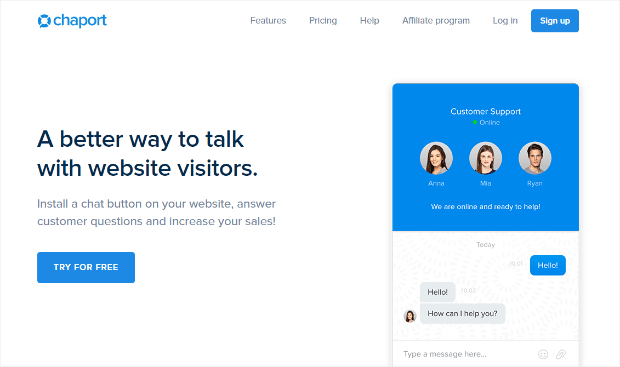 Chaport is a live chat plugin for WordPress that offers a forever free plan with unlimited chats, history, unlimited registered operators (only 5 can be online at once), and notifications.
The free version covers the basic requirements you're going to need, but the paid plans give you access to features like saved replies, visitor notes, auto-invites, file sending, and more.
Chaport also has live chat apps for mobile devices, stunning multi-language chat widgets, and the reporting and analytics you'll need to stay on top of your customer support team.
With Zapier, you can add even more 3rd-party integrations!
Pros:
Forever free plan covers most basic requirements
Live chat apps for mobile devices
Multilingual support
Analytics and reporting
Cons:
Free plan doesn't include integrations or advanced reporting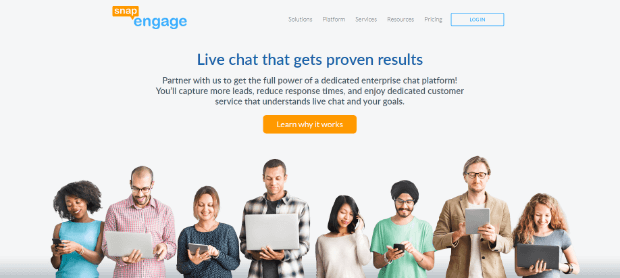 SnapEngage is an omnichannel chat solution that lets you help customers across multiple channels like Facebook, SMS, Twitter, Zalo, WeChat, and more.
This live chat software integrates with popular CRM software tools, includes a call back request feature, automated chat invitations, and has customizable chat widgets so you can match them to your site.
Pros:
Call back requests
Automated chat invitations
Multi-channel live chat solution
Cons:
On the expensive side compared to other live chat options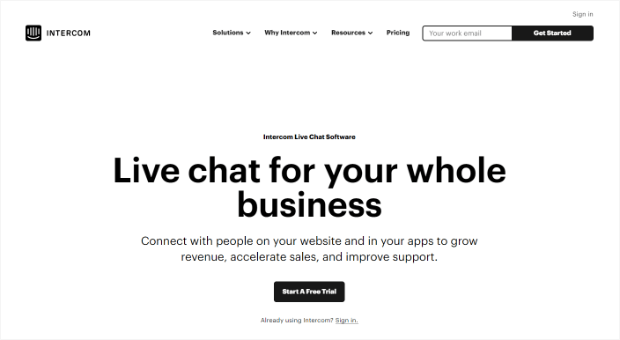 Intercom is a conversational relationship platform that can be used for onboarding, lead generation, marketing automation, and user engagement. If you're looking for a simple live chat plugin, you might not be able to use Intercom to its full potential.
It's easy to use and integrates with CRM and email marketing services, Slack, Google Analytics, and more. Plus, Intercom has live chat widgets that you can automate with your own workflows.
And, if you're worried about not being there for users when live agents aren't available, you can stop now. Intercom lets you add AI-powered chatbots.
Pros:
Easy to use
Automation for workflows
AI-powered chatbots
Cons:
Only shows user's threaded messages unless you're in the user's profile (meaning you could potentially miss a message if a user sent a new message instead of replying)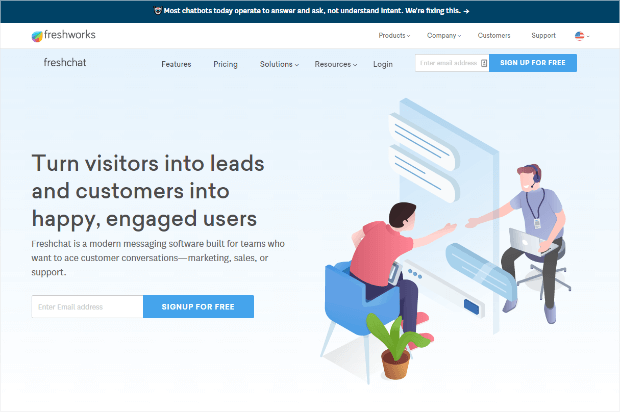 Freshchat was designed to be a conversation and messenger app. It allows you to start real-time chats using live agents or AI-powered chatbots. And you can connect chats to support tickets on Zendesk or on a Slack channel.
With Freshchat, you can use smart plugs, saved responses, private notes, labels, and desktop notifications to stay productive and respond to customers quickly.
Freshchat also gives you in-app campaigns, customer timeline views, live profiles, and customizable chatbots for those times when a live agent isn't available.
This live chat plugin offers a free plan for up to 10 team members.
Pros:
Bot real-time and chatbot options
Desktop notifications
Customer timelines
Cons:
Can't turn off the "⚡ by Freshchat" notification in the chat window
Doesn't work in Safari browser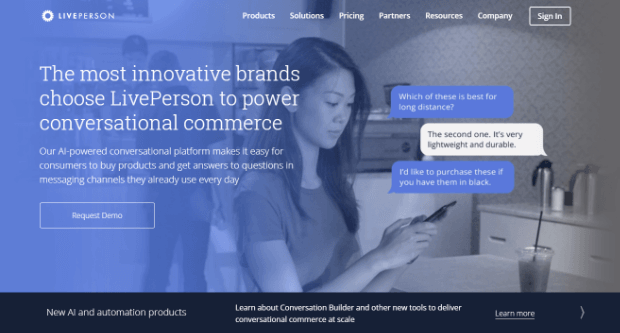 LivePerson lets you engage with your customers through live chat services on your website as well as SMS, WhatsApp, Facebook Messenger, and more.
You can use chatbots to create automated conversation workflows for when live agents aren't available and save customer information with integrated 3rd-party apps.
LivePerson is geared towards mid-sized, large, and enterprise-level clients and, as such, is robust and full of features.
Pros:
Includes chatbots
Multi-channel live chat solution
Cons:
Limited reporting
Customer information doesn't appear in chat window
Pricing isn't readily available (request a quote)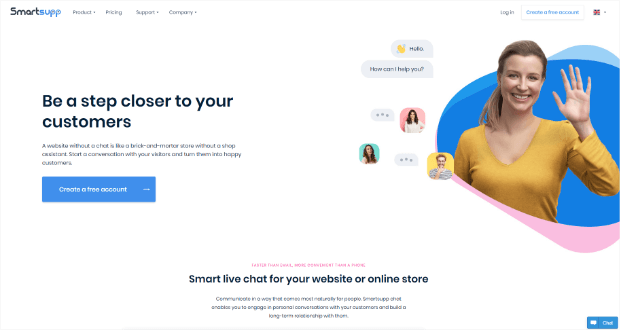 Smartsupp is a low-cost live chat software that works with WordPress, Magento, Webnode, Shopify, and other eCommerce platforms. You can track and record user sessions on your WordPress website and even track chat conversations in Google Analytics.
With Smartsupp, you can customize the look of the live chat software to match your brand and add photos of your support team to let users get to know that real people drive your business.
Smartsupp is also the only live chat software that offers video recordings of your website visitors.
Pros:
Has a basic, free-forever plan
Track and record user sessions
Let users see the people behind the brand
Cons:
Customization options are limited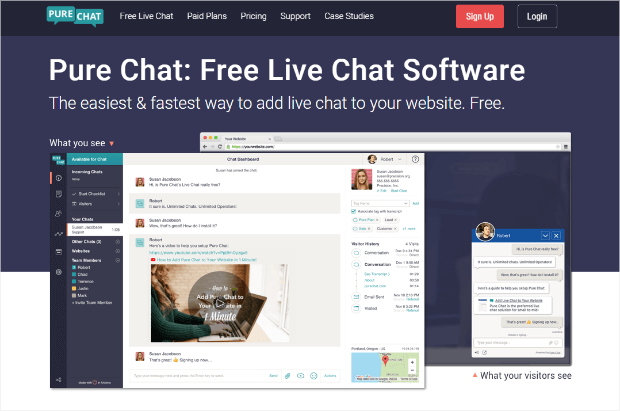 Pure Chat lets you easily add live chat widgets to your website and gives users the option of emailing you when your team isn't online.
The free plan lets you add up to 3 live chat agents and keep an unlimited chat history.
Pure Chat also has mobile apps, so you can stay connected with your customers while you're on the go.
You can also collect user information, like an email address, using a pre-chat form. This makes for great user experience and sets you up with the chance to reach out to the user again!
Pros:
Real-time analytics
Rule-based alerts
Cons:
Automatic triggers could be improved and expanded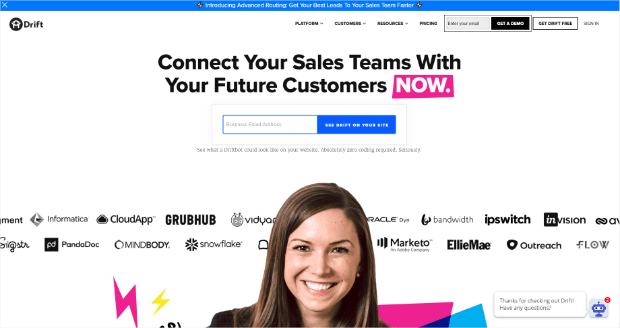 Drift is a popular conversational marketing platform that integrates with all of the CRM and email marketing services you know and love.
This live chat software comes with Drift bot, anonymous visitor intelligence, account-based marketing, scheduling for meetings, and more.
Drift is definitely a great option for mid-sized to enterprise companies, but it's probably not affordable for smaller businesses.
Pros:
Easy to use, easy to install
Gorgeous user interface
Cons:
Pricing puts it out of reach for small businesses
So, Which Live Chat Software Should You Choose?
For small to mid-sized businesses looking for the best live chat plugin or software to meet customer needs without breaking the bank, our pick is LiveChat.
LiveChat is the industry leader in live chat software for a reason. It's easy to use, simple to set up, well-designed, and it has a ton of features to meet your needs.
If you're looking for a complete user engagement tool and you're less concerned about things like cost, then Intercom is just the thing.
That's it! We just covered the pros and cons of 12 of the best live chat plugins on the market, along with how to choose the right one for you!
Now that you have your live chat software needs covered, check out our picks for the best Google Analytics plugins for WordPress. Or maybe you're interested in learning how to create an exit-intent popup to engage your site visitors, rescue carts, and send sales soaring?
To always get the best marketing advice and tips, be sure to follow us on YouTube, Facebook, and Twitter!