Are you looking for the best PayPal WooCommerce plugins to help make checkouts easier on your site?
PayPal is a trusted payment service that has been around since 1998. With 87.5% of online buyers using PayPal, you better have it as a payment option for your store.
So, how do you add PayPal to your WooCommerce store?
Well, you'll need to add a plugin to WooCommerce to accept payments from vendors like PayPal.
We've collected the 5 best PayPal WooCommerce plugins to make buying from your store easy and secure for both you and your customers.
The Best WooCommerce PayPal Plugins
Sorting through the massive list of WooCommerce plugins is a job all by itself. How could you ever get through them all to find the best of the best PayPal plugins?
We understand, so we've done the heavy lifting for you.
So, let's get right into our list. And at the end, we will have some tips on the top things you should look for in any WooCommerce plugin.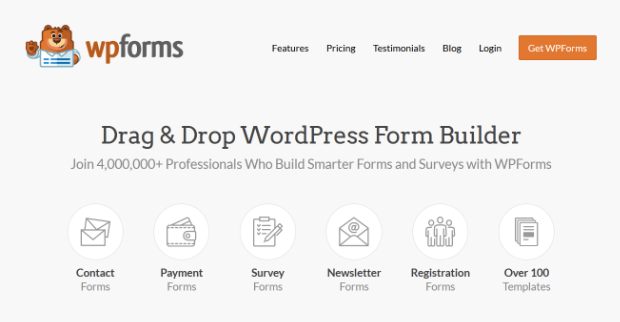 WPForms is the best WordPress form builder. With WPForms, you can embed forms on your site that accept PayPal to help make payments a breeze for you and your customers.
Plus, with a PayPal Standard addon, integrating WooCommerce and PayPal comes naturally to WPForms.
Collecting payments for your WooCommerce store is simple with WPForms and its pre-built billing order form templates.
A drag and drop builder also makes customizing your PayPal forms easy. All it takes is a point and click.
Basically, WPForms takes all of the hard work out of creating and embedding forms on your site.
Key Features:
Exclusive PayPal addon to collect payments through order forms
Advanced payment fields that add multiple items and display the total amount
100% responsive based on the device
Pricing: WPForms' pricing starts at $49.50/year.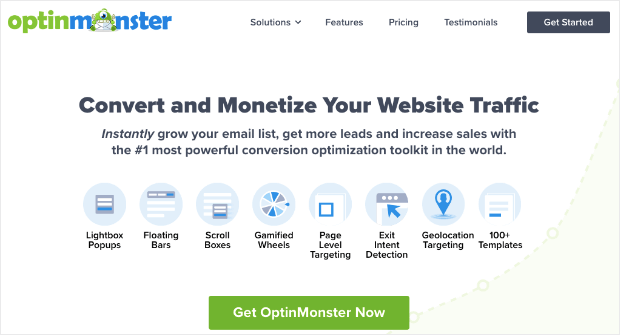 OptinMonster is the best popup creation tool for WooCommerce because it's both powerful and easy to use.
With OptinMonster, you can create stunning PayPal eCommerce campaigns like popups, floating bars, fullscreen welcome mats, and more.
Plus, OptinMonster allows you to target your customers who may be abandoning their cart with powerful targeting rules, ensuring you don't lose the sale.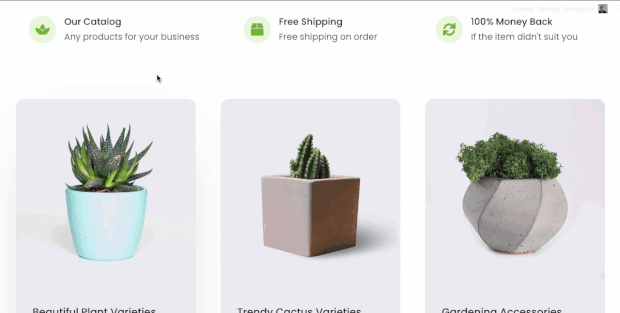 With a WooCommerce sales popup, you can display a shopper's cart and let them quickly check out with PayPal.
You can also target inactive users with OptinMonster's InactivitySensor™ to remind them of their full shopping cart.
OptinMonster is flexible, so you can decide which pages you want your popups to appear on. So, if you'd like, you can choose to just show these reminders on just the checkout or shopping cart pages.
It's simple to connect OptinMonster and WooCommerce. All you need is a couple of minutes of your time.
In fact, OptinMonster is how Kennedy Blue overcame shopper objections and increased sales by 50%.
Key Features:
50+ expertly designed campaigns
Display and targeting rules to keep your shopper's attention
Unlimted campaign customizations
Pricing: OptinMonster plans start at $9/month.
Get Started With OptinMonster Today!
BONUS: Done-For-You Campaign Setup ($297 value)
Our conversion experts will design 1 free campaign for you to get maximum results – absolutely FREE!
Click here to get started →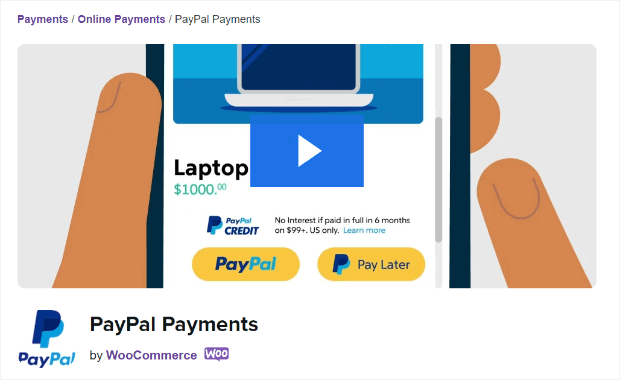 PayPal Payments is WooCommerce's recommended PayPal plugin.
This plugin is built and supported by both PayPal and WooCommerce, giving you peace of mind that not only will this plugin work but it's backed by the platform.
Give your shoppers the flexibility to use all of PayPal's payment methods like Pay Later, PayPal Credit, Venmo, credit and debit cards, and other payment options directly from your WooCommerce store.
With the PayPal Payments by WooCommerce plugin, you can take your store international.
PayPal accepts over 100 currencies and also helps you meet global compliance standards. The plugin also has two-factor authentication provided by cards (3D Secure).
To keep you protected, PayPal also includes automatic updates as worldwide security protocols change.
Key Features:
Flexible payment options
WooCommerce's recommended PayPal plugin
Add payment messaging across your store to alert customers of their options
Pricing: PayPal Payments is a free plugin. Merchant fees will apply but vary by region.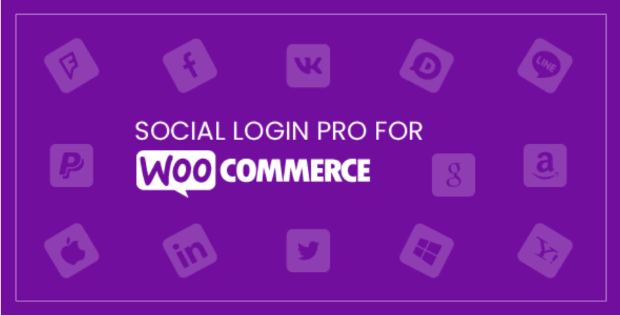 Social Login Pro for WooCommerce isn't a payment platform, but it still puts the power of PayPal on your side.
When shopping online, the last thing shoppers want is to have a different login for every site. That's just another username and another password that they have to remember.
Plus, it just takes more time in a world where ease and speed are valued.
Social Login Pro for WooCommerce lets your customers quickly log in to your store using credentials from other accounts like PayPal.
Then, their PayPal credentials are saved, making checkout a breeze.
Overall, this plugin is ready to simplify things for potential shoppers.
Key Features:
1-click registration for customers
GDPR Compliant
Customizable social login buttons
Pricing: Social Login Pro for WooCommerce is $69/year.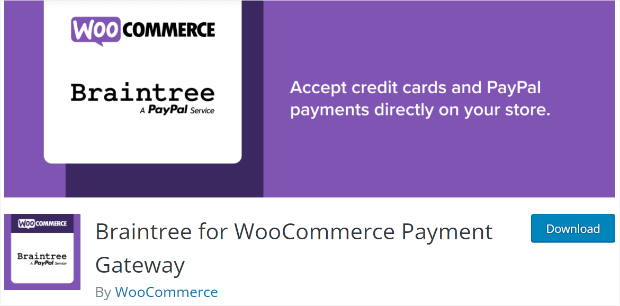 Braintree for WooCommerce Payment Gateway is another payment processing plugin.
With Braintree for WooCommerce, you can accept payments made through PayPal, Apple Pay, and major credit cards.
During checkout, your shoppers can save time by connecting their PayPal account. Or, they can keep their credit card information for future purchases.
Braintree for WooCommerce uses Hosted Fields that are hosted on PayPal's servers. So, what does this mean for you?
It means your checkout process meets security requirements without losing any flexibility. But, your customers will see a secure, seamless way to share their payment information.
Work after the sale is simplified for you, too. You can provide refunds, capture charges, and more- right from your WooCommerce Dashboard.
Key Features:
Meets PCI Compliance SAQ-A industry standards
Fraud prevention tools
Includes express checkout options like Buy Now buttons
Pricing: Braintree for WooCommerce Payment Gateway is a free plugin. This does charge a transaction fee of 2.9% plus 30 cents. Though, your first $50,000 is free.
What to Look for in a PayPal WooCommerce Plugin
Though we've listed our best PayPal WooCommerce plugins, we know you will probably be looking for some on your own.
So, we want you to keep these important things in mind.
You should be looking for a few qualities, including:
Security
Performance
Support
We'll cover these in a little more detail so you know exactly what we mean.
1. How secure is the plugin?
When adding any plugin to your site, whether it is WooCommerce or not, security should be key.
If the plugin isn't regularly updated to fix vulnerabilities, you are putting yourself and your business at risk.
So, how can you tell the difference between a secure plugin and one that is risky?
Here are a few red flags:
The plugin isn't compatible with the latest version of WooCommerce (or whatever platform you use)
Poor reviews with comments about security issues
The plugin isn't offered in the official repository or marketplace
Low number of installs
So, keep yourself stress-free by doing a little research before installing any plugins or extensions.
When in doubt, just go with the most popular plugins. They got to the top of their lists for a reason.
And, of course, remember to always update your plugins for the safest experience.
2. How Fast Is The Performance?
While WooCommerce is bar-none when it comes to performance, the same can't be said about all of the plugins on the platform.
One thing to monitor is how fast your store runs as you add plugins. If you add too many, it can bog it down.
Chances are, your shoppers won't stick around long if your store takes forever to lead.
You can also look at the reviews of the plugin to see if other WooCommerce users have had any issues with speed and performance.
Also, it won't hurt to periodically run speed tests on your site.
3. Does the Plugin Offer Support?
The WooCommerce platform is what is known as "open-source." That means anyone can develop and launch a plugin or extension.
But not everyone offers support for the plugin they've developed.
From installing to working with the plugin, you are likely to run into issues at one point. So, check out the developer and look at the listing on the WooCommerce marketing.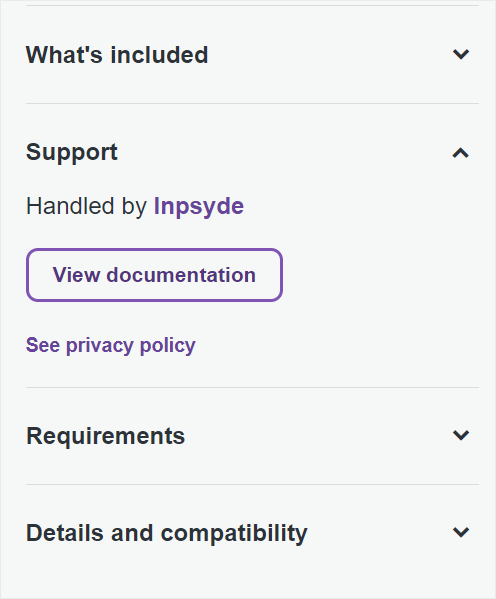 This will be found on the right side of your screen. It tells you all about who will provide support and link to any plugin documentation.
If you click on the developer/support provider name, you'll find out more about them and their plugins on the marketplace.
That way, you can find out if you are dealing with a trusted developer or if you should consider a different extension.
And there you have it!
That is our list of the top PayPal WooCommerce plugins.
We hope that this list has been helpful. If so, check out some of our other WooCommerce articles:
These articles have even more plugins and tricks to drive sales and make your WooCommerce store wildly successful.