Which affiliate marketing tools are really worth the hype?
Affiliate marketing is an incredibly competitive industry. It's no longer enough to just join an affiliate program and put out some good content every once in a while. Everyone's looking for something to give them a competitive edge.
Fortunately, we've done all the research for you. In this article, we'll go over the best affiliate marketing tools to boost pageviews and conversions on your affiliate links.
Let's take a look!
What is Affiliate Marketing?
Affiliate marketing is an online business model that sells advertising in a more subtle, trustworthy way. Instead of running large banner ads all over your website, you include special affiliate links for specific products. When a reader clicks on your affiliate link and makes a purchase, you receive a commission from the brand.

In addition to placing affiliate links in your own content, you can also run paid ads directly to your affiliate products. This lets you focus on targeting your message to the right audience rather than creating tons of content.
To succeed at affiliate marketing, you need 3 things:
Content, whether that's a website, blog, email newsletter, or advertising copy
An engaged audience for that content, which can be your own or a paid advertising audience
Affiliate products to promote
Let's look at some of the tools you can use for affiliate marketing.
Best Tools for Affiliate Marketing
While the affiliate marketing model looks relatively simple, there are actually many different ways to increase your affiliate income. Here are the top tools for supercharging your affiliate marketing campaigns: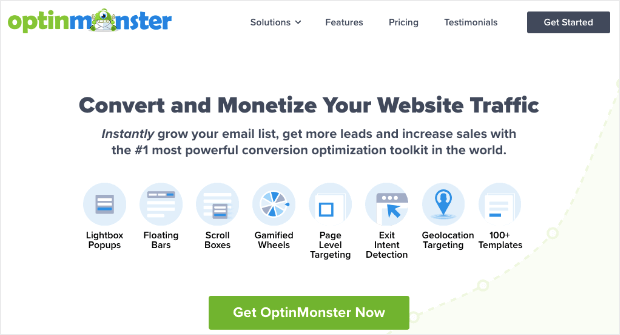 OptinMonster is the best list-building tool for affiliate marketers. Your email list is an essential part of your affiliate marketing strategy because it's the easiest way to reach your website visitors directly. You can even run an affiliate marketing business entirely through an email newsletter if you want.
With OptinMonster, you can create email signup forms in minutes. Once subscribers join your list, you can share affiliate offers in your email newsletters.
OptinMonster has lots of different templates and campaign types you can use to grow your email list:
Lightbox popups
Floating bars
Slide-ins
Fullscreen campaigns
Coupon wheels
Inline campaigns
Content lockers
and more!
You can also use A/B testing to find which campaign designs and copy give you the best conversion rates. OptinMonster won't slow down your affiliate site and works with all major website platforms and email service providers.
OptinMonster integrates with a wide range of email service providers, including Mailchimp, Constant Contact, Aweber, and more. This makes it easy to sync your email list and automate your email marketing campaigns.
Overall, OptinMonster is a versatile and powerful tool that can help affiliate marketers grow their email list and generate more leads and sales. With its user-friendly interface and extensive customization options, it's easy to create engaging and effective campaigns that drive results.
Pricing: OptinMonster plans start at just $9/month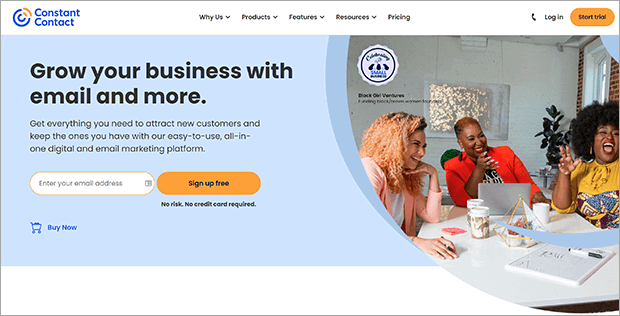 Constant Contact is an excellent email service provider you can use to send email campaigns promoting your content and affiliate products. It also has a wide variety of other digital marketing tools including SMS and CRM features.
Constant Contact offers a drag-and-drop email builder that allows you to create professional-looking emails quickly and easily. You can customize your email template with your brand colors and logo, and choose from a variety of pre-designed templates to get started.
Constant Contact's email segmentation and marketing automation features allow you to target specific groups of subscribers. You can create personalized campaigns based on subscriber behavior, such as past purchases or website activity, to increase engagement and conversion rates.
Constant Contact also offers social media management features that allow you to schedule and publish posts to multiple social media platforms from one place. This can save you time and help you maintain a consistent brand presence across all your social channels.
As a bonus, Constant Contact integrates easily with OptinMonster so you can grow your affiliate marketing email list quickly.
Pricing: Constant Contact plans start at $12/month based on the number of contacts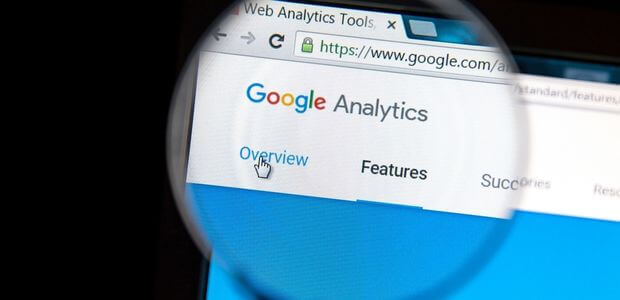 Google Analytics is a treasure trove of information about your website traffic. The more you understand your web performance, the better you can optimize your content and improve lead generation.
Google Analytics event tracking can show you who's clicking on your affiliate links. You can also see how much time your visitors are spending on your site and which posts are generating the most traffic. With this data in hand, you can try different campaign strategies to see what works best.
Google Analytics can also help you optimize your website for search engines by providing data on keywords that visitors are using to find your site. This can help you identify opportunities to improve your search engine optimization (SEO) and drive more organic traffic to your site.
Pricing: Google Analytics is free to use
4. ShareASale: Affiliate Network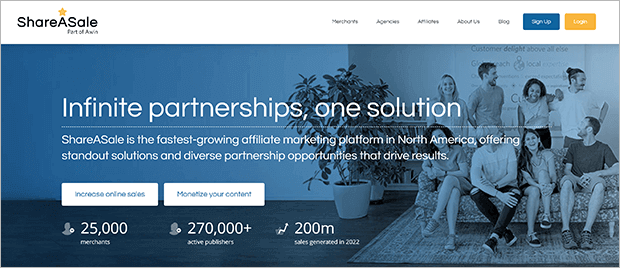 ShareASale is an affiliate marketing platform you can use to search for new partnerships. It would get pretty boring to keep promoting the same few products constantly. So most affiliate marketers participate in more than one affiliate marketing program.
The ShareASale network is easy for bloggers and influencers to use. The platform offers a range of tools to help affiliate marketers find and promote products, including a searchable merchant database, customizable product links and banners, and deep linking options that allow you to link directly to specific pages on a merchant's site.
ShareASale also handles payouts for you so you don't have to set up accounts with too many different merchants. You can use ShareASale's advanced reporting and analytics tools to track your earnings and commissions, monitor clicks and conversions, and optimize your campaigns for better performance.
Pricing: ShareASale is free to join for affiliates but you may need to pay transaction fees and taxes on your commissions
ShareASale Alternatives: CJ Affiliate, Amazon Associates, Rakuten Marketing
5. SEMRush: Keyword Research Tool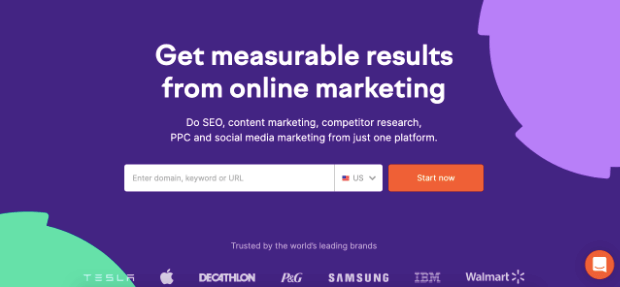 SEMRush is one of the top SEO tools in the industry. To do well with affiliate marketing, you will need to boost your traffic and search engine rankings. You can use SEMRush to improve your search engine performance through:
Keyword research: Find the best words to use in your content
Backlink profile: Check how many other websites are linking to your site
Competitor analysis: See what terms your competitors are ranking for
Site audit: Find and fix problems with your website
SEMRush provides insights into how well your content is doing and identifies opportunities for growth. You can also manage your social media profiles by scheduling posts, tracking engagement, and monitoring mentions of your brand. Another way to use SEMRush is to research competitors' ads to get ideas for your own campaigns.
Pricing: SEMRush plans start at $99.95/month when paid annually
SEMRush Alternatives: Ahrefs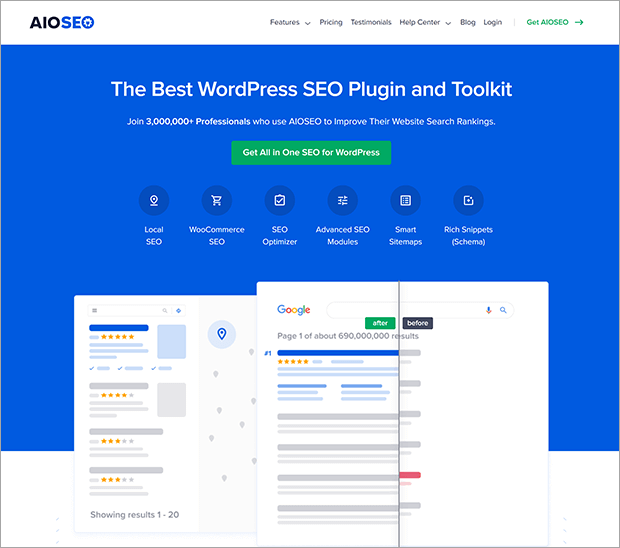 All in One SEO is a helpful SEO plugin you can use on your WordPress website to make sure your content is easy to find on search engines like Google. This can help more people find your website, which can lead to more sales for your affiliate marketing business.
With AIOSEO, you can quickly check your website to see if there are any problems that need to be fixed. Then, you can use the plugin's On-Page SEO checker to make sure your content has the right keywords and phrases that people might search for on Google.
AIOSEO also has a feature called Link Assistant that helps you find opportunities to add links to your content. These links can be internal links to other pages on your website or affiliate links that lead to products you're promoting. By tracking the performance of these links, you can see what's working and what's not, and adjust your strategy accordingly.
Overall, AIOSEO is a great tool for optimizing your website and improving your affiliate marketing strategy. You can read our full AIOSEO review for more info.
Pricing: AIOSEO starts at $49.60/year
AIOSEO Alternatives: RankMath, Yoast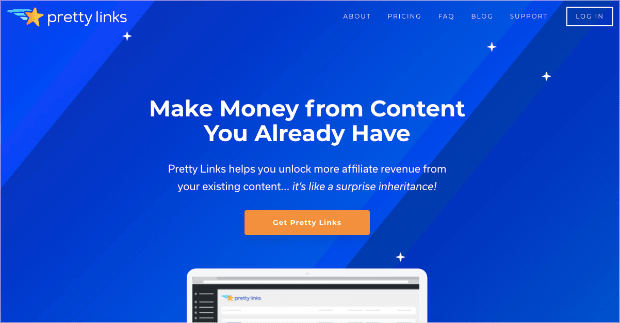 Pretty Links is a useful WordPress plugin for affiliate marketers who want to make their links more readable and easier to share. When you promote affiliate offers, it's important to make sure that the links you share look professional and match your brand.
With Pretty Links, you can create customized links that are easy to remember, read, say, and type. You can also manage all your links in one place from your WordPress dashboard, which makes it easy to keep track of all your promotions.
In addition to shortening your links, Pretty Links can help you automate your affiliate marketing efforts. You can set up rules for when and where your links should appear, and the plugin will do the rest. For example, you can set up Pretty Links to automatically add affiliate links to specific keywords or phrases in your content.
Pretty Links also has several redirection options. This means that if a link you've shared changes or becomes outdated, you can quickly redirect it to a new link without breaking the connection. Overall, Pretty Links is an excellent tool that can help you streamline your affiliate marketing efforts and increase your conversion rates.
Pricing: Pretty Links starts at $99.50/year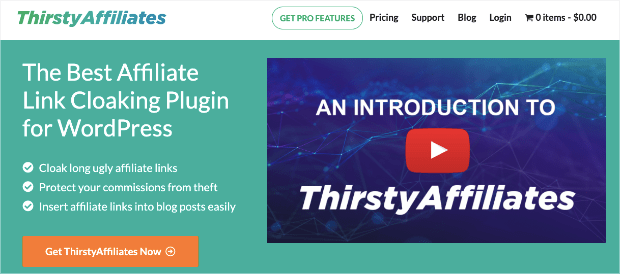 ThirstyAffiliates is a useful link management plugin for WordPress. Affiliate links can be long and difficult to remember, so ThirstyAffiliates lets you create short, easy-to-remember links. This process is called link cloaking, which helps protect your affiliate links from hacking and ensures that you get the commissions you earned.
ThirstyAffiliates also provides enhanced redirect features to make sure your links work correctly. You can also use ThirstyAffiliates to insert affiliate links into your posts or pages without any coding knowledge. The plugin also offers automatic keyword linking and geolocation-based link redirects to help your audience find the right products.
Additionally, ThirstyAffiliates integrates with popular link shortening services like bit.ly and goo.gl to make sharing your links on social media easier. This plugin is very beginner-friendly and requires no coding knowledge at all. If you ever have any questions or issues, ThirstyAffiliates' support team is available to help within 48 hours.
Pricing: ThirstyAffiliates starts at $79.50/year.
9. AffJet: Affiliate Dashboard Tool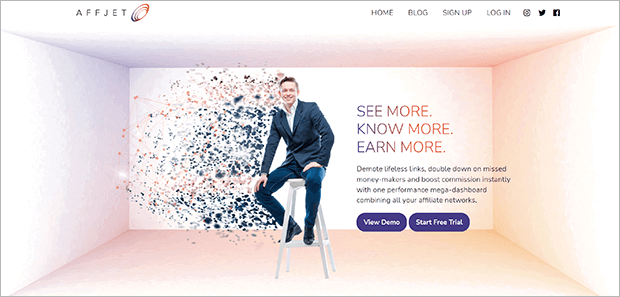 AffJet is an affiliate network dashboard that combines data from hundreds of affiliate networks. If you're part of multiple affiliate networks, AffJet is a must for tracking your campaign performance.
AffJet is not only great for tracking your earnings, but it also provides insights into your campaigns. You can use AffJet to see how your campaigns are performing across different networks and analyze your top-performing campaigns to optimize your affiliate marketing strategy.
Additionally, AffJet lets you create custom reports based on your preferred metrics. With this feature, you can quickly generate reports that show the information you need to make informed decisions about your affiliate campaigns.
AffJet also provides robust analytics, including tracking for clicks, impressions, conversions, and earnings. These analytics help you to understand the performance of your campaigns and identify areas for improvement.
Pricing: AffJet has a free plan limited to 75 transactions per month with paid plans starting at £5/month.
10. Voluum: Affiliate Ad Tracking Tool

Voluum is an advanced affiliate tool that lets you track, optimize, and automate your ad campaigns. With its powerful tracking capabilities, you can monitor every aspect of your campaigns, including clicks, conversions, and revenue.
Voluum also provides a wide range of reporting and analysis features, giving you insights into the performance of your ads, keywords, and landing pages. The platform's Automizer tool allows you to set up automated rules that adjust your campaigns based on their performance, saving you time and effort.
Additionally, Voluum supports integration with many popular ad networks, such as Google Ads and Facebook Ads, as well as with third-party tools like Zapier and WordPress. Its intuitive user interface and customizable dashboards make it easy to use and navigate, even for beginners.
Pricing: Voluum has individual and business plans starting at $149/month
11. AdEspresso: Affiliate Ad Campaign Builder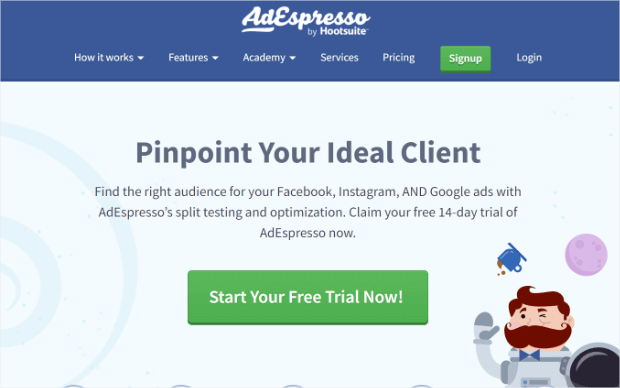 If you're running Facebook or Google Ads for your affiliate products, you definitely need AdEspresso. From the makers of Hootsuite social media scheduler, this affiliate marketing software puts all your ad creation and management in one place.
One of the most useful features of AdEspresso is its ad creation tool. With this tool, you can quickly and easily create high-quality ads that are optimized for the Facebook, Instagram, and Google ad networks. AdEspresso also provides a library of pre-built templates and ad images, making it easy to create professional-looking ads without any design experience.
You can also set up automatic post promotion, campaign cancellation, and budget allocation. If you use a customer relationship management (CRM) software or email marketing tool, you can sync your leads, contacts, and audiences automatically.
In addition, AdEspresso offers detailed reporting and analysis features that allow you to see how your campaigns are performing. You can view metrics such as clicks, impressions, conversions, and ROI, and use this data to make informed decisions about your advertising strategy.
Pricing: AdEspresso plans start at $49/month
12. SeedProd: Landing Page Builder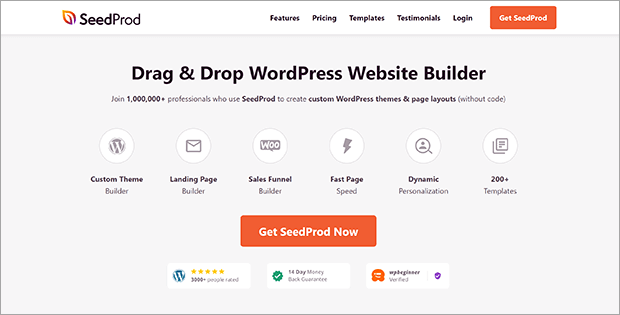 SeedProd is the best WordPress landing page builder plugin for affiliate marketers who need to create landing pages. These landing pages receive traffic from search, social media, email newsletters, ads, or other sources. Then they drive clicks and conversions on affiliate links.
SeedProd is super easy to use with its drag-and-drop page builder, premade blocks, and extensive template library. You can preview changes to the site in real-time on desktop and mobile. There's even a no-code theme builder you can use to create custom headers, footers, sidebars, and other WordPress elements.
In addition to its user-friendly interface, SeedProd also offers powerful features that can help increase conversions. You can add lead capture forms, countdown timers, and social proof to your landing pages. You can also integrate your pages with popular email marketing services like Mailchimp and Constant Contact.
With SeedProd, you don't need to worry about your landing pages slowing down your affiliate website. Its code is optimized for fast loading times and it's fully compatible with popular caching plugins like W3 Total Cache and WP Super Cache. And if you ever run into any issues, SeedProd's friendly customer support team is always ready to help.
Our complete SeedProd review has more details if you want them!
Pricing: SeedProd plans start at $39.50/year
13. Buffer: Social Media Marketing Tool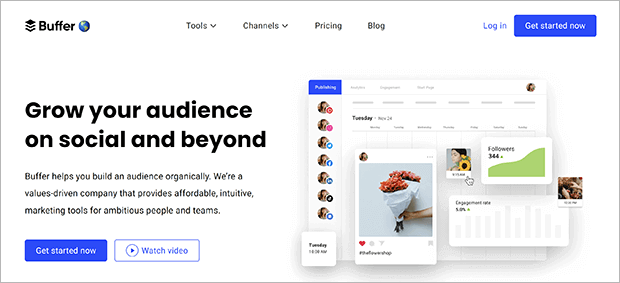 Buffer helps you grow a social media audience you can then share your affiliate links with. It has a dashboard for social media posts that lets you plan and publish all in one spot.
Buffer also has an AI functionality that can brainstorm ideas, rewrite copy in different styles, and repurpose existing content. You can engage with comments from your audience and even set up smart alerts to prioritize important conversations.
In addition to scheduling and publishing social media posts, Buffer also has analytics features that help you understand how your posts are performing. You can see which posts are getting the most engagement and use that data to inform your social media strategy.
Buffer also has a feature called "Buffer Reply," which lets you manage all your social media conversations in one place. This includes comments, direct messages, and mentions across multiple platforms like Facebook, Twitter, Instagram, and LinkedIn.
Pricing: Buffer has a generous free plan and paid plans that start at $6/month for 1 channel; additional channels and users cost more
14. CoSchedule: Marketing Calendar Tool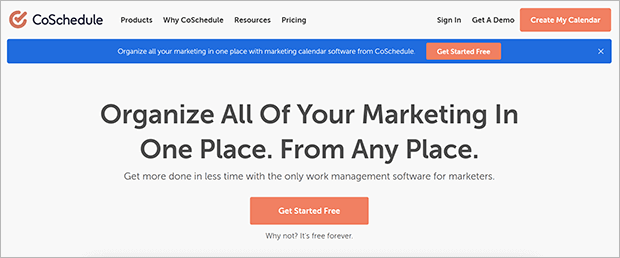 CoSchedule helps serious affiliate marketers manage their full publishing workflows. Manage your email marketing and social media campaigns from one streamlined calendar.
Key features of CoSchedule include:
Customizable color coding
Project tagging
Calendar views and filters
Integrations with popular marketing tools
Task management
There's also an email subject line tester, social message scheduling and analytics, and team member access.
Pricing: CoSchedule has a powerful free plan; paid plans with priority support, higher social posting limits, and more powerful automation start at $29/month
15. Grammarly: Spelling and Grammar Checker Tool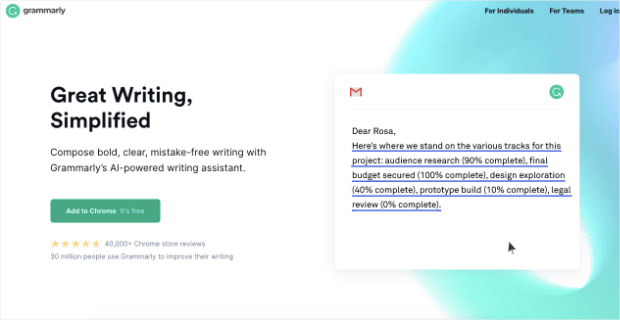 Grammarly makes it easy to create high-quality content free from mistakes and typos. Affiliate marketing relies on your credibility as a creator, so you don't want to undermine yourself with basic errors.
Whether you're writing social media posts, email campaigns, or blogs, Grammarly can help you communicate with your audience better. In addition to checking grammar, punctuation, and spelling, Grammarly's paid plans also offer content suggestions about inconsistencies, unclear wording, readability, and more.
Pricing: Grammarly has a free plan that gives basic writing suggestions; paid plans with full rewrites and other suggestions start at $12/month
Conclusion: Best Tools to Boost Your Affiliate Marketing Efforts
We hope this list gave you some ideas for growing your affiliate marketing business. To recap, here are the top tools we recommend for experienced and new affiliates alike:
OptinMonster to build your email list
AIOSEO to optimize your website content
ThirstyAffiliates to manage your affiliate links
SEMRush to understand your search traffic and opportunities
Next, learn how to increase your earnings per click and make affiliate marketing work better for you.
Want to know about the latest trends and growth opportunities in the affiliate marketing industry? Check out these 18 Affiliate Marketing Statistics All Marketers Must Know.
To grow your affiliate marketing email list, get started with OptinMonster risk-free today!