Do you want to add a contact form in WordPress to collect more leads and subscribers?
A contact form lets your customers reach out to you about your products or services. You can use these leads to overcome sales objections, gather feedback, send quotations, and so much more.
By default, WordPress does not come with a built-in contact form, but there is an easy way to add contact forms to your site.
In this post, we'll show you how to add a contact form in WordPress in just 5 steps without touching a single line of code.
But before we get to the tutorial, we want to quickly show you how you can use a contact form to your advantage.
Using a WordPress Contact Form to Your Advantage
A WordPress contact form lets customers get in touch with you to know more about what you offer. You may be wondering if adding an email address would work the same way?
When you add an email address, chances are you'll be flooded with spam. It also becomes difficult to track leads and follow up with them.
A contact form, on the other hand, gives you a professional structure that every business needs.
When you add a contact page to your WordPress website, you can:
Grow your email list – While customers are getting in touch with you, you can also get them to sign up for your newsletters and updates to stay in touch with them and keep them engaged
Organize contacts – Contact forms store your leads in a single place so you can get an overview of your list and their details
Integrate with email – Most contact form tools let you integrate with email service providers (like Constant Contact, Mailchimp, and more) so you can automate your lead generation process.
All of this helps you improve your email marketing strategy.
Added to that, you can embed your form into lead generation and conversion campaigns on your site. By connecting your form to a powerful lead generation tool like OptinMonster, you can use your contact forms to increase conversions and sales.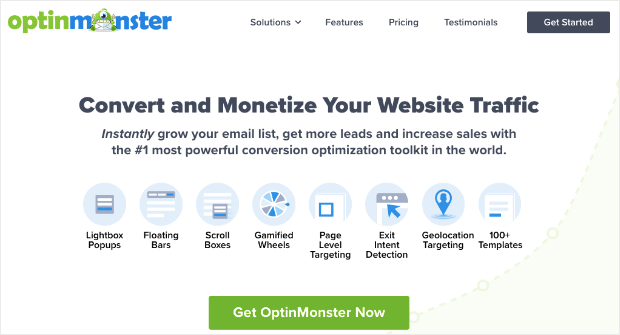 OptinMonster is the most powerful lead generation tool in the market. It lets you create marketing campaigns like slide-ins, popups, inline forms, and more.
You can embed your contact form inside OptinMonster campaigns and get it to open on click. Check out how Stays.net boosted monthly sales 10% using this OptinMonster on-click campaign: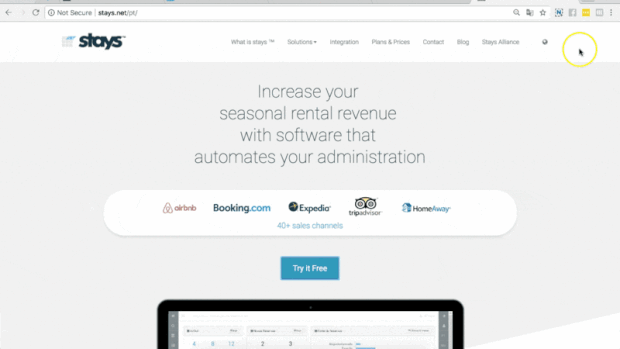 With a campaign like this, visitors won't have to search for your contact form. You can make it accessible through buttons and links.
You can also use OptinMonster's powerful targeting features to display the form at the right time. For instance, the Exit-Intent® trigger detects when a visitor is about to leave your site and displays the contact form.
So you can collect their contact details before they leave your site for good.
Need proof? See how Medstar Media used this OptinMonster exit campaign with a contact form and was able to increase clients' conversions by 500%!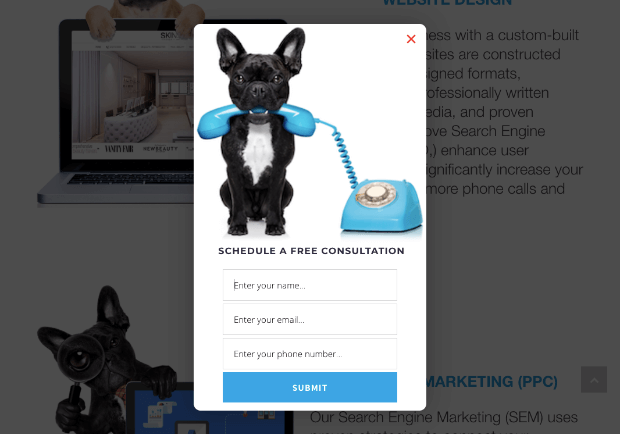 OptinMonster lets you target visitors based on which page their viewing, what actions they're taking on your site, and even where they're coming from.
When you combine the awesome lead generation power of OptinMonster with the right contact form builder plugin, you can use your contact form to increase your conversions.
Want to create stunning contact campaigns for your site? Sign up for OptinMonster below:
Get Started With OptinMonster Today!
BONUS: Done-For-You Campaign Setup ($297 value)
Our conversion experts will design 1 free campaign for you to get maximum results – absolutely FREE!
Click here to get started →
Now that you've seen some of the advantages of including a contact form on your WordPress site, let's dive into the steps to add one to your site.
Choosing the Best WordPress Plugin for Contact Forms
We've taken the time to review and handpick the best contact form plugins for you. That way, you can simply choose one from our curated list.
For this tutorial, we've chosen WPForms because it's the best WordPress contact form plugin. It has all the features and functionality you're looking for in a form building tool.
There are quite a few free and paid WordPress plugins for contact forms out there, but we firmly believe that WPForms is hands down the best option out there.
Plus, you can use WPForms Lite to create a simple WordPress contact form if you need a free version. And, when you're ready for more advanced features, upgrade to WPForms Pro.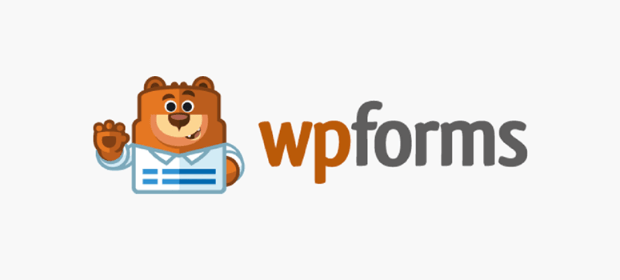 With WPForms Pro, you get access to survey reports, user registration forms, payment forms (for eCommerce), post submission forms, smart conditional logic, conversational forms, and a lot more… all without touching any code.
This is the perfect solution for all kinds of businesses. Not only can it collect contact information (which we'll cover below), but it can take payments through PayPal and Stripe, too.
That means it has your entire sales funnel covered from start to finish!
It also works with any of your WordPress themes to get forms up on your site FAST.
Of course, both WPForms Lite and WPForms Pro come with the intuitive drag and drop form builder to make building awesome forms a breeze.
How to Create a Contact Form Using WPForms
To get started with WPForms, you'll need to install and activate the WPForms plugin. Check out the step by step guide on how to install a plugin in WordPress for more details.
Step 1. Create a Simple WordPress Contact Form
Once you have your plugin installed, go to WPForms » Add New from your WordPress admin dashboard to create a new form.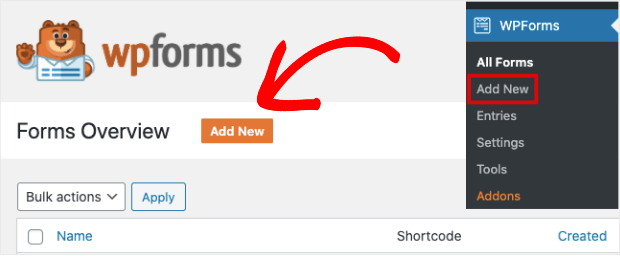 Name your form and select the Simple Contact Form template.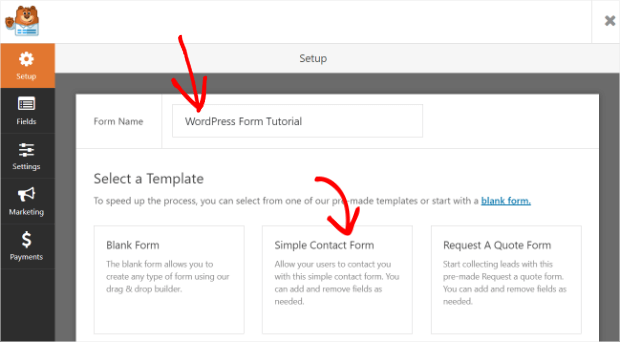 You can add more fields to your contact form by dragging them from the left-hand panel to the right-hand panel.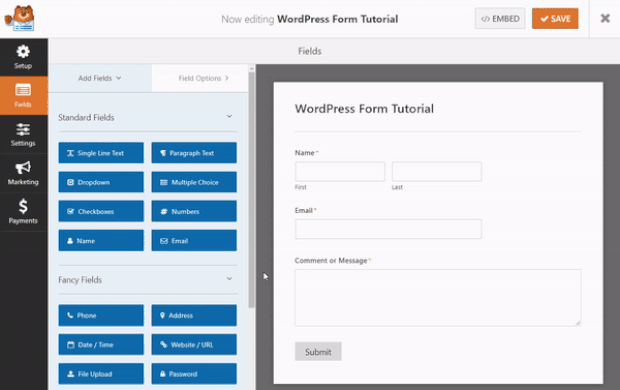 Next, click on a field in the right-hand panel to make changes to that field using the form field options.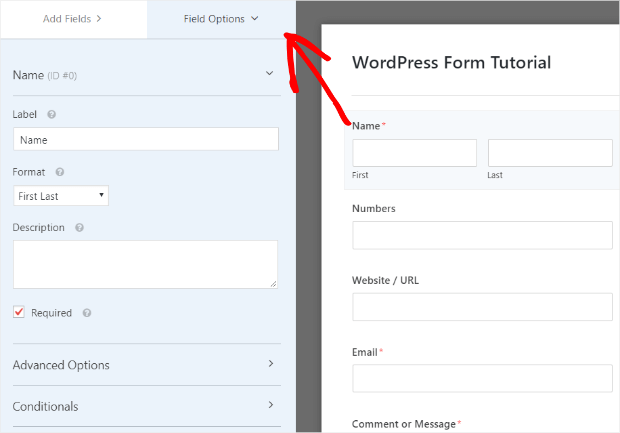 You can also click on a form field and drag it to rearrange the order on your WordPress contact form. This is important when you're trying to figure out how to design a form. For most business owners, all you need in a simple contact form is:
Name (first and last)
Email address
Comment or Message
These are also the default fields that come with the Simple Contact Form template.
However, if you need more custom information such as website URL, phone number, zip code, file upload, or anything else, you can easily add those with their drag and drop builder.
You can also modify your form with custom CSS and HTML, though this is something we'd only recommend for people with CSS or coding experience.
When you're happy with the look of your form, click Save.
Now your WordPress contact form is ready. Up next, we'll show you how to configure the form settings.
Step 2. Configure Your General Form Settings
WPForms lets you customize the form settings including email notifications and confirmation messages.
To access these options, go to Settings » General.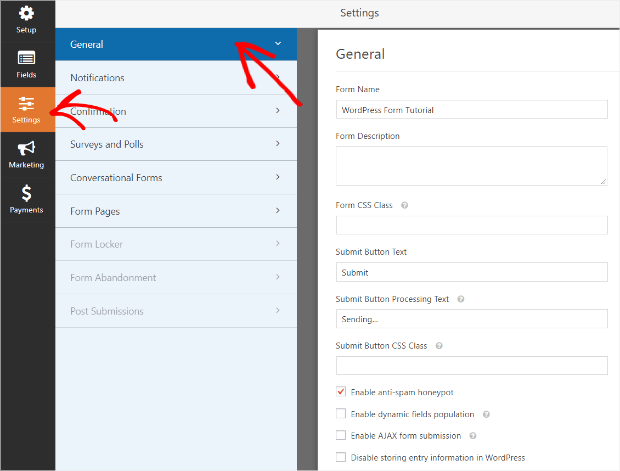 Here you can configure a number of things about your form:
Form Name. Choose a different name for your form, if you'd like.
Form Description. Give your form a description.
Submit Button Text. Change the copy on the submit button.
Spam Protection. You can enable the honeypot feature to keep bots and spammers from submitting forms. This feature is automatically enabled on all WordPress forms, but if you use another form of spam prevention (like CAPTCHA), unclick this option.
GDPR Enhancements. You can disable the storing of entry information and user details, like IP addresses and user agents, in an effort to comply with GDPR requirements. In addition, check out the WPForms instructions on how to add a GDPR agreement field to your simple contact form.
That last one (GDPR Enhancements) is particularly helpful. It keeps small businesses safe from breaking international laws concerning international clients from the European Union (EU).
Once you've configured your site's general settings, click Save.
Step 3. Configure Your Contact Form Notifications
WPForms automatically sends you notifications to your WordPress admin email address when someone submits a contact form on your site.
If you want to change these settings, you can do that by going to Settings » Notifications.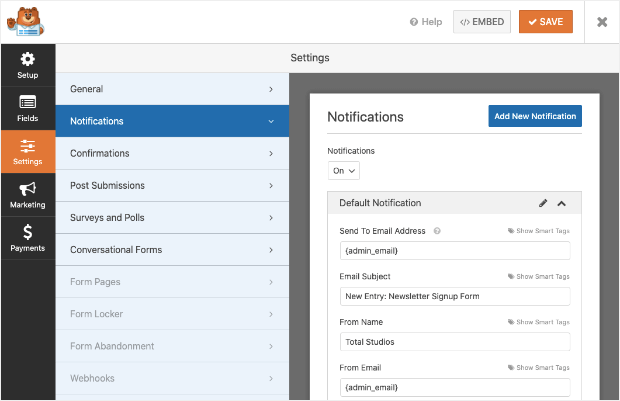 You can turn off notifications, change the email address, and message here.
Step 4. Configure Your Contact Form Confirmations
Form confirmations are messages that show up to site visitors when they submit a contact form on your website. They let people know that their form has been processed and give you the chance to let them know what their next steps should be.

WPForms has 3 confirmation types to choose from:
Message. This is the default confirmation type and shows when a site visitor submits a contact form. It's a simple success message confirmation that lets them know their form was processed.
Show Page. This confirmation type takes site visitors to a specific thank you page on your site. Be sure to check out our article on ways to increase conversion rates on your thank you pages to make the most of this value but often overlooked page.
Go to URL (Redirect). The redirect option is used when you want to send site visitors to a different website.
For this tutorial, we'll be setting up a customized message for our email subscribers and new form submissions. Here are a few guidelines for this small (but important) message:
Start with a warm thank you
Let users know the timeframe you'll get back to them
Tell users how you'll be reaching out to them
Remember, your customers are contacting you for a reason. Once they send their message, they should have some structured idea about when they'll hear back from you and in what format.
Will it take 1 business day, 24 hours, or an entire week to reach back? And are you going to email, call, text, reach out on social media?
These are all questions you should answer for your customer with your confirmation message.
Here's how to set up a form confirmation in WPForms to customize the message visitors see when they submit a contact form.
First, click on the Confirmation tab in the Form Editor under Settings.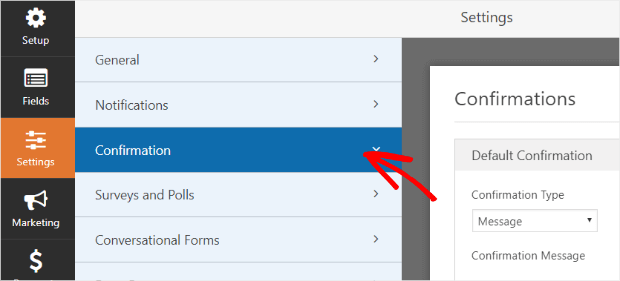 Next, choose the type of confirmation type you want to create. Again, we'll select Message for this tutorial since it's the most popular option. We'll also quickly edit the message to let users know when and how we'll be reaching out: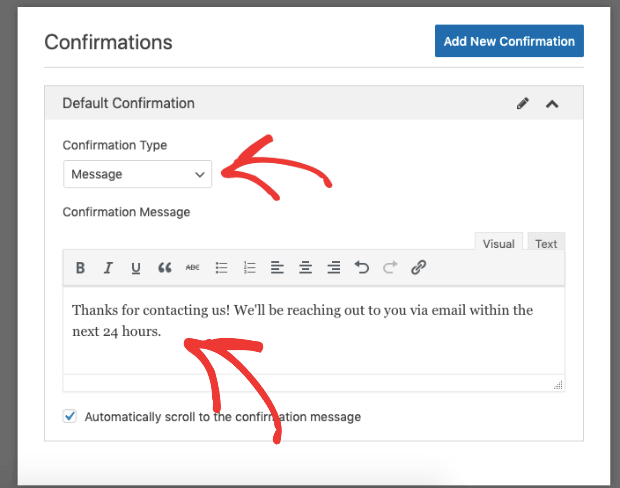 Then click Save.
Now that you've customized the settings, it's time to add the contact form to your WordPress website.
Step 5. Add a Contact Form to Your WordPress Website
WPForms lets you add your forms in many locations on your websites, like blog posts, pages, and sidebar widgets. Most people add the contact form in a page or post, so we'll go with that option.
Create a new post or page in WordPress (or choose an existing post or page you want to add your form to) and click on the Add Form button: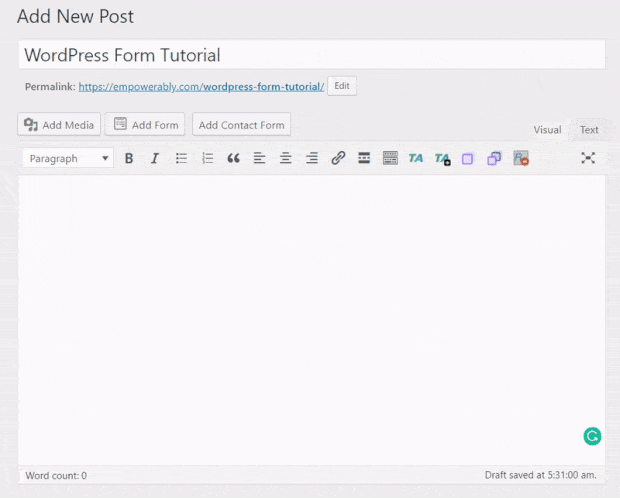 Next, select your contact form in the modal popup and click Add Form.
Then, publish your post or page and your contact form will show up on your website!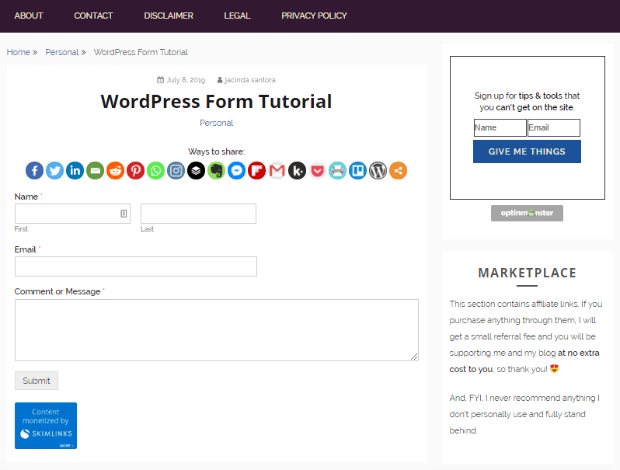 You can easily generate a new page, embed any form with an easy-to-use shortcode, or use a WPForms block with the Gutenberg editor.
The point is that once your form is published, posting it to your site couldn't be easier!
Track Your WordPress Contact Form Conversions
After you've added a contact form to WordPress, you may want to know how it's performing.
You can track form analytics with MonsterInsights straight from your WordPress dashboard.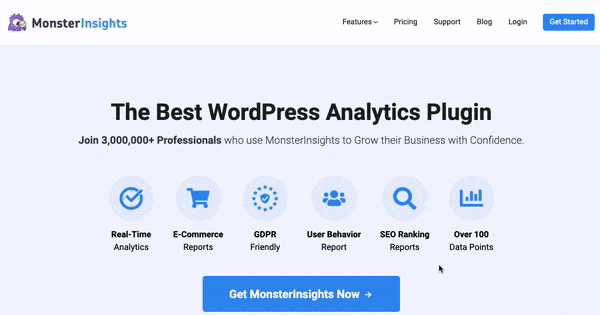 MonsterInsights is the best Google Analytics plugin for WordPress. It's user-friendly and lets you painlessly harness the massive power of Google Analytics in just a few clicks, without having to touch a single line of code.
Just install and activate MonsterInsights Forms, and the plugin will start tracking your forms automatically: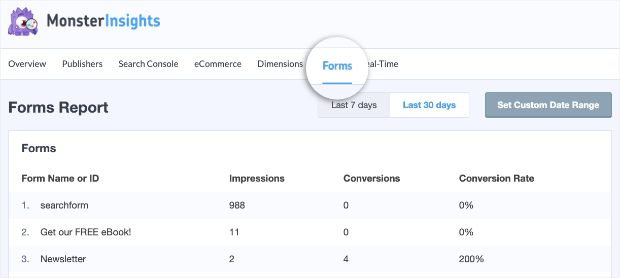 You'll be able to track the total number of views and conversions your forms are triggering as well as your form conversion rates. In addition, you can find out which form is collecting the most submissions.
Then you can make adjustments to your form to encourage more users to reach out to you.
MonsterInsights and the powerful forms tracking addon provide the insight you need to make sure your forms are performing the way you want.
And that's it!
You've just learned how to add a contact form in WordPress using WPForms. Plus, you can track its success with MonsterInsights.
For your next steps, why not try your hand at creating a customer feedback form?
Or you could learn how to connect your contact form to OptinMonster to better target visitors and skyrocket your leads.
If you don't have OptinMonster yet, you can sign up for your 100% risk-free account below:
Get Started With OptinMonster Today!
BONUS: Done-For-You Campaign Setup ($297 value)
Our conversion experts will design 1 free campaign for you to get maximum results – absolutely FREE!
Click here to get started →
We hope you found this WordPress contact form tutorial helpful. If you're looking for more resources on converting site visitors into subscribers, you'll definitely want to check out:
These posts will help you improve your lead generation efforts. That last one especially helps you design a lead capture form that will get visitors to respond and sign up.