This walk-through is designed to be straight-forward and to take you step-by-step guide in creating and publishing your first campaign. Go ahead and log in to your OptinMonster account and navigate to your Dashboard to begin creating your first campaign.
BEFORE YOU START: have you read our Builder overview? It discusses major 5.0 changes as well as gives a brief tour of the major elements of the Builder. Check out the Builder overview guide here.
If you want you can follow our video or check out our walkthrough documentation below the video.
---
Step 1 – Create a New Campaign
The first step is to create a new campaign. For this guide, we will presume you are creating a Popup campaign type.
After you've followed the guide above and created a new campaign, then the next task is to build your campaign.
NOTE: As you go through the campaign builder, you'll notice many options have a question mark icon. Selecting the question mark icon will show you more information about what that option controls or how to use a specific tool.
Step 2 – Confirm Your Display Settings
On the default view when you click Design tab on the top menu, click on Display Settings.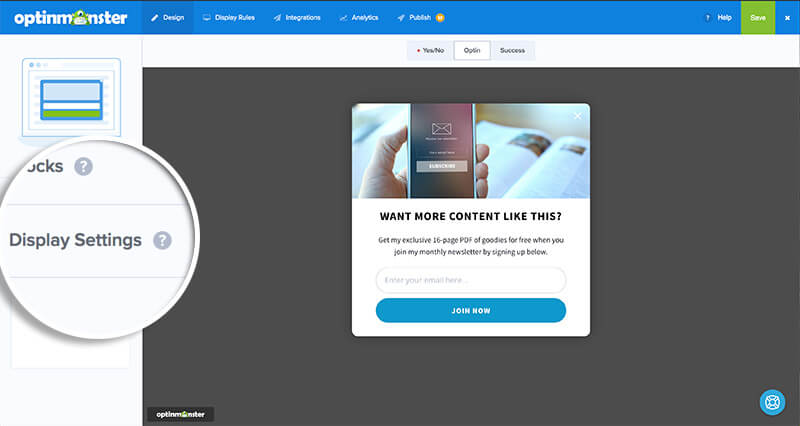 In this section, you can modify your campaign's title (internal use), and you can configure your campaign-specific cookies. If you're not sure what values to specify, the default values for your campaign are a good place to start.
Step 3 – Design Your Campaign
NOTE: Don't worry about editing or modifying your form's fields just yet. We'll do that in a later step.
There are many different ways you can build your campaign, including different views. Check out the Builder overview guide here to learn more about the layout of the builder.
You can edit the title and the wording of your campaign by clicking on the block you want to modify, then editing the wording in the column menu on the left.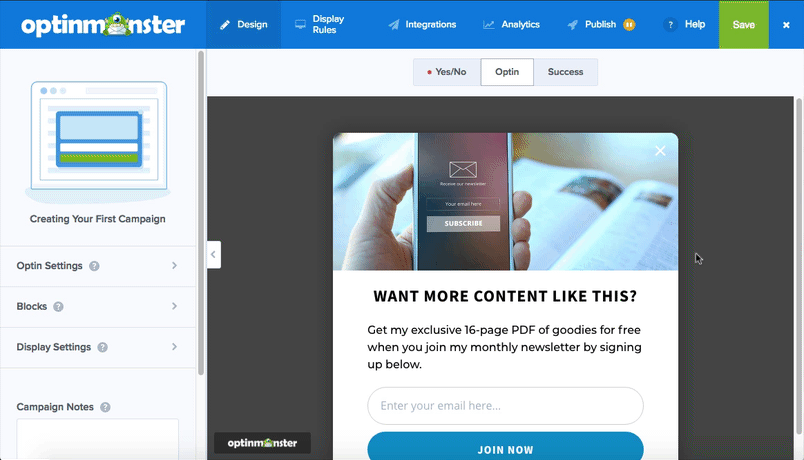 Want more customization?
If you want to style your campaign using CSS, you can open the
Display Settings
Panel, scroll down and add your custom CSS to the
Custom CSS
field. For more information, see our
custom CSS guide
.
Step 4 – Customize Your Campaign and Fields
If you're using one of our native Email Service Provide integrations you will have the option to customize the form fields in the Design panel of the campaign builder.
Since you can click to edit the fields, as discussed in the Builder overview, you can click in the existing Email Field to be taken to the fields area.
Here you can add additional fields such as Name, Phone, etc.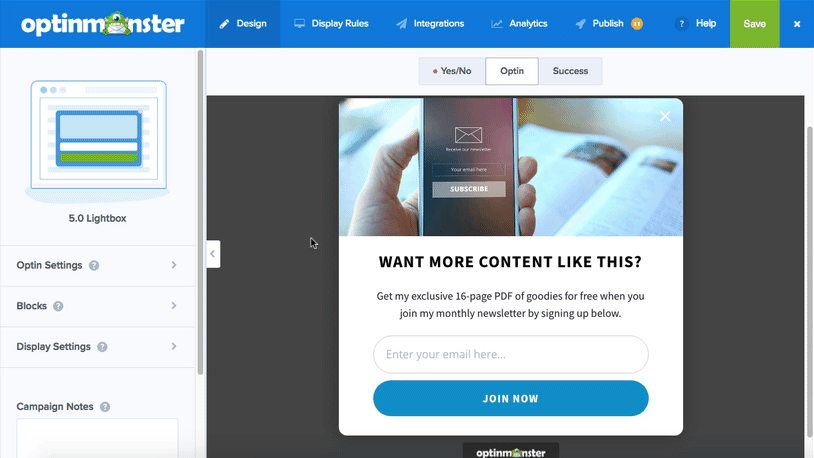 Go ahead and add additional fields, and use the left-hand menu for styling or change of wording now.
IMPORTANT:
If you're using a
Custom HTML integration
, these form field options won't be available. Any form field edits must be handled by editing the form code that you've added in yourself.
Also, if you want to show a privacy statement in your campaign you can enable that option here too. For more information on the Privacy Statement, check out our privacy policy documentation.
Step 5 – Determine the Success Action
There are a few different actions that can occur when someone successfully submits the form.
IMPORTANT:
If you're using a
Custom HTML integration
, these form field options won't be available. Any success action must be handled by the form code that you've added in yourself, or from your Email Service Provider's account who provided you your embed code.
The easiest way to edit your form's success action is to click the Design tab on the top menu. Next, click into one of your form fields (ex: the email field).
Your left-hand menu should have jumped to your Fields menu. Go to the Button tab.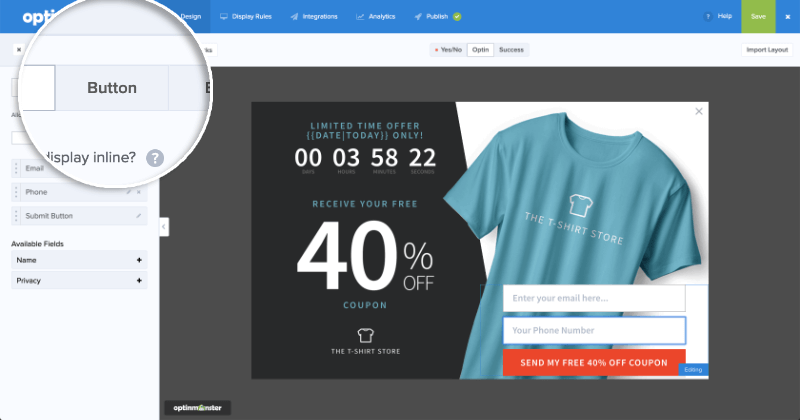 Then, go to the Action panel.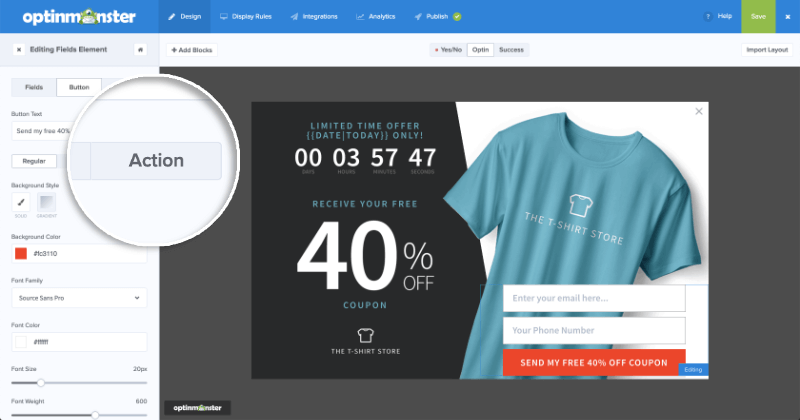 From here, you can configure the success action for the form. For more information, see our guide on how to use actions for success.
Step 6 – Configure When and Who Sees Your Campaign
Select the Display Rules tab from the Menu.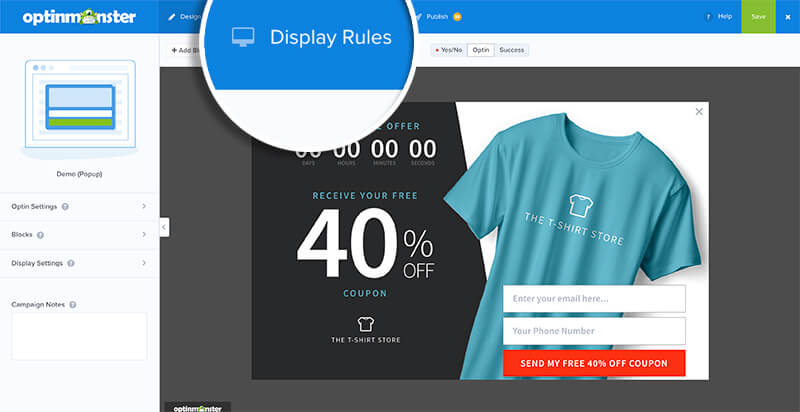 The Display Rules area is one of the most powerful features of OptinMonster. There are countless display rule configurations you can create.
The best thing about OptinMonster's Display Rules is that you can add very simple or complex rules based on your own specific needs.
For now, leave the default option of After 'X' seconds. The default is a time delay of 5 seconds, which is a great place to start.
Also leave the default option to show on every page where the embed code is supplied (ie: where the embed code is present in the source code of the page).
This means that if the campaign embed code is loading in the template file of every page of your site, then your campaign potentially will show up on every page of your site after 5 seconds have passed.
For a more customized setup, please see our display rules guide for more details.
Step 7 – Configure Your Integration
Select the Integrations tab from the top menu.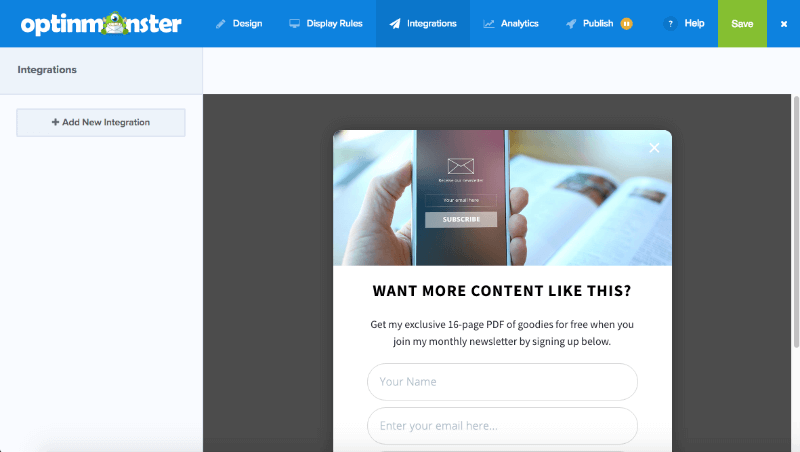 When you click Add New Integration, you can select from a list of our native integrations that you can easily connect with. Select the Email Provider dropdown to choose the Email Service Provider you wish to use for your campaign.
Alternatively, you can select the Custom HTML option. Choosing this integration option will display a Custom HTML Form Code field so you can embed your own html form.
Almost done, the last thing to do is set up your analytics.
Step 8 – Confirm your Analytics
Last, select the Analytics tab from the Menu column.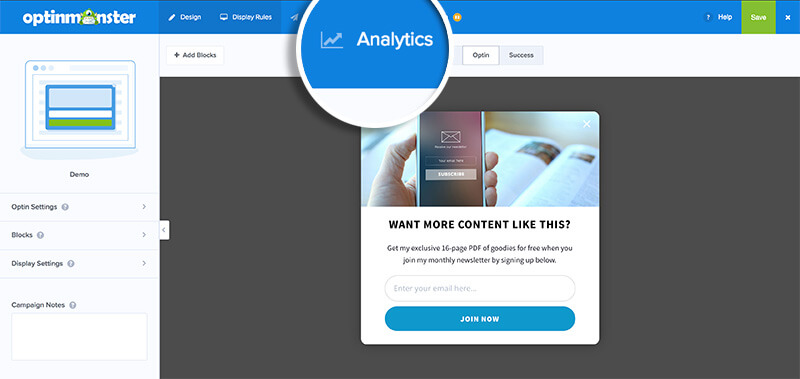 For Google Analytics, click Connect.

If you have already connected your Google Analytics, just select your account from the Google Analytics Account dropdown.
However, since this is likely your first campaign, you can follow the onscreen prompts by selecting the Add a new Google Connection option. For a detailed walk-through, check out our guide to Google Analytics.
Step 9 – Publish your Campaign
When you create a new campaign, it's Paused by default. If you go to your Publish tab from the top-menu, you will see the Publish Options.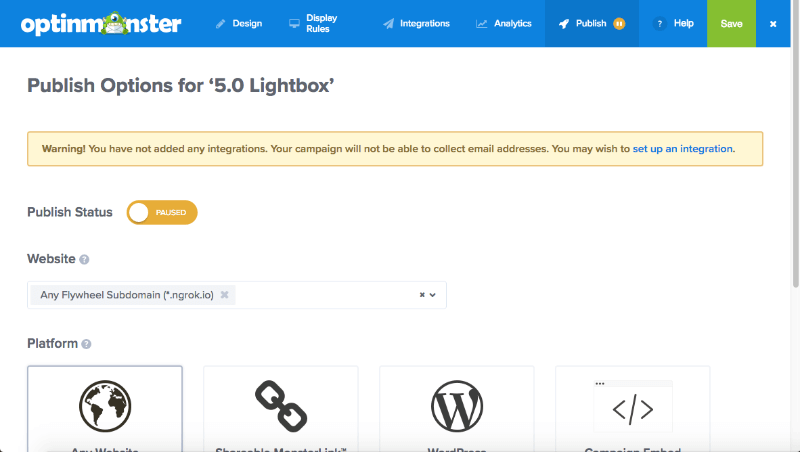 On this Publish page, you will see the Publish Status toggle. Use the toggle to change the status to Live.
Additionally, on this page, you will see the Website field where you can adjust the domain where your campaign will show.
Go ahead and Save your campaign by clicking the Save button in the top-right of the Builder.
Step 10 – Embed the Campaign on your Website
The only thing left to do is embed the campaign on your site and begin converting visitors! You will find the embed code also on the Publish page under the Platform section. The Any Website embed code should be utilized for most websites / web platforms, but some platforms have alternatives. Check out our platform guides for more details.
Congratulations, you've creating your first campaign in OptinMonster!
Want to get the most out of OptinMonster? See these ridiculously simple ways to get more email subscribers!