Do you want to know how to optimize Facebook ads to generate more leads and sales? If you've never tried Facebook ads before (or if you've tried and failed), you may be wondering how to run an effective campaign. In this article, we'll show you the 7 steps to create Facebook ads that convert.
With over 1.59 billion monthly active users and in-depth targeting features, Facebook is one of the best places to find qualified leads. There's no doubt about it that running Facebook ads is an incredibly effective way to grow your business.
However – as with any kind of marketing campaign – how well your Facebook ads perform is dependent on whether or not you have a winning strategy.
Without the right strategy, your advertising dollars could be going down the drain.
So before we dive into the step-by-step process of how to create a Facebook ad that converts, let's talk a bit about the overall strategy.
Facebook Ads Not Working? Here's Why…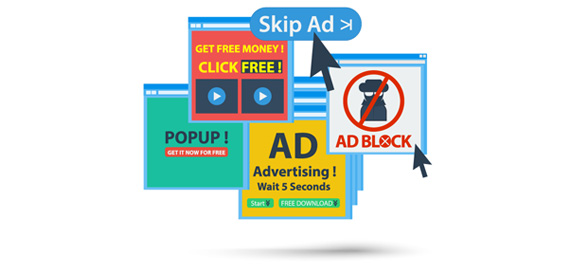 Facebook is purely a social platform, not a shopping platform. And because of that, there is a right way and a wrong way to approach Facebook ads if you want your campaigns to convert.
You see, most people assume that Facebook advertising works just like any other kind of advertising: you have a product or a service, you post an ad about it, and then you make sales.
But this isn't the way Facebook ads work.
Think about your prospect for a moment…
When they're on Facebook, are they looking for products to buy? No, not at all. They are looking to make personal connections with other people– with friends and family.
If your prospect sees your ad and it looks like an ad, they will probably ignore it.
How to Run Facebook Ads, Step by Step
Instead of advertising what you have to sell, you need to advertise something more personal and less "salesy": a highly-targeted lead magnet.
Rather than asking for the sale right away, give away something valuable for free: something that your target customers really need.
In exchange, you get to collect their email address and market to them in the future.
The best way to do this is by creating an ad that links to an opt-in landing page for your lead magnet, and optimizing your ads for Website Conversions.
(Don't worry if you don't know what that means yet. We will take you through the whole process, step by step.)
Now that you know the best way to approach Facebook ads, let's get into the 7 steps to optimizing your ads for conversions…
Step 1. Create Your Custom Audience
The first step in how to run a Facebook campaign is targeting your ads to the right people.
Now, you could put your ad out there in front of thousands of people… in fact, your Facebook ads audience can be absolutely huge: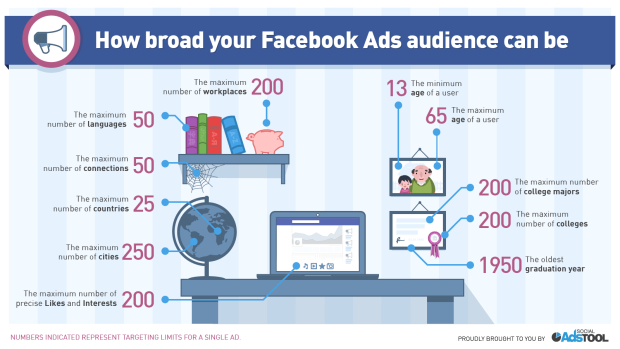 However, unless these people are the right people, your ads won't convert.
In order to correctly target your ads, you'll need to create a custom audience that is large enough, but still very specific.
First, go to your Facebook account and click on Ads Manager from the sidebar.

From your Ads Manager dashboard, select Tools » Audience Insights.

This will open up a new tab with a dialog box.
You have three choices: you can either create your audience from scratch, start with the people connected to your page, or you can choose a custom audience you have already created.
We will assume that you have never created an audience before, and you don't have very many followers on your Facebook page, so simply select Everyone on Facebook.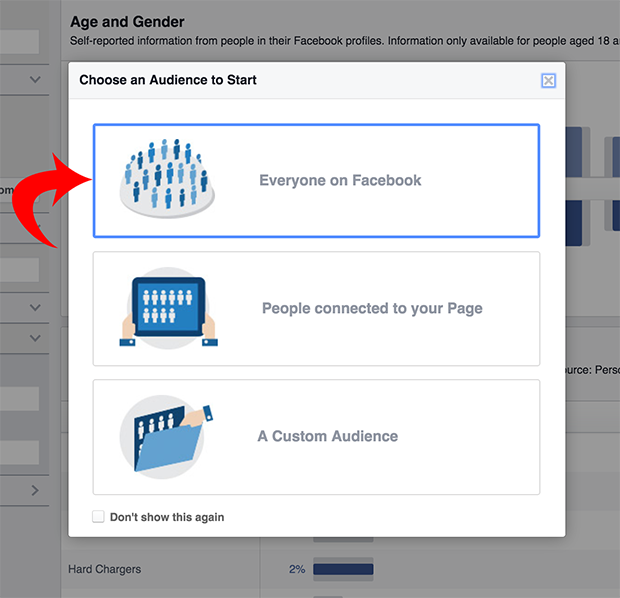 At this point, you will be prompted to add countries to your audience. The United States has been added automatically.
For now, let's leave this section as-is. (However, if you are going to be targeting an otherwise small audience, you may want to add more countries.)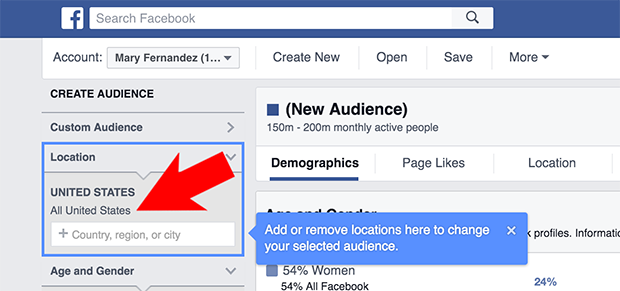 Next, adjust the age and gender to match your target customer.
For the purpose of this example, we're going to leave it alone to include men and women age 18 years and up.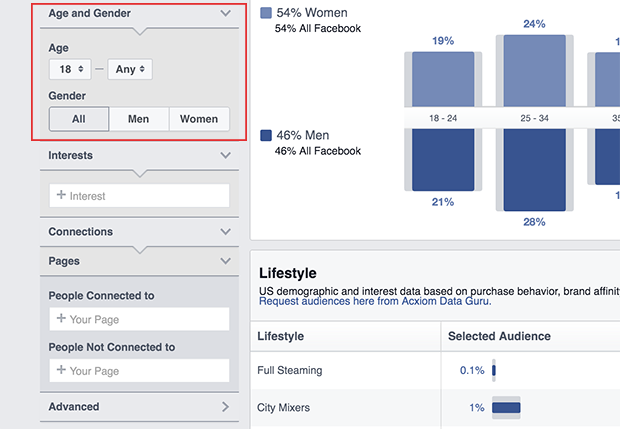 The next field, the Interests Field, is very important. This is where we get to really hone in on our ideal customer.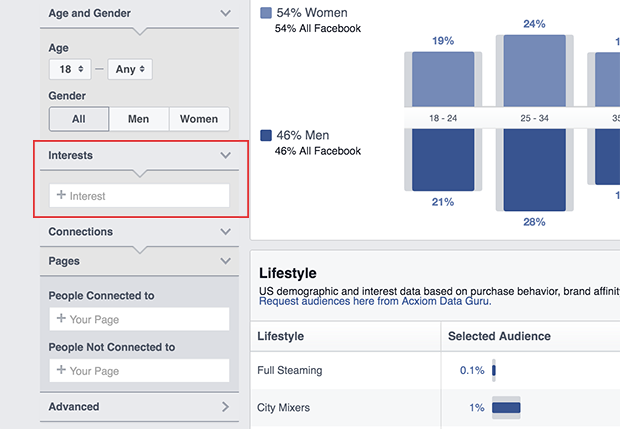 Under the Interests field, type in the name of a Facebook fan page you want to target.
For instance, let's say our ideal customers are people who read Social Media Examiner. Since Social Media Examiner has a Facebook fan page, we can target people who "like" their page.
Just type in "Social Media Examiner" into the Interest field and click on the correct result to add it.
Here's what that looks like after we've added fans of Social Media Examiner.

You can also include general interests by browsing the options under the "Interest" drop-down menu.
However, targeting specific fan pages is a more precise way to find people to target, so you'll usually get better results that way.
Do not target more than one interest group per audience: this makes it difficult to analyze your results later. If you want to target another fan page, create a separate audience for each one (and only run one ad to one audience at a time).
Now that you've defined your audience, hit the Save button at the top of the screen.

A dialog box will pop up and ask you to give your new audience a name.
Give it a name that will help you to remember who you included in this segment. (We're calling ours "Social Media Examiner".) Then hit Save.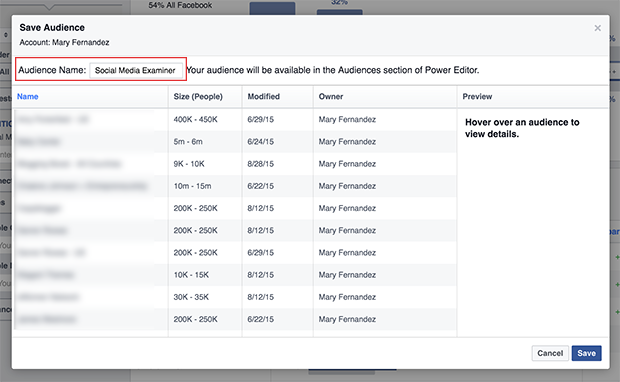 Now that you've saved your audience, you can access it at any time in the "Audiences" section of your Power Editor.
Step 2. Set Up Your Facebook Campaign
Next it's time to create your ad. Start by clicking on the green Create Ad button at the top of your screen.

A dialog box will ask you whether you want to use the Ad Create Tool or the Power Editor. Select the Power Editor. This is the more advanced tool, and the most fully-featured (you will need Google Chrome in order to use it).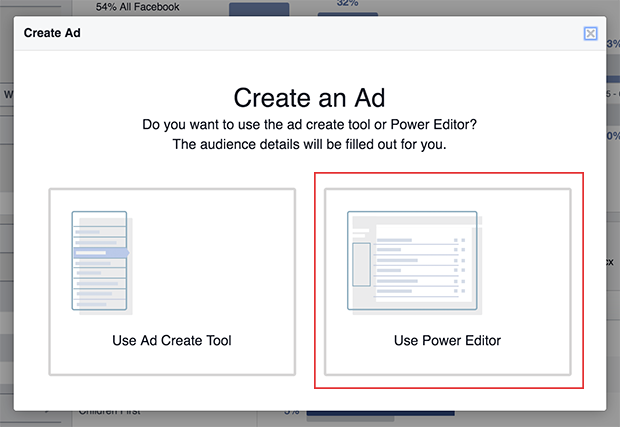 Click out of the next dialog box to arrive at the Power Editor's dashboard. You will see three tiered icons to the left of your screen. These represent your Campaigns, Ad Sets, and Ads.
A Campaign is where you set your advertising objective: in our case, our objective is to acquire new leads.
An Ad Set is where you define your targeting, placement, bid settings, budget and schedule for your ads.
Here's a diagram that explains how Facebook ad campaigns are structured: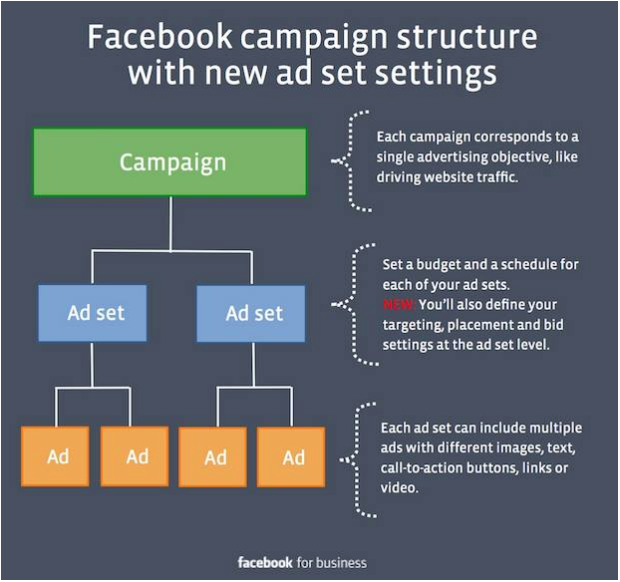 With the Ads icon selected, click on the Create Ad button.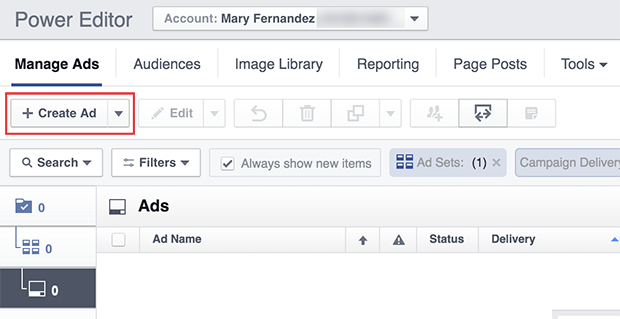 You will be prompted to enter the details for structuring your campaign.
Under Choose a Campaign, select "Create New" and give your campaign a name. (We're calling ours "Lead-Generating Campaign #1".)
Under Buying Type, select "Auction."
Under Objective, select "Website Conversions." (This will optimize your ads for leads, and it will allow you to analyze your results later.)
Under Choose an Ad Set, select "Create New" and give it a name. (We're calling ours, "Social Media Examiner Group".)
Under Create New Ad, give your ad a name. (Ours will be called, "Example Ad #1".)
Then hit Create.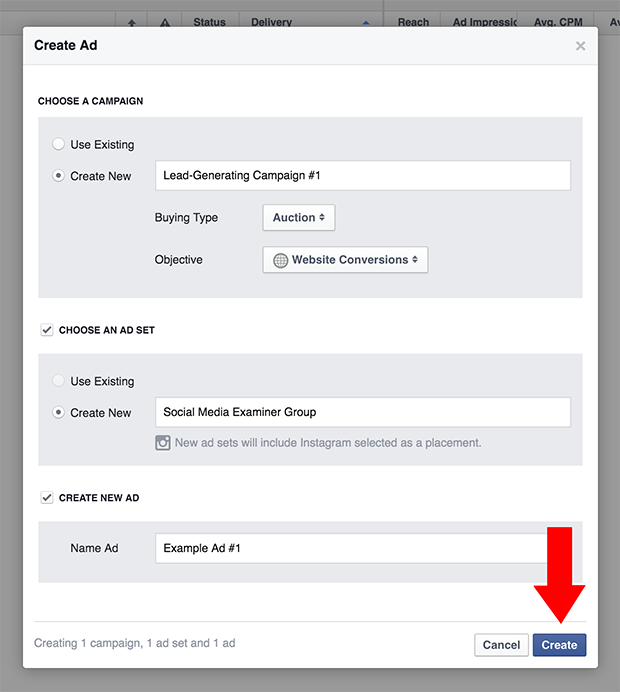 Step 3. Set Up Tracking Pixels
Next, select the Ad Set icon and click on "Choose a conversion event" under Optimize For a Conversion.
From the dropdown menu, select "Lead".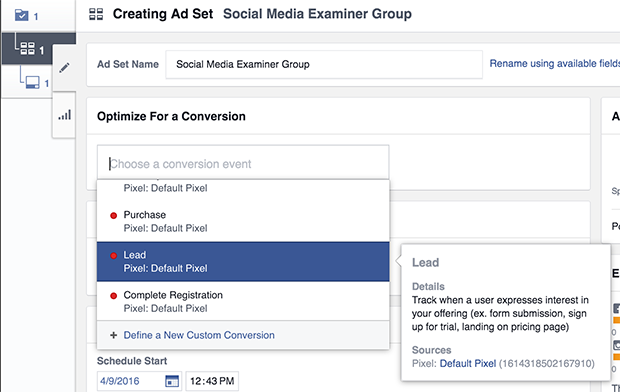 Now you will see a message that says, "Your ad will not be optimized for conversions…" but don't worry, that's just because we haven't set up the tracking pixel yet.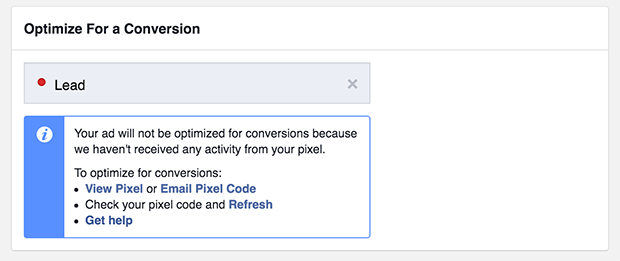 A tracking pixel is simply a code that goes between the head tags on your website to let Facebook know whenever you get a conversion from one of your ads.
To save you from having to do this manually, install the Facebook Pixel by PixelYourSite plugin (for WordPress users).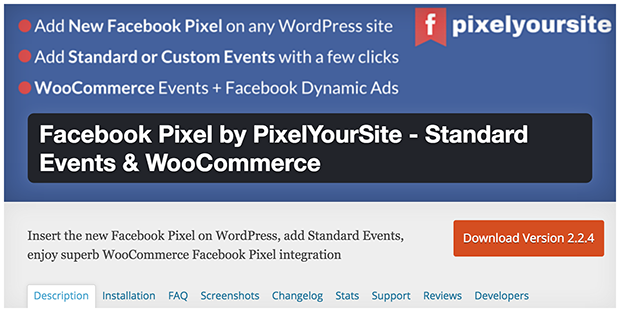 Once you've installed and activated the plugin, go back to the Power Editor and navigate to Tools » Pixels.

This will open up a new tab showing the information about your tracking pixel. Copy your pixel ID for the Default Pixel on the right-hand side of the screen.

Now, go back to your WordPress dashboard and click on PixelYourSite from the left-hand sidebar.
Paste the pixel ID into the Facebook Pixel ID field, and check the box next to "Activate Plugin General Settings". Then hit the Save Settings button.
At this point, the general Facebook conversion pixel code has been added to all the pages on your site.
Now, we need to add an event pixel to track our leads.
Click on the On Post/Page Events tab. Then enter the url for your thank-you page (the page that comes immediately after someone subscribes to your email list).
Under Event Type, select "Lead". Then check the box that says "Activate Standard Event Setup" and hit the Save Standard Event Setup Settings button.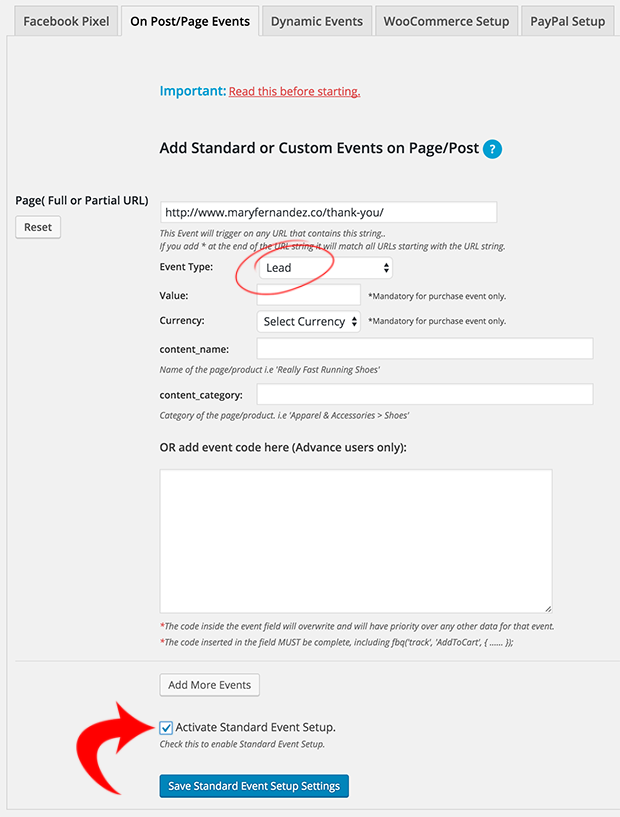 Now let's test your pixel to make sure it is working properly.
First, install the Pixel Helper Chrome extension to your Chrome browser.
Next, visit your thank-you page in Chrome. In the top right-hand corner, you will see the Pixel Helper icon.

When you click on that icon, you should see "2 pixels found" on your website. One will be a PageView pixel (this is your general pixel– it should be on all the pages of your site), and the other will be a Lead pixel (this is your event pixel– it should only be on your thank-you page).
Both pixels should state that they were "loaded successfully".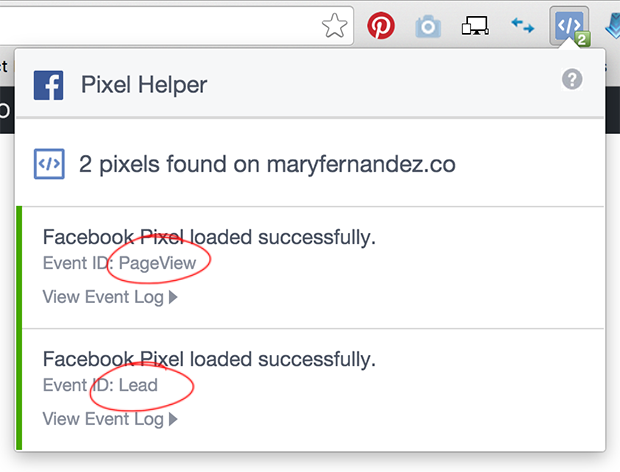 Step 4. Set Your Budget, Schedule, and Targeting
In this next step, you'll need to return to the Power Editor Ad Set edit screen (the one with the pencil icon).
Set your Daily Budget. We recommend setting your budget to a low amount to start, such as $5. This seems to "force" Facebook to find you cheap leads from the onset.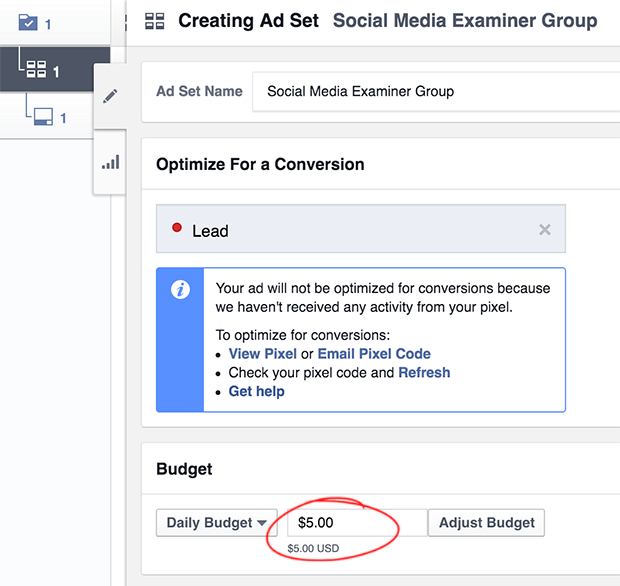 As your ad runs, you can gradually ramp up your spending.
Or, you can run a bunch of different ad sets targeting different groups at $5 each until you use up your advertising budget. This will allow you to test and see which target audiences convert better.
Next, enter the date and time you would like your ads to start running.
Instead of setting an end date, we recommend running your ads as ongoing and checking on them after the first 48 hours. This way, you can let their performance determine whether you will continue to run them or not.

Now you need to set your targeting. Under Audience, select the audience you saved from earlier (you can find it by clicking on the small arrow icon next to "New Audience" and selecting your saved audience from the drop-down menu).
Once you've selected your saved audience, it should now display "Saved Audience", like below: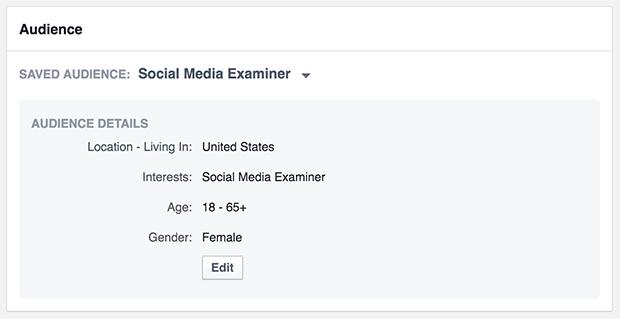 Next, it's time to set your ad placement: this is where you get to select where your ads will display.
You can either choose "Automatic" to have Facebook decide for you, or you can select "Choose your placements."
Mobile News Feed and Desktop News Feed are our favorite placements, since they appear inside the actual news feed and look the most like an ordinary Facebook post, rather than an advertisement.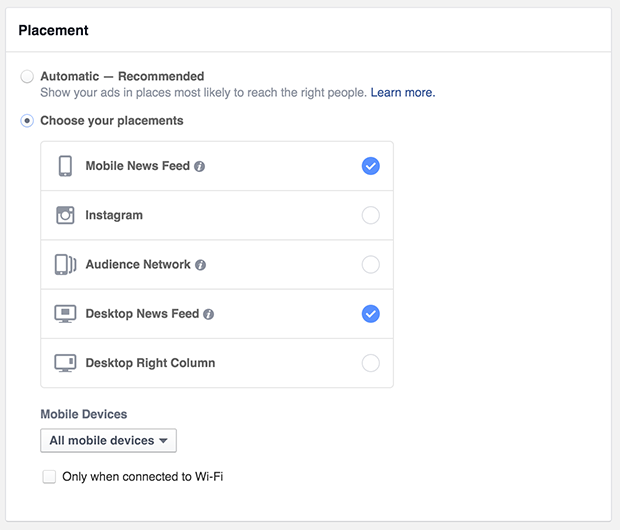 Under Optimization & Pricing, select "Conversions" and set the Bid Amount to "Automatic".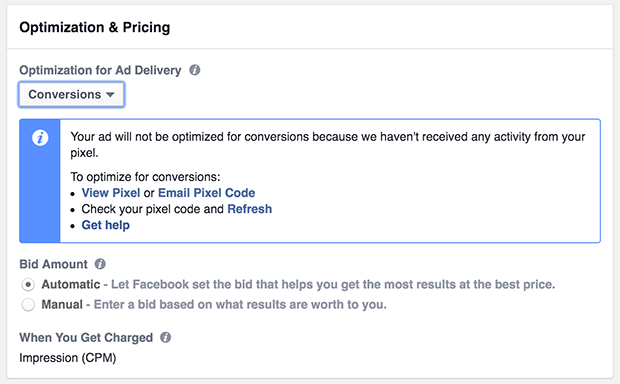 Step 5. Design Your Facebook Ad
Finally, it's time to design your actual ad! To start, click on the Ad icon on the left-hand side of the Power Editor to edit your ad.
Then, select your Facebook business page from the dropdown menu. Your ads will be displayed as coming from this Facebook page.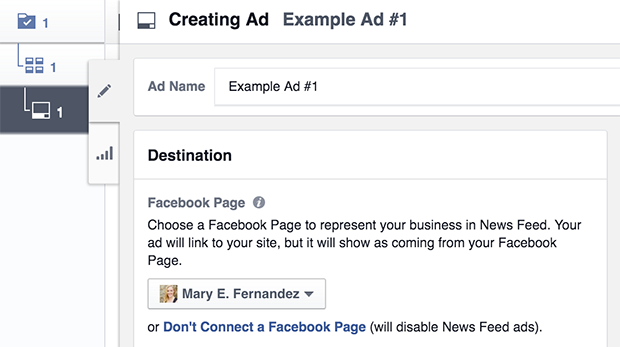 Next it's time to create an image or a video for your ad.
We'll create an image using a visual content creation tool called Visage.
First, sign up for a free account by entering your email address.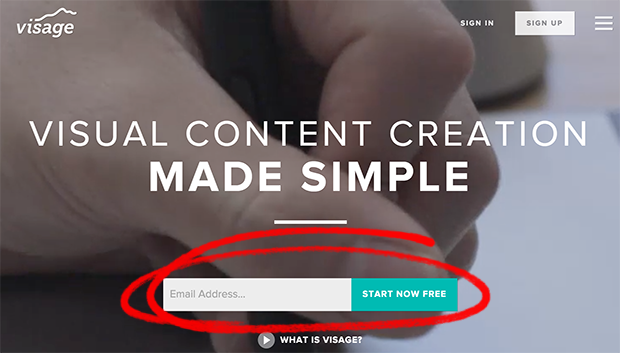 Enter your details on the next screen to complete your free account. Then you will be directed to the dashboard where you can start from one of their templates, or create your own image from scratch.
Let's start from scratch. Select "Blank Canvas".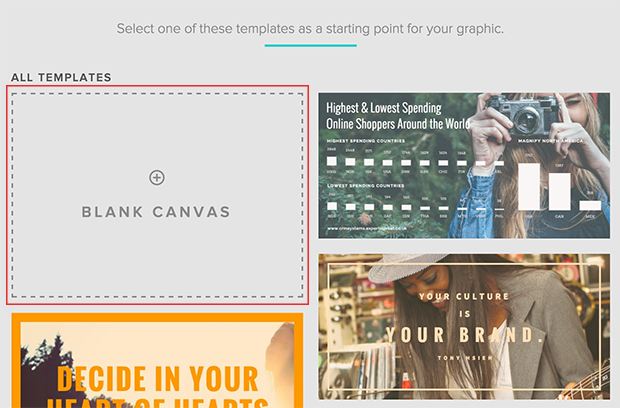 Set the dimensions of your canvas to 1200px x 628px (this is Facebook's recommended ad size).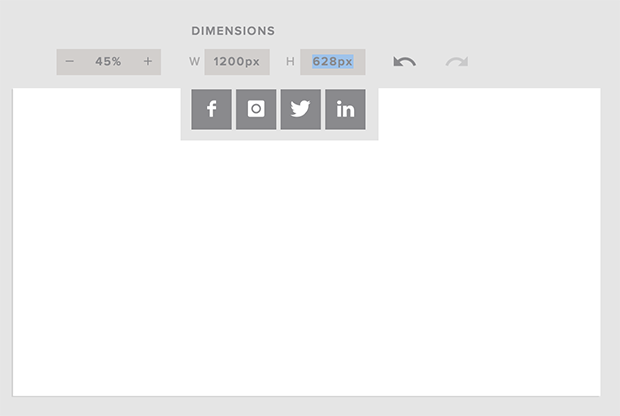 You can now add images, shapes, text, icons, charts, and more to your design.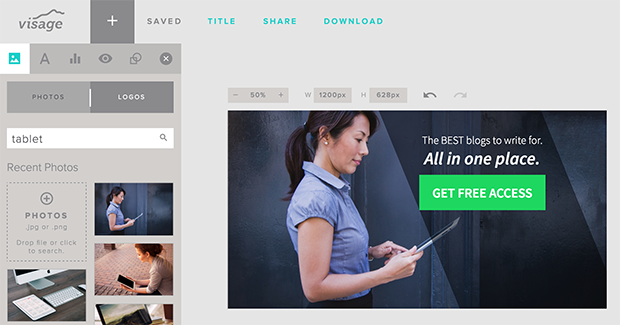 Just make sure that any text complies with Facebook's 20% rule (no more than 20% of your image can be text). Use the grid tool to check your image and make sure it complies.
Once you are satisfied with your design, hit the Download button (for the clearest image, select PNG as the format).
Now you can upload your image to the Power Editor.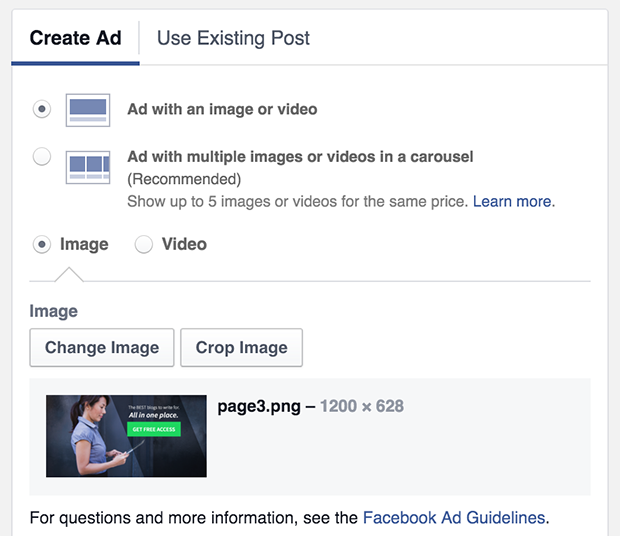 Next, type in the destination URL for your opt-in landing page.
You can also add a Canvas (optional), and you can enter the copy you would like to be displayed instead of your main domain URL (optional).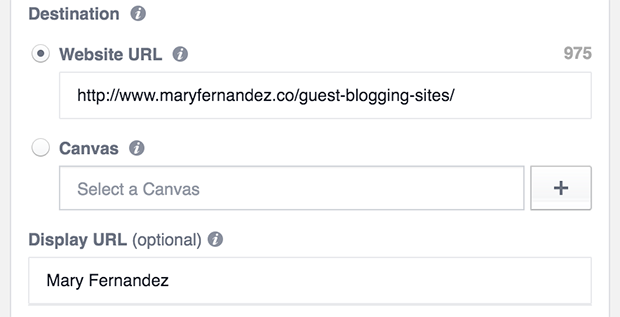 In the Text field, enter the copy you would like to display above your ad image in the News Feed.
In the Headline field, enter a brief headline that describes what someone will get when they sign up for your lead magnet.
In the News Feed Link Description field, enter a brief description or call to action.
Optionally, you can also select a call to action button. If you choose one, make sure that the copy matches the actual action that they will need to take (e.g. "Download" or "Sign Up").
You will be able to preview your ad on the right-hand side as you edit.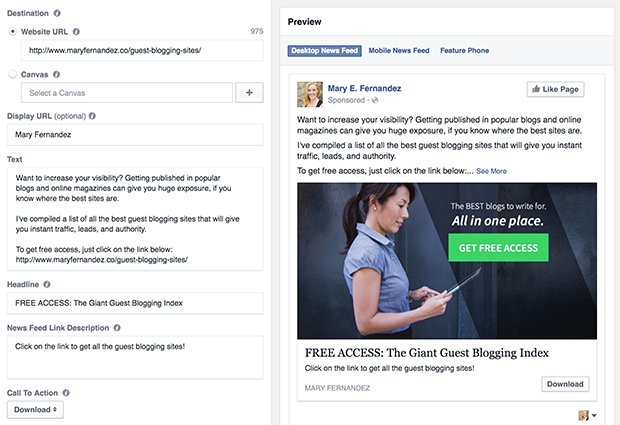 To give you some inspiration for your ad, here are a few examples…
Tailor Brands makes the big benefit to their offer clear from the headline: "Make a Logo in 10 Minutes".
Their ad links to a landing page with a free trial of their software. And although they don't try to sell you on anything right away, they do prime the pump for sales by including a coupon code for 25% off right inside their ad text: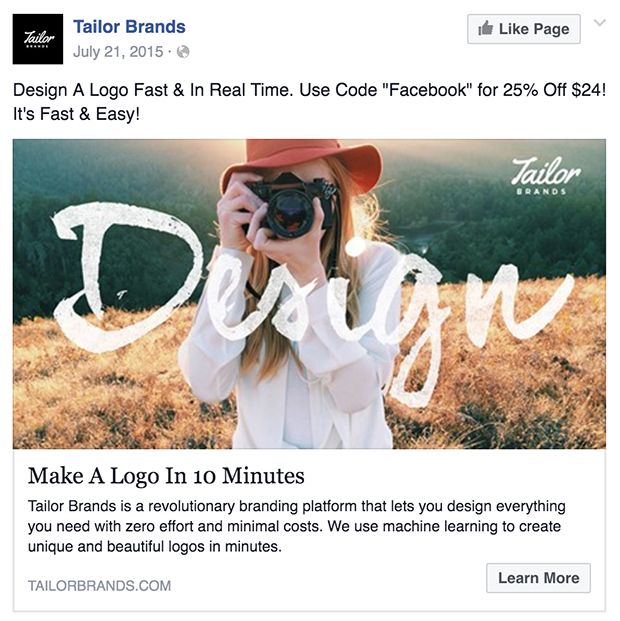 Chalene Johnson's ad offers a free live training (webinar). Webinars have a high perceived value, and they are also more personal, so they tend to do really well on Facebook.
In her opening sentence, "What would you attempt to do if you knew you could not fail?", she qualifies her ideal leads and hooks them in with a huge benefit right off the bat.
Finally, the image shows a friendly Chalene (remember: Facebook is a personal platform!), along with graphics that really pop out and make you take notice:
PillPack uses their feature in Forbes to show how their product is revolutionary and establish their credibility, right in the very first line of text: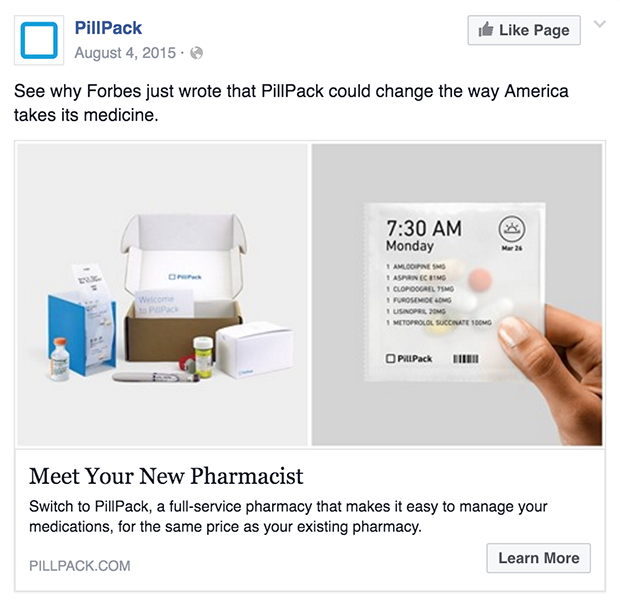 Every year when he launches his online course, Jeff Walker uses a free video series as the lead magnet for all his Facebook ads: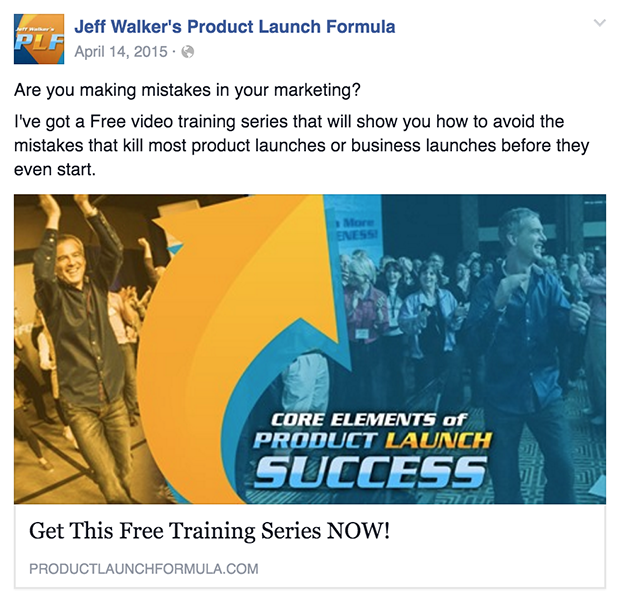 Nikki Elledge Brown's lead magnet is a simple cheat sheet, which gives the benefit of a quick and easy "win".
Note how conversational her ad copy is. It doesn't read too professional; it is more personal: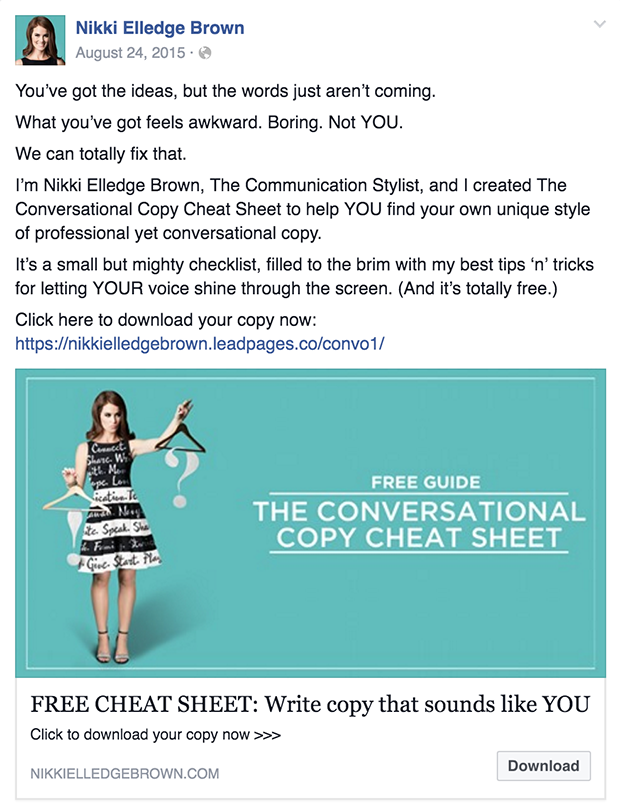 Step 6. Run Your Facebook Ad
Once you are satisfied with your ad, it's time to run it!
Click on the green Review Changes button in the upper right-hand corner of the Power Editor.

Check that your new Campaign, Ad Set and Ad are all there and then hit Continue.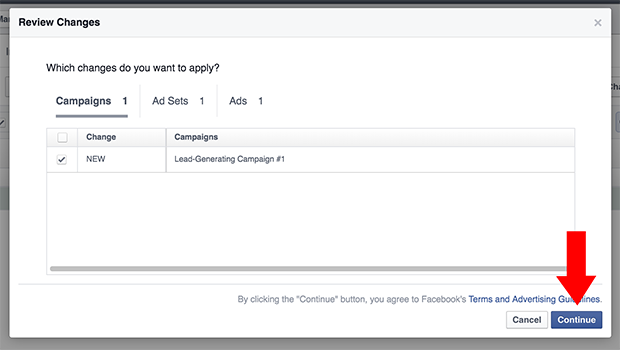 It will show that your changes are complete. Hit the Done button.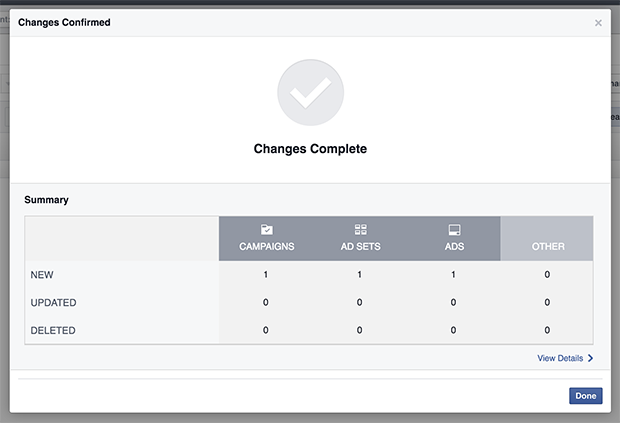 In some cases, you may need to wait a while before your ad is approved. Once approved, it will display as "Active".

How long should you run your Facebook ad?
We recommend running your Facebook ads for at least 48 hours in order to give your campaign a chance to start getting conversions (we'll explain more in the next section).
Step 7. Analyze Your Results
If you've followed all of the above steps, you should now have a Facebook ad that is optimized for conversions and is set up properly to collect your lead-generation data.
The first thing to do is to wait. It may be extremely tempting to check in on your results every few hours when you start running your ad, but doing so will almost always be discouraging.
You see, it takes a while for your campaign to really ramp up and start getting conversions. So if you look at your results too soon, you are sure to be disappointed, afraid, or even tempted to turn off your ad altogether.
Instead, give your campaign at least 48 hours to run before you pass any judgements. Then, and only then, take a look at your results.
To analyze your results, select the Campaign icon from inside the Power Editor and take a look at the Performance section.
You will see nine columns: results, cost, reach, impressions, clicks, avg. CPM, avg. CPC, CTR% and money spent.
The most important column is the Cost column. If you optimized your ads correctly, you should see a cost "per conversion". This is how much money you spent per new email lead.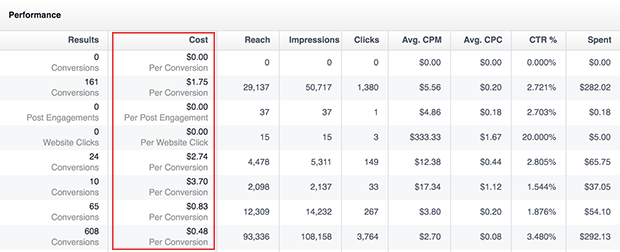 Here's a good rule of thumb: if your cost per conversion is $4 or less after 48 hours, then it's doing good! Keep the ad running. But, if your cost per conversion is more than $4 after 48 hours, then set the status slider to "Inactive" to stop your campaign.
If you are getting a high cost per conversion, first check the Results column to make sure you are getting any conversions at all. If the number of conversions is 0, you might have made a mistake when adding the tracking pixel to your site. Make sure you've added the tracking pixel to the correct thank-you page, and that it is active.
If you are getting conversions but your cost per conversion is still high, make a hypothesis about what went wrong. Are you targeting the wrong audience for your ad? Is your ad copy persuasive? Did you use an appropriate image? Do you have a high-converting landing page?
One of the most common reasons for a low converting Facebook ads campaign is that the offer isn't highly relevant to the audience you are targeting.
To get a feel for whether that might be the case for you, go to your Facebook Ads Manager and click on the name of your campaign. Then click through to your specific ad.
You will see an overview of the performance of your ad. On the very last column on the right hand side, you should see a Relevance Score. This is a score from 1 to 10 of how relevant Facebook thinks that your ad is to your target audience.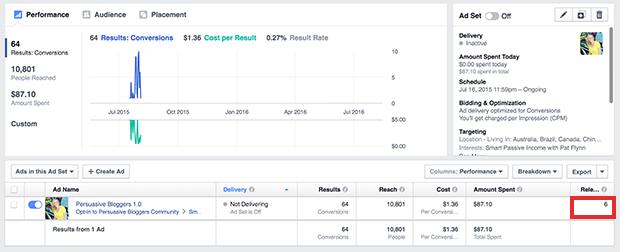 The higher your relevance score, the better. If your score is lower than 5, it could be that your ad isn't converting because the audience you've selected isn't interested in what you're offering. So either you chose the wrong audience to target, or you chose the right audience but your offer isn't enticing enough.
If you need help coming up with a new lead magnet, check out our post on 9 Highly Effective Lead Magnet Ideas to Grow Your Email List.
Conclusion
Facebook ads are a smart way to get highly qualified leads for your business at a low price. Just keep in mind that the strategy you use will determine your success, or your failure.
If you want to have an effective campaign, you need to forget about selling directly via Facebook ads.
Instead, you should direct your ad to an opt-in landing page with a free incentive to sign up for your email list. Then, you can sell your products and services further down your funnel.
To see an example of this in action, check out our case study of how The Advisor Coach used responsive optins to maximize his Facebook ad ROI.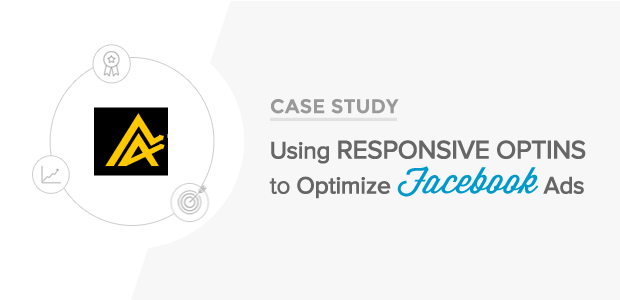 To optimize your Facebook ads for conversions, make sure you have set your Objective to Website Conversions, and that you have the tracking pixels correctly installed to detect leads.
If you follow the steps above, you'll be off to a solid start!