If you've never tried Facebook ads before (or if you've tried and failed), you may be wondering how to run an effective campaign that will generate more leads and sales. In this article, we'll show you the 4 steps to create Facebook ads that convert.
Facebook is one of the best places to find qualified leads, thanks to more than 2.38 billion active monthly users and in-depth targeting features. However, as with any kind of marketing campaign, how well your Facebook ads perform depends on whether or not you have a winning strategy.
Without the right strategy (knowing how to optimize Facebook ads), those advertising dollars go right down the drain and your potential leads pass right on by.
So, before we get into the step-by-step process of how to create a Facebook ad that converts, let's talk a bit about the overall strategy.
Facebook Ads Not Working? Here's Why…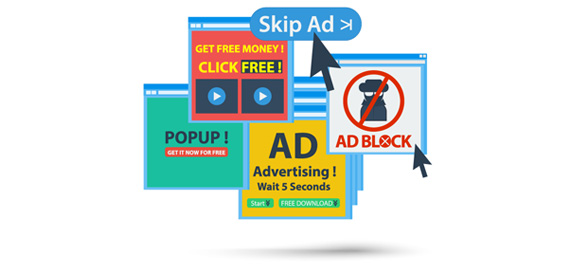 Most people think that Facebook advertising works just like any other kind of advertising: you have a product or a service, you post an ad, and you make sales.
But that's not really the way Facebook ads work.
Facebook is a social platform first, right? When your potential customers are on Facebook, are they looking for products to buy?
Probably not.
They're on Facebook liking a funny video of their friend's cat drinking water out of that friend's water glass like it was poured just for them. Or, sharing a status update about how nobody in their city knows how to drive.
What they aren't doing is looking for ads. And if they happen to see one that's all "Hey, I'm an ad and I'm very salesy," they're probably ignoring it.
All is not lost, though. You just need to be intentional about your ads and what you're offering. And you need to know how to optimize Facebook ads to get through to the folks who matter to you. We'll show you exactly how to do that in this guide.
Let's get started, shall we?
How to Run Facebook Ads, Step by Step
Instead of jumping right in and asking for a sale right away, you can establish your authority and value with potential customers by offering something valuable to them for free: a highly-targeted lead magnet.
This approach gives your target customers a chance to get to know you while you get to collect their email address to use to market to them in the future.
Our favorite way to do this is to create an ad that directs visitors to a landing page with an optin for your lead magnet, and optimizing your ads for website conversions.
Don't worry if that isn't super clear yet. We'll take you through the whole process, step by step.
Now, let's get into the 4 steps to creating a Facebook ad.
Step 1. Choose Your Marketing Objective
Have you ever watched a hockey or soccer game when neither team is scoring? The audience doesn't care and the teams just seem desperate.
Without a clear goal, your ad campaigns are kind of like that.
That's why Facebook makes you choose a marketing objective before you can do anything else in the Facebook Ads Manager.
You can choose from 3 different objectives:
Awareness
By choosing the Awareness objective, you're going to be able to create either brand awareness ads or reach ads.
This is the advertising that you need to attract potential customers and start to generate leads. It's commonly known as top of the funnel (TOFU) marketing.
Consideration
For the Consideration objective, you're trying to drive engagement. Facebook lets you do this in several ways:
Site, app, or Messenger traffic
Engagement through your page, posts, comments, likes, and shares
App Store and Google Play store installs
Video views
Lead generation
Messages
The consideration stage is where you're engaging and educating your target audience about your brand and products. This is referred to as middle of the funnel (MOFU) marketing.
Conversion
The Conversion objective focuses on getting people to take action. With these ads, Facebook lets you choose a goal of conversions, store visits, or catalog sales.
At this stage of marketing, it's all about getting your target audience to make a commitment to buy. In keeping with our marketing funnel theme, we call this bottom of the funnel (BOFU) marketing.
Every stage of marketing is valuable, and you'll need them all at some point. But you can't just throw an awareness ad out to a potential customer who's trying to choose between you and a competitor.
Well, not if you want them to pick you, anyway.
The ad content has to match the marketing stage. And all of that has to match the most important piece of any marketing campaign: your target audience.
Step 2. Create a Custom Audience
Once you've chosen your objective, it's time to decide who you're targeting.
Of course, you could just put your ad in front of millions of people. Seriously. Facebook ad audiences can be enormous: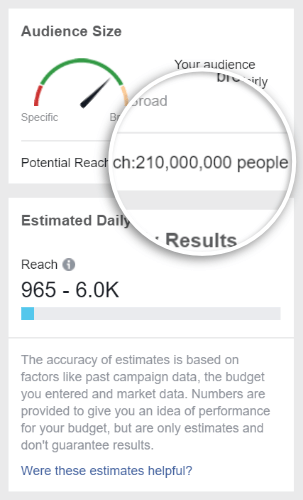 Yep, that's a potential reach of 210 million people.
Sounds great, right? More people, more money?
Not so fast.
Unless these people are the right people, your people, your ads won't convert.
In order to correctly target your ads, you'll need to create a custom audience that is large enough, but still very specific.
That's where custom audiences come into play.
You'll notice that the default audience on your new ad is everyone in the United States between the ages of 18-65. That's what gave us that giant potential reach of 210 million.
Start entering the demographic information you know about your target audience. Here's what it would look like if we targeted everyone in Florida between the ages of 25-40 who speaks Spanish: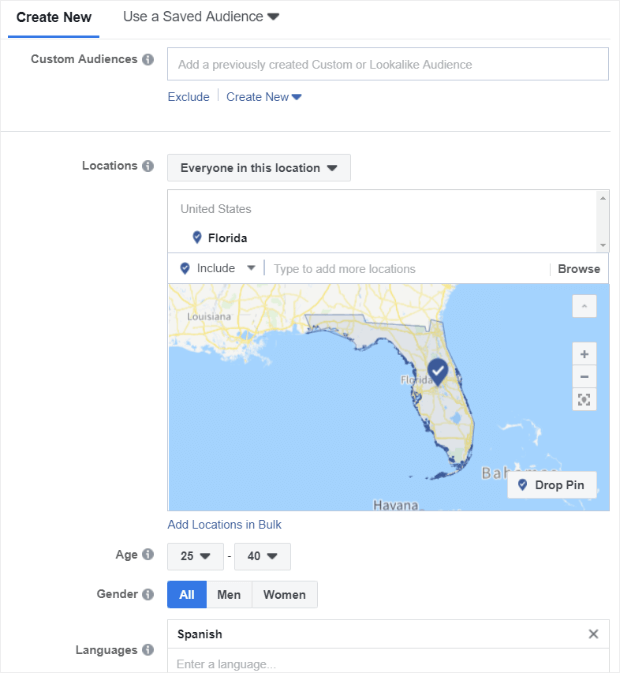 The next section, Detailed Targeting, is very important. This is where we get to really hone in on our ideal customer using interests and behaviors.
For instance, let's say our ideal customers are people who are fans of the Miami Marlins baseball team. Since the Marlins have a Facebook fan page, we can target people who "like" that page.
Just type in "Miami Marlins" into the Interest field and click on the correct result to add it.
Here's what that looks like after we've added fans of the Miami Marlins.

You can also include general interests by clicking on Browse or get suggestions based on the interests you've already included by clicking Suggestions.
However, targeting specific fan pages is a more precise way to find people to target, so you'll usually get better results that way.
Quick tip: Don't target more than one interest group per audience. Mixing interest groups makes it difficult to analyze your results later. If you want to target another fan page, create a separate audience for each one and only run one ad to one audience at a time.
Now that you've defined your audience, hit the Save This Audience button at the bottom of the Audience section.
A dialog box will pop up and ask you to give your new audience a name.
Give it a name that will help you to remember who you included in this segment. Then click Save.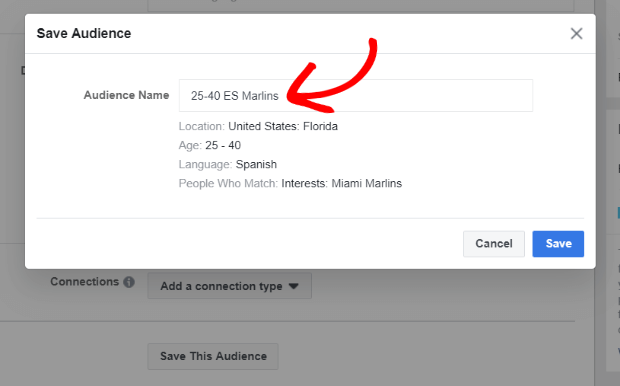 Now that you've saved your audience, you can use it for any other ad you create.
You can always create custom audiences by opening the menu then clicking on Audiences under the Assets column: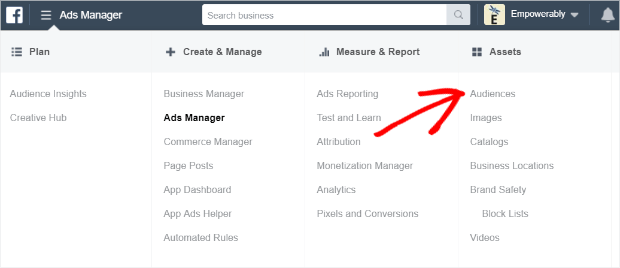 Step 3. Continue Setting Up Your Facebook Ad
After saving your custom audience, you'll need to choose where to show your ads in the Placements section.
We recommend sticking with the automatic placements.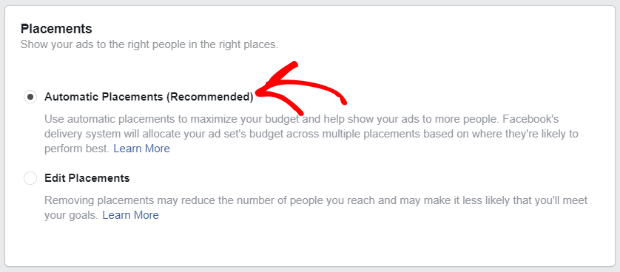 Finally, you have to set up your budget and schedule. Then, click Continue.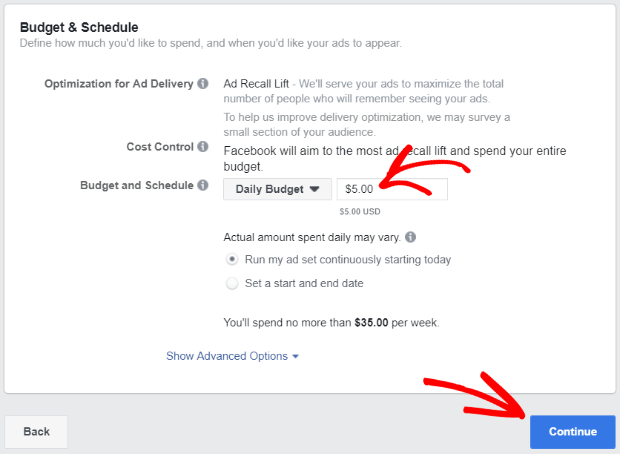 Step 4. Design Your Facebook Ad
Now it's time for the fun and creative part, where you get to draw visitors in with your story.
Facebook gives you 8 different formats to use and each brings its own strengths, but for now, you can just create a simple, single-image ad.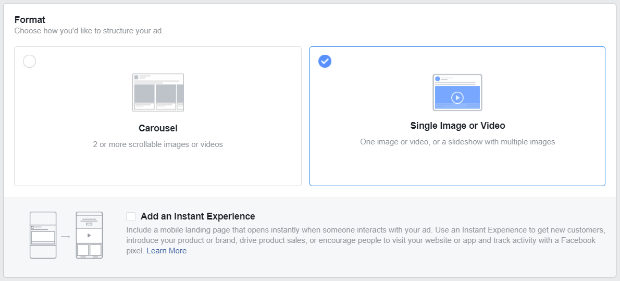 Then, add the images you want to use. You can upload your own images or use free stock photos.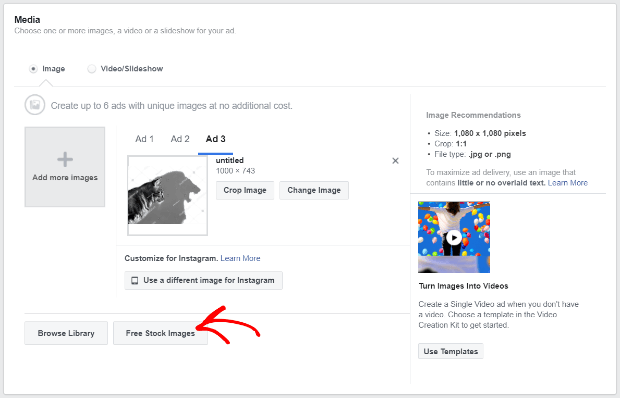 Finally, you'll add the headlines and copy to your ad: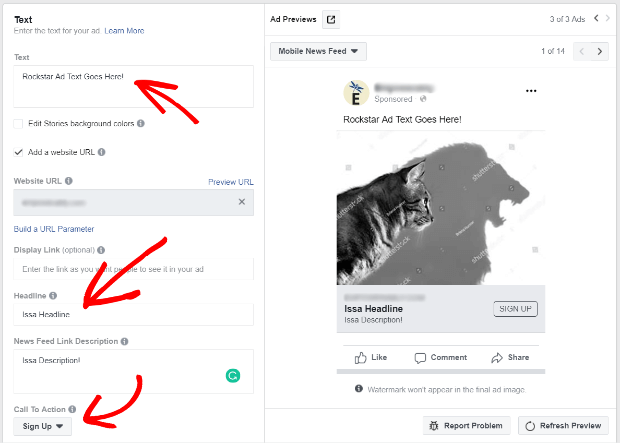 Once you have your ads looking the way you want them, click the green Confirm button in the lower right corner.
At that point, your ads will go to Facebook for review and you're done! You'll be notified once they've been approved and are live.
How to Optimize Facebook Ads to Skyrocket Your Conversions
You'll notice that creating Facebook ads really isn't that complicated. Just 4 steps.
Granted, creating the ad content can be time-consuming, but placing the ad itself is only going to take you a few minutes.
Now, though, we get to optimize! That is, to make sure that our ads are reaching the right people and performing the way we want them to, or better.
Here's how to optimize Facebook ads to get the most bang for your buck.
1. Create a Facebook Business Manager Account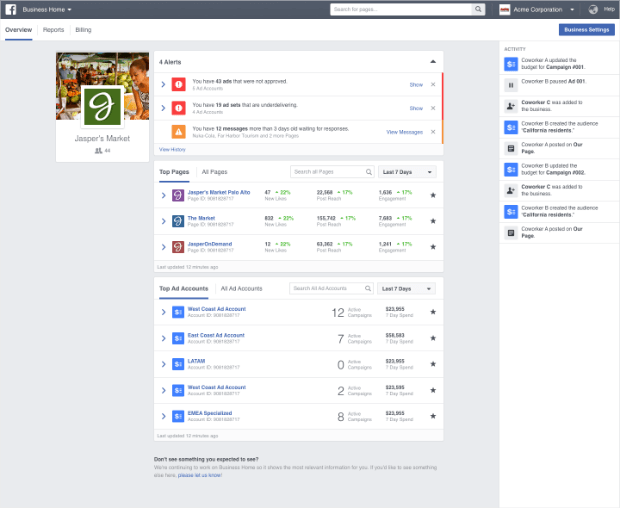 Facebook Business Manager acts as a hub for you to manage every Facebook tool that you use for your business.
You can add multiple ad accounts and pages, add role-based user accounts, and track ad performance across all of your ad accounts.
To create your account, go to business.facebook.com and click Create Account.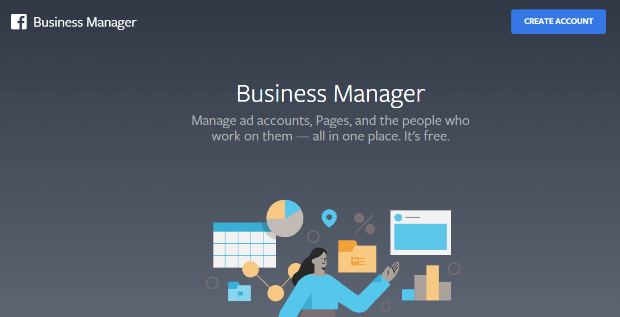 After you create your Business Manager account, add your existing ad account by going to the Business Settings:

Next, click Ad Accounts under the Accounts section on the lefthand menu: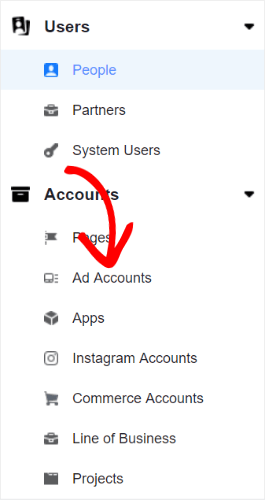 From here, you can see a list of your existing ad accounts. To add a new one, click the blue Add button.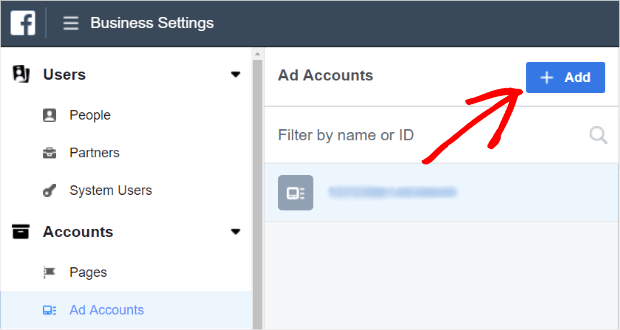 Choose how to add your new ad account and complete your setup.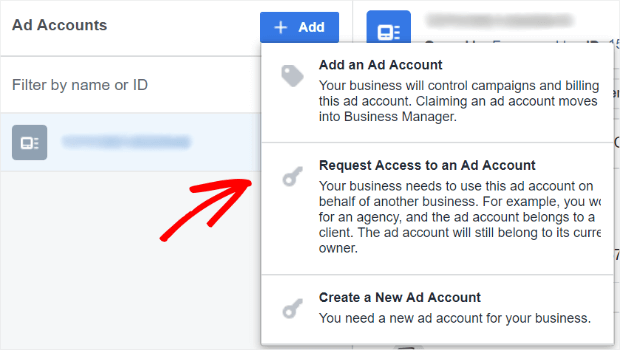 You can follow the same process to add Facebook Pages to your Business Manager account.
2. Install the Facebook Pixel
The Facebook Pixel is a piece of code that you embed on your website. This code lets you track and measure visitors to your site, then optimize and build audiences for your ad campaigns.
With the Facebook Pixel installed, you'll be able to view data about your site's visitors on the Pixel dashboard to get a better understanding of how they use your site.
You can use this data to create custom audiences and optimize your ad delivery, all of which will drive more sales.
How to Create the Facebook Pixel
First, go to the Pixels & Conversions page in the Events Manager. Then, click either Get Started or Add New Data Source:

In the dialog box that pops up, enter a name for your pixel, enter the URL for your website (recommended), and click Create.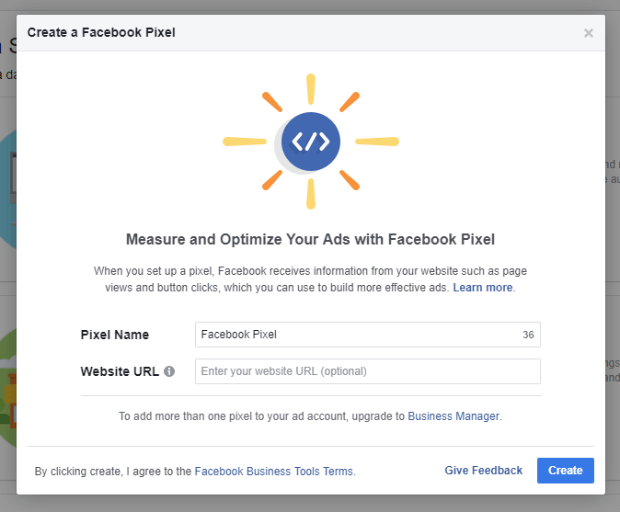 After you've created your Facebook Pixel, you're ready to install it on your website.
How to Install the Facebook Pixel
Find the header tags in your site's template and paste the pixel code there. This is what the header code might look like:

You'll want to paste the pixel code near the bottom of the header section, just above the tag.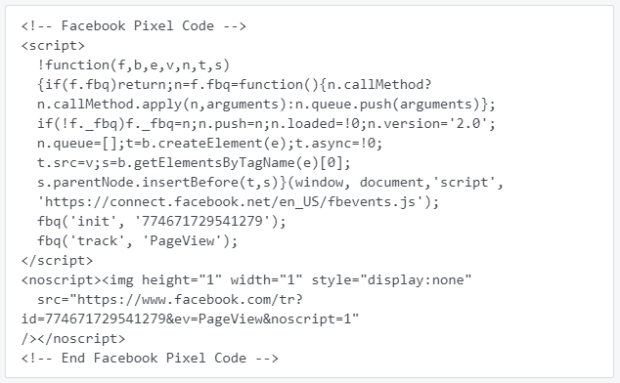 Are you already using OptinMonster to collect visitor information on your website? You definitely should be – get started with OptinMonster NOW!
Once you have OptinMonster set up, you'll want to enable Automatic Advanced Matching on your Facebook Pixel.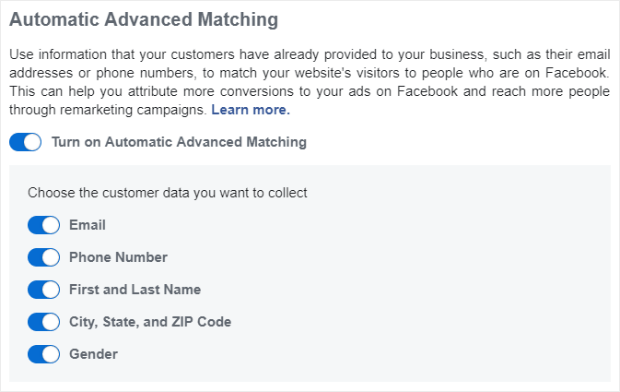 Once your pixel is installed, be sure to test that it's functioning properly by sending test traffic to your page.
How to Track Website Events With the Facebook Pixel
After you've installed the Facebook Pixel, you can add events to track specific actions that visitors take while on your website.
From the Pixels tab, click on Details for the pixel you want to edit.

On the pixel overview page, click Set Up » Set Up New Events.

You'll have tons of events to choose from. Here are just a few options from the eCommerce category: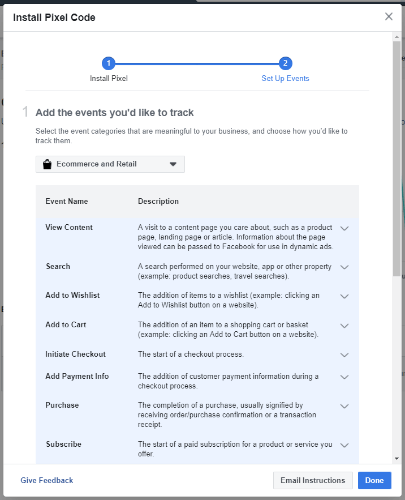 Once you select an event to track, you'll be able to enter additional parameters (like a conversion value) and get the code you'll need for your website.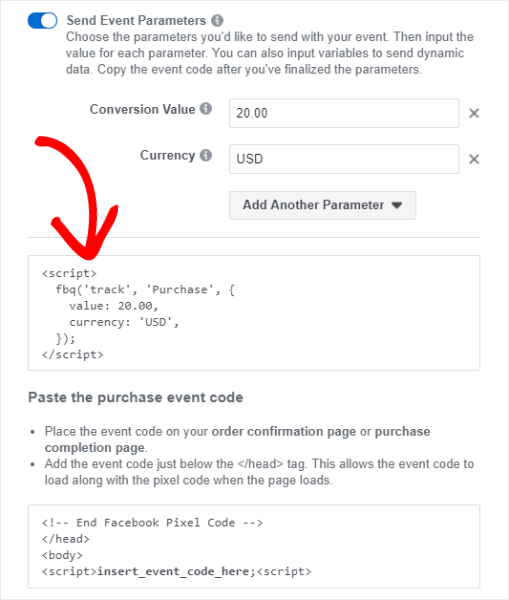 3. Segment Your Audience… But Not Too Much
In email marketing, segmenting your audience is best practice, period. But, Facebook ads are strange little beasts.
Facebook Ads is all about touchpoints and learning. If your audience is too narrow, with too few touchpoints, you're telling Facebook that you don't need it to learn anything.
When you have a narrow audience, you are telling Facebook Ads that you don't want budget optimization. Instead, you want your ads shown to a certain number of people, regardless. And this can drive up your ad costs.
Decide how many people you want to reach each day and play around with your segments until you're in that range.
One often overlooked way to target Facebook users is through their life events. How many different ways might eCommerce businesses be interested in a person's major life events?
With everything that people put on Facebook – from new jobs to graduations to weddings to births – there are limitless ways to create custom audiences from this parameter alone!
4. Use Multiple Facebook Ad Formats
Using the right format for your ad is just as important as the ad copy and imagery.
Here are the 8 Facebook ad formats you can use and a bit about each one. Even though we went with a simple single-image ad for this tutorial, you'll definitely want to take advantage of each of these ad formats and what they have to offer.
Photo Ads: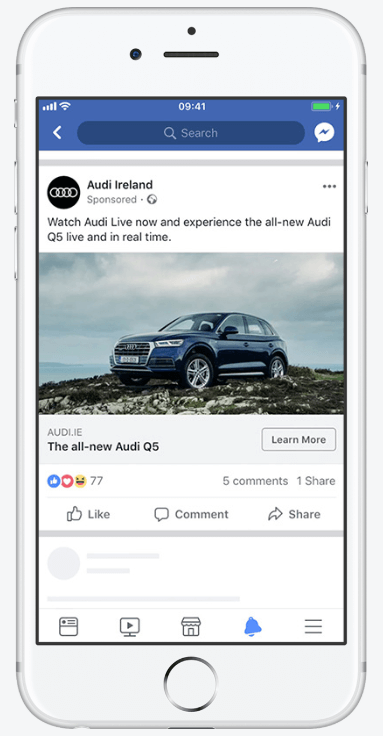 Photo ads are quick and easy to create by publishing a post with an image and then boosting it with an ad.
These ads work to drive people to your site and raise awareness of your products.
Video Ads: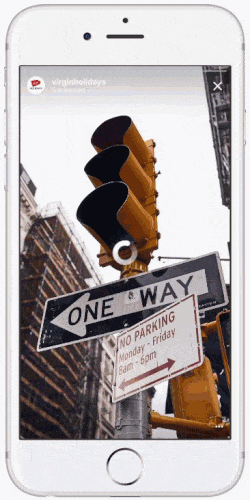 Video ads are great at capture attention early. When creating video content, lead with the most compelling and captivating content that will draw in your audience right away.
You can use framing creatively with video ads to intrigue viewers. For mobile videos, the phone itself provides a natural frame, but you can also play around with square crops, stacked videos, vertical video, or even 3D framing effects.
Video ads can help you get your message across quickly. In fact, since people tend to fly through content so fast, it's important to hook viewers and get the key point of your message across at the very beginning of your video, clearly and with impact.
Story Ads: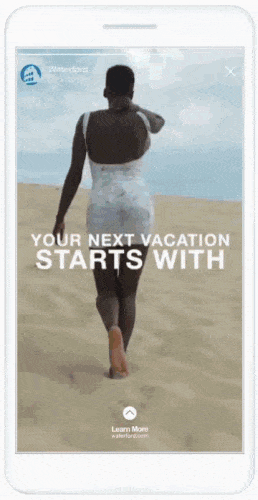 People love stories. They make people feel included in the lives of others.
And when it comes to story ads, viewers want it all.
According to a Facebook-commissioned survey:
52% of people said they wanted stories that are quick and easy to understand
50% wanted to be introduced to new products
46% wanted stories from brands to offer tips or advice
58% of people say they have become more interested in a brand or product after seeing it in stories
58% say they have browsed the brand's website to get more information
31% have gone to a store to check it out
50% have visited websites where they could buy it
So, story ads must be quick and easy to understand, introduce new products, be helpful, pique interest, and inspire action.
Messenger Ads: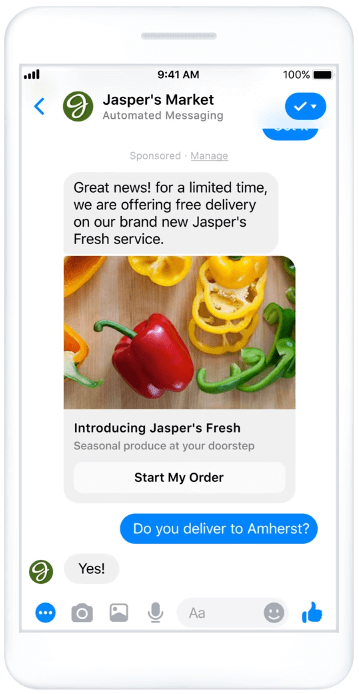 Facebook Messenger ads use the same ad creative that you use for Facebook and Instagram, it's just delivered in the Chats tab in the Messenger app, taking advantage of Messenger's global reach.
Using sponsored messages is a great way to retarget customers! You can send highly targeted ads directly to the people who've already talked to your brand in Messenger.
Carousel Ads: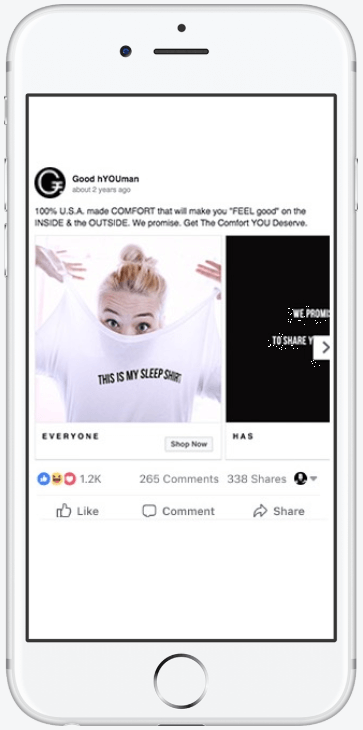 Carousel ads are very versatile. You can easily use these ads to show off multiple products or share several views or features of a single product.
These ads can also be used to explain a complex process. Instead of showing different products, you simply use each spot on the carousel to show a step in the process.
Want to tell a story, but don't want to use a story ad? You can use carousel ads for that, too!
Slideshow Ads: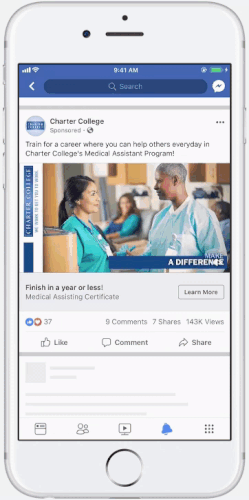 Slideshow ads use a combination of motion, sound, and text to create lightweight, video-like ads that work across devices and connection speeds.
You can create immersive slideshow ads easily from your Page or even your phone, choosing from free stock images, video editing tools, and a range of music.
Like carousel ads, you can use slideshow ads to walk people through sequences or steps.
Collection Ads: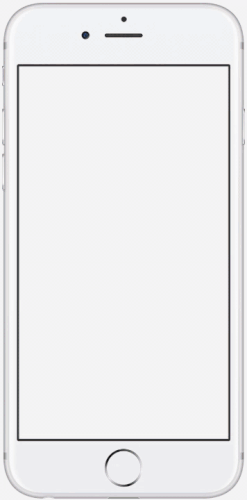 Collection ads include templates that you can use to create a browsing experience.
Display your products in a grid with a featured image or video with Instant Storefront or create a digital version of your catalog with Instant Lookbook.
Looking to drive conversions? Try the Instant Customer Acquisition template.
You can also simply share your brand story and encourage viewers to learn more on your website with Instant Storytelling.
Playable Ads: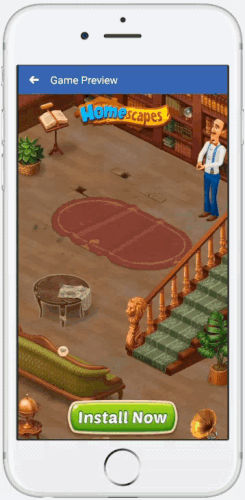 Playable ads let you create an immersive, playable preview of your app to find engaged players and customers.
This is an interactive preview that really helps to find higher intent users that are more likely to convert.
5. Split Test Your Facebook Ads
Split testing lets you fine-tune your ad by comparing different versions and testing them out against each other to see what works best.
There are 3 ways to create a split test using Facebook Ads: guided creation, duplication, and quick creation.
Guided Creation
When creating a Facebook ad using guided creation, you'll choose a marketing objective first. Then, click the toggle next to Create Split Test and choose what you want to test: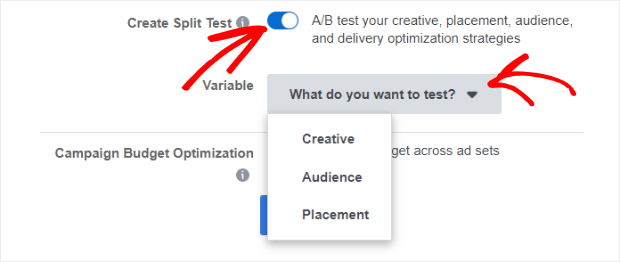 Duplication
Select an existing ad set and duplicate it. Then, in the dialog box that comes up, click the toggle next to Create a test to compare a new ad set to your original ad set.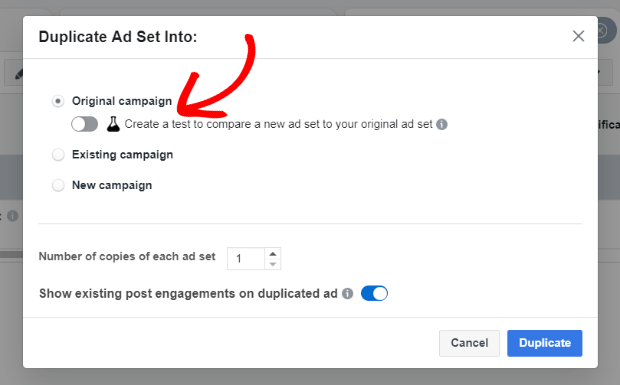 Quick Creation
There are several ways to create a split test while building a Facebook Ad through quick creation:
Editing an active ad set
Audience, placements, or delivery optimization
Creative
Product set
Check out Facebook's documentation for complete details!
6. Analyze Your Results
After you place your first Facebook ad, you're going to be so tempted to check your results every 5 seconds. Don't do it!
It takes time for your campaign to ramp up and start getting conversions. So, if you look at your results too soon, you may be tempted to shut your ad down and then you'll never get the results you want.
Instead, give your campaign at least 48 hours to run before you peek. Then, you can go to your Business Manager and click on the ad account you want to look at.

From there, you can view all kinds of lovely data: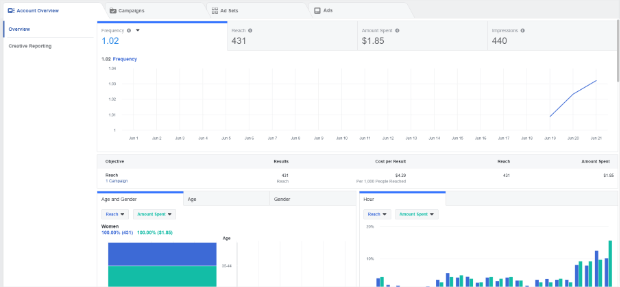 Conclusion
Facebook ads are a smart way to get highly qualified leads for your business at a low price or retarget to already interested shoppers to keep them coming back.
Just keep in mind that the strategy you use will determine your success or your failure.
If you want to have an effective campaign, you need to forget about selling directly via Facebook ads. Instead, direct your ad to an opt-in landing page with a free incentive to sign up for your email list. Then, you can sell your products and services further down your funnel.
Want to see it in action? Check out this case study: How the Advisor Coach Increase Conversions 3X From Facebook Ads Using OptinMonster's Responsive Optins.
Ready to harness the power of OptinMonster and Facebook Ads? Get started with OptinMonster NOW!