Creating a popup for mobile devices is a heavily sought after feature in today's world. With the increase of mobile devices, from phones, tablets, and phablets, the odds of someone viewing your website from a mobile device is ever-increasing. With OptinMonster, you can create a popup for mobile devices in just a few easy steps following this guide.
Also, if you haven't reviewed the general process for creating a campaign, we encourage you to check out our Creating Your First Campaign documentation.
---
Step 1 – Create a New Mobile Campaign
The first step is create a new campaign by determining its type and title according to our guide.
You should select the Mobile Campaign Type.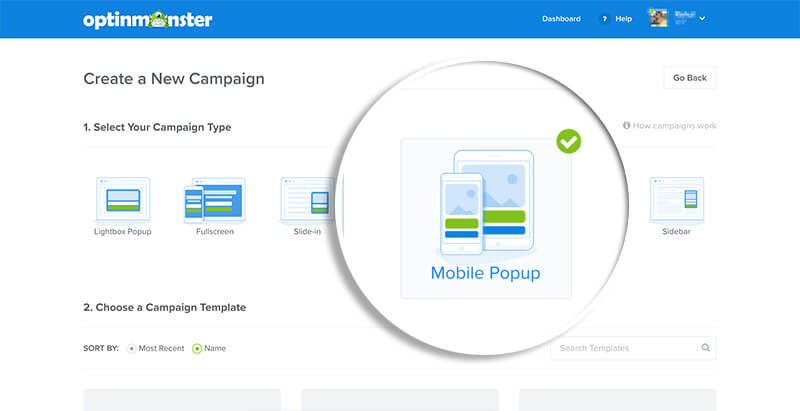 After you've followed the guide above and created a new campaign, then the next task is to build your campaign.
Step 2 – Design Your Mobile Campaign
The next step is to design your popup according to the steps in Creating Your First Campaign.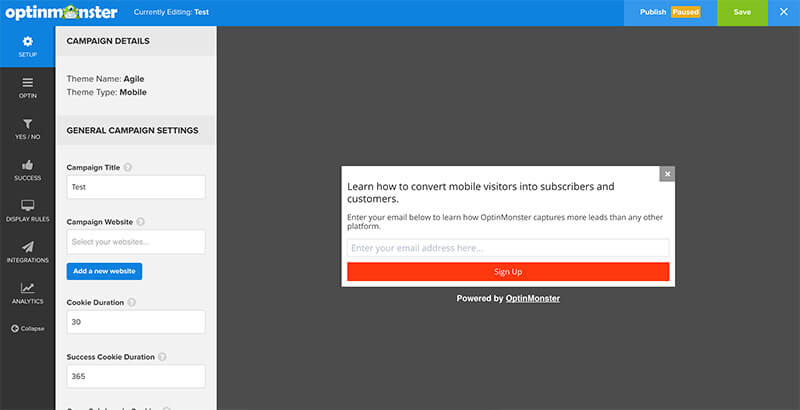 When you are finished, be sure to save your campaign and make it Live. Congratulations, you're all done building your campaign!
Step 3 – Add Your Mobile campaign to Your Website
You can click the Publish button at the top of your builder window to get the embed code. See our guide on how to embed your campaigns in your site.
For more specific guidance on your specific platform, check out our Platform Docs.
Want to optimize your mobile campaigns? See our post on how to optimize your mobile campaigns!
---
FAQs
Q: Do I have to create a Mobile campaign or will my other campaigns appear on mobile devices?
A: Yes, to show a dedicated popup campaign to mobile visitors you will need to create a Mobile type campaign.
Lightbox type campaigns will load only on Desktop.
After Post / Inline and Sidebar campaigns will load on all devices.
With a Pro subscription all other campaign types, e.g. Fullscreen, Slide-In, and Floating Bar, can be configured to load on any (or all) devices following our guide: How to do Page Level Targeting with OptinMonster.
---
Q: I'm using MonsterLinks on my site, do I need to use different MonsterLinks for different devices?
A: No! MonsterLinks will load the campaign you've configured regardless of the visitors' device, and all campaigns are designed to be responsive so if you're loading a Lightbox campaign on mobile devices it will adjust to the screensize with no additional steps necessary.