Are you getting less engagement and fewer conversions than you'd like from your social media posts? It might be as simple as posting at the wrong time for your followers.
In this article, you'll learn the best time to post on social media based on research from Oberlo, Hootsuite, Later and more. When you're done, you'll have a great starting point to find out what posting schedule works for you and your followers to get more likes, comments, and shares.
What Is the Best Time to Post on Social Media?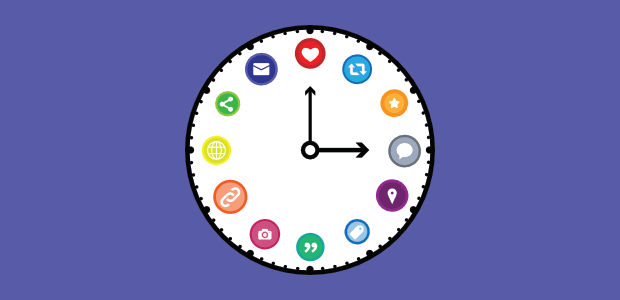 The reality is, there's no perfect time for every business to post to social media. It depends on what kind of business you have and who your audience is.
Sure, you can try posting at random times or do your own research to see what your competitors are up to, but do you really have the time for that? Not likely.
So, how do you find out when is the best time to post on social media?
We're going to take a look at some of the research out there on the subject.
This might not get you an exact time that's perfect for your audience, but you'll have a starting point. Then, you can test from there to find out when your audience is at its peak engagement time.
How to Find the Best Time for YOUR Audience
We've already covered that the best time to post on social media depends entirely on your audience.
If you're a B2B business whose market is mostly other businesses, posting during traditional work hours while the employees of those companies are on their business accounts would be best.
You may also want to check out this article for more B2B lead generation strategies.
For a B2C business, you'll be targeting individual consumers. These folks are on social media at a few key times: before work, lunchtime, and while relaxing at home at night.
Those are some good times to start, but let's check out the research.
We looked at 6 different studies to find the best time to post on social media.
This data, combined with what you already know about your customers, can give you the best place to start testing your social media posts to find what works for your audience.
So, let's get into it, shall we? Here are the best times to post on social media whether you're a B2B or a B2C business owner.
Best Time to Post on Social Media by Platform
Every social media platform has its own peak time when posts get more engagement. This makes sense since the type of person that uses each social media network varies.
For example, LinkedIn is a platform for finding careers and posting about business. Because of this, peak times for LinkedIn will likely be during business hours.
However, Facebook and Instagram are more social platforms. You might find the highest activity early in the morning when people are commuting and later at night when people are home from work.
As a business owner, in order to maximize your engagement, it's important to know when each network hits its peak time.
Best Time to Post on Facebook
Getting traffic from Facebook isn't as easy as it used to be. Organic traffic has been in decline for years now, leading Facebook to become mostly a pay per click platform.
But that doesn't mean you should just ignore any efforts to reach your audience with organic posts. Since Facebook is the world's largest platform with over 2 billion users, you're bound to still get lots of organic traffic.
So, when is the best time to post on Facebook?
Hootsuite compiled data from 300 brands and found these to be the best times to post on Facebook:
For B2B brands, the best time is between 9 am and 2 pm EST on Tuesday, Wednesday, or Thursday.
B2C brands will have better luck at 12 pm EST on Monday, Tuesday, or Wednesday.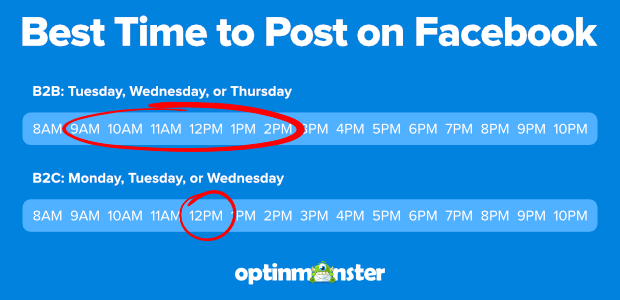 At OptinMonster, we generally post around 10 am or 2 pm every weekday to get the most engagement.
Best Time to Post on Twitter
More than 500 million tweets are posted per day. That's a mind-blowing 5,787 tweets per second!
How can you possibly stand out in a sea of millions of tweets?
Well, Twitter uses an algorithm to prioritize posts it thinks people will want to see instead of posting tweets in chronological order.
Let's look at Hootsuite's study again. They found the best time to post on Twitter with the highest engagement to be:
Between 11 am to 1 pm EST on Monday or Thursday for B2B.
12 pm or 1 pm Monday to Wednesday for B2C.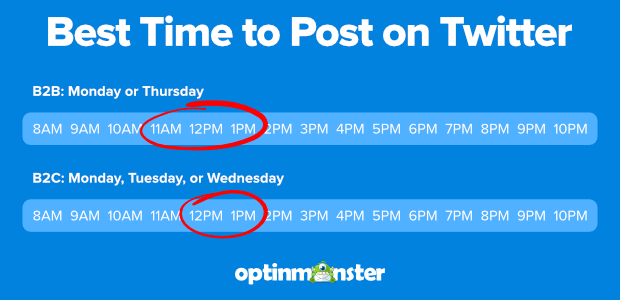 During the week, the worst time to post on Twitter is Friday after 3 pm and any day of the week after 8 pm.
We recommend that you post on Twitter several times each day, between 9 am and 3 pm.
Best Time to Post on Instagram
Like Twitter, Instagram uses an algorithm that shows the "latest posts" but doesn't display them in chronological order. Your best bet for maximum engagement is to post during peak hours.
Later analyzed 12 million Instagram posts and found that the best time to post is generally between 9 and 11 am.
That's a pretty large timeframe, so let's take a look at SproutSocial's research.
SproutSocial analyzed 25,000+ of its customer's Instagram activity and found these insights:
Wednesday at 11 am and Friday at 10–11 am are the best times to post.
The overall best day is Wednesday.
The most consistent engagement happens Tuesday through Thursday from 10 am–3 pm.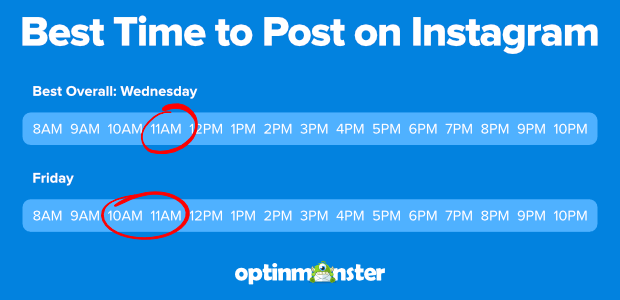 If you have a business account on Instagram you can see when your followers are most active using Instagram's analytics tool.
Once you have your business account set up, go to your profile (using the Instagram app on your smartphone), click the 3 lines in the top right corner, then click Insights.
Scroll to the bottom of the insights page and you'll see follower activity charts for each day of the week.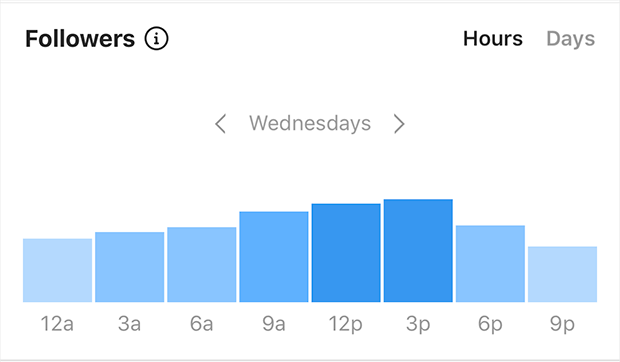 We recommend posting on Instagram a few times each day during the peak activity hours from your brand's Insights. We also recommend that you use Instagram Stories for maximum engagement.
Best Time to Post on LinkedIn
LinkedIn is the hub of all things business. With over 303 million active monthly users, it's become more than a platform for people to connect with colleagues. Now, companies are using LinkedIn business pages to build their brand.
But to stand out against everyone else, you'll need to create compelling content and know when to post your content so you get seen.
TrackMaven evaluated the best times to post on LinkedIn based on the average number of interactions per post per 1,000 followers.
They found the best time to post on LinkedIn for both B2B and B2C business owners to be Wednesday at 9 am.
SproutSocial's study agrees that Wednesdays at 9 am is effective. But they also got good results by posting at 12 pm on Wednesdays.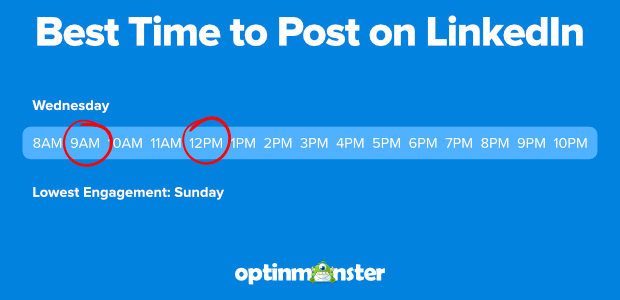 Both TrackMaven and SproutSocial say to avoid posting on Sundays due to way lower engagement compared to weekdays.
We recommend posting to LinkedIn at least once per day, as well as commenting, liking, and sharing content created by others in your network.
Use Social Media to Grow Your Email List
As you can see, finding the best time to post on social media depends heavily on your audience and which platforms you plan on using. We suggest you start with our recommendations in this article and test your posting times from there.
Our most important tip, though, is to use social media to grow your email list.
Why? Glad you asked.
On social media, you don't own your followers. If at any point the platform decides to delete or suspend your account, your audience will be GONE.
However, if you've converted your followers to your email list, you'll still have your leads. You own your email list which means no one can delete or suspend it at any time without warning.
The best way to grow your email list is with OptinMonster. Here's how to do it…
1. Create a New Campaign
Start by logging into OptinMonster and clicking Create New Campaign from the Campaign Dashboard.

Then, you'll choose a campaign type. We're going to use a Fullscreen campaign to create a landing page feel.

Next, choose a campaign template. We're going to use Entrance for this tutorial.

Once you click Use Template you'll name your campaign, choose the website you'll use the campaign on, and click Start Building.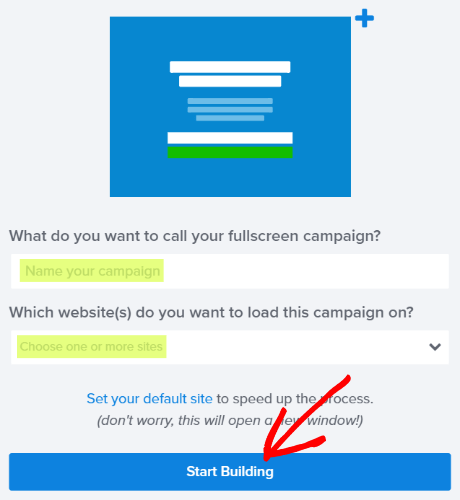 2. Edit Your Campaign
After you click Start Building, you'll be taken into the campaign builder. You'll see the default optin view design of the template you chose.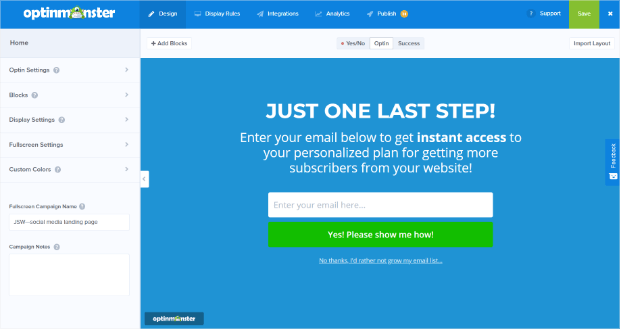 You can customize everything about your campaign.
To edit, just click on the element you want to edit on the live preview (right side of the builder). This will bring up the editing tools on the left side of the builder.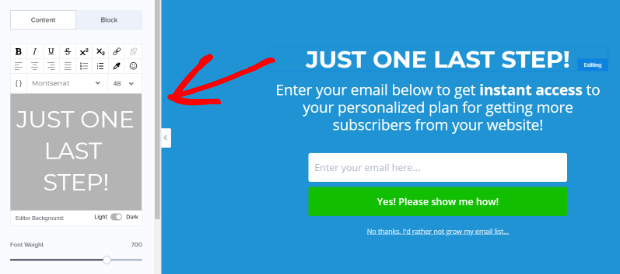 You can change fonts, colors, sizes, and so much more! If you want more guidance on editing, check out this tutorial to create a simple campaign.
Once you have your campaign edited to your liking, click Save in the upper right corner before moving on to the next step.
3. Set the Display Rules
Now we'll set up the display rules to show the campaign when users click on the link. To do that, we'll use MonsterLinks™.
MonsterLinks™ require a Pro account or higher.
Adding a MonsterLink™ to your campaign is as easy as choosing visitor clicked MonsterLink™ from the conditions dropdown.

Save your campaign.
4. Add Your Email Provider
To collect email addresses, you're going to need to add an integration. Don't worry if you haven't chosen the right email service provider for you; you can still collect email addresses just using OptinMonster.
For this tutorial, we're going to show you how to connect Constant Contact, our number one recommendation for email service providers.
From the Integrations tab, click + Add New Integration.

Choose Constant Contact from the Email Provider dropdown: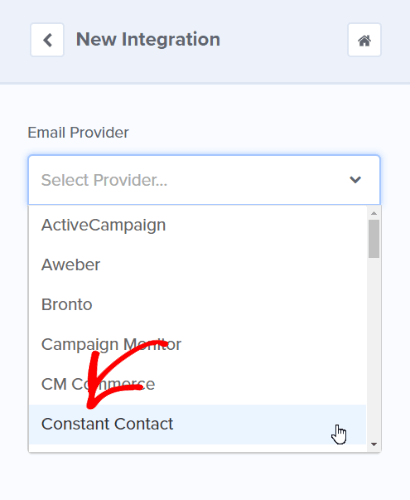 If this is your first time connecting Constant Contact to OptinMonster, you'll click Register with Constant Contact and login to your Constant Contact account on the screen that pops up.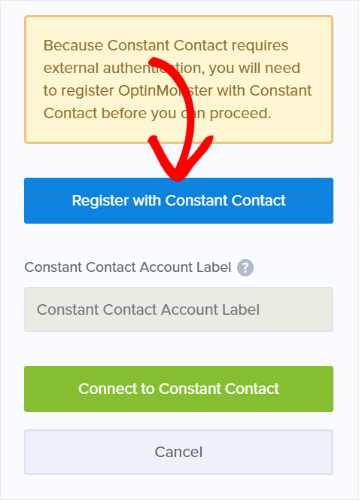 Once logged into Constant Contact, click Allow to give OptinMonster permission to connect to your Constant Contact account.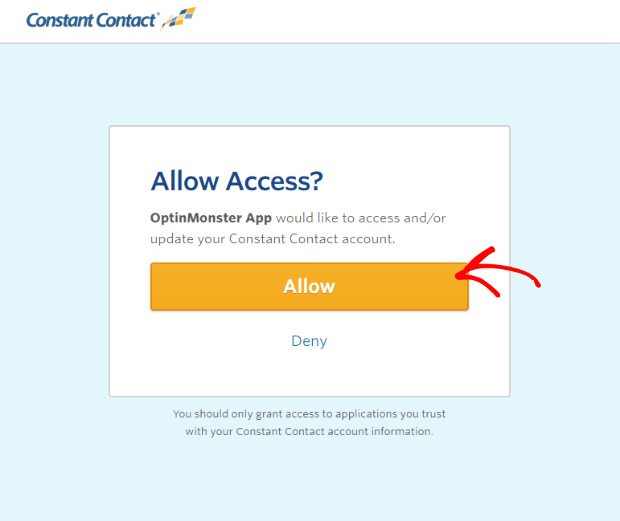 Add an account label to easily identify the account (internal use) and click the Connect to Constant Contact button.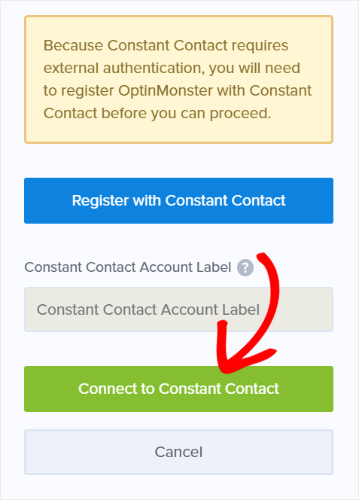 Once connected, choose the email list you want to add new subscribers to: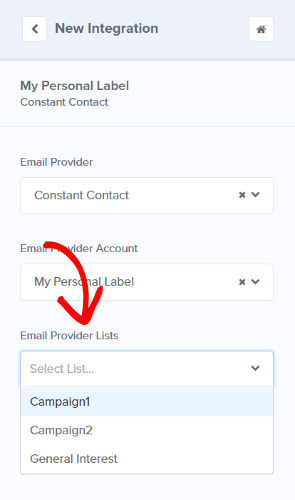 Pro Tip: Connect Monster Leads to your campaign to create a backup of your leads.
Save your campaign.
5. Publish Your Campaign
Go to the Publish tab and toggle the Status to Live.

Save your campaign.
6. Add MonsterLink™ to Your Social Media Profiles
Now that you've created your campaign, you can copy and paste the MonsterLink™ wherever you want!
While you're still on the Publish tab, scroll down to the Platform section and click on Shareable MonsterLink™. From there, copy the link provided and add it to your social media profiles.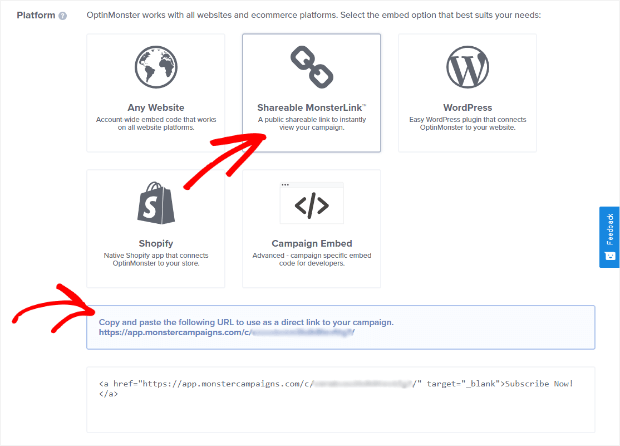 Here's what happens when someone clicks the link from your profile: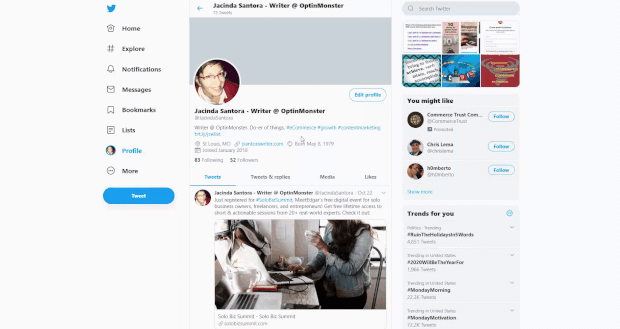 Ridiculously cool, right?
Want to know how to use social media to auto-generate revenue for you or your company? Check out this guide on how to use social media for affiliate marketing or this post on the best social media plugins for WordPress.
Boost your social media marketing ROI (and build an email list that you own) with OptinMonster. Join OptinMonster today!