Can you tell if your customers are happy, or are you just guessing?
Guesswork isn't good enough. According to Groove, every unhappy customer will tell 16 people about their issue with you, which hurts your reputation.
Even worse, for every person who complains, there are 26 more who just leave, costing you business.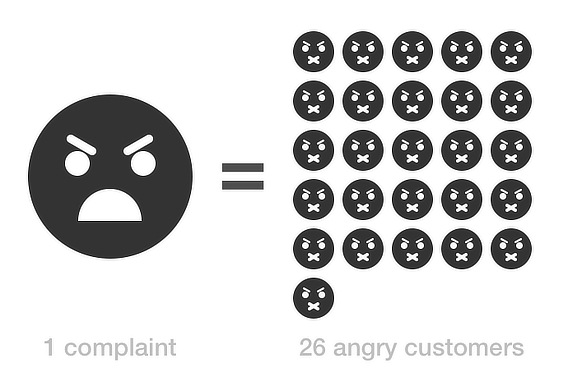 This is a huge blow to your business – but it can be prevented.
One way to solve this is getting feedback before problems arise. A good place to do this is on your website, where they're most likely to interact with you.
If you can make customers happy by solving their problems, then you'll get positive referrals, instead of negative ones. Each happy customer tells nine more… so the results of your efforts will multiply.
Increased income aside, there are other reasons why getting feedback from customers makes sense:
Insightful feedback can help guide product and service development so you focus your resources on what your customers consider important.
Getting customer feedback also helps you identify and eliminate problems. People who complain about your products and services aren't an annoyance; they're actually helping you do a better job.
Ready to get started?
In this guide, we'll cover the best ways to collect customer feedback on your website.
1. Popup a Customer Survey
Displaying a simple survey on your site is the easiest way to get feedback.
And by embedding your survey in a popup, you can grab the attention of your website visitors.
Here's the easiest way to set this up…
On a WordPress site, you can easily create a customer survey using WPForms, a drag and drop form builder. This way, you don't have to create or edit any code yourself.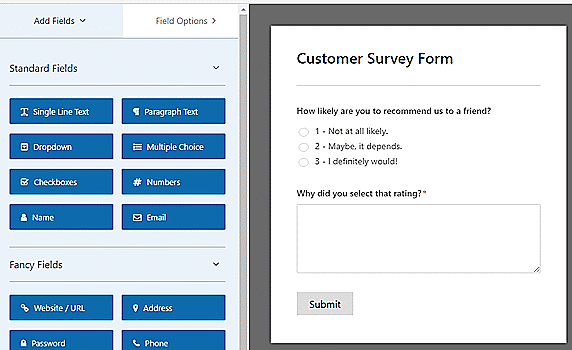 Here's a complete tutorial on how to create a feedback form using WPForms.
(Alternatively, you can use your own form HTML – here's how to connect OptinMonster with any custom HTML form.)
When designing your survey, we recommend keeping it short (1-3 questions only) to encourage more people to fill it out. Use open-ended questions (instead of yes/no questions) to get more in-depth responses.
When you're done creating your survey, just click the Embed button and copy the shortcode that appears.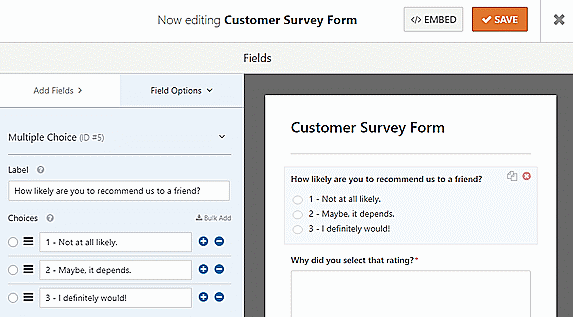 Next, you'll need to follow these instructions to easily connect OptinMonster to WPForms. You can insert your form into any of our pre-made template designs.
Go to the Integrations tab of the OptinMonster campaign builder. Select Custom HTML and paste the shortcode where it says Custom HTML Form Code.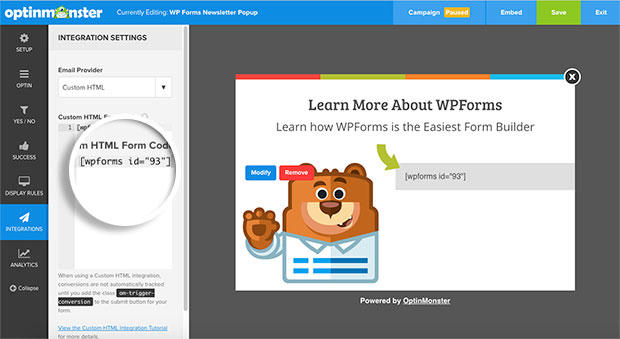 Using OptinMonster, you can specifically target your survey so that you get as many quality responses as possible.
We recommend displaying it to returning visitors, and triggering your campaign to display after they view two or more pages.
This ensures that your survey popup only displays to interested visitors who are already engaged with your content and will have an opinion about it to share.
2. Put a Feedback Button on Your Website
Using a feedback button gives you another easy way to ask for feedback on your site.
The two-step process of clicking on the button uses the psychology principle known as Zeigarnik Effect, which states those who initiate are more likely to finish the process.
Once you've created your survey campaign as shown above, you can ">create a MonsterLink by going to Display Rules » MonsterLink (On Click), and toggle the button to make it active.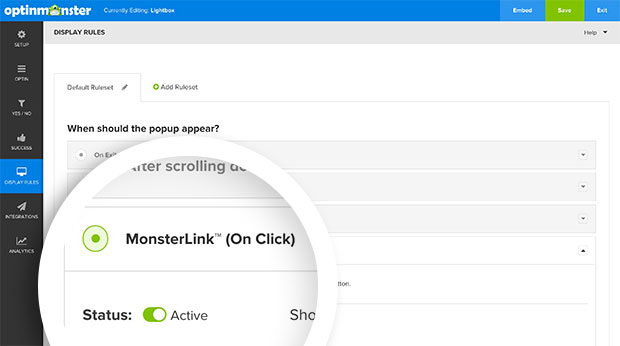 Click the button to copy the MonsterLink code, then add it to your site as a button.
Here's how you create a button in WordPress. Use "Feedback", "Talk to Us", or something similar for your button text. When visitors click the button, they will see your feedback survey.
3. Offer an Incentive
Sometimes you need to persuade your customers to give their feedback. Some businesses do this by offering a lead magnet in exchange for survey completion.
For example, this popup promises a free gift in exchange for answering a couple of questions: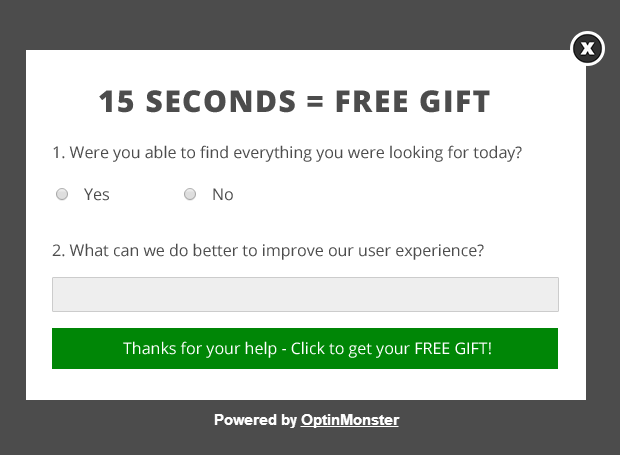 Your incentive can be:
a coupon
a free ebook
a checklist or template
a free guide
Check out this list of lead magnet ideas for more inspiration.
If you wanted to deliver the promised free gift, you could easily do that with OptinMonster.
The easiest way is to use a Success theme. Once you have created your campaign, go to Success » Success Action » Display a success theme.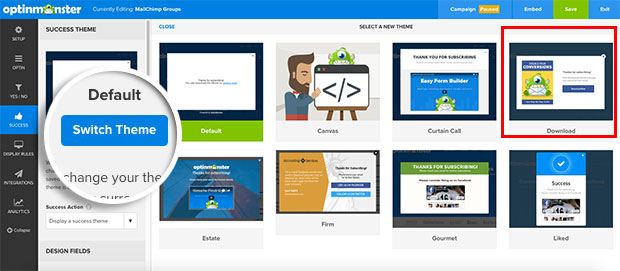 Choose your success theme. In this example, we're using the Download theme.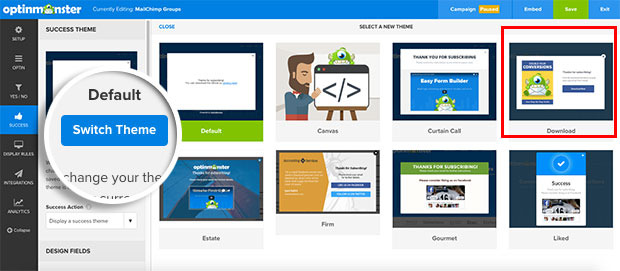 In the menu, go to Download Location, and enter the URL for your lead magnet.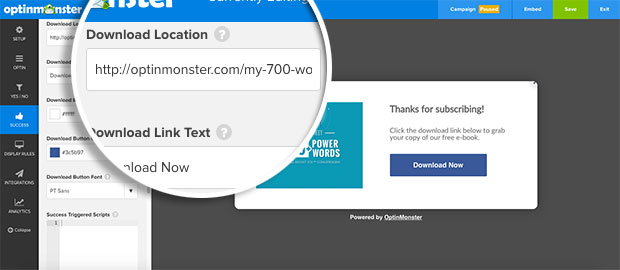 Complete your campaign setup, save and publish.
This allows you to deliver the lead magnet as soon as visitors give their feedback. It's also a good idea to deliver your lead magnet by email. This starts to build the relationship, and trains your customers to look forward to your emails.
4. Use Live Chat
If you want to know what your customers really think, use live chat to talk to them when they're on your site.
Live chat is fast becoming an important customer service tool because:
It's convenient for customers and affordable for you.
It helps make sales – in one survey, 38% of customers made purchase because they were able to chat with someone.
It lets you figure out which issues are important to customers before a sale, so you can address those in your marketing.
Good places to put live chat include your pricing page and your checkout page, so you can answer questions and reduce cart abandonment. If you want to implement live chat on a WordPress site, check out this list of live chat software from WPBeginner.
5. Ask for Feedback at the Right Place and Time
If you want to collect useful customer feedback, it's important to ask the right question to the right people at the right time, says Zapier. That'll increase your chances of getting a response.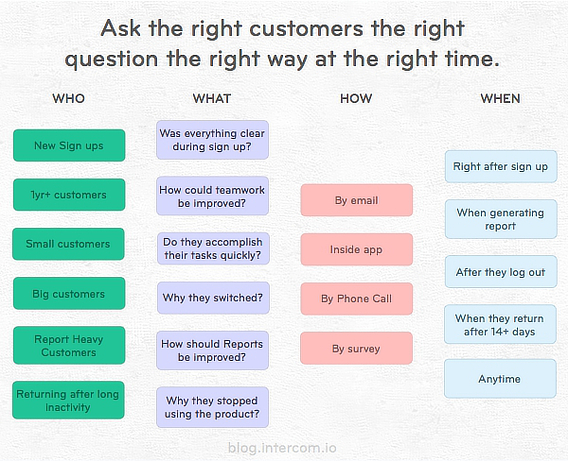 When getting customer feedback, you'll likely want to ask different questions on pricing pages and checkout pages. Pricing page questions will focus on information that will help visitors to buy, while checkout questions could focus on the checkout and purchase experience.
You can use OptinMonster's page level targeting feature to show different feedback forms on different pages. To enable this, got to Display Rules » Who should see the campaign? » Visitors to a particular page.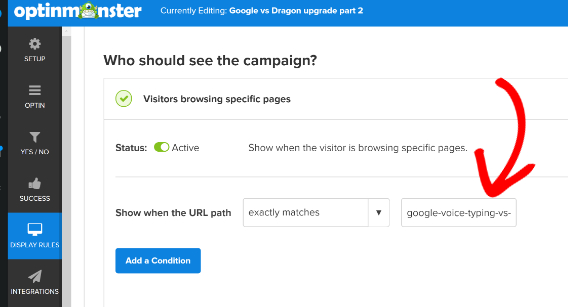 You can use the rule to include or exclude pages, allowing you to show a particular survey just on a certain page, or stop it from showing on a particular page.
6. Find Out Why They're Abandoning Your Site
OptinMonster has one killer feature that's excellent for collecting customer feedback. That's our signature exit intent technology. It detects when people are about to leave your site, and pops up a campaign.
Here's how we collect feedback with it on OptinMonster: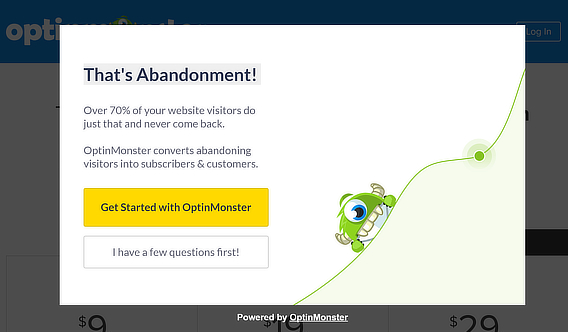 When a visitor isn't ready to buy, and clicks on "I have a few questions first!", they can then enter their feedback immediately: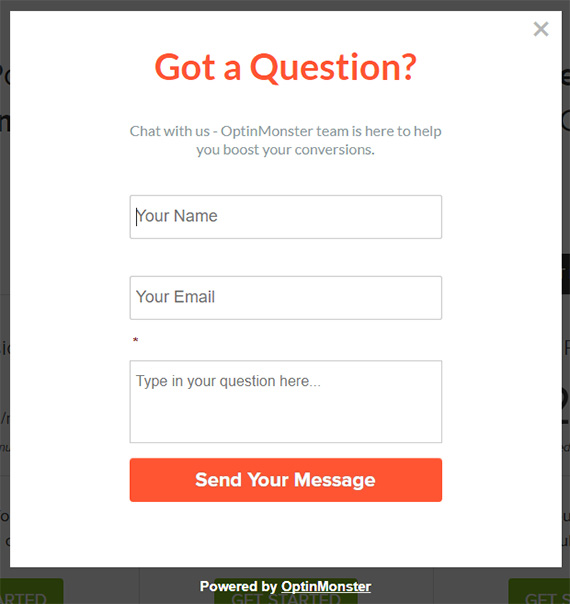 To enable exit intent for your survey popup, got to Display Rules » When should the campaign appear? And select On Exit-Intent.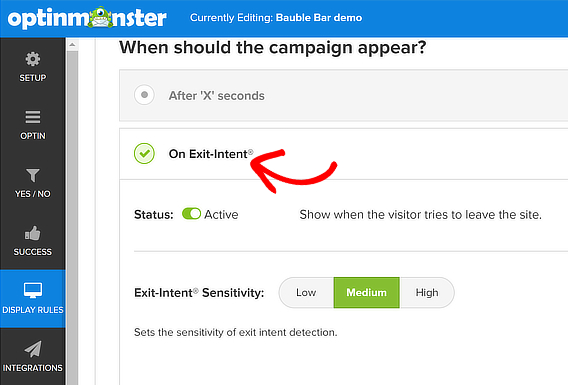 You can create recreate the example above by creating a Yes / No campaign.
7. Ask Customers to Self-Select Their Interests
One quick but effective way of getting feedback is to create a campaign where you ask people to select their own interest.
This is a different type of feedback than you'll get from surveys, but it's just as valuable.
An example is this real estate campaign. It asks whether visitors to the site are buying or selling property.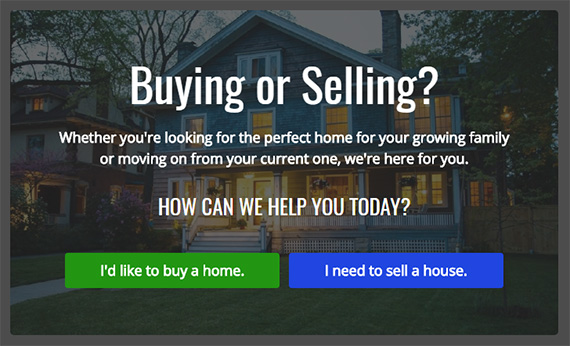 With this information, the company can:
Figure out what most of its customers like and target promotions accordingly.
Create concrete buyer personas based on real data.
Send different emails according to customers' preferences, making sure they all get relevant information.
The example above was created with OptinMonster's Yes/No buttons. Let's pretend you're a restaurant that offers takeout, looking to find out which customers prefer that option so you can target your marketing to them.
Follow the instructions for creating your first campaign.
When you're in the OptinMonster campaign builder, navigate to Yes/No.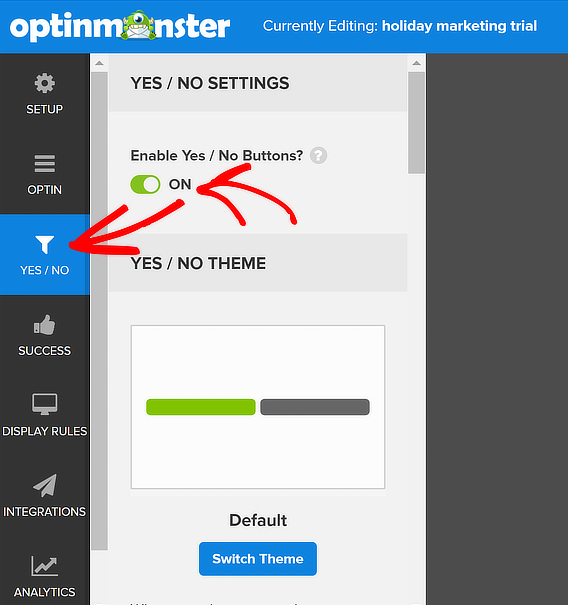 Click the toggle to enable the Yes button, then choose Redirect to a new page as the Yes action.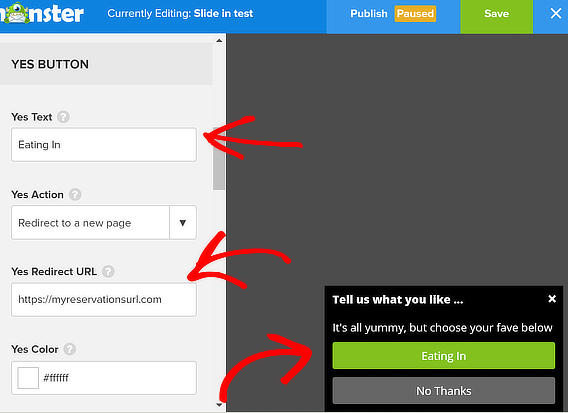 Enter the URL of the page you want people to go to. (For example, you can create a specific campaign for those who click yes using shareable MonsterLinks – here's how).
Follow the same process to edit the No button.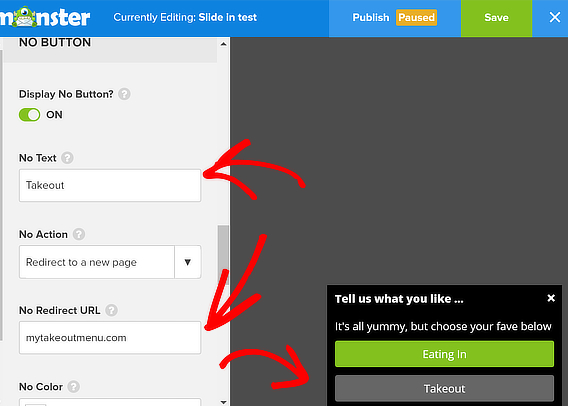 Once you have segmented your customers, you'll be able to send campaigns that match their interests, and even collect more customer feedback.
8. Monitor Analytics
When you're thinking about how to collect feedback, don't forget about web analytics. This makes it easy for you to figure out which pages are getting attention and which ones are driving customers away.
If you're a WordPress user, you can easily find your top blog posts with MonsterInsights. You can also check out your visitors' actions in Google Analytics.
You can find information about your bounce rate by logging into Google Analytics.

To find your top content, go to Behavior » Site Content » All Pages. Scroll down to the table to see your most visited pages.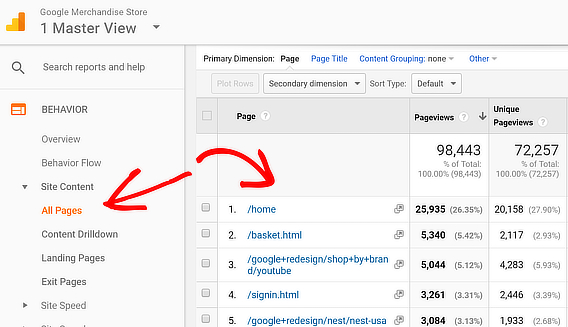 You can also change the date range in the top right corner, and compare to a previous period to see what's changed lately.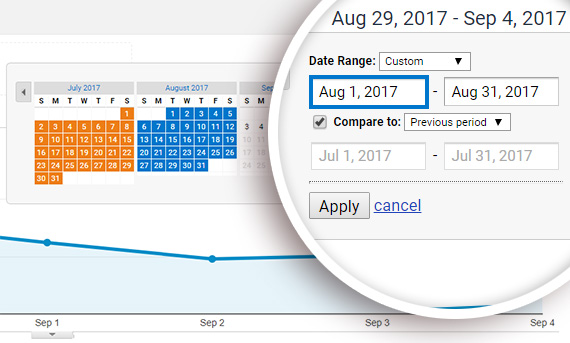 9. Run User Testing
You don't always have to use a form or survey to get customer feedback. Instead, you can see how people interact with your site. Usability Hub has a free 5-second test tool that works like this:
Upload a screenshot of your page. You can also test logos and marketing materials.
People look at your page for 5 seconds, then Usability Hub asks what they remember.
Responses are recorded to give you insight into visitors' first impressions.
You can also test navigation, clicks, and preferences with Usability Hub.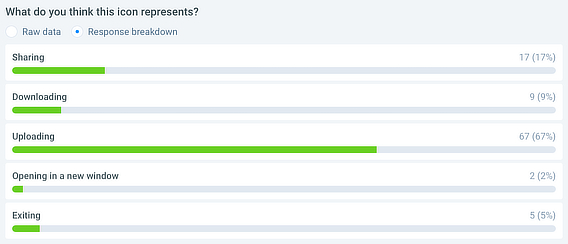 What to Do With the Feedback You Collect
With so many ways of collecting customer feedback, you've got a lot of options for what to do next. You can:
Use feedback to help with product development. If a bunch of your customers all request the same feature, then it's going to be a priority.
Reach out to people who give you excellent feedback and deepen the relationship to turn them into advocates. As Forbes points out, they'll bring you more business by actively promoting your products and services.
Use positive feedback as social proof on your website. That'll encourage other visitors to become customers.
Now that you know the best ways to collect customer feedback, consider improving your content to get better ROI from content marketing – and better feedback!
Not using OptinMonster yet? Get started today so you can convert more visitors into subscribers and customers. And don't forget to follow us on Facebook and Twitter for more in-depth guides like this one.