Would you like to improve your B2B email marketing strategy but aren't sure where to start? Too many marketers make the mistake of using the same approach for their B2B email campaigns as they do for their B2C emails.
That's a bad idea.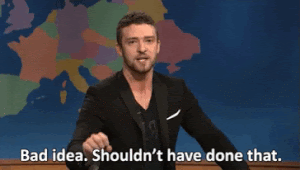 So, today, we're going to cover a few key techniques to help you master the difference between the two. More specifically, we'll cover:
What is B2B email marketing
5 B2B email marketing best practices
3 of the best B2B email marketing examples you can learn from
By the end of this post, you'll know how to craft the perfect B2B emails that get high open rates, high conversion rates, and, of course, more revenue for your business.
Let's get started.
What is B2B Email Marketing?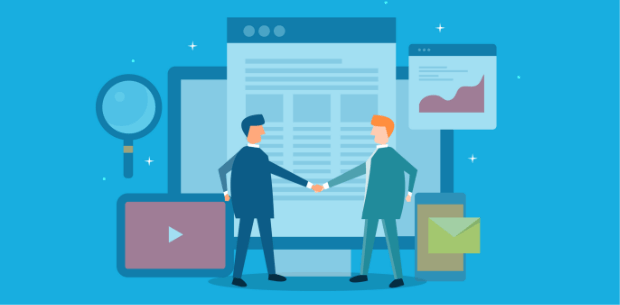 Business-to-business email marketing refers to a specific type of email marketing strategy where you target your email campaigns to businesses rather than individual customers.
While many business-to-business (B2B) email marketing strategies overlap with traditional business-to-customer (B2C) email marketing tactics, there are some unique differences between the two.
And your success as a B2B email marketer depends on how well you understand these differences.
The problem is that B2B email marketing is hard to track. Often, companies get lazy with their audience segmentation and place both B2B and B2C email marketing strategies under the same generic umbrella.
Consequently, marketers approach the two different styles of email marketing in the exact same way and hope for equal success with both.
Which is just crazy.
But when marketers finally understand the small differences required for B2B email marketing, they're bound to see massive improvements for their email campaigns.
Knowing what makes B2B campaigns unique is the key to your success. Just check out some of these top B2B email marketing statistics from 99Firms: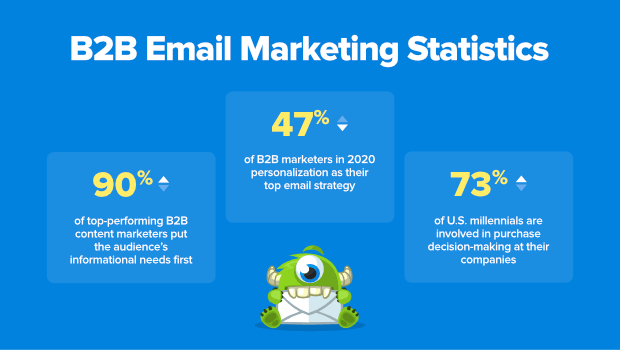 90% of top-performing B2B content marketers put the audience's informational needs first
Personalization is the top strategy for 47% of B2B marketers in 2020
80% of all B2B leads originate on LinkedIn
73% of US millennials are involved in purchase decision-making at their companies
Email marketing was the most implemented B2B marketing tactic in 2019
Thes statistics give us subtle clues as to how you need to approach your B2B email marketing plan.
But we hate subtle. So let's make these differences crystal clear.
In other words, let's explore 5 B2B email marketing best practices to make sure that you're getting the most from your email campaigns.
5 B2B Email Marketing Best Practices
Before we begin, it's important to remember that these aren't B2B email marketing rules. They are guidelines or best practices to help you.
But email marketing in any sense of the term isn't an exact science. The only way you'll know what works best for you is to test, track, and tweak your results.
With that in mind, let's look at these 5 B2B email marketing best practices.
1. Filter Leads Coming for Business or for Pleasure
Your B2B email marketing plan needs to start at the lead generation level. That means bringing in the right kind of leads from the start so you can tailor your message to the business you're speaking with.
But, as we already mentioned, there's a problem: B2B lead generation is really hard to track accurately.
A lot of marketers don't take the time to distinguish between customers shopping for personal interests or for business needs. As a result, they put all their leads into the same sales cycle.
CrazyEgg points this out when they flat out state, "No one knows where B2B leads come from." Their belief is that lead generation "is a composite of unquantifiable activities and behaviors that just work."
Maybe. But maybe it's not so hopeless after all.
Because with one simple trick from OptinMonster, you can accurately understand where each lead is coming from and appropriately segment them with your email service provider.
Using OptinMonster's Yes/No campaign feature, you can filter your leads into 2 email marketing funnels:
Here's how it works.
In a traditional 2-step optin campaign, you would ask your site's visitors a simple Yes/No question before showing them an optin form: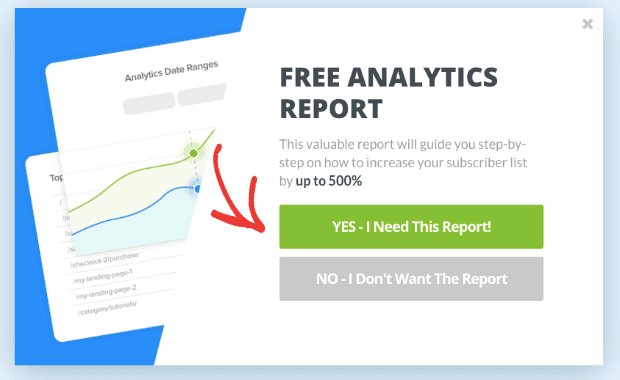 This has been known to drastically increase conversion rates.
But this time, instead of asking a Yes/No question, you'll ask something along the lines of, "Are you here for Business or Pleasure:"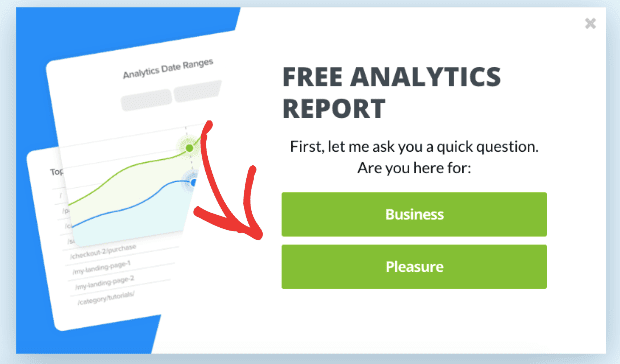 Then, for each button, you can redirect your leads to a landing page depending on their response: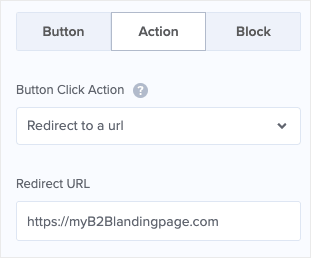 Now you're in a position to accurately set up your B2B email marketing strategy. When your leads opt in from your business landing page, they can go to a segmented list with your email service provider.
This is the exact formula Snack Nation used to:
Add 1,200 new email list subscribers each week
Convert 15-20 highly qualified leads each day
Convert 31.85% of their abandoning visitors
From there, you can tailor campaigns specifically for your B2B list differently than you do with your B2C customers.
With traditional marketing tactics, understanding your customer's purpose is a long, tedious task.
With OptinMonster, on the other hand, your B2B vs. B2C email marketing segmentation is as simple as asking your customers which funnel to go to.
That's what makes OptinMonster one of the best B2B email marketing tools available today! Not to mention the most cost-effective.
Get Started NowJoin OptinMonster risk-free today to drive more traffic, boost conversions, and get more sales.
2. Select Your Email Service Provider
The next step is to choose the right email service provider for your B2B needs. Many email service providers have similar functionality, but they may not scale the same way you're looking for.
Do some research to find the right email service provider for you. Here are 4 that we recommend:
Each of these makes for an excellent B2B email marketing platform. Plus, they have fair pricing that scales with you and your company grows.
But the good news is that no matter which email service provider you go with, OptinMonster is guaranteed to integrate with them.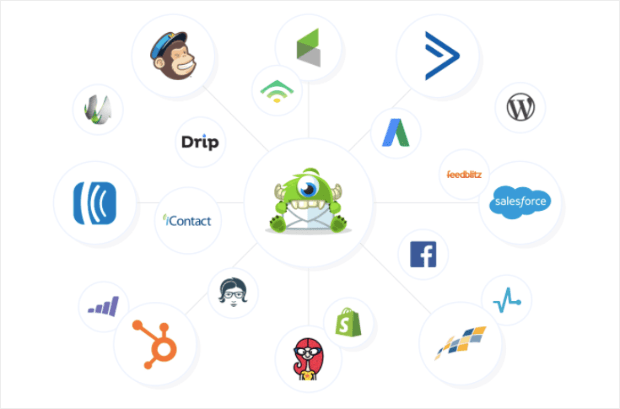 We have over 30 native email integrations, but any platform can be quickly synced to your OptinMonster account.
That means when you get a new email subscriber, they'll automatically go to one of your segmented lists with your email service provider. From there, you can set up an automated email series to turn your entire marketing system on auto-pilot.
But What If You Don't Want an Email Service Provider?
Some small businesses may decide to simply use WordPress email delivery. If so, you'll want to install the WP Mail SMTP plugin to ensure you're getting the best deliverability rates:

Many email platforms like Google or Yahoo have really cracked down on preventing spam. The downside is that sometimes your emails get mislabeled as spam and never even reach your intended audience's inbox.
That's right. Leads can voluntarily give you their address to stay informed, and your emails will still never reach them.
But WP Mail SMTP takes care of that for you by making sure your emails are authenticated and sent by trusted third parties. Plus, the WP Mail SMTP team configures everything for you, so set up is a breeze.
If you want to send your best B2B email campaigns through WordPress, then WP Mail SMTP is something you don't want to miss.
3. Craft the Perfect Subject Line
This is one of the ways that your B2B and B2C email marketing strategies overlap, but it's too important not to mention here:
The use of strong subject lines will make or break you.
A good subject line will be the difference between your B2B email campaign getting high open rates or going straight to the trash bin.
So how do you make a good subject line for B2B emails? Pretty much the same way that you would for individual clients:
By understanding what language builds curiosity by striking the heart of what your audience really wants.
Notice the 2 components of a compelling subject line mentioned above:
Strong subject lines have 1 of these 2 components, the best have both.
But to accomplish either, you need to build a concrete buyer persona. Until you know who your audience is, you won't know how to speak to them.
Remember how we stated earlier that 73% of US millennials are involved in purchase decision-making at their companies? This is the kind of statistic that should remind you to keep demographics in mind as you craft your B2B email copy.
Once you've identified specifically who your audience is and what they want, then you can create an irresistibly clickable subject line.
Here's an excellent example of a solid B2B subject line from OptinMonster:

This addresses OptinMonster's audience and gets to one of the things every business wants: more page views.
And because there is such a specific metric included (157%), the reader can't help but wonder how they can do the same for their business. It creates curiosity.
Again, B2B email subject lines share the most similarities with B2C subject lines. For more help crafting the perfect subject line, check out this collection of 161 examples.
Or you can check out this video:
4. Keep Your Emails Rational, Informational, and Profit-Based
Like we said before, one of the biggest mistakes for new marketers is treating their B2B and B2C email marketing strategies the same.
But the fact is that people purchase things for different reasons when they buy for business or when they buy for pleasure. That means you need to approach your email copy differently.
It's no wonder so many people want to know how to write B2B emails or rely on email templates. So if you're curious about what makes B2B emails different than their B2C counterparts, here's a good rule of thumb:
B2C communication focuses on emotions. B2B communication focuses on information, facts, and profit.
Earlier we showed 90% of the top B2B marketers put their audience's information needs ahead of everything else.
And for good reason.
When people make a purchase for business, they do so with one goal in mind: to make more money for their company.
That's it.
Every new tool a company invests in, whether it's a box of paperclips or the best SEO software on the market, is all geared to help the company bring in more revenue.
That's why your email copy for B2B campaigns needs to have this practical, information-based communication style in mind.
Here's an excerpt from the email campaign that went with the subject line from our last tip: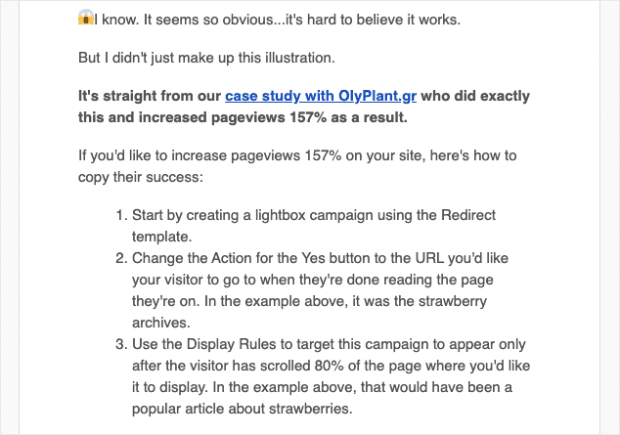 The communication style is more straightforward, and it focuses on both results as well as the process for getting that result.
When you have someone making a purchase on behalf of their company, this is all they need to make their decision.
5. Include 1 Call to Action
One of the most common questions that we get here at OptinMonster is, "How many calls to action should I include in my content?"
Our response? It depends.
That's because different types of content require a different number of calls to action. In your weekly newsletter for leads, for example, you may have many calls to action leading to different recommended products or services.
In your B2B emails, however, you should keep things more focused. Include 1 (and only 1) call to action.
Again, here's the call to action from the OptinMonster email we've been looking at for the last few tips:

Everything in the email leads the reader to the simple call to action Give it a try now.
You should be doing the same. For your B2B email campaigns, you should be leading your reader down to a single, powerful call to action. By the time they reach the link or button, they should find clicking it irresistible.
To recap, the email we've been looking at from OptinMonster has:
A subject line that focuses on what the audience wants and builds curiosity
Content that's information and results-based
One clear call to action
Once you've chosen your email service provider and segmented your email list, these are the 3 components your B2B email need to have.
Now that we've seen 5 best practices for your B2B email marketing campaigns let's take a look at a few examples you can use (or copy).
3 B2B Email Newsletter Examples
The following are 3 great examples of B2B emails that work. You can use these for inspiration or use some of the email content and add them to your own B2B email marketing ideas.
Let's dive in.
1. Asana

This is an excellent B2B email marketing example. It's super results-driven, and they provide an informative 3-step process that leads to 1 clear call to action.
2. Instapage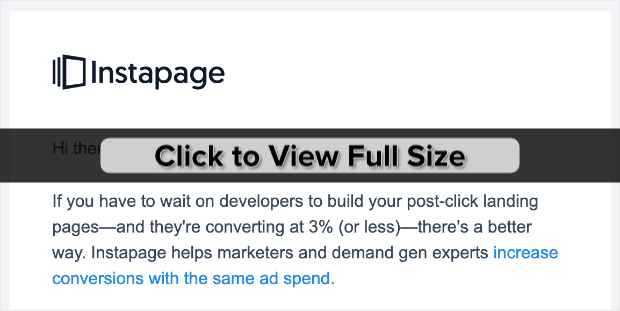 This B2B email marketing example from Instapage cuts to the core of what their audience wants: landing pages built without waiting for developers.
Their solution is faster and cheaper than traditional methods. And this email makes both of those points stand out.
It also provides a straightforward list of features for how Instapage can help a company grow.

3. PixelMe

This email isn't selling anything. That's because not all B2B emails should be. Instead, PixelMe gives their current users a product update.
Notice the writing is informative and fairly dry. They focus on what you can do with their new product addition, the results you can expect, and give you a clear call to action to get started.
One reason why this is a great email is that it follows our B2B email marketing best practices but for a different purpose: it makes for a great lead nurture tactic.
Product updates or upgrades are an excellent way of reducing customer churn, even in a B2B context.
And there you have it!
5 B2B email marketing best practices along with 3 concrete examples you can draw from for your own.
We certainly hope this post helped you understand the difference between B2B and B2C email marketing.
Struggling to get more conversions for your online business? You don't have to go at it alone! Join OptinMonster today, risk-free with our 14-day unconditional money-back guarantee, and let us help your business thrive.