Your welcome email for new subscribers is the first impression they'll get after joining your email list through a lead magnet or sign up form.
In fact, it sets the tone for your whole email relationship and can impact whether or not subscribers will open and click on future emails.
Plus, welcome emails get 86 percent higher open rates than other emails. So if you're not sending a welcome email, you're missing out on an amazing opportunity to connect with your audience.
Wondering how to write a welcome email to capitalize on that opportunity? Here are six welcome email best practices you should follow to delight subscribers and ensure your email marketing is effective.
Thank Your New Subscriber
The first thing you should do in your welcome email is thank your new subscriber for joining your email list.
"Thanks" is one of the most effective words to use in your emails. Not only does it add a human quality to your email, but it also builds brand loyalty. When subscribers know you appreciate them, they are more likely to have positive feelings toward you and your brand.
Try thanking the new subscriber by using first name personalization. Including a subscriber's first name may catch their attention and increase engagement.
The State of Mobile Email Engagement: What You Need to Know
Here's an example of a welcome email which thanks our subscribers when they sign up to the AWeber blog newsletter: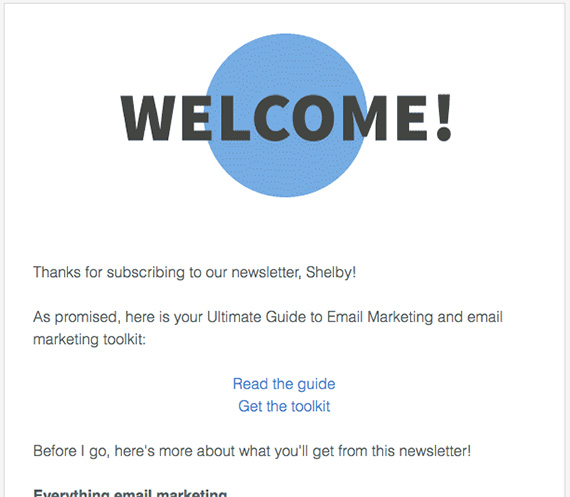 Deliver the Incentive You Promised
Do you get site visitors to sign up to your email list by giving them an incentive when they subscribe?
If you do, your welcome email should deliver the incentive you promised in your sign up form. If you don't, you'll most likely lose your subscribers' trust and frustrate them.
Pro tip: If you don't currently promote a lead magnet – like an ebook, checklist or worksheet – on your sign up form, you might want to try using one to grow your email list more quickly. Incentives give visitors immediate value and a good reason to subscribe.
Set Expectations
Next, let your subscriber know what they can expect from you.
Explain what kind of emails you'll send them. Will you send a weekly newsletter? Or let them know every time you're offering an exclusive deal? Will they be the first to know about new features or products you're introducing?
This will define the relationship and prevent subscribers from being taken by surprise by your email content – which can increase spam complaints and unsubscribes. It can also get them excited for what's to come and what value you'll provide them.
BBC's welcome email does a great job of clearly setting expectations for new subscribers: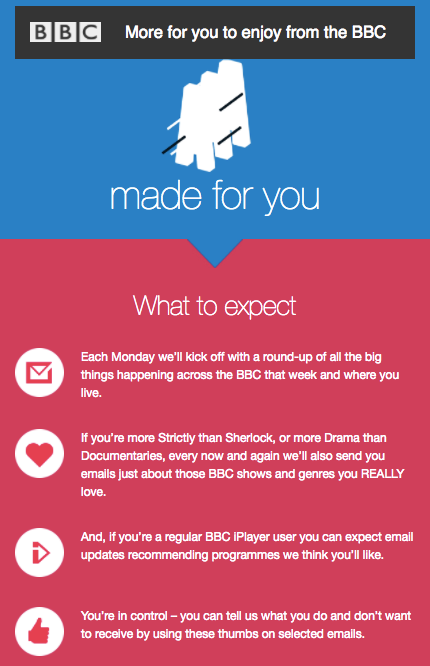 Tell Them Who You Are
Explain what your business is all about and who you are! Introduce yourself, show off your personality and start building a connection. This can help you sell your product or service in later emails, because your subscribers will already be familiar with who you are and what you do.
Get personal with the new subscriber by telling a cool story or little-known fact about your business. Or, share your mission and how your product or service is changing the world. It'll allow you to connect with the subscriber on a deeper level and set you apart from other similar businesses.
Check out how David Kind tells their subscribers who they are with a cool back story: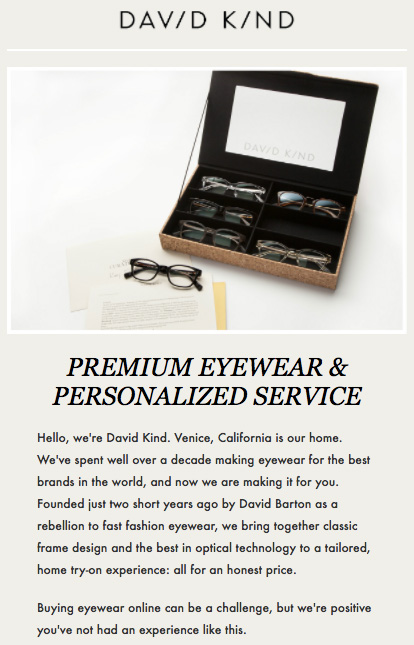 Ask Subscribers to Whitelist You
Whitelisting is when subscribers add you to their address book. The purpose of whitelisting is to improve your deliverability and make sure that your emails to subscribers don't get filtered to spam.
In your welcome email, offer instructions on how your subscriber can whitelist you. Also, make sure to emphasize the benefit of doing this – your subscribers won't miss an important email with a special deal or valuable information.
Here's an example of how we ask subscribers to whitelist us: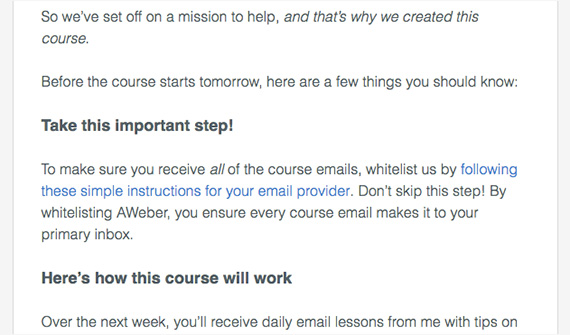 Provide Contact Information and Links to Social Channels
Include contact information in your welcome email to make yourself accessible to subscribers if they want to reach out. Getting subscribers to reply to your emails or call you is a great way to further your relationship and learn more about them.
You could also deepen your connection with them by providing links to your social channels like Facebook, Twitter, Instagram, etc. and encouraging them to follow you.
If they like receiving your emails, they'll likely enjoy your social media updates too!
Start Crafting Your Most Important Email
The welcome email is one of the most important emails you'll ever send! So check out these welcome email examples and best email subject lines for more inspiration, and send an email that'll boost your overall email engagement and build connections with email subscribers by using these 6 tips to craft the perfect message.
After you've written and set up your welcome email for new subscribers, you're on your way to writing emails that keep them coming back for more.
You may also want to check out this post including 11 of the best welcome website messages you can start using today!