Are you wondering if there's something else you could do to convert visitors into customers? If you're not writing customer case studies, you're missing out on a huge opportunity. When you write a case study, you convince potential customers by showing them exactly how you've helped other people just like them.
In this article, you'll learn the benefits of case study writing, how to find and interview case study subjects, and best practices and tips for writing and promoting your case studies. By the end of this article, you'll be able to write your own epic case studies that win more business.
What Is a Customer Case Study?
A case study is a showcase of the results you achieved for a specific customer. By telling the story of how you helped that customer, a case study demonstrates the specific value you provide for your customers.
Case studies are also called "customer success stories," because they show how you helped that customer achieve success.
We love this definition from Clariant Creative:
"A case study is an interview with a happy client."
Benefits of a Customer Case Study
You've probably noticed that we regularly publish OptinMonster case studies on this blog. That's because there are several benefits that make writing case studies an excellent idea.
Create Content for Your Niche
For a start, case studies are a great business investment and an excellent way to create niche-specific content.
But those aren't the only reasons why you should create customer case studies.
Build Trust with Potential Customers
Case studies also help you build trust. When people are thinking about hiring you, showing how you've helped someone else in a similar situation will demonstrate your expertise – and that inspires trust.
For example, our Kindlepreneur case study tackles the issue of customer retention, which many of our customers care about.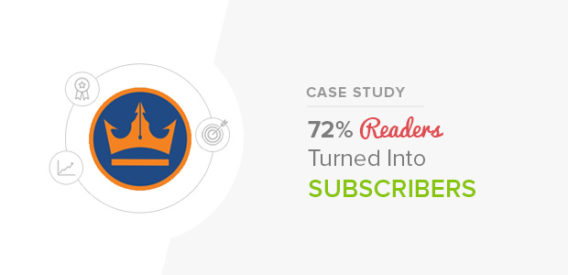 Connect with Your Customers
Related to that, there are probably a couple of key issues that most of your target customers have. Writing case studies to include the solutions to these issues will show your customers that you understand them, and can help.
Showcase Your Competitive Advantage
Writing a case study also lets you highlight your competitive advantage. Although, as we'll see later, the best case studies aren't all about you, if there's something you do better than your competitors, why not let your customers point it out via a case study?
Tell Your Story Your Way
Case studies don't have to be dry and boring. In fact, writing a case study lets you use storytelling to win new business. As we'll see, you're basically telling the tale of an interaction with a customer, complete with a happy ending!
Build Authority
A case study can help you build authority. That's because case studies use real data and reveal real results.
Explain Your Business
Sometimes it's hard for people to grasp exactly what you can do for them, especially if you are creating an app or providing some kind of custom service. Case studies are specific examples that can fire the imagination of potential customers.
Create a Compelling Lead Magnet
And, of course, a case study can be an excellent lead magnet. Some companies share the highlights of a case study on a web page, but you have to complete an optin form to get all the details.
Getting Started with Case Study Writing
So, there are plenty of good reasons to write case studies. Now let's look at how you get started with case study writing.
1. Find a Person to Feature
One of the most important steps in writing a customer case study is finding the right person or project to feature. There are several ways to identify these:
See who's said something positive about your products and services on social media.
Check for good reviews on external reviews sites.
See who's given great customer feedback or who has written a testimonial.
Check in with your technical support team; they'll often know if someone's using your products or services in innovative ways.
The best case study subjects:
Love your company, your products and services.
Understand what you do.
Know and can explain the difference your company has made for them.
While we're talking here mainly about written case studies, it's worth noting that if you're doing a video or audio case study, it's also important for case study subjects to be comfortable with those media. Someone who loves your business, but freezes up in front of a mike or camera, won't make a good subject.
2. Track Business Data
Another part of identifying good case study subjects is tracking data. Often, the data is a big factor in writing a truly epic case study.
Depending on your business, you may already have analytics that tells you who's seeing great results with your products and services. Even if you don't, you can be sure that your customers are tracking metrics to make sure they're getting value.
Either way, you'll want to set benchmarks at the start so you can easily track changes when you're ready to start writing. Don't worry if there isn't a huge difference between the before and after pictures. Even a small win can be meaningful to potential customers.
Groove HQ tracks all its metrics and often publishes internal case studies showing how it's growing and serving customers with its products.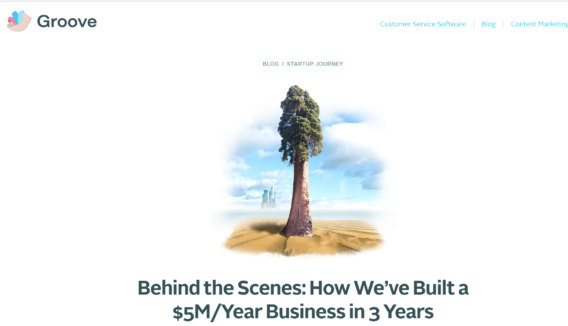 People or companies who have solid, verifiable data that shows how your products and services help them are great case study subjects.
3. Make a Selection
Those first couple of steps will give you a shortlist of suitable candidates for customer case studies. Next, it's time to choose someone to start with. Options include:
Someone who's like one of your typical customers. If you have customer avatars, you'll know this.
Someone who represents the business area you want to promote. If you want more of a certain type of business, create a case study that shows results for that area.
Someone who's a recognizable name that will get the attention of other people in that niche.
For example, an Unbounce case study featured Kissmetrics, a well-known site in the marketing niche.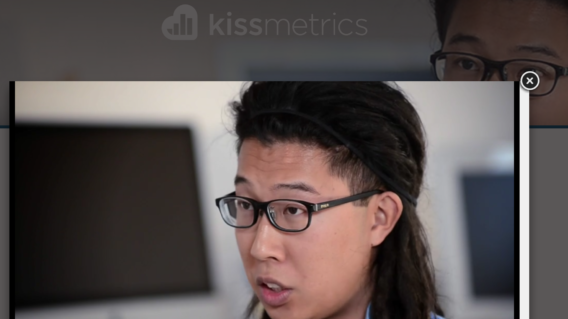 4. Make the Approach
Next, it's time to approach the person or company you want to feature. This usually means sending an email to let people know:
Why you want to feature them in a case study.
How they will benefit.
What the process is.
The timeline and likely publication date.
Here's how we approach people who are interested in taking part in a case study:

You may also want to include a case study release form so participants can get all necessary internal and legal clearances in advance. You wouldn't want to complete a great case study and then not be able to use it, and that's happened before – just ask any case study writer!
This is also a good time to think about case study questions, which we'll cover in more detail in the next section.
Preparing for Your Case Study Interview
Next, it's time to prepare your case study interview questions. Whether you're planning to get your case study information by email or via an online or in-person discussion, it's helpful to give interviewees some basic questions ahead of time so they're prepared. You'll get a better interview that way.
When writing case study interview questions, think about what will guide your customer to talk specifics. By the end of the interview, you'll want to know about their business, the interview subject's role, what they needed and why and how you helped them.
Here are some typical questions used for customer case study interviews:
Tell us about your business.
Which services/products do you use and how long have you been using them?
What challenge were you experiencing that made you decide to use our products/services?
What made you choose us?
How did our products help?
How did you achieve your results?
Did any challenges arise while using our products/services? How did you resolve those?
What results did you get? How do you feel about them?
What stood out for you about using our products/services?
What would you tell someone who was thinking about using our products/services?
It's worth noting that while you can do an email interview and get a great case study, sometimes you get even more information when you speak to the case study subject. That's because the interview process is more conversational, so you can build a rapport with the person you're speaking to. It's also easier to follow up on any interesting tangents that come up.
If you're speaking to someone, you can get better results by focusing on what the issue was, why they chose your solution and how it worked. Structure your questions so you get useful quotes or sound bites.
Avoid asking questions that interviewees can answer with yes or no. Those lead to lousy interviews and the resulting case studies won't be that good, either.
Don't be afraid to talk to more than one person within a company when building your case study. Sometimes combining multiple perspectives can work even better than hearing from just one person.
One last tip on case study interviews: If you record them, you have the option to use them in other ways, like video clips or as part of podcasts. If you're planning to do that, it's even more important for your interview subjects to be prepared, and for you to get the proper legal permissions.
How to Structure a Case Study
Once the interview's done, it's time to think about case study structure. You've got a few options:
At OptinMonster our typical case study includes:
A section introducing the company.
A section on what the company achieved using OptinMonster.
How they did it.
Data: results and testing.
Conclusions and takeaways.
As you begin to sort through the material from the interview, remember that your case study will focus on the details that will help other people choose to work with you. As you'll see in our examples, that doesn't mean it has to be dull.
To help make your case study more readable, pick out interesting facts, relevant statistics and good quotes from the material you have.
While you're at it,  think about images. It's always good to include a photo of the client, but you also need screenshots of the data.
Our OptinMonster case studies usually include data from Google Analytics or the customer's email marketing software, as well as screenshots of OptinMonster in use on their site.
The Case Study Writing Process
When you publish online, you only get a short time to make an impression. That applies to case studies as much as other types of content marketing. And it means it's crucial to grab your audience with your headline to encourage them to keep reading.
A lot of case studies have headlines that include the company name, the benefit they got and the data that supports it. As you've seen from previous examples, it's the template we use at OptinMonster.
It can also be helpful to include the niche, as in this example from Adept Marketing: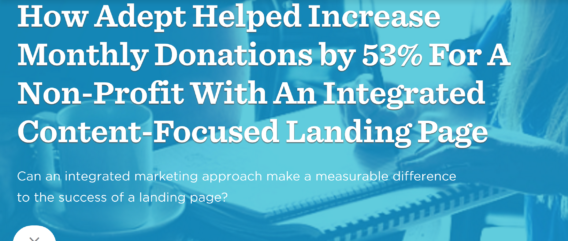 When you start the case study preparation process, you usually have a pretty good idea of where you're going with it. But when it's time to write, you might find there's a new angle based on the information you've actually collected. Feel free to explore this; you might end up with a better case study.
There's one more important thing to keep in mind as you write: your customer is the star and you are the supporting actor. What do we mean by that? Just that you're putting your customer in the limelight to attract other, similar customers.
Don't worry; you'll still get the chance to shine. The way to achieve this is to let the customer share out the praise. Some of the interview questions we listed above were designed to let customers talk about the experience of working with you.
The customers you're trying to reach will respond better to peer influence – opinions from people like them – than overt marketing. That's why letting case study subjects praise you in their own words is more effective than a ton of hype.
In case studies, you're reporting on real results that you can take credit for. And if other people are involved in your success, credit them.
We'll look more at writing style in a minute, but think direct and engaging, clearly showing the before and after situation.
Finally, end your case study with a call to action which encourages readers to check out other case studies or work with you, as Neil Patel does.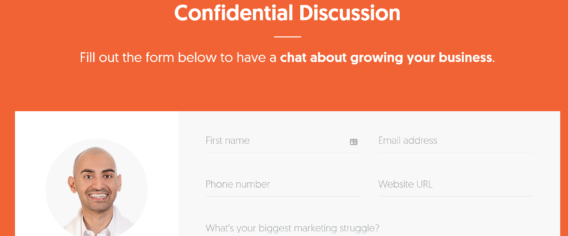 Case Study Writing Style
The rules for writing a good case study are pretty similar to the rules for any good writing. For example, you'll want to avoid jargon in favor of using language anyone can understand.
Be specific about any achievements, using real numbers. It's worth repeating that you should avoid being overly self-promotional. Case studies aren't ads.
Some people wonder about the pros and cons of using the first person and the third person. The first person uses the words "I" and "we" in talking about what happened. It's useful to let interviewees tell the story in their own words or to let you give your own perspective.
The third person uses the words "he", "she" and "they", telling the story from a more removed perspective which can seem more objective. For example, you could use this in describing the situation your customers were in.
Here's the good news: you don't need to choose. You can actually use both. Many case studies do this by describing situations in the third person and using quotes for a first person perspective.
Case studies don't need to be boring. You can tell a story that engages prospective customers. And even though we mentioned a few ways to structure a case study earlier, don't be formulaic in the way you apply these.
Sometimes you'll want to use one of those structures, but if you have a really engaging participant, a Q&A would also work well. Whichever you use, speak like a person and not a marketer.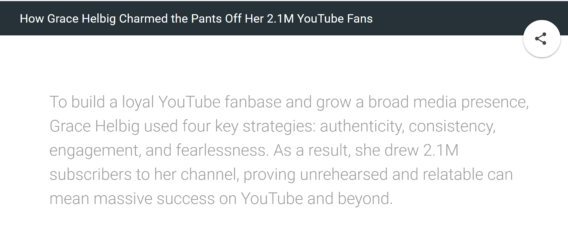 Make your case study more interesting by:
Adding sub-headings so it's easy for readers to scan.
Including images.
Calling out important stats and facts, either in bold or as feature quotes.
When people can see there's more good stuff down the page, this encourages them to keep reading, which is exactly what you want to achieve.
Finally, in case you were wondering what the ideal length for a case study is, the answer is: as long as it needs to be.
For example, in a marketing case study, if you've used different tactics, or tested different versions of something over a long period of time, your case study will be longer than if you've changed one thing and got immediate results.
What to Do After You Write a Case Study
So far, we've focused on writing the case study itself, but if it's going to bring more business, then the work's only just starting.
If you're publishing the case study on your blog, then you'll put it through your usual content publishing workflow. That will likely include taking care of SEO and scheduling social media posts.
You might also want to use your case study for external marketing, which means getting it designed in a particular brand style. Case studies are an excellent sales tool, so make it easy for your sales team to share them with others, either via a link, a PDF or even a printed copy.
Consider publishing your case study in different formats for different audiences. For example, you could create a landing page with some of the key takeaways from the case study. Or you could do a video version.
For example, this example from Lumos Networks includes a video, a PDF download and a web article: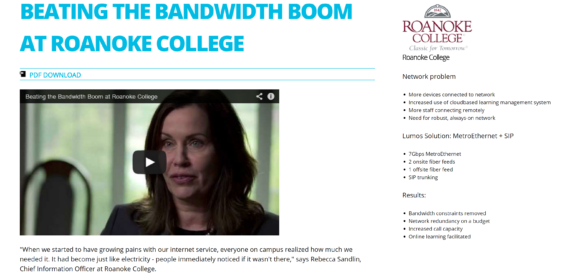 We really like this suggestion from EWriteOnline: publish your case study as a bite, a snack and a meal. That means you'd create:
A super-short version that hits the highlights.
A mini-case study which expands on this a little.
The full case study.
It's a bit like the approach you'd take to sharing your case study content on social media. The bite would go on Twitter, where content is short. Meanwhile, the snack would go on Facebook, which allows longer content. The meal, of course, would be on your own site.
Make sure it's easy for people to find your case studies. For example, you could use a blog category or a menu item on your own website. But there are also online business hangouts where it makes sense to share your data. For example, if you're an inbound marketer, you might share some key stats on the Inbound forum.
If you publish a lot of case studies, include some filtering tools on your site so people can find the case studies that best match their own situation.
As mentioned earlier, you can also use a case study as a lead magnet, either via a regular optin or a content lock.
Finally, promote, promote, promote via all your key marketing channels.
Business Case Study Examples
Here are some great case study examples to use for inspiration.
One of our favorites on the OptinMonster blog is this case study of how Social Media Examiner got 250,000 new email subscribers using OptinMonster. The name of the company is instantly recognizable to marketers and we've included the benefit in the title, too.
The case study includes a description of the company and the background to the issue it was trying to solve. Then it shows what Social Media Examiner did, and what the results were, with before and after numbers. The case study ends with a quote from the company about using our product.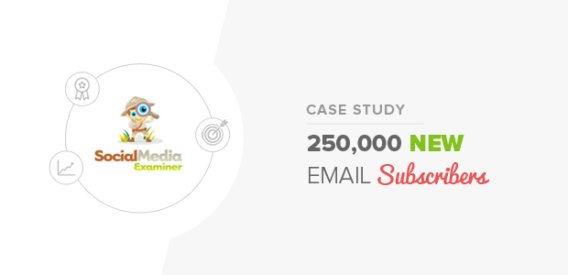 This Penguin Random House case study from UK digital agency Clearleft takes a different approach. It uses recognizable brand imagery and colors to attract readers' attention.
The case study includes key stats in a column on the right, and there's an option to go straight to the results. That's pretty clever, because readers who are impressed by the results are likely to scroll back up and see how they were achieved. This is an attractive and unusual case study presentation.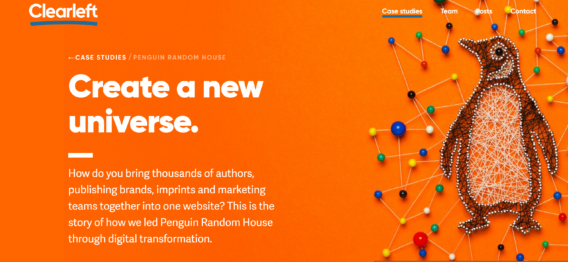 Sometimes, you can do an internal case study, as WPBeginner does for sister site List25. The headline uses a common search term "speeding up WordPress" and the case study deals with an issue many of WPBeginner's readers will be concerned about.
This case study runs through all the strategies tried from beginning to end, effectively providing not just a case study, but a tutorial readers can apply to their own sites.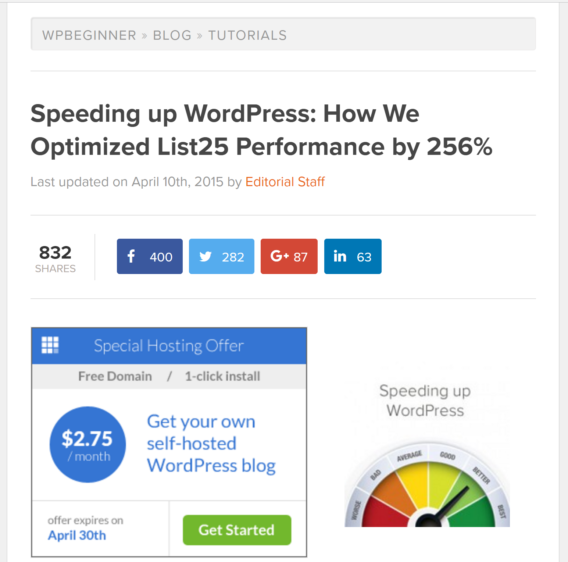 Marketing Sherpa has its own case study template. It highlights the benefit in the headline, and provides a quick summary (sort of like a snack). Those who read on get:
An introduction to the customer.
An introduction to the key issue.
A description of the campaign.
The results.
Links to related resources and images.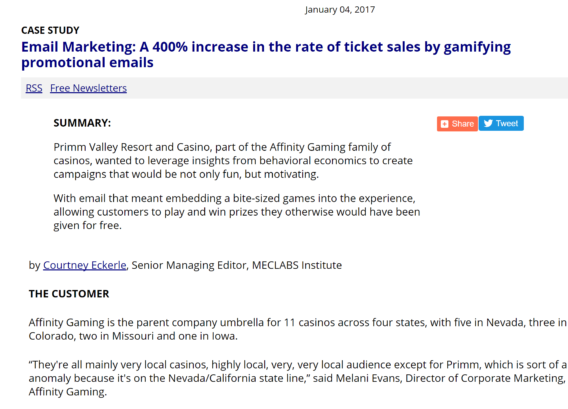 Hubspot uses the "bite, snack, meal" approach. On its case studies page, you can see the headline which highlights the key benefit.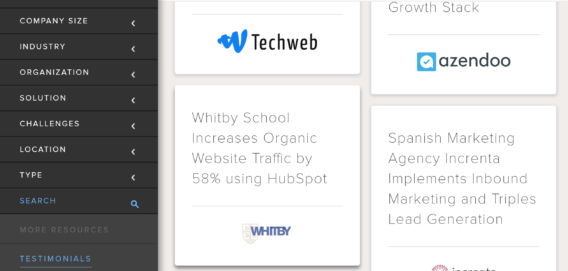 Click on that and you get a summary of the case study. Then there's another button which gives you access to the full case study.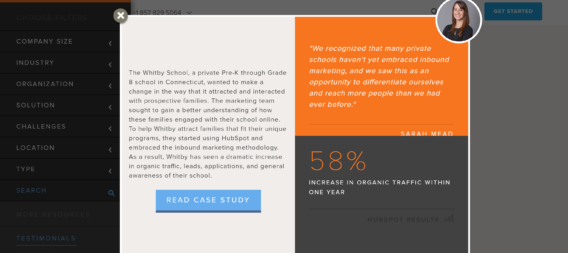 Kissmetrics uses graphics and icons to present key company information before delving into the case study. This is followed by key data about what was achieved, and then there's the case study in full. This minimalist presentation works well.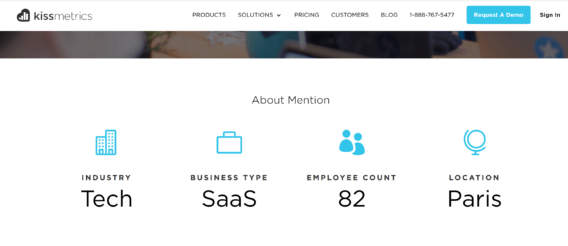 Now you know all the steps you need to write an epic case study that wins more business for your company, as well as how to promote and share it. One tactic you'll want to use is email marketing, so check out our beginner's guide to email marketing for help with this. And don't forget to follow us on Twitter and Facebook for more guidance like this.